Traffic
This may be of some interest.
Posted by Dr-Pete
We want to fix things and believe we're in control. When your house is filling with water, you grab a bucket. If there's a hole in your roof, the bucket might help. If your sink is overflowing, the bucket is distracting you from the real problem. If the river is overflowing, that distraction could be deadly.
When traffic is falling, it's easy to panic and focus on what you can control. Traffic isn't just a nice-to-have — it puts food on the table and the roof over your head that keeps the water out. In the rush to solve the problem, though, we often don't take the time to validate the problem we're solving. Fixing the wrong problem is at best a waste of time and money, but at worst could deepen the crisis.
In any crisis, and especially a global one, the first question you need to ask is: is it just me, or is it the whole world? The answer won't magically solve your problems, but it can keep you from making costly mistakes and start you on the path to a solution. Let's start with a fundamental question:
(1) Did your traffic really drop?

My "fundamental" question might sound like a stupid question, especially given the wide impact of the COVID-19 pandemic, but it's important to remember that traffic fluctuates all the time — there are weekends and seasonality and plain, old regression to the mean. What goes up must come down, and as much as we'd like it to be true, business is not perpetually up and to the right.
Using Google Analytics, let's consider some ways we can validate a traffic drop. Here's four weeks of GA data (March 1-28) for a site which was seriously impacted by COVID-19:
Given the known timeline of COVID-19 (the WHO declared it a pandemic on March 11), this is about as clean a picture of a traffic drop in the presence of a known cause as you're going to get. Most situations are far messier. Even here, we've got the impact of weekends and day-to-day fluctuations. One quick way to get a cleaner view is to summarize the data by week (make sure your date-range covers full weeks, or this data will be skewed).
The trend is much clearer now. In a two week period, this site lost more than half of its traffic. I'm restricting the timeline for clarity, but as we gather more data, we can validate the trend pretty easily. The graph above covers all traffic sources. From an SEO perspective, let's add in a traffic segment for Google traffic:
This graph is just eight data points, but it tells us a lot. First, we can clearly see the trend. Second, we can see that the trend is almost identical for both Google traffic and overall traffic. Third, we can see that this site is very dependent on Google for traffic. Don't underestimate what you can learn from small data, if it's the right data.
This isn't meant to be a GA primer, but let's look at one last question: Is this traffic drop seasonal? Usually, your own industry experience and intuition would come into play, but one quick way to spot this is to compare year-over-year traffic. One note: match your full weeks so that you're covering the same amount of weekdays vs weekends. In this case, I've shifted the 2019 range to the four full weeks of March 3-30 …
This isn't the easiest graph to read, and I probably wouldn't put it in a report to a client, but you can see from the green and purple lines that both overall traffic and Google traffic for this site were relatively flat last year during March. This really does seem to be an unusual situation. Even if we knew nothing about the context and COVID-19, we could tell from just a few minutes of analysis that something serious is going on here.
(1b) Did your rankings drop?
As a search marketer, and given that we've clearly measured a Google traffic drop, the next question is whether this drop was due to a loss of rankings (we'll get to other explanations in a moment). In Moz Pro, one quick way to assess overall weekly search visibility is to use either the main view under "Rankings" or go to the "Competition" tab. I like the competitive view, because you can quickly see if any changes impacted your broader industry …
I've simplified this view a little bit (and removed the site's and competitors' names for privacy reasons), but the basic story is clear — neither the site in question nor its competitors seemed to have any drop in visibility during March.
For a richer view, go back to the "Rankings" tab and select "Rankings" (instead of "Search Visibility") from the drop-down. You'll see a graph that looks something like this …
This visualization takes some getting used to, but it contains a wealth of information. The bars represent total ranking keywords/phrases, and the color blocks show you the ranking range (see the legend). Here we can see that overall rankings have been relatively stable, with even some small gains in the #1-3 bucket.
If your account is connected to Google Analytics, you can also overlay traffic during the same period, which is shown by the dark gray line. Dual-scale graphs can get tricky, but this visualization really makes it clear that there's a mismatch between the traffic drop for this site and their search rankings.
(2) Did Google do something?!
Usually, when we ask [demand / shout / sob] this question, we mean "Did Google do something to the algorithm to make my life miserable?" We can argue about whether Google is trying to make your life miserable at another time (preferably, when the bars re-open), but the core question is valid. Did Google change the algorithmic rules in a way that's negatively impacting your site?
For large-scale algorithm updates, you can check our own Google Algorithm History page. For smaller/daily updates, you can check our MozCast research project. While having a gut-check against major changes can be very useful, the messy truth is that Google rankings are a real-time phenomenon that's changing minute-by-minute. In 2018 alone, Google reported 3,234 "improvements" to search.
Keep in mind that all Google algorithm tracking tools are based, to some degree, on fluctuations in rankings. In our example scenario, we're not seeing ranking shifts. Let's pretend, though, that we have seen a traffic drop with a corresponding ranking drop, and we're trying to determine if it's just us or if something changed with Google.
Here's a graph of MozCast data from my analysis of the January 2020 Core Update …
In this case, we've got a pretty clear three-day period of ranking fluctuations. If our traffic dropped during this period, it's not absolute proof that an algorithm update is to blame, but it's a solid, educated guess and a useful starting point.
Let's look at the two weeks around when COVID-19 was declared a global pandemic …
I've kept the same scale and 30-day average reference (from a relatively quiet period early this year). Note that algorithmic activity (i.e. ranking flux) is way up compared to the period before and after the January Core Update. One day (March 18) doesn't even fit on the scale of the original graph and came in at 104°F on MozCast.
What does all of this mean? It's possible that Google is changing the algorithm rapidly to address the broader changes in the world, but I strongly suspect that the world itself is impacting this flux. Sites are changing rapidly, adding and removing products and content, news sources have dramatically shifted their coverage, and some businesses are closing completely. On top of that, we're seeing an unprecedented shift in searcher and consumer behavior.
Algorithm flux can be a useful answer to the question "Is it just me, or is it Google?" during normal times, but all that it's telling us right now is that the world has turned upside-down. While that's an accurate assessment, it's not particularly helpful. If you'd like to hear more about the impact of COVID-19 on Google rankings, check out "SEOs talk COVID-19 search disruption" from Barry Schwartz with myself, Marie Haynes, Olga Andrienko, and Mordy Oberstein.
If traffic has dropped, but rankings haven't, it's also possible that the behavior of searchers has changed. We can get some insights into this by using Google Search Console. Here's the graph of total clicks for our example site from March 1-28 (corresponding with the GA data) …
As expected, total clicks on Google results show roughly the same trend as Google organic traffic in GA. Total clicks are a function of two variables, though: (1) search impressions, and (2) click-through rate (CTR). Let's look at those individually. Here's the graph of total impressions for the same time period …
Now we're getting somewhere — there's an overall drop in impressions. This isn't just about the example site, but searcher behavior before they even see or click on that site. People are searching less for the phrases that drive traffic to our example site. Finally, let's look at CTR …
CTR has also dropped, even a bit steeper than impressions. This is a bit harder to interpret. Knowing what we know, it's likely that people are clicking less because of overall lack of interest. This is consistent with the COVID-19 scenario. People are less likely to be looking for the service this site offers. On the other hand, it could be that something about the site or the competitive landscape has changed that's driving down CTR.
If you see a CTR drop without a corresponding impression drop, review recent changes to the site, especially changes that could impact what's displayed in search results (including your TITLE tags and META descriptions). In this case, though, it's reasonable to assume that we're looking at an overall drop in demand.
(3) Has the world gone mad?
Spoiler alert: yes, yes it has.
The Google Search Console data above has already suggested that we're seeing a shift in the wider world and searcher behavior, but if you want to get outside of your own data, you can explore the world a bit with Google Trends. For example, here's a Google Trends search for "movie tickets" for March 1-28 …
Not surprisingly, searcher interest in movie tickets declined sharply after the COVID-19 outbreak. People who aren't going to movies aren't going to be searching for showtimes and ticket prices. Google Trends data can be spotty in the long-tail, and we can't necessarily attribute a trend to an event, but non-brand trends are a good supporting data point for whether your traffic drop is isolated to your site or is impacting your broader industry.
One final tip — everything discussed in this post can also be used to explore a traffic increase. Even during COVID-19, traffic has gone up for many topics and sites. For example, here's the Google Trends data for "how to cut hair" from the same March 1-28 time period …
Whether or not cutting your own hair is a good idea, people are definitely showing more interest in the topic (I admit I've watched a couple of YouTube videos myself). We don't typically dive deep into traffic increases — it's too easy to just sit back and take the credit. I think this is a big mistake. Understanding whether a traffic increase was driven by changes you made or broader market shifts can help you understand what you've done right so that you can replicate that success.
The big picture is everything
Over the last few years, I've heard more people say things like "I don't care about traffic, I care about conversions!" or "I don't care about Google rankings, as long as I'm getting traffic!" Our gradual move toward bottom-of-funnel metrics makes sense — we're all trying to make a living. Taken to extreme, though, we lose valuable information. Focusing on conversions is certainly better than focusing on "hits" a la 1998, but no single metric tells the whole story.
Let's say that the only thing you track is leads. Leads are where the money is. Sales are up, leads are up, times are good. Great. Inevitably, disaster strikes (even if it's a minor disaster), and your leads drop. What do you do? You've cut off your ability to read anything but the last chapter of the story. You know how it ends, but you don't know how you got there. Without understanding the path from leads back to visits back to rankings back to impressions, you're not going to see the whole story, and you're not going to know where things went wrong.
Even when times are good, this approach is short-sighted. Sales-focused culture creates a tendency to celebrate the wins and not ask too many questions. If traffic is going up, why is it going up? What content or keywords are driving that traffic? What industry trends are driving that traffic? If you can answer those questions, you can replicate success. If you can't, then you're going to have to start from scratch as soon as the celebration ends (and the celebration always ends).
It may be cold comfort to know that your entire industry or the whole world is suffering with you, but I hope that this process at least prevents you from fixing the wrong things and making costly mistakes. Ideally, this process can help you uncover areas that may be trending upward or at least help you focus your time and money on what's working.
Sign up for The Moz Top 10, a semimonthly mailer updating you on the top ten hottest pieces of SEO news, tips, and rad links uncovered by the Moz team. Think of it as your exclusive digest of stuff you don't have time to hunt down but want to read!
Thank you for reading.
This may be of some interest.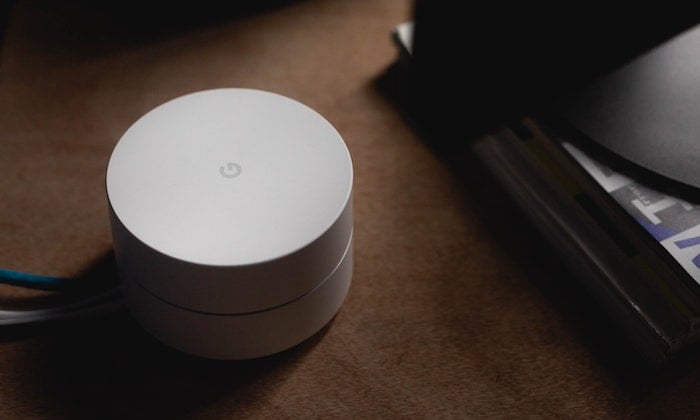 You
all know SEO is a long-term game… at least when it comes to Google.
And yes, who doesn't want to be at the top of Google for some of the most competitive terms? But the reality is, we don't all have the budget or time.
So
then, what should you do?
Well, what if I told you there were simple ways to get more organic traffic and, best of all, you don't have to do one bit of SEO?
Seriously.
So,
what is it? And how can you get more organic traffic?
Well,
this story will help explain it…
The
old days
When
I first started my journey as an SEO, I got really good at one thing.
Getting
rankings!
Now to be fair, this was back in 2003 when it wasn't that hard to rank on Google (or any other search engine for that matter).
Stuff some keywords into your page, your meta tags, and build some spammy rich anchor text links and you were good to go.
You
could literally see results in less than a month.
SEO wasn't too complicated back then. So much so, that I even started an SEO agency and created a handful of sites.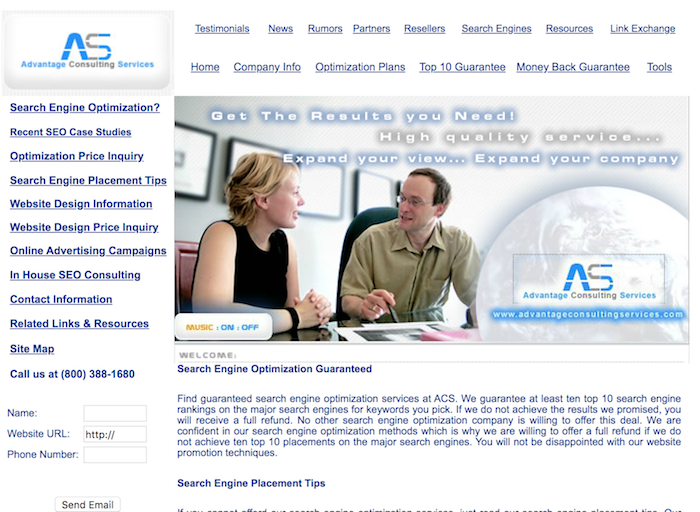 I was starting to rank my sites at the top of Google but they didn't make a dollar. Literally, not a single dollar.
In fact, I was actually losing money on them because I had to pay for the domain registration expenses and hosting.
So, one day I decided that I was tired of losing money and I was going to do something about it. I took the keywords that I was ranking for and started to type them into Google to see who was paying for ads for those terms.
I hit up each of those sites and tried to get a hold of the owner or the person in charge of marketing.
I asked them how much they were paying for ads and offered them the same exact traffic for a much lower price. I was able to do this because I already had sites that ranked for those keywords.
In other words, I offered to rent out my website for a monthly fee that was a fraction of what they were paying for paid ads.
Next thing you know I was collecting 5 figures in monthly checks and my "renters" were ecstatic because they were generating sales at a fraction of the costs compared to what they were spending on paid ads.
So, what's the strategy?
Well, it's simple. Back in the day, I used to rent out my websites… the whole site.
These
days I've learned how to monetize my own site, so I don't rent them out.
But you know what, most of the sites that rank on Google are content-based sites. Over 56% of a website's organic traffic is typically going to their blog or articles.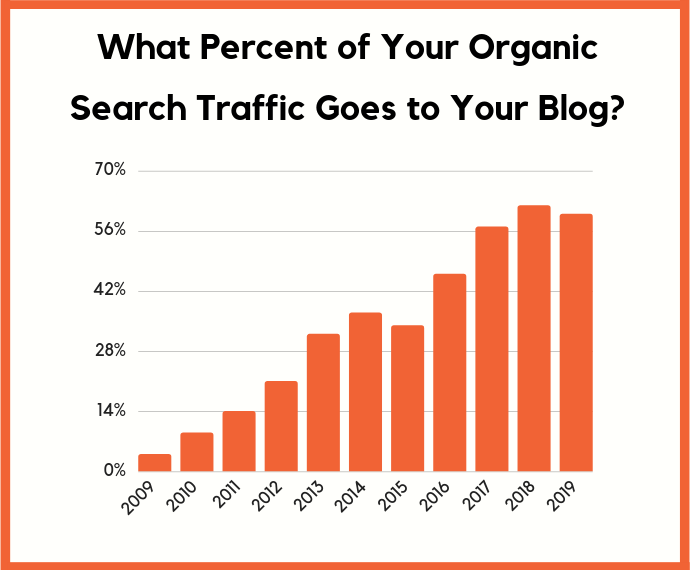 So why not rent a page on someone else's site? From there, modify that page a bit to promote your products or services?
I
know this sounds crazy, but it works. I have one person that just reaches out
to site owners asking if we can rent out a page on their site. We do this for
all industries and verticals… and when I look at how much we are spending
versus how much income we are generating, it's crazy.
Here are the stats for the last month:
Rental
fees: $24,592
Outreach costs: $3,000
Legal
costs: $580
Copywriting
and monetization costs: $1,500
Total
monthly cost: $29,672
Now
guess what my monthly income was?
It
was $79,283.58.
Not
too bad.
Now
your cost on this model won't be as high as mine because you can do your own
outreach, monetize the page you are renting on your own, and you probably don't
need a lawyer.
And don't be afraid of how much I am spending in rental fees as you can get away with spending $0 in the first 30 days as I will show you exactly what to do.
Remember, it's also not what you are spending, it's about profit and what you are making. If it won't cost you any money in the first 30 days and you can generate income, your risk is little to none.
Here
are the exact steps you need to follow:
Step
#1: Find the terms you want to rank for
If
you already know the terms you want to rank for, great, you can skip this step.
If you don't, I want you to head to Ubersuggest and type in a few of your competitors' URLs.
Head
over to the top pages report and look at their top pages.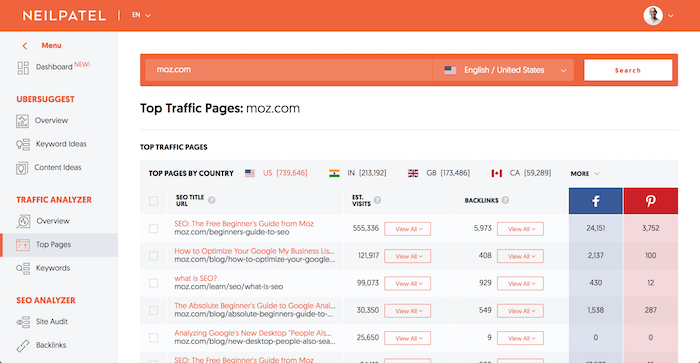 Now
click on "view all" under the estimated visits column to see a list of
keywords that each page ranks for.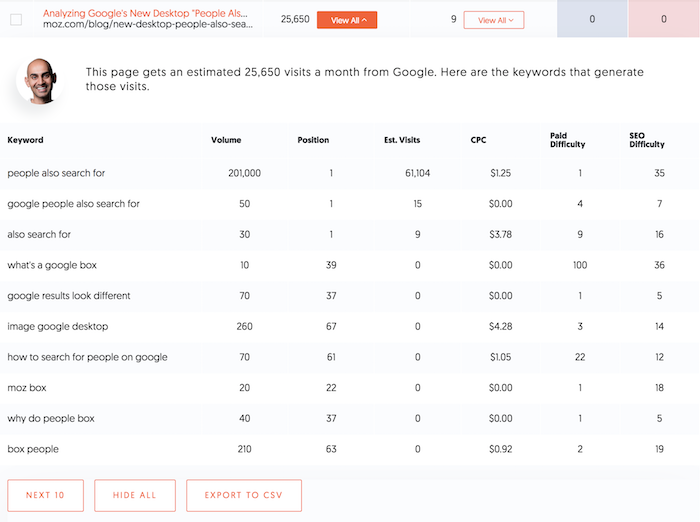 I want you to create a list of all of the keywords that contain a high search volume and have a high CPC. Keywords with a high CPC usually mean that they convert well.
Keywords
with a low CPC usually mean they don't convert as well.
When
you are making a list of keywords, you'll need to make sure that you have a
product or service that is related to each keyword. If you don't then you won't
be able to monetize the traffic.
Step
#2: Search for the term
It's
time to do some Google searches.
Look
for all of the pages that rank in the top 10 for the term you ideally want to
rank for.
Don't
waste your time with page 2.
What
I want you to look for is:
Someone who isn't your competitor. Your competition isn't likely to rent out a page on their site to you.
A page that isn't monetized. Not selling a product or service. (If the page has ads, don't worry.)
A site owned by a smaller company… a publicly-traded company isn't likely to do a deal. A venture-funded company isn't likely to do a deal either (Crunchbase will tell you if they are venture-funded).
Step
#3: Hit up the website
Typically, through their contact page, they should have their email addresses or phone number listed. If they have a contact form, you can get in touch that way as well.
If
you can't find their details, you can do a whois
lookup to see if you can find their phone number.
What'll
you want to do is get them on the phone. DO NOT MAKE YOUR PITCH OVER EMAIL.
It
just doesn't work well over email.
If
you can't find their phone number, email them with a message that goes
something like this…
Subject: [their website name]

Hey [insert first name],

Do you have time for a quick call this week?

We've been researching your business and we would like to potentially make you an offer.

Let me know what works for you.

Cheers,

[insert your name]

[insert your company]

[insert your phone number]
You
want to keep the email short as I have found that it tends to generate more
calls.
Once you get them on the phone, you can tell them a little bit about yourself. Once you do that, tell them that you noticed they have a page or multiple pages on their website that interest you.
Point
out the URL and tell them how you are interested in giving them money each
month to rent out the page and you wouldn't change much of it… but you need
some more information before you can make your offer.
At this point, you'll want to find out how much traffic that page generates and the keywords it ranks for. They should have an idea by just looking at their Google Analytics (you'll find most of these sites don't use Google Search Console).
Once
you have that, let them know that you will get in touch with them in the next
few days after you run some numbers.
Go back, try to figure out what each click is worth based on a conservative conversion rate of .5%. In other words, .if 5% of that traffic converted into a customer, what would the traffic be worth to you after all expenses?
You'll
want to use a conservative number because you can't modify the page too
heavily or else you may lose rankings.
Once
you have a rough idea of what the page is worth, get back on the phone with
them and say you want to run tests for 30 days to get a more solid number on
what you can pay them as you want to give them a fair offer.
Typically,
most people don't have an issue because they aren't making money from the page
in the first place.
Step
#4: Monetize the page
If
you are selling a product, the easiest way to monetize is to add links to the
products you are selling.
For
example, if you are selling a kitchen appliance like a toaster, you can add
links from the article to your site.
The easiest way to monetize a blog post is to add links to products or services you are selling.

Don't delete a lot of the content on the page you are modifying… adding isn't too much of an issue but when you delete content sometimes you will lose rankings.
As
for a service-based business, linking out to pages on your site where people
can fill out their lead information is great.
Or you can just add lead capturing to the page you are renting out. Kind of like how HubSpot adds lead forms on their site.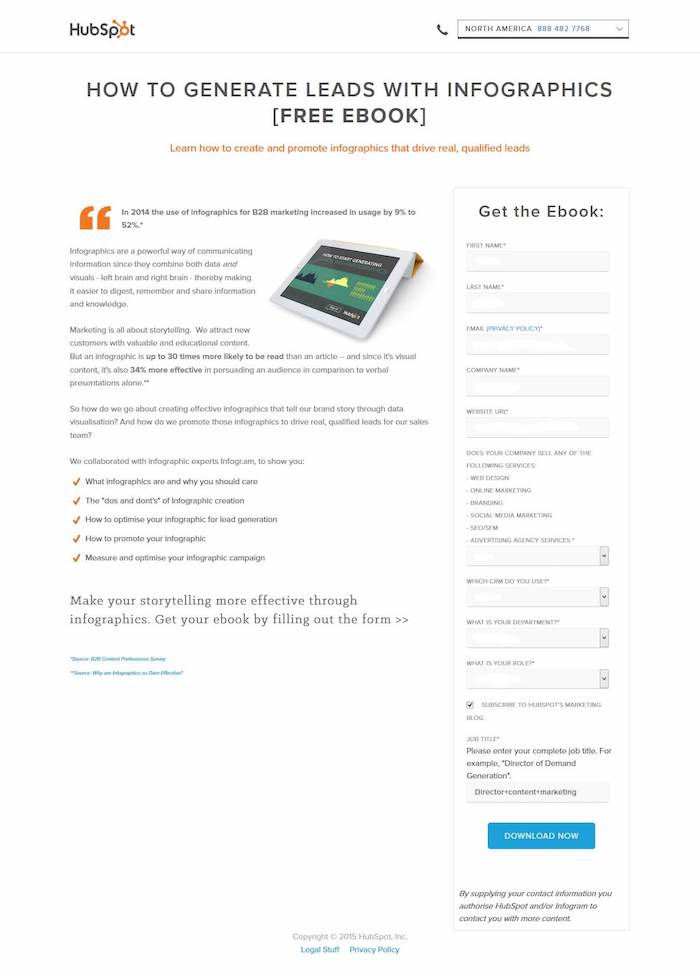 I've actually found that they convert better than just linking out to your site.
When monetizing the page you are renting, keep in mind that you will need disclaimers to let people know that you are collecting their information for privacy purposes. You also should disclose you are renting out the page and nofollow the links.
Once you are monetizing the page for a bit, you'll have a rough idea of what it is worth and you can make an offer on what you'll page.
I recommend doing a 12-month contract in which you can opt-out
with a 30-day notice.
The reason you want a 12-month agreement is that you don't want to have to keep renegotiating. I also include the 30-day opt-out notice in case they lose their rankings, you can opt-out.
And to clarify on the op-out clause, I have it so only I can opt-out and they are stuck in the agreement for a year.
Conclusion
SEO isn't the only way you can get more organic traffic.
Being creative, such as renting pages that already rank is an easy solution. Best of all, you can get results instantly and it's probably cheaper than doing SEO in the long run.
The only issue with this model is that it is really hard to
scale.
If I were you, I would do both. I, of course, do SEO on my own site because it provides a big ROI. And, of course, if you can rent out the pages of everyone else who ranks for the terms you want to rank for, it can provide multiple streams of income from SEO.
The beauty of this is model is that you can take up more than one listing on page 1. In theory, you can take up all 10 if you can convince everyone to let you rent their ranking page.
So, what do you think of the idea? Are you going to try it out?
The post How to Get More Organic Traffic Without Doing Any SEO (Seriously) appeared first on Neil Patel.
Thank you for reading.
This may be of some interest.
Posted by Joel.Mesherghi
For some organizations, mobile apps can be an important means to capturing new leads and customers, so it can be alarming when you notice your app visits are declining.
However, while there is content on how to optimize your app, otherwise known as ASO (App Store Optimization), there is little information out there on the steps required to diagnose a drop in app visits.
Although there are overlaps with traditional search, there are unique factors that play a role in app store visibility.
The aim of this blog is to give you a solid foundation when trying to investigate a drop in app store visits and then we'll go through some quick fire opportunities to win that traffic back.
We'll go through the process of investigating why your app traffic declined, including:
Identifying potential external factors
Identifying the type of keywords that dropped in visits
Analyzing app user engagement metrics
And we'll go through some ways to help you win traffic back including:
Spying on your competitors
Optimizing your store listing
Investing in localisation
Investigating why your app traffic declined
Step 1. Identify potential external factors
Some industries/businesses will have certain periods of the year where traffic may drop due to external factors, such as seasonality.
Before you begin investigating a traffic drop further:
Talk to your point of contact and ask whether seasonality impacts their business, or whether there are general industry trends at play. For example, aggregator sites like SkyScanner may see a drop in app visits after the busy period at the start of the year.
Identify whether app installs actually dropped. If they didn't, then you probably don't need to worry about a drop in traffic too much and it could be Google's and Apple's algorithms better aligning the intent of search terms.
Step 2. Identify the type of keywords that dropped in visits
Like traditional search, identifying the type of keywords (branded and non-branded), as well as the individual keywords that saw the biggest drop in app store visits, will provide much needed context and help shape the direction of your investigation. For instance:
If branded terms saw the biggest drop-off in visits this could suggest:
There has been a decrease in the amount of advertising spend that builds brand/product awareness
Competitors are bidding on your branded terms
The app name/brand has changed and hasn't been able to mop up all previous branded traffic
If non-branded terms saw the biggest drop off in visits this could suggest:
You've made recent optimisation changes that have had a negative impact
User engagement signals, such as app crashes, or app reviews have changed for the worse
Your competition have better optimised their app and/or provide a better user experience (particularly relevant if an app receives a majority of its traffic from a small set of keywords)
Your app has been hit by an algorithm update
If both branded and non-branded terms saw the biggest drop off in visits this could suggest:
You've violated Google's policies on promoting your app.
There are external factors at play
To get data for your Android app
To get data for your Android app, sign into your Google Play Console account.
Google Play Console provides a wealth of data on the performance of your android app, with particularly useful insights on user engagement metrics that influence app store ranking (more on these later).
However, keyword specific data will be limited. Google Play Console will show you the individual keywords that delivered the most downloads for your app, but the majority of keyword visits will likely be unclassified: mid to long-tail keywords that generate downloads, but don't generate enough downloads to appear as isolated keywords. These keywords will be classified as "other".
Your chart might look like the below. Repeat the same process for branded terms.
To get data for your IOS app
To get data on the performance of your IOS app, Apple have App Store Connect. Like Google Play Console, you'll be able to get your hands on user engagement metrics that can influence the ranking of your app.
However, keyword data is even scarcer than Google Play Console. You'll only be able to see the total number of impressions your app's icon has received on the App Store. If you've seen a drop in visits for both your Android and IOS app, then you could use Google Play Console data as a proxy for keyword performance.
If you use an app rank tracking tool, such as TheTool, you can somewhat plug gaps in knowledge for the keywords that are potentially driving visits to your app.
Step 3. Analyze app user engagement metrics
User engagement metrics that underpin a good user experience have a strong influence on how your app ranks and both Apple and Google are open about this.
Google states that user engagement metrics like app crashes, ANR rates (application not responding) and poor reviews can limit exposure opportunities on Google Play.
While Apple isn't quite as forthcoming as Google when it comes to providing information on engagement metrics, they do state that app ratings and reviews can influence app store visibility.
Ultimately, Apple wants to ensure IOS apps provide a good user experience, so it's likely they use a range of additional user engagement metrics to rank an app in the App Store.
As part of your investigation, you should look into how the below user engagement metrics may have changed around the time period you saw a drop in visits to your app.
App rating
Number of ratings (newer/fresh ratings will be weighted more for Google)
Number of downloads
Installs vs uninstalls
App crashes and application not responding
You'll be able to get data for the above metrics in Google Play Console and App Store Connect, or you may have access to this data internally.
Even if your analysis doesn't reveal insights, metrics like app rating influences conversion and where your app ranks in the app pack SERP feature, so it's well worth investing time in developing a strategy to improve these metrics.
One simple tactic could be to ensure you respond to negative reviews and reviews with questions. In fact, users increase their rating by +0.7 stars on average after receiving a reply.
Apple offers a few tips on asking for ratings and reviews for IOS app.
Help win your app traffic back
Step 1. Spy on your competitors
Find out who's ranking
When trying to identify opportunities to improve app store visibility, I always like to compare the top 5 ranking competitor apps for some priority non-branded keywords.
All you need to do is search for these keywords in Google Play and the App Store and grab the publicly available ranking factors from each app listing. You should have something like the below.
| Brand | Title | Title Character length | Rating | Number of reviews | Number of installs | Description character length |
| --- | --- | --- | --- | --- | --- | --- |
| COMPETITOR 1 | [Competitor title] | 50 | 4.8 | 2,848 | 50,000+ | 3,953 |
| COMPETITOR 2 | [Competitor title] | 28 | 4.0 | 3,080 | 500,000+ | 2,441 |
| COMPETITOR 3 | [Competitor title] | 16 | 4.0 | 2566 | 100,000+ | 2,059 |
| YOUR BRAND | ​[Your brands title] | 37 | 4.3 | 2,367 | 100,000+ | 3,951 |
| COMPETITOR 4 | [Competitor title] | 7 | 4.1 | 1,140 | 100,000+ | 1,142 |
| COMPETITOR 5 | [Competitor title] | 24 | 4.5 | 567 | 50,000+ | 2,647 |
Above: anonymized table of a client's Google Play competitors
From this, you may get some indications as to why an app ranks above you. For instance, we see "Competitor 1" not only has the best app rating, but has the longest title and description. Perhaps they better optimized their title and description?
We can also see that competitors that rank above us generally have a larger number of total reviews and installs, which aligns with both Google's and Apple's statements about the importance of user engagement metrics.
With the above comparison information, you can dig a little deeper, which leads us on nicely to the next section.
Optimize your app text fields
Keywords you add to text fields can have a significant impact on app store discoverability.
As part of your analysis, you should look into how your keyword optimization differs from competitors and identify any opportunities.
For Google Play, adding keywords to the below text fields can influence rankings:
Keywords in the app title (50 characters)
Keywords in the app description (4,000 characters)
Keywords in short description (80 characters)
Keywords in URL
Keywords in your app name
When it comes to the App Store, adding keywords to the below text fields can influence rankings:
Keywords in the app title (30 characters)
Using the 100 character keywords field (a dedicated 100-character field to place keywords you want to rank for)
Keywords in your app name
To better understand how your optimisation tactics hold up, I recommended comparing your app text fields to competitors.
For example, if I want to know the frequency of mentioned keywords in their app descriptions on Google Play (keywords in the description field are a ranking factor) than I'd create a table like the one below.
| | | | | | | |
| --- | --- | --- | --- | --- | --- | --- |
| Keyword | COMPETITOR 1 | COMPETITOR 2 | COMPETITOR 3 | YOUR BRAND | COMPETITOR 4 | COMPETITOR 5 |
| job | 32 | 9 | 5 | 40 | 3 | 2 |
| job search | 12 | 4 | 10 | 9 | 10 | 8 |
| employment | 2 | 0 | 0 | 5 | 0 | 3 |
| job tracking | 2 | 0 | 0 | 4 | 0 | 0 |
| employment app | 7 | 2 | 0 | 4 | 2 | 1 |
| employment search | 4 | 1 | 1 | 5 | 0 | 0 |
| job tracker | 3 | 0 | 0 | 1 | 0 | 0 |
| recruiter | 2 | 0 | 0 | 1 | 0 | 0 |
Above: anonymized table of a client's Google Play competitors
From the above table, I can see that the number 1 ranking competitor (competitor 1) has more mentions of "job search" and "employment app" than I do.
Whilst there are many factors that decide the position at which an app ranks, I could deduce that I need to increase the frequency of said keywords in my Google Play app description to help improve ranking.
Be careful though: writing unnatural, keyword stuffed descriptions and titles will likely have an adverse effect.
Remember, as well as being optimized for machines, text fields like your app title and description are meant to be a compelling "advertisement" of your app for users..
I'd repeat this process for other text fields to uncover other keyword insights.
Step 2. Optimize your store listing
Your store listing in the home of your app on Google Play. It's where users can learn about your app, read reviews and more. And surprisingly, not all apps take full advantage of developing an immersive store listing experience.
Whilst Google doesn't seem to directly state that fully utilizing the majority of store listing features directly impacts your apps discoverability, it's fair to speculate that there may be some ranking consideration behind this.
At the very least, investing in your store listing could improve conversion and you can even run A/B tests to measure the impact of your changes.
You can improve the overall user experience and content found in the store listing by adding video trailers of your app, quality creative assets, your apps icon (you'll want to make your icon stand out amongst a sea of other app icons) and more.
You can read Google's best practice guide on creating a compelling Google Play store listing to learn more.
Step 3. Invest in localization
The saying goes "think global, act local" and this is certainly true of apps.
Previous studies have revealed that 72.4% of global consumers preferred to use their native language when shopping online and that 56.2% of consumers said that the ability to obtain information in their own language is more important than price.
It makes logical sense. The better you can personalize your product for your audience, the better your results will be, so go the extra mile and localize your Google Play and App Store listings.
Google has a handy checklist for localization on Google Play and Apple has a comprehensive resource on internationalizing your app on the App Store.
Wrap up
A drop in visits of any kind causes alarm and panic. Hopefully this blog gives you a good starting point if you ever need to investigate why an apps traffic has dropped as well as providing some quick fire opportunities to win it back.
If you're interested in further reading on ASO, I recommend reading App Radar's and TheTool's guides to ASO, as well as app search discoverability tips from Google and Apple themselves.
Sign up for The Moz Top 10, a semimonthly mailer updating you on the top ten hottest pieces of SEO news, tips, and rad links uncovered by the Moz team. Think of it as your exclusive digest of stuff you don't have time to hunt down but want to read!
Thank you for reading.
This may be of some interest.
Posted by ryanwashere
A few years ago, I wrote a post here that caught some attention in the community.
I argued Google appears to be ranking websites heavily based on searcher intent — this is more true now than ever.
In fact, it might be algorithmically impossible to get your website on top of the SERPs.
If you find your website in this position, don't give up on SEO!
The point of "Search Engine Optimization" is to get organic exposure through search engines — it doesn't necessarily have to be your website.
We can leverage the ranking authority of other websites pass organic referral traffic to our sites.
I'm going to give 6 times when you should NOT rank your website.
Prefer to watch / listen? I outlined all these points as a part of a recent keynote: https://youtu.be/mMvIty5W93Y
1. When the keywords are just TOO competitive
We've all been there: trying to rank a website with no authority for highly competitive keywords.
These keywords are competitive because they're valuable so we can't give up on them.
Here's a few workarounds I've used in the past.
Tactic 1: Offer to sponsor the content
Ardent sells a product that "decarboxylates" cannabis for medicinal users.
There's a ton of challenges selling this product, mostly because patients don't know what "decarboxylation" means.
So, naturally, ranking for the keyword "what is decarboxylation" is a critical step in their customer's path to conversion. Problem is, that keyword is dominated by authoritative, niche relevant sites.
While Ardent should still build and optimize content around the subject, it might take years to rank.
When you're trying to build a business, that's not good enough.
We decided to reach out to those authoritative sites offering to "sponsor" one of their posts.
In this case, it worked exceptionally well — we negotiated a monthly rate ($250) to tag content with a CTA and link back to Ardent's site.
Granted, this doesn't work in every niche. If you operate in one of those spaces, there's another option.
Tactic 2: Guest post on their site
Guest writing for Moz in 2015 put my agency on the map.
Publishing on powerful sites quickly expands your reach and lends credibility to your brand (good links, too).
More importantly, it gives you instant ranking power for competitive keywords.
As co-owner of an SEO agency, it would be amazing to rank in Google for "SEO services," right?
Even with an authoritative site, it's difficult to rank your site for the search "SEO service" nationally. You can leverage the authority of industry sites to rank for these competitive searches.
The post I wrote for Moz back in 2015 ranks for some very competitive keywords (admittedly, this was unintentional).
This post continues to drive free leads, in perpetuity.
When we know a client has to get visibility for a given keyword but the SERPs won't budge, our agency builds guest posting into our client's content strategies.
It's an effective tactic that can deliver big results when executed properly.
2. When you can hijack "brand alternative" keywords
When you're competing for SERP visibility with a large brand, SEO is an uphill battle.
Let's look at a couple tactics if you find yourself in this situation.
Tactic #1: How to compete against HubSpot
HubSpot is a giant on the internet — they dominate the SERPs.
Being that large can have drawbacks, including people searching Google "HubSpot alternatives." If you're a competitor, you can't afford to miss out on these keywords.
"Listicle" style articles dominate for these keywords, as they provide the best "type" of result for a searcher with that intent.
It's ranking on top for a lot of valuable keywords to competitors.
As a competitor, you'll want to see if you can get included in this post (and others). By contacting the author with a pitch, we can create an organic opportunity for ourselves.
This pitch generally has a low success. The author needs to feel motivated to add you to the article. Your pitch needs to contain a value proposition that can move them to action.
A few tips:
Find the author's social profiles and add them. Then retweet, share, and like their content to give them a boost
Offer to share the article with your social profiles or email list if they include you in it
Offer to write the section for inclusion to save them time
While success rate isn't great, the payoff is worth the effort.
Tactic #2: Taking advantage of store closures
Teavana is an international tea retailer with millions of advocates (over 200k searches per month in Google).
Just a few months ago, Starbucks decided to close all Teavana stores. With news of Teavana shutting down, fans of the brand would inevitably search for "Teavana replacements" to find a new company to buy similar tea from.
Teami is a small tea brand that sells a number of SKUs very similar to what Teavana. Getting in front of those searches would provide tremendous value to their business.
At that moment, we could do two things:
Try to rank a page on Teami's for "Teavana replacement"
Get it listed on an authority website in a roundup with other alternatives
If you ask many SEO experts what to do, they'd probably go for the first option. But we went with the second option – getting it listed in a roundup post.
If we ranked Teami as a Teavana replacement — which we could do — people will check the site and know that we sell tea, but they won't take it seriously because they don't trust us yet that we are a good Teavana replacement.
How to pull it off for your business
Find a writer who writes about these topics on authoritative sites. You may need to search for broader keywords and see articles from authority magazine-like websites.
Check the author of the article, find their contact info, and send them a pitch.
We were able to get our client (Teami Blends) listed as the number-two spot in the article, providing a ton of referral traffic to the website.
3. When you want to rank for "best" keywords
When someone is using "best" keywords (i.e. best gyms in NYC), the SERPs are telling us the searcher doesn't want to visit a gym's website.
The SERPs are dominated by "roundup" articles from media sources — these are a far better result to satisfy the searcher's intent.
That doesn't mean we can't benefit from "best keywords." Let's look at a few tactics.
Tactic #1: Capture searchers looking for "best" keywords
Let's say you come to Miami for a long weekend.
You'll likely search for "best coffee shops in Miami" to get a feel for where to dine while here.
If you own a coffee shop in Miami, that's a difficult keyword to rank for – the SERPs are stacked against you.
A few years back we worked with a Miami-based coffee shop chain, Dr Smood, who faced this exact challenge.
Trying to jam their website in the SERPs would be a waste of resources. Instead, we focused on getting featured in press outlets for "best of Miami" articles.
How can you do it?
Find existing articles (ranking for your target "best of" keywords) and pitch for inclusion. You can offer incentives like free meals, discounts, etc. in exchange for inclusion.
You'll also want to pitch journalists for future inclusion in articles. Scan your target publication for relevant journalists and send an opening pitch:
Hey [NAME],
My name is [YOUR NAME]. Our agency manages the marketing for [CLIENT].
We've got a new menu that we think would be a great fit for your column. We'd love to host you in our Wynwood location to sample the tasting menu.
If interested, please let me know a date / time that works for you!
We pitched dozens of journalists on local publications for Dr Smood.
It resulted in a handful of high-impact features.
Work with food service businesses? I have more creative marketing tips for restaurants here.
Tactic #2: If you have a SaaS / training company
Let's say you work for an online training company that helps agencies improve their processes and service output.
There's hundreds of articles reviewing "best SEO training" that would be a killer feature for your business.
Getting featured here isn't as hard as you might think — you just have to understand how to write value propositions into your pitch.
Part of that is taking the time to review your prospect and determine what might interest them:
Helping get traffic to their site?
Discounts / free access to your product?
Paying them…?
Here's a few I came up with when pitching on behalf of The Blueprint Training.
Hey [NAME],
My name is [YOUR NAME]…nice to meet you.
I'll get to the point – I just read your article on "Best SEO Trainings" on the [BLOG NAME] blog. I recently launched a deep SEO training and I'd love consideration to be included.
I recently launched a platform called The Blueprint Training – I think its a perfect fit for your article.
Now, I realize how much work it is to go back in and edit an article, so I'm willing to do all of the following:
– Write the section for you, in the same format as on the site

– Promote the article via my Twitter account (I get GREAT engagement)
– Give you complimentary access to the platform to see the quality for yourself
Let me know what you think and if there's anything else I can do for you.
Enjoy your weekend!
If you can understand value propositioning, you'll have a lot of success with this tactic.
4. When you need to spread your local footprint
Piggybacking off the previous example, when performing keyword research we found Google displayed completely different SERPs for keywords that all classified what Dr Smood offered.
Miami organic cafe
Miami coffee shop
Miami juice bar
The algorithm is telling us each of these keywords is different — it would be extremely difficult to rank the client's website for all three.
However, we can use other owned properties to go after the additional keywords in conjunction with our website.
Properties like Yelp allow you to edit titles and optimize your listing just like you would your website.
We can essentially perform "on page" SEO for these properties and get them to rank for valuable keyword searches.
The structure we took with Dr Smood was as follows:
When doing this for your business, be sure to identify all the keyword opportunities available and pay attention to how the SERPs react for each.
Understand which citation pages (Yelp, MenuPages, etc) you have available to rank instead your website for local searches and optimize them as you would your website.
5. When you need to boost e-commerce sales
The SERPs for e-commerce stores are brutally competitive. Not only do you have to compete with massive brands / retailers, but also sites like Amazon and Etsy.
Look, I get it — selling on Amazon isn't that simple. There's a ton of regulations and fees that come with the platform.
But these regulations are what's keeping a lot of larger brands from selling there, aka, there's an opportunity there.
Amazon accounts for 40% of online retail in the US (and growing rapidly). Not only can you get your Amazon to rank in Google searches, but 90% of sales on the platform come from internal Amazon searches.
In other words, Amazon is its own marketing engine.
While you might take a haircut on your initial sales, you can use Amazon as a customer acquisition channel and optimize the lifetime value to recoup your lost upfront sales.
Here's how we did it for a small e-commerce client.
Tactic: Radha Beauty Oil
Radha Beauty sells a range of natural oils for skin, hair and general health. Our keyword research found that Amazon listings dominated most of their target keywords.
With clients like this we make sure to track SERP result type, to properly understand what Google wants to rank for target keywords.
Specifically, Amazon listings had the following SERP share:
First result = 27.3%
Second result = 40.9%
Third result = 35.9%
Fortunately, this client was already selling on Amazon. Unfortunately, they had a limited budget. We didn't have the hours in our retainer to optimize both their e-commerce store and their Amazon store.
This data gave us the firepower to have a conversation with the client that our time would drive more revenue optimizing their Amazon store over their e-commerce platform.
We focused our efforts optimizing their Amazon listings just like we would an e-commerce store:
Amazon product titles
Amazon descriptions
Generating reviews from past customers
Building links to Amazon store pages
The results were overwhelmingly positive.
If you're a newer e-commerce brand, an Amazon store gives you the opportunity to outrank giants like Ulta in Google.
6. When the SERPs call for video
Predator Nutrition is an e-commerce site that sells health and fitness supplements. They have their own private label products, but they're mainly a retailer (meaning they sell other brands as well).
While performing keyword research for them, we found a ton of search volume around people looking for reviews of products they sold.
The SERPs clearly show that searchers prefer to watch videos for "review" searches.
There are a couple ways you can capture these searches:
Create videos for your YouTube channel reviewing products
Find and pay an influencer to review products for you
I prefer method #2, as reviews on third-party channels rank better — especially if you're targeting YouTubers with a large following.
Not only are you adding more branded content in the SERPs, but you're getting your products reviewed for targeted audiences.
Final thoughts…
This industry tends to romanticize SEO as a traffic source.
Don't get me wrong, I love how passionate our community is, but… we have to stop.
We're trying to build businesses. We can't fall in love with a single source of traffic (and turn our backs to others).
The internet is constantly changing. We need to adapt along with it.
What do you think?
Sign up for The Moz Top 10, a semimonthly mailer updating you on the top ten hottest pieces of SEO news, tips, and rad links uncovered by the Moz team. Think of it as your exclusive digest of stuff you don't have time to hunt down but want to read!
Thank you for reading.
This may be of some interest.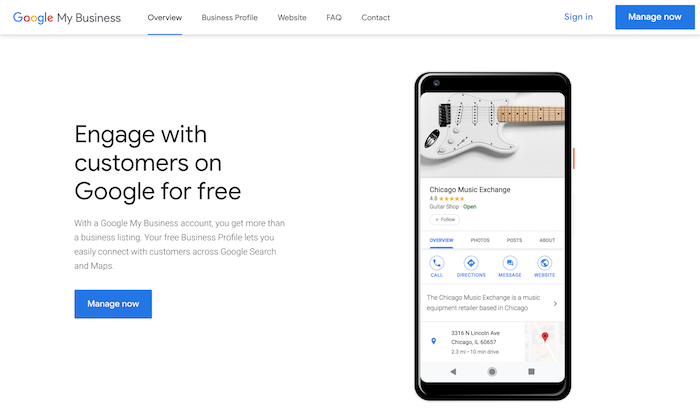 You're probably already familiar with Google My Business.
If you aren't, as a quick recap, Google My Business is a simple way to claim your office address or storefront on Google.
That way, when someone searches for your business, you'll show up on the right side of a Google search like the image above.
Or better yet, when someone searches for a product or service you'll offer, you'll show up in the local pack.
What's interesting, though, is Google has been making changes to it, which means it just got easier to generate leads and sales for you.
Best of all, very few marketers are even leveraging these features.
Welcome Offers
What's one of the easiest ways to generate more sales?
By offering discounts and coupons, right? Just think of it this way, if it didn't work, Cyber Monday wouldn't bring in $7.8 billion in sales.
Google knows that people are looking for ways to save money and find good deals. With this new feature, businesses can reward their customers by giving them welcome offers.
By following your business, they can get first-time deals and always keep in touch to see when new deals are posted.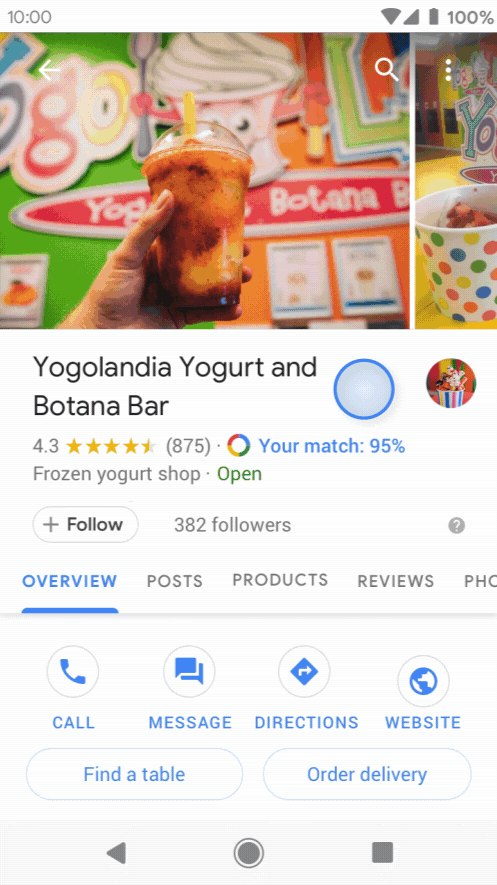 Not only will this bring you new customers but also repeat customers because people will be notified every time you have new deals.
To set up a welcome offer, open your Google My Business app and tap on your profile. Under "Turn followers into customers," click on 'Create Welcome Offer' and hit 'Create.'
You can enter the following information in your offer:
Title (30% off oil changes)
Description
Coupon Code (Optional)
Terms and Conditions (Optional)
Website (Optional)
Once finished, you can preview your message and publish. For notifications on new followers, and editing or deleting offers, you can read more on Google Support.
Generate leads in just a few clicks
Google is now adding a "Request a Quote" button in your business listing which was discovered by Joy Hawkins and can also be seen on mobile when searching branded terms.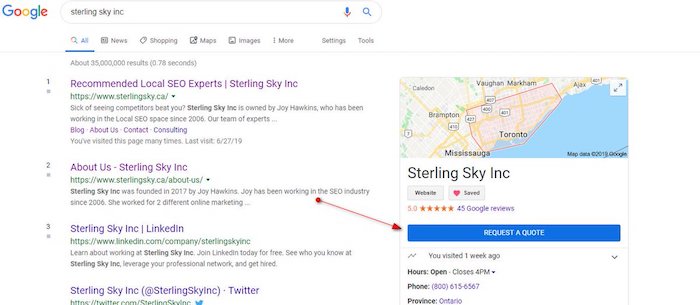 This is happening with businesses that have the Google My Business messaging feature on.
To enable messaging, open the Google My Business app and go to your listing.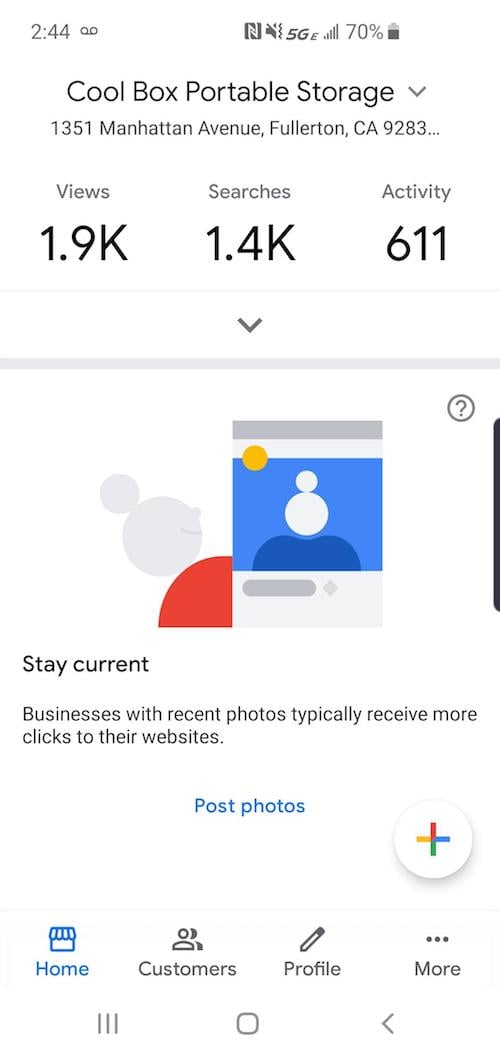 Navigate to Customers -> Messages and turn on!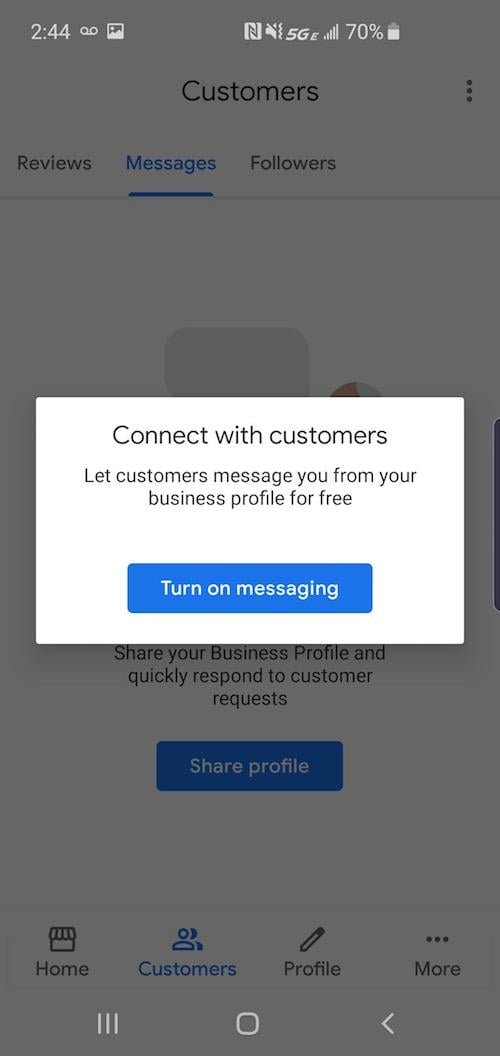 People will now be able to ask for quotes on cars, insurance, and pretty much any service out there.
You can even review these quotes and reply to them within the Google My Business App and connect with your customers easily for a quick sale.
Make sure you claim your URL
Businesses can now claim a Short Name and URL for their listing.
If you haven't claimed your URL, make sure you do so before it gets taken by someone else.
Don't get too crazy though as you can only change your short name three times per year. You can enable this by navigating to your locations page, click "Info" on the left-hand side, and see "add short name".

You may not think this is a big deal, but if you have used Google My Business before, then you know it's not easy to share your profile on business cards, emails, and text messages without posting a huge URL.
With short names, your landing page will show as g.page/businessname and can be easily shared.
A business can choose a name between 5 and 32 characters and it can contain the business name, location, and more. People can still flag a name for impersonating another business or if the name is offensive, fake, spammy, or contains inappropriate terms.
So, remember not to violate any policies with your name.
I recommend doing this as it will make it easier for your customers to refer back to your profile where they can read updates, post, make reservations, read/write reviews, and more!
And eventually, people will be able to search short names in Google Maps to find the businesses they love.
Google Assistant
Google is now letting customers order food from restaurants and stores via Google Assistant, which is delivered through DoorDash, Postmates, Delivery.com, Slice, ChowNow, and Zuppler, with other partners possibly coming soon.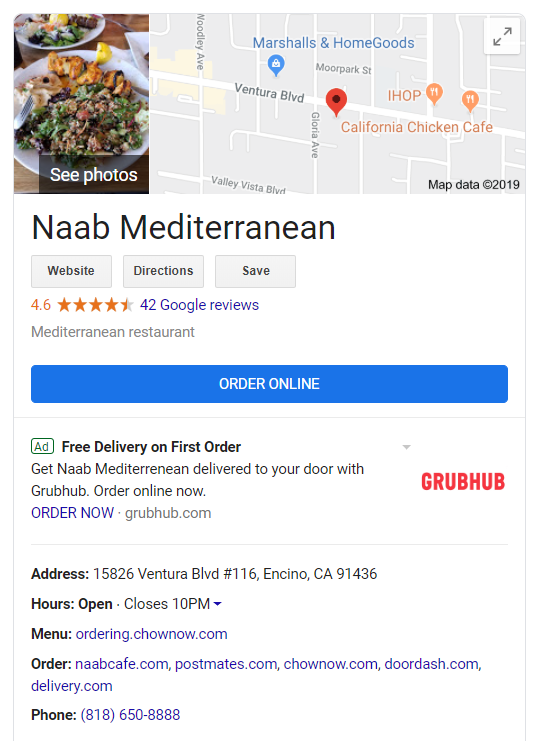 Users can click on Order Now on the listing and can choose pick-up or delivery and if they want to order ASAP or schedule for later. Payment happens through the default payment on Google Pay. If they do not have one, they will be able to add credit card information through this too.
Additionally, customers can order food by using Google Assistant by saying "Okay Google, order food from [restaurant]." If the user has ordered before, it will let them see past orders.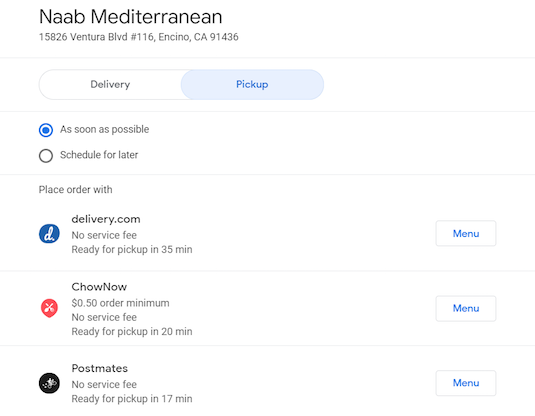 Updating your menu online, as well as delivery service carriers and their apps will help get you started on this.
You'll want to make sure your menus are consistent through all your service carriers to get the best orders to your hungry customers.
And of course, I know there is a good chance you don't have a restaurant or aren't in the food delivery business, but expect to see more ways Google My Business gets integrated with Google Assistant.
It's better to be early than late.
And speaking of food, Google has also added the popular dish tab on your menu which features images and menu items that people love the most.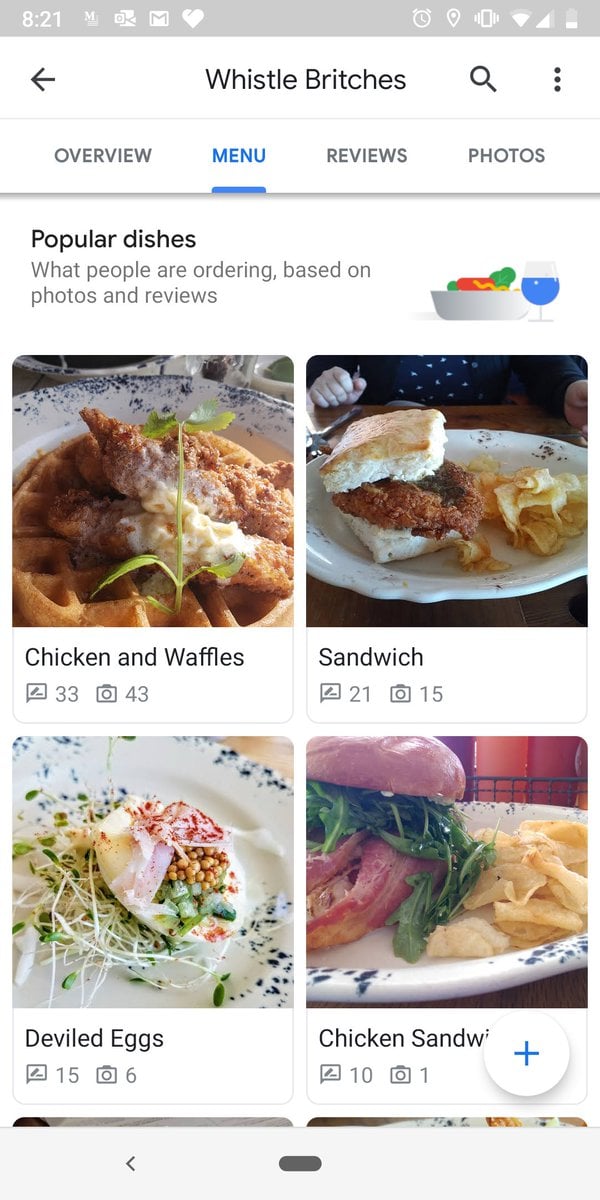 This scans reviews and images on your Google My Business profile to find the most commonly mentioned dish and adds it to your popular dish tab. Of course, if anything is wrong, you can suggest edits to these.
This helps if there are dishes without names, wrong names, or typos can be fixed.
Auto-generated posts based on reviews
Look, you are busy, but you have no choice but to create content.
Google has given you easier ways to generate posts… in essence, they are now creating auto-generated posts for you.
These recommended posts are suggested through customer reviews on your Google My Business profile and are similar to their Small Thanks program, which tried to get you to highlight reviews given by previous customers on social media and even being able to print it out and display it on your business walls.
You are probably wondering why should you use it, right?
This helps keep people engaged in your profile if you haven't posted on Google My Business in a while and gives you fast and easy publishing. It even gives you options to customize backgrounds with images and colors.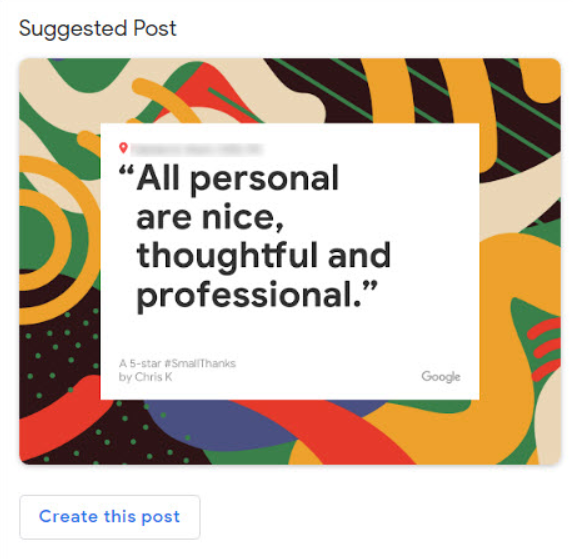 This will pop up on your Google My Business dashboard and all you have to do is hit "Create this post".
There's no real way to pick other reviews for Suggested Posts, but you are always welcome to create your own. This is just a simple feature created to help engage your audience more.
Boost your conversions by controlling your images
Businesses can now set a preferred profile cover photo in your image carousel and have a place for logos at the top-right of your profile next to the business name.
This is an additional feature to the regular NAP (Name, Address, Phone Number) as well as business hours and will be prominently featured.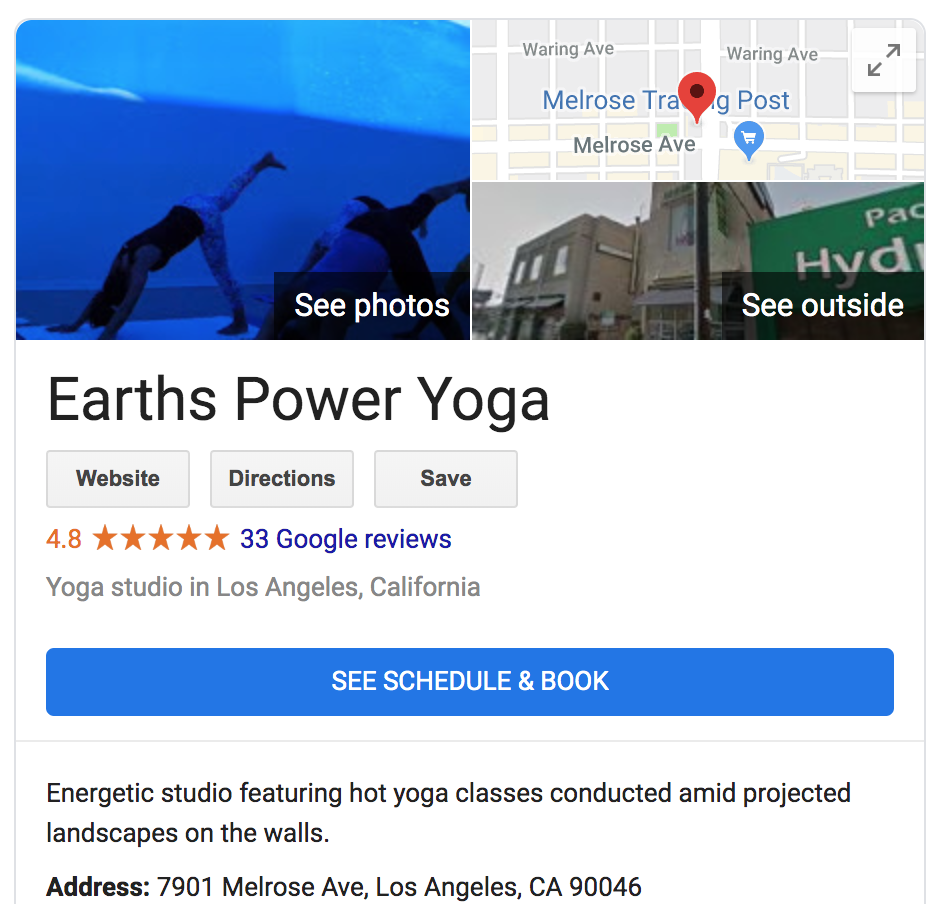 You can easily create offline material
Google is launching a website where businesses can order and get custom promotional items such as stickers and posters to advertise their business. This is in hopes that it will entice customers to follow places on your profile, add reviews, and create bookings.
You can even order signs like 'follow us on Google' and more for free (one shipment per location).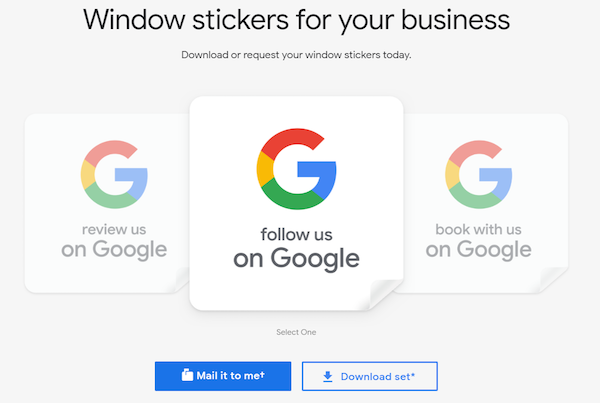 For posters, you can use the editor to create your own type of poster that can be downloaded and easily printed by yourself or a local printing company. If posters aren't your cup of tea, you can even share these on social media.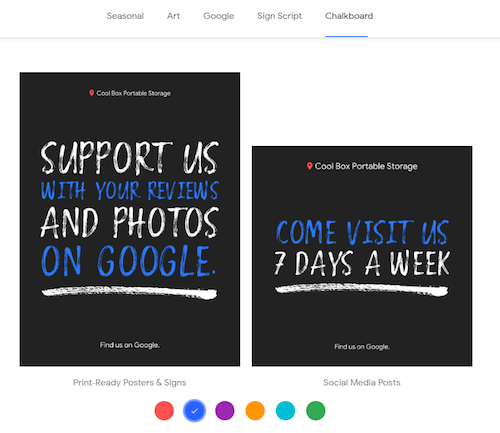 This is currently free as it is a downloadable offer, but you may want to pay to have someone print this out in poster size or as stickers to put on your business windows.
Just think of it this way, people put Yelp signage everywhere because it works. Chances are, it will work on Google as well.
Place Topics
Google launched Place Topics which uses data based on reviews to help give information on what previous customers think about your business.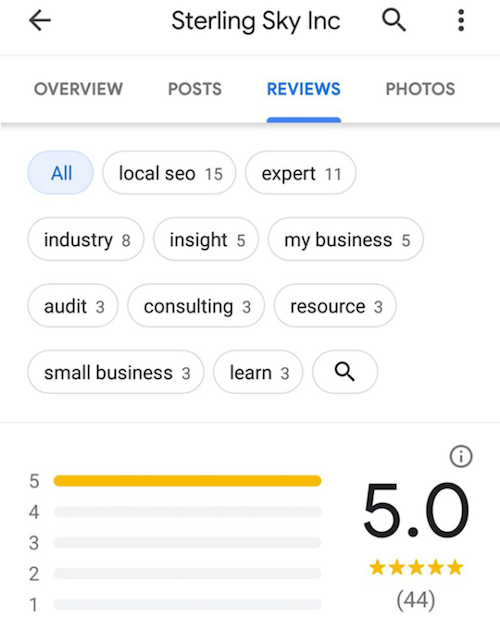 This can help users see themes of reviews at a glance for businesses and it's all automated.
It's kind of like a tag cloud.
This does mean that you cannot generate these yourselves or edit them. So, if you don't have one, you may not have enough reviews.
Also, if you have a negative one, there's potentially no way of removing this unless you get the review removed. So, make sure your happy customers are leaving reviews is very important.
Possibly entice them with a 10% discount the next time they come… assuming you aren't breaking any policy guidelines.
Q&A Auto-Suggest Answers
This feature that Google updated uses previous answers to questions and Google My Business Reviews to answer new questions on the spot. As you start writing the question, different answers start to pop up to give you the best match.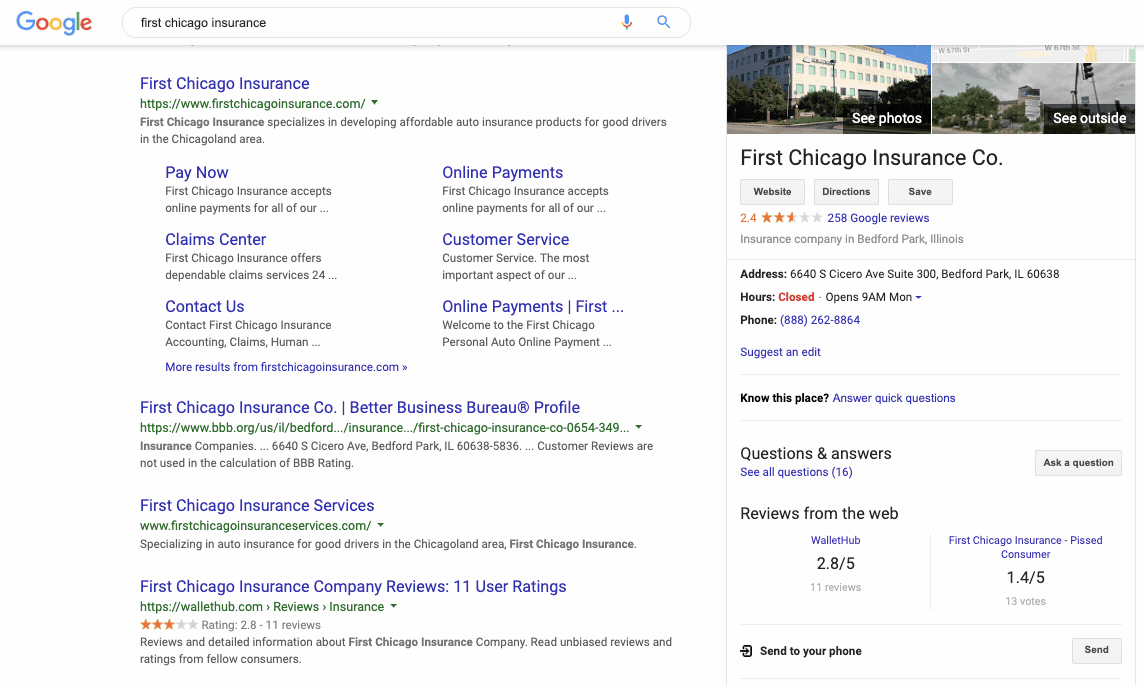 So how can you make sure people get the most accurate answer?
Similar to place topics, encouraging your customers to leave detailed reviews of their experience really helps. The more detailed the review is, the better the question gets answered.
Of course, people who are searching for answers can potentially see negative reviews such as prices are too high, service takes long, very long waits on weekends, and more.
In other words, always encourage positive reviews from your loyal customers.
Conclusion
If you haven't used Google My Business before, you should check it out. With their updates and new features, it is now easier to generate sales and collect leads.
In the future, you'll see a much deeper integration between Google My Business and Google Assistant. This is going to be important as 50% of the searches will soon by voice searches according to ComScore.
Make sure you are leveraging all of these features and releases Google is launching because it doesn't cost you money and if you get in early enough, you'll have an advantage over your competition.
So are you using Google My Business to it's fullest extent?
The post How to Generate More Traffic with Google's New Features appeared first on Neil Patel.
Thank you for reading.
Traffic is something that every marketer wants more of. Whether you have a corporate site or a wordpress blog, a landing page or a funnel, you want more traffic and you want it as cheap as possible.
How about getting it for free?
Yes that is what a new product called Traffic Zion claims to get you – 100% Free Traffic.
What is TrafficZion?
This is a groundbreaking software, battle-tested for over a year, so that virtually anyone can start getting consistent free traffic on complete autopilot to their affiliate offers, products, services etc. I'm not a fan of supporting any kind of "push button" system, but I'm telling you right now…this is as close as you'll ever get!
Who is TrafficZion for?
TrafficZion is very simple to use, so from that point of view, it is newbie-friendly. However, it assumes you've already started an online business of some sort (or at least know which type of online business you want to get into, and you have a plan). From that point of view, it is aimed at slightly above newbie-level and beyond. Basically, anyone who needs traffic coming in to their products, services or affiliate offers, but find paid traffic extremely expensive, can benefit from TrafficZion:
Affiliate marketers
Online product owners
Email marketers
Offline businesses
Social media marketers
Local marketers
SEE THIS DEMO VIDEO and see the software in action…
3 Things I Love About TrafficZion:
I like that the guys behind this software have really done their homework, and have tested this software like crazy before releasing it, with beta tester experiencing results almost immediately after turning on the software. Some of these beta tester have been using this software for over one year, so the creators are really making sure that this isn't some 'fly by night' software that works today, but is defunct just a few short weeks later.
The software dashboard is one of the easiest, newbie-friendly ones I've ever seen. I'm not the most technical person, and some dashboards have left me feeling like I'm operating a space shuttle! TrafficZion is fantastic because it's so simple – just search for your niche by using your tags and keywords, press start, and watch traffic start hitting your sites, products and offers.
The traffic is completely free from an untapped reputable source, which makes it ideal for new affiliate marketers and online marketers who have little or no budget.
What will I get inside TrafficZion?
You get the full, intuitive TrafficZion software platform, which includes:
One click install onto any WordPress site
Choose tags and keywords to target your perfect niche (this is important as many free traffic sources are untargeted and therefore useless). This function allows you to only get traffic from people who would be interested in your specific offers and products
Autopilot function which eliminates user management. This is a comprehensive system that can auto-generates a steady stream of traffic, without your involvement, after initial set up.
Any drawbacks to TrafficZion?
The main drawback is that this is not newbie friendly. It is, however, beginner friendly. Let me explain! A newbie is someone who is looking into making money online, maybe has an idea of which business model to follow, but needs a 'start from scratch' course showing them what to do. TrafficZion does not do this. It assumes that you're either already in business, or are about to start an online business, and you need what all online businesses need – targeted traffic. However, TrafficZion is beginner friendly in that, even if you're not normally a fan of software because you find them complicated, you'll be able to install and set up TrafficZion with no issues
Do I get any bonuses with TrafficZion?
Yes, you get 3 bonuses:
Bonus Library – get hundreds of products to download and offer as bonuses in your promotions – perfect for affiliate marketers
Link Supercharger Software – a powerful solution to generate more traffic, brand your domains & maximize your commissions
WordPress SEO – everything you need to start getting massive traffic to your WordPress website
Final thoughts on TrafficZion:
It doesn't matter what offers or services you're promoting… if you aren't seeing the results you want, chances are, you're not getting enough targeted traffic to your offers. And lack of targeted traffic is the number one reason why businesses fail. Right now, at least 9 out 10 marketers are struggling to get traffic these days. But now, with TrafficZion, there is plenty of room for all of us to generate autopilot, super-targeted traffic back to our websites, blogs and offers… which translates into profits!
==>> DOWNLOAD TRAFFICZION NOW & GET STARTED
This may be of some interest.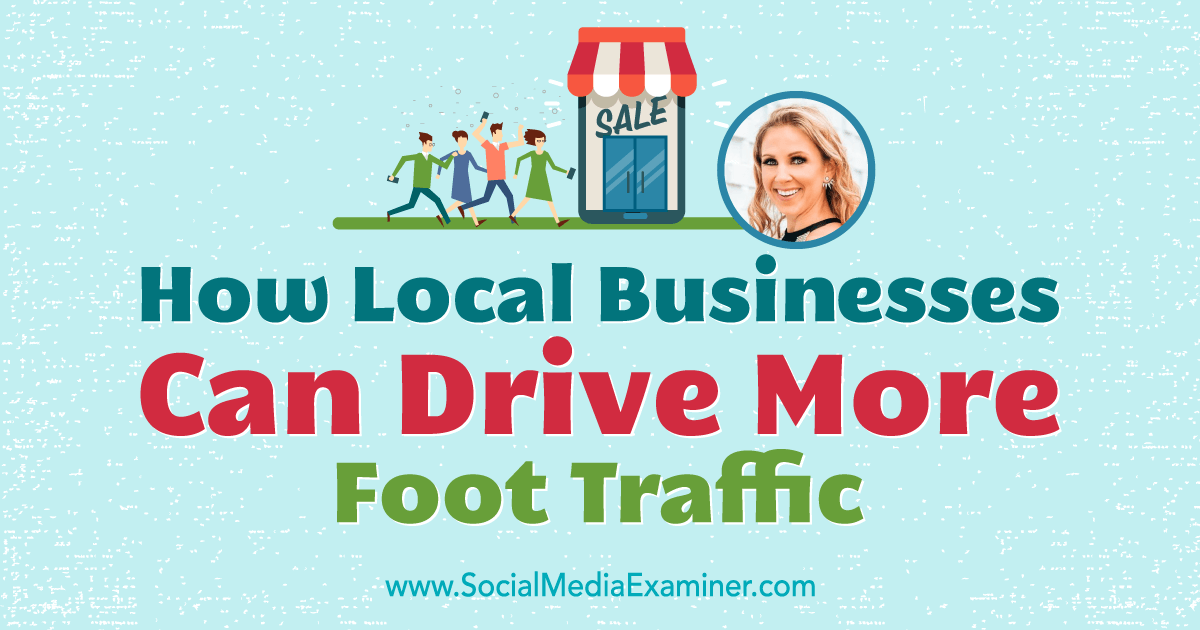 Do you want to drive more foot traffic into your local business? Wondering how social media marketing can help? To explore how local businesses can drive more foot traffic, I interview Stacy Tuschl. Stacy is a local business marketing expert and owner of two performing arts studios. She's also host of the Foot Traffic podcast […]
The post How Local Businesses Can Drive More Foot Traffic appeared first on Social Media Marketing | Social Media Examiner.
Thank you for reading.
Are you spending too much on paid ads to build your email list?
I know what it means to not putting your time and money on that because we might not get real email addresses. Pretty common thing to do I know. Most of internet marketers feel like they need to create a website, paid ads, or landing page in order to get email leads.
This is a new tool that let you use powerful social media sites like Facebook to build your targeted email leads on complete autopilot.
Wanna know more? Let's check it out!

Features
Front End – FEATURES
+ Unlimited, Targeted, REAL Email Leads via Facebook
+ Run Upto 50 Campaigns – unlimited leads on each
+ Fully customizable styling – choose color, position on page, width, height, font, background, border etc
+ Deploy on your own website – on any number of pages you want (unlimited)
+ Create CLOAKED Campaigns – use Authority Sites to Get Your Email Leads
+ Jack any authority site & use that to build your list in 2 clicks.
+ Make Your FB Posts/Shares look just like the Original Site
+ Instant COPY PASTE and Deploy Your Campaign
+ Download HTML Code and upload anywhere to start your Campaign
+ Use our Powerful WordPress Plugin to Integrate Campaigns
+ Get Name, Email, Age, Gender, Picture of the Lead – Amazing Targeting Capabilities + Personalization
+ Send Leads to Your Facebook MESSENGER at any time (convert into real chats)
+ Instantly Send message to ANY of your Fanpages (and grab their email + user info when you do it)
+ Include "continue with facebook button" at any stage to collect REAL facebook email + other info
+ Fully AUTOMATED "answer bot" have the app answer visitor questions in real time for you
+ Define spintax enabled "replies" that reply to visitors intelligently based on keywords they enter
+ Define custom title, welcome message, bot name, thank you message, and default reply (spintax enabled)
+ Include any images you want anywhere in the app (in the title, welcome message, reply etc) either upload image, or enter any image url
+ Include any link you want anywhere in the app (in the title, welcome message, reply etc)
+ No Autoresponder needed, automatically stores all your leads and exports to CSV
OTO1 PRO Version Features
[+] Unlimited Campaigns for Unlimited Websites
[+] "Bot automated learning" – view the most common questions asked by visitors & define auto replies.
[+] "Request email back" behaviour for facebook button.
[+] Allows visitors to leave a message and expect an email back.
[+] Include any Youtube video you want anywhere in the title, welcome message, reply etc).
[+] Dashboard stats (see total optins, total impressions, daily optins, daily impressions)
[+] Allow export via various filters (for example allows exports of only men in 21+ age range)
[+] Campaign SPLIT TESTING – fully automated.
[+] Like and Share buttons integrated (so you can ask visitors to like or share any URL at any point)
[+] Auto Popup for 10x better lead capture and conversion
[+] Popup audio notification that alerts visitors and attracts them
[+] Play Custom Audio that directs visitors to take action or enter a contest etc.
[+] Auto Play intro videos and welcome videos.
[+] Full autoresponder integration (with Aweber, Getresponse, Mailit, Sendlane, Mailchimp)
[+] Full tracking stats for all campaigns (impressions, optins, optin rate, plus graph)
How Does it Work?
This is super easy to use even for newbies. Features are mostly automated. Let check some interesting articles and videos here:
Good Points
User friendly

Get email leads on complete autopilot without website or landing page

Responsive technical support
Bad Points
Need fast internet connection

Need to contact support if you encounter unknown issue
Conclusion
Building your email list is one click away. Social Jacker is only thing you need to pay. Earn and save more money. GET Your copy of Social Jacker Here!
Who Wants To Get Targeted Traffic To Their Offer At 10 Cents Per Click?
Now You Can Do It BUT For A Limited Time Only!
Alrighty then… Let's get right to it shall we?
I was sitting here thinking about what would help my traffic customers the most and all of a sudden it just came to me.
I just imagined a surge of
website traffic that literally pushed every click it could to a website
in a very short period of time… then I thought… huh, I could do
that!
So within minutes, the 'Extreme 10X Traffic Pack' was born
So basically, this package
will consist of a combination of every type of traffic I not only
sell… but also traffic that I use for myself, being redirected to your
offer for a set amount of time.
You will be guaranteed to receive a minimum amount of clicks per package but there won't be any set limits, no redirects at all.
You will get every visitor that comes your way while your tracking link is LIVE!
Traffic Victory Review – Best Affiliate Traffic for 2019?
Name: Traffic Victory 
Product Owner: Stefan Ciancio, Greg Kononenko & Marc Gray 
Website: Click Here 
Price: $17 
In a nutshell, what is Traffic Victory?
Traffic Victory is a brand new course that shows you how to set up no-cost traffic machines for passive affiliate commissions. It combines 100% free, targeted traffic with a powerful new affiliate marketing tactic, giving you the ability to create as many passive affiliate income campaigns as you like, bringing in $200-300 per day. 
Who is Traffic Victory for?
Traffic Victory is designed for complete newbies, who have no budget for things like generating traffic or creating their own products.  
Newbies

 

Affiliate marketers

 

CPA Marketers

 
3 things I love about Traffic Victory:
It combines 100% free, targeted traffic with a powerful new affiliate marketing tactic, giving you the ability to create as many passive affiliate income campaigns as you like. I love the fact that you can set up as many of these little "affiliate cash machines" that will run in the background for you and collect passive commissions on autopilot.

 

You're shown how to do simple things like what are the best domain names to register, installing and setting up WordPress, the best themes and plugins to use etc. Most courses, at this low price level, leave out this kind of information, which means they're not newbie friendly. I was surprised and pleased to see this level of detail in Traffic Victory, as it means even a complete beginner, who's never set up a website before, can easily follow this step-by-step blueprint.

 

I like that it really makes something like SEO newbie-friendly. Going through this course, I realized how other courses over-complicate SEO. Traffic Victory includes a fantastic 7 day SEO plan for your new site that's so easy to follow and implement, I'm pretty sure even a technophobe would accomplish it.

 
What will I get inside Traffic Victory?
There are 5 modules to the Traffic Rebirth video course: 
Module 1 Overview and basics, including why affiliate marketing is the perfect business model for complete beginners

 

Module 2 Building your site including the best domain names, how to set up a WordPress site, what themes and plugins to use etc.

 

Module 3 Final site setup, including understanding SSL certificates, adding your site to CDN etc.

 

Module 4 – Promotion setup, including exactly what to promote, how to create reviews, how to maximize your traffic etc.

 

Module 5 – Get traffic, including on-page SEO, off-page SEO, and a complete beginners 7-day SEO plan.

 
Any drawbacks to Traffic Victory?
There are 25 videos in this course, amounting to over 7 hours' worth of viewing, so the main drawback would be that you need to spend some time going through the course. This isn't going to be course you can do in an hour or so. If you've ever been exposed to previous courses by these Stefan, Greg and Mark, you'll be aware that they're rather unique in the industry. When most courses under $20 are perhaps a couple of videos and a PDF guide, this team create 'no stone unturned' video courses that should sell for $75+. As a newbie, you may thinking 'Wow, 7 hours is a lot of viewing.' But it's also reassuring knowing that everything is covered, and no detail is missed, which is crucial if you want to succeed. Lesser courses may be quicker to go through, but they will leave out information that you would either have to find elsewhere (and take time to go through) or you end up guessing, making mistakes, and giving up.  
Do I get any bonuses with Traffic Victory? 
Yes, there are 3 in total: 
Twitter Traffic Profits Boost – this is a never before released course which will show you how to get steady, rapid traffic from Twitter in the easiest way possible.

 

Marc's Free FB Traffic – get access to this exclusive method from Marc showing you how to build even more free traffic by utilizing FB groups. Marc does this in a completely unique way and it will let you really add a lot more traffic for very little work.

 

Exclusive Mastermind Access – join newbies and advanced marketers alike in this exclusive mastermind. See other's success, learn from it, apply it for yourself and profit big. Without this mastermind, you'll miss out on additional secrets that will help you get faster results using the Traffic Victory system.

 
Final thoughts on Traffic Victory:
Marc has built up an excellent affiliate marketing business, and best of all, it's hands-off… he doesn't need to do anything after initial setup. He gets highly targeted clicks every day without paying, and then he just keeps setting up his passive traffic machines, one after the other, getting back as much as $200-300/day. Traffic Victory offers a complete newbie the chance to copy his results by watching over his shoulders, from registering a domain right through to turning on free traffic and watching affiliate commissions drop into your PayPal account – a brilliant course for complete beginners.