That
This may be of some interest.
From blog titles to URL slugs, you might not realize how frequently you use SEO stop words. But, to be fair, if Google doesn't pay much attention to them, why should you?
Research shows that 25% of blog posts are made up of stop words. However, these words have little to no relevance to the topic of the post. These are words that help you compose sentences and connect ideas together, and they don't have much impact on Google's search results.
But, excessive use of stop words can impact your brand in the long run. They make content harder for search engines to process which can end up negatively affecting how they index your pages.
In this post, we'll walk you through exactly what SEO stop words are, how they can hurt — or help — your online presence, and which words are considered stop words by Google and other search engines.
What Are Stop Words in SEO?
We use stop words all the time, whether we're online or in our everyday lives. These are the articles, prepositions, and phrases that connect keywords together and help us form complete, coherent sentences.
Common words like its, an, the, for, and that, are all considered stop words. While they're important for communicating verbally, stop words typically carry little importance to SEO and are often ignored by search engines.
Let's review some of the most common stop words in the section below.
Common SEO Stop Words
The most common SEO stop words are pronouns, articles, prepositions, and conjunctions. This includes words like a, an, the, and, it, for, or, but, in, my, your, our, and their.
When people search for something online, search engines like Google omit these words in their results because they don't relate to the keywords in the search. So, rather than looking up content that's related to these words, Google removes them altogether and prioritizes the keywords.
So, the next time you're trying to hit a word count when writing a blog post, try filling that open space with keywords rather than filler copy that doesn't improve your SEO.
While it would be great to load up your content with only meaningful keywords, the reality is that stop words are needed for every type of copy. After all, even if you rank highly on Google, it won't mean much if your content is incomprehensible or doesn't resonate with your audience.
Are Stop Words Beneficial for SEO?
There's a time and place for SEO stop words. First and foremost, stop words help the reader understand the content. It can be confusing to read titles and subheaders without stop words.
You also might find instances where stop words help you differentiate between two topics. For example, you can search 'flamingos' and you'll see information about beautiful, bright pink birds. Add 'the' to the front, and you'll be directed to YouTube to listen to the band, The Flamingos. This tiny, three-letter stop word makes a world of a difference in this case.
In the next section, let's look at some other times when you should be paying attention to stop words to optimize your content's search ranking.
Removing Stop Words
Should you be removing stop words from all of your content?
Like anything else, it depends on how you're using them. If your titles, headings, URL slugs, and keywords make sense without them, then it can be beneficial to remove them.
SEO Stop Words in Titles
If your titles don't make sense when you take out those articles or prepositions, then it's best to leave them be. After all, you want your audience to actually click and read your content. If the most prominent parts — including the title — don't make sense, the website could come off as unprofessional or even spammy.
It usually makes the most sense to leave stop words in titles and headings, as these are wayfinding elements for users navigating your content. Just keep in mind that the optimal character count for titles is 50-60 characters, as search engines cut off longer titles, which could omit important information for the visitor. If you have lengthy stop words in your title, consider rewriting them to balance brevity and clarity.
Stop Words in URL Slugs
When it comes to URL slugs, stop words typically don't have much significance in SEO. They're relevant, however, if they make your URL slug particularly long. Google ranks URLs based on their length, and longer URLs typically rank lower than shorter ones — as outlined by the chart below.
Stop Words as Keywords
As we touched on in the last section, there are some times when stop words are crucial to keywording because they differentiate a proper noun from something else. For example, if you searched "Jets New York" you'd probably get a list of flights coming in and out of New York City. But, if you searched, "The New York Jets," you would get content about the professional football team instead.
Now that we're familiar with what stop words are and when we should use them, let's look at a broader list of stopwords that you should be aware of when creating and optimizing content.
75 Stop Words in SEO
There are many, many more stop words out there, but here's a list of some of the most common stop words to be mindful of when creating content online.
A

About

Actually

Almost

Also

Although

Always

Am

An

And

Any

Are

As

At

Be

Became

Become

But

By

Can

Could

Did

Do

Does

Each

Either

Else

For

From

Had

Has

Have

Hence

How

I

If

In

IS

IT

ITS

JUST

MAY

MAYBE

Me

Might

Mine

Must

My

Mine

Must

My

Neither

Nor

Not

Of

Oh

Ok

When

Where

Whereas

Wherever

Whenever

Whether

Which

While

Who

Whom

Whoever

Whose

Why

Will

With

Within

Without

Would

Yes

Yet

You

Your
Using SEO Stop Words
SEO stop words are important if you want to create a strong SEO strategy and rank highly on search engines like Google. Overusing them can hinder your ranking, but avoiding them altogether will make your content confusing and unclear. By understanding what stop words are and which words qualify as stop words, you can craft content that works to your brand's advantage.
For more ways to rank higher on search engines, read these SEO tips.
Thank you for reading.
This may be of some interest.
In case you haven't heard, Joe Biden is now president-elect of the United States. Twitter, which already begun flagging Trump's tweets on his bunk election claims, now seems to be going full-steam ahead in trolling his account.
Shortly before the race was called, Trump claimed that he won the election "by a lot." In fact, for multiple hours after the Biden news was announced, Trump's tweet stood as his latest:
I WON THIS ELECTION, BY A LOT!

— Donald J. Trump (@realDonaldTrump) November 7, 2020
After the race was officially called for Biden, the warning link Twitter embedded under the tweet led to a Moment saying Biden did indeed win the election. Read more…
More about Twitter, Donald Trump, Social Media, Election 2020, and Culture
Thank you for reading.
This may be of some interest.
Bruce Willis is John McClane in a new car battery ad for Advanced Auto Parts that blows up '88 action flick nostalgia like Nakatomi Plaza.
During the NFL games on Fox this weekend, we got a major shot of nostalgic advertising, courtesy of Advance Auto Parts and its DieHard car batteries. Ahead of the broadcast, Rumer Willis posted a clip of her dad on Instagram whistling Beethoven's Symphony No. 9, a nod to his legendary action flick character John McClane, with the hashtag #DIEHARDISBACK.
Thank you for reading.
This may be of some interest.
You know content marketing works, so you've been plugging away at blog posts, ebooks, and other valuable, educational content for your potential customers.
And people come — they find your content in search results and in their social media feeds. But they may not fill out a form and become a lead right then and there. It's not always because they're not interested in your message — so how do you recapture those viewers who left your site?
Recapturing audience attention to turn lookers into leads is an effective marketing tactic, and if you're not doing it, you're leaving money on the table.
Let me outline for you the sections I'm going to cover in this post:
What the Heck Is Remarketing?
At its core, remarketing is the process of tagging your site visitors and targeting them with content after they leave your site in an effort to reengage them and bring them back to your site.
Remarketing gives you the opportunity to appear in front of people who have already expressed an interest in your website. They could be checking their email, reading the news, watching a YouTube video… and there you are, with something new and awesome to show them. It could be a reminder to complete an action they had started, or a new piece of content to further a buying decision, and so on.
Remarketing provides the opportunity to:
Turn bounced website visitors into leads.
Increase brand recall (and thus increase branded searches).
Increase repeat visitor rates and engagement.
Increase the effectiveness of search engine optimization (SEO) and content marketing.
A common stat in the industry is that 96% of people who visit a website leave without completing the action the marketer would have liked them to take. Remarketing gives you a second chance to make that first impression (and even a third, and a fourth). We can't afford to be forgettable — we have to make our content more sticky.
Alright, so we understand both the problem and the opportunity. Now, let's dive into the solution. You're going to learn how to use remarketing strategies with the Google Display Network to dramatically increase the effectiveness of your inbound marketing efforts.
What Is the Google Display Network?
The Google Display Network is a group of websites where your Google display (banner) ads can appear.
More than 2 million sites are in the network, including heavily trafficked ones such as YouTube. Google estimates that the GDN can reach 90% of people on the internet.
Who you reach and how often will depend on your ad targeting (more on that later).
Remarking Campaign Examples
To further underscore the opportunity that remarketing has to offer, there are some really cool campaign types that you can dig into.
Online Activity
By far the most common remarketing tactic is creating an audience based on their behavior on your website. Your options here are virtually endless — with parameters such as by number of page views (indicating a high level of interest) or by which pages viewed (indicating intent).
Here are some ideas for using this type of campaign:
Targeting by Buyer's Journey Stage
Your blog posts are earlier in the buyer's journey than other pages on your site. That means you'd match their intent with an ad that moves them further down their journey rather than one that sells. Targeting by topic or category-say you run a bakery. Why run general ads to audiences that landed on your wedding-related content? Instead, you'd target them with more personalized ads around wedding cakes and desserts.
Targeting by Intent
Aside from just topic, there's a lot you can learn from your audience's site behavior. For example, visiting a product page indicates interest, but not making it to checkout could mean a price objection or other friction. This means you need to sweeten the deal in some way (like a promo or discount).
Past Purchases
You can also target those that did make it through your purchasing process and target them with ads to earn an upsell.
YouTube TrueView
The human race spends billions of hours every month watching YouTube ads. You may have your own YouTube content, but perhaps your viewing metrics aren't quite as high as you'd like them to be, or perhaps your users have no idea you have interesting video content to share.
Using YouTube TrueView ads, you can target your audiences as they are watching other videos on YouTube.
Take the screenshot below, for example. I'm trying to watch a Teenage Mutant Ninja Turtle video and it's showing me an ad for a tourism company in Italy. Why? Because I was planning a trip to Florence at the time I took this screenshot, and they're remarketing to me.
The cool thing about TrueView videos is that you only pay if people view your video content. There's no cost if the person clicks on the "skip ad" button. If you're creating video content, why wouldn't you pay a few bucks to promote it?
Video Views
Speaking of YouTube, your visitors don't even need to make it to your website in order for you to retarget them. If you have a solid YouTube presence, you can create an audience based on video views. If someone watched one of your videos, you can create a display campaign that shows them your ads even beyond the YouTube platform.
Remarketing Lists for Search Ads (RLSA)
Here's another interesting but advanced thing you can do. It's a little complicated, but I promise it's awesome. It's called Remarking Lists for Search Ads.
RLSA lets you target people in your audiences with customized ads when they perform searches for specific keywords on Google.
Say, for example, someone visits your site. You tag them, and now they're in one of your audiences.
That person then searches for a competitor of yours. This probably means they're doing some comparison shopping.
Using RLSA, you can target that comparison shopper with a specific ad, like a 10% discount code or something similar. Knowing that the person visited specific pages on your site and is now performing specific searches, it's possible to come up with very specific and compelling ad copy.
Bonus: Remarketing With Facebook
Noticeably absent from the GDN is Facebook, the other big player on the web, and that's because they have their own remarketing system through Facebook Custom Audiences.
It works in much the same way — the difference being that ads are shown to users within the Facebook platform.
How to Set Up a Remarketing Campaign With Google Ads
Like I said earlier, using the GDN for remarketing gives you a great deal of reach. Generally, you can find your tagged site visitors on the network many times per day, several days per week, and across many different sites.
1. Define your audience.
One of your first steps in remarketing is to define the specific audience(s) you want to remarket to. For example, you could create an audience for people who visited your blog or for people who visited specific pages on your website, like your pricing page. This will enable you to reach out to just those people with offers and messaging to suit their interests.
To define an audience, create a new remarketing list in Google Ad. Google will take care of setting all of the cookies; all you need to do is specify which website visitors to include or exclude from your audience.
Segmenting different lists of users enables you to show different ads, depending on which section of your site they visited.
A secondary benefit is that you can bid more aggressively to get more impressions and higher ad positions, and to get visitors to the higher value sections of your website. For example, your data might show that visitors to your pricing or product page are more valuable than your blog visitors.
Another creative remarketing strategy for content marketers is to define audience categories in Google Ads based on the different post categories in your blog. If you already have a ton of blog content that is classified by topic, leverage those existing classifications in your remarketing audience definition strategy.
3. Set audience membership duration.
In remarketing, the audience membership duration is the number of days that you follow a user around with your ads. For example, if I set my audience membership duration to 60 days, then users who visit my site will see my ads for 60 days. You can test and tweak this number to see what's right for your audience.
Ad fatigue is a real thing in every industry and across every medium: TV, radio, print … and, yes, display ads.
Now, I'd like to address a concern I've heard from some fellow marketers: that overly aggressive remarketing will make your prospective customer feel uncomfortable. Let's look at a few facts and see just how "creepy" remarketing really is.
According to
Kenshoo, retargeting can lift ad engagement rates up to 400%, 60% of consumers are neutral about the topic of retargeting ads, and 25% say they actually like them.
Wishpond reports that the average click-through rate for retargeted ads is 10 times that of a regular display ad, and retargeting can lead to a 726% lift in site visitation after four weeks of exposure.
So, be bold! People visited your site for a reason, and past browsing history is among the strongest predictors of future purchasing intent. It's worth testing out remarketing with relatively higher impression caps and membership durations and seeing what happens. As long as your offers and messaging are on target and you're providing value, it's not creepy. I would suggest:
Try setting your audience membership duration to an amount equal to 3x your average sale cycle length.
If it typically takes an average of one week to go from first touch to sale, set the audience membership duration to three weeks.
Don't worry too much about impression caps. (Remember, more impressions means higher conversion rates. Consider rotating though multiple ads per campaign to combat ad fatigue.)
3. Create a killer ad.
Now that we've talked about defining an audience to remarket to, let's focus on how to create killer remarketing ads.
Understand Ad Formats on the GDN
There are several different display ad formats on the Google Display Network, some of which are shown below.
Image Source
| | |
| --- | --- |
| Type | Dimensions |
| Mobile | 300×250, 320×50, 320×100, 250×250, 200×200 |
| Desktop | 300×250, 336×280, 728×90, 300×600, 160×600, 970×90, 468×60 |
Ad formats matter to marketers because of how the ad auction works. Different ad formats do not compete against each other for positioning, as shown in this screenshot:
Write Copy That Resonates Emotionally
According to neurosciencemarketing.com, an emotional approach in advertising is nearly twice as effective as a rational approach. The same emotions that draw people to your content will drive people to click on your ads.
The key here is to create ads that resonate with users on an emotional level. Stay away from boring, plain, informational ads that look the same as every other ad out there. Instead, create ads that appeal to your audience on an emotional level.
Content marketers are uniquely qualified to become fabulous PPC marketers. Why? Because so much of the success and failure of PPC marketing relies on the creativity of your ads.
For example, look at these ads for a search of "Big Data Solutions" — the ads are essentially all the same:
Content marketers, on the other hand, tend to have a few creative bones in their bodies. I call this a Google Ads Jackpot because it reminds me of hitting a row of lucky 7s in Vegas — I just hit a Big Data Solutions jackpot! If you can come up with an emotionally charged, totally different and stand-out ad, you can blow away the competition.
4. Perform ongoing CTR optimization.
Google doesn't make money by showing ads no one clicks on, so it makes sense for them to show ads that are more likely to get clicks. They use an algorithm called Quality Score to determine which ads to show, what position each will display in, and how much to charge the advertiser for each ad click.
To provide an incentive for advertisers to create great ads, they give out huge discounts for ads with high clickthrough rates… and dish out huge penalties for ads with low clickthrough rates.
This all sounds good in theory, but how do you create an ad with high clickthrough rate?
1. Send people to your high-value offers.
What should you be featuring in your image ads? The most common tactic is to simply promote your highest value offers, like a free trial of your product, a request for a demo, etc. This is my top-performing ad:
Of course it has a cute puppy. How could it not? Make people love your ads, not dread them.
2. Do a conversion path analysis.
The goal here is to figure out which pages on your site, if visited during a user's session, result in a much higher probability of the user converting to a lead or a sale. For example, the highest converting page on your site could be your product overview page. Come up with a list like this one and target those pages in your remarketing audience.
3. Send people to your best content.
Check out this ad from my colleague Marty Weintraub at AimClear, which sends anyone who clicks to his PPC analyses.
But how do you know what content to feature in your ads?
4. Analyze social shares on your blog content.
If you analyze your blog content, what you'll usually find is that around 5% of your pages generate half of the shares on social media.
For example, I analyzed all of the articles on one business blog over the last year and found that on average, a typical article gets several hundred shares on social media. However, the top 5% of articles gets tens of thousands of social shares. Not surprisingly, we found that the same stories that work well on social media also tend to do very well as featured content within ads.
5. Get strategic with bid management.
Now that you have remarketing audiences and ads down to a science, let's turn our attention to bid management strategies.
Remember, in PPC marketing, you have to pay for each click. The advertiser specifies a maximum cost per click that they're willing to pay, but the key here is not to buy every possible click. Rather, you want to be super picky and just cherry-pick the clicks that are the most relevant to your business. The way to do this is through bid management.
It doesn't make any sense to remarket ads to everyone in your audience. Why? Because not everyone who visits your website is a qualified buyer.
With Google Ads, you can overlay user demographic information on top of your remarketing audiences to find the needles in the haystack. For example, someone from Zimbabwe could visit your site — but they can't convert if you can't ship there.
Here's when it comes in handy to know a thing or two about your target customer persona.
What are the ages?
Parental status?
Where do they live?
Gender?
What time do they search for your products?
What is their income?
You can be very picky, and just bid for the people in your audience who also meet your demographic filters.
You've done your research, you know your topic, you have something interesting and entertaining to say — but sometimes you need that extra push. As individuals and brands have become publishers, the game has been upped big time. Competition is fierce.
With remarketing, we at WordStream increased our repeat visitors by 50%, tripled our average time on site, and saw a huge increase in direct visits to our site.
In short, content remarketing enabled us to maximize the value of every piece of content we put out. We were able to get each piece in front of the audience with the most intent, at the right time, and via the right channels.
You can achieve this kind of success too with a killer remarketing campaign and the right advertising plan.
Editor's note: This post was originally published in October 2014 and has been updated for comprehensiveness.
Thank you for reading.
This may be of some interest.
Scientists developing a tool to help mask manufacturers make sure their cloth masks actually work found some masks work better than others, and one kind works particularly badly.
If you buy a cloth mask online—whether from Amazon or Etsy or a large manufacturer such as Adidas—you'll see a warning reminding you that what you're buying isn't medical grade. And while the evidence continues to mount that cloth face masks work, it's also true that every mask isn't equally effective, and many companies now making masks are doing it for the first time. In the absence of regulation for cloth masks, as shortages of more proven N95 masks continue, how can consumers or the manufacturers making masks know how much protection they offer?
Thank you for reading.
This may be of some interest.
Without question, the COVID-19 pandemic has had an impact on the B2B world with companies generally reducing marketing budgets. At the same time, many B2B companies are maintaining or increasing marketing spend as we've seen with most of our clients at TopRank Marketing.
While there has generally been a shift from explicit sales/push marketing content to brand messaging that is more aligned with the times and empathetic to customers, sales expectations still exist for B2B brands during the COVID-19 pandemic.
The challenge many B2B marketers are facing is to understand how to navigate both the short term changes in what works for customers in the current environment as as well as in the long term, post-crisis.
According to research from McKinsey, one of the biggest changes that has happened is the boost in importance of B2B digital over traditional means of engaging customers – 200% more than before COVID-19. This move to digital means higher expectations by B2B customers of self service as well as B2B ecommerce experiences. With those changes in expectations come changes in marketing, short and long term.
Not only do B2B companies need to mitigate sales losses because of the uncertainty during the pandemic but those who want to continue being the best solution and top of mind for customers when purchasing behavior comes back need to look at what pandemic-era tactics will stick after the crisis has subsided.
For a great overview of how to measure marketing goals in a crisis, be sure to check out Birdie's post here. 
How buyers feel about B2B brands short and long term will directly contribute to which brands are the most relevant as budgets open up and business solutions investments experience substantial growth. Some of the long term metrics include branding goals measured by share of voice for social, share of search and earned media.
So, can B2B marketers do to optimize and measure their pandemic era marketing?
Content is the kingdom. Providing customers with information and resources for surviving and thriving during the pandemic that are useful from the customer's perspective is a good starting point. Demonstrating how the B2B brand's solution provides value in the current environment is also essential for creating relevance and utility with customers. Of course, useful information isn't all there is. The shift towards digital, B2B brands need to make sure the digital experiences they provide are 100%: Information is easy to find, the inquiry or ordering process is easy and fast, there are zero glitches in using online systems.
Search is even more relevant. As mentioned in the research from McKinsey, self service is an increasing expectations amongst B2B buyers. One way buyers are performing self serve marketing  is through the use of search engines.
An emphasis on search also helps B2B brands reach sales goals without being "salesly".  This trend has been picked up on by savvy B2B marketers with 63% of marketers saying it will be most important during the pandemic according to a survey by Conductor. This confidence is also exemplified from data reported by G2 Crowd showing B2B tech categories having a 200-600% increase in organic search traffic during the pandemic.
Of course to make search work, B2B brands need content and SEO best practices in place to ensure optimized visibility for what customers are looking for. We've seen many B2B brands emphasize SEO during the pandemic which enables buyers who are no longer attending trade shows and engaging in experiential or field marketing activities to use search engines for finding useful information and solutions on their own terms.
Findability works best with credibility.  Customers are as skeptical of brand marketing as ever and are tiring of the "in these uncertain times, we're here for you" ads and messaging. While bypassing that with search engine optimization and advertising works well for connecting with customers, optimized content that has added 3rd party credibility can work even better.
In our own research in the 2020 State of B2B Influencer Marketing Report, 77% of B2B marketers say their prospects rely on influencers for information. Confidence in influencer marketing is on the rise for B2B marketers. 63% of survey respondents believe they would have better marketing results with an influencer marketing program.
So, crisis era marketing that emphasizes SEO to help buyers pull themselves to brand content that also includes credibility inspiring content from industry experts is what can really create trust and the confidence for buyers to make the connection. This is why SEO and influence are essential partners for any B2B marketing effort during and after the pandemic.
Measuring the impact of B2B content marketing that is optimized and influencer activated means understanding the search phrases and topics of influence that are most relevant for customers and then tracking the brand's relevance, engagement and conversion for those topics.
For  search marketing, key measures include:
Topic visibility reporting & share of search for those topics
Referred traffic to content optimized for the target topics
Conversions from target topic content
Influencer marketing, metrics to track include:
Share of voice on topics of include
Growth of brand affinity with influencers
Reach of topic content amongst influencer networks
Engagement and conversion performance of topic content shared by influencers
Growth in affinity of topics and brand in social
Growth of organic brand advocacy by influencers and their networks
Uncertainty is a dangerous state for businesses and making no decision is often worse than making the wrong decision or failing fast. Understanding the shifts in buyer behavior can help B2B brands gain confidence in the role content marketing will play in the short and long term. Relevant content that is both findable for increasingly self-serve buyers and credible through industry expert contributions can give the competitive advantage needed to perform both short term and post-pandemic.
The post Three B2B Marketing Tactics That Will Outlast the COVID19 Pandemic appeared first on Online Marketing Blog – TopRank®.
Thank you for reading.
This may be of some interest.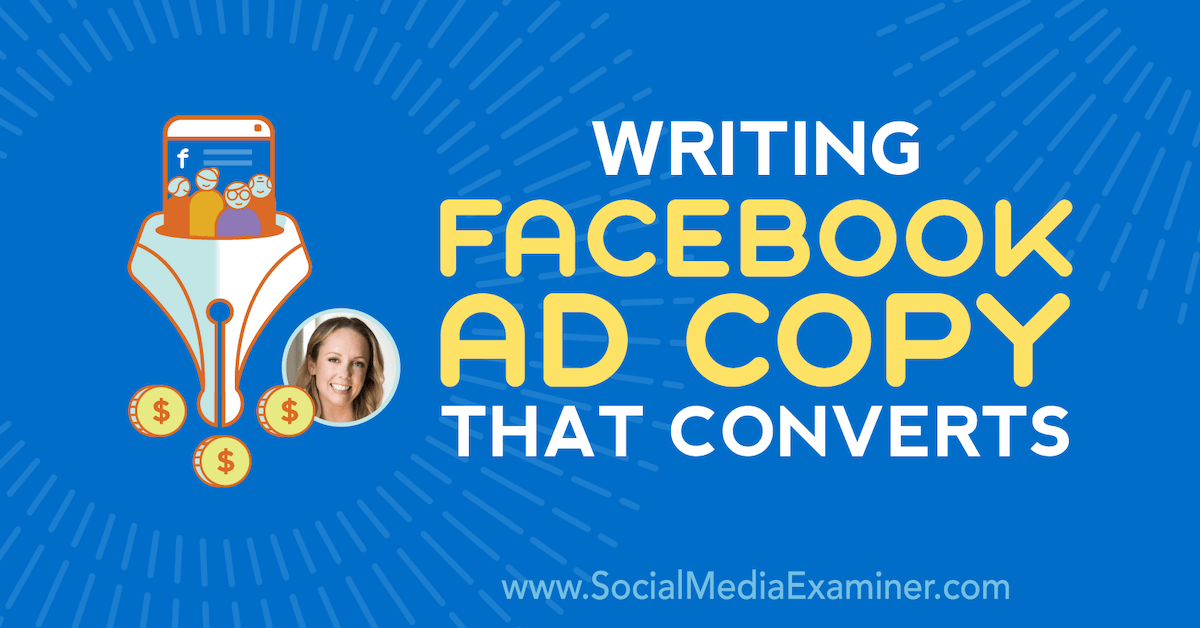 Want to write persuasive Facebook ad copy that sells? Wondering how to get your Facebook ads to work better? To explore what marketers need to know about writing Facebook ad copy that converts, I interview Molly Pittman on the Social Media Marketing Podcast. Molly is a Facebook ads strategist and co-host of the Perpetual Traffic […]
The post Writing Facebook Ad Copy That Converts appeared first on Social Media Marketing | Social Media Examiner.
Thank you for reading.
This may be of some interest.
From flexible work opportunities to more pay transparency, there are plenty of reasons to feel excited about what's happening at work.
Are we finally creating a kinder, gentler workplace? We've certainly seen a number of positive signs over the past decade. A greater emphasis on culture, for instance, has set the stage for higher job satisfaction.
Thank you for reading.
This may be of some interest.
Good grief, Josh, why can't you shut up about B2B podcasting? Does the world really need another think piece, blog post, or webinar about the potential? Don't people get it already?
I hear you, theoretical reader. And yet, I persevere. 
B2B podcasting today is where content marketing was a decade ago. It's emerging as a marketing discipline. People are starting to get sophisticated about deploying and measuring podcasts. We're seeing new tools to make it easier to launch, promote, and monetize. And despite the thousands of hours of audio out there already, there's no sign that the market is satiated. 
I believe that if you're not already thinking about podcasting for your B2B brand, you should be. But if my beautiful words can't convince you, let the data tell the story:
B2B Podcasting: 20 Stats that Make the Case
These statistics come from five different reports, all released in the last year. When you look at all five together, the picture is clear: We're nowhere near peak podcast, and brand content is the next frontier.
Podcast Listenership Just Keeps Growing
Podcasting is a growth medium. More people are listening now than ever before. But what's truly impressive is how many listeners are new to the medium. Even though podcasts have been around since the early 2000s, they have only reached a mass market audience in the past couple of years.
1: Nearly a quarter of all listeners started in the past 6 months. (2)
2: Globally, 36% of the sampled population has listened to a podcast in the last month. (1)
3: 51% of the U.S. population over 12 has listened to a podcast. (2)
4: 32% of the U.S. population over 12 has listened in the past month (90 million people). (2)
5: 22% of the U.S. population over 12 listen weekly (60 million). (2)
6: 62.6% of respondents said they listen to more podcasts now than they did a year ago. (3)
7: Only 3.1% said they listen less than they did a year ago. (3)
In summary: Podcasts continue to attract new listeners to their existing audience of 90 million people monthly. And, most promisingly, those who listen are far more likely to add new podcasts than cut down.
[bctt tweet="Podcasts continue to attract new listeners… And, most promisingly, those who listen are far more likely to add new podcasts than cut down. @NiteWrites #B2BPodcasting" username="toprank"]
Podcast Listeners Are Demographically Valuable
Okay, so millions of people are listening to podcasts. But are these people a worthwhile target audience for B2B marketers? 
The answer may vary depending on your most valuable audience, of course. But most B2B marketers are interested in targeting millennials. A recent survey found that at least 73% of millennials are involved in product or service decision making at work, with 33% reporting they're the sole decision maker at their company. 
Basically, if you're trying to influence B2B purchases, millennials matter. And podcast listeners are disproportionately affluent, social media savvy millennials:
8: 50% of listeners under 35 have listened to a podcast in the last month. (1)
9: 41% of podcast listeners make $75k a year or more, compared to 29% of the general population. (2)
10: Podcast listeners are more likely to be active on social media across channels and more likely to follow companies and brands. (4)
Read: How to Promote Your B2B Podcast
Podcast Fans are Devoted Listeners
According to Google's 2018 benchmarks, the average time on page for content from most industries is between two and three minutes.  Marketers can certainly make an impression in that amount of time. Even fifteen seconds is valuable to a savvy marketer with a good hook and strong CTA. But podcast listeners spend a great deal more time with audio content:
11: 76.8% listen to podcasts more than 7 hours a week. (3)
12: 61.2% spend more time listening to podcasts than watching TV. (3)
13: 52% of monthly listeners listen to the entirety of each episode. (2)
14: 70% of listeners say that, at least sometimes, they do nothing else while listening to podcasts. (2)
As that last statistic shows, podcast listeners aren't the distracted, multi-tasking folks we might have imagined they are. If the material is engaging, they're willing to devote their attention. Speaking of which…
[bctt tweet="Podcast listeners aren't the distracted, multi-tasking folks we might have imagined they are. If the material is engaging, they're willing to devote their attention. @NiteWrites #B2BPodcasting" username="toprank"]
Podcast Fans Want to Learn (In a Fun Way)
Back in the early days, podcasts were — in the best sense of the word — geeky. They were for highly techy types to share knowledge, teach and learn. While purely entertaining podcasts have seen plenty of success, at the root of it podcasts are an ideal medium for learning. 
People don't just listen to podcasts for fun. The overwhelming majority want to feel smarter at the end of every episode. 
Think of all the subject matter expertise in your company. Now multiply that by the influential guests (e.g. your customers, prospects, and industry experts and peers) you'll invite on to share their expertise.  It's easy to see how a brand podcast can bring educational value to an audience that's ready to learn.
15: 74% say they listen to podcasts to learn new things. (2)
16: 71% say they listen to be entertained. (2)
17: 59% say they enjoy podcasts because they make them feel smarter. (2)
The Business Podcast Market Is Ready for Lift-Off
There's still a massive untapped market for helpful, informative business podcasts — exactly the type that B2B brands could develop, produce and promote. In fact, we can see that the ad revenue model for podcasting is expanding to include branded content. Right now, branded content is still a small percentage of overall podcast advertising, but it's growing fast. 
18: There are avid fans of business podcasts in 13 million households. (4)
19: There are casual fans of business podcasts in 52 million households. (4)
20: Branded content has increased from 1.5% to 10.1% of podcast advertising since 2016. (5)
What's more, podcasts offer a range of content marketing benefits, which can inform and bolster your broader digital marketing strategy.
Don't Be (Pod) Cast Aside
The podcast boom continues unabated — and it's grown from a strictly amateur platform to a sophisticated content marketing medium. B2B marketers who are creating any kind of audio content should consider podcasting as a channel to earn attention, deeply engage an audience, and ultimately drive measurable business results.
Ready to produce your own podcast? Check out our webinar on the 4 P's of Podcasting.
Sources:
The post B2B Podcasting: 20 Stats that Make the Marketing Case appeared first on Online Marketing Blog – TopRank®.
Thank you for reading.
This may be of some interest.
While webinars might sound old school, most B2B marketers still say that they are the most effective form of content marketing for their companies.
While a jam-packed webinar is a beautiful thing, you know what's better than filling your funnel with webinar leads? Converting those leads into customers.
The key to turning webinar leads into sales is giving your prospects a clear path forward. Too often, we focus on creating great webinar content and hosting an engaging webinar, which are both important, but we don't spend enough time on the next step.
According to research from InsideSales.com, 73% of marketing and sales leaders say webinars are one of the best ways to generate high-quality leads. With this in mind, you don't want to let these valuable leads languish in post-webinar purgatory. Here are nine simple ways to convert more webinar leads into sales.
How to Host Webinars That Convert
1. Pick a topic that's relevant to your industry.
Is there a problem point, trend, or other topic that people in your industry are particularly buzzing about or reaching out to you for guidance on? If so, this could be a great topic that drives in webinar signups, attendees, and possibly conversions.
If your business offers solutions or services related to the topic or pain point discussed in the webinar, that's even better. This will give you a platform where you can inform the audience about the topic, demonstrate your expertise in it, and then promote the product or service that corresponds in it. People who feel that your brand is knowledgeable about a certain pain point might trust that you've created a great solution that can help them/
2. Consider letting a thought leader or credible customer host.
By having a thought leader host, you can also demonstrate knowledge, expertise, and credibility in your industry. If people follow the thought leader, promoting the webinar and noting that this person is a host might also drive sign ups and attendees.
If you have a customer with a large amount of credibility in your industry who can talk about strategies they've used related to a certain topic while possibly intertwining mentions of your product in the webinar, this is a definite bonus. This way, listeners are getting the knowledge and advice that they're craving, but they're also getting a trustworthy endorsement of your product directly from someone who's used it.
3. Make the webinar interactive.
As you and your host plan the webinar, come up with ways to make it interactive for the customer. Interactivity adds to the experience and can also be valuable to the listener.
For example, if your webinar system allows listeners to submit comments, consider including points in your webinar where you ask the listeners to reply with their strategies. Then read and discuss the best ones. You could also allow time at the end where webinar listeners could ask questions and the host could answer two or three of the best ones.
If your webinar system doesn't allow questions, you could include this as a piece of the promotion. For example, if you post a link to the webinar signup page on your social channels, ask those interested to comment on your promotional post with a question for the host. Then similarly ask the best ones and give a shout out to the person who asked the question.
Another way you can get more interactive is by polling the audience, if that feature is available on your webinar system. This, again, makes the experience more interactive and entertaining for your audiences. But, additionally, they can view and learn from the results of other peers watching the webinar.
All in all, an interactive experience will create value and potentially please the prospect into signing up for more webinars or even investing in your product.
9 Easy Ways to Convert Webinar Leads into Sales
1. Poll your audience to see who's ready to buy.
At GoToWebinar, we always use multiple polls during our webinars. They grab attendees' attention and prompt them to take part in the action. Poll responses provide handy insights you can use to segment your audience by need, interest level, industry, and more, too.
Polling your attendees during the webinar will also help you find out if they're interested in learning more about your company or talking to a sales representative. Bear in mind, this technique is not suited for top-of-the-funnel webinars that are unrelated to your product. You don't want to hit attendees with a "buy now" message when they are still in the discovery phase.
Additionally, polling your attendees during the webinar — rather than polling them in a post-webinar email — will yield a much higher response rate. If attendees respond in the affirmative, pass them to your sales team for follow-up.
If you get a lot of positive poll responses, take time at the end of your webinar to demo your product or show your attendees how they can purchase it. Those who aren't interested can hop off and those who are interested will appreciate the extra info.
2. Send a post-webinar survey.
Sending attendees a quick survey right after the webinar is a great way to see if your content resonated with them, capture additional attendee insights, and gauge attendee interest in your product.
If you didn't ask them these questions during the webinar, ask them who's ready to take the next step in a post-webinar survey. You can also use survey responses to segment your webinar attendees and tailor your follow up marketing messages.
3. Involve your sales team in the webinar.
Collaboration between marketing and sales sounds like a no-brainer, but it's easy to overlook. To involve the sales team in your webinars, make sure they know what webinars are on the calendar and what topic they'll cover. This will help the sales team prepare more thorough follow-up communication with webinar leads and keep your marketing efforts aligned with your company's sales goals.
At GoToWebinar, we recommend going a step further and having sales reps join the webinar. They can even help run the webinar, fielding and answering attendee questions.
By taking part in the webinar, sales reps will get familiar with the topic. They'll also notice that most attendees are engaged, which will make them all the more motivated to follow-up. This sets the groundwork to seamlessly pass the top webinar leads from marketing to sales.
4. Follow up within 24 hours.
While it's still fresh in their minds, send out your first email follow-up to webinar attendees and no-shows within 24 hours of the webinar. Your audience expects to receive the webinar recording and presentation slides, regardless if they showed up or not.
Prospects also love when companies include a link to a follow-up blog post that summarizes the webinar content and answers some of the top attendee questions. Sure, it takes extra planning and a quick turnaround to do this, but you're fostering a relationship with these prospects — this type of targeted content is key to converting your audience down the line.
5. Identify hot, warm, and cold leads.
You don't have to use all three lead categories, but at the very least, divide your leads into hot leads that are ready for sales and ones that need to be nurtured.
We've already discussed two ways to identify hot leads — using a poll or survey — but you also have access to a lot of other data that can help you pinpoint where leads are in their buyer's journey.
Look at data like:
Registration responses: go beyond only asking for name and email on your webinar registration form. Ask more probing questions that will help segment and personalize your marketing.
Attendee interest rating: if you're using a solution like GoToWebinar or Zoom Video Webinar, you will have webinar reports that display your attendees' engagement level over the course of the webinar.
Previous marketing engagement: this includes web behavior, content downloads, and prior webinar activity.
6. Send personalized follow-ups to hot leads.
Passing on your sales-ready webinar leads with specific instructions for how to follow up will increase the odds your sales team will close these prospects. You could also go a step further and provide your sales reps with a customizable email template. The easier you make their job, the more likely they'll hit it out of the park.
This follow-up messaging should relate to the webinar content, provide value, and offer help. It's also effective to personalize these messages as much as possible based on what you know about each prospect.
7. Nurture warm and cold leads.
Even if some of your webinar leads aren't ready to buy today, you don't want to waste the opportunity of closing them when they do become ready to buy. Putting warm and cold webinar leads into your existing nurture tracks based on your usual segmentation will boost the chances that they'll contact your company when they're thinking about purchasing your solution.
Alternatively, you can create a webinar-specific nurturing track for these leads, if you have the resources. As you develop your nurturing content, think about what stage of the buying cycle the various segments of your attendees are in and identify other key content assets you can offer in your nurturing stream that build on your webinar content.
The length of the nurturing stream will depend on your sales cycle, but four to six weeks is a good place to start.
8. Retarget your webinar leads.
Creating retargeting campaigns for your webinar leads will keep your brand top of mind. Again, you can segment these audiences based off their responses, interest level, and previous marketing engagement, but the point is to keep your leads warm and move them through each stage of the journey.
Remember, retargeting ads should complement your other marketing tactics. You don't want to email webinar leads with a discount offer and retarget them with an awareness ad at the same time.
9. Always empower leads to take action.
It's always better to make it easy for your prospects to take the next step in their buyer's journey. Even if your leads aren't quite ready to become customers, give them the ability to keep learning with additional resources and ways to engage. Whether it's during the webinar or in your follow-up emails, including a clear call to action and highlighting its benefit will entice your audience to take the next step with your business.
Webinar leads are some of your best leads.
A recent GoToWebinar study on content engagement revealed that people are willing to spend more time with a webinar than any other type of content. These are some of your most engaged leads, so make sure you have a plan to convert them. If you're not ready for all these tactics, just start with a couple and you could see your webinar conversions gradually take off.
Editor's Note: This blog post was originally published in November 2017 but was updated in November 2019 for comprehensiveness.
Thank you for reading.