marketers
This may be of some interest.
B2B marketers are struggling to produce enough content amid the pandemic
35 percent of B2B marketers have trouble producing the content needed to reach and engage audiences, while 68 percent are confident with their approach to content marketing, and only some 8 percent said they were able to attribute return on investment (ROI) to their content plan, according to recently-released survey data. The Drum
Google Launches Updated Google Analytics, Including Improved Reporting and Data Tracking Options
Google has given a significant overhaul to its popular Google Analytics website traffic analysis platform, adding a smarter artificial intelligence (AI)-infused approach including new insights such as churn probability and a variety of additional new predictive metrics, the search giant recently announced. Social Media Today
WordPress can now turn blog posts into tweetstorms automatically
WordPress has rolled out a new feature that allows entire posts created in the content management system to be shared and discussed on Twitter, including accompanying images and video, with support for multiple Twitter accounts, the firm recently announced. TechCrunch
Facebook & Instagram Drop Support For WordPress Embeds
Facebook and its Instagram platform will both cease supporting the traditional and widespread form of WordPress embedding, as unauthenticated embeds won't work after an October 24 API update — a change aimed at driving publishers to create Facebook Developer accounts and use the oEmbed embedding format, Facebook announced recently. Search Engine Journal
Marketers Got Hyper-Relevant Advertising Messages Wrong, Study Finds
Brands achieve a 26.7 percent higher chance of gaining new customers when they target using a goal-driven advertising message mindset compared to an item-driven one, according to recently-released survey data that points out possible consequences of overly-specific ad targeting. MediaPost
Google Podcasts Manager shows you search impressions and clicks from Google Search
Google has launched a podcast performance monitoring and reporting system — Google Podcasts Manager — that shows how people find podcasts and what their listening habits are, among other new podcast-related data, Google recently announced. Search Engine Land
Key Takeaways From Congress' Digital Competition Report
Amazon, Apple, Facebook and Google are being urged to implement changes that would promote increased interoperability when it comes to digital advertising, and Adweek takes a look at some of the findings from the nearly 450-page U.S. House Judiciary Committee's Antitrust Subcommittee report. Adweek
YouTube Tests Product Tags in Selected Creator Videos as Part of Larger Shift Towards eCommerce
YouTube has begun testing interactive product tags within certain videos, including new integration with Shopify that could lead to more streamlined clickable products within video content, the video giant recently announced. Social Media Today
Google Assistant Opens, Searches, Completes Functions In Mobile Apps Using Voice
Google has enhanced its Google Assistant service with new voice search features for users of Android apps, including functionality to post to social media platforms, the firm recently announced. MediaPost
Performance Marketing Budgets to Increase as Marketers Chase ROI
42 percent of B2B marketers plan to increase budgeting for performance marketing initiatives by up to 20 percent over the next year, and 18 percent say they will increase those budgets by over 20 percent — two of several items of interest to digital marketers in recently-released survey data. MarketingCharts
ON THE LIGHTER SIDE:
A lighthearted look at "product choice overload" by Marketoonist Tom Fishburne — Marketoonist
Coworker's Sly Smile In Zoom Meeting Suggests Separate Chat Happening Right Now — The Onion
TOPRANK MARKETING & CLIENTS IN THE NEWS:
Have you found your own top marketing stories from the past week of industry news? Please let us know in the comments below.
Thank you for taking the time to join us for the weekly B2B marketing news, and we hope that you will come back again next Friday for another look at the most relevant B2B and digital marketing industry news. In the meantime, you can follow us at @toprank on Twitter for even more timely daily news.
The post B2B Marketing News: B2B Marketers Face Rising Content Demands, Google's Mobile Voice Assistant, Performance Marketing Budgets Grow, & The Hyper-Relevant Ad Balancing Act appeared first on B2B Marketing Blog – TopRank®.
Thank you for reading.
This may be of some interest.
As the need for B2B brands to reach and connect authentically with customers rises, B2B influencer marketers are evolving from transactional and intermittent campaigns to more relationship driven, Always-On Influencer engagement programs as our research from the 2020 State of B2B Influencer Marketing report found:
19% are piloting
25% run periodic campaigns
34% use an Always-On approach
Transactional campaign approaches are hard pressed to develop brand loyalty and advocacy. That's why, with 84% of B2B marketers focused on building brand awareness with their influencer marketing efforts, that ongoing influencer engagement has become essential for creating vested relationships that inspire more qualitative activations and brand advocacy.
The Engine of Influence needs to run ongoing in order to win relationships with the most trusted voices. Our findings amongst B2B marketers have found several interesting insights when it comes to an Always-On approach to influencer relations compared to campaigns, the best practices followed and what Always-On influence in action really looks like.
Influencer Marketing is a Relationship Business
Distractions and competition for attention with B2B customers are at an all-time high. At the same time, B2B marketers are challenged to find the right strategies to maximize resources and marketing impact. Our research found that 76% of B2B marketers find the strategy of working with influencers through Always-On engagement or a combination of Always-On and campaigns, delivers results.
In the world of business, many decisions are made based on emotion, brand strength and the trust of expert voices. B2B marketers who build relationships with trusted experts understand the value of having brand advocates engage authentically with hard to reach audiences that increasingly discount brand communications. An Always-On approach to influencer marketing provides a framework for finding, engaging and elevating relationships with those very experts that customers trust and want to hear from.
The Always-On Imperative for B2B Brands
In today's uncertain environment, brand reach and credibility are more important than ever. Some of the top B2B brands in the world have invested in developing communities of industry experts through Always-On influencer marketing that they can count on for social engagement, event activations, and brand advocacy.
Our research found that B2B marketers using an Always-On influencer marketing strategy are seeing important benefits including:
75% Increased views of brand content
60% Increased share of voice
55% Increased media mentions of brand
50% Increased brand advocacy
Buyers want to trust the brands they work with and with brand trust at a low, it's important for B2B companies to invest in relationships with credible experts that buyers do trust.
Being "always-on" has allowed our team to build meaningful relationships with influencers. This approach means that the relationship ceases to be "transactional" (what can you do for us) when we're in a state of ongoing activity. Because of this foundation, we are in a situation where, when urgency strikes, we've been able to immediately activate influencers, whether it be for private, direct, unfiltered feedback and consult, or for external, public-facing advocacy and amplification. B2B brands would be wise to adopt an always-on influencer engagement approach as they look to build true brand advocates.
Garnor Morantes, Group Marketing Manager, LinkedIn
To learn about how LinkedIn built trust and advocacy with Always-On Influence and achieving promising results including:
Nearly 2,000 brand mentions by influencers and their networks
84M in potential reach from brand mentions by influencers
200-450% above benchmark engagement on one social influencer activation
see this Always-On Influencer Marketing case study.
How Always-On Influence Drives Marketing Results
Alway-On Influencer Marketing is the practice of ongoing relationship building, engagement and activation of a specified group of influencers to build community, content and brand advocacy that is of mutual value to the brand, its customers and the influencers.
From a confidence standpoint, 94% of B2B marketers using an Always-On influencer engagement strategy believe influencer marketing will grow in importance over the next 12 months vs. 73% of marketers who focus on campaigns.
That confidence is reflected in marketing budgets as well. 89% of B2B marketers implementing Always-On influencer programs expect their budgets to increase or remain the same vs. 73% for marketers running campaign based programs. 28% Always-On influencer programs spend more than $100,000 per year vs. 8% for marketers running campaigns.
Always On Influencer Marketing is a strategic approach to creating communities of trusted experts that is relationship and content focused.
Those relationships are nurtured over time through ongoing engagement and activations that create value for buyers, the brand and the influencers – it is truly an "everybody wins" approach to marketing.
Then Engine of Influence is Always-On
Influencer Marketing is a relationship business and an Always-On influencer engagement strategy helps B2B brands turn those connections with trusted experts into marketing results.
60% of B2B marketers who use Always-On Influencer Marketing programs are very successful vs. 5% who only use periodic campaigns.
Always-On Influencer Marketing elevates influencer engagement from mechanical to meaningful, from transactional to relationship focused. As a result, brands like LinkedIn are able to activate their community on-demand. "When urgency strikes, we've been able to immediately activate influencers," says Garnor Morantes of LinkedIn,"B2B brands would be wise to adopt an always-on influencer engagement approach as they look to build true brand advocates."
An Always-On Influencer Marketing strategy creates a win for everyone. With a framework that goes beyond influencer content marketing campaigns to partnering with industry experts to drive conversations and advocacy, an Always-On approach builds brand awareness, and inspires customers to trust and engage with the business.
This post is an excerpt from the 2020 State of B2B Influencer Marketing Report. To learn more about the current state of B2B Influencer Marketing, including strategies, tactics, challenges, software, operations, integration and predictions for the future, access our new report here.
The post For Successful B2B Marketers The Engine of Influence is Always On #B2BIMReport appeared first on Online Marketing Blog – TopRank®.
Thank you for reading.
This may be of some interest.
For many businesses, the key to making sales is to first generate leads.
Leads are valuable because they're the people who have indicated organic interest in your content and your business by giving you their information in some way, whether it's by filling out a form to download an ebook, completing an online survey, or something else.
But leads don't grow on trees. Some marketers have trouble generating enough leads to feed their sales team. Others generate plenty of leads, but they're not good leads, and your sales team is having trouble closing them into customers. Others just have no idea where their leads are coming from.
These are all common problems marketers have with lead generation. In this post, we'll go over many of these problems and talk about how to fix them. We'll also highlight a few tips directly from HubSpot acquisition experts.
11 Lead Generation Mistakes Marketers Should Avoid
1. You're buying leads, not generating them organically.
If you're having trouble generating leads, it can be tempting to buy email lists so you can feed your sales organization with something — anything. But buying or renting contacts out of desperation will cause you more long-term (and short-term) harm than good.
There are a lot of reasons buying email lists is never a good idea. Not only will sending emails to purchased lists harm your email deliverability and IP reputation, but there's a good chance the people on your purchased list have never heard of your company — making them far more likely to mark you as spam. They'll also think you're super annoying. And you're not annoying, are you?
Bottom line here is that quality email addresses simply aren't for sale. The whole point of generating leads is to eventually nurture those leads into customers. In order for your leads to become customers, the leads you generate need to actually want to hear from you.
How to Fix It
Your leads need to opt in, plain and simple. This means your contacts chose to give you their information in exchange for something valuable, like a content offer, webinar, event, and so on. Focus on creating offers that are valuable in some way for your target audience, and then package that value and put it behind a lead capture form.
Growing a healthy, opt-in email list takes time, but it's worth its weight in gold down the line. And once you have people to email, be sure you're creating remarkable email content that makes people want to actually open your emails and stay subscribed.
2. You don't offer lead-gen content for people in different stages of the buyer's journey.
Not everyone who visits your website is going to be in the same stage of their buyer's journey. Think about the folks who are landing on your website for the very first time. Do you think they're ready to see a demo of your product? Or do you think they'd be more likely to want to download a helpful piece of content, like a step-by-step guide?
Some of your site visitors might be ready to buy, but most won't — and you need to give them the opportunities to learn more about your business and what you're selling before asking them take any sort of purchase action.
Creating valuable content to teach and nurture your leads down the funnel is time-consuming, which is why so often you'll browse a business' website and see nothing but "Buy Now!" and "Click Here for a Free Demo!" all over the place.
How to Fix It
There is no one-size-fits-all CTA for everyone who visits your website. To maximize clickthrough rates, you'll want to cater to visitors who are at all different stages of the buyer's journey using CTAs.
So, yes — you'll need to spend time creating a variety of offers you can put behind landing page forms that cater to people at different stages. Folks who are just starting to get to know you might be interested in offers like checklists, contests, and templates. Visitors who are a little further down the funnel might be interested in email courses, kits, and whitepapers. Folks even further down might be ready for a demo.
Make sure you're creating content that cover the whole funnel, and that you're offering this content on your website so there's something for everyone. (Need ideas for lead gen content? Here are 23 ideas for you.)
If you want to take personalization a step further, use smart CTAs. Smart CTAs are CTAs that change depending on the person viewing the page — his or her interests, location, pages viewed already, items or services bought before, and so on. Unsurprisingly, personalized CTAS actually convert 42% more visitors than basic calls-to-action. They make for a better user experience for your user, and higher conversion rates for you: a win-win! You can learn more about smart CTAs here.
3. You aren't using your blog to generate leads.
HubSpot's blog is responsible for a significant percentage of our marketing team's incoming leads.
In fact, at one point, we found that 76% of our monthly blog views come from "old" posts (in other words, posts published prior to that month). We always joke that if the entire blogging team went on vacation for a month, we'd still hit a good portion of our leads goal.
"At HubSpot, we have an entire team dedicated to continuously optimizing our blog conversion strategy," says Carly Stec, HubSpot's Team Manager of content acquisition. "This group works in lockstep with our SEO team and writers to provide insight into the topics that are converting well to ensure a well-rounded editorial mix."
"This level of alignment allows us to provide blog readers with helpful next steps based on their intent," Stec adds.
Despite blogging's many lead generation benefits, we find that marketers aren't fully taking advantage of this tactic as a lead generation powerhouse. Either folks aren't blogging at all, or they're not putting lead capture forms or CTAs on their blog — sometimes because they don't have any valuable content offers to put behind a form.
But, still one of the biggest benefits of business blogging is converting the traffic it brings you into leads. Just like every blog post you write is another indexed page, each post is a new opportunity to generate new leads. Here's what that looks like in numbers: If each one of your blog posts gets about 100 views per month, and your visitor-to-lead conversion rate on the blog is about 2%, then you'd get two leads from a single blog post each month. If you write 30 blog posts per month, you'd get 60 leads in a month — two from each blog post.
Keep blogging consistently like that for a year, and thanks to each blog post's compounding value over time, each post you write will drive value for you in the form of traffic and leads. By the end of 12 months, you'll end up getting 4,680 opt-in contacts per month, not just 720 opt-in contacts (60 leads*12 months).
How to Fix It
Generating leads from your blog posts is simple: Just add a lead-generating call-to-action to every blog post. Most of the time, these CTAs will lead to landing pages offering free content like ebooks, whitepapers, checklists, webinars, free trials, and so on. Promote your content offers by blogging about subject matters related to them, and then put CTAs that lead to the asset's landing page on every one of those blog posts.
What that CTA looks like on your blog posts is up to you. On HubSpot's blog, we use three main types of CTAs on our blog: end-of-post banner CTAs on every single post, and slide-in CTAs and anchor text CTAs on select posts. Read this post to learn when it's appropriate to use end-of-post banner CTAs, anchor text CTAs, or both.
As for slide-in CTAs, we've found these to perform better than end-of-post CTAs — which makes sense because visitors see them sooner since they slide in at about 25%-50% of the way down the post. Learn how to add slide-in CTAs to your blog posts here.
4. You aren't using the best lead generation tools.
You know that people are coming to your website, but do you know who they are? How about what they're doing once they get there, or what they're doing before and after taking certain actions? If you're unable to answer these questions, then you're going to have a hard time connecting with the people who are visiting your site or learning what's resonating with them and what's not.
But these are questions you can and should answer — but you need the right tools to do it. There are some great tools out there that can help you learn about your website visitors and convert them into leads.
How to Fix It
The trick is finding the best combination of tools that'll give you the most insight and the best bang for your buck. There are a few different tools and templates out there that'll help you create different lead gen assets you can put on your site.
At the simplest level, these 50+ free, customizable CTA Templates will help you create clickable buttons you can put on your blog, your landing pages, and elsewhere on your site. Use them to create CTAs that lead to a landing page form.
Speaking of forms, a form embedding tool will come in handy when it comes to actually collecting information from your site visitors and converting them into leads. If you're a HubSpot customer, you can create and embed forms using HubSpot. Non-HubSpot customers can use a tool like Contact Form 7, JetPack, or Google Forms, and then use Leadin's free Collected Forms tool to automatically capture these form submissions on your website.
Finally, a lead capture and contact insights tool like Lead Flows by HubSpot (which is free) will help you capture leads using pop-ups, dropdown banners, or slide-ins. It'll also scrape any pre-existing forms you have on your website and add those contacts to your existing contact database.
Here's an example of a slide-in CTA created with Lead Flows, HubSpot's free conversion tool:
5. You have a "right vs. wrong" testing mindset.
Knowing that you should test your website and constantly work on improving it is one thing. What most marketers have trouble with is seeing testing and experimenting not as a way to prove your ideas, but as a way to find something better.
I like the way Andrew Anderson put it in his post on ConversionXL: "The real challenge is in getting yourself and your organization ready to accept one really simple truth: Being wrong is far more valuable than being right."
Often, this will manifest itself in someone having an idea for how to improve a part of their website. Perhaps they think removing distractions from a landing page will increase conversion rates on that page, for instance. What happens here is that most marketers will limit what they test in a way that skews the data to help them reach that conclusion, often without meaning it. After all, it feels bad — and might look bad — to have an idea or make an assumption and have it proven totally wrong.
How to Fix It
"The first and most vital step to dealing with this is to focus all discussions on the comparing of actions and not on validating opinions," writes Anderson. "It isn't about if Tactic A or B works, it is how well does Tactic A or B or C or D and so on compare to each other."
In other words, treat every idea that's brought to the table the same, whether or not you think it'll "win." This makes the testing program less personal and encourages a more holistic approach. Remember: by nature, a program that tests your website is meant to prove yourself and others wrong, and that's a good thing.
You and your teammates need to check your egos and adopt this mindset to avoid finger-pointing. Instead of rewarding people for being right, which reinforces that toxic mindset, focus on the system and the outcomes more holistically.
6. You aren't optimizing your top pages for lead generation.
Not all webpages should be treated the same. In fact, if you look at traffic numbers to specific pages on your website, you'll probably find that the vast majority of your traffic is coming in to a few, very specific pages — maybe your homepage; your "Contact Us" page; maybe one or two popular blog posts. With so many people landing on those pages, why would you treat them like any other ol' page on your website?
Because so many people are landing on those pages, it's very important that you create opportunities for people to convert on those pages, lest you leave potentially massive lead numbers on the table.
How to Fix It
First, figure out which of your webpages are the four or five most popular for traffic. (HubSpot customers: You can do this in HubSpot by going to Reports > Page Performance, then filter the report by Views.)
Then, optimize those pages for leads. This means making sure you create calls-to-action (CTAs) that stand out from the page, and then place them where people naturally look on your website. Our natural eye path starts in the upper left-hand corner of a website and moves on from there, according to an eyetracking study.
Another way to increase the conversion rate on a page that already gets a lot of traffic? Create special offers specifically for your most popular pages, and gate them behind landing page forms. I know, I know, creating a brand new offer can time-consuming — but it could be much more effective for lead generation than optimizing button color, language, images, and so on. For example, the folks at Eastern International College created a quiz for students on which college major they should choose, which they linked to on their popular Careers page.
At the end of the quiz, they promised to send the quiz results in exchange for people's name, phone number, and email address as a lead capture tactic.
Read this blog post for more tips on how to generate leads from your most popular webpages.
7. You're ONLY optimizing your top pages for lead-generation.
Yes. When you have a page that earns high traffic, it might also win over a lot more leads. However, AJ Beltis, a HubSpot marketing manager who specializes in content creation and lead acquisition, says you might be missing solid opportunities by only optimizing high-traffic-getters.
"It's tempting for content marketers to immediately go to the most-viewed blog posts and try to convert their viewers into leads. High traffic means high potential, so it makes sense to look at these posts first," Beltis says.
"However, those most-viewed posts are often on topics that cast a wide net and might not tie directly back to your product or service," Beltis explains. "Instead, try focusing on blog posts or topic clusters that may not have the most views, but have a clear path for conversion.
"After all, what's better – a 5% conversion rate for a blog post with 50,000 views, or a 1% conversion rate on a blog post with 100,000 views," Beltis concludes.
How to Fix It
Finding posts with conversion opportunities that don't pull in major traffic can take a bit of research.
Using HubSpot, or other data-tracking tools, consider creating and analyzing a conversion rate optimization report that highlights each post's conversion rate, number of new contacts, and lead goal. This will allow you to see how each post is performing and help you zone on posts that are pulling in a solid number of contacts. It will also allow you to see how traffic impacts a conversion rate.
For example, if you see a low conversion rate on a post but a high number of contacts, this could mean the post has many leads due in part to its traffic. On the other hand, if you see a post with a lower contact number but a higher conversion rate, this could be a lower traffic post with a higher chance of pulling in leads.
Aside from using the reporting tools you have at hand to learn from your own data, you could also ask yourself a few topic-related questions like:
What are our audience's interested in learning more about?: Sometimes, trends that impact people in your industry might be highly discussed on social media, but haven't yet gained enough search volume to pull in high traffic. Are there trend-related blog posts and content offers you can create or update that can tie well together, provide value to your audience, and get them to convert?
Do we have any tactical posts that relate strongly to our product or current offers?: For example, if you sell a task-management software, a post on how to multitask, how to organize your office, or how to create a project schedule might not be shareable on social media or pull in huge traffic, but it still could align well with an offer related to your product — such as a free trial.
8. You're not using social media strategically for lead generation.
Although social media is most effective for top-of-the-funnel marketing metrics like traffic and brand awareness, it can still be helpful as a source for lead generation — and a low-cost one, at that.
If you're finding that social media isn't generating very many leads for you, there's a chance you're not doing it strategically enough. At least that's what Jeremy White, a serial entrepreneur and conversion consultant, wrote in a post on CrazyEgg's blog.
"It's not that you can't get leads on social media; it's that we're not taking what's there," he wrote. In other words, you might be doing it wrong. If your social strategy is to post your new ebooks to all your social media channels and that's about it, then don't expect to bring in a whole lot of leads from those posts. The spray-and-pray technique isn't enough.
How to Fix It
One way to generate more leads from social media is to sprinkle blog posts and offers that have historically generated higher-than-average leads numbers for you in with the new posts and offers your team is creating.
At HubSpot, we've found that one of the best ways to generate leads is simply to link directly to landing pages for blog posts and offers that have historically performed well for lead generation. (Learn how to do your own blog lead generation analysis here.)
We've also found that linking directly to an offer's landing page can be more effective — as long as your post copy sets the expectation that you are, in fact, sending people to a landing page. In the Facebook post below, we set that expectation by putting "Free Template" in brackets in front of the offer title.
You'll also want to make sure you're using some of the features on each social network that are specifically designed to help you generate leads.
On Twitter, your lead gen tweets should contain a value proposition, a short URL linking to the landing page with a form, and an image to ensure the post stands out. (Here are some social media image templates you can use to create those images.)
Your design skills nonexistent? You're gonna want these templates: https://t.co/7fxTWZw3BC pic.twitter.com/CKvgfyuZpY

— HubSpot (@HubSpot)
October 24, 2016
Twitter also offers lead generation cards that can help you generate qualified leads at a lower cost than most of the other major ad platforms. Twitter cards let you embed rich media that don't count toward your tweet character limit that allow your fans and followers to do things like download an app, visit a landing page, give over their email, or use a coupon — all without leaving Twitter. (HubSpot customers: You can connect your Twitter lead gen cards to HubSpot by following these instructions.)
On Facebook: There are a number of great ways to generate leads from Facebook, the best of which I've rounded up in this blog post. For example, one way to easily generate leads is by simply using the call-to-action feature available for Pages. The feature lets you put a simple call-to-action button at the top of your Facebook Page, and it can help drive more traffic from your Facebook Page to lead generation forms like landing pages and contact sheets.
Here's an example from Tough Mudder's Page, and you can learn how to insert your own Facebook CTA button here.
On LinkedIn, B2B businesses can take advantage of the perception that LinkedIn is the most sophisticated of social platforms, and a place where B2B relationships are most likely to be built. Like on Facebook, you can publish your lead-generating content directly to your business' Facebook Page alongside actionable copy and a compelling image.
9. Your forms are too long or too short.
How long should your lead capture forms be? Striking a balance between asking too much and too little on your forms is a common problem marketers gripe with.
If your form's too short, more people might be willing to fill it out, which is great for leads numbers — but the quality of those leads might not be very high. If your form's too long, though, fewer people might be willing to fill it out, meaning you'll get fewer leads out of it. On the bright side, the people who do submit their information could end up being higher quality leads.
So what gives? What's the "magic number" of questions to ask on your forms?
How to Fix It
There's no hard-and-fast rule for how many fields to put on your forms. Your "sweet spot" will depend entirely on your goals: Do you need more leads, or do you need better leads? Essentially, the length of your form will lead to a tradeoff between quantity and quality of the leads you generate. In general, shorter forms usually result in more overall leads, while longer forms will result in fewer, but higher quality leads.
"Think of every field in your checkout as a hurdle your prospect has to leap over," writes Copyhackers' Joanna Wiebe. "Then ask yourself if it's worth the possibility of losing a sale — or thousands of sales — because you want to fill a database."
You can't possibly know how many form fields you can pull off without conducting conversion research and running your own tests. Even then, you have to compare the ROI of additional information with the ROI of increased conversions. How much does having a phone number really help the sales team? Is it enough to warrant a potential decrease in conversions?
It's important that you don't make this decision without involving your sales team. They have a better idea of what information will actually help them close deals. How much does asking for a phone number actually help your sales team — and is it enough to potentially lose leads over? Speaking of talking with your sales team …
10. Your definition of a qualified lead isn't well communicated with your sales department.
You know the definition of a lead in the general sense of the term: It's a person who has indicated interest in your company's product or service by giving you their information in some way, like by filling out a form to download an ebook or completing an online survey.
A marketing qualified lead, or MQL, is a lead that's been deemed more likely to become a customer compared to other leads, based on lead intelligence. MQLs have metaphorically raised their hands and identified themselves as more deeply engaged, sales-ready contacts than your usual leads, but who have not yet become full-fledged opportunities. In other words, from a marketing perspective, your sales team should be talking with them.
But sales teams tend to have their own system for qualifying leads. Sales qualified leads are leads your sales team has accepted as worthy of a direct sales follow-up. Agreeing on that quality threshold is where things tend to get muddy. Both the quantity and quality of leads needed and the sales process are mutually agreed upon by both Marketing and Sales.
How to Fix It
That's exactly where the conversation begins. To align Marketing and Sales on what constitutes a qualified lead from both sides, you'll have to learn to speak each other's language. Similar to your marketing qualified leads, Sales has its own definition of "qualified": sales qualified leads are leads they've accepted as worthy of a direct sales follow-up.
Both teams need to align on their definitions of a marketing qualified and sales qualified lead. And there's no one-size-fits-all definition for one, either — an MQL at one company may be completely different than an MQL at another company. You should do your own internal analysis of your leads and customers to create your business' definition of an MQL. Read this post to learn how to get started defining an MQL for your business and communicating that definition with Sales.
Avoid Losing Great Leads
There are plenty more lead generation mistakes we could add to this list, but these are some of the most important ones we see marketers make every day. For our readers out there who want to get more and better quality leads, we hope this post will help you prioritize where to focus your time and resources.
Now that you've had time to read up and reflect on some of the most common lead-generation mistakes, we'd love to hear from you. Vote in this completely anonymous poll to tell us which mistake you or your company have commonly made, or check the results to see how others voted.
If you want to learn more about creating an effective conversion rate optimization strategy, check out these beginner's guides on conversion rate optimization and lead generation.
Editor's Note: This blog post was originally published in October 2016, but was updated in July 2020 for comprehensiveness and freshness.
Thank you for reading.
This may be of some interest.
As a Boston-based young professional, the biggest product I've had to invest in was an over-priced apartment.
And this year, with apartment tours going fully virtual, I've found it even harder to do the extreme research needed before committing to a lease. Now, as I research apartment after apartment online, my new process feels like an intense buyer's journey.
In my research phase, I spend hours on end scouting listings, looking up addresses on Google Maps, researching neighborhoods, skimming through Yelp reviews of prospective property managers, and analyzing photos or video tours for potential problems that an unseen apartment could have.
Ultimately, I've found that the apartment listings I'm most drawn to have links to video tours filmed by current tenants.
When I've watched tours filmed by tenants, they'll explain what they like about their apartment, note major pros and cons, and give tiny — but authentic — details that the average salesperson might not offer. For example, in one video, a tenant honestly revealed one pro and one con about a bathroom by saying, "The bathtub has a great jacuzzi, which makes up for the lower water pressure."
After viewing a pleasant and seemingly trustworthy virtual tour, I feel like I've gotten an in-depth and authentic look at the product, as well as thoughts from a previous customer who is an expert on the product. Additionally, because the tenant often voluntarily offers their time to host the create video or virtual tour, I also get the sense that they are willing to help a trusted landlord find a new tenant.
Ultimately, I'm more likely to respond to an apartment listing with a great tenant-generated virtual tour than a listing with over-produced images or videos edited by an outsider.
When it comes to smaller purchases, I feel the same way about promotional content created by customers. This content shows me what the product is like in real life and proves that customers are delighted enough about their experience to promote a trusted brand.
And, I'm not the only consumer (or marketer) who thinks this. An estimated 90% of consumers say user-generated content (UGC) holds more influence over their buying decisions than promotional emails and even search engine results.
Below, I'll highlight more stats, facts, and figures that demonstrate the benefits of user-generated content.
23 User-Generated Content Stats to Know in 2020
Benefits of User-Generated Content
UGC Tactics
Brand Authenticity
UGC Audiences
Defining a User-Generated Content Strategy
As you can see from the stats above, user-generated content not only saves you production time, but it can also make your brand more authentic and trusted.
If the data above has persuaded you to implement UGC in your marketing strategy, here are a few next steps you can consider:
To learn more about how to leverage user-generated content in your marketing, click here.
Thank you for reading.
This may be of some interest.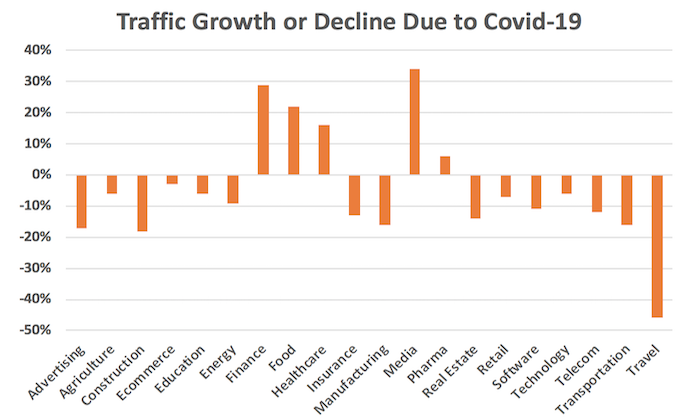 By now you have heard about the Coronavirus.
The sad reality is that it is spreading quickly and will continue to spread for a while.
Did you know that we are getting roughly 13,000 new cases a day and it's growing fast?
No one really knows how many people will be infected (or will pass away sadly), but it has caused the global stock markets to crash, which means as a business (or even a marketer), you will be affected.
And because my ad agency works with hundreds of companies in all the major sectors and we have 7 offices around the world, we are already starting to see how it is impacting marketing (I'll share the data below).
So what does this mean for you?
Well, before I go into that, let me be clear on what marketers should NOT do.
Don't exploit the situation
The first thing we are seeing is people trying to exploit fear.
What I mean by this is supplies are running low around the world. From masks and toilet paper to hand sanitizer and other basic necessities… I am seeing marketers buying them and then reselling them on eBay or running ads and selling them for 10-50x the price.
This isn't entrepreneurship and this isn't marketing. I highly recommend that you avoid exploiting the Coronavirus situation to make a quick buck.
Not only is it wrong but it is also very short-sighted. Sure you may be able to make a quick buck, but it won't last… you are better off spending your time on anything that is long term.
So now that we got that out of the way, what does the Coronavirus mean for marketers?
Businesses are going to struggle for a while
Even if the virus slows down fast as the numbers have dropped in China, businesses are going to struggle for well over a year because they will have to make up for their losses.
For example, in China the virus caused retail sales to drop by 20.5% and the unemployment rate jumped to 6.2 in February.
When companies like Apple shut down their stores to help reduce the spread, it means less income and less profit. Sure they are able to pay their employees during their temporary shutdown, but not all companies have their bank balance and most won't be able to do the same.
Just look at the travel industry. The virus is expected to lose them 820 billion dollars. Virgin Atlantic just asked their staff to take an 8-week unpaid leave.
The ports are also empty and the first rounds of layoffs have already started.
It's estimated that in total COVID-19 will cost the global economy $2.7 trillion.
And not only are people losing money but they are losing traffic and conversions.
Organic traffic is down in most industries
As I mentioned above, we work with hundreds of clients in different industries through my agency. On top of that, we also have tons of data because of Ubersuggest.
Before I dive into the data, note that we didn't focus on any one single country, we decide to look at the traffic stats from a global perspective. We also didn't include data from sites with less than 5000 visitors a month as they tend to have drastic swings from a percentage perspective even when there are no global issues or algorithm updates.
We also don't have data on every single industry, for example, we don't really work with many restaurants nor do we purchase data for that category as local restaurants usually don't have the biggest marketing budgets. We have data on most of the major ones, but again not all.
Now, from an SEO standpoint, last week we saw huge drops in organic traffic for most industries we are tracking. Just look at the chart below (compares last week to the previous week).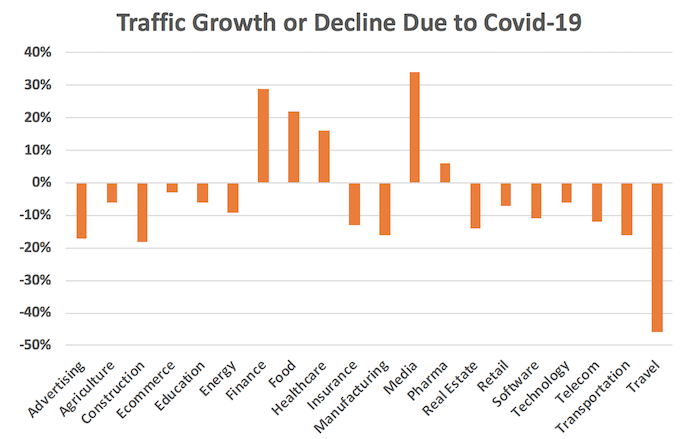 If you are in the news industry or financial space, your traffic skyrocketed.
And if you are in the travel industry, you saw massive drops in traffic.
You can't tell by the chart, but e-commerce was a mixed bag, depending on what sites sold, traffic was either up or down. For example, if you were selling baby products like diapers or wipes then you saw a nice bump in traffic.
But if you were selling luxury goods like big-screen televisions you saw a drop in traffic.
Conversions were also down for most industries
From a conversion rate standpoint, we saw drops in most industries as well. Even the financial sector, which had big traffic booms in traffic, dropped in conversions.
Just look at the chart below (comparing last week to the previous week):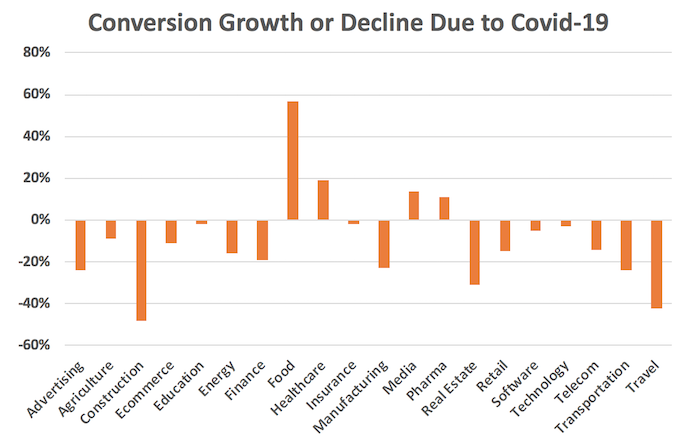 As for news (media) sites, they had a big conversion lift as many of them charge for people to read their updated information.
For example, you can only read a certain amount of content from the Washington Post for free until you see a message that looks like this: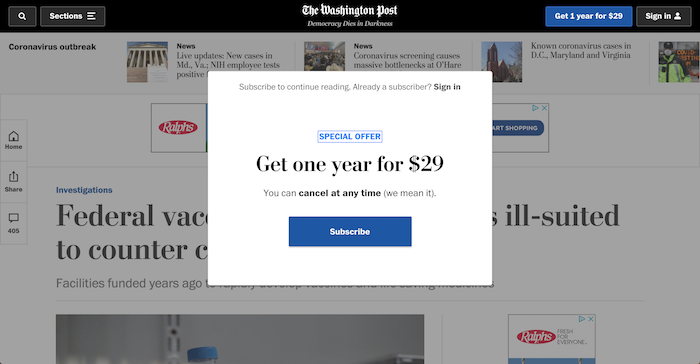 People didn't want to miss out on Coronavirus, political and financial information with the turmoil, hence news sites saw a nice lift.
And with some sectors like travel, they are currently offering massive discounts, which is helping counteract some of their traffic declines. Overall, they are still seeing a massive revenue hit.
Pay-per-click data
We don't have as much pay-per-click data as we do for SEO as Ubersuggest is mainly used for SEO purposes, but we haven't seen big shifts in cost per click… even for things like the travel industry.
We don't have a big enough sample size, but as I mentioned, costs haven't come down much.
For example, even though we saw big dips in the number of people searching for things like flights or hotels, we didn't see a drastic drop in CPC but we did see a big increase in cost per acquisition.
In other words, you can still roughly pay the same amount per click, but the cost per conversion has been going up for most industries… unless you are selling necessities like toilet paper.
So what does this mean for marketers?
Be fearful when others are greedy, and greedy when others are fearful
I didn't come up with that saying, it's actually a line from Warren Buffett.
You will see people cutting back because the economy is predicted to get hit by 2.7 trillion dollars and experts are saying that we are going to go into a recession.
You even have billionaire investors like Carl Ichan saying that the market has more room to go down and we should expect the sell-off has longer to go.
But what I've learned from going through two crashes (the dotcom crash in 2000 and the real estate crash in 2008) is that the best time to double down is when others are not.
During an economic downturn, you'll find that you will have less competition, which means it is easier and faster to get results, and in some cases, you'll be able to get deals, such as a potential reduction in pay-per-click advertising.
Just think of it this way: out of all the publicly traded companies in the United States, if the market keeps going down, many of them will struggle to pay off their debt, which has exploded to $75 trillion.
This means some companies will either go bankrupt, get bought out, or get bailed out by the government. Some may be able to cut costs enough to pay their bills, but for most, it will be too late.
Again, this just means less competition for you.
If you are lucky enough to be sitting on some cash during the recession this is the best time to buy out other companies. The ideal ones to buy are media companies.
The more eyeballs you control, the more power you will hold in the future. Plus, by controlling eyeballs, it gives you the ability to sell anything you want in the future.
It's the reason I bought the KISSmetrics website for $500,000 a couple years ago. During their peak, they had 1,260,681 million unique visitors a month.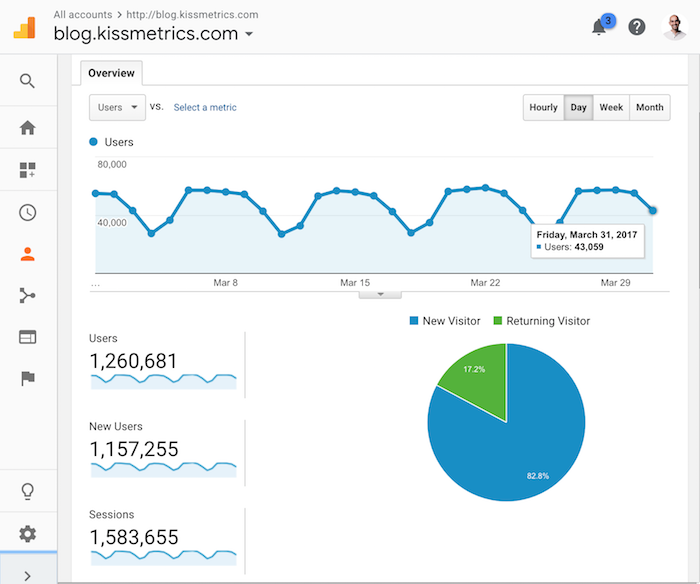 That's a lot of traffic.
When I bought the site out, I was out a good amount of money for me, but the moment I merged it into the NeilPatel.com site, I increased my lead count by 19% and recuperated my investment in less than a year.
In other words, this is your opportunity to strike and gain market share.
So when you see your competitors closing down or slowing down on their marketing, the goal is to double down. You may not see the biggest return right away, but in the long term, you will.
Every time the market goes down by 20% or more it roughly takes 536 days to recover.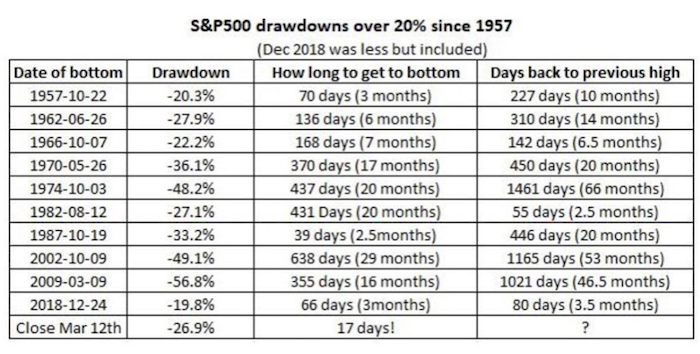 As we recover, you'll see your revenue climb and the ROI from your marketing spend go through the roof.
Conclusion
Hopefully, the Coronavirus passes soon and it has minimal impact on lives. For the time being, try not to socialize with others too much or go into crowded places.
You should read this article by the Washington Post as it breaks down great simulations of how the Coronavirus will spread and what we can do to reduce the impact on the world.
And as for your marketing, this is the time for you to double down. Don't be fearful when others are also afraid. Do what Warren Buffett does… be greedy when other people are fearful.
In other words, double down.
How have you seen the Coronavirus affect your traffic?
PS: Please be safe and, if possible, stay indoors.
PPS: To help out a bit, I've opened up the keyword ideas report on Ubersuggest as well as historical keyword data. I know many of you may be facing financial difficulty, so hopefully having the data helps you save a bit of money on marketing.
The post What The Coronavirus (COVID-19) Means For Marketers appeared first on Neil Patel.
Thank you for reading.
This may be of some interest.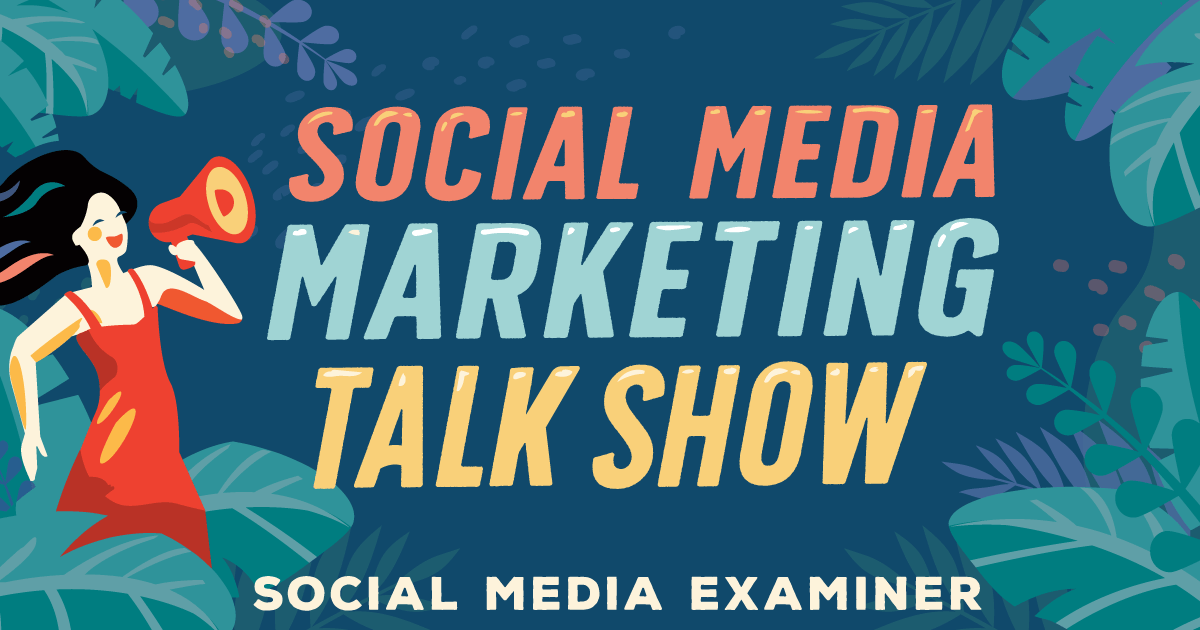 Welcome to this week's edition of the Social Media Marketing Talk Show, a news show for marketers who want to stay on the leading edge of social media. On this week's Social Media Marketing Talk Show, we explore an update of TikTok's self-serve ad platform, how businesses are developing content on TikTok, and much more […]
The post TikTok Self-Service Ads: What Marketers Need to Know appeared first on Social Media Marketing | Social Media Examiner.
Thank you for reading.
This may be of some interest.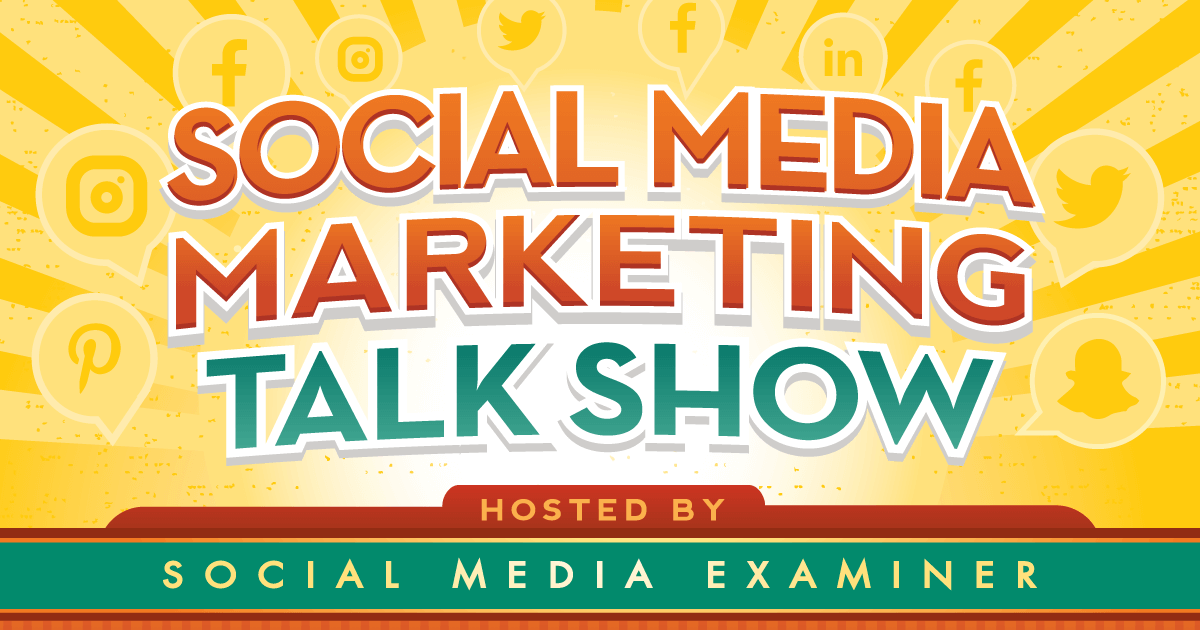 Welcome to this week's edition of the Social Media Marketing Talk Show, a news show for marketers who want to stay on the leading edge of social media. On this week's Social Media Marketing Talk Show, we explore what marketers need to know about changes coming from Instagram and the expanded rollout of Facebook's search […]
The post Changes Coming From Instagram: What Marketers Need to Know appeared first on Social Media Marketing | Social Media Examiner.
Thank you for reading.
This may be of some interest.
In my experience, most marketers fancy themselves as lifelong learners, taking pride in innovating their work and skill set to maximize their impact. We keep tabs on emerging trends, tactics, and tools. We follow industry leaders for their insight. We consult our internal teams and external partners for advice. 
But there may be one specialty group we don't look to for inspiration enough: The kids in our lives.
As a parent of two adorable monsters who are growing up way to fast, I've been reflecting a lot on how far they've come. Of course, I've realized that I've come far too, as both a parent and a marketer. And I'd wager that most of us have kids in our lives who have the potential to teach and remind us of some important things that can make us better humans and better at what we do.
So, what marketing lessons can the little ones in our lives pass on? Here are a few that have been illuminated for me recently.
4 Marketing Lessons We Can Learn from Kids
#1 – Foster permanent curiosity. 
Lately, on the 20-minute commute to daycare, we've been listening to "But Why?" It's a fantastic podcast by Vermont Public Radio. It's just incredible. Kids from all over North America send audio clips of themselves asking the most unexpected, puzzling, and just plain fun questions. This week we learned why we laugh, why boys and girls are different, and why sugar is bad for you.
Curiosity is one of the simplest and most powerful lessons we can learn from a child. As a marketer, this makes me ask: What can we do stay curious against a backdrop of back-to-back meetings, tight budgets, and the unending barrage of emails? There's a lot of opportunity for curiosity to creep in.
Professional Development:

Can you carve out a little time each week to drink a cup of coffee and surf your favorite industry publications for the latest news? Is there a certification or training that's been on the backburner?

Strategic Innovation:

As you head into your quarterly or

annual marketing strategy planning sessions

, how deep have you dug into why you're making your recommendations? Or better yet, have you considered other possibilities? A way to innovate? 

Reflection and Growth:

We all experience our fair share of fire drills. We immediately spring into action, oftentimes without asking all the "why" questions. Furthermore, we may not take the time to look back to learn how we got there. What processes could be fine-tuned? What is the true cause of a marketing mishap? (Tip: I like to employ the

Urgent Important Matrix

attributed to President Eisenhower to help balance my day.)
#2 – Employ resilient trust.
When both of my babes were around 6 to 9 months old, they learned to jump into our laps, assisted by Mom or Dad's hands securely around their waist. They were so proud of their amazing feats. And through repetition, they knew we'd always be there to catch them—even when they jumped unexpectedly.
Aided by their caretakers helping hands and guidance, kids learn new things and take risks, eventually without fear. Why? Because trust has been built.
In the marketing world, when trust is a focus, you can forge incredible bonds colleagues, clients or customers, prospects, and partners. And in a time when trust is dwindling among consumers, it's more critical than ever.
#3 – Be coachable.
My persistent (and often stubborn) children throw puzzle pieces. They shriek or scream, sometimes when they're seemingly unprovoked. They make mistakes. But their curious, trusting nature makes them incredibly teachable.
This magical trait is easy to lose once we hit the working world and get some experience under our belts. None of us probably think we're perfect, but how well do you take feedback? If you want to get results for your company and your career, you need to be open to coaching.
For example, did your supervisor offer some constructive feedback? Rather than put up your defenses, open yourself up to the feedback. You can literally, open your posture (no crossed arms), face her or him directly, and show your listening. Even take notes if it helps!
Or did you get a string of bad customer reviews on social media? Acknowledge their concerns. Offer an opportunity to talk about it more in detail. Point them in the right direction to get help. This not only shows them that you want to create great experiences, but others can see your willingness to take feedback and work to make improvements.
#4 – Keep it simple.
My children never fail to remind me to simplify my life—and my marketing. Whether you're a parent or caretaker, or you're watching others raise their kids, we can all admit that parents over-think questions and scenarios all the time. What do I do when my kid asks me where babies come from? Why is that parent so concerned about a kid playing with a cardboard box? Am I a terrible parent for putting my kid in timeout five times today?
But the thing is: Kids often sees the world through the most basic lens. They don't typically overthink things. They aren't riddled with stress and anxiety.
This should be a reminder that we shouldn't sweat the small stuff and that the simple answer is often the right answer. 
For example, you could spend 45 minutes responding to a curt email from a colleague or client, and then hours or days spinning as you wait for a response. Or you could ask the person in question to jump on the phone or huddle for a quick chat. This levels the playing field and limits the potential for misinterpreting signals.
As another example, if you're in the process of launching a major campaign, can you integrate various tactics to minimize and streamline the work? (Certainly, hiring a trusted agency partner could help with that. Wink.)
Look to the Children
If you want to be a lifelong learner, sometimes you need to go back to basics. The children in our lives can teach us some incredible lessons about curiosity, trust, coachability, and simplicity that can improve our personal and professional lives.
What's a marketing lesson that you've learned from a kid in your life? Tell us in the comments section below.
The post What Can Marketers Learn From the Children In Our Lives? Plenty appeared first on Online Marketing Blog – TopRank®.
Thank you for reading.
This may be of some interest.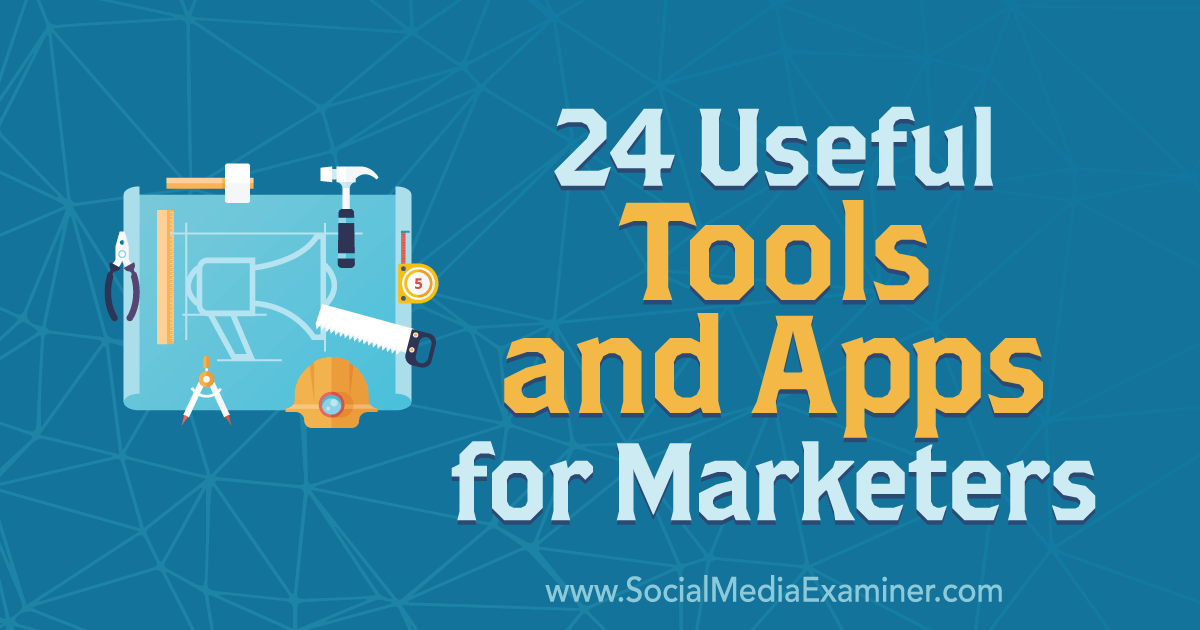 Social Media Examiner.
Thinking about how to get more advertising tasks achieved daily? Searching for some interesting tools to test? #1: Stories Creator Stories Creator makes it possible to create batches of pictures such as Facebook or even Instagram Stories. […]
Thank you for reading.
This may be of some interest.
Posted by matt_gillespie
There's an oft-cited statistic in the world of technology professionals, from marketers to startup founders to data scientists: 90% of the world's data has been created in the last two years.
This instantly-Tweetable snippet was referenced in Forbes in 2018, mentioned by MediaPost in 2016, and covered on Science Daily in 2013. A casual observer could be forgiven for asking: How could that be true in three different years?
At Fractl, the data makes perfect sense to us: The global amount of digital information is growing exponentially over time.
This means that the "90 percent of all data…" statistic was true in 2013, 2016, and 2018, and it will continue to be true for the foreseeable future. As our culture continues to become more internet-integrated and mobile, we continue to produce massive amounts of data year over year while also becoming more comfortable with understanding large quantities of information.
This is hugely important to anyone who creates content on the web: Stats about how much data we create are great, but the stories buried in that data are what really matter. In the opening manifesto for FiveThirtyEight, one of the first sites on the web specifically devoted to data journalism, Editor-in-Chief Nate Silver wrote:
"Almost everything from our sporting events to our love lives now leaves behind a data trail."
This type of data has always been of interest to marketers doing consumer research, but the rise of data journalism shows us that there is both consumer demand and almost infinite potential for great storytelling rooted in numbers.
In this post, I'll highlight four key insights from data science and journalism and how content marketers can leverage them to create truly newsworthy content that stands out from the pack:
The numbers drive the narrative
Plotted points are more trustworthy than written words (especially by brands!)
Great data content is both beautiful and easy-to-interpret
Every company has a (data) story to tell
By the time you're done, you'll have gleaned a better understanding of how data visualization, from simple charts to complex interactive graphics, can help them tell a story and achieve wide visibility for their clients.
The numbers drive the narrative
Try Googling "infographics are dead," and your top hit will be a 2015 think piece asserting that the medium has been dead for years, followed by many responses that the medium isn't anywhere close to "dead." These more optimistic articles tend to focus on the key aspects of infographics that have transformed since their popularity initially grew:
Data visualization (and the public's appetite for it) is evolving, and
A bad data viz in an oversaturated market won't cut it with overloaded consumers.
For content marketers, the advent of infographics was a dream come true: Anyone with even basic skills in Excel and a good graphic designer could whip up some charts, beautify them, and use them to share stories. But Infographics 1.0 quickly fizzled because they failed to deliver anything interesting — they were just a different way to share the same boring stories.
Data journalists do something very different. Take the groundbreaking work from Reuters on the Rohingya Muslim refugee camps in southern Bangladesh, which was awarded the Global Editors Network Award for Best Data Visualization in 2018. This piece starts with a story—an enormous refugee crisis taking place far away from the West—and uses interactive maps, stacked bar charts, and simple statistics visualizations to contextualize and amplify a heartbreaking narrative.
The Reuters piece isn't only effective because of its innovative data viz techniques; rather, the piece begins with an extremely newsworthy human story and uses numbers to make sure it's told in the most emotionally resonant way possible. Content marketers, who are absolutely inundated with advice on how storytelling is essential to their work, need to see data journalism as a way to drive their narratives forward, rather than thinking of data visualization simply as a way to pique interest or enhance credibility.
Plotted points are more trustworthy than written words
This is especially true when it comes to brands.
In the era of #FakeNews, content marketers are struggling more than ever to make sure their content is seen as precise, newsworthy, and trustworthy. The job of a content marketer is to produce work for a brand that can go out and reasonably compete for visibility against nonprofits, think tanks, universities, and mainstream media outlets simultaneously. While some brands are quite trusted by Americans, content marketers may find themselves working with lesser-known clients seeking to build up both awareness and trust through great content.
One of the best ways to do both is to follow the lead of data journalists by letting visual data content convey your story for you.
"Numbers don't lie" vs. brand trustworthiness
In the buildup to the 2012 election, Nate Silver's previous iteration of FiveThirtyEight drew both massive traffic to the New York Times and criticism from traditional political pundits, who argued that no "computer" could possibly predict election outcomes better than traditional journalists who had worked in politics for decades (an argument fairly similar to the one faced by the protagonists in Moneyball). In the end, Silver's "computer" (actually a sophisticated model that FiveThirtyEight explains in great depth and open-sources) predicted every state correctly in 2012.
Silver and his team made the model broadly accessible to show off just how non-partisan it really was. It ingested a huge amount of historical election data, used probabilities and weights to figure out which knowledge was most important, and spit out a prediction as to what the most likely outcomes were. By showing how it all worked, Silver and FiveThirtyEight went a long way toward improving the public confidence in data—and, by extension, data journalism.
But the use of data to increase trustworthiness is nothing new. A less cynical take is simply that people are more likely to believe and endorse things when they're spelled out visually. We know, famously, that users only read about 20-28 percent of the content on the page, and it's also known that including images vastly increases likes and retweets on Twitter.
So, in the era of endless hot takes and the "everyone's-a-journalist-now" mentality, content marketers looking to establish brand authority, credibility, and trust can learn an enormous amount from the proven success of data journalists — just stick to the numbers.
Find the nexus of simple and beautiful
Our team at Fractl has a tricky task on our hands: We root our content in data journalism with the ultimate goal of creating great stories that achieve wide visibility. But different stakeholders on our team (not to mention our clients) often want to achieve those ends by slightly different means.
Our creatives—the ones working with data—may want to build something enormously complex that crams as much data as possible into the smallest space they can. Our media relations team—experts in knowing the nuances of the press and what will or won't appeal to journalists—may want something that communicates data simply and beautifully and can be summed up in one or two sentences, like the transcendent work of Mona Chalabi for the Guardian. A client, too, will often have specific expectations for how a piece should look and what should be included, and these factors need to be considered as well.
Striking the balance
With so many ways to present any given set of numbers, we at Fractl have found success by making data visualizations as complex as they need to be while always aiming for the nexus of simple and beautiful. In other words: Take raw numbers that will be interesting to people, think of a focused way to clearly visualize them, and then create designs that fit the overall sentiment of the piece.
On a campaign for Porch.com, we asked 1,000 Americans several questions about food, focusing on things that were light and humorous conversation starters. For example, "Is a hot dog a sandwich?" and "What do you put on a hot dog?" As a native Chicagoan who believes there is only one way to make a hot dog, this is exactly the type of debate that would make me take notice and share the content with friends on social media.
In response to those two questions, we got numbers that looked like this:
Using Tableau Public, an open-source data reporting solution that is one of the go-to tools for rapid building at Fractl, the tables above were transformed into rough cuts of a final visualization:
With the building blocks in place, we then gave extensive notes to our design team on how to make something that's just as simple but much, much more attractive. Given the fun nature of this campaign, a more lighthearted design made sense, and our graphics team delivered. The entire campaign is worth checking out for the project manager's innovative and expert ability to use simple numbers in a way that is beautiful, easy-to-approach, and instantly compelling.
All three of the visualizations above are reporting the exact same data, but only one of them is instantly shareable and keeps a narrative in mind: by creatively showing the food items themselves, our team turned the simple table of percentages in the first figure into a visualization that could be shared on social media or used by a journalist covering the story.
In other cases, such as if the topic is more serious, simple visualizations can be used to devastating effect. In work for a brand in the addiction and recovery space, we did an extensive analysis of open data hosted by the Centers for Disease Control and Prevention. The dramatic increase in drug overdose deaths in the United States is an emotional story fraught with powerful statistics. In creating a piece on the rise in mortality rate, we wanted to make sure we preserved the gravity of the topic and allowed the numbers to speak for themselves:
A key part of this visualization was adding one additional layer of complexity—age brackets—to tell a more contextualized and human story. Rather than simply presenting a single statistic, our team chose to highlight the fact that the increase in overdose deaths is something affecting Americans across the entire lifespan, and the effect of plotting six different lines on a single chart makes the visual point that addiction is getting worse for all Americans.
Every brand's data has a story to tell
Spotify has more than 200 million global users, nearly half of whom pay a monthly fee to use the service (the other half generate revenue by listening to intermittent ads). As an organization, Spotify has data on how a sizeable portion of the world listens to its music and the actual characteristics of that music.
Data like this is what makes Spotify such a valuable brand from a dollars and cents standpoint, but a team of data journalists at The New York Times also saw an incredible story about how American music taste has changed in the last 30 years buried in Spotify's data. The resulting piece, Why Songs of Summer Sound the Same, is a landmark work of data-driven, interactive journalism, and one that should set a content marketer's head spinning with ideas.
Of course, firms will always be protective of their data, whether it's Netflix famously not releasing its ratings, Apple deciding to stop its reporting of unit sales, or Stanford University halting its reporting of admissions data. Add to the equation a public that is increasingly wary of data privacy and susceptibility to major data breaches, and clients are often justifiably nervous to share data for the purpose of content production.
Deciding when to share
That said, a firm's data often is central to its story, and when properly anonymized and cleared of personal identifying information, or PII, the newsworthiness of a brand reporting insights from its own internal numbers can be massive.
For example, GoodRx, a platform that reports pricing data from more than 70,000 U.S. pharmacies, released a white paper and blog post that compared its internal data on prescription fills with US Census data on income and poverty. While census data is free, only GoodRx had the particular dataset on pharmacy fills—it's their own proprietary data set. Data like this is obviously key to their overall valuation, but the way in which it was reported here told a deeply interesting story about income and access to medication without giving away anything that could potentially cost the firm. The report was picked up by the New York Times, undoubtedly boosting GoodRx's ratings for organic search.
The Times' pieces on Spotify and GoodRx both highlight the fourth key insight on the effective use of data as content marketers: Every brand's data has a story to tell. These pieces could only have come from their exact sources because only they had access to the data, making the particular findings singular and unique to that specific brand and presenting a key competitive advantage in the content landscape. While working with internal data comes with its own potential pitfalls and challenges, seeking to collaborate with a client to select meaningful internal data and directing its subsequent use for content and narrative should be at the forefront of a content marketer's mind.
Blurring lines and breaking boundaries
A fascinating piece recently on Recode sought to slightly reframe the high-publicity challenges facing journalists, stating:
"The plight of journalists might not be that bad if you're willing to consider a broader view of 'journalism.'"
The piece detailed that while job postings for journalists are off more than 10 percent since 2004, jobs broadly related to "content" have nearly quadrupled over the same time period. Creatives will always flock to the options that allow them to make what they love, and with organic search largely viewed as a meritocracy of content, the opportunities for brands and content marketers to utilize the data journalism toolkit have never been greater.
What's more, much of the best data journalism out there typically only uses a handful of visualizations to get its point across. It was also reported recently that the median amount of data sources for pieces created by the New York Times and The Washington Post was two. It too is worth noting that more than 60 percent of data journalism stories in both the Times and Post during a recent time period (January-June, 2017) relied only on government data.
Ultimately, the ease of running large surveys via a platform like Prolific Research, Qualtrics, or Amazon Mechanical Turk, coupled with the ever-increasing number of free and open data sets provided by both the US Government or sites like Kaggle or data.world means that there is no shortage of numbers out there for content marketers to dig into and use to drive storytelling. The trick is in using the right blend of hard data and more ethereal emotional appeal to create a narrative that is truly compelling.
Wrapping up
As brands increasingly invest in content as a means to propel organic search and educate the public, content marketers should seriously consider putting these key elements of data journalism into practice. In a world of endless spin and the increasing importance of showing your work, it's best to remember the famous quote written by longtime Guardian editor C.P. Scott in 1921: "Comment is free, but facts are sacred."
What do you think? How do you and your team leverage data journalism in your content marketing efforts?
Sign up for The Moz Top 10, a semimonthly mailer updating you on the top ten hottest pieces of SEO news, tips, and rad links uncovered by the Moz team. Think of it as your exclusive digest of stuff you don't have time to hunt down but want to read!
Thank you for reading.