guide
This may be of some interest.
Posted by MiriamEllis
Image credit: Robert Couse-Baker
Before all else, gratitude to every delivery person, whether in-house or third party, doing the essential work of keeping households safer and supplied in these times. I'm dedicating today's column to the manager of a nearby Sprouts grocery store who personally drove my order to my door when an Instacart driver just couldn't get the job done.
If your business or clients are weighing whether to fulfill delivery in-house or partner with a third party, my small experience is an apt footnote to the huge, emergent debate over last-mile fulfillment options. I'd searched all over town for scarce potatoes, finally arranging by phone with the local Sprouts market to hold their last two bags for me one morning, and texting the Instacart driver about where the spuds were being held. Next:
For whatever reason, the driver chose not to retrieve them, claiming the manager told them there was nothing being held for me. Not knowing whom to believe, I phoned the manager who confirmed the driver had never asked for the potatoes and, to my astonishment, told me he was going to bring the groceries to my house right away, himself.
"I feel really bad about this," he said. "Sometimes Instacart's drivers just go so fast, they don't do a good job. It's really important to me that my customers get good service and feel good about our store, especially with this hard time we're all going through."
And that's the crux of what has suddenly become a pressing issue for millions of local businesses, as well as all local search marketers who draw a through-line between reputation and revenue.
Today, we'll:
Stack up the pros and cons of in-house vs. third-party delivery
Interview a software engineer who has been on the ground with this evolving narrative of critical choices
Excerpt the revealing comments of a former head of development at Grubhub.
Plan SEO and marketing strategy for competing with corporate delivery
Examine the welfare of and best options for drivers
Help your brand or clients make a better-informed delivery decision
A piece of the pie
On March 15, 2020, downloads of Instacart's app shot up 218% over their normal daily average. Restaurants, grocers, and a wide variety of retailers have spent the past two months forging paths from shelves to customers' front doors to meet demand. While initial implementation may have been a scramble for the state of emergency, we're getting to the place where it's time to talk long-term plans.
I recently surveyed a group of several hundred local business owners and local search marketers to ask whether they intend to permanently offer home delivery. Of those who answered "yes," I asked whether they would be staffing up an in-house delivery fleet or outsourcing to a third party, like Instacart, or Postmates, GrubHub, or Uber Eats. I found it amazing that my survey group was split right down the middle:
Clearly, there's an even divide between brands that expect to manage the entire customer experience from start to finish, and those whose circumstances are causing them to entrust the last mile to a workforce they can't directly control. I wondered if the 50/50 split represented settled decisions or indecisions and, also, how my pie chart might look a year from today, when all parties have had more time for implementation and analysis.
For now, we'll start by examining another type of pie with a technician who experienced a pizza company shifting from in-house to third-party delivery.
A tale of cold pizza and ghosting drivers
My friend is a software engineer who worked on last-mile delivery integration for a headlining US pizza startup, and whose anonymized takeaways serve as a stunning cautionary tale. The engineer tells it this way:
"We started with an in-house delivery fleet, with two drivers assigned to each company vehicle and each vehicle servicing a radius of approximately five miles. Delivery times were under fifteen minutes with this setup, and we had a ton of very happy customers. Leadership then decided to outsource delivery to a well-known third party."
Take note of what happened next.
"Average delivery time shot up to sixty minutes for peak dinner hours, and holidays were especially bad. One Hallowe'en, it was taking three hours for customers to receive their dinnertime pizza because of driver availability. The third party can't simply add more drivers as they have no control over when drivers sign onto their platform, but with an in-house fleet, you can plan for high demand and increase staffing. And, instead of having an in-house driver waiting with their truck on the premises to take a delivery, you have to wait for the third party to assign a driver (between 5-30 minutes), wait for the driver to arrive (another 5-30 minutes), and then, finally, deliver. You'd sometimes see deliveries assigned to third-party drivers twenty miles away who would end up ghosting because they don't want to be bothered with the long drive."
As for technical concerns, the engineer told me:
"Technically, the third-party service was not reliable. I had to deal with a lot of random bugs in their API, as well as constant service interruption, and they had very poor engineering support for their API. This might not be true of all third-party services, of course."
And, finally, here's how the engineer summed up the impact of this on customers:
"The third-party delivery fleet wasn't just inefficient in terms of time, but often, they didn't have the proper bags to keep the pizzas warm. Customers waiting a long time for cold pizza will obviously lead to dissatisfaction. In-house drivers care more about the product they're delivering, in my experience. I'm convinced that, given the choice, customers would always prefer restaurants to have in-house delivery staff, but it's hard to compete nowadays with the big name last-mile platforms. Some brands have taken a very public stance on refusing to work with third parties, and I'd like to see Google and Yelp roll out features to let customers know when businesses have their own delivery staff, because it can make such a difference for the customer."
As a local SEO, I know that difference for the customer is going to show up in the reviews and word-of-mouth sentiment for any brand, and that, cumulatively, it could equal the brand building, maintaining, or shedding loyalty. Reputation can, quite literally, be the difference between solvency and closure.
Positive press for third-party deliveries
If there are so many potential negatives associated with outsourcing delivery, why do so many successful brands go this route? We've looked at some cons, but this shortlist of pros is illuminating:
Third parties have their own, highly-visible, well-ranked directories of businesses they service. These websites are hard to compete with if you're not included in them. Seen in a certain light, third parties can bring a business new visibility and new customers. More on this ahead.
Third parties have ordering technology, logistics, drivers and either proprietary or driver-owned vehicles all ready to go, doing much of the heavy lifting. Not having to pay for a fleet of vehicles or directly pay the wages of drivers can impact brands' initial, fixed, and ongoing costs. Concerns about insuring these drivers also belong to the third party, not the brand.
Third-party reliance means the grocer can focus on groceries and the chef can focus on cooking, not delivery. For some brands, the challenge of becoming delivery experts is just too distracting.
Many brands report having a good experience with major third parties. It's important to read pre-COVID stories like these told by QSR's Daniel P. Smith about companies that have relied on these providers for multiple years. Consider:
The Buona family found that trying to focus on delivery detracted from the core operations of their 27-location Italian restaurant chain. In 2017, they turned the last mile over to DoorDash and were so pleased with the operation that they're now also partnering with Uber Eats and Grubhub.
Two years ago, the Habit Burger Grill launched a Postmates partnership in Northern California, and were happy enough with the arrangement to expand delivery from all 240 of their locations via Postmates, Doordash, and Uber Eats.
Meanwhile, the 40-unit Just Salad chain has been using Grubhub since it launched sixteen years ago and praises their delivery time of under 35 minutes. At the same time, Just Salad also has an in-house delivery fleet. CEO Nick Kenner states that the company would prefer customers to choose the brand's own delivery service, to "cut out the middleman."
That last point is absolutely key to this story and to the third-party vs. in-house decision.
Cost issues with the middleman
A narrative amplifying in volume during the public health emergency is that third-party delivery fees simply aren't sustainable for small businesses. When BBQ restaurant owner Andy Salyards shared his Uber Eats bill with a local news station, I started doing some math.
Salyards made $636.00 (pre-tax) selling 22 dinners.
Uber Eats charged him $190.80 to deliver them.
Salyards paid Uber Eats 30% of his earnings.
I found averages stating that a driver can typically make 2.5 deliveries per hour, though this depends on geography. Out of respect for the drivers, let's hypothesize that Salyards is operating in a city that's passed a $15 minimum wage and that he decides to employ in-house delivery persons.
It would take 8.8 hours for one driver to make 22 deliveries.
8.8 hours x $15 an hour = 132.00.
Salyards would be paying 20.75% for in-house delivery instead of 30% for third-party fulfillment for the same work in this dynamic. And obviously, where the minimum wage is lower, Salyards costs for in-house delivery would be far less.
On the face of it, in-house fleets look far more profitable than third parties, but here's what my math doesn't cover:
Do in-house drivers use their own cars, or does the business have to make a major initial investment in a vehicle fleet?
Who pays for gas/electric charging, auto maintenance, and liability insurance?
How do you measure out the benefits of marketing your own brand by advertising on your company vehicles, vs. the loss of that opportunity because third-party vehicles don't display your logo?
What is the true cost to reputation, retention, and revenue when a brand loses control of the last mile of the customer experience? Is there an acceptable level of customer dissatisfaction caused by slower delivery times, lack of proper equipment, or ghosting drivers?
Each business has a unique scenario, and all of them will need to find customized answers to all of these questions.
Trust issues with the middleman
Customer service rules the viability of local businesses, and the best ones labor over every aspect of their operations to get things just right. Handing off the home stretch between the physical locale of the business and the customer's front door is a phenomenal act of trust, and unfortunately, the local SEO industry has long been documenting the damages of trust misplaced.
To be completely honest, being set down amid Google, Yelp, and some of the major delivery brands, local business owners are gazelles amid a pride of lions. Some of the more infamous accusations against the lions over the past few years have included:
This last example, published by Ranjan Roy, received hundreds of frustrated comments, but it was the epic statement of Collin Wallace that glued me to my screen and deserves excerpting here:
"I was the former Head of Innovation at Grubhub, so I have seen the truth behind many of these claims first hand. Sadly, I invented a lot of the food delivery technologies that are now being used for evil…COVID-19 is exposing the fact that delivery platforms are not actually in the business of delivery. They are in the business of finance… like payday lenders for restaurants and drivers…
In the case of restaurants, these platforms slowly siphon off your customers and then charge you to have access to them. They are simultaneously selling these same customers to your competitor across the street, but, don't worry, they are also selling their customers to you.
For drivers, they are banking on a workforce that is willing to mortgage their assets, like cars and time, well below market value, in exchange for money now. They know that most delivery drivers are simply not doing the math…If they did, drivers would realize that they are actually the ones subsidizing the cost of delivery.
Delivery platforms are "hyper-growth" businesses that are trying to grow into a no-growth industry. Food consumption really only grows at the rate of population growth, so if you want to grow faster than that, you have to take market share from someone else. Ideally, you take it from someone weaker, who has less information. In this industry, the delivery platforms have found unsuspecting victims in restaurants and drivers… Restaurants need to realize that they are now running e-commerce businesses and they need to act accordingly. Being proficient on Google, Yelp, Facebook and the dozens of other platforms is no longer optional, it is essential."
Local SEOs will nod their heads over the need for local Internet proficiency, but it's Wallace's summation of the welfare of the drivers that strikes the most discordant note with me for relationships hinging on trust.
The Instacart driver who didn't bother to bring me my potatoes sincerely worries me, not for my family's sake, but for theirs. I already knew before reading Collin Wallace's comments that some gig workers are living in their cars, camping in parking lots, and being forced to choose between safety and money. When you have a moment, brace yourself and read Quora threads in which gig drivers are arguing about how little they make. One of my own nieces is a gig worker, and she's out there today as I write this column, trying to make ends meet and sanitizing her hands every five minutes. I'm worried about her every single day.
There are local business owners who treat their staff like family, and others who don't. Where trust and your brand's reputation are involved, a question that deserves to be asked is whether you can trust business partners and models that rely on a desperate workforce. How do you feel about your handcrafted pizza being delivered, not by employees whose wellbeing you directly influence, but by one in four drivers who are hungry enough to be eating the food they're supposed to deliver?
As we look ahead with hope to a post-COVID marketplace, it's worth taking the time to reflect on this question and how it relates to the quality of life in the community where you live and serve.
Dignified work for local delivery drivers
"Please leave it on the walkway. Thank you so much!"
"Okay. You take care!"
"Thank you. Stay safe! Take care!"
This is the socially-distant duet I now sing through my kitchen window several times a week with the essential delivery workforce. While we may not deserve a Grammy, I do feel every driver who has brought water, food, and goods to my family these past few months deserves more than recognition — they deserve a dignified workplace and wage.
If Grubhub's former head of innovation is troubled by drivers subsidizing delivery costs in exchange for urgently-needed quick money, I am completely convinced that no local community is improved by reliance on an underpaid workforce with few protections, inadequate healthcare in time of illness, or housing insecurity. That's the thing about seeing life through a local SEO's lens: everyone is a neighbor, and people working in your city are your friends and family.
I would prefer my niece to find work with a local business with an in-house delivery fleet being paid a living wage. I'd prefer her workforce to have a union, too. This is the advice I would give both as an aunt and as a local SEO, but if you are a driver trying to evaluate your personal decision about where to work, these links are for you:
In recent memory, many delivery jobs were filled by teenagers — like my big brother at 16 — with a new driver's license, a stack of pizzas, and a need for part-time income to purchase disco records and car insurance. Now, it's mothers, fathers, and grandparents driving those long miles to bring absolute necessities to our doors.
If you work in delivery, my best advice to you is to study what Collin Wallace has said, study the market, and seek jobs with the best pay and best protections. You and your work are essential, and if you plan to work in delivery for the long haul, finding a union job, like the American Postal Workers Union, is likely to offer you the most protections and benefits.
It's not accurate to state that in-house drivers will automatically do a better job than gig workers for third parties. Many gig workers are going above and beyond to provide excellent service, day-in-day-out. But it's only the in-house model that enables employers to ensure staff are receiving what they need to support themselves and support the brand. Last year, I did a very quick Twitter poll asking what it is that employees want most:
Employers: keep seeing that through-line between reputation and revenue when weighing the wages and working conditions you feel will make your brand most trusted by customers. Think of me, and my hunt for taters, and my feelings of uncertainty about trusting Instacart again, or any business that's using them for fulfillment right now.
If you opt for in-house delivery, how will you compete?
While competition will differ from market to market, here's a very simple schematic of the typical set of Google results I've seen in my region for delivery-related queries, broken down into third-party vs. in-house delivery entries:
As referenced above, corporate delivery services have massive, authoritative websites and big ad budgets that allow them to gobble up visibility in Google's SERPs (search engine results pages). In my schematic of 16 opportunities — which represents an actual SERP in my town for the keyword phrase "hamburger delivery near me" — 10 of the entries are being bought or won by brands like GrubHub, DoorDash, and Postmates.
If your business isn't listed on the highly-ranked directories published by these services, and you lack a large paid advertising budget, a SERP like this leaves you just six places to compete for the customer's attention. Here's a basic three-part framework for how to compete:
1. Build your business for customers
If Collin Wallace is right in casting third parties as payday lenders and in the business of finance, your competitive advantage is to be in the business of customers' needs. In practical terms, this means:
2. Build the strongest website you can
The usefulness, optimization, and technical quality of your website will all help you compete in both the organic and local SERPs. The more competitive your market, the more you will need to invest in implementing:
Moz's Beginner's Guide to SEO and Local Learning Center will get you well on your way to competitive wins. And double down in writing about the superlatives of your delivery service — don't be shy about explaining exactly why ordering directly from your brand is best for the customer, the business, the delivery staff, and the community.
3. Build the strongest local SERP presence you can
Your ability to publish, distribute, and manage your non-website-based local assets will strongly contribute to your ability to compete in Google's local search engine results. Depending on your market competition, you'll need to meet and exceed your competitors' investments in:
There's no downplaying the hold corporate delivery websites have on Google's SERPs, nor the fact that Google has special relationships with some of them that redound to Google's own financial interests. In competitive markets, it will be no easy task to compete with these brands. Many local businesses may feel that "if you can't beat them, join them" is the only option to remain operational.
But don't overlook the powers you do have to compete by dint of running a beloved business and a brilliant search marketing strategy. You could even choose to utilize a third-party service only until you've got a large, built-in customer base you can guide to come directly to you for fulfillment in the years ahead.
Summing up third-party vs. in-house delivery risks and benefits
As you evaluate which solution will be the best fit for last-mile operations for your brand, you'll want to painstakingly chart out the pros and cons of each option. Here's my simple checklist to get you started, delineating which solution is most likely to afford the benefits we've covered today, as well as a few extra points of consideration:
It's too soon to predict what the sum total of change will be to the whole concept of delivery across all relevant industries. I talked with multiple business owners on St. Patrick's Day, when California instituted its shelter-in-place order and all of them were hustling to create piecemeal solutions for remaining operational and serving my community. Several months later, brands are in a better position to evaluate consumer feedback and make adjustments to their delivery strategy.
As our risk/benefit chart shows, there are clear pros and cons for in-house vs. third-party implementation. Many brands will take a "best of both worlds" approach, like Just Salads, while hoping more customers come directly to them instead of their outsourcing partner. Other business owners may steer clear of the big delivery brands and bet on a smaller service, like Takeout Central serving North Carolina, or Lodel covering seven states in the American West. And definitely check out this CHOMP restaurant cooperative story over at Localogy.
What we can say with certainty in June of 2020 is that the brands you operate and market have major decisions to make about serving customers in both the best and worst of times. This is crucial work, and the only thing more important in local commerce right now is the significant power brands are suddenly wielding to set standards for how delivery and delivery persons will work. Recognize that power.
We've all had enough of experiencing the "worst", and it's motivation enough to plan a better future, with consistently excellent service for customers, the building blocks of lucrative reputation for brands, and local communities that deliver fair and dignified livelihoods for valued essential workers.
Sign up for The Moz Top 10, a semimonthly mailer updating you on the top ten hottest pieces of SEO news, tips, and rad links uncovered by the Moz team. Think of it as your exclusive digest of stuff you don't have time to hunt down but want to read!
Thank you for reading.
This may be of some interest.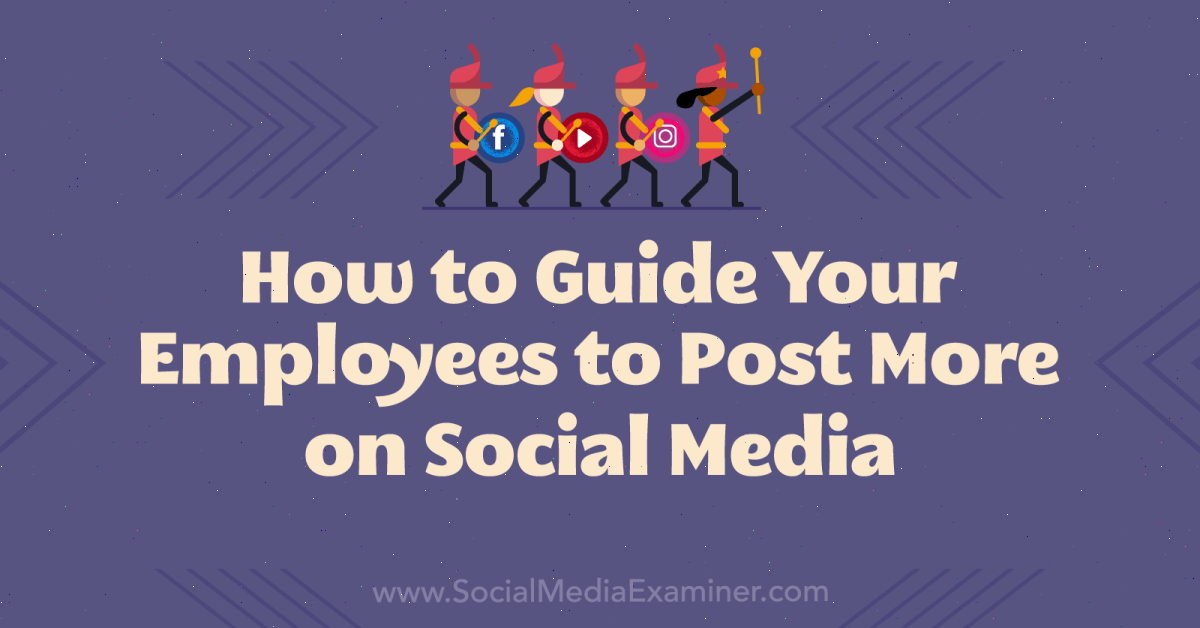 Want your employees to share more about your business on social media? Wondering how best to guide their social media posts? In this article, you'll discover how to develop guidelines to help employees post more on social media and find examples of types of posts employees can model. #1: Create Clear Social Media Guidelines for […]
The post How to Guide Your Employees to Post More on Social Media appeared first on Social Media Marketing | Social Media Examiner.
Thank you for reading.
Can you imagine if the world run out of energy source? The world will go dark, cold and still! Think about it, the daily conveniences you used to enjoy and maybe take for granted because you can easily have them frequently, all gone. How you can easily charge your mobile phones and smart devices when their batteries are empty because of electricity, how transportation is readily available because of fuel, how your homes are warm and bright because of power. That is how you are dependent with energy, that when it is gone, you are immobilized.
This is why even with the soaring prices of electricity, people pay for it, you pay for it from your hard earned money. The prices of electricity are influenced by many factors like fuels, power plants, transmission and distribution system, weather conditions, regulations and of course there are some for profit utilities that need to gain financial return for the owners and shareholders. Everything is costly because there are maintenance, operating and repair costs that need to be handled and the constant changing supply and demand. But despite the surging prices, you pay for it because you need it.
But imagine during strong typhoons, when all power lines have been destroyed in your area and your electricity provider would just inform you that they are aware of the problem but you have to wait for at least 48 hours for the electricity to come back. What will you do then? Because Mark Edwards was asking the same question when their electricity was cut because of destroyed power lines. He witnessed his wife and daughters embracing one another to battle the cold and he can't do anything to alleviate the situation. That moment was heartbreaking that he swore to himself it will never happen again, that he will never put his full trust in those big electricity companies who don't seem to care about what families are going through without electricity, despite paying on time. He swore he will protect his family and keep them safe and warm.
Who is Mark Edwards?
He made the revolutionary Power Efficiency Guide that can drastically change your life and the lives of others. It is a digital guide that will help you build your very own energy source and will save you a lot of money. Seeing his family's bad condition without electricity and feeling himself powerless about the situation was life changing for him, he researched and studied about alternative sources of power that should be cheap and easy to make since he doesn't have any background in building complicated machines, he is after all a geography teacher.
His hard work paid off when he remembered his late uncle who was an engineer who researched about energy fields. He also asked help from another engineer who used to work with his uncle to interpret his research about spinning principle, that is actually used in electric cars today. From there, they were able to build a new technology that charges itself while providing power. It's a self sufficient generator and you can build it with the Power Efficiency Guide.
To give you a better understanding about it, here's a list of what you should know.
The Good Points:
1. You don't need to have any building experience, the guide provides you with a step by step process. The illustrated instructions teach you how to put the materials in the right position and you're done.
2. It is an incredible technology that is easy and cheap to build. 90% of its materials you can get from your yard or your nearest junk shop. It's that cheap but can give you big savings and can power any appliances in your home.
3. While you may have the traditional generator, it can cost you a lot with its dependency on expensive gas. You may be thinking of getting a solar panel which is really costly and is it sustainable? You can't expect sun 24/7. This energy source though can power up an entire home and is a lifesaver when the electricity goes out. You don't even need to wait for a blackout, you can use it once you're done building it.
4. The design is brilliant and it produces clean energy. It is SAFE because it produces NO dangerous fumes that may cause fires and explosions.
5. It is the real thing! It has changed the lives of more than 80,000 individuals and made them save an average of $1,600 a year.
6. If you are not blown away by the result, you will have a 60-day, no questions asked, money back guarantee. Plus you will have an unlimited customer support for life because Mike Edwards will be giving you his personal email for any of your questions.
The Bad Points:
1. Building something so useful may intimidate you but the guide is pretty simple and was created for everybody.
2. It's a digital copy so you will need to download it in your smart devices or computer with internet connection.
Should You Get It?
It is hard to become fully dependent on something that is so expensive. You work so hard to provide for yourself and your family, at the same time trying so hard not to fall behind paying your utility bills which prices are always going up. What if there is an effective and efficient way to cut your expenses? What if instead of paying those energy moguls, you can actually save your money and spend it somewhere else, like your children's education fund or just about anything your family wants and needs? If you are like more than 80,000 individuals who have built this amazing device to save themselves from paying expensive bills, then this guide is FOR YOU!
Build that energy source and protect your family from unlikely conditions that can arise from electricity loss and forever change your life.
This may be of some interest.
Earning the trust of prospective customers can be a struggle. Before you can even begin to expect to earn their business, you need to demonstrate your ability to deliver on what your product or service promises.
Writing a case study is a great way to do that.
Sure, you could say that you're great at X, or that you're way ahead of the competition when it comes to Y. But at the end of the day, what you really need to win new business is cold, hard proof.
One of the best ways to prove your worth is through a compelling case study.
Below, I'll walk you through what a case study is, how to prepare for writing one, what you need to include in it, and how it can be an effective tactic. To jump to different areas of this post, click on the links below to automatically scroll.
What Is a case study?
A case study examines a person's or business's specific challenge or goal, and how they solved for it. Case studies can vary greatly in length and focus on a number of details related to the initial challenge and applied solution.
In professional settings, it's common for a case study to tell the story of a successful business partnership between a vendor and a client.
Whether it's a brief snapshot of your client's health since working with you, or a long success story of the client's growth, your case study will measure this success using metrics that are agreed upon by the client you're featuring. Perhaps the success you're highlighting is in the number of leads your client generated, customers closed, or revenue gained. Any one of these key performance indicators (KPIs) are examples of your company's services in action.
When done correctly, these examples of your work can chronicle the positive impact your business has on existing or previous customers.
To help you arm your prospects with information they can trust, we've put together a step-by-step guide on how to create effective case studies for your business — as well as free case study templates for creating your own. Get them using the form above, and then get creating using the steps below.
How to Write a Case Study
Determine the case study's objective.
Establish a case study medium.
Find the right case study candidate.
Contact your candidate for permission to write about them.
Draft and send your subject a case study release form.
Ensure you're asking the right questions.
Lay out your case study format.
Publish and promote your case study.
1. Determine the case study's objective.
All business case studies are designed to demonstrate the value of your services, but they can focus on several different client objectives.
Your first step when writing a case study is to determine the objective or goal of the subject you're featuring. In other words, what will the client have succeeded in doing by the end of the piece?
The client objective you focus on will depend on what you want to prove to your future customers as a result of publishing this case study.
Your case study can focus on one of the following client objectives:
Complying with government regulation
Lowering business costs
Becoming profitable
Generating more leads
Closing on more customers
Generating more revenue
Expanding into a new market
Becoming more sustainable or energy-efficient
2. Establish a case study medium.
Next, you'll determine the medium in which you'll create the case study. In other words, how will you tell this story?
Case studies don't have to be simple, written one-pagers. Using different media in your case study can allow you to promote your final piece on different channels. For example, while a written case study might just live on your website and get featured in a Facebook post, you can post an infographic case study on Pinterest, and a video case study on your YouTube channel.
Here are some different case study mediums to consider:
Written Case Study
Consider writing this case study in the form of an ebook and converting it to a downloadable PDF. Then, gate the PDF behind a landing page and form for readers to fill out before downloading the piece, allowing this case study to generate leads for your business.
Video Case Study
Plan on meeting with the client and shooting an interview. Seeing the subject, in person, talk about the service you provided them can go a long way in the eyes of your potential customers.
Infographic Case Study
Use the long, vertical format of an infographic to tell your success story from top to bottom. As you progress down the infographic, emphasize major KPIs using bigger text and charts that show the successes your client has had since working with you.
Podcast Case Study
Podcasts are a platform for you to have a candid conversation with your client. This type of case study can sound more real and human to your audience — they'll know the partnership between you and your client was a genuine success.
3. Find the right case study candidate.
Writing about your previous projects requires more than picking a client and telling a story. You need permission, quotes, and a plan. To start, here are a few things to look for in potential candidates.
Product Knowledge
It helps to select a customer who's well-versed in the logistics of your product or service. That way, he or she can better speak to the value of what you offer in a way that makes sense for future customers.
Remarkable Results
Clients that have seen the best results are going to make the strongest case studies. If their own businesses have seen an exemplary ROI from your product or service, they're more likely to convey the enthusiasm that you want prospects to feel, too.
One part of this step is to choose clients who have experienced unexpected success from your product or service. When you've provided non-traditional customers — in industries that you don't usually work with, for example — with positive results, it can help to remove doubts from prospects.
Recognizable Names
While small companies can have powerful stories, bigger or more notable brands tend to lend credibility to your own — in some cases, having brand recognition can lead to 24.4X as much growth as companies without it.
Switchers
Customers that came to you after working with a competitor help highlight your competitive advantage, and might even sway decisions in your favor.
4. Contact your candidate for permission to write about them.
To get the case study candidate involved, you have to set the stage for clear and open communication. That means outlining expectations and a timeline right away — not having those is one of the biggest culprits in delayed case study creation.
Most importantly at this point, however, is getting your subject's approval. When first reaching out to your case study candidate, provide them with the case study's objective and format — both of which you will have come up with in the first two steps above.
To get this initial permission from your subject, put yourself in their shoes — what would they want out of this case study? Although you're writing this for your own company's benefit, your subject is far more interested in the benefit it has for them.
Benefits to Offer Your Case Study Candidate
Here are four potential benefits you can promise your case study candidate to gain their approval.
Brand Exposure
Explain to your subject whom this case study will be exposed to, and how this exposure can help increase their brand awareness both in and beyond their own industry. In the B2B sector, brand awareness can be hard to collect outside one's own market, making case studies particularly useful to a client looking to expand their name's reach.
Employee Exposure
Allow your subject to provide quotes with credits back to specific employees. When this is an option to them, their brand isn't the only thing expanding its reach — their employees can get their name out there, too. This presents your subject with networking and career-development opportunities they might not have otherwise.
Product Discount
This is a more tangible incentive you can offer your case study candidate, especially if they're a current customer of yours. If they agree to be your subject, offer them a product discount — or free trial of another product — as a thank-you for their help creating your case study.
Backlinks and Website Traffic
Here's a benefit that is sure to resonate with your subject's marketing team: If you publish your case study to your website, and your study links back to your subject's website — known as a "backlink" — this small gesture can give them website traffic from visitors who click through to your subject's website.
Additionally, a backlink from you increases your subject's page authority in the eyes of Google. This helps them rank more highly in search engine results and collect traffic from readers who are already looking for information about their industry.
5. Draft and send your subject a case study release form.
Once your case study candidate approves of your case study, it's time to send them a release form.
A case study release form tells you what you'll need from your chosen subject, like permission to use any brand names and share the project information publicly. Kick off this process with an email that runs through exactly what they can expect from you, as well as what you need from them. To give you an idea of what that might look like, check out this sample email:
You might be wondering, "What's a Case Study Release Form?" or, "What's a Success Story Letter?" Let's break those down.
Case Study Release Form
This document can vary, depending on factors like the size of your business, the nature of your work, and what you intend to do with the case studies once they are completed. That said, you should typically aim to include the following in the Case Study Release Form:
A clear explanation of why you are creating this case study and how it will be used.
A statement defining the information and potentially trademarked information you expect to include about the company — things like names, logos, job titles, and pictures.
An explanation of what you expect from the participant, beyond the completion of the case study. For example, is this customer willing to act as a reference or share feedback, and do you have permission to pass contact information along for these purposes?
A note about compensation.
Success Story Letter
As noted in the sample email, this document serves as an outline for the entire case study process. Other than a brief explanation of how the customer will benefit from case study participation, you'll want to be sure to define the following steps in the Success Story Letter.
The Acceptance
First, you'll need to receive internal approval from the company's marketing team. Once approved, the Release Form should be signed and returned to you. It's also a good time to determine a timeline that meets the needs and capabilities of both teams.
The Questionnaire
To ensure that you have a productive interview — which is one of the best ways to collect information for the case study — you'll want to ask the participant to complete a questionnaire prior to this conversation. That will provide your team with the necessary foundation to organize the interview, and get the most out of it.
The Interview
Once the questionnaire is completed, someone on your team should reach out to the participant to schedule a 30- to 60-minute interview, which should include a series of custom questions related to the customer's experience with your product or service.
The Draft Review
After the case study is composed, you'll want to send a draft to the customer, allowing an opportunity to give you feedback and edits.
The Final Approval
Once any necessary edits are completed, send a revised copy of the case study to the customer for final approval.
Once the case study goes live — on your website or elsewhere — it's best to contact the customer with a link to the page where the case study lives. Don't be afraid to ask your participants to share these links with their own networks, as it not only demonstrates your ability to deliver positive results, but their impressive growth, as well.
6. Ensure you're asking the right questions.
Before you execute the questionnaire and actual interview, make sure you're setting yourself up for success. A strong case study results from being prepared to ask the right questions. What do those look like? Here are a few examples to get you started:
What are your goals?
What challenges were you experiencing prior to purchasing our product or service?
What made our product or service stand out against our competitors?
What did your decision-making process look like?
How have you benefited from using our product or service? (Where applicable, always ask for data.)
Keep in mind that the questionnaire is designed to help you gain insights into what sort of strong, success-focused questions to ask during the actual interview. And once you get to that stage, we recommend that you follow the "Golden Rule of Interviewing." Sounds fancy, right? It's actually quite simple — ask open-ended questions.
If you're looking to craft a compelling story, "yes" or "no" answers won't provide the details you need. Focus on questions that invite elaboration, such as, "Can you describe …?" or, "Tell me about …"
In terms of the interview structure, we recommend categorizing the questions and flow into six specific sections that will mirror a successful case study format. Combined, they'll allow you to gather enough information to put together a rich, comprehensive study.
Open with the customer's business.
The goal of this section is to generate a better understanding of the company's current challenges and goals, and how they fit into the landscape of their industry. Sample questions might include:
How long have you been in business?
How many employees do you have?
What are some of the objectives of your department at this time?
Cite a problem or pain point.
In order to tell a compelling story, you need context. That helps match the customer's need with your solution. Sample questions might include:
What challenges and objectives led you to look for a solution?
What might have happened if you did not identify a solution?
Did you explore other solutions prior to this that did not work out? If so, what happened?
Discuss the decision process.
Exploring how the customer arrived at the decision to work with you helps to guide potential customers through their own decision-making processes. Sample questions might include:
How did you hear about our product or service?
Who was involved in the selection process?
What was most important to you when evaluating your options?
Explain how a solution was implemented.
The focus here should be placed on the customer's experience during the onboarding process. Sample questions might include:
How long did it take to get up and running?
Did that meet your expectations?
Who was involved in the process?
Explain how the solution works.
The goal of this section is to better understand how the customer is using your product or service. Sample questions might include:
Is there a particular aspect of the product or service that you rely on most?
Who is using the product or service?
End with the results.
In this section, you want to uncover impressive measurable outcomes — the more numbers, the better. Sample questions might include:
How is the product or service helping you save time and increase productivity?
In what ways does that enhance your competitive advantage?
How much have you increased metrics X, Y, and Z?
7. Lay out your case study format.
When it comes time to take all of the information you've collected and actually turn it into something, it's easy to feel overwhelmed. Where should you start? What should you include? What's the best way to structure it?
To help you get a handle on this step, it's important to first understand that there is no one-size-fits-all when it comes to the ways you can present a case study. They can be very visual, which you'll see in some of the examples we've included below, and can sometimes be communicated mostly through video or photos, with a bit of accompanying text.
Whether your case study is primarily written or visual, we recommend focusing on the seven-part outline, below. Note: Even if you do elect to use a visual case study, it should still include all of this information, but presented in its intended format.
Title: Keep it short. Develop a succinct but interesting project name you can give the work you did with your subject.
Subtitle: Use this copy to briefly elaborate on the accomplishment. What was done? The case study itself will explain how you got there.
Executive Summary: A 2-4 sentence summary of the entire story. You'll want to follow it with 2-3 bullet points that display metrics showcasing success.
About the Subject: An introduction to the person or company you served, which can be pulled from a LinkedIn Business profile or client website.
Challenges and Objectives: A 2-3 paragraph description of the customer's challenges, prior to using your product or service. This section should also include the goals or objectives the customer set out to achieve.
How Product/Service Helped: A 2-3 paragraph section that describes how your product or service provided a solution to their problem.
Results: A 2-3 paragraph testimonial that proves how your product or service specifically benefited the person or company, and helped achieve its goals. Include numbers to quantify your contributions.
Supporting Visuals or Quotes: Pick one or two powerful quotes that you would feature at the bottom of the sections above, as well as a visual that supports the story you are telling.
Future Plans: Everyone likes an epilogue. Comment on what's ahead for your case study subject, whether or not those plans involve you.
Call to Action (CTA): Not every case study needs a CTA, but putting a passive one at the end of your case study can encourage your readers to take an action on your website after learning about the work you've done.
To help you visualize this case study outline, check out the case study template below, which can also be downloaded here.
When laying out your case study, focus on conveying the information you've gathered in the most clear and concise way possible. Make it easy to scan and comprehend, and be sure to provide an attractive call-to-action at the bottom — that should provide readers an opportunity to learn more about your product or service.
8. Publish and promote your case study.
Once you've completed your case study, it's time to publish and promote it. Some case study formats have pretty obvious promotional outlets — a video case study can go on YouTube, just as an infographic case study can go on Pinterest.
But there are still other ways to publish and promote your case study. Here are a couple of ideas:
Gated Behind a Blog Post
As stated earlier in this article, written case studies make terrific lead-generators if you convert them into a downloadable format, like a PDF. To generate leads from your case study, consider writing a blog post that tells an abbreviated story of your client's success and asking readers to fill out a form with their name and email address if they'd like to read the rest in your PDF.
Then, promote this blog post on social media, through a Facebook post or a tweet.
Published as a Page on Your Website
As a growing business, you might need to display your case study out in the open to gain the trust of your target audience.
Rather than gating it behind a landing page, publish your case study to its own page on your website, and direct people here from your homepage with a "Case Studies" or "Testimonials" button along your homepage's top navigation bar.
Business Case Study Examples
You drove the results, made the connect, set the expectations, used the questionnaire to conduct a successful interview, and boiled down your findings into a compelling story. And after all of that, you're left with a little piece of sales enabling gold — a case study.
To show you what a well-executed final product looks like, have a look at some of these marketing case study examples.
1. "New England Journal of Medicine," by Corey McPherson Nash
When branding and design studio Corey McPherson Nash showcases its work, it makes sense for it to be visual — after all, that's what they do. So in building the case study for the studio's work on the New England Journal of Medicine's integrated advertising campaign — a project that included the goal of promoting the client's digital presence — Corey McPherson Nash showed its audience what it did, rather than purely telling it.
Notice that the case study does include some light written copy — which includes the major points we've suggested — but really lets the visuals do the talking, allowing users to really absorb the studio's services.
2. "Shopify Uses HubSpot CRM to Transform High Volume Sales Organization," by HubSpot
What's interesting about this case study is the way it leads with the customer. This reflects a major HubSpot credo, which is to always solve for the customer first. The copy leads with a brief description of why Shopify uses HubSpot, and is accompanied by a short video and some basic statistics on the company.
Notice that this case study uses mixed-media. Yes, there is a short video, but it's elaborated upon in the additional text on the page. So, while case studies can use one or the other, don't be afraid to combine written copy with visuals to emphasize the project's success.
3. "Designing the Future of Urban Farming," by IDEO
Here's a design company that knows how to lead with simplicity in its case studies. As soon as the visitor arrives at the page, he or she is greeted with a big, bold photo, and two very simple columns of text — "The Challenge" and "The Outcome."
Immediately, IDEO has communicated two of the case study's major pillars. And while that's great — the company created a solution for vertical farming startup INFARM's challenge — it doesn't stop there. As the user scrolls down, those pillars are elaborated upon with comprehensive (but not overwhelming) copy that outlines what that process looked like, replete with quotes and additional visuals.
4. "Secure Wi-Fi Wins Big for Tournament," by WatchGuard
Then, there are the cases when visuals can tell almost the entire story — when executed correctly. Network security provider WatchGuard is able to do that through this video, which tells the story of how its services enhanced the attendee and vendor experience at the Windmill Ultimate Frisbee tournament.
5. Rock and Roll Hall of Fame Boosts Social Media Engagement and Brand Awareness with HubSpot
In the case study above, HubSpot uses photos, videos, screenshots, and helpful stats to tell the story of how the Rock and Roll Hall of Fame used the bot, CRM, and social media tools to gain brand awareness.
6. Small Desk Plant Business Ups Sales by 30% With Trello
This case study from Trello is straight forward and easy to understand. It begins by explaining the background of the company that decided to use it, what their goals were, and how they planned to use Trello to help them.
It then goes on to discuss how the software was implemented and what tasks and teams benefited from it. Towards the end, it explains the sales results that came from implementing the software and includes quotes from decision-makers at the company that implemented it.
7. Facebook's Mercedes Benz Success Story
Facebook's Success Stories page hosts a number of well-designed and easy-to-understand case studies that visually and editorially get to the bottom line quickly.
Each study begins with key stats that draw the reader in. Then it's organized by highlighting a problem or goal in the introduction, the process the company took to reach their goals, and the results. Then, at the end, Facebook notes the tools used in the case study.
Showcasing Your Work
You work hard at what you do. Now, it's time to show it to the world — and, perhaps more important, to potential customers.
But before you show off the projects that make you the proudest, make sure you follow the important steps that will help ensure that work is effectively communicated, and leaves all parties feeling good about it.
Want to learn as you write your case study? Listen to an audio summary of this post below.
For an easy way to get started, grab your free case study template below, and go create a case study that makes your subject proud of their success.
Editor's Note: This blog post was originally published in February 2017 but was updated for comprehensiveness and freshness in February 2020.
Thank you for reading.
This may be of some interest.
Posted by David_Farkas
In link building, few things are more frustrating than finding the perfect link opportunity but being completely unable to find a contact email address.
It's probably happened to you — if you're trying to build links or do any sort of outreach, it almost always entails sending out a fairly significant amount of emails. There are plenty of good articles out there about building relationships within the context of link building, but it's hard to build relationships when you can't even find a contact email address.
So, for today, I want to focus on how you can become better at finding those important email addresses.
Link builders spend a lot of time just trying to find contact info, and it's often a frustrating process, just because sussing out email addresses can indeed be quite difficult. The site you're targeting might not even have a contact page in the first place. Or, if the site does have a contact page, it might only display a generic email address. And, sometimes, the site may list too many email addresses. There are eight different people with similar-sounding job titles — should you reach out to the PR person, the marketing director, or the webmaster? It's not clear.
Whatever the case may be, finding the right email address is absolutely imperative to any successful outreach campaign. In our industry, the numbers around outreach and replies aren't great. Frankly, it's shocking to hear the industry standard — only 8.5% of outreach emails receive a response.
I can't help but wonder how many mistakes are made along the way to such a low response rate.
While there are certainly instances where there is simply no clear and obvious contact method, that should be the exception — not the rule! An experienced link builder understands that finding relevant contact information is essential to their success.
That's why I've put together a quick list of tips and tools that will help you to find the email addresses and contact information you need when you're building links.
And, if you follow my advice, here is a glimpse of the results you could expect:
We don't track clicks, in case you were wondering 😉
ALWAYS start by looking around!
First, let's start with my golden rule: Before you fire up any tool, you should always manually look for the correct contact email yourself.
Based on my experience, tools and automation are a last resort. If you rely solely upon tools and automated solutions, you'll end up with many more misfired emails than if you were to go the manual route. There's a simple reason for this: the email address listed on your target website may, surprisingly, belong to the right person you should contact!
Now, if you are using a tool, they may generate dozens of email addresses, and you'll never end up actually emailing the correct individual. Another reason I advocate manually looking for emails is because many email finding tools are limited and can only find email addresses that are associated with a domain name. So, if there is a webmaster that happens to have a @gmail.com email address, the email finding tool will not find it.
It's also important to only reach out to people you strongly believe will have an interest in your email in order to stay GDPR compliant.
So, always start your manual search by looking around the site. Usually, there will be a link to the contact page in the header, footer, or sidebar. If there's not a page explicitly named "contact," or if the contact page only has generic email addresses, that's when I would recommend jumping to an "About Us" page, should there be one.
You always want to find a personal email, not a generic one or a contact form. Outreach is more effective when you can address a specific individual, not whoever who is checking info@domain.com that day.
If you encounter too many emails and aren't sure who the best person to contact is, I suggest sending an email to your best hunch that goes something like this:
And who knows, you may even get a reply like this:
If you weren't able to locate an email address at this point, I'd move on to the next section.
Ask search engines for help
Perhaps the contact page you were looking for was well-hidden; maybe they don't want to be contacted that much or they're in desperate need of a new UX person.
You can turn to search engines for help.
My go-to search engine lately is Startpage. Dubbed as the world's most private search engine, they display Google SERPs in a way that doesn't make you feel like you just stepped into Times Square. They also have a cool option to browse the search results anonymously with "Anonymous View."
For our purposes, I would use the site: search operator just like this:
If there is in fact a contact page or email somewhere on their website that you were not able to find, any competent search engine will find it for you. If the above site query doesn't return any results, then I'd start expanding my search to other corners of the web.
Use the search bar and type:
If you're looking for the email of a specific person, type their name before or after the quotation marks.
With this query you can find non-domain email addresses:
If that person's email address is publicly available somewhere, you will likely be able to find it within the search results.
Email-finding tools
There are many, many excellent email finding tools to choose from. The first one I want to talk about is Hunter.
Hunter has a Chrome extension that's really easy to use. After you've downloaded the extension, there's not much more that needs to be done.
Go to the site which you are thinking about sending an email to, click on the extension in the top right corner of your screen, and Hunter, well, hunts.
It returns every email address it can find associated with that domain. And also allows you to filter the results based on categories.
Did I say "email address?" I meant to say email address, name, job title, etc. Essentially, it's a one-click fix to get everything you need to send outreach.
Because I use Hunter regularly (and for good reason, as you can see), it's the one I'm most familiar with. You can also use Hunter's online app to look up emails in bulk.
The major downside of working in bulk is coming up with an effective formula to sift through all the emails. Hunter may generate dozens of emails for one site, leaving you to essentially guess which email address is best for outreach. And if you're relying on guess-work, chances are pretty high you're leaving perfectly good prospects on the table.
There are several other email finding tools to pick from and I would be remiss to not mention them. Here are 5 alternative email-finding tools:
Even though I personally try not to be too dependent on tools, the fact of the matter is that they provide the easiest, most convenient route in many cases.
The guessing game
I know there's no word in the digital marketing world that produces more shudders than "guessing." However, there are times when guessing is easier.
Let's be real: there aren't too many different ways that companies both large and small format their email addresses. It's usually going to be something like:
If you've ever worked for a living, you know most of the variations. But, in case you need some help, there's a tool for that.
Now, I'm not suggesting that you just pick any one of these random addresses, send your email, cross your fingers, and hope for the best. Far from it. There are actually tools that you can use that will indicate when you've selected the right one.
Sales Navigator is such a tool. Sales Navigator is a Gmail extension that is easy to use. Simply enter the name of the person you're looking for, and it will return all of the possible standard variations that they may use for their email address. Then, you can actually test the address from your Gmail account. When you type in the address into the proper line, a sidebar will appear on your screen. If there no is no information in that sidebar, you have the wrong address. If, however, you get a return that looks like this:
Congratulations! You've found the right email address.
Obviously, this method only works if you know the name of the person you want to email, but just don't have their email address. Still, in those scenarios, Sales Navigator works like a charm.
Trust, but verify
There's nothing more annoying than when you think you've finally struck gold, but the gold turned out to be pyrite. Getting an email that bounces back because it wasn't the correct address is frustrating. And even worse, if it happens too often, your email can end up on email blacklists and destroy your email deliverability.
There are ways to verify, however. At my company, we use Neverbounce. It's effective and incredibly easy to use. With Neverbounce, you can enter in either individual email addresses or bulk lists, and voila!
It will let you know if that email address is currently Valid, Invalid, or Unknown. It's that easy. Here are some other email verifiers:
Subscribe to their newsletter
Here's one final out-of-the-box approach. This approach works more often with sites where one person clearly does most, if not all, of the work. A site where someone's name is the domain name, for example.
If you come across a site like davidfarkas.com and you see a newsletter that can be subscribed to, hit that subscribe button. Once that's done, you can simply reply to one iteration of the newsletter.
This method has an added benefit. An effective way of building links is building relationships, just like I said in the opening. When you can demonstrate that you're already subscribing to a webmaster's newsletter, you'll be currying favor with that webmaster.
Conclusion
When you send a link building outreach email, you want to make sure it's going to a real person and, even more importantly, ending up in the right hands. Sending an email to an incorrect contact periodically may seem like a negligible waste of time, but when you send emails at the volume a link builder should, the waste adds up very quickly. In fact, enough waste can kill everything else that you're trying to accomplish.
It's well worth your time to make sure you're getting it right by putting in the effort to finding the right email address. Be a picky link builder. Don't just choose the first email that comes your way and never rely solely on tools. If you email the wrong person, it will look to them like that you didn't care enough to spend time on their site, and in return, they will ignore you and your pitch.
With the tips outlined above, you'll avoid these issues and be on your way to more successful outreach.
Sign up for The Moz Top 10, a semimonthly mailer updating you on the top ten hottest pieces of SEO news, tips, and rad links uncovered by the Moz team. Think of it as your exclusive digest of stuff you don't have time to hunt down but want to read!
Thank you for reading.
This may be of some interest.
Year after year, hundreds of marketers report increased efforts and spending on their content marketing — or the intention to do so.
But great content is a waste if your audience doesn't know it exists.
Content distribution is an integral, if not the most important, part of your content strategy.
In recent years, there's been a rapid influx of content … met with dwindling demand. With almost 4.5 million blog posts published every day, there's only so much content we can consume. Marketing influencer Mark Schaefer argues that, because of this "content shock," content marketing may not be a sustainable strategy for every business.
While I won't agree or disagree with this theory, I will equip you with the tools you need to distribute the content you create. By the end of this guide, you'll be able to build a content distribution strategy that gets your content in front of — and consumed by — your audience.
Although the content distribution process happens after you create your content, it should be step one of your content marketing strategy. You should know where and how you're going to publish and promote your content before you put the proverbial pen to paper — otherwise, your time and resources could go to waste.
Where should I publish my content, you ask? Through the various content distribution channels we discuss next.
Content Distribution Channels
Content distribution channels are the channels through which you share and promote the content you create. There are three types of content distribution channels: owned, earned, and paid. The channels you use to distribute your content will vary based on your audience and resources.
Owned Content Distribution
Owned channels are the content properties your company owns. You can control when and how content is published on your owned channels. These include your website and blog, your social media profiles, your email newsletter, or a mobile publishing app.
Earned Content Distribution
Earned channels (also known as "shared" channels)are when third parties promote or share your content. These third parties could include customers, journalists, bloggers, and anyone who shares your content for free — hence the name "earned".
These channels include public relations, social shares and mentions, guest articles and roundups, and product reviews. They also include forums and communities like Reddit or Quora — while posting on these sites is free, the content is owned by these third parties and therefore falls under earned channels.
Paid Content Distribution
Paid channels refer to when your company pays to distribute your content on certain channels. This primarily includes pay-per-click (PPC), paid social advertisements, and paid influencer content.
The following diagram illustrates how these three content distribution channels overlap and how you can combine them to enhance their impact and reach.
If 70% of marketers lack a content strategy, how many do you think have a content distribution strategy? I'd bet not many.
Moreover, some marketers recommend that you spend 20% of your allotted content marketing time creating your content — and the other 80% promoting it. Sound like something you're doing? If not, this is where a content distribution strategy comes in handy.
A content distribution strategy is important for a few reasons:
It boosts your content impact past curation and creation. As I said above, great content is practically useless if nobody's reading it. A content distribution strategy gets your gorgeous content in front of the right eyes.
It aligns your team and the teams with which you collaborate to create and share the content. Depending on the size of your company, you may have several cooks in the content marketing kitchen. (I know we do at HubSpot.) A content distribution strategy aligns all these different parties and ensures you're all collaborating efficiently.
It sets goal benchmarks against which you can measure your distribution performance. Content distribution can be vague — a simple press of the "Publish" button, and you're done. A content distribution strategy helps you set benchmarks and hard goals to chase while publishing and promoting your work.
Here's how to build a content distribution strategy for yourself.
1. Research your target audience.
Content distribution is all about getting your content in front of your audience. You can't do this properly if you don't know where they are and what they like to read. Before you build your strategy any further, research your target audience so you know precisely who will be consuming your content.
Start by collecting demographic data from your website visitors, email subscribers, social media followers, and customers. Take a look at your audience's gender, age, income, location, education, and related categories. You can pull this information from Google Analytics or your social media analytics tools.
Next, collect feedback directly from your customers, email subscribers, and social media followers. Ask them about their pain points and needs as well as how they feel about your current content and distribution efforts.
Use these two data points to create your buyer persona. Your buyer persona(s) act as models of your ideal customers and content consumers and represent their pain points, information preferences, and motivations as you build out the rest of your content distribution strategy.
2. Audit your content.
You may already have some published content out there, such as blog posts, videos, social media content, and more. While your new content distribution strategy doesn't involve removing that content, you should perform an audit to understand if it's helping or hurting your distribution efforts. Auditing your current content will also remind you of which topics you've already written about and which ones you can expand on.
A thorough content audit is comprised of three main parts:
Logging your content. Logging your content can be done manually or with a tool. (We recommend the latter, especially if you've been publishing content on multiple properties and channels.) Tools like Screaming Frog can help you crawl and collect your content, listing each URL, title, and description in a spreadsheet. The free version crawls up to 500 URLs. If you opt for a manual content audit, follow the steps in our blog post here.
Assessing your content impact. If you crawl your content with SEMRush, the tool will also list content length, social shares, and backlinks. This information can help you assess the impact of each piece of content, alerting you to anything that needs to be updated, rewritten, or erased.
Identifying your content gaps. You can also identify gaps in your content using the Ahrefs Content Gap tool or by performing keyword research to discover new keywords or keyword phrases to add to your content, thus helping it rank higher and for more terms.
Check out this blog post for 30+ more content auditing tools.
3. Choose your content distribution channels.
Your content distribution channels are arguably more important than your content itself, hence why this step comes before content creation and after target audience research. Once you know your target audience, you'll have a much better idea of how to get your content in front of your followers and customers.
Depending on your analysis, you may post on forums and communities like Reddit or Quora — and pay to promote your content on those sites, too. Alternatively, you may choose to exclusively share content on social media channels, or perhaps you find that traditional PR is your best route.
Regardless of which content distribution channels you choose, ensure they align with your audience's preferences and behaviors.
Also, be sure to optimize your owned distribution channels — your blog, email newsletter, and social media profiles — as these are relatively inexpensive and in your control. Even if research shows that your audience prefers forums to social media or news sites to company blogs, never neglect your owned properties as these reflect on your brand and product.
As you work through this step, set aside time to optimize your blog-to-gain readership, brush up on how to send email newsletters (or start sending them), and learn about organic social media marketing.
4. Decide on your content types.
After you determine your distribution channels, consider what types of content you'd like (and have the resources) to create.
Many companies choose to publish all of their content on their blog and then repurpose and re-publish it. Blog posts are universally consumed, easy to repurpose and localize (i.e. translate into other languages), and simple to share — not to mention that almost 50% of buyers read a company's blog while making purchase decisions. For these reasons, we recommend building a business blog and then expanding your content types from to share on other channels.
Consider these content types — and how you'll repurpose and distribute them — as you create your blog posts:
E-books
Podcasts and interviews
Videos
Infographics
Case studies
White papers
Testimonials
Webinars
Checklists and listicles
Datasheets
5. Set your content distribution KPIs and goals.
Goals help us recognize where we're going and what success might look like when we get there. Your content distribution strategy should involve setting goals for your content key performance indicators (KPIs) and their subsequent metrics:
| | |
| --- | --- |
| key performance indicators | related metrics |
| Traffic/reach | Unique page views by channel and source |
| Engagement | Bounce rate, average time on page |
| Top content (and falling content) | Top page views, top exits |
| Impact | Click-throughs, conversions, backlinks |
| Sentiment | Comments, social shares |
These metrics may vary based on your distribution channel (i.e. you can't track comments on your email newsletter or top exists on your social media ads), so be sure to choose the metrics that correspond best to each channel. It might take a few months to establish a baseline for each channel, especially if you haven't used it before.
Set SMART goals for your content using these metrics. Here's an example:
Specific: I want to increase our blog's organic traffic by boosting backlinks from other reputable websites and blogs. This will increase our search engine ranking, thus bringing in more organic traffic.
Measurable: I'd like 30 new backlinks to our blog.
Attainable: We're already generating 10 new backlinks each month without an intentional strategy, so I believe 30 new backlinks this month with our strategy is feasible.
Relevant: This goal aligns with our broader organic content marketing strategy and could also boost our earned media as we get mentions from press outlets and third-party bloggers.
Time-bound: I'd like to receive these backlinks within the next month.
6. Build an editorial calendar (and include distribution).
Content marketing and distribution require lots of planning to be successful. This is where an editorial content calendar can come in handy. You can create one in Excel or Google Sheets, or even use Google Calendar. Tools like CoSchedule, Asana, and Trello are helpful, too.
Your editorial calendar, like your content distribution strategy, helps your team stay aligned and work towards common goals. It also gives your writers and editors a roadmap for what they'll be working on in the coming weeks and months.
Here's what your editorial calendar may look like (using this post as an example):
Your editorial calendar is the perfect place to include your content distribution plans and goals. Here's what that may look like on your editorial calendar:
See how the right-hand columns now include categories like "Publish Destinations" and "Repurposing Plans"? Your editorial calendar should serve as your hub for all content creation and distribution plans.
Manage and plan your social media content with our free Social Media Content Calendar Template.
7. Create your content.
After you research your audience, audit your content, decide on your distribution channels and content types, and build your editorial calendar … it's time to create your content. Content creation will vary based on your resources, team size, industry, and brand, so to get the most pointed, applicable advice, check out our Guide to Content Creation.
As you work on your new content, check out these tools:
We'll talk more about content distribution tools in the next section.
8. Distribute and market your content.
You've created your content … now it's time to put it out in the world. Following your editorial calendar and chosen distribution channels, publish and market your new content. As for any marketing channel, be sure you follow rules to optimize your posts on each channel.
For example, our team at HubSpot paid for ads on Reddit and found that it was helpful to organically engage with Redditors as well as pay for ad space. Alternatively, if you're posting on (or paying for) social media, be sure to follow the guidelines for the best times to post and share content — the same goes for sending emails.
9. Measure and analyze your results.
As always, be sure to keep an eye on your content distribution results. Remember those KPIs, metrics, and SMART goals you established in step five? Time to pull those out.;
After you've published your content, take a look at Google Analytics, your social media analytics dashboards, and your blog performance — depending on where and how you distributed the content. Make sure you set a routine time to measure and analyze (weekly, monthly, or quarterly) so that you can establish a baseline and know which numbers you can beat the following week or month.
Whew! So, that's what it takes to build a content distribution strategy. Be sure to iterate on this process; these guidelines may change as you expand your content efforts and scale your team. Now, let's talk about the tools you need to get it done.
Content distribution can be an arduous process, but thankfully there are many content distribution tools out there to help you get your work discovered and consumed.
Content Tools
These tools help you publish your content on additional networks and forums to reach broader audiences.
Medium
Medium is a content platform that individuals and businesses alike use to publish content. You can use Medium in addition to or in lieu of your traditional blog. (We recommend in addition to your blog as this will give your content the broadest reach.)
Medium is where thousands of readers consume content. It's a one-stop-shop platform for all kinds of content … kind of like Amazon is for products. For that reason, consider publishing to Medium to increase the number of people who see your content.
Price: Free and paid
LinkedIn Pulse
LinkedIn Pulse is similar to Medium except it lives on LinkedIn. While there isn't a homepage that aggregates all the published content, it's still a helpful tool for getting your written content in front of your followers (for free). You can publish on LinkedIn Pulse through your personal or company LinkedIn pages by simply clicking "Write an article".
Note: LinkedIn Pulse is also a mobile application that you can download to receive daily headlines and trending news.
Read more about publishing on LinkedIn Pulse here.
Price: Free
PR Tools
These tools help connect you with journalists and publications to help expand your earned distribution channels and gain backlinks.
PR Newswire
PR Newswire is a press release distribution network. The platform helps you target and contact journalists and outlets by specific industries, geographic areas, and topics. It offers packages for state and local, regional, and national press.
Price: Paid
HARO
HARO stands for Help a Reporter Out, which is an online platform that connects journalists and sources. In this case, you'd be the source.
When you sign up for HARO, you're sent daily emails with journalist queries. Respond to these queries to be potentially featured in an article. This is a reactive content distribution tool, but it's helpful for getting press mentions and backlinks.
Price: Free and paid
Social Tools
These tools help distribute your content on social media and amplify your posts.
HubSpot
HubSpot is an all-in-one marketing software, meaning its useful for email marketing, analytics, and social amplification. I've placed it in the "Social Tools" section because its Social Inbox is incredibly helpful for content distribution.
From your Social Inbox, you can monitor, schedule, and post content to your social networks. You can also access information from your email marketing campaigns so you have the big picture of your readers and customers.
Price: Free and paid
ClickToTweet
ClickToTweet is a tool that equips your readers to share soundbites of your content on Twitter with a single click. You create your content soundbites, and ClickToTweet provides a link. When readers click that link, the tool opens their Twitter with the content soundbite already ready to post.
It also links to your Twitter account and content — allowing your readers to distribute your content for you.
Price: Free
GaggleAMP
GaggleAMP is a social amplification tool that allows you to aggregate your employee's social networks and post company content directly to them. Employees have the option to review and improve content before it's posted or allow it to go through automatically. This is a great alternative to constantly bugging your staff to post on about your business.
You can also use this tool to link to social networks from partners, customers, brand advocates, and more.
Price: Free and paid
AddThis
AddThis is an on-page social sharing tool. It allows your readers to share your content without bouncing from your page (and potentially getting distracted). You can also integrate AddThis share buttons into your email newsletter and other assets.
Price: Free
Analysis Tools
These tools help you measure and analyze the impact of your social posts and other distribution efforts.
Mention
Mention is a social media monitoring tool that provides social media listening, publishing, crisis management, and more. You can use Mention to monitor any mentions of your brand name, content, or social networks and respond accordingly. This is a great tool for measuring the impact of and engagement around your content and see who is promoting it for you.
Price: Free and paid
SharedCount
SharedCount is a tool that helps you measure the engagement of your social media posts. Simply input a URL, and SharedCount will report on its likes, shares, comments, and other engagement measures. While it can't help you distribute your content, it can alert you to which pieces are performing well and which pieces may need to be updated or scrapped.
Price: Free and paid
Additional Tools
Outbrain
Outbrain is a paid amplification tool that aggregates your content at the bottom of other articles. You can set up content campaigns with an RSS feed or specific URL(s), and Outbrain will place them under related content, encouraging readers to click and read yours.
Outbrain works with an impressive network, including digital publications like NYT and Mashable.
Price: Pay-per-click
WiseStamp
WiseStamp is an email tool that allows you (and your employees) to share your latest content in your email signature. Your email signature is often a forgotten but important piece of digital real estate that practically everyone who opens your emails will see. WiseStamp helps you make the most of that space.
Price: Paid
Distribute Your Content to Grow Better
Amazing content is a waste if no one is consuming it. Content distribution is a critical piece of the content marketing puzzle. It's is also the key to boosting your brand awareness, collecting loyal followers, and encouraging your readers to click, act, and become customers.
Put these content distribution tips and tools to get your content in front of your audience.
Thank you for reading.
This may be of some interest.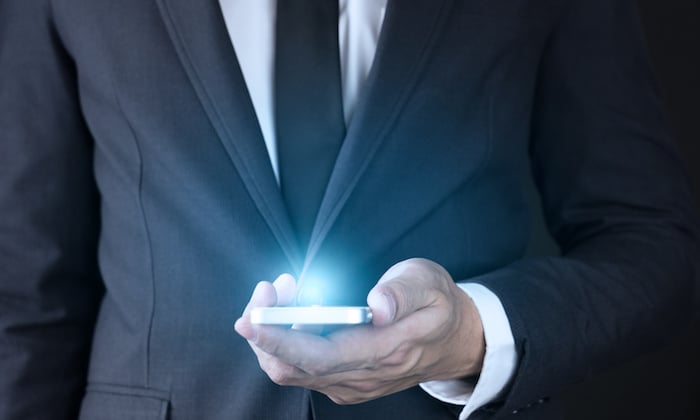 The average consumer is spending five hours per day on their smartphones and this number is only going up.
We do everything on our phones these days, from shopping to browsing social media and managing our businesses.
This is why it's more important than ever to optimize the user experience to keep people on your app for longer periods, enjoying it more, and sharing it with friends.
If you're trying to optimize your mobile app, I'm sure you've already tinkered with the layout, fonts, copy, and more, but there's one thing you probably haven't…
Mobile deep linking.
It's a small detail that can drastically enhance how users engage with your app but few are taking advantage of it.
That's why I'm going to be teaching you what mobile deep linking is, why you need it, and how you can implement it yourself.
Let's dive in.
What is mobile deep linking, anyways?
Mobile deep linking is the practice of funneling users deeper into your app through the use of a uniform resource identifier or URI for short.
This allows mobile app developers to push to a specific page within an application versus simply opening it.
Think of it as a website URL.
If you were trying to sell a product, would you want users landing on the homepage or being forwarded to a sales page found deeper in the website?
The latter, of course.
By helping users go to a certain page within an app, you're making the customer journey easier by getting them closer to the end goal sooner.
Here's a visual of what the process looks like: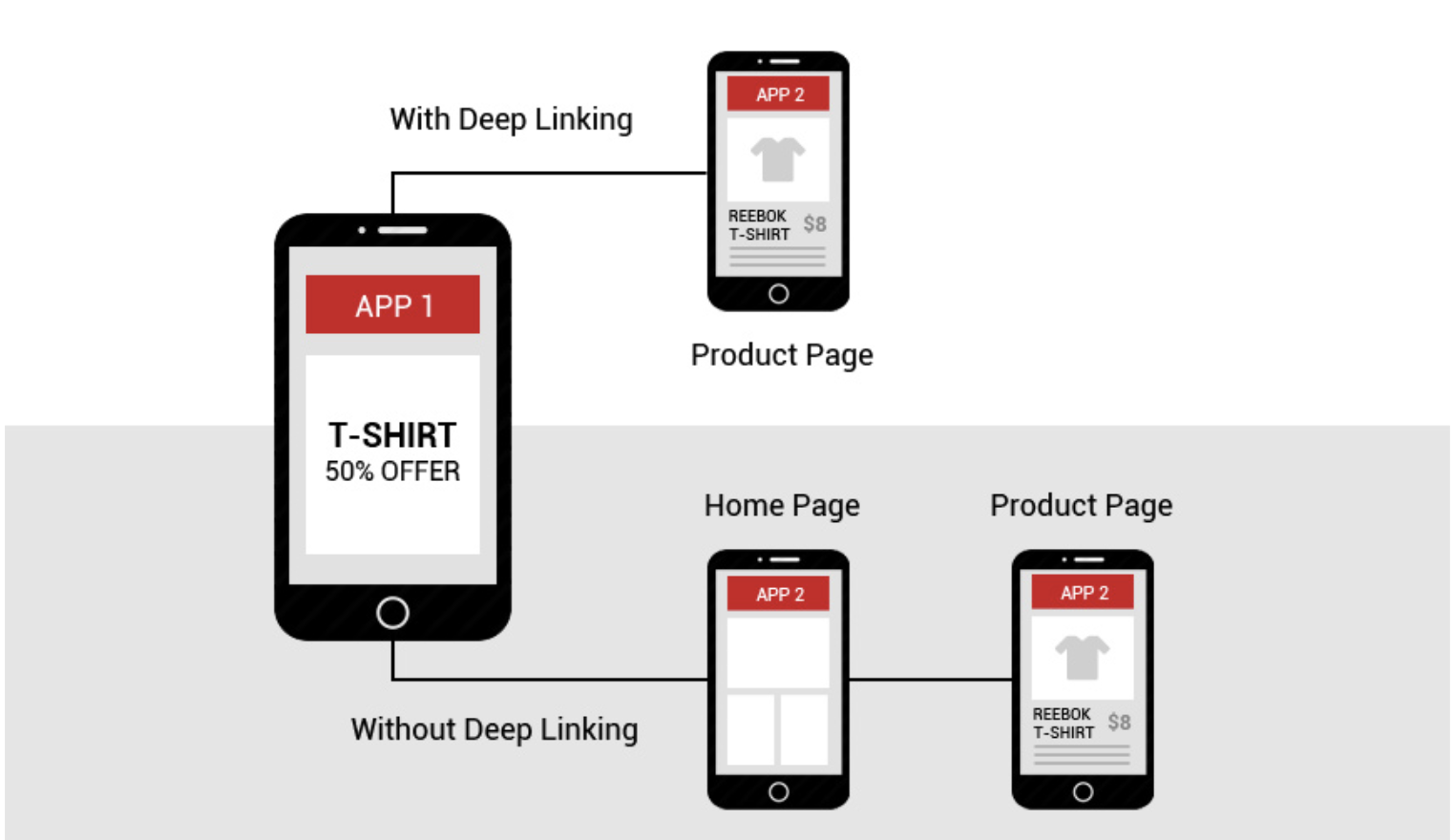 While it might seem simple, mobile linking comes in three different forms that you need to be aware of. They include the following:
Standard deep linking
This is the straightforward deep linking that forwards a user to a specific part of the app. It's also known as universal linking.
It only works if the customer already has the app installed.
The problem is within traditional linking is that when a user clicks a link, it won't open the mobile app, but rather directs them to the browser version.
If someone is on a mobile device, the app version will always be more optimized and streamlined.
Here's what happens if you search for my Instagram on Google for example with the app installed.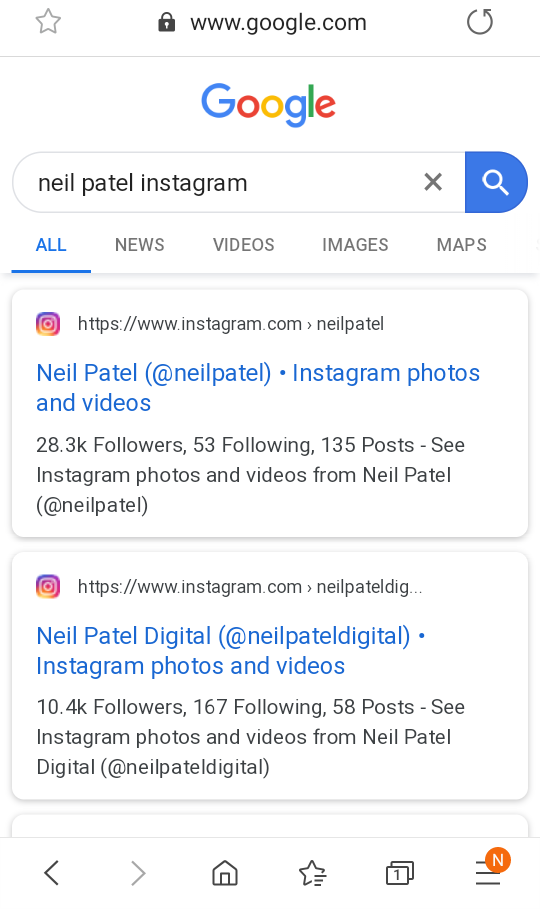 The results appear to be the exact same whether you have the Instagram app or not, but clicking it opens up the app seamlessly.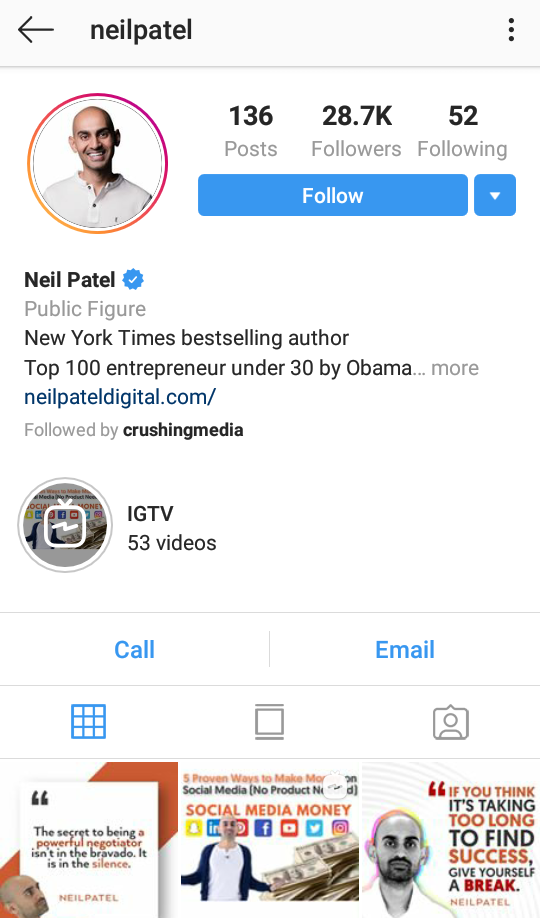 This is a good example of basic deep linking. 
Someone that doesn't have the Instagram mobile application installed will be given an error or redirected to a fallback page.
Deferred deep linking
This form of deep linking works the same way as standard linking does with the exception that it will direct users without the app to the download location.
This is beneficial because it can help app developers and companies acquire more customers.
Once the app is installed, the user will be referred to where they were originally navigating.
Check out the Skip The Dishes app to see what I mean.
While a user is creating their order, they are able to download the mobile app for Android or iOS.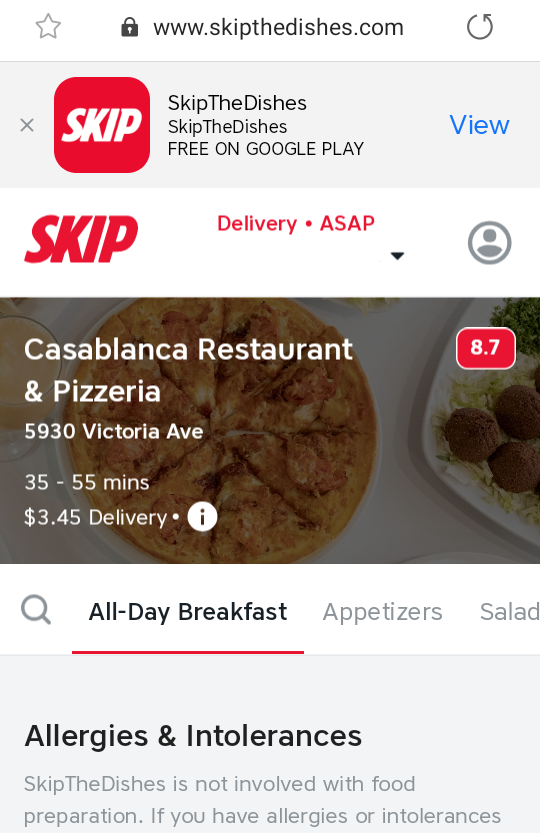 They are forwarded back to the exact step they were taking, except in the mobile app after downloading it.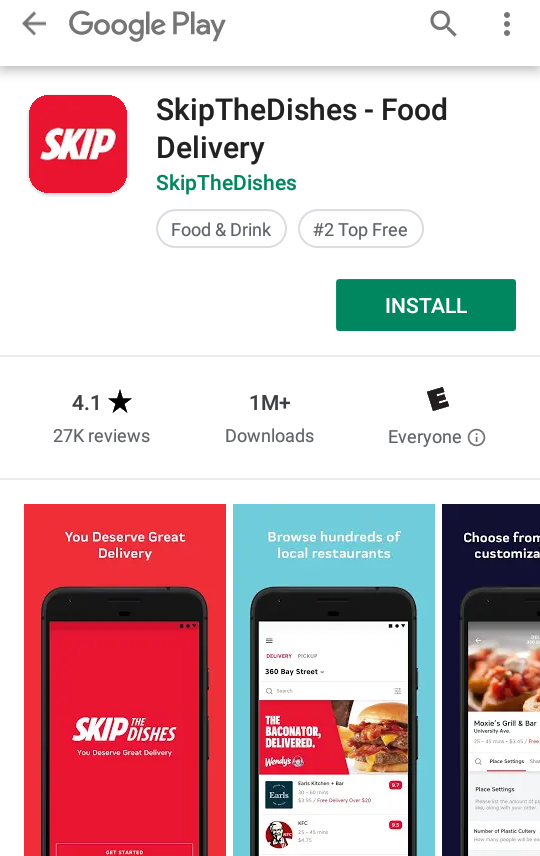 This means that they don't have to manually go through the entire process again to get back to where they were.
Contextual deep linking
Contextual deep linking, also known as onboarding, is commonly used for gathering information on customers to personalize the user experience of an app.
Data such demographics, how users navigate to the app, and more is recorded.
The app onboarding process can be different depending on if the user installed via the Google Play Store, the Apple Store, a Facebook campaign, or another source.
A mobile app downloaded through a Facebook Ad might look different than when it's downloaded through a Google Display Ad, for example.

The landing page is able to be customized through what is known as a deep view in mobile app development.
Just as the deep link forwards users to a specific deeper page in the application, the deep view is the visual result they see that's different than others.
URI schemes
Deep linking is only doable thanks to what is known as URI schemes. These schemes are similar to how a website URL can direct you to a specific page on a website.
They look something like this: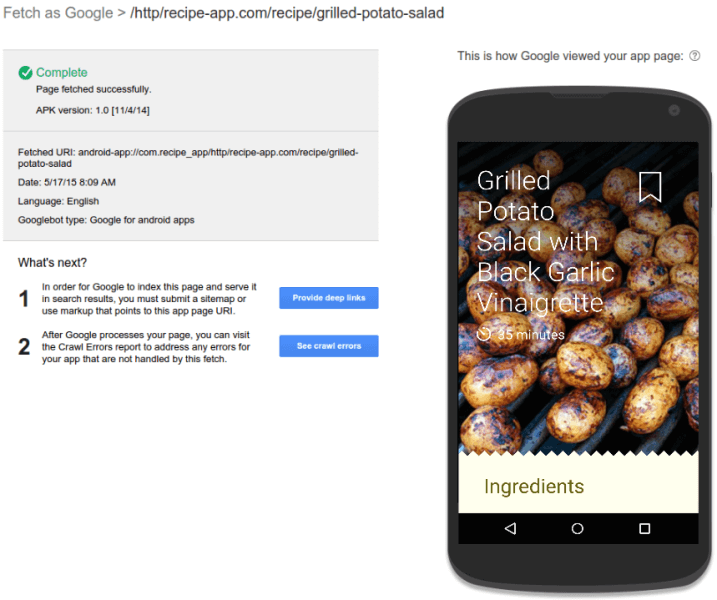 See the fetched URI? Its format is appname://path/to/location.
Custom URIs are simple to set up for developers (Often created by default) and present the opportunity to redirect users wherever you please.
The mobile customer journey and how it applies to deep linking
The mobile buyer's journey is the individual's steps a user takes to find, use, and share your application.
It's similar to the regular funnel a customer goes through when purchasing a product with some small differences you need to be aware of.
Here's how the various steps in the mobile buyer's journey can be applied to mobile deep linking.
Discovery
The first step in the mobile customer journey is discovering your app in the first place.
While this can be achieved through strategies like content marketing and SEO, deep linking gives you a nice boost to these tactics.
Google indexes deep links from mobile apps, giving you more opportunities to rank and drive organic traffic.
Users can click the search engine listing and open the link directly through the app instead of an internet browser.
Look at this search for Google Analytics to see what I mean:
This helps businesses acquire more users and increase brand awareness versus having a single search engine listing.
Check out my video on skyrocketing mobile app organic traffic, and pair it with deep linking for mind-blowing results.
Compare
Once a user has narrowed down a few options, they're naturally going to want to find the best app by comparing them.
They'll look at factors such as pricing, ease of use, and features. 
Deep linking enables you to push users to the best features of your app, reviews, or customize the experience to make your application better than competitors.
By reducing the number of steps it takes to get to important functions of the app, you're also decreasing the chance of users bouncing.
Decision
The third step in the mobile buyer's journey is making a decision and commitment to a single app.
Having a clear value proposition and refined user experience is crucial here. 
Better yet, contextual deep linking helps you collect data to make the application as tailored as possible to your buyer's persona. 
Marketing campaigns can also be optimized with this information to improve targeting and performance.
Retain
Once you begin acquiring more users, you need to keep them.
Standard and deferred deep linking will help navigate users back to your app when they are on search engines, social media, and other platforms. 
This keeps them using your app more often.
Data that can be collected as a result of deep links will assist you in understanding why and how they use your mobile application.
Doubling down on these is what we call Pareto's Principle or the 80/20 rule.
This rule can be seen everywhere and defines that 80% of results come from 20% of actions.
In the case of mobile app development, you might discover that users are only engaging with a few features and others are taking up space.
You could hypothetically update the features and pages that are used the most, boosting engagement and retention.
Businesses will miss out on discovers like this if they don't use deep links to collect information.
Why mobile deep linking matters
I know what you're thinking.
"Why should I bother with mobile deep linking?"
Let me explain.
It improves the user experience
If you can save the user from going through multiple steps instead of one, why wouldn't you?
That's exactly what deep linking does, and improves UX because of it.
You're making the life of users easier by using deep linking to get them where they want to go faster.
This gives them a better experience and impression with your app as a result.
Here's what the difference between not using mobile deep linking and taking advantage of it looks like:

Much simpler, right?
This brings me to my next point.
It increases customer retention and engagement
Wouldn't it be nice if every user that downloaded your app stay active all year round?
Unfortunately, that's not how it works.
It's been found that 55% of users will churn after the first month of use. That means nearly half of the new downloads will be lost.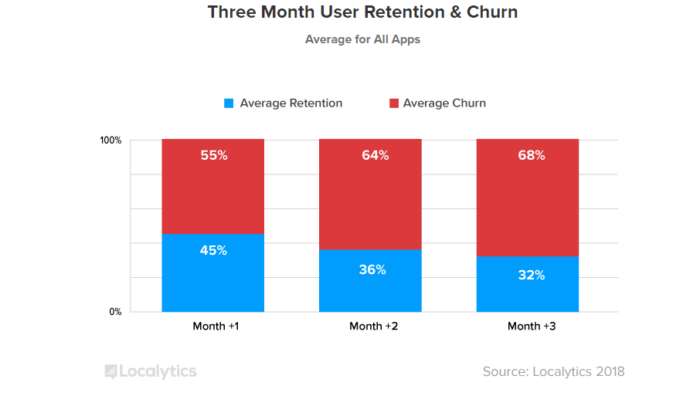 Look at mobile app user retention the same way you approach a website.
It's common for nearly half of all visitors to leave a website and not take any action.
Do you just sit there and do nothing about it? Of course not!
You implement strategies like email options through popups and exclusive content to capture those users before they leave.
This is precisely what deep linking can be used for but in the sense for a mobile app.
Once a user has visited your app, you can retarget them and use a different style of deep linking to improve their experience.
It improves the onboarding of new users
When a mobile app uses a form of deep linking like the deferred approach, you are capable of acquiring more users.
This is because as a user goes through the mobile browser version of your application, they will be given the option or automatically forwarded to the appropriate download location.
The contextual linking technique can be used to onboard new users in different ways depending on where they originally download the app from.
If you understand that users coming from a Facebook ad campaign regularly navigate to a certain product category, you can push them there automatically.
Furthermore, perhaps users from Google like to learn more about your business first before purchasing.
You can use contextual deep linking to direct those users to the page detailing your company's history.
You can re-engage users
Once a user has used your app, you have a small window of opportunity to retarget them.
Did you know that 46% of search engine marketers believe that retargeting is the most underused form of marketing right now?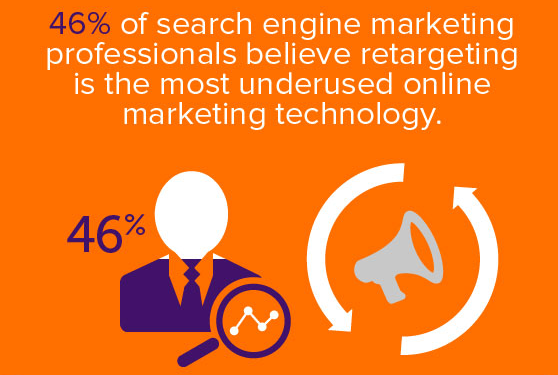 It's a hidden gem that deep linking enhances.
If a segment of users downloaded your app, viewed product pages, and bounced, you could retarget them in advertising campaigns and use deferred linking to forward them back to the high-interest product pages.
Strengthens your marketing
Personalization is key. Contextual deep linking allows you to customize the user experience, which improves marketing results.
Take into consideration that 39% of consumers will spend more money when given a mobile coupon.
You could collect data on users via contextual deep linking to discover what product categories they enjoy the most, then offer a discount for them to align with this behavior.
Similarly, mobile deep linking has the potential to increase conversion rates.
This is because you are pushing users through the sales funnel quicker. Normally this consists of:
The user lands on the homepage of your website.

They navigate to a product page and add a line item to their cart.

They visit the cart page to confirm their order.

Finally, they pay and check out.
Mobile deep linking can effectively cut the sales funnel in half by helping customers go straight to sales pages.
Take the ticket mobile app SeatGeek as an example. They were able to increase revenue by 10.6% and app open rate by 8.8% with deep linking.
Here's how…
Firstly, they struggled with reminding users to finish their purchases and buy tickets through the app.
They resolved this issue by using deep linked mobile ads. These target ads based on past user activity would display relevant ads in other existing apps the customer used.
SeatGeek noticed that they were getting thousands of new users per day and had to keep them.
Their team began creating ads that would serve different audiences based on previous behavior.
An example of this would be a user adding tickets to their favorite basketball team's game to cart, but then abandoning before checking out.
When this user was on another application that supported ads, they would see an advertisement for that same basketball game.
The ads were simple in nature, using a related image, and straight forward call to action.
Boosts app discoverability
Don't you want to get discovered by more customers?
Of course, you do!
And that's precisely why you need to implement more deep linking in your mobile app.
Deep links are indexed on Google, giving you more opportunities to rank and drive traffic to your business.
And seeing as Google receives over four billion searches per day, you don't want to miss out on the free exposure.
Think about how a website like mine ranks for thousands of pages, and not just the homepage.
You can achieve that same performance but for your mobile app.
Users on search engines like Google will be able to visit deeper functions and features versus landing on the welcome page.
This creates the opportunity to optimize applications for SEO via keywords, meta descriptions, and title tags, as well.
Provides analytics and insight into campaigns
Mobile deep linking allows you to refine your buyer's persona and better understand their behavior.
This information can be used to improve the effectiveness of marketing campaigns and the overall experience of your app.
You will also be able to discover which links are being clicked the most and by whom.
Doing so creates the opportunity to double down on the best-performing links and optimizing who you target in advertising campaigns.
Deep links also shine light in which parts of your app are used the most and which aren't.
Google offers its Firebase product to track deep linking in an easy to use platform.
You can begin using it by selecting the Android, iOS, C++, web, or Unity options.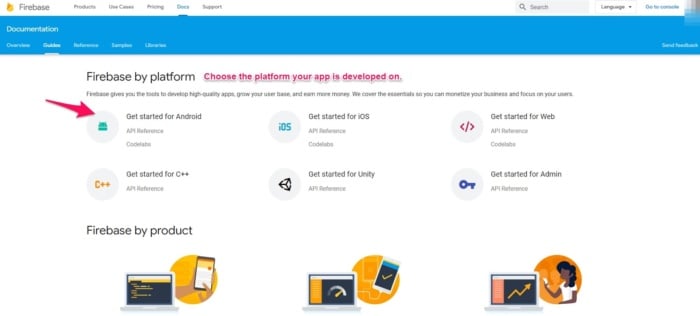 Using Android as an example, you will need to ensure that you meet the prerequisites Google outlines in their documentation.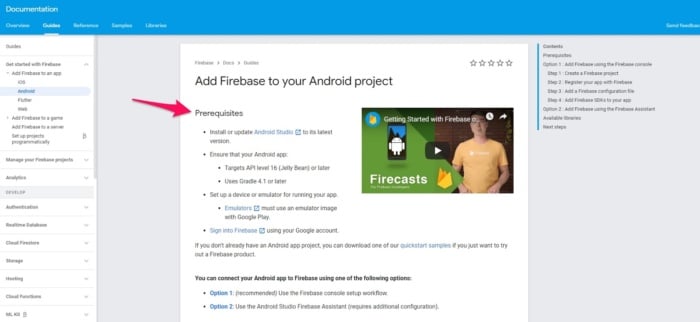 Firebase's SDK automatically captures various metrics, user properties, and allows you to create custom events if you wish to track a specific action.
This data is then relayed through the Firebase dashboard which has a very familiar look and feel to other Google products.
You will feel right at home if you've ever used Google Analytics.
Which by the way can be connected to Firebase if you need to add events specific to your business like e-commerce purchases.
How to perform mobile deep linking
Now that you're excited to get started using mobile deep links, here's how to implement it yourself.
Deep linking on Android
Android devices will select one of three options when a URI is requested:
It opens a preselected app with the URI.

It opens the only available app that can handle the URI.

The user is prompted to choose an available app.
To begin adding deep links to achieve this, you will need to navigate to the AndroidManifest.xml file of your Android mobile app.
You will then have to add the following elements to the file through an intent filter:
Specify the ACTION_VIEW attribute in the <action> element.

<data> tags which include the URI scheme, host, and path.

CATEGORY_DEFAULT and CATEGORY_BROWSABLE attributes to move users from a browser to your app.
Here's an example from Android's official documentation on deep linking of what the code will look like: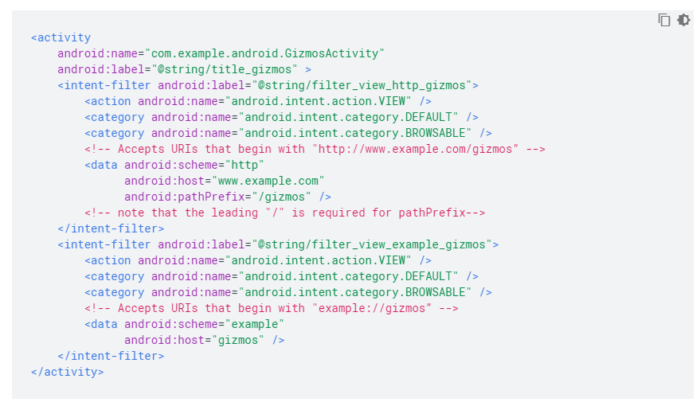 The second step is to ensure that your app can read data from the intent filter you created.
This is achieved through adding getData() and getAction() methods like so:

Deep links should not require users to log in or perform other actions to visit the desired content unless desired like in the case of promoting app downloads through deferred linking.
iOS
Adding deep links to iOS apps begins by enabling them through what is known as Associated Domains Entitlement.
That's a fancy way to say you're letting search engines know what app belongs to what website.
This way when a user clicks on your website, it activates the specified type of deep linking you choose.
You will then have to add an Apple App Site Association file to your website to verify it.
This association file needs to contain the following code, as you can see from Apple's official documentation:
Similar to how Android apps have the manifest file, the app delegate file acts as the root of iOS apps.
This is why you will have to program your app delegate file to respond to deep links like Apple shows in this example:
They are specifically handled through the NSUserActivity object and activityType value of NSUserActivityTypeBrowsingWeb.
Your iOS app will be prepared to handle and accept users that navigate to it from browsers like Safari after you complete these steps.
Conclusion
Mobile deep linking is a powerful technique to improve the user experience, on-boarding, and marketing of applications.
The three types of mobile deep linking are standard, deferred, and contextual. It's important to understand each of these to know when to use them properly.
Standard deep linking is used when customers already have an app installed. When they click on a mobile link, it will give them the option to open it in the app or automatically.
Deferred deep linking works by forwarding users to the appropriate app store to download the app if they don't have it, then pushing them to the originally intended page.
Contextual linking is the most complicated but allows developers to collection information on users to customize the on-boarding and overall experience of the app.
Mobile deep linking can be implemented in each step of the buyer's journey to acquire and retain users, too.
How do you use deep linking to improve mobile app performance?
The post The Definitive Guide to Mobile Deep Linking appeared first on Neil Patel.
Thank you for reading.
Product Description:
The Ex Factor Guide by Brad Browning, is probably one of the most unique books on the planet. While most relationship guides are about developing a healthy relationship, or understanding the opposite sex to improve your marriage, etc. this book is about rescuing a relationship that has ended.
This is a very challenging topic. How do you get your ex back when they do not want to have anything to do with you? Very often, there may be a lot of negative emotions and drama that took place prior to the break up.
How do you overcome all these bad memories and get your ex to come back to you?
You need a plan… and that's exactly what the Ex Factor Guide is. It's a plan like no other that's designed to get your ex back by using human psychology. The biggest mistake most people make when they get dumped is to beg their ex.
This guide, however, turns the tables on the one who left you. Just when they think that they've gotten the upper hand, your lack of interest in the break up will make them curious and compel them to check on why you've made no contact. This is all part of the plan.
Nonchalance, a cool attitude, and other mind games are employed to raise your value in your ex's eyes. Once they realize that leaving you is their loss and not yours, they'll come running back. This is basic human nature. The Ex Factor is eye-opening and very effective.
Let's look at it in greater detail.

The Good Points:
1) This 220-page book is an online bestseller for years. It has sold thousands of copies and is still as popular. With tons of positive reviews and success stories from buyers, that's strong social proof that the info in the guide works.
2) When you're emotionally hurting, it's easy to overreact and dig a deeper hole for yourself. Your attempts at getting your ex back may seem needy, desperate and pathetic. It'll alienate your partner even more.
The Ex Factor lays out a detailed plan for you to follow. It's simple, easy to understand and takes a systematic approach. All guesswork is taken out of the equation. You just need to adhere to the plan.
During a breakup, there is often anger and sometimes even hate. By begging your ex, you'll be lowering your value and they may even snigger at your neediness while they get an ego boost.
The Ex Factor plan will throw them off guard because it works against human nature. By not being desperate, it'll appear like you are having a better life without your ex. Suddenly, they may feel left out and think that they made a mistake.
Very often, being aloof is enough to get them to come back. In a way, these are mind games… and you must master the game to win them back. The Ex Factor will teach you all you need to know.
3) The program has 2 different versions for men and women. This is excellent.
Most guides in this niche take a 'one size fits all' approach and fail miserably. The Ex Factor works because the psychology used is gender specific and targets them with the correct approach.
4) Worried that this product might not be for you? You're covered by a 100% money-back guarantee. Try The Ex Factor for 60-days. If you do not get your ex back by then, you can always ask for a refund.
The very low refund rate indicates that this product has a high success rate. You'll probably get your ex back and never need a refund.
5) There is 24-hour customer support. If you have any doubts or questions, you can easily reach them.
6) Brad has the credentials and is an authority on this topic. That probably explains why the information is accurate and so effective.

The Bad Points:
1) The efficacy of the methods in The Ex Factor is proven. However, in some relationships, the emotional scars are so deep that you just might not be able to win your ex back.
If your partner caught you cheating, or there was emotional and physical abuse that caused the relationship to end, trying to get your ex back may be impossible. You can give it a try, but you must be aware that while this is an excellent program, it doesn't have a 100% success rate.
2) You can only get this guide online. You'll need to print it out as a handy reference.

Should You Get It?
If you're desperate to get back with you ex, this book will help you. Period.
Every single tip inside is tested, proven and works. You might be doing all the wrong things based on your emotions. Usually, you'll be sabotaging your own efforts.
The Ex Factor Guide has a plan to keep you level-headed and act in a way that's in your best interest. The advice is based on human psychology and that's why it works so well. Most people just don't have this understanding to win their ex over.
The Ex Factor gives you a plan to follow… and all you need to do is follow it. In most cases, you'll see success and win back the love of the one you thought you lost. Stop suffering the mental anguish and heartache. Execute the given plan and get your ex back ASAP. Time is of the essence.
>>> Get "The Ex Factor Guide" Now <<<
This may be of some interest.
Have you ever found yourself working on a project in which you had to toggle between multiple software and applications? Perhaps you had to plug data from one system into another or rewrite the same content over and over again to ensure it was in multiple locations.
Although few people have the time or patience for this type of tedious work, it's highly common and often critical to your business's success — these mundane tasks need to get done.
What if there was a way to connect your software to the applications you use in a way that successfully brings them together? This would mean all of your information and data would live in a central location with no manual entry required, even if those applications don't actually come with the software itself … sound nice?
Well, good news! This type of solution exists … it's called an integration.
Integrations are a complex topic to understand. So, let's simplify the concept with the help of an analogy we can reference throughout this guide. Let's pretend you want to plug your MacBook laptop into your TV using a connector cable so you can watch reruns of Friends on Netflix on the big screen. And integration kind of works like this — I'll explain more as we go.
Back to our analogy: If your software is your laptop, you'll use a connector cable, or integration, to then watch Friends on the TV, or application.
Now, let's run through some commonly asked questions about integrations to help you get a better grasp on what they are, how they work, and why your company needs them.
Why use integrations?
Integrations solve and simplify your need for new software as your business grows and evolves. They allow you to keep the system you're currently using by simply adding connections to third-party applications to enhance system functionality and provide additional features you may need but aren't able to build within your software. You can keep your current laptop and TV, and simply use the connector cable to watch Friends on the big screen.
By leveraging integration connections across your systems, you can power your business to achieve a much wider range of tasks on your software as you enhance its functionality. This is especially helpful as your business expands since your needs are bound to change.
Although your software may have the functionality you need when you start your business, you're likely going to want additional applications to provide the features you end up needing later on, as you grow.
There are many types of integrations, each of which have specific functions to help meet different needs. The easiest way to think about the various types of integrations is by category. Some integrations have several functions, meaning they could technically fit into many categories because they serve more than one main purpose. Other integrations have one specific function.
Who needs integrations?
Integrations are helpful tools for virtually every business, no matter the size or industry. There are integrations suited for every type of company (startups, SMBs, and enterprise companies) with any purpose (advertising, analytics, or content).
If you sell software, as we do at HubSpot, you'll find yourself not only using connections for your internal software but also for your customers to use along with your software. This is because your software may not have every feature and function your customers need to run their business. So, by adding an integration, they'll get that added feature or function while continuing to use your software.
Referring back to our analogy, without the integration, or connector cable, your laptop wouldn't be able to communicate with your TV to allow you to watch Friends on the big screen. You need that integration, or cable, to allow for added functionality and watch the show on TV — without it, this wouldn't be possible.
How do you get integrations?
Integrations are almost always located in some type of marketplace, where customers can review and browse all of their options. The HubSpot Integrations & Application Marketplace is an example of this. Our marketplace allows visitors to search and learn more about the various integrations and their functions, and then connect HubSpot to their integration of choice.
(No, you can't go to Best Buy to pick up your integration as you would with your connector cable to watch Friends on your TV… you're right, the example doesn't quite work here.)
How do integrations work with APIs?
API stands for application programming interface. An API is an interface that software uses to receive information (whether that's data, servers, applications, etc.).
All of the integrations we're going to discuss below are built on APIs. By building integrations on APIs, you can connect your integrations to your software and use them in tandem with one another. The integration allows for the flow of information to and from apps and devices in real time — APIs allow them to talk to one another.
Think about this in terms of our analogy from above: The application is the TV, the programming allows your laptop to communicate with the TV, and the interface is how you (the user) are able to interact with the application (by watching Friends on your TV). In this example, the API is the port on the side of your laptop in which you actually insert your integration (the cable) to then connect your laptop to your TV.
Integration vs. iPaaS Solution
If you've heard of integrations before, chances are you've also heard about iPaaS, or Integration Platform as a Service. The difference between the two is an important distinction to make when determining which one you need for your business. While an integration is a one-to-one, direct connection solution, an iPaaS solution is not.
Instead, iPaaS is a cloud-based platform that connects your applications and systems — whether that's in the cloud or on-premise — between an organization and third-party software without the use of middleware.
So, if you look for an integration solution on your software's marketplace and don't find the connection you're looking for, then you'd turn to an iPaaS solution to solve your need for that connection. There are a few integrations available today (called "connector integrations", which we'll cover an example of below) that can help you build custom integrations..
So, which integrations should you actually use? Let's look at a list of some of the most popular integrations available.
Popular Integrations
The following integrations are categorized by business need to help you browse through your options. (Almost all of these integrations fit into multiple categories, as they have functions that allow them to do multiple things. Below, we placed them in the category they're best suited for.)
It's important to note these are just some of today's popular integrations — there are hundreds of more integrations to learn about and choose from as your business grows. The list we've compiled below is of integrations that connect with HubSpot. This isn't to say these HubSpot integrations don't also work with other software. In fact, most of these integrations are compatible with dozens of programs in addition to HubSpot.
Let's take a look.
Advertising Integrations
Advertising integrations help you market to and reach your target audience. Data about the success of your ads and/ or the leads obtained from them is automatically added to your HubSpot CRM so you can learn more about the people who interact with your ads and nurture them into customers.
The Facebook Ads integration allows you to connect your Facebook Ads account to HubSpot. This integration gives you the ability to attribute your ads directly to the contacts who interact with them. It also allows you to review real data about which ads impact your bottom line. This simplifies the reporting process for all of your Facebook Ad efforts.
Different businesses and products have various buyer personas. The AdRoll integration gives you the opportunity to create personalized retargeting ads for different lead segments in your HubSpot contacts. You can personalize several parts of the ads, such as content and formatting, that will best relate to your prospect. This allows you to focus on your audience's attributes so you can effectively reach your prospects — you can gather intricate details about your prospects from your CRM via the integration so you're able to successfully retarget them.
If you're not a developer, creating your website's landing page might sound like an overwhelming task. The Instapage integration provides a straightforward option for anyone who wants to create and personalize their landing page and then send lead information straight to HubSpot. These details are automatically placed under the associated contact in HubSpot for you— meaning, there's no need to perform this transfer manually.
ABM Integrations
ABM stands for account-based marketing. These integrations help you leverage your account and audience data so you can tailor your messaging, CTAs, and marketing strategies to close deals and attract customers.
The OrgChartHub integration allows you to efficiently build customer organization charts without ever leaving HubSpot. You can create customer organization charts while in HubSpot so you're able to easily identify unknown contacts, visualize key stakeholders, and customize your sales personas without manually sending any of this information back and forth.
With the CaliberMind integration, you'll be able to look at your cross-channel account engagement and create alerts for your reps about which deals they should focus on closing to meet quota. The integration takes your contacts directly from HubSpot and automatically matches them to their associated accounts so you don't have to.
The Metadata integration provides account-based advertising services. You can automatically identify specific target accounts and contacts from HubSpot to create personalized advertisements at scale to help you close more deals and reach your target audience more effectively.
Analytics and Data Integrations
These integrations help you measure your success across a number of analytics platforms. You can look at your data in different ways and ensure all of this information is well-organized in HubSpot so your team can review it at any time. These integrations help you learn more about which of your efforts are working and which ones need to be modified.
With the increase of remote employees across businesses and the number of people who access their work while on-the-go, having the ability to review and manage your key performance indicators (KPIs) from anywhere can be quite helpful. The Databox integration provides you with access to all of your analytics data in HubSpot from a wide variety of sources including Google Analytics, SEMRush, mobile, desktop, Facebook, and more.
In a world where many website visitors are uninterested in completing forms and providing their personal information, Hotjar is a great way to learn about who your visitors are and what they're looking for on your site. The Hotjar integration gives you insight into who your website and mobile visitors are and what their needs consist of directly from HubSpot.
The Klipfolio integration shows you your most important metrics in real-time and creates easy-to-read dashboards in HubSpot so you can track and analyze performance across all of your platforms from one location. This allows you to improve your data transparency and reach your targets faster.
Calling Integrations
Whether it's a meeting with fellow employees or your prospective and current customers, calling integrations will make all phone and video call interactions simple. Your contact's information and details about the call will be recorded in HubSpot for easy access. This also provides sales reps and support team members with the necessary background information to assist the prospect or customer appropriately.
With UberConference, it takes just seconds to schedule your meetings with colleagues and prospective customers so you can focus on tasks that require more attention. The integration allows you to schedule meetings quickly and easily without ever having to leave your HubSpot portal.
Phone calls remain one of the most effective ways to interact with your prospective and current customers. Whether it's a sales or support call, the Aircall integration allows you to manage your call flows and attentively assist your leads and customers all within HubSpot so your contact's information lives in one, central location.
The CallRail integration is a call tracking and analytics system which allows you to customize segments and actions based on your specific calls with prospects and customers. All of your call and text data will automatically be added and organized in HubSpot under the associated contact so you don't have to manually enter any data.
Connector Integrations
Connector integrations provide you with access to dozens of applications which sync to HubSpot to save you time and add functionality. Some connector integrations offer a wide range of applications and some have more specific types of applications. Additionally, some connector integrations can assist in creating a custom integration to suit your needs.
The Automate.io integration connects to HubSpot to give you access to over 80 applications. By syncing with these apps, you'll be able to transfer data to them to create customized integrations so you can manage all of your data in a way that works for your business all within HubSpot.
The Zapier integration allows you to automatically connect your software to over 1,000 applications. It links your apps to HubSpot for you in just a few clicks to save you time. There's no coding required and your apps will be able to begin sharing data in an easy-to-read workflow format in your HubSpot portal.
The PieSync integration provides real-time, two-way contact sync. This means every time you add a contact to HubSpot, it automatically syncs to an application (such as Google Contacts or Outlook), and vice versa — you don't need to worry about any importing or exporting, expediting and simplifying your contact syncs.
Content Integrations
Content integrations help you create, design, and share custom content for your website. They also help you learn about who's interacting with the content and how they're interacting with it. That information is then synced to HubSpot so you can organize it and add it to specific contacts.
If your website has a collection of blog posts, the Beacon integration might be a good option for you. The integration ensures your content looks professional and allows you to drive more leads by getting more value out of your existing content — it connects to HubSpot to automatically convert your blog posts into downloadable content such as eBooks.
The briX integration connects to HubSpot so you can design and personalize web pages for your site. You don't need a background in web design or coding to create beautiful pages — the drag-and-drop template and 100+ customizable features make it easy to organize your content in any way you choose. This integration is ideal for easily designing and personalizing web pages directly from HubSpot.
Customized landing pages, web pages, and emails provide a professional look and feel for your visitors, leads, and customers while interacting with your business online. The Belch.io integration connects to HubSpot so you can personalize and brand all of these things in just minutes. It's a great option for anyone without a background in coding or web development who wants to design and customize their site pages and emails to complement their brand all from HubSpot.
Customer Success Integrations
Customer success integrations connect to HubSpot to make your internal and external interactions with employees (cross-team) and customers straightforward. They simplify communication and help you share information and/or data when you need to.
The Slack integration is a digital workspace and communication tool that allows you to connect and talk with your team members. The integration is ideal for team collaboration and coordination from anywhere. By connecting the integration to your software, you can use Slack's and HubSpot's features in either the application or the software so you don't have to waste time toggling back and forth — the same information will be found in both locations in real time.
Zendesk offers a ticketing system to keep track of customer inquiries and allows you to keep details about all of your customer interactions in one place. It helps you provide consistent customer experiences among your fellow employees and customers.
By connecting HubSpot to the Zendesk integration, you'll be able to bring the work of your sales, marketing, and support teams together in a central location. It also allows these departments to communicate with each other while in HubSpot as well.
The LiveChat integration allows you to communicate with potential customers in real-time when they need assistance or guidance while on your website from HubSpot. Whether it's a question about your product or the need for help in the checkout process, LiveChat allows you to walk them through the information they need to help you boost conversions and build strong relationships with prospects and customers.
Ecommerce Integrations
If you have an online store, ecommerce integrations are a great way to learn about what your customers and visitors are doing while they're on your website. By connecting these integrations to HubSpot, you'll know when your visitors are most frequently abandoning your site or their carts so you can create re-engagement content to regain their interest.
The Shopify integration allows you to easily incorporate all of your ecommerce data and customer data within HubSpot. It automatically syncs customer, product, and deal information in HubSpot under the associated customer's profile, so your entire team can view all of these details in one location. You can also create cart abandonment nurturing tactics, re-engagement ads for your website from HubSpot once you connect the integration to the software.
The Typeform integration helps you create and design web and mobile forms for your leads. You can create contact forms, sign up forms, quizzes, and more, and all of your responses will automatically be sent directly to HubSpot so you can easily review your results and responses and compile them under the associated contact in HubSpot.
The Magento integration helps you create and send upsell, cross-sell, and reorder emails as well as develop abandoned cart nurturing tactics to boost your conversions. It automatically sends all of your customers' ecommerce-related data, as well as emails between you and your customers, straight to their respective HubSpot contact record.
Email Integrations
Email integrations help you track a prospect's interactions with sales reps, personalize your email automation with certain contacts, and measure the success of your email campaigns among your target audience — all from HubSpot.
The MailChimp integration allows you to sync HubSpot with your email service provider. You can build email campaigns and rest easy knowing the Intelligent Error Handling feature will continue engaging your contacts even if a syncing error occurs between the software and application. By connecting MailChimp to HubSpot, you'll have the ability to automatically add contacts from HubSpot into your application's email lists and vice versa so you never have to do it manually.
Privy helps you make more sales and turn more prospects into delighted customers. The integration uses targeted pop-up ads, banners, bars, and more to help you boost conversions and decrease page abandonment. It also automatically syncs all of your new leads from your website to HubSpot so the software can help you nurture them and convert them into customers.
The Front integration is a collaborative inbox, meaning all members of your team can see and access your contacts, review deals, and see all activity history while working in HubSpot. All of these details are automatically synced in Front and your CRM. This helps you improve your customer experience and ensure it remains consistent no matter which employees your customers work with.
Event and Webinar Integrations
Whether it's an in-person event, a webinar, an online meeting, or a video conference, the following integrations simplify every aspect of hosting an event. They allow your contacts to book meetings with you and you can update all information related to your contacts post-event or meeting in HubSpot.
Eventbrite helps you use inbound marketing tactics to attract more prospects and customers to your in-person events. Once connected to your software, the integration automatically takes data from your contact lists in HubSpot to help you uncover effective ways to connect with your target audience, face-to-face.
No matter the type of event you're hosting, the GoToWebinar integration automatically syncs all of your registrant and participant information in HubSpot under the associated contact. You'll never have to worry about manually importing data about your webinar contacts again — instead, you'll have more time to focus on the event itself.
The Setmore integration simplifies appointment scheduling for you. It automatically imports your booked appointments (and information about the customer who booked the appointment) to HubSpot under the correct contact's profile so you don't have to do it manually.
Lead Generation Integrations
Lead generation integrations help you transition early-stage leads into delighted customers. All of your leads' information will automatically be synced to HubSpot so you can view it at any point during the buyer's journey. This is helpful to learn more about your target audience and to manage customer information so your sales and support teams can refer to it if needed, all from one location.
The WordPress integration helps you optimize and align your WordPress website with the data about your contacts and business goals you have in HubSpot. Your HubSpot account and all of your growth tools will automatically be connected to your WordPress site so you can work to attract, engage, and delight site visitors and customers on your site from either WordPress or HubSpot.
The Unbounce integration helps you with the lead capturing and nurturing processes. You can create lead generation forms and send all data collected about your leads directly to HubSpot. At any point in time, you can take this data about your leads and use it to create campaigns. You'll also have the ability to export any data in just seconds from your Unbounce account and share it anywhere.
With the SurveyMonkey integration, you can create and distribute custom surveys to your prospects and customers, collect all data obtained, and view your responses within HubSpot. This is ideal because you can then segment and organize all your contacts based on their survey responses to easily manage the type of content and/or follow up they receive.
Live Chat Integrations
By adding live chat integrations to your website, you'll be able to communicate with prospects in real time and nurture them into customers. You can answer their questions, respond to their concerns, and assist them in their purchase decisions. Then, this data is compiled into HubSpot under the specific contact it belongs to so you can follow up appropriately.
The Intercom integration allows you to capture new leads and prospective customers with the help of live chat on your website. Intercom allows you to convert more leads by actively engaging with them at any time while they're on your website once connected to HubSpot. You can then qualify your leads with custom bots, talk with them directly, and track them — and then you can have all of this information automatically organized under their contact in HubSpot.
Once connected to HubSpot, the ManyChat integration allows you to automate your messenger marketing so you can easily organize, nurture, and track your leads from the software. You can also take any HubSpot form and submit information obtained from it by sending custom field data to HubSpot Form Submissions.
The Drift integration provides live chat for your website so you can assist your leads in real time form HubSpot. The integration allows you to watch and save all of the lead's activity on your site in HubSpot under the correct contact. Additionally, your sales reps can use Drift to customize their outreach and follow-ups based on that activity to improve the chances of conversion.
Sales Integrations
Sales integrations help you bring your sales tools, tactics, and prospects' information together using HubSpot. You'll be able to keep your marketing, support, and sales details in a central location for all teams to access, analyze, and refer to as needed.
Once connected to HubSpot, you'll automatically be notified of any action a prospect takes on any document you send them with the HelloSign integration. Examples of the actions you'll be notified about include when a prospect or customer receives, opens, or signs the document. Then, this activity data is sent to the contact it belongs to in HubSpot so reps know where the prospect or customer is in the buyer's journey and how they should go about following up with them.
If you're a Salesforce user, you can automatically sync all of your contacts' information from the database into HubSpot once connected to the Salesforce integration. This allows you to work with reps to get strong lead intelligence and revenue reporting. You can mesh your marketing and sales work, content, and information so you and your team can access any information from either system at any point in time.
When it comes to sales work, there are many tasks involved that don't necessarily include the process of actually closing a deal. The PandaDoc integration automatically organizes and reviews information from HubSpot about your prospect to help you with non-selling tasks like creating and sending quotes, proposals, and contracts.
Social Media Integrations
Understanding your social media following is a huge part of successful marketing. Social media integrations help you learn about your followers, understand the type of content they interact with and share, and automate specific parts of your social media strategy.
With the Facebook integration, you can automatically connect your business's Facebook account to HubSpot. Schedule Facebook posts ahead of time analyze and measure post's performance. This integration is ideal if you want to manage your Facebook marketing strategy alongside your other social media marketing strategies directly from HubSpot.
By connecting your LinkedIn account to HubSpot through the LinkedIn integration, you can easily engage with your network and communicate with all of your contacts from HubSpot. You can also auto-publish your blogs and share specific content with your followers to nurture them into leads and customers. This integration is also great for tracking engagement along with all of your other social media channels and marketing efforts all from HubSpot's social media tool.
Schedule Tweets ahead of time, monitor Twitter streams, view Tweets and Twitter interactions of your competitors, and monitor accounts that are important to your brand from HubSpot with the Twitter integration. All information about your current and new followers will be added to your contact lists in HubSpot so everything is organized appropriately.
Video Integrations
With the rise of video and video marketing in business today, integrations that help you incorporate this media on your website have become quite useful. They allow you to create and implement videos on your site pages and forms as well as measure the success of your video marketing efforts.
The Wistia integration provides you with the ability to integrate videos on your website, and then incorporate HubSpot forms with those videos to improve video engagement (and hopefully, conversion) rates. If any lead converts on a video, their information is automatically sent to HubSpot so you'll have their video-viewing data paired with their contact details.
The YouTube integration connects your YouTube channel to HubSpot. This way, you can easily report on your video and channel success and compare this data to that of your other social platforms using HubSpot's analytics and social media tools and dashboards.
With the Promo integration, you can choose from over three million clips, templates, and music options to use to create a video for your site directly from HubSpot. You can easily throw in custom messaging, branding, or logos to personalize the video for your business based on a specific prospect's needs and interests, found under their specific contact in HubSpot.
Get Integrated to Grow Better
Integrations have the power to enhance all aspects of your business. No matter the software you use to run your company, you can find integrations that can help simplify your processes, optimize your efforts, and empower your fellow employees. So, find the right integration marketplace for your software and begin connecting to the applications suited for your business needs.
Thank you for reading.
This may be of some interest.
Even if you don't know what an API is, you've undoubtedly interacted with one.
Today, we take connectivity between technology largely for granted. For instance, we don't question when we use OpenTable to make a reservation at a nearby restaurant.
Alternatively, if you use Kayak.com to book flights, you've probably never wondered, Wait a minute … how does Kayak know JetBlue has an open seat in 27A?
Ultimately, any time you need applications to communicate with one another, you need an API, or application programming interface.
Here, we're going to explore what an API is, and why you'd need to use one. Even if you're not a programmer and don't need to know extensive technical jargon, you should still understand the basics, since nowadays, integrations between technology are often critical components of anyone's job.
What is an API?
At its most basic definition, an API lets one piece of software talk to another piece of software.
To understand an API in action, let's consider a real-life example — HubSpot's integration with Typeform. Typeform, a tool that supplies mobile-ready quizzes, contact forms, and signup forms, needs to integrate with HubSpot's Forms API to to interact with the forms tool and seamlessly send submissions from Typeform forms into the HubSpot CRM.
To do this, Typeform's API and HubSpot's API need to talk. An integration can act as a translator, ensuring each API's information is correctly translated for the other application — in this case, the integration may ensure that Typeform form fields are correctly mapped to the corresponding HubSpot fields.
Isaac Takushi, a HubSpot Developer Support Specialist, explains — "You can think of APIs and the 'endpoints' they comprise as access points for different information. Each API endpoint may only have one specific job. When combined, however, different endpoints can support powerful, multifaceted integrations."
Kayak.com, for instance, needs some API to communicate with JetBlue's systems. When you search "Boston to Charlotte" in Kayak, JetBlue's booking API will essentially receive this request from Kayak, pull up information related to that request, and send it back. However, Kayak will need its own API or code to understand and act on the information the JetBlue API returned.
To use an API, you'll want to check out the API's documentation for access requirements. For instance, HubSpot's Contacts API requires authentication:
Similarly, you'll need an API key to access Google's API, Facebook's API, and Twitter's API.
Once you have access requirements, you can use a tool like Postman or Runscope to manually interact with an API. These third-party tools, or "REST clients," allow you to make one-off requests to API endpoints without coding. They're great for getting a feel for what your backend systems may do automatically. Check out this resource on how to make your very first API request with Postman.
If you're not quite ready to jump in on the deep end with a REST client, try punching the following into your browser:
https://restcountries.eu/rest/v2/name/united
This is a public API endpoint from the free REST Countries service. Specifically, we're using the "Name" endpoint, which accepts country names as search queries. A successful search will return potential country matches, along with key information about each nation. In this case, we're searching for countries with names that contain the word "united."
You should see following block of JSON data returned:
Congratulations! You just made an API request from your browser!
The endpoint returned raw data (formatted in JSON) on countries with "united" in the name.
It may not look pretty, but remember that APIs are designed for applications, which don't require the styling humans expect on an HTML web page. While you can easily Google "countries that begin with 'united'," applications cannot. They might have to rely on services like REST Countries to look up that information.
If you're unsure whether you should use your in-house developers to create APIs or look externally, check out First vs. Third-Party APIs: What You Need to Know.
Thank you for reading.