from
This may be of some interest.
Posted by rjonesx.
We've all been there. You're the SEO on point for a project, and you're also the one tasked with getting great content written well and quickly. And if you don't have an expert at your disposal, great content can seem out of reach.
It doesn't have to be. In today's Whiteboard Friday, Russ Jones arms you with the tools and processes to expand your content from prompt to paragraph to published piece.
Click on the whiteboard image above to open a high resolution version in a new tab!
Video Transcription
Hey, folks, great to be back here with you on Whiteboard Friday. Today we're going to be talking about content expansion. It's a term you probably haven't heard before because I just made it up. So hopefully, it will be useful in the future for you. But I think you'll get the gist of exactly what we're trying to accomplish here.
How do SEOs produce great content when they're not subject matter experts?
You see, search engine optimizers have this really bizarre responsibility. We are often asked by our clients to produce content about things we have no business writing about. As a search engine optimizer, we know exactly the kinds of things that make content good for Google, but that doesn't mean we have any domain knowledge about whatever it is our customer does.
Maybe your customer is an artist of some sort or your customer runs a restaurant. You might not know anything about it, but you still might have a deadline to hit in order to get good content that talks in depth about some sort of topic which really isn't in your wheelhouse. Today I'm going to talk about a couple of tricks that you can use in order to go from a prompt to a couple of paragraphs and then ultimately to a published page, to a good piece of content.
Caveat: If an expert can create the content, they should
Now I want to step back for a second and just make one thing clear. This is not the preferred way to produce content. If you can have an expert produce the content, by all means have the expert produce the content, and then you go to work optimizing that content to make it the best it possibly can be. That's the way it ought to be done whenever possible.
But we know that's not the case. The truth is that most small business owners don't have the time to write lengthy articles about their services and their offerings and what makes them special and the kinds of things that their customers might need. They have a business to run. There's nothing unethical about taking the time to actually try and write a good piece of content for that customer.
But if you're going to do it, you really should try and create something that's of value. Hopefully this is going to help you do exactly that. I call this content expansion because the whole purpose is to start from one small prompt and then to expand it a little and expand it a little and expand it even more until eventually you are at something that's very thorough and useful and valuable for the customers who are reading that content.
Each one of the individual steps is just sort of like taking a breath and blowing it into a balloon to make it a little bigger. Each step is manageable as we expand that content.
1. Start with a prompt
First, we have to start with some sort of topic or prompt. In this example, I've decided just bike safety off the top of my head. I'm here in Seattle and there are bikes everywhere.
It's completely different from North Carolina, where I'm from, where you've got to get in a car to go anywhere. But with the prompt bike safety, we now have to come up with what are we going to talk about with regard to bike safety. We pretty much know off the top of our heads that helmets matter and signaling and things of that sort.
Find the questions people are asking
But what are people actually asking? What's the information they want to know? Well, there are a couple of ways we can get at that, and that's by looking exactly for those questions that they're searching. One would be to just type in "bike safety" into Google and look for PAAs or People Also Ask. That's the SERP feature that you'll see about halfway down the page, which often has a couple of questions and you can click on it and there will be a little featured snippet or paragraph of text that will help you answer it.
Another would be to use a tool like Moz Keyword Explorer, where you could put in "bike safety" and then just select from one of the drop-downs "are questions" and it would then just show you all the questions people are asking about bike safety. Once you do that, you'll get back a handful of questions that people are asking about bike safety.
In this case, the three that came up from the PAA for just bike safety were:
Is riding a bike safe?
How can I improve safety?
Why is bike safety important?
What this does is start to get us into a position where now we're building out some sort of outline of the content that we're going to be building.
Build the outline for your content
We've just expanded from a title that said bike safety to now an outline that has a couple of questions that we want to answer. Well, here's the catch. Bike safety, sure, we've got some ideas off the top of our heads about what's important for bike safety. But the real thing that we're trying to get at here is authoritative or valuable content.
Well, Google is telling you what that is. When you press the button to show you what the answer is to the question, that's Google telling you this is the best answer we could find on the internet for that question. What I would recommend you do is you take the time to just copy the answer to that PAA, to that question. Why is bike safety important?
You click the button and it would show you the answer. Then you would write down the citation as well. But if you think about it, this is exactly the way you would write papers in college. If you were writing a paper in college about bike safety, you would go into the library, identify books on safety studies, etc. Then you would go through and then you would probably have note cards pulled out.
You would find a particular page that has an important paragraph. You would write a paraphrase down, and then you would write the citation down. This is the exact same thing. I'm not telling you to copy content. That's not what we're going to be doing in the end. But at the same time, it is the way that we take that next step of expanding the content. What we've done here is we've now gone from a topic to a couple of questions.
Now for each of those questions, we've kind of got an idea of what the target answer is. But, of course, the featured snippet isn't the whole answer. The featured snippet is just the most specific answer to the question, but not the thorough one. It doesn't cover all the bases. So what are some of the things we can do to expand this even further?
2. Extract & explain entities
This is where I really like to take advantage of NLP technologies, natural language programming technologies that are going to allow us to be able to expand that content in a way that adds value to the user and in particular explains to the user concepts that both you, as the writer in this particular case, and they, as the reader, might not know.
My favorite is a site called dandelion.eu. It's completely free for a certain amount of uses. But if you're going to be producing a lot of content, I would highly recommend you sign up for their API services. What you're going to do is extract and explain entities.
Imagine you've got this featured snippet here and it's talking about bike safety. It answers the question, "Why is bike safety important?" It says that bicyclists who wear their helmets are 50% less likely to suffer traumatic brain injuries in a wreck or something of that sort. That's the answer in the featured snippet that's been given to you.
Well, perhaps you don't know what a traumatic brain injury is, and perhaps your readers don't know what that is and why it's important to know that one thing protects you so much from the other.
Identify and expand upon terminology for your questions
That's where entity extraction can be really important. What dandelion.eu is going to do is it's going to identify that noun phrase. It's going to identify the phrase "traumatic brain injury," and then it's going to give you a description of exactly what that is. Now you can expand that paragraph that you originally pulled from the featured snippet and add into it a citation about exactly what traumatic brain injury is.
This will happen for all the questions. You'll find different terminology that your reader might not know and then be able to expand upon that terminology.
3. Create novel research
Now the one thing that I want to do here in this process is not just take advantage of content other people have written about, but try and do some novel research. As you know, Google Trends is probably my favorite place to do novel research, because if there is any topic in the world, somebody is searching about it and we can learn things about the way people search.
Use Google Trends
For example, in this Google Trends that I did, I can't remember the exact products that I was looking up, but they were specific bike safety products, like, for example, bike lights, bike mirrors, bike video cameras or bike cameras, etc. In fact, I'm almost positive that the red one had to do with bicycle cameras because they were becoming cheaper and more easily accessible to bicyclists. They've become more popular over time. Well, that's novel research.
Bring insights, graphs, and talking points from your novel research into your writing
When you're writing this article here about bike safety, you can include in it far more than just what other people have said. You can say of the variety of ways of improving your bike safety, the use of a bike camera has increased dramatically over time.
4. Pull it all together
All right. So now that you've got some of this novel research, including even graphs that you can put into the content, we've got to pull this all together. We started with the prompt, and then we moved into some topics or questions to answer. Then we've answered those questions, and then we've expanded them by giving clarity and definitions to terms that people might not understand and we've also added some novel research.
Rewrite for relevancy
So what's next? The next step is that we need to rewrite for relevancy. This is a really important part of the process. You see chances are, when you write about a topic that you are not familiar with, you will not use the correct language to describe what's going on. I think a good example might be if you're writing about golf, for example, and you don't know what it means to accidentally hit a golf ball that goes to the right or to the left.
Find relevant words and phrases with nTopic
Which one is a hook and a slice? Now, those of you who play golf I'm sure know right off the top of your head. But you wouldn't know to use that kind of terminology if you weren't actually a golfer. Well, if you use a tool like nTopic — it's at nTopic.org — and you write your content and place it in there and then give bike safety as the keyword you want to optimize for, it will tell you all of the relevant words and phrases you ought to be using in the content.
In doing so, you'll be able to expand your content even further, not just with further language and definitions that you know, but with the actual language that experts are using right now whenever they're talking about bike safety or whatever topic it is.
Examine (and improve) your writing quality with the Hemingway app
The next thing that I would say is that you really should pull things back and take a chance to look at the quality of the writing that you're producing.
This whole time we've been talking mostly about making sure the content is in-depth and thorough and covers a lot of issues and areas and uses the right language. But we haven't spent any time at all talking about is this actually written well. There's a fantastic free app out there called Hemingway app.
If you haven't heard of it, this is going to make your day. [Editor's note: It made mine!] Every writer in the world should be using a tool like this. You just drop your content in there, and it's going to give you all sorts of recommendations, from correcting grammar to using different words, shortening sentences, passive and active voice, making sure that you have the right verb tenses, etc. It's just incredibly useful for writing quality content.
Two important things to remember:
Now there are two things at the end that matter, and one is really, really important in my opinion and that is to cite.
1. Cite your sources — even if they're competitors!
You see, when you've done all of this work, you need to let the world know that this work, one, isn't only created by you but, two, is backed up by research and information provided by other professionals.
There is no shame whatsoever in citing even competitors who have produced good content that has helped you produce the content that you are now putting up. So cite. Put citations directly in. Look, Wikipedia ranks for everything, and every second sentence is cited and links off to another website. It's insane.
But Google doesn't really care about the citation in the sense that somebody else has written about this. What you're really interested in is showing the users that you did your homework.
2. Take pride in what you've accomplished!
Then finally, once you're all done, you can publish this great piece of content that is thorough and exceptional and uniquely valuable, written well in the language and words that it should use, cited properly, and be proud of the content that you've produced at the end of the day, even though you weren't an expert in the first place.
Hopefully, some of these techniques will help you out in the long run. I look forward to seeing you in the comments and maybe we'll have some questions that I can give you some other ideas. Thanks again.
Video transcription by Speechpad.com
Sign up for The Moz Top 10, a semimonthly mailer updating you on the top ten hottest pieces of SEO news, tips, and rad links uncovered by the Moz team. Think of it as your exclusive digest of stuff you don't have time to hunt down but want to read!
Thank you for reading.
Are you trying to find other ways to earn aside from your 9 to 5 job? The internet offers a lot of earning potential. With the internet age, you can do almost anything. Did you just start exploring online for money making opportunities? Because there are hundreds of ways to earn online and some only need little to no capital.
You must be like thousands of people nowadays who are venturing online, liking the option of flexible time and location while still earning a few extra cash. It seems like everybody wants to get away from the rat race and working instead of building their presence online as a means to earn.
Can you imagine how your life will be? You are working at home without worrying about rush hours and daily traffic. You are working at your own time and at your own pace. You are working but can still spend more time with your family. And while you are doing what you want to do, you are earning at the same time without spending countless hours in the office, feeling exhausted and overworked and sometimes even underpaid. People can't really be blamed for finding other alternative ways to earn when it can help them reach the financial and time freedom they so wanted.
Some people don't have any experience and knowledge about online business, they are basically starting from zero. But if you are committed and determined to learn even without experience, no time and little money, Fred Lam's Starting From Zero can help you to start your online business venture.
Review Video:
What is Starting From Zero?
Starting From Zero is an audio book by Fred Lam that features the 5-Step System to Success doing an E-commerce business even if you don't have any experience. This audio book will train you to create your own online store, source products and target the right audience and multiply your profits using the same process again and again.
Starting From Zero is giving everybody a chance to be equipped with complete information to create and succeed on their very own online business.
How does Starting From Zero Work?
Starting From Zero follows a 5-Step System:
Step 1 – Store Creation
With the technology today you can easily create an online presence, something that you cannot do decades ago. You will be given the resources to create an online store ready in just a few minutes.
Step 2 – Inventory Arbitrage
You want to sell but don't have money to have your own products? Well you can sell products without risking any of your money and you don't even need a place to store them or worry about how to ship them.
Step 3 – Targeted Visitors
Generating traffic to your business is paramount to your success. It can be confusing but with this audio book you will be taught how to do it easily with simple instructions.
Step 4 – Profit Multiplier
Once you gain customers, accelerate your advertising. Remember, the more money your customer spends means more earnings and more traffic.
Step 5 – Rinse and Repeat
With this system, you can create more businesses that you can improve, sell or leave it as legacy to your kids.
Follow these 5 simple steps to create your own success just like Fred Lam's successful students.
About the Creator:
Fred Lam is a young and successful entrepreneur who has created millions under his belt and has made millionaires who have used his system. Before his online success, he started as a dishwasher and has since then discovered the potential of creating businesses online.
Recommendation:
You don't need to worry anymore if you lack the experience or the money to start your online venture. Start From Zero will definitely aid you to build your own business making you a successful online entrepreneur.
Whether you wanted a spare cash or an income generating business that will give you the time and financial freedom that you have been dreaming of, Starting From Zero is a great way to start your success.
Have the life that you want, take back your life and use your time according to your own terms, you can be successful using this 5-Step System to Success.
This may be of some interest.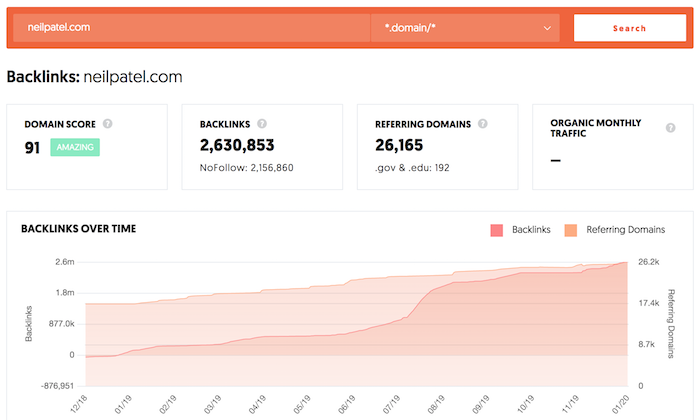 If you have ever left a comment on NeilPatel.com, you'll notice that there is no URL field.
Why?
Well, a few years ago, blog commenting exploded. I was literally getting thousands of spam comments a day from people just leaving a comment for the purpose of link building instead of providing value to the community.
Sure, there are spam plugins like Akismet, but it doesn't catch everything.
Now, most blog comments contain the nofollow attribute in which they tell Google not to follow the link or drive any "SEO value" to that URL.
But still, people still leave blog comments for the purpose of link building.
So, over the past 7 months, I've been running an interesting experiment to answer the age-old question…
Do backlinks from blog comments actually help rankings?
Experiment rules
First off, for this experiment, we used "domain score," which is similar to domain authority.
If you want to know your domain score, the backlinks report in Ubersuggest will tell you what it is.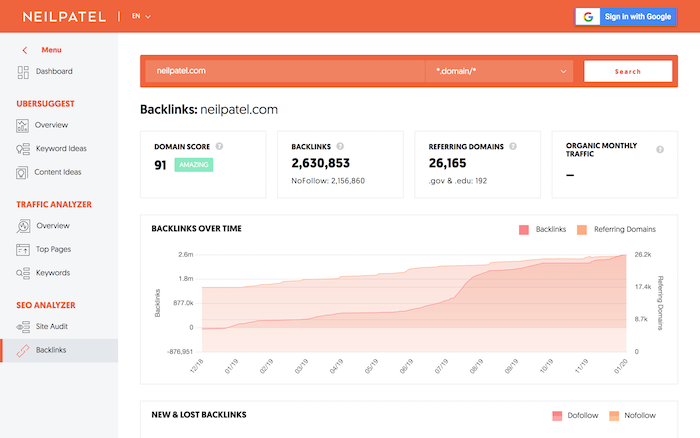 With this experiment, I sent out an email to a part of my list looking for participants and had 794 websites apply.
From there, I set the following criteria:
English-only sites – It's easier to rank on many of Google's international search engines even without building links. I removed non-English speaking sites as I didn't want to skew the results.
Low-authority sites – I removed any website with a domain score greater than 20 and any site with more than 20 backlinks. The reason being is when a site has a lot of authority, they tend to rank easily for new keywords, even if they don't build any new links.
No subdomains – I didn't want a WordPress.com site, a Blogspot site, or even a Tumblr site. Again, this would skew the results so I removed them.
After eliminating the sites that didn't meet the above criteria, I was left with 314 sites.
Of those 314 sites, many dropped off because they didn't complete the required work on their part (which was to write a blog post), so I was left with 183 sites at the end that participated.
How the experiment worked
Similar to my previous link building experiment and my on-page SEO experiment, I had these websites write a 1,800 to 2,000-word blog post on whatever subject that was relevant to their site.
The websites had 2 weeks to publish their content and then after 30 days, I looked up their URL in Ubersuggest to see how many keywords each URL ranked for in the top 100 spots, top 50, spots, and top 10 spots.
As I have mentioned in the past, Ubersuggest has a big database of keywords. We are currently tracking 1,459,103,429 keywords.
Now, most of these keywords are barely searched but a decent amount of them get hundreds, if not thousands, of searches per month. A much smaller percentage of keywords generate hundreds of thousands or even millions of searches per month.
In other words, the majority of the keywords people are searching for are long-tail phrases.
We then spent a month building links and then waited another 3 months to see what happened to each site's rankings.
But here's the thing: We didn't build the same type of links to all sites. Instead, we broke the 183 sites into 4 groups (roughly 46 sites per group).
Here were the groups:
Control – we didn't build any links to these sites, we just wanted to see what happened to their rankings over time with no focus on link building.
Nofollow high domain score blog comment links – with this group, we built 10 links through blog comments. The links pointed to the newly written post and they were from blogs that had a domain score of 50 or higher and they all contained a nofollow attribute.
Dofollow high domain score blog comment links – with this group, we built 5 links through blog comments. The links pointed to the new post and were dofollow from blogs with a domain score of 40 or higher. (I reduced the domain score criteria for this category and the link quantity as we struggled to find a large number of high authority blogs that pass link juice in the comment section.)
Dofollow low domain score blog comment links – with this group, we built 10 links through blog comments. Each link pointed back to the article and it was from a blog that contains a domain score of at least 20 but no higher than 39. (I was able to build more links here as there are many more low domain score blogs than high domain score ones.)
Keep in mind with the link building for groups 2, 3 and 4,
there was no specific anchor text agenda. Because the links were built through
blog comments, it was too hard to control the anchor text as we didn't want to
be spammy.
And each comment left on the blog contained at least 75
words as we wanted to ensure that each comment provided value and the core
purpose wasn't just link building.
Alright, so let's dive into the results.
Control group
Do you really need links to rank on Google? Well, the chart below says a lot…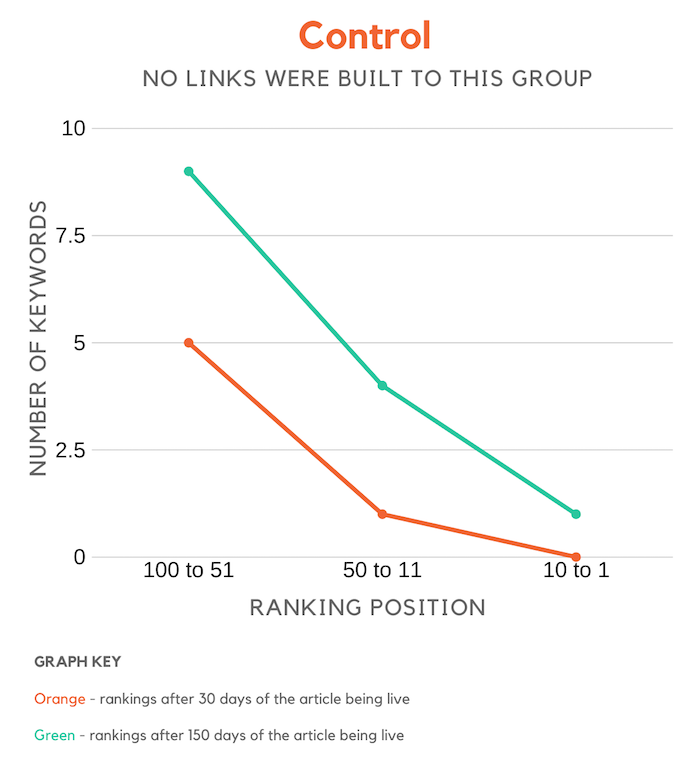 As you can see over time, you will naturally grow your search rankings even if you don't build any links.
Of course, if your content is amazing and you do on-page SEO, you'll rank higher, but still not growing your link count doesn't mean you will rank for anything out there… instead, you will still rank for long-tail terms that aren't too competitive.
Nofollow high domain score blog comment links
Now the results from this group were interesting…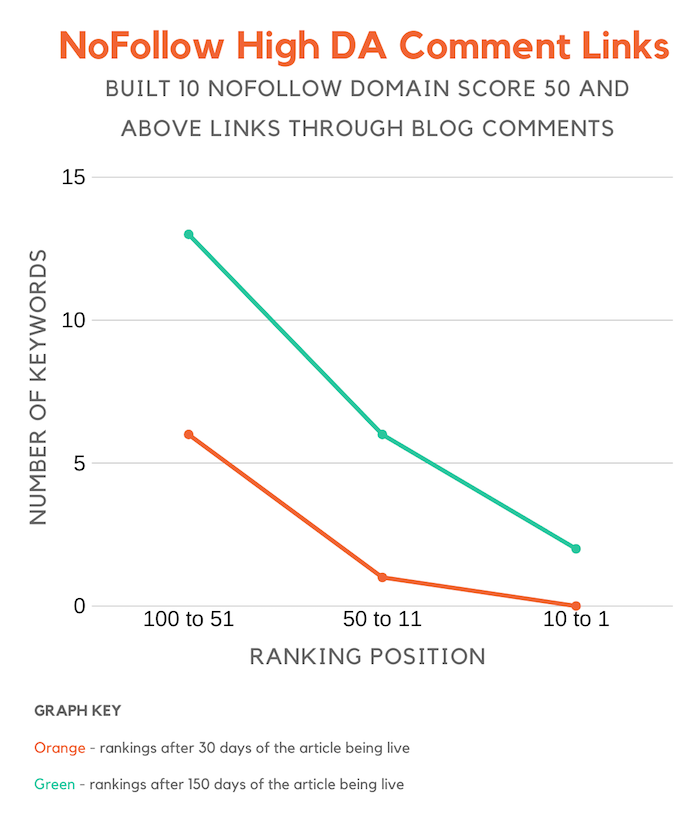 As you can see, the sites in this group had better results than the control group even though the links were nofollowed.
Keep in mind, though, that it could be many variables that caused this, such as the content quality may have been better.
Overall, the sites did perform better than the control group but not by a substantial amount.
Dofollow high domain score blog comment links
Google is sophisticated, they are able to know if a link is from user-generated content (such as blog comments), so I assumed even though the links where dofollow they still wouldn't have much (if any) impact.
But, shockingly, sites in this group had the largest gains.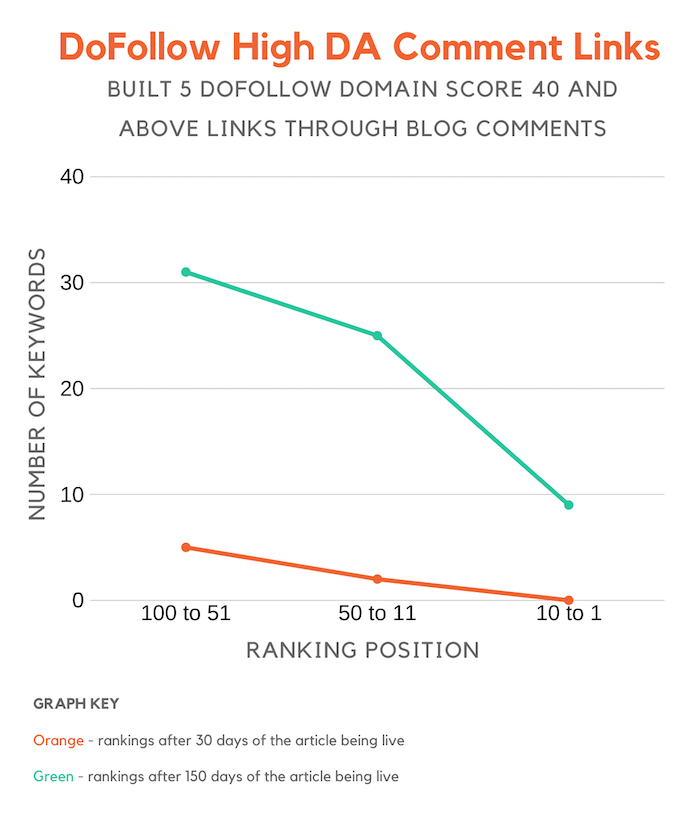 As you can see from the chart above, links from high authority sites, even if it is through user-generated content, help with rankings. They just have to be dofollow.
Dofollow low domain score blog comment links
With this last group, we were able to build more dofollow links because we focused on sites with lower authority.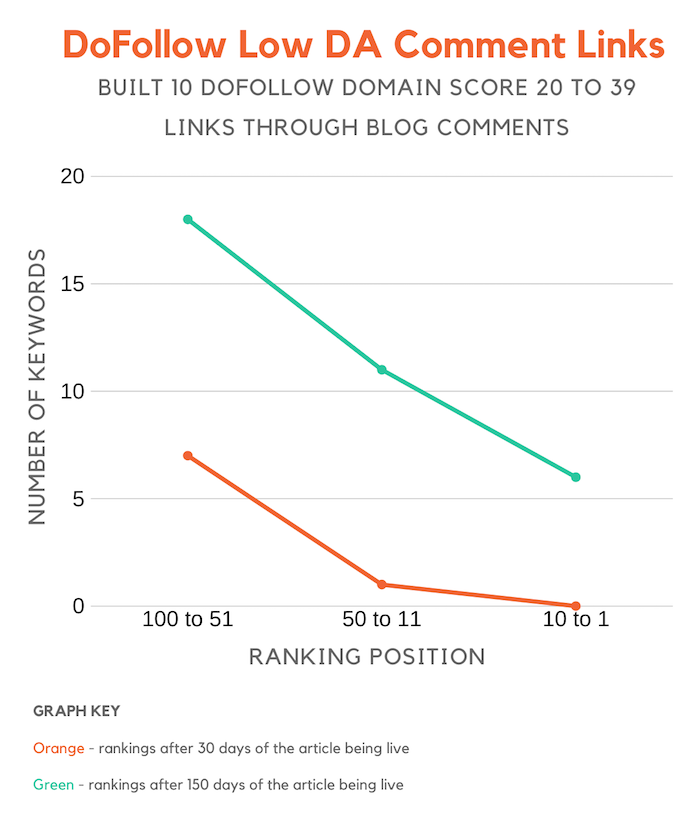 And as you can see from the chart above, it did help with rankings more than building nofollow links but it didn't help nearly as much as getting links from blogs with higher domain scores.
We built 10 links instead of 5, but the quantity didn't help
as much as having high domain score links. This group increased their rankings
by 337% versus 828% that group 3 experienced even though they had half the
links.
Again, we still saw gains, just not as large as the previous group.
Conclusion
Who would have thought that building links through blog
comments still helps?
Now, if you are going to use this tactic, you'll want to focus on blogs that have dofollow comments.
If you aren't sure how to find them, you can perform a Google search for the following:
"title="CommentLuv Enabled"" KEYPHRASE – this will showcase blogs that have CommentLuv enabled which means they pass link juice.
"dofollow blogs" – you find a lot of blog articles listing out blogs that have dofollow links. Some of them look like this but you will have to double-check each site as many are nofollow even though bloggers claim they are dofollow.
Followlist – this is a directory of blogs that have dofollow links.
When building links, focus on higher domain scores as it has a bigger impact on rankings.
In addition to that, you'll only want to leave a comment if you can provide value. Don't stress the anchor text, focus on the quality of your comment as you don't want to be a spammer.
Posting spammy links will just cause your comment to be
removed.
Lastly, don't just leave a valuable comment for the sake of generating a link. Make sure it is on relevant blogs as well. And if that means the blog doesn't have as high of a domain score that's fine because the data above shows that even low domain score links still help (just not as much).
So, have you thought about leaving more comments on other blogs? It's a great way to get your brand out there, generate referral traffic, and boost your rankings.
The post Do High DA Backlinks From Blog Comments Help Rankings? appeared first on Neil Patel.
Thank you for reading.
This may be of some interest.
Thanksgiving dinner is high-stakes. It's labor-intensive. And people have a lot of opinions about it. Basically, it's a recipe for disaster.
As home cooks across the country prepare their fridges for this year's feast, stories of Thanksgiving dinners gone wrong are also popping up on Twitter. Take them as funny anecdotes or serious warnings, but please take that Pyrex off the stove and don't forget to defrost the turkey this year.
Thought I'd somehow forgotten to order most of the ingredients I needed for thanksgiving cooking. Turns out my husband just forgot to get any of them out of his trunk 7 hours ago. Botulism here we come!

— Toulouse and Tonic (@toulouseNtonic) November 21, 2018 Read more…
More about Twitter, Thanksgiving, Social Media, Culture, and Web Culture
Thank you for reading.
This may be of some interest.
Content creation can feel a lot like spinning plates. Once you have one element rolling along, there's another you need…
The post How to Keep Your Reader Engaged, from Headline to CTA appeared first on Copyblogger.
Thank you for reading.
This may be of some interest.
B2B content marketers have faced many epic foes over the last few years. There's the nefarious Content Shock, the demoralizing Facebook Algorithm, and the destructive Google Search Update. We have battled them all and continued to thrive.
But now we face our most fearsome foe: The Dreaded Trust Gap.
Less than half of consumers trust brands. Seventy-one percent of buyers are turned off by overly sales-y content. Buyers increasingly prefer content from industry influencers rather than brands.
It's a daunting problem that needs a bold solution: The Guardians of Content!
In her Content Marketing World 2019 presentation, our very own Director of Digital Strategy Ashley Zeckman explained how B2B content marketers can initiate and scale up a heroic influencer content program of their own. Here are a few key takeaways.
Three Common B2B Influncer Pitfalls
If you're just getting started with B2B influencer marketing, there are easy mistakes to make. Most of them come from trying to emulate the B2C model: Transactional, glorified sponsorship rather than content co-creation. Here are Ashley's three most common pitfalls and how to avoid them:
#1: A Disconnected Approach
Say you have a hole in your editorial calendar, so you ask an influencer for an interview. Then you need some quotes for an infographic, so you ask a few others for a nugget of wisdom. Then you reach out on social media to a couple of folks you admire. Then you ask a different set of influencers for quotes for an eBook…
You get the picture. Instead of a strategic campaign that can build into something bigger, you have a ton of one-offs. It's inefficient. It's inconsistent for your audience and for the influencers you're courting.
Instead, Ashley says, aim for a strategic, connected approach. Plan in advance which topics you're covering, which influencers you want to include, how you'll use the content, and your plans for repurposing.
#2: Transactional Relationships
There are two ways that influencer relationships can get too transactional. The first is asking too much too quickly, while offering nothing of value in return. Imagine you got an email from a stranger asking you to help them move. Would you do it?
Now imagine an email from a friend asking for that help, and promising pizza and beer? Relationships matter. Take time to honor your influencers, follow them on social media, promote them and their work. Help them succeed, then start with a small ask, like a sound bite for a blog post.
The second way relationships can be too transactional is more literal. If you only work with paid influencers who promote content you wrote… well, that's more endorsement than influencer content, and it can be less likely to find an enthusiastic audience.
While you may financially compensate some influencers, Ashley says, the emphasis should always be on content co-creation. You want influencers to feel ownership of the finished product – they'll be much more likely to promote something they're excited to have made.
#3: Lack of Measurement
Like any other marketing tactic, influencer marketing should be able to prove its worth. Many marketers fail to build in measurement at the beginning, and end up with nothing but vanity metrics to show.
It's important to plan for measurement before you start. Lay the groundwork for the KPIs you plan to meet, and the metrics you'll use to show progress. And don't forget to set benchmarks!
Here are a few of Ashley's sample KPIs:
Planning Content and Assembling Your Heroes
Keeping those pitfalls in mind, here's how Ashley recommends designing and implementing an influencer program.
First, determine your topical focus. The topics you plan to cover should hit the intersection of your business priorities, search demand, and influencer expertise. It shouldn't be too tied to your products and solutions. Think more about what you want your brand to be known for.
Use the same tools you use for content research to find the key terms where there is audience demand and competitor whitespace as well.
With topics in hand, you can start identifying your influencer mix:
You're not looking for just the people with the largest audience. Instead, focus on people who are respected in their fields, shared interest in your topics, and the ability to actually move people to engage.
It's also important, says Ashley, to find influencers who fit your content type. If it's an audio or video asset, look for folks who have demonstrated a willingness an ability to provide that type of content. Beyond that, influencers should be reputable, practical, with real-life experience to draw from.
When you reach out to these influencers, remember to give before you ask:
The nurturing process helps prove your own credibility to influencers, showing you're a trustworthy partner, and hopefully sparking interest in co-creating awesome content.
The Adventure Continues (and Continues, and Continues)
The ultimate goal of your influencer outreach and nurturing should be a connected universe of content (much like Marvel's cinematic universe). Who would assemble a hero team and disband them after one adventure? Continue nurturing relationships with your influencers and encourage them to acknowledge and support each other, too. The goal is to develop a community of folks who are always up for another mission to save the world from boring B2B content.
Ready for a heroic influencer marketing success story? See how Alcatel-Lucent drove 6-figure leads with their campaign. Looking for more insights out of CMWorld 2019? Check out these other posts featuring several of this year's speakers:
The post Get Heroic Results from B2B Influencer Marketing with Advice from Ashley Zeckman #CMWorld appeared first on Online Marketing Blog – TopRank®.
Thank you for reading.
This may be of some interest.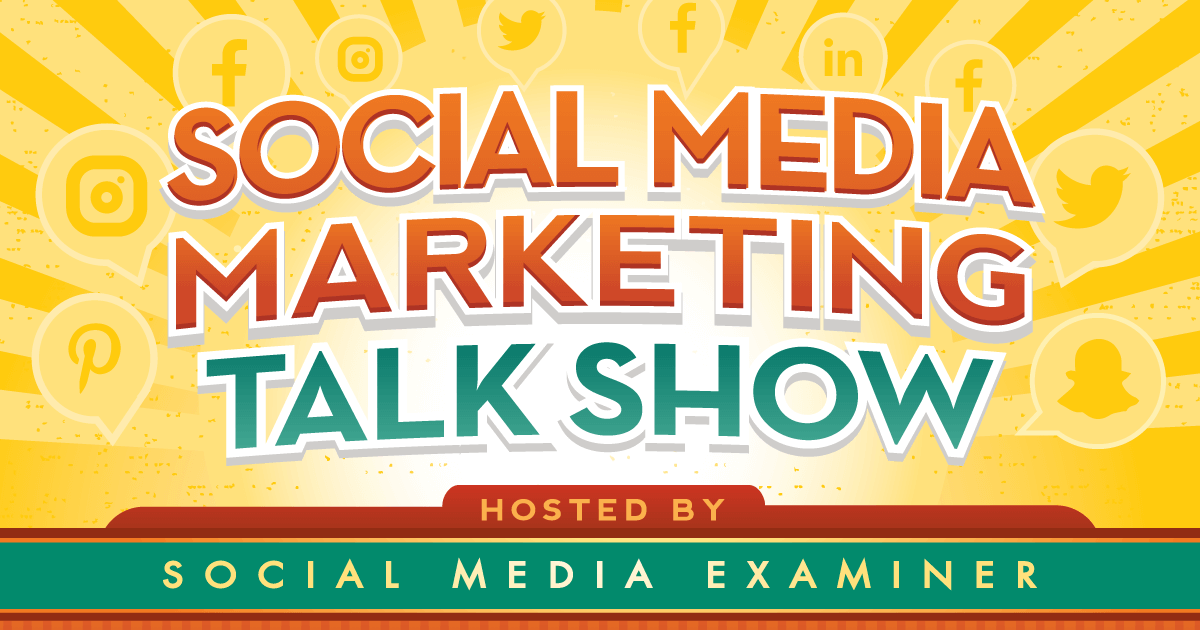 Welcome to this week's edition of the Social Media Marketing Talk Show, a news show for marketers who want to stay on the leading edge of social media. On this week's Social Media Marketing Talk Show, we explore what marketers need to know about changes coming from Instagram and the expanded rollout of Facebook's search […]
The post Changes Coming From Instagram: What Marketers Need to Know appeared first on Social Media Marketing | Social Media Examiner.
Thank you for reading.
This may be of some interest.
In my experience, most marketers fancy themselves as lifelong learners, taking pride in innovating their work and skill set to maximize their impact. We keep tabs on emerging trends, tactics, and tools. We follow industry leaders for their insight. We consult our internal teams and external partners for advice. 
But there may be one specialty group we don't look to for inspiration enough: The kids in our lives.
As a parent of two adorable monsters who are growing up way to fast, I've been reflecting a lot on how far they've come. Of course, I've realized that I've come far too, as both a parent and a marketer. And I'd wager that most of us have kids in our lives who have the potential to teach and remind us of some important things that can make us better humans and better at what we do.
So, what marketing lessons can the little ones in our lives pass on? Here are a few that have been illuminated for me recently.
4 Marketing Lessons We Can Learn from Kids
#1 – Foster permanent curiosity. 
Lately, on the 20-minute commute to daycare, we've been listening to "But Why?" It's a fantastic podcast by Vermont Public Radio. It's just incredible. Kids from all over North America send audio clips of themselves asking the most unexpected, puzzling, and just plain fun questions. This week we learned why we laugh, why boys and girls are different, and why sugar is bad for you.
Curiosity is one of the simplest and most powerful lessons we can learn from a child. As a marketer, this makes me ask: What can we do stay curious against a backdrop of back-to-back meetings, tight budgets, and the unending barrage of emails? There's a lot of opportunity for curiosity to creep in.
Professional Development:

Can you carve out a little time each week to drink a cup of coffee and surf your favorite industry publications for the latest news? Is there a certification or training that's been on the backburner?

Strategic Innovation:

As you head into your quarterly or

annual marketing strategy planning sessions

, how deep have you dug into why you're making your recommendations? Or better yet, have you considered other possibilities? A way to innovate? 

Reflection and Growth:

We all experience our fair share of fire drills. We immediately spring into action, oftentimes without asking all the "why" questions. Furthermore, we may not take the time to look back to learn how we got there. What processes could be fine-tuned? What is the true cause of a marketing mishap? (Tip: I like to employ the

Urgent Important Matrix

attributed to President Eisenhower to help balance my day.)
#2 – Employ resilient trust.
When both of my babes were around 6 to 9 months old, they learned to jump into our laps, assisted by Mom or Dad's hands securely around their waist. They were so proud of their amazing feats. And through repetition, they knew we'd always be there to catch them—even when they jumped unexpectedly.
Aided by their caretakers helping hands and guidance, kids learn new things and take risks, eventually without fear. Why? Because trust has been built.
In the marketing world, when trust is a focus, you can forge incredible bonds colleagues, clients or customers, prospects, and partners. And in a time when trust is dwindling among consumers, it's more critical than ever.
#3 – Be coachable.
My persistent (and often stubborn) children throw puzzle pieces. They shriek or scream, sometimes when they're seemingly unprovoked. They make mistakes. But their curious, trusting nature makes them incredibly teachable.
This magical trait is easy to lose once we hit the working world and get some experience under our belts. None of us probably think we're perfect, but how well do you take feedback? If you want to get results for your company and your career, you need to be open to coaching.
For example, did your supervisor offer some constructive feedback? Rather than put up your defenses, open yourself up to the feedback. You can literally, open your posture (no crossed arms), face her or him directly, and show your listening. Even take notes if it helps!
Or did you get a string of bad customer reviews on social media? Acknowledge their concerns. Offer an opportunity to talk about it more in detail. Point them in the right direction to get help. This not only shows them that you want to create great experiences, but others can see your willingness to take feedback and work to make improvements.
#4 – Keep it simple.
My children never fail to remind me to simplify my life—and my marketing. Whether you're a parent or caretaker, or you're watching others raise their kids, we can all admit that parents over-think questions and scenarios all the time. What do I do when my kid asks me where babies come from? Why is that parent so concerned about a kid playing with a cardboard box? Am I a terrible parent for putting my kid in timeout five times today?
But the thing is: Kids often sees the world through the most basic lens. They don't typically overthink things. They aren't riddled with stress and anxiety.
This should be a reminder that we shouldn't sweat the small stuff and that the simple answer is often the right answer. 
For example, you could spend 45 minutes responding to a curt email from a colleague or client, and then hours or days spinning as you wait for a response. Or you could ask the person in question to jump on the phone or huddle for a quick chat. This levels the playing field and limits the potential for misinterpreting signals.
As another example, if you're in the process of launching a major campaign, can you integrate various tactics to minimize and streamline the work? (Certainly, hiring a trusted agency partner could help with that. Wink.)
Look to the Children
If you want to be a lifelong learner, sometimes you need to go back to basics. The children in our lives can teach us some incredible lessons about curiosity, trust, coachability, and simplicity that can improve our personal and professional lives.
What's a marketing lesson that you've learned from a kid in your life? Tell us in the comments section below.
The post What Can Marketers Learn From the Children In Our Lives? Plenty appeared first on Online Marketing Blog – TopRank®.
Thank you for reading.
Product Description:
The ketogenic diet is highly effective for weight loss. However, a 'one size fits all' approach just doesn't give results as fast. But what if you take it and spin it in a way where it becomes more effective for women?
Now you have a winning weight loss program for women that's based on the science of the ketogenic diet. That is exactly what 'Thin From Within' is. It's author, Brad Pilon is no newcomer to the health scene. His last book on intermittent fasting was an online bestseller… and this one is too.
However, the keto diet is much more technical than intermittent fasting. You need to know what fats to eat, what to avoid, the macro proportions and much more. It's a given that the ketogenic diet works… but adopting it is easier said than done because you need the correct information to follow.
The moment we heard that Brad was involved, we had to take a closer look at Thin From Within. This is what we found out.

The Good Points:
1) Thin From Within targets women because men generally have it easier when it comes to weight loss. Brad took the ketogenic diet and created a plan specifically to help women shed their stubborn pounds. This targeted approach increases the efficacy of the program.
2) The program is structured in a way that will help your body to respond better. Many beginners make a mistake of haphazardly starting on a ketogenic diet. This slows down their progress.
Thin From Within has a 2-step process. In step 1 – you'll focus on 'microflora balancing' where you'll help to balance the intestinal flora. This will aid in better digestion and improved health.
In step 2 – you'll discover metabolic rebalancing which is all about tailoring the ketogenic strategies to suit your body and weight.
There's also a support group where you can chat with other women on the ketogenic diet. This is very helpful for getting help, tips and encouragement.
3) There is not only written material, but you'll also get 130+ video lessons to help you learn better. We couldn't believe we were getting so much information for such a low price.
4) Thin From Within has sold thousands of copies. Many satisfied customers
have left reviews saying how the product benefited them. This is good social proof and lends a lot of credibility to the product.
5) The main product is accompanied by several useful bonuses. There's value for money here.
6) Brad Pilon is a well-known name in the fitness industry and has impressive credentials (Masters degree in Applied Human Nutrition). His previous book 'Eat Stop Eat' was an online bestseller too. The man really knows his stuff, and his methodical approach to a topic is what sets him above the rest.
He's taken the ketogenic diet with all its principles, stripped away all the fluff and unnecessary jargon and made it easy and simple for women to follow. Most beginners will have no problem understanding Thin From Within.
7) The product comes with a 60-day refund policy. In the unlikely event you do not lose any weight with Brad's method, you can always get your money back.

The Bad Points:
1) This is an online download. You'll need a computer to access it, but you can print it out for easy reference, if you wish.
2) As with all things, results will vary. This is a diet and exercise program. It's very powerful and relatively easy to follow… BUT you must be consistent. People who approach it in a half-hearted manner and cheat on the program will not see success.

Should You Get It?
If you're looking to lose weight with the ketogenic diet, Brad Pilon's 'Thin From Within' is the only guide you'll ever need. The information is accurate, effective and has been proven to work.
Over and above that, he has given you a fitness plan too. So, this all-rounded approach will help you to not only reach a metabolic state of ketosis but will also boost your metabolism so that fat loss is accelerated.
The product is very affordable and if used well, will improve your health, help you reach your ideal weight, leave you with more energy than ever before and you'll feel great.
It doesn't get better than this. You really should give it a try without hesitation. You'll be glad you did. It's not often we come across a product that delivers everything it says it will… but this one does. Highly recommended.
>>> Get "Thin From Within" Now <<<
This may be of some interest.
Posted by matt_gillespie
There's an oft-cited statistic in the world of technology professionals, from marketers to startup founders to data scientists: 90% of the world's data has been created in the last two years.
This instantly-Tweetable snippet was referenced in Forbes in 2018, mentioned by MediaPost in 2016, and covered on Science Daily in 2013. A casual observer could be forgiven for asking: How could that be true in three different years?
At Fractl, the data makes perfect sense to us: The global amount of digital information is growing exponentially over time.
This means that the "90 percent of all data…" statistic was true in 2013, 2016, and 2018, and it will continue to be true for the foreseeable future. As our culture continues to become more internet-integrated and mobile, we continue to produce massive amounts of data year over year while also becoming more comfortable with understanding large quantities of information.
This is hugely important to anyone who creates content on the web: Stats about how much data we create are great, but the stories buried in that data are what really matter. In the opening manifesto for FiveThirtyEight, one of the first sites on the web specifically devoted to data journalism, Editor-in-Chief Nate Silver wrote:
"Almost everything from our sporting events to our love lives now leaves behind a data trail."
This type of data has always been of interest to marketers doing consumer research, but the rise of data journalism shows us that there is both consumer demand and almost infinite potential for great storytelling rooted in numbers.
In this post, I'll highlight four key insights from data science and journalism and how content marketers can leverage them to create truly newsworthy content that stands out from the pack:
The numbers drive the narrative
Plotted points are more trustworthy than written words (especially by brands!)
Great data content is both beautiful and easy-to-interpret
Every company has a (data) story to tell
By the time you're done, you'll have gleaned a better understanding of how data visualization, from simple charts to complex interactive graphics, can help them tell a story and achieve wide visibility for their clients.
The numbers drive the narrative
Try Googling "infographics are dead," and your top hit will be a 2015 think piece asserting that the medium has been dead for years, followed by many responses that the medium isn't anywhere close to "dead." These more optimistic articles tend to focus on the key aspects of infographics that have transformed since their popularity initially grew:
Data visualization (and the public's appetite for it) is evolving, and
A bad data viz in an oversaturated market won't cut it with overloaded consumers.
For content marketers, the advent of infographics was a dream come true: Anyone with even basic skills in Excel and a good graphic designer could whip up some charts, beautify them, and use them to share stories. But Infographics 1.0 quickly fizzled because they failed to deliver anything interesting — they were just a different way to share the same boring stories.
Data journalists do something very different. Take the groundbreaking work from Reuters on the Rohingya Muslim refugee camps in southern Bangladesh, which was awarded the Global Editors Network Award for Best Data Visualization in 2018. This piece starts with a story—an enormous refugee crisis taking place far away from the West—and uses interactive maps, stacked bar charts, and simple statistics visualizations to contextualize and amplify a heartbreaking narrative.
The Reuters piece isn't only effective because of its innovative data viz techniques; rather, the piece begins with an extremely newsworthy human story and uses numbers to make sure it's told in the most emotionally resonant way possible. Content marketers, who are absolutely inundated with advice on how storytelling is essential to their work, need to see data journalism as a way to drive their narratives forward, rather than thinking of data visualization simply as a way to pique interest or enhance credibility.
Plotted points are more trustworthy than written words
This is especially true when it comes to brands.
In the era of #FakeNews, content marketers are struggling more than ever to make sure their content is seen as precise, newsworthy, and trustworthy. The job of a content marketer is to produce work for a brand that can go out and reasonably compete for visibility against nonprofits, think tanks, universities, and mainstream media outlets simultaneously. While some brands are quite trusted by Americans, content marketers may find themselves working with lesser-known clients seeking to build up both awareness and trust through great content.
One of the best ways to do both is to follow the lead of data journalists by letting visual data content convey your story for you.
"Numbers don't lie" vs. brand trustworthiness
In the buildup to the 2012 election, Nate Silver's previous iteration of FiveThirtyEight drew both massive traffic to the New York Times and criticism from traditional political pundits, who argued that no "computer" could possibly predict election outcomes better than traditional journalists who had worked in politics for decades (an argument fairly similar to the one faced by the protagonists in Moneyball). In the end, Silver's "computer" (actually a sophisticated model that FiveThirtyEight explains in great depth and open-sources) predicted every state correctly in 2012.
Silver and his team made the model broadly accessible to show off just how non-partisan it really was. It ingested a huge amount of historical election data, used probabilities and weights to figure out which knowledge was most important, and spit out a prediction as to what the most likely outcomes were. By showing how it all worked, Silver and FiveThirtyEight went a long way toward improving the public confidence in data—and, by extension, data journalism.
But the use of data to increase trustworthiness is nothing new. A less cynical take is simply that people are more likely to believe and endorse things when they're spelled out visually. We know, famously, that users only read about 20-28 percent of the content on the page, and it's also known that including images vastly increases likes and retweets on Twitter.
So, in the era of endless hot takes and the "everyone's-a-journalist-now" mentality, content marketers looking to establish brand authority, credibility, and trust can learn an enormous amount from the proven success of data journalists — just stick to the numbers.
Find the nexus of simple and beautiful
Our team at Fractl has a tricky task on our hands: We root our content in data journalism with the ultimate goal of creating great stories that achieve wide visibility. But different stakeholders on our team (not to mention our clients) often want to achieve those ends by slightly different means.
Our creatives—the ones working with data—may want to build something enormously complex that crams as much data as possible into the smallest space they can. Our media relations team—experts in knowing the nuances of the press and what will or won't appeal to journalists—may want something that communicates data simply and beautifully and can be summed up in one or two sentences, like the transcendent work of Mona Chalabi for the Guardian. A client, too, will often have specific expectations for how a piece should look and what should be included, and these factors need to be considered as well.
Striking the balance
With so many ways to present any given set of numbers, we at Fractl have found success by making data visualizations as complex as they need to be while always aiming for the nexus of simple and beautiful. In other words: Take raw numbers that will be interesting to people, think of a focused way to clearly visualize them, and then create designs that fit the overall sentiment of the piece.
On a campaign for Porch.com, we asked 1,000 Americans several questions about food, focusing on things that were light and humorous conversation starters. For example, "Is a hot dog a sandwich?" and "What do you put on a hot dog?" As a native Chicagoan who believes there is only one way to make a hot dog, this is exactly the type of debate that would make me take notice and share the content with friends on social media.
In response to those two questions, we got numbers that looked like this:
Using Tableau Public, an open-source data reporting solution that is one of the go-to tools for rapid building at Fractl, the tables above were transformed into rough cuts of a final visualization:
With the building blocks in place, we then gave extensive notes to our design team on how to make something that's just as simple but much, much more attractive. Given the fun nature of this campaign, a more lighthearted design made sense, and our graphics team delivered. The entire campaign is worth checking out for the project manager's innovative and expert ability to use simple numbers in a way that is beautiful, easy-to-approach, and instantly compelling.
All three of the visualizations above are reporting the exact same data, but only one of them is instantly shareable and keeps a narrative in mind: by creatively showing the food items themselves, our team turned the simple table of percentages in the first figure into a visualization that could be shared on social media or used by a journalist covering the story.
In other cases, such as if the topic is more serious, simple visualizations can be used to devastating effect. In work for a brand in the addiction and recovery space, we did an extensive analysis of open data hosted by the Centers for Disease Control and Prevention. The dramatic increase in drug overdose deaths in the United States is an emotional story fraught with powerful statistics. In creating a piece on the rise in mortality rate, we wanted to make sure we preserved the gravity of the topic and allowed the numbers to speak for themselves:
A key part of this visualization was adding one additional layer of complexity—age brackets—to tell a more contextualized and human story. Rather than simply presenting a single statistic, our team chose to highlight the fact that the increase in overdose deaths is something affecting Americans across the entire lifespan, and the effect of plotting six different lines on a single chart makes the visual point that addiction is getting worse for all Americans.
Every brand's data has a story to tell
Spotify has more than 200 million global users, nearly half of whom pay a monthly fee to use the service (the other half generate revenue by listening to intermittent ads). As an organization, Spotify has data on how a sizeable portion of the world listens to its music and the actual characteristics of that music.
Data like this is what makes Spotify such a valuable brand from a dollars and cents standpoint, but a team of data journalists at The New York Times also saw an incredible story about how American music taste has changed in the last 30 years buried in Spotify's data. The resulting piece, Why Songs of Summer Sound the Same, is a landmark work of data-driven, interactive journalism, and one that should set a content marketer's head spinning with ideas.
Of course, firms will always be protective of their data, whether it's Netflix famously not releasing its ratings, Apple deciding to stop its reporting of unit sales, or Stanford University halting its reporting of admissions data. Add to the equation a public that is increasingly wary of data privacy and susceptibility to major data breaches, and clients are often justifiably nervous to share data for the purpose of content production.
Deciding when to share
That said, a firm's data often is central to its story, and when properly anonymized and cleared of personal identifying information, or PII, the newsworthiness of a brand reporting insights from its own internal numbers can be massive.
For example, GoodRx, a platform that reports pricing data from more than 70,000 U.S. pharmacies, released a white paper and blog post that compared its internal data on prescription fills with US Census data on income and poverty. While census data is free, only GoodRx had the particular dataset on pharmacy fills—it's their own proprietary data set. Data like this is obviously key to their overall valuation, but the way in which it was reported here told a deeply interesting story about income and access to medication without giving away anything that could potentially cost the firm. The report was picked up by the New York Times, undoubtedly boosting GoodRx's ratings for organic search.
The Times' pieces on Spotify and GoodRx both highlight the fourth key insight on the effective use of data as content marketers: Every brand's data has a story to tell. These pieces could only have come from their exact sources because only they had access to the data, making the particular findings singular and unique to that specific brand and presenting a key competitive advantage in the content landscape. While working with internal data comes with its own potential pitfalls and challenges, seeking to collaborate with a client to select meaningful internal data and directing its subsequent use for content and narrative should be at the forefront of a content marketer's mind.
Blurring lines and breaking boundaries
A fascinating piece recently on Recode sought to slightly reframe the high-publicity challenges facing journalists, stating:
"The plight of journalists might not be that bad if you're willing to consider a broader view of 'journalism.'"
The piece detailed that while job postings for journalists are off more than 10 percent since 2004, jobs broadly related to "content" have nearly quadrupled over the same time period. Creatives will always flock to the options that allow them to make what they love, and with organic search largely viewed as a meritocracy of content, the opportunities for brands and content marketers to utilize the data journalism toolkit have never been greater.
What's more, much of the best data journalism out there typically only uses a handful of visualizations to get its point across. It was also reported recently that the median amount of data sources for pieces created by the New York Times and The Washington Post was two. It too is worth noting that more than 60 percent of data journalism stories in both the Times and Post during a recent time period (January-June, 2017) relied only on government data.
Ultimately, the ease of running large surveys via a platform like Prolific Research, Qualtrics, or Amazon Mechanical Turk, coupled with the ever-increasing number of free and open data sets provided by both the US Government or sites like Kaggle or data.world means that there is no shortage of numbers out there for content marketers to dig into and use to drive storytelling. The trick is in using the right blend of hard data and more ethereal emotional appeal to create a narrative that is truly compelling.
Wrapping up
As brands increasingly invest in content as a means to propel organic search and educate the public, content marketers should seriously consider putting these key elements of data journalism into practice. In a world of endless spin and the increasing importance of showing your work, it's best to remember the famous quote written by longtime Guardian editor C.P. Scott in 1921: "Comment is free, but facts are sacred."
What do you think? How do you and your team leverage data journalism in your content marketing efforts?
Sign up for The Moz Top 10, a semimonthly mailer updating you on the top ten hottest pieces of SEO news, tips, and rad links uncovered by the Moz team. Think of it as your exclusive digest of stuff you don't have time to hunt down but want to read!
Thank you for reading.