Free
This may be of some interest.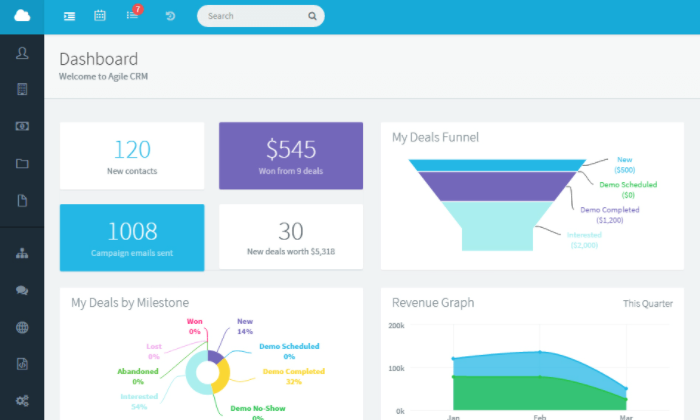 Disclosure: This content is reader-supported, which means if you click on some of our links that we may earn a commission.
Interested in customer relationship management (CRM) software that's free forever? You've got options.
This is not a typo. Free means no cost. Forever means no time limit.
I hope you're sitting down, because there's more shocking news. These zero-dollar-per-month platforms are packed with great features.
I've picked out the top five free CRM software products on the market. They're all a little different. Chances are, one of these options is going to work much better for you than the others.
There's no cost, but your time is valuable. Let's run through the important considerations that go into picking the right free CRM software on the first try.
The Top 5 Options For Free CRM Software
How to Choose the Best Free CRM Software for You
Trying to manage customer relationships with traditional spreadsheets and databases is a pain, to put it nicely. Speaking frankly, it's a barrier to growth.
You can only go long without a dedicated tool that centralizes and organizes all of your contacts.
And CRMs do so much more than that. They tie into virtually all of your other customer-related services and provide a home for contact information and data. Whenever someone makes a purchase, clicks on a link, or opens an email, it's all captured and reported in a CRM.
They can get pretty powerful, in terms of marketing automation and customer experience. Of course, when we're talking free CRM software, they're not giving away the full spread of features.
Here's what you want to consider as you look through your options.
The Limits of Free
Offering a software for free is not a form of charity. It's a calculated bet. They are hoping that companies using the complimentary service will grow to the point where they need a paid plan.
So there are limitations, for sure. If your team or scope stays small, though, free CRM software can be a decent solution for a good little while.
For each review, I've bolded the limits that are likely to have the biggest impact. These may include:
Maximum number of users
Maximum number of contacts
Maximum number of company records
It's important to forecast when and how these limits will affect your ability to use the product.
Contact Management and Tracking
With free CRM software, you want to be aware of your contact limit, but also the tools each product provides for contact management and tracking.
This is really the core responsibility of CRM software, what helps you manage each customer relationship.
All the products on my list will help you move from spreadsheets into a much more intuitive interface. At a glance, you'll be able to see an entire record of the relationship.
Some are going to come with sales-focused tracking features, like funnels and lead scoring, whereas others have helpdesk and ticketing features that work for customer service.
Think of the individual or team who is going to use the free CRM. Are the contact management and tracking features suited to their tasks?
Local Fit
How will the free CRM software fit within your current business processes?
It takes some thought to build around a tool that only several users can access, yet most freemium solutions are capped at 2-3 users.
Do you have the right collaboration software to enable CRM users to share the resource effectively?
That question fits right into my thoughts about integrations, so to speak.
Every vendor brags about the out-of-the-box capabilities of their product. The truth tends to be more complicated, as in they work perfectly… but only if you use Microsoft Outlook, for example. Or maybe there's a plugin for Shopify but not WooCommerce.
I could go on, but I won't. My point is that CRMs deliver more value when they integrate with the tools you are already using.
Score bonus points for products that have official integrations—the less time you have to spend getting things synced, the better.
Long-term Outlook
The time invested in a CRM isn't free, even if the platform doesn't "cost" anything. Ideally, companies find a product they really like using and one that helps them grow.
At some point, the capacity and feature set of any free CRM is going to hit its limit. Upgrading a plan takes a matter of minutes, whereas migrating from one CRM to another can be a bear.
If you outgrow your free CRM software, is the next pricing tier still within budget? And does it come with more features that are really going to have an impact?
The Different Types of Free CRM Software
When I reviewed the best CRM software, I broke the category down into operational, analytical, and collaborative products.
Breaking down what makes the best free CRM software is a little different.
They all come with a taste of the operational, analytical, and collaborative aspects of paid CRMs but, generally speaking, free plans focus on one of three areas:
Sales
Marketing
Customer service
Many of the products on this list will work for all three at the premium tiers, but trim their free offering to one of these categories.
Free Sales CRM Software
These platforms focus contact management on nurturing leads and converting prospects. They provide tools that help reps keep track of all the relationships they build.
Free sales CRM software will often include:
Appointment scheduling
Funnels
Pipelines
Reports
Some of the better free products also include:
Live chat
Invoicing
VoIP calling
Limited sales automation
Free Marketing CRM Software
With these products, teams get access to features that help them help them run successful campaigns that generate and qualify leads. They can grow their reach while individualizing the content they provide.
Free marketing CRM software will often include:
Forms
Landing pages
Email templates
Email tracking
Some of the better free products also offer:
Website activity tracking
Conversational bots
List segmentation
Limited marketing automation
Free Customer Service CRM Software
In this category, platforms are heavily weighted towards helping agents manage existing relationships. They provide a bird's eye view of the entire process, from contact to resolution.
Free customer service CRM software often includes:
Ticketing
Labels
Reports
Email templates
Some of the better free products also have:
VoIP calling
Live chat
Canned snippets
Basic workflow automation
Now that we've been through the different types of free CRM software, I'll review the top five, starting with the one that breaks the mold by doing it all.
#1 – HubSpot — Best Free Marketing CRM
Key plan limits:
Unlimited users
1 million contacts and company records
HubSpot CRM has to be the most generous free CRM software out there. Unlimited users and a million contacts. What?
On top of the free CRM software, HubSpot provides free forever versions of their sales, marketing, and customer service tools.
These are all relatively deep platforms, offering live chat, ad management, ticketing, and more, plus access to a best-in-class interface for managing contacts.
I'm calling it the top pick for marketing because that's where HubSpot really outshines the field, but it's solid all around.
The reporting dashboards in Hubspot are really well developed. With a lot of free CRMs, you don't even get dashboards. Instead you are stuck pulling reports about individual parts of your overall outreach strategy.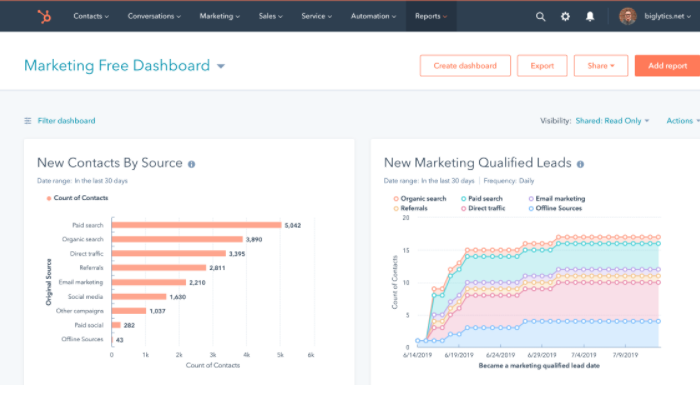 HubSpot ties into all your marketing efforts—email, forms, landing pages, ads, chat, Facebook Messenger—and delivers clear information about what channels and strategies are driving performance.
HubSpot integrates with G Suite, Gmail, and many versions of Outlook. There's also a drag-and-drop editor to create great email campaigns.
You can automate follow-up emails whenever someone fills out a form or responds to a pop-up, building out your list with zero effort.
Is that it? No. There are so many more marketing tools, including:
Website activity tracking
Conversational bots
Deal pipelines
Task and activity manager
Appointment scheduling
List segmentation
Email tracking
VoIP direct from CRM
Bear in mind that this list of features doesn't include anything that comes with the free sales, marketing, or customer service toolkits. There's also a rich App Marketplace full of ready-to-go solutions built for common business use.
HubSpot isn't crazy, they just practice what they preach. As pioneers of inbound marketing, they really believe in helping people discover their business by providing great content.
In this case, they are providing a free CRM that will work across an organization. HubSpot continues to grow, so they are doing something right.
The last bit of good news? When companies move up to a paid HubSpot plan, they only have to pay for users who use the paid plan features. Any user who only needs to use HubSpot CRM will remain free forever.
#2 – Really Simple Systems — Best Free Sales CRM
Key plan limits:
2 users
Unlimited contacts
100 company records
Really Simple Systems offers a robust free sales CRM with unlimited contacts. As you might expect from their name, this is not a difficult platform to master.
I like it for sales because of the breadth of features. You can track sales opportunities in a pipeline, funnel, or both. Add lots of detail by logging changes to opportunities and forecast sales based on probability.
You can do quite a bit of customization with the free CRM from Really Simple Systems. Create your own fields that capture important criteria and build the tables you need. This data can then be displayed in custom reports and dashboards.
Pull in all the information from across Really Simple CRM and quickly see which leads and opportunities need the most attention.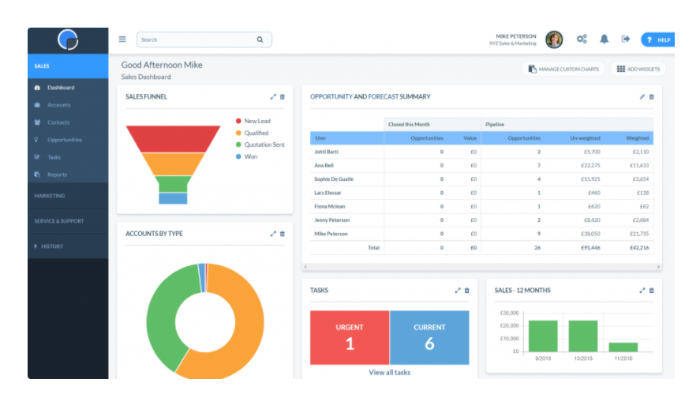 Sales reps will be able to call their smartphone contacts directly from the CRM platform, which is optimized for all devices.
Really Simple Systems lets you track the metrics you need and provides a really generous amount of CRM functionality that's super helpful for sales teams. Some of the highlights include:
Pipeline management
Sales funnel
Customer timelines
Opportunity history
Listing & sales forecasts
API access
Integrate with Google Contacts and Outlook
The two-seat limit is really the only lightweight aspect to Really Simple Systems' free plan. In fact, the only sales CRM features that aren't included are geolocation, email integration, and sales group permission levels.
Between all the sales tools and the ability to customize, Really Simple Systems is a great free CRM choice for freelancers, consultants, and SMBs that don't have a ton of sales reps. Because there's no contact limit, one or two people can get a lot accomplished.
#3 – Agile CRM — Best Free Customer Service CRM
Key plan limits:
10 users
1,000 contacts and company records
Agile CRM provides one of the few free forever options that can accommodate an entire team. 
It will definitely work for sales and marketing because it comes with the core CRM tools in those areas, but the depth of their customer service features really stands apart.
There's a full helpdesk ticketing system. Customer support can assign labels to organize and prioritize tickets. They can also put customers in different groups depending on their needs, which means that tickets are automatically forwarded to the most appropriate agent.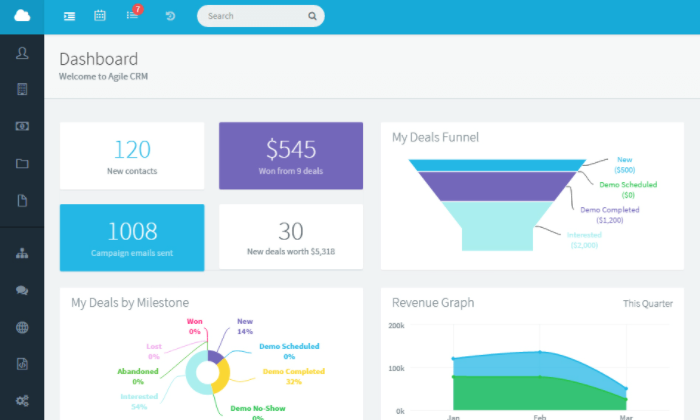 I really like the performance reporting features that help everyone can stay on track and manage queues together. They can quickly view tickets based on a range of status indicators, like date received, priority, service-level agreement, and more.
Another time saving feature are the canned responses. Teams can draft pre-formatted replies to common questions.
Thus, agents can deliver accurate information in less time, which cuts down on ticket backlogs and reduces stress during peak service hours.
Really, the only customer service feature that doesn't come with the free version of Agile CRM is Knowledge Base, which helps you create and share customer support documentation.
I'm focusing on the customer service aspect of Agile CRM, but I'd be remiss not to mention the really great sales and marketing features, like:
Unlimited deals
Lead scoring
Appointment scheduling
Email tracking
Email campaigns
Website activity tracking
Landing page builder
Bear in mind that in terms of automation, the free version is limited to a single campaign workflow with five nodes and one trigger.
I wish they let you do more, because the workflow builder is such a breeze. Automating basic processes in customer service is a huge time-saver, which makes being able to do more with the paid plans really attractive.
In the end, though, a ceiling of 10 users with the free plan makes fielding a helpdesk with Agile CRM a real possibility.
For what it's worth, I had a question about Agile CRM's free plan and reached out on their website chat. I got a polite answer from a human in under a minute and felt extra sure about recommending them as a customer service CRM solution.
#4 – Flowlu — Best For SMB Finance
Key plan limits:
2 users
20 contacts
Unlimited opportunities
Flowlu makes really great enterprise-ready CRM solutions that help massive companies keep a close eye on revenue. 
Its free CRM software is ready to help SMBs do the same thing.
Flowlu's free version comes with a surprising number of the platform's best features. Even though users are limited to 20 contacts, they can create an unlimited amount of opportunities, which is the entire series of client communications leading to a potential deal.
From there, opportunities can be closed by invoicing the client, creating a project from the opportunity, or being marked as a loss.
The maximum of 20 contacts is an important limit to be aware of, but Flowlu's free CRM can help a small finance team get a lot done. For each contact, users can create as many projects and invoices as they need, which is great for repeat clients and vendors.
This allows managers to quickly project expenses, comparing them to the project budget and cost limits. Expenses can be assigned to bank accounts and or organizations stored in your CRM. The free version is limited to one organization and two bank accounts.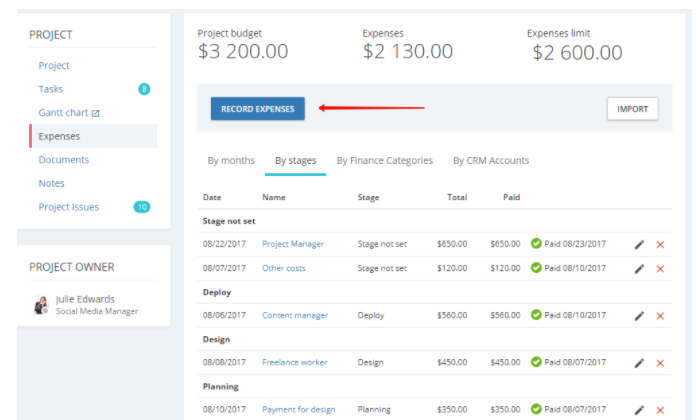 If you are looking for a finance-forward CRM that won't cost you a thing, Flowlu is definitely the option to check out.
Some of the other relevant features available are:
Payment tracking
Expense tracking
Customizable finance categories
Finance dashboard
Lead & contact management
Records management
One thing to note is that you can bump up to the Team version of Flowlu, which gives you room for eight users and unlimited contacts for $29/month total. This is less than $4/user, which is an insanely competitive price for a CRM that can save you thousands.
Flowlu's free CRM software is great for getting on the right financial footing and a value buy if you grow into the premium product.
#5 – Apptivo — Best For Basic Business Management
Key plan limits:
3 users
Unlimited contacts
Apptivo makes really affordable CRM software and offers a free forever Starter plan that can help out with a lot of administrative tasks. It centralizes all of your customer information and lets you create and manage all of your invoices, estimates, and proposals.
This saves time and minimizes the simple billing errors that I don't want to spend time solving.
The interface is clean and accessible. Apptivo includes the core contact and project management features, and you can import/export an unlimited amount of data.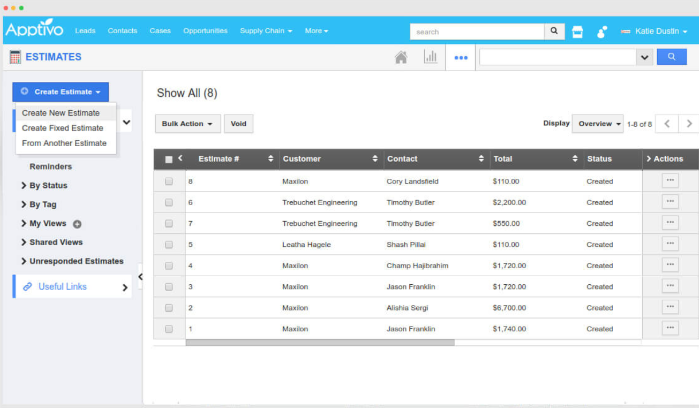 With three users included on the Starter plan, there's a lot that companies can get done in terms of consolidating and streamlining basic business processes.
Managing work orders and field services, for example, is centralized within a clean dashboard. Users can submit one-click approvals to clients or managers, edit the dispatch calendar, and automatically alert workers that the plan has changed.
The sales features are somewhat light compared to the other free CRM software on this list, and none of their great Apptivo marketing capabilities are included. That said, you still get:
Invoicing
Estimates and proposals
Procurement and purchase orders
Field services and work orders
Helpdesk
Product catalog
Of course, there are business management features I wish were included that only come with paid plans, like contract management, automated workflows, a built-in eSignature tool, and all the useful direct integrations.
All of that comes with Premium, the next tier up from Starter, which is only $10/user per month. It's also got nearly the full range of sales, marketing, and analytics tools as well, making it a much more complete solution.
All in good time.
Right now, if you are looking for no-cost CRM software to manage the paperwork involved with customer relationships, Apptivo will get it done.
Summary
Realistically, what's being offered for free by these companies is a CRM solution that covers the basics and showcases their strong suits.
Thinking about it from their perspective, the vendor is trying to hook potential long-term clients. They are giving away a taste of what they're really good at.
HubSpot CRM is the jack-of-all trades, offering the most complete set of tools for free. In terms of their marketing capabilities, HubSpot CRM is second to none.
If you are looking for a free CRM that's built for sales, Really Simple Systems is going to set reps up with everything they need.
On the customer service side, Agile CRM offers the most robust solution. You get all the helpdesk, ticketing, and tracking features necessary to support agents. Their sales and marketing tools are fairly rich, as well, though HubSpot is the deepest all-around free CRM.
Looking at a CRM for managing finances, Flowlu includes a unique feature set designed to help teams track costs and revenue. You can find these tools with other paid CRMs, but Flowlu makes them available for free.
In terms of a CRM to help manage basic business processes, Apptivo is really handy. Their free CRM software is a great way to start organizing and automating the everyday work of managing customer relationships.
Now I love a free trial as much as the next guy, because who doesn't want to test drive a product before making a commitment?
But can you really know if a CRM works for you after 14 days?
A truly free CRM gives you the time you really need to get comfortable with a product. When you are ready to invest in a more substantial product, you know what you're looking for.
The post Best Free CRM Software appeared first on Neil Patel.
Thank you for reading.
This may be of some interest.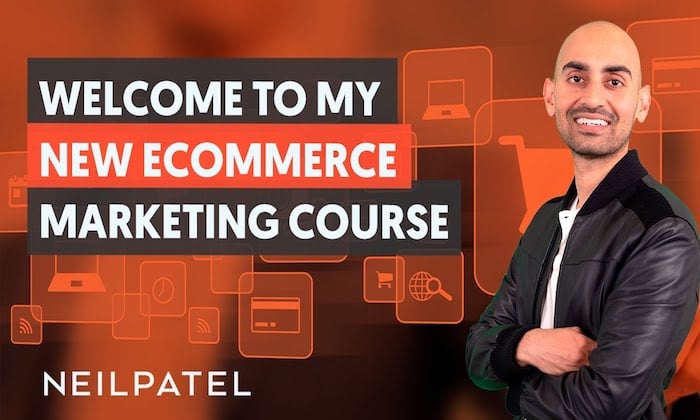 E-commerce is booming.
There are currently 24 million e-commerce sites and counting. And with only 12% of sales taking place online, you can expect there to be massive growth in the years to come.
So if you want to create an online business, one of the best ones to create is an e-commerce store.
But how do you market it? How do you grow your traffic? And, most importantly, how do you get sales?
Sure you can use tools like Ubersuggest to help you out, but what do you do if you need step-by-step instructions from the very beginning… especially if you have little-to-no marketing experience?
Introducing E-Commerce Unlocked
Over the next 4 weeks, I am going to teach you how to market an e-commerce website. From SEO to paid ads to even CRO… I am going to cover all aspects of e-commerce marketing.
And of course, all for free. 😉
E-Commerce Unlocked is similar to my free SEO training course, SEO Unlocked.
But unlike SEO Unlocked, which is a 7-week course, I thought it would be more efficient to get you the training you need in just 4 weeks.
So, every Monday, Thursday, and Saturday, I will release new videos to teach you how to get more traffic and sales to an e-commerce site.
And just like SEO Unlocked, E-Commerce Unlocked will contain worksheets, cheat sheets, PDFs, spreadsheets, and everything else you need.
Here's the first lesson, which you can watch below:
Make sure you go here to download the worksheets that go along with it.
So what exactly will I learn?
As I mentioned above, it is a 4-week course. Here is an overview of what will be broken down in each week and in each lesson:
Week #1
Lesson #1: Getting Started
Foundation methodology
Strategies you're going to learn
Strategies & mindset
Lesson #2: Sales Channels
History of e-commerce the timeline
What is working in the e-commerce space
Introduction to sales channels
Understanding sales channels
Lesson #3: Marketing Channels
Multi-channel marketing
Which market and sales channels work
Building visibility and brand
Current & future movers and shakers in the e-commerce industry
Week #2
Lesson #1: Conversion Rate Optimization
Introduction
Product pages made to convert buyers
Experience
Using reviews
Urgency and scarcity
Abandoned carts and follow up
Increase your AOV (Average Order Value)
Exit intent – capture lost traffic
Split testing with Crazy Egg
Increasing conversions on your e-commerce store
Email marketing campaigns for your site
Action tasks for optimizing your website for conversions
Lesson #2: SEO & Content Production
Setting up your Google organic feed
Rank your product listing pages
E-commerce content marketing workflow
Technical SEO for e-commerce
Making your content & transaction pages
E-commerce topical clusters
Content examples to look at
Lesson #3: Content Promotion
Link building for e-commerce
Building links to content, PDPs, & PLPs
Social media and social proof leveraging
Social media platforms in the long-term
Strategy for content promotion
Week #3
Lesson #1: Amazon
Keyword research for Google & Amazon rankings (and the differences)
Data sources
How to write good copy, product descriptions, ads, and come up with different marketing "angles" for Amazon
Amazon promotions & lightning
Optimize your listings
Using Facebook Messenger & Manychat
Amazon PPC
Sell more to your existing customers
Lesson #2: Sales Channels
Getting higher rankings on marketplaces
Walmart – how to get set up and what to expect
eBay – how to get set up and what to expect
Etsy – how to get set up and what to expect
Wish – how to get set up and what to expect
Facebook Commerce – how to win
Getting traction on each platform & what to do to win in each platform
Lesson #3: Marketing Types
E-commerce Marketing for (B2B) vs (B2C)
Sales process for B2B e-commerce vs B2C
Picking the one that's right for you – do both or pick one?
Week #4
Lesson #1: PLA Campaigns
Setting everything up
Google dynamic remarketing
Google product listing ads (Google Shopping Ads) introduction + setting up
Your PLA campaigns
Bing product listing ads + setting up
Facebook dynamic product ads + setting up DPA's correctly
PLA + DPA summary
Lesson #2: Additional Marketing Channels
Instagram ads
YouTube PPC – world's 2nd largest search engine work to get you sales
Etsy PPC – what's working on Etsy
Email marketing campaigns must have campaigns for e-commerce
Automate your customer emails and gather reviews much faster
Lesson #3: Additional Channels
Working with influencers
Push notification – lists & messaging
Understanding your metrics (COGS, ROAS, ROI to see what SKUs to scale with)
Case studies
Summary
How can I follow along during the 4 weeks?
You'll see videos released every Monday, Thursday, and Saturday.
The videos are roughly 10 to 15 minutes in length on average so it shouldn't take you more than an hour per week to follow along, including the completion of the homework assignments and worksheets.
To make things easier, the worksheets and homework assignments will be somewhat pre-filled so you will know what to do every step of the way.
No matter what, make sure you complete each assignment. Watching the videos is not enough.
Sure, the videos will teach you theories and strategies, but you also need to learn how to execute and implement. That's why I want you to complete the worksheet and homework assignments.
In total, I'm asking you to commit an hour each week. If you are new to marketing, maybe an hour and a half, which should be doable. 🙂
Once you complete the 4 weeks (12 videos), you'll know how to market any e-commerce website and even how to sell products online on sites like Amazon.
If you want to make sure you don't miss a lesson (because I won't be blogging about each lesson), make sure you subscribe to my YouTube channel as I will be uploading the lessons there.
Once you click the link above, you'll see a subscription box popup on YouTube. All you have to do is click the "SUBSCRIBE" button.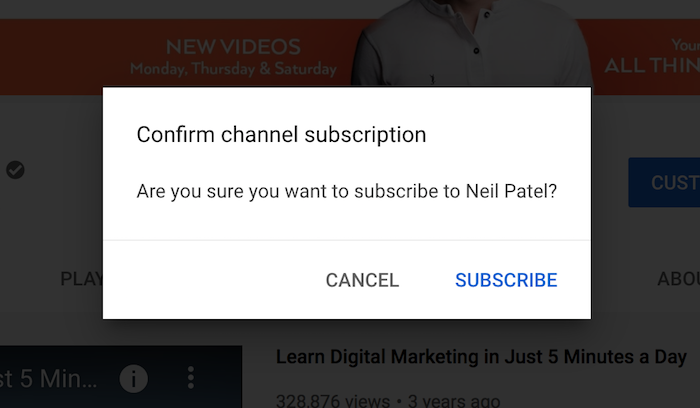 Once you click "Subscribe," you'll notice a bell image next to the subscribe button, make sure you click on that as well.

When you click on the bell, you'll be given a few options.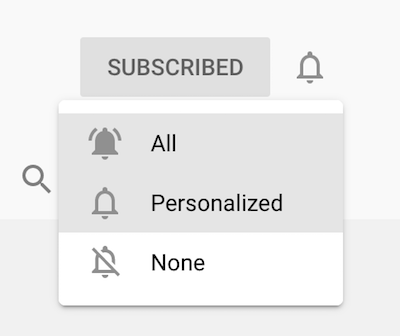 Click on the "All" option. Next to the "subscribed" button, you should see a new bell notification :

This makes it so YouTube notifies you when I release a new E-commerce Unlocked lesson.
Conclusion
E-commerce is a booming field. Just look at Amazon, they are bigger than any traditional retailer.
Having the skillset of knowing how to market an e-commerce site can never be a bad thing.
And who knows, maybe you'll do it full time as either a consultant or through running your own e-commerce site.
If you are new to marketing, don't worry about being overwhelemed. I am going to teach you the main tactics that drive the majority of the results. And I will break them down in a simple step-by-step formula.
You'll also be provided with the worksheets and tools you need, so you all you have to do is bring yourself and be willing to commit an hour to an hour and a half each week.
So, are you ready to learn e-commerce marketing?
PS: Leave a comment below letting me know what course you would like me to create next. I already did one on SEO, and now I am doing one on e-commerce marketing. Would you like one on content marketing, paid ads, Instagram…? It can be anything, just let me know in the comments.
The post Welcome to Ecommerce Unlocked: Your Free Ecommerce Marketing Course appeared first on Neil Patel.
Thank you for reading.
This may be of some interest.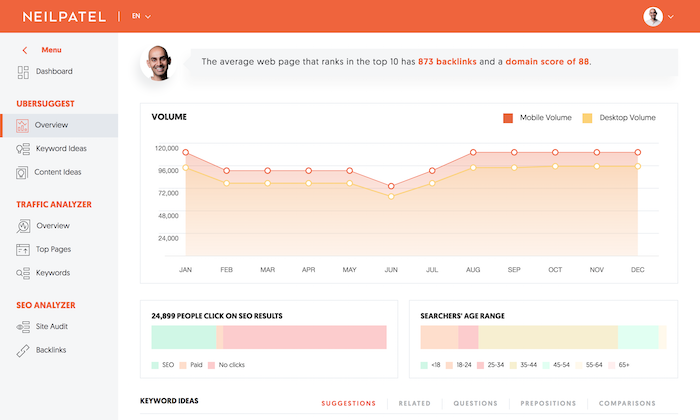 Please read the whole post as I have a few surprises for everyone and it affects all member types.
A month or so ago, I blogged about the future of Ubersuggest and how there will still be free plans along with paid ones.
But as you probably noticed, the free plan wasn't as generous as you were hoping for.
And with Coronavirus growing at a rapid pace and affecting so many people and businesses, I thought I would do my part and help small businesses out.
Because if I help you grow a bit more without spending money, hopefully, you won't have to lay off any people and, ideally, you will even be able to hire a few more people.
So today, I have made Ubersuggest "more free" and over the next week, it will become even more free.
What does that mean? Let me break it down for you…
You'll have full access to historical data
First off, anytime you want to view graphs on historical data, you no longer have to pay.
For example, if you want to see how popular a keyword was over the last 12 months, all you have to do is type it in and you'll see the data.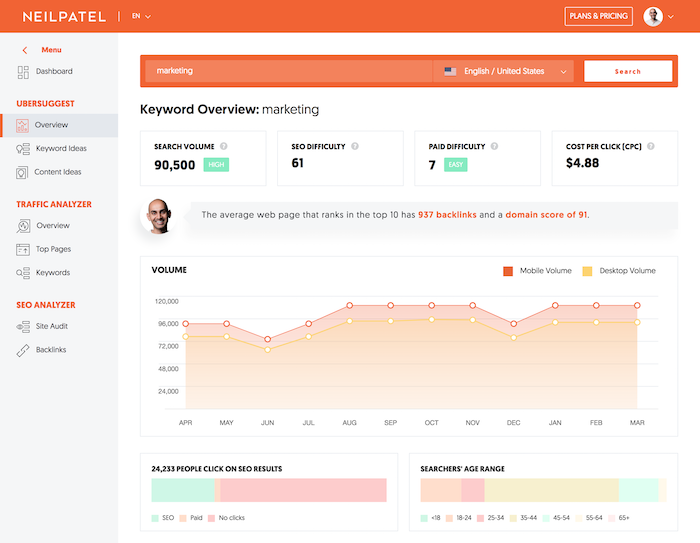 If you aren't logged in, you only see 3 months' worth of data (this is to help stop scrapers and reduce server expenses), but once you log in, which again is free, you'll see historical data.
The same goes for traffic estimates. Anytime you look up a competitor, you'll be able to see their search traffic over the last 12 months as well as how many keywords each site is ranking for during that time period.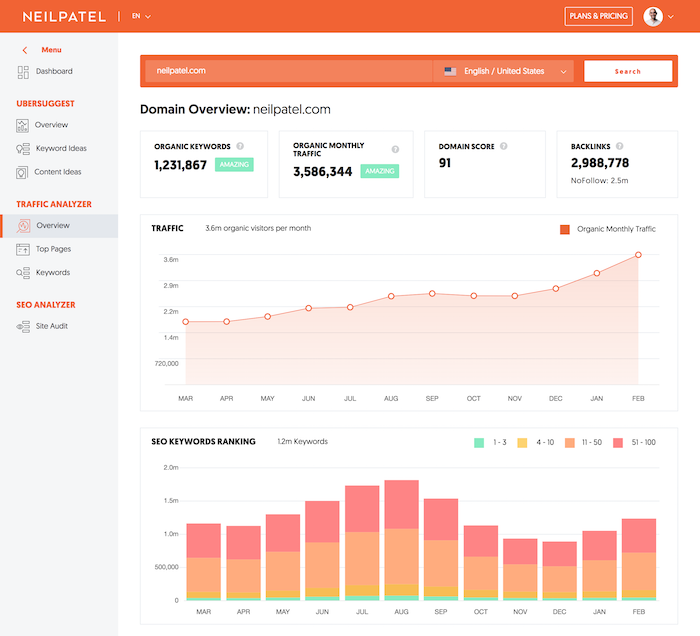 As for backlinks, there is a historical link graph and a new
and lost link graph.
Currently, it is blocked off for only paid members, but in the next 7 days I WILL BE OPENING IT UP FOR FREE.
Sorry for the delay, but it takes my developers a bit of time to make this change.
So, within the next week, this will also be available for
free.
You also have access to more keywords
Have you performed keyword research recently?
If you haven't tried, look up a domain and go to the "keywords" navigation item…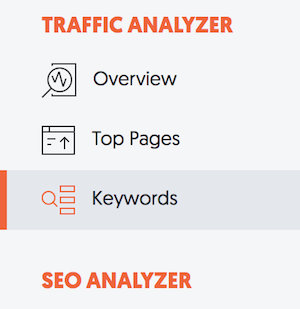 Once you land on that report, you will see a really long
list of keywords. 🙂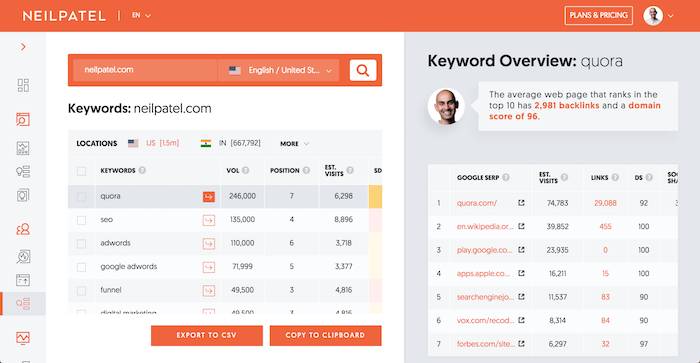 If you aren't logged in, you'll be asked to do so, and this is also free. The reason being is this helps stops scrapers and reduces server costs.
The same goes for the keyword ideas report. This report
gives you more keyword suggestions once you enter in a keyword.
In the navigation menu bar, click on "keyword ideas."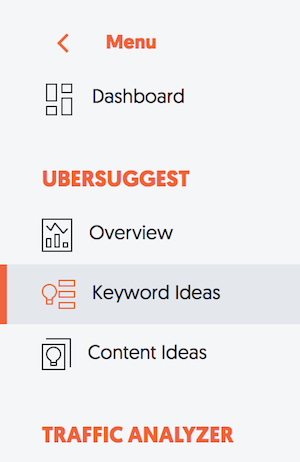 Enter in a keyword and you'll be given a list of other
related terms.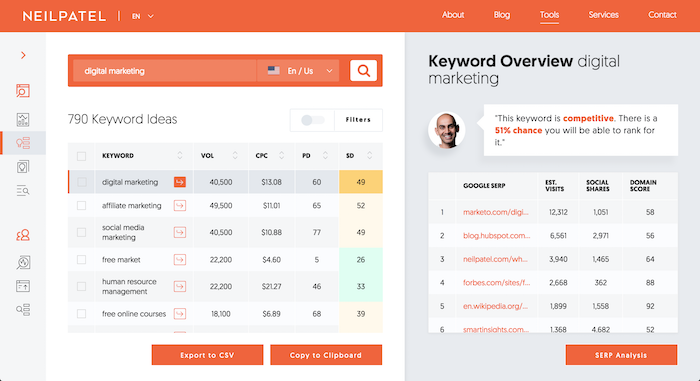 Again, you may be asked to log in, which is free, but that is to reduce scrapers on our end to save on server costs.
More content ideas and top pages
Over the next 7 days, we are also going to make the content
ideas report and the top pages a bit more generous.
We will probably provide four times more results for free on these two reports.
So when you are looking for ideas for your next blog post, you'll see more recommendations.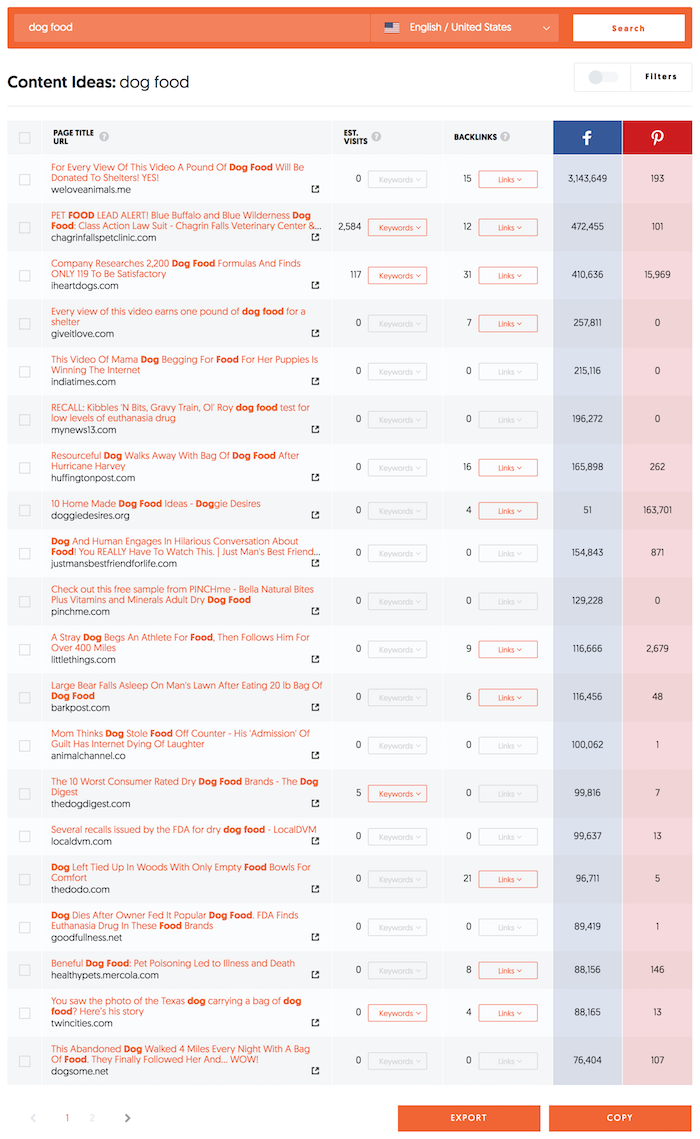 Or if you are looking up a competitor to see which pages drive them the most traffic, you'll want to go to the "top pages" report. In the navigation, click on "top pages."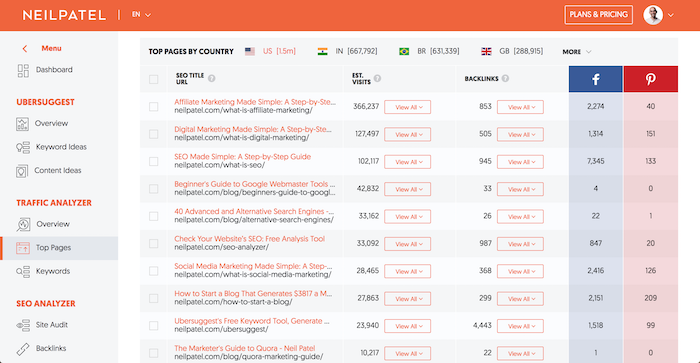 At the moment, you can see some for free, but again in the next week, you will be able to see roughly four times more without having to pay for it.
The changes with the content ideas report and the top pages may be rolled out sooner but by next Tuesday at the latest, they will be ready.
There's also more good news
My goal with Ubersuggest isn't to make money. It is honestly
to break even as my costs are so high. It's well over $200,000 a month. 🙁
These changes will probably make it take 12 months for me to break even instead of 6 months… but hey, that's life. It's the least I can do with all of the businesses out there struggling due to the Coronavirus and all of the people getting sick.
As paid members, you will still get access to more data, be able to create more projects, and crawl more pages to find SEO errors.
But I am going to sweeten the deal for you over the next 30
days as I am adding some stuff that is going to really help you grow your
traffic.
Here's what I am thinking:
Bi-weekly training – every month, my team and I will be holding 2 group calls to help you grow your traffic. The first call will go over an SEO tactic that you need to implement and I will break down how you can do so. The second monthly call will be a QA where anyone can ask me and my team questions and we will answer them. And if you are wondering if I am going to be on the calls, I will. With my busy schedule, I probably will miss some, but I will be on many of the calls training you myself.
Weekly action plan – I'm currently working on an SEO action plan. As a paid member, I will be giving you 12 things to implement (one each week for 12 weeks) to grow your SEO traffic. If you implement them, you'll get more traffic. I know many of you are busy business owners, so I am trying to make things easy and help you get the most traffic with the least amount of work.
On-demand help and support – we are adding live chat to Ubersuggest and the NeilPatel.com site. That way you can talk with my team of SEO experts, ask any questions related to your site or marketing, and we will help you. That way you can get customized one-on-one advice. This is what you'll really need to grow.
Ultimate SEO course – I'm working on an SEO course that teaches you everything about SEO. It's looking like it will be over 20 hours of video training material as well as worksheets, cheat sheets, and templates for you to use to make it easier for you to get results.
Private Facebook group – we have a pretty decent size community, so why not leverage it to help each other grow? We will be creating a private Facebook group or Slack group (not sure which one), were we all help each other grow our traffic.
You'll start seeing this stuff rolled out within 30 days as well as the Chrome extension which is in the final round of testing.
I also have some cool new features that we are close to
adding that I know you will be excited for. 😉
Conclusion
Over the next 30 days, if you are a paid member, you'll be
getting even more.
And if you are strapped for cash, no worries. I am making the free plan even more generous, as you can see above. Just give Ubersuggest a try and you'll see it is already "more free."
My goal has never been to make money with this tool. It's to help small and medium business owners succeed.
I know times are tough right now but try to stay safe by staying indoors more often and practicing social distancing.
So, what do you think about the new Ubersuggest Free plan?
The post Ubersuggest is Now More Free appeared first on Neil Patel.
Thank you for reading.
This may be of some interest.
Marketers are in the business of attracting attention. All of our tactics, our strategies, our goals boil down to: Did we get someone's attention and inspire them to take action?
The key to modern marketing is that we have to earn that attention. There will always be someone on who is louder, funnier, more talented, or just less shameless than your brand is willing to be. The only way to truly capture and sustain someone's focus is to earn the right to their time. 
How do you earn attention? By providing remarkable experiences. By showing you care about your audience, you know who they are, and that your brand is here to help and to entertain them. 
For our latest Break Free video, we talked to a marketer who is helping marketers offer more memorable experiences. Sruthi Kumar is the Senior Marketing Manager at Sendoso, a platform that coordinates direct mail and gifting campaigns for personalization at scale.
Sruthi and I sat down to talk about experiential marketing in all its forms: Event marketing, direct mail, content and beyond. We also dig deeper into the philosophy of marketing. Should marketers specialize in a certain aspect of marketing, or should we be taking a more holistic approach? Can left-brained content folks and right-brained strategy folks get along… and really, is it that simple of a divide? Sruthi has some inspiring thoughts on all of the above.
Oh, and along the way, Sruthi shares how she built a marketing department from the ground up, taking Sendoso from a small start-up to competing with the big brands.
 [bctt tweet="I think what we're really trying to do is bridge that online and offline experience. @sruthikkumar" username="toprank"]
Highlights:
1:00: Direct mail plus digital marketing for unforgettable experiences
5:45: Marketing to delight your audience
7:40: Building a marketing department from the ground up
11:05: Tactics for earning attention at marketing events
18:15: Marketing requires creative and analytical thinking 
Josh:
So tell me a little bit about Sendoso. What is it? What do you do?
Sruthi:
We're a sending platform, so we really help our customers reach their customers and prospects in a meaningful way by sending company swag, direct mail, sweets and treats, handwritten notes, the whole nine yards, in order to make really human connections with their prospects and customers.
Josh: 
Do you feel like this going back to a more simpler form of marketing compared to digital marketing? Do you feel like that's more effective as our world gets more digital?
Sruthi:
So I actually think they go hand in hand. What we're trying to do is really bridge that online and offline experience. So not to say that digital marketing does not work. I'm a marketer. I run our field marketing team, we use digital heavily, but it's just about bringing all the channels together to create that seamless experience for the end user, and that person that you want to book a meeting with or have a signed contract with or whatever else you need from them.
[bctt tweet="It's about bringing all the channels together to create that seamless experience for the end user, that person who you want to book a meeting with or have a signed contract with. @sruthikkumar" username="toprank"]
We are moving to an ABM approach when we are doing our events, because sometimes you get to large audiences and it's hard to really get in contact with anyone. The beautiful thing about our product is that anyone can use it in any vertical. It's direct mail: If you're selling, you can use it. If you're trying to reach an audience, you can use it. 
We do the double funnel approach at Sendoso. We do have demand gen tactics while we also have ABM tactics as well. 
I had an interview that was my first internship as a marketer. The CMO asked me, 'Are you analytical? Or are you creative?' And I was like, 'I don't know, I feel like I'm a little bit of both.' 
And she said, 'You can't be both.' And I just want to call her now, because you have to be both. I may not be the most analytical person on my team. But I get to work with this marketing ops manager. We built our team together, and she's very analytical. I get to learn from her and understand how would my MOPS person do this. And that's the cool stuff that you get to take with you. 
As a marketer, you should be well rounded — you're a content marketer, but you could put a demand gen campaign together.
Josh:
 We just love this binary of left brain versus right brain. But then you get this idea that oh, well, the creative types are just sitting up there in their beanbag chairs with the lava lamps going, 'Oh, wouldn't it be cool if we did this?' And then on the other hand is a bunch of robots who are crunching numbers. For some people, those things are going to overlap into a circle and some are somewhere on the continuum, but you can't be just one or the other. 
[bctt tweet="People ask, 'Are you analytical or are you creative?' But you have to be both… As a marketer, you should be well rounded: You're a #contentmarketer, but you could put a demand gen campaign together. You're not just writing. @sruthikkumar" username="toprank"]
Sruthi:
With all those marketing activities that we're supposed to do, some people are just doing the check-boxes. That's totally fine, but I think you should bring your personality into it. I think so many of us are so scared. Like having our corporate voice, but I think our personal voice should be in there too. 
I think the only reason why Sendoso did stand out in the early days is because we got to incorporate so many of our early founders' and members' own personalities into the brand. And even the way we pitch our product today is by the voices of our sales team and our marketing team, our co-founders and c-suite. So I think it's just about being okay with being yourself and incorporating that into your whole corporate brand.
[bctt tweet="I think the reason Sendoso did stand out in the early days is we got to incorporate so many of our early founders' own personalities. It's about being okay with being yourself and incorporating that into your corporate brand. @sruthikkumar" username="toprank"]
Stay tuned to the TopRank Marketing Blog and subscribe to our YouTube channel and podcast for more Break Free B2B interviews. Here are a few to whet your appetite:
The post Break Free B2B Marketing: Sruthi Kumar on Creating Memorable Experiences appeared first on Online Marketing Blog – TopRank®.
Thank you for reading.
This may be of some interest.
The eighth Democratic primary debate will be held at St. Anselm College in Manchester, New Hampshire.
Okay, so it hasn't been the best week for Democrats. After the debacle in Iowa on Tuesday and the failed impeachment vote on Wednesday, it seems the only thing left to do is continue the march toward November and the 2020 presidential election. That march will resume tonight (Friday, February 7) with the eighth Democratic primary debate—which will be held at St. Anselm College in Manchester, New Hampshire, ahead of that state's primary next Tuesday. Seven candidates have qualified to participate, meaning the stage will be considerably less crowded than it has been at past debates.
Thank you for reading.
This may be of some interest.
Maliha Aqeel, Assistant Director of Brand, Marketing and Communications at Ernst & Young, is known for being a staunch advocate of the three C's that drive brands: content, customer, and culture.
But when Maliha sat down with TopRank Marketing's Joshua Nite for a Break Free B2B interview at Content Marketing World this past fall, she had one "C" at the top of her mind: culture, and its role as a driver for both employee and customer satisfaction. 
"Whether we're working for someone, or we're actively purchasing their products, or just engaging with their brand, it matters to us what others think," she says.
While many employees still see corporate culture as solely a function of HR, Maliha says this is not the case. She believes that all employees have a responsibility to help propagate and model a company's values, both inside and outside the organization.
In particular, Maliha believes that marketers are key in cultivating and communicating corporate culture. "Marketers and communicators within organizations have to take the charge … Our job is to take all of those values and say, 'Here's how it could look. Here's how the intangible becomes tangible,'" she asserts.
[bctt tweet="Marketers and communicators within organizations have to take the charge … Our job is to take all of those values and say, 'Here's how it could look. Here's how the intangible becomes tangible.' @MalihaQ on #CorporateCulture #BreakFreeB2B" username="toprank"]
Learn how to score an A in building your (B)rand's (C)ulture by watching Maliha's interview, which also touches on important topics such as employee journey maps, the purported death of email, and an unlikely upside of social media.
Break Free B2B Interview with Maliha Aqeel
Use the following time markers to skip between topics. We've also included some valuable excerpts from the conversation below. 
00:24

– The three C's that drive your brand

00:39

– Company culture isn't just an HR initiative

01:54

– B2B companies are starting to embrace culture

03:13

– You company must be considered before it can be preferred

04:24

– Who leads the charge towards a cultural change?

05:21

– Identifying the foundational values for your corporate culture

06:25

– Customers prefer to work with companies that share their values

09:40

– The rise of culture in the age of abundance

11:37

– Culture's role in the fight for talent 

13:22

– Marketing's role in influencing culture

14:58

– Email is not dead (but we need to be smarter about how we use it)

16:25

– Segmenting your internal audiences

17:50

– Employee journey maps

19:17

– Building brands by breaking down silos

20:42

– Breaking free in B2B
Josh: Your presentation is on the three C's that drive your B (or your brand), and that's putting the focus on content, customer, and culture. What do you think we're missing in that equation right now?
Maliha: Focus on culture. There's still a misconception that culture is about only HR. But culture is something that's pervasive throughout the organization, and why we choose to work somewhere, why we choose to engage with the brand. 
It's something that we can't always see. It's what I call the intangible because it's aligned to our values. If your values are that you prefer a certain type of lifestyle, and a certain type of philanthropy or social causes, you automatically start to look for brands that align with those values because you believe that there's something is common with them. And that applies in B2B as well, not just B2C. 
I feel like that's something marketers don't always understand because we focus on knowing the customer, making sure our content is what they want, but we miss the values piece, and that's where the gap can occur. 
[bctt tweet="Culture is something that's pervasive throughout the organization, and why we choose to work somewhere, why we choose to engage with the brand. @MalihaQ on #CorporateCulture #BreakFreeB2B" username="toprank"]
Josh: Do you think there are B2B companies that are effectively developing culture?
Maliha: I think they are starting to. I'm not sure that all of them have quite cracked it yet. I certainly do see it at EY … When I joined, what I noticed was, there was a huge emphasis on our purpose, which is building a better working world. And everything that we were doing, we always remind ourselves that we were doing it for that purpose. The fact that the clients that choose to work with us … they believe that it's important for companies to be part of building a better working world. 
Josh: Who leads the charge towards better culture?
Maliha: I think that the charge is really led by the senior leadership. They have to set the tone from the top. The culture comes, in many organizations, it's still top-down, and I think it's going to take time for that to change. Because, just the way organizations are structured, the top-down approach works. So I think they have to set the tone. 
But marketers and communicators within the organizations have to take the charge. And, they have to say, "Okay, we hear you, here's how we think you should do it. And here's how we can visualize that for you in the marketplace." Whether it's visualizing to the campaigns that we run or visualizing it through the internal communications that we work on, our job is to take all of those values and say, "Here's how it could look. Here's how the intangible becomes tangible."
Josh: Where do you think that corporate culture is going in the next five years? What do you think we're going to see with brands?
Maliha: I think we're going to start to see that there's almost an integration of … marketing, HR, communications — there's going to be an integration between them so that you don't have silos, working on different things, in their own little nation. But, rather, it's likely going to be a broader function within a brand. And each of them will be expected to partner and they will be held to account for partnering in the right way. Because no one department owns a brand experience. It's owned by everyone.
Stay tuned to the TopRank Marketing Blog and subscribe to our YouTube channel for more Break Free B2B interviews. Here are a few interviews to whet your appetite:
The post Break Free B2B Series: Maliha Aqeel on How to Ace B2B Company Culture appeared first on Online Marketing Blog – TopRank®.
Thank you for reading.
This may be of some interest.
Amisha Gandhi is the VP of Influencer Marketing & Communications for SAP Ariba & SAP Fieldglass. She is a sought-after speaker, and in this video — fresh off of a workshop presentation at MarketingProfs B2B Forum that absolutely rocked — she shares fascinating ideas about how to make an ongoing B2B influencer content marketing program not only work but drive organizational change and success. With that said, check out the full interview below.
Below are some of our favorite insights from the chat between Amisha and our president and co-founder Susan Misukanis.
Sue: I'll always get calls from B2B marketers who say they want to deploy the Kardashian model for their long-tale, B2B influencer program that is still in its infancy, and I feel like I need to redirect. What are your thoughts on that?
Amisha: I think a lot of people, when they think about influencer marketing, they think it's all celebrity, but in reality, when you're looking at it, they are brand ambassadors. We have brand ambassadors because that really helps with awareness. It gives us a sense of credibility and a voice that everybody knows. Then you can build on technology influencers or software developers, depending on what you're trying to do. You can have a whole soup-to-nuts program.
So maybe you're working with the team that's been a brand ambassadorship and then you're seeing what the message is there and how can you work with other kinds of influencers that are practitioners, executives, or even CEOs. That really speaks to your audience in a more authentic way. But you still have the brand ambassador, you have these influencers, and you may even have some analysts and programmers, bringing it all together.
Sue: Okay, so for someone who's thinking of doing a pilot a B2B pilot, maybe give us the worst-case scenario.
Amisha: Do not just start calling influencers and say, "I'm doing this campaign, do you want to be a part of it?" and be very prescriptive. If you come up with a campaign or there's a big marketing campaign coming out, have a concept and then start talking to influencers because they will help you move your program. If you have a very hard defined program, then people will either want to be in it or not. That's not a good way to make a relationship with an influencer.
You want to invite people to be in your program first and then do some brainstorming with them and see what they like, how they like to interact or what they like to do for companies. Versus being very prescriptive, be a little bit flexible. I think control — that's one of the biggest things that I hear back in people starting out. They are like, "We have this great white-paper, we have this great program, you should come in and amplify it,"  but people aren't looking to amplify your company content. They're looking to help you reach their audience. So you need to work with them to see what's going to be interesting for their audience.
[bctt tweet=""Invite people to be in your program first and then do some brainstorming with them and see what they like, how they like to interact or what they like to do for companies." @AmishaGandhi" username="toprank"]
Sue: How can B2B marketers break free from boring B2B?
Amisha: We know people say, "Oh, B2B is boring." It doesn't have to be boring, but you have to know your audience and what they're looking for. Most of the time, they're really looking for straightforward information because they don't have time. But you do have some capacity to be found on platforms like LinkedIn, Twitter, and other places that serve as community watering holes or trade association sites. People are looking for content there. You can add sizzle by making a very interesting or provocative headline, have a play on words, and things like that, that you don't normally see in B2B.
One thing that I use for inspiration is Taco Bell. Many years back they had this idea of, when the space shuttle comes back in, if it hit a certain spot then everybody in the world would get a free taco. It turned out to be this amazing communications program. It just went everywhere — it was viral. I always think about what can we do to make things viral in a B2B world. Sometimes we end up with outrageous ideas we don't ever use or could never use, but it can inspire something real to happen. It informs creative and fun ways to reach people and touch people in a different way than you would normally think of in B2B. Plus, it can be a real success.
The entire interview is full of B2B-boundary-defying insights. Check out the full video above.
The post Break Free B2B Series: Amisha Gandhi on Global B2B Influencer Marketing appeared first on Online Marketing Blog – TopRank®.
Thank you for reading.
Traffic is something that every marketer wants more of. Whether you have a corporate site or a wordpress blog, a landing page or a funnel, you want more traffic and you want it as cheap as possible.
How about getting it for free?
Yes that is what a new product called Traffic Zion claims to get you – 100% Free Traffic.
What is TrafficZion?
This is a groundbreaking software, battle-tested for over a year, so that virtually anyone can start getting consistent free traffic on complete autopilot to their affiliate offers, products, services etc. I'm not a fan of supporting any kind of "push button" system, but I'm telling you right now…this is as close as you'll ever get!
Who is TrafficZion for?
TrafficZion is very simple to use, so from that point of view, it is newbie-friendly. However, it assumes you've already started an online business of some sort (or at least know which type of online business you want to get into, and you have a plan). From that point of view, it is aimed at slightly above newbie-level and beyond. Basically, anyone who needs traffic coming in to their products, services or affiliate offers, but find paid traffic extremely expensive, can benefit from TrafficZion:
Affiliate marketers
Online product owners
Email marketers
Offline businesses
Social media marketers
Local marketers
SEE THIS DEMO VIDEO and see the software in action…
3 Things I Love About TrafficZion:
I like that the guys behind this software have really done their homework, and have tested this software like crazy before releasing it, with beta tester experiencing results almost immediately after turning on the software. Some of these beta tester have been using this software for over one year, so the creators are really making sure that this isn't some 'fly by night' software that works today, but is defunct just a few short weeks later.
The software dashboard is one of the easiest, newbie-friendly ones I've ever seen. I'm not the most technical person, and some dashboards have left me feeling like I'm operating a space shuttle! TrafficZion is fantastic because it's so simple – just search for your niche by using your tags and keywords, press start, and watch traffic start hitting your sites, products and offers.
The traffic is completely free from an untapped reputable source, which makes it ideal for new affiliate marketers and online marketers who have little or no budget.
What will I get inside TrafficZion?
You get the full, intuitive TrafficZion software platform, which includes:
One click install onto any WordPress site
Choose tags and keywords to target your perfect niche (this is important as many free traffic sources are untargeted and therefore useless). This function allows you to only get traffic from people who would be interested in your specific offers and products
Autopilot function which eliminates user management. This is a comprehensive system that can auto-generates a steady stream of traffic, without your involvement, after initial set up.
Any drawbacks to TrafficZion?
The main drawback is that this is not newbie friendly. It is, however, beginner friendly. Let me explain! A newbie is someone who is looking into making money online, maybe has an idea of which business model to follow, but needs a 'start from scratch' course showing them what to do. TrafficZion does not do this. It assumes that you're either already in business, or are about to start an online business, and you need what all online businesses need – targeted traffic. However, TrafficZion is beginner friendly in that, even if you're not normally a fan of software because you find them complicated, you'll be able to install and set up TrafficZion with no issues
Do I get any bonuses with TrafficZion?
Yes, you get 3 bonuses:
Bonus Library – get hundreds of products to download and offer as bonuses in your promotions – perfect for affiliate marketers
Link Supercharger Software – a powerful solution to generate more traffic, brand your domains & maximize your commissions
WordPress SEO – everything you need to start getting massive traffic to your WordPress website
Final thoughts on TrafficZion:
It doesn't matter what offers or services you're promoting… if you aren't seeing the results you want, chances are, you're not getting enough targeted traffic to your offers. And lack of targeted traffic is the number one reason why businesses fail. Right now, at least 9 out 10 marketers are struggling to get traffic these days. But now, with TrafficZion, there is plenty of room for all of us to generate autopilot, super-targeted traffic back to our websites, blogs and offers… which translates into profits!
==>> DOWNLOAD TRAFFICZION NOW & GET STARTED
There is a new free course under the free course tag.
This one is called Accelerated Online Businesses and it is huge.
This is set up to release a new audio or video every day and there are at least 25 audios so this will release a new one for at least 25 days so keep coming back and complete the entire series.
You will need to sign up for membership.