every
This may be of some interest.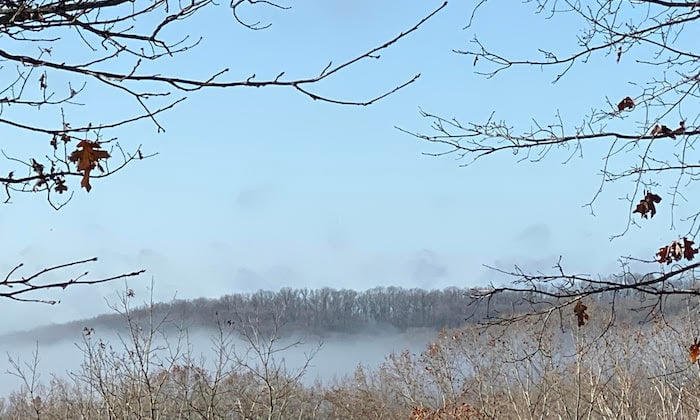 Marketers tend to be very reactive.
And it makes sense because every time a search engine or a social network changes their algorithm, we jump as marketers.
We are conditioned to be very reactive. Whether it's your boss who is pissed that your traffic dips or even yourself… everyone hates when sales and income drop because of something you can't fully control.
And even when you try to be proactive, you are probably planning ahead from a 3-month period to a year max.
But that's not how you win. You win by making bold bets that take time and can't be done in a few months or a year… you win by doing what your competition isn't willing to do.
So how do you come up with these bold bets?
You unplug!
Here's how I come up with my ideas
Once a year I try to unplug. Just like right now… as I am writing this, I don't have cell reception and there is no WiFi.
I'm on a ranch in the middle of nowhere.
No matter where I look, there are no neighbors. All you have is nature in its rawest form. Just look at how the lightning kept going on for hours.
By unplugging and just being one with nature, you truly realize what's important.
See, we all have problems and issues… especially in business. But how bad are your problems? Do they even matter in the grand scheme of things?
Look, I'll be honest with you. I am not a big nature person… I'm actually quite the opposite.
I live in a modern, cold feeling house in a heavily congested city. I'm so OCD that I have a full-time cleaner come just because I'm afraid of getting dirty (seriously).
Heck, I won't even go through airport security without having booties in my briefcase, just in the rare chance they make me take off my shoes. There is no way I can have my socks touch that dirty ground.
Yes, I am crazy when it comes to cleanliness and hygiene.
But even me, I go to places that are full of nature and wild animals… or in this case… cows, bears, deer, snakes, mountain lions, and more. Being there really helps put things into perspective.
Because when you aren't surrounded by noise caused by us humans, it allows you to clearly focus and think about what's important.
For me, spending 3 days a year usually does the trick.
It allows me to forget about the bullshit we all have to deal with on a daily basis and come up with ideas about what I need to do over the next 5 (or even 10) years to win.
I know that sounds like a really long time… and it is. But again, to win you need to think long term and make bold bets that your competition wouldn't dare to copy.
Just look at what I did with Ubersuggest.
I came up with that idea a few years ago by disconnecting (just like I described above).
Companies like Moz would constantly post their revenue stats and their competitors decided to also talk about their financials. So while being disconnected, I came up with an idea on how I could win and the first step was acquiring a tool like Ubersuggest.
And since then I've executed a few of the steps in my plan, but I still have a long way to go.
Nonetheless, those steps have paid off. Just look at my traffic numbers.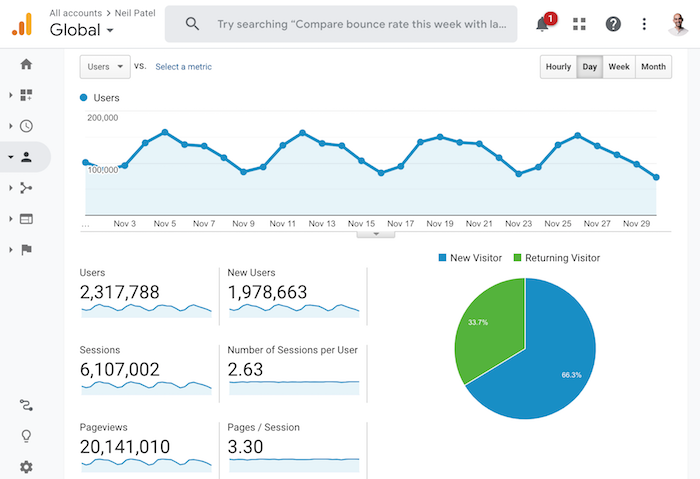 So what I am going to do over the next 5 to 10 years?
I am going to turn SEO on its head again.
It hit me on this trip that we all have to go to sites like Ubersuggest, SEMrush, Ahrefs, or even Moz to get data.
But why is that?
It's not natural in our workflow. Wouldn't it just be easier to see this data as you browse the web?
When you search Google for any query you can use browser extensions like Keywords Everywhere to get some data or SEOquake or the Mozbar… but what you can't get is that Ahrefs or SEMrush experience when you are just on a Google Search results page.
What will that look like? I have no clue yet, but I will figure that out over time.
Will that kill the traffic I generate to Ubersuggest over time?
Yes!!!!!!
But that is what needs to be done. I obsess about providing an amazing experience to my audience, even if that will kill off my existing business.
And no, that won't take 5 years to do… I will probably do it over the next 6 months. I will first roll out a basic plugin like Keywords Everywhere and, eventually, I will add the functionally so you can get that type of Ubersuggest or Ahrefs experience right on Google or on your competitor's site.
What will happen over the next 5 years though, is that I will be able to build something that gets you more traffic. Just like a light switch. Something that simple.
Why can't we automate most of our marketing tasks? Why does SEO have to be manual when I can add a piece of JavaScript to a website and automate most of it? Why do I have to send out a blog post every time I release a new post or a push notification?
It should all be automated.
And no, I don't mean in a templatized way. I manually send out emails every time I write a blog post because I know I can write custom copy that generates a 30% open rate and a high click rate.

But again, it should all be automated. And not just for English based sites, it should be done on a global level and work for every site in any language or country.
So how can you figure out what to focus on?
You may not be able to disconnect like me and spend the money that it costs to go to a ranch in the middle of nowhere.
And that's fine… you don't have to.
When I first started off, I didn't have the resources or money, and I did just fine within my constraints.
For example, roughly 5 years ago I came up with the concept that I needed to go after global markets and compared to any of my competitors in the digital marketing realm, I've crushed all of them when it comes to global marketing.
Most of my competitors just translated their site or translated some of their content. Me on the other hand, I have 7 offices and teams in 18 different countries. And I'll continue to expand so I can keep beating my competition when it comes to grabbing international attention.
But that idea didn't come to me when I was in nature, being disconnected.
At that time, I was in my condo in the middle of Seattle and I disconnected my Internet for a few days.
Before I disconnected my Internet, I went and got food so I didn't have to leave my house, and then I turned off all my gadgets… from my TV to phone and anything that was a distraction.
It worked well because now only 18.89% of my traffic is from the United States compared to 57% before I started to expand globally.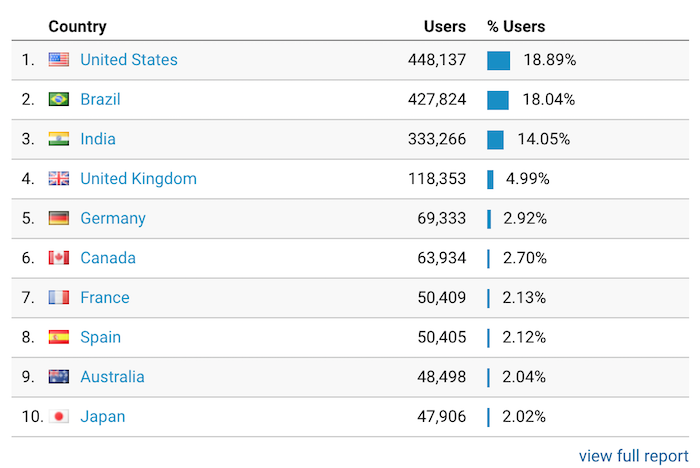 In other words, you can disconnect no matter where you are. You just literally have to disconnect your router, turn off your phone, and unplug your TV… it really is that simple.
If you do that for a few days, you'll start realizing what is important and what isn't. You'll be able to strategize and start thinking more long term.
Conclusion
The key to winning long term isn't by being reactive every time there is an algorithm update or even proactive and preparing for each algorithm update.
Because some of those things are simply out of your control.
Instead, you need to think long term and how you can disrupt your market to make a long-term bet that your competition isn't willing to make.
Nike wasn't built by SEO.
Airbnb wasn't built through paid advertising.
American Express wasn't built through social media marketing.
Tesla wasn't built through content marketing.
Doing something disruptive or better than the competition is how you win.
Ubersuggest gets 1,668,233 visitors and 9,136,512 page views a month from people just coming directly. Not through SEO, marketing, or anything like that… I just focus on the future instead of being reactive.
That's how I win.
Now, the real question is, how are you going to win?
The post The One Thing Every Marketer Should Do appeared first on Neil Patel.
Thank you for reading.
This may be of some interest.
Posted by rachelgooodmanmoore
Reporting is central to our jobs as SEOs and helps us to communicate the value of our work to stakeholders and clients alike. Without good reporting, it can be a challenge to illustrate our success in search. We know how important it is — but it can also be painful and clunky.
Am I the only one who moderately dreads what we might call "reporting season?" The timing of that season might vary — based on who you work for, what a reporting cycle looks like, and other factors — but ultimately it's the time of year when we have to get our ducks in a row and report to our stakeholders: not only on the SEO progress that we've made, but what that progress equates to in terms of real-world implications.
For me, one of the biggest time-black-holes when building reports is the fact that I'm reaching to collect data from disparate sources to paint a full picture of my SEO work. I find myself grabbing screenshots from various tools, pulling them into a template that I've built, and wishing I had a streamlined process for it all … then, repeating the exact same data-wild-goose-chase-and-template-building-acrobatics for each site I track. Ugh.
A solution (which I admit I'm a totally biased fan of) has launched in Moz Pro this week. Within a Campaign's custom reports, we've introduced nine custom report templates to help you report on what matters to your stakeholders. Just select a template and dive into the insights.
These templates are rooted in workflows that are popular within the Moz Pro app. Our team also conducted tons of customer interviews to identify what kinds of templates we needed to build. While you can edit templates to suit your individual needs, they come pre-loaded with descriptive insights and data that stands on its own to tell a story. If you have a Medium-level plan or higher, you've already got instant access to these templates.
Get started with your templates
Use one of Moz's new report templates to pull together the data you need—depending on exactly what your reader needs to know. Choose from one of our nine most popular templates to tell your SEO story. Here's what we've got:
1. Competitive Analysis Overview Report
The Competitive Analysis Overview Report provides a brief overview of how your site compares to your competitors. It highlights competitive metrics like search visibility and compares your site's featured snippets, link profiles, and tracked keywords to your competitors. As an overview report, it will help quickly show stakeholders how your site compares to your competitors.
2. Full Competitive Analysis Report
The Full Competitive Analysis Report gives a complete and thorough view of how your site stacks up against the competition. More in-depth and detailed than the aforementioned overview report, this one is perfect for stakeholders who want to know all the details about your SEO competition. It highlights competitive metrics, as well as in-depth comparisons across links, keyword performance, Domain Authority, and more.
3. Campaign Overview Report
The Campaign Overview Report is perfect to provide to any team members or clients who want exactly that—an overview of your site's Campaign. The report includes a view of your Campaign dashboard, Search Visibility, and a look at site health, link data, and traffic.
4. Link Analysis Report
The Link Analysis Report is ideal to pass along to any stakeholder who is particularly interested in link data. It provides an in-depth look at your own site's links, as well as how your site stacks up against its competitors when it comes to link profiles. This report includes many important link metrics, including discovered & lost links, linking domains, anchor text, Domain Authority, and more.
5. Rankings Analysis Report
The Rankings Analysis Report will be great for anyone who is curious about your site's ranking performance, especially when it comes to top keywords. The report highlights a high-level overview of keyword performance, and then digs in to best- and worst-performing keywords, Search Visibility, traffic, and keyword opportunities.
6. Ranking Opportunities Report
The Ranking Opportunities Report is ideal for the stakeholder in your life who wants to know what the next steps might be for your keyword strategy. This report identifies some of the top keyword opportunities pulled in from Keyword Explorer and your Campaign, based on your site's current performance. By highlighting keywords your site is already ranking for that you aren't tracking, and opportunities to rank for new keywords, this is an easy report to pass along for consideration around future keyword strategy.
7. Full Site Audit Report
The Full Site Audit Report provides a very thorough, in-depth look at your site's health. This report is ideal for any stakeholder or client who wants to know precisely how the site is doing and what outstanding work still needs to be done. Based on your site crawl in Moz Pro, this highlights actionable insights such as new and critical issues, crawler warnings, redirect issues, and metadata/content issues.
8. Quick Site Audit Report
The Quick Site Audit Report is a briefer version of the aforementioned Full Site Audit Report. This report is easily digestible for any stakeholders who just want a high-level view of your site's health and link profile. It highlights top-level crawl metrics, new site crawl issues, and quick link metrics.
9. Search Visibility Report
The Search Visibility Report is ideal for a client or boss who just wants to know the answer to the age-old question: "How visible is my site?" This report provides a quick overview of your Moz Campaign before diving into trending search visibility and a comparison against competitors. Provide a clear answer to the question of how visible your site is with this concise report.
Try custom report templates now!
Feeling ready to jump into year-end reporting? We're looking forward to your feedback. How do the new templates fit into your reporting workflows? Got other ideas on how we can continue to improve your reporting? Please feel free to share in the comments!
Sign up for The Moz Top 10, a semimonthly mailer updating you on the top ten hottest pieces of SEO news, tips, and rad links uncovered by the Moz team. Think of it as your exclusive digest of stuff you don't have time to hunt down but want to read!
Thank you for reading.