content
This may be of some interest.
As a Boston-based young professional, the biggest product I've had to invest in was an over-priced apartment.
And this year, with apartment tours going fully virtual, I've found it even harder to do the extreme research needed before committing to a lease. Now, as I research apartment after apartment online, my new process feels like an intense buyer's journey.
In my research phase, I spend hours on end scouting listings, looking up addresses on Google Maps, researching neighborhoods, skimming through Yelp reviews of prospective property managers, and analyzing photos or video tours for potential problems that an unseen apartment could have.
Ultimately, I've found that the apartment listings I'm most drawn to have links to video tours filmed by current tenants.
When I've watched tours filmed by tenants, they'll explain what they like about their apartment, note major pros and cons, and give tiny — but authentic — details that the average salesperson might not offer. For example, in one video, a tenant honestly revealed one pro and one con about a bathroom by saying, "The bathtub has a great jacuzzi, which makes up for the lower water pressure."
After viewing a pleasant and seemingly trustworthy virtual tour, I feel like I've gotten an in-depth and authentic look at the product, as well as thoughts from a previous customer who is an expert on the product. Additionally, because the tenant often voluntarily offers their time to host the create video or virtual tour, I also get the sense that they are willing to help a trusted landlord find a new tenant.
Ultimately, I'm more likely to respond to an apartment listing with a great tenant-generated virtual tour than a listing with over-produced images or videos edited by an outsider.
When it comes to smaller purchases, I feel the same way about promotional content created by customers. This content shows me what the product is like in real life and proves that customers are delighted enough about their experience to promote a trusted brand.
And, I'm not the only consumer (or marketer) who thinks this. An estimated 90% of consumers say user-generated content (UGC) holds more influence over their buying decisions than promotional emails and even search engine results.
Below, I'll highlight more stats, facts, and figures that demonstrate the benefits of user-generated content.
23 User-Generated Content Stats to Know in 2020
Benefits of User-Generated Content
UGC Tactics
Brand Authenticity
UGC Audiences
Defining a User-Generated Content Strategy
As you can see from the stats above, user-generated content not only saves you production time, but it can also make your brand more authentic and trusted.
If the data above has persuaded you to implement UGC in your marketing strategy, here are a few next steps you can consider:
To learn more about how to leverage user-generated content in your marketing, click here.
Thank you for reading.
This may be of some interest.
Twitter now lets you schedule tweets from its web app
Marketers looking for alternatives to how they schedule tweets now have the option to do so directly within Twitter itself. Twitter's rollout of what had been solely a test feature that began in November also includes the ability to save draft tweets, the firm has announced. The Verge
Would People Rather Watch an Ad or Share Their Email Address?
U.S. consumers prefer watching an ad over offering up their email address, with nearly 75 percent saying that they would choose a 30 second ad in exchange for free content, while only 25.4 percent said that they would rather disclose their email information, according to newly-released report data. MarketingProfs
TikTok sees 10x surge in April with in-app revenue of $78M
With a tenfold increase in April in-app revenue hitting the $78 million mark, video-sharing social networking platform TikTok overtook YouTube for non-game app spending for the month, according to recently-released research data. Mobile Marketer
Email Flies: Engagement Rises By 200% During COVID-19 Pandemic
Email marketing has met increasingly-engaged audiences during the pandemic, with engagement rates up some 200 percent according to new report data. The study also found that Google Ads and paid social climbed by some 52 percent, while paid search has seen a drop of 44 percent. MediaPost
Record digital ad revenue preceded slowest quarter in a decade, IAB finds
A record $125 billion U.S. digital ad revenue during 2019 was followed by the slowest quarter in 10 years, according to recently-released study data from the Interactive Advertising Bureau (IAB). Mobile ad spending now accounts for 70 percent of all digital ad spend, the report also notes. Marketing Dive
YouTube's new Chapters feature lets you jump to a specific section of a video
Digital marketers have a new tool for YouTube video content, as the Google-owned firm has rolled out YouTube Chapters — an optional smart indexing feature that splits videos into parts to make finding certain information within a video easier. CNET
Instagram is Testing a Double-Story Stories Feed with Some Users
Facebook-owned Instagram's popular Stories feature has been expanded to show twice the number of Stories at once, as part of a test that also included new methods for switching between Stories, the firm recently announced. Social Media Today
Consumers want social ads to show return to normalcy, study says
More consumers want brands to place greater focus on helping foster a return towards normalcy than how to stay safe during the pandemic, especially among those in the U.S., according to recently-released global survey data. Mobile Marketer
Facebook Adds Option to Send Marketing Emails via Pages App
Facebook has been testing a new feature that lets marketers keep a contact database in Facebook and create email campaigns to be sent directly from the platform, including the ability to upload email lists via spreadsheets, the social media giant has announced. Social Media Today
Does Your B2B Content Target an Active Audience?
Tuesdays and Wednesdays at 10:00 a.m. and noon are the top B2B content consumption days and times among executive corporate level B2B buyers, according to recently-release survey data from NetLine. MarketingCharts
ON THE LIGHTER SIDE:
A lighthearted look at "brands on TikTok" by Marketoonist Tom Fishburne — Marketoonist
Reconstructing a lost NES game from 30-year-old source code disks — Game History
TOPRANK MARKETING & CLIENTS IN THE NEWS:
Have you come across your own top B2B content marketing or digital advertising stories from the past week of news? Please let us know in the comments below.
Thanks for taking the time to join us, and we hope you'll return again next Friday for more of the most relevant B2B and digital marketing industry news. In the meantime, you can follow us at @toprank on Twitter for even more timely daily news. Also, don't miss the full video summary on our TopRank Marketing TV YouTube Channel.
Thank you for reading.
This may be of some interest.
Posted by HeatherPhysioc
As an industry, we talk a good game about collaboration, but the truth is it's not really happening the way we tell our clients and bosses it happens. We stroll into new business pitches and make big claims about how "integrated" we are. We preach that our recommendations are better because we have a more "holistic" offering. But whether it's across agencies working on the same client, different teams working within the same agency, or different teams in-house on the client side, collaboration is much harder to achieve in reality than we make it look on the outside.
More often than not, experts get sucked into their respective silos, buried by the day-to-day task lists of their jobs, focusing on their own areas of expertise. Agencies write SEO scopes and PPC scopes separately, often without accounting for content resource needs to make the channels successful. Teams bring recommendations forward to their bosses that don't have buy-in from their peers. We don't bring each other in, but we complain about not being brought in.
Learnings from multiple mergers
My company has gone through many mergers and acquisitions over the years, and just in the last three, we've merged with three other agencies in our network. We doubled in size and tripled our global footprint overnight. With those mergers came tons of complementary skill sets and client lists we could do great work for.
Through the mergers, we had a unique opportunity presented to us to solve persistent collaboration and content problems by bringing the organic search, paid search, and performance content teams together under one unified group. Now our "Discoverability" group is nearly 35 people in four offices across North America.
With all this change and merging of teams, we had some hard choices to make and hard work to do to make this integration of different capabilities and cultures successful.
Introducing interdisciplinarity
I want to introduce you to the concept of interdisciplinarity.
It's an academic term describing when two or more areas of expertise join forces to solve new kinds of problems together. It's when they combine and bust traditional silos to solve shared challenges, benefiting from integrating and updating their individual approaches into a new, holistic approach. Interdisciplinarity helps with the negative effects of siloing and over-specialization.
In the rapidly evolving and increasingly commoditized field of search, we need to be talking about this.
Interdisciplinarity is common in well-known technical and scientific fields like neuroscience, biochemistry, and cybernetics. There is new ground to be forged in our industry.
There is a key difference between complementarity and interdisciplinarity. Just about anyone can go online and learn SEO or PPC. Plenty of companies do "complementary" search work — sitting next to one another and at least not harming each other's work.
But few do truly interdisciplinary work — offering new, evolved capabilities in search. In the next five years, interdisciplinarity will be the difference between search teams with a competitive edge, and search teams that stagnate.
True interdisciplinarity is when the sum of the whole is greater than its parts. It's the Gestalt benefit of bringing distinct specialties together to create a completely custom solution for a problem. People with relevant expertise bring unique knowledge and experiences for a more cohesive, end-to-end offering that is bespoke for each need. But the work is repeatable and refinable as similar problems arise.
This concept has been a driving force guiding our way through merging teams to create something new. And now we consult with clients in complex organizations to help them achieve interdisciplinarity, too. This is more than enhancing our implementation of tactical SEO and PPC. This is about helping companies evolve how they think about and deliver on the promise of search.
Why bother with integration?
As a search professional, you have probably been perfectly smart and successful independently, so why go to the trouble of moving away from separate swim lanes to one cohesive, unified practice? And equally important, how?
Increase advocacy
The majority of our growth typically comes from better serving and expanding existing relationships, not winning big chunks of new business. You go from a select few team members on different teams advocating for their own work, to a combined force of all the team members advocating for all of each other's work.
Cross-sell and up-sell more
An integrated search team finds it easier to cross-sell and up-sell when clients get stuck on related services. Merging our teams helps us shift budget seamlessly between practices based on demand, pilot other services to our clients, and show our chops and prove outcomes we can earn. We can also talk to our clients about capturing every opportunity possible on whole search engine results pages, instead of thinking of SERPs in chunks.
Increased speed and scale
Having an integrated team with areas of overlap allows leaders to better distribute labor across the team. For example, our performance content team now writes SEO metas and PPC ad copy. Our paid and organic search teams are conducting keyword research and competitive analysis together, reducing duplication of effort. We're dividing and conquering to cover more research ground more quickly, share learnings from our own areas of expertise, delivering a stronger product, and speeding it up by weeks.
Create a culture of knowledge-sharing
Data-sharing becomes second-nature to an integrated search and content team. It helps you to find opportunities you wouldn't have spotted before. A deeper and wider pool of knowledge builds a deeper and smarter search talent bench. This creates a culture of crowd-sourcing and sharing where no one feels the pressure to know everything. We solve digital marketing problems faster by pooling our knowledge.
Reduce cannibalism and competition
When individual teams have individual objectives, it runs the risk of being "every team for themselves." But ultimately, everyone in the company or at the agency is held to a set of central, core objectives. A unified team can help search and content practitioners stop worrying about whose budgets and whose targets, and instead focus on what's best for the business. It allows you to steer resources to where the greatest impact will be felt. It doesn't matter so much which channels deliver — as long as we deliver.
Increase trust in recommendations
Recommendations have more weight and credibility together when they're vetted from multiple experts. Experts should talk about joint opportunities, discuss how channels perform together and separately, and balance paid and organic recommendations. A more thoughtful, utilitarian approach is more easily defensible to a client. Demonstrating more bang for their marketing bucks makes it easier for them to say yes and invest.
Identify new capabilities
When you integrate different specialties, you are likely to develop new capabilities at the intersections between those practices. This enables you to build and launch new, unified services that increase the value we can add for clients. In our case, this led to an end-to-end digital shelf optimization offering and enhanced landing page development.
Create competitive advantage
True interdisciplinarity is difficult to accomplish, so it's hard for competitors to replicate. Competitive advantage happens when you put in the legwork that competitors can't, don't, or won't. Mastering integrated services can give you unique points of distinction that competitors don't have, and you become increasingly indispensable to your clients and your company.
Risks and roadblocks to integration
There will be no shortage of risks, roadblocks, and obstacles to integrating teams. Following are some of the growing pains you can anticipate as a driver of change.
Moving from theory to reality
We deceive ourselves into thinking we collaborate well for so long that it's easy to become complacent and fail to see how things could be better. We have to make the case for the benefits of working together to our colleagues and counterparts. As a group, we have to agree on the importance of collaborating on projects and proving joint outcomes with meaningful case studies. It's a massive cultural shift to change from individual athletes on three different teams to a single, all-star, world champion team. It doesn't happen overnight.
Risk of becoming less agile
Counterintuitively, the larger the team, the harder it is to collaborate. This is especially true when the team does several different things. Integration runs the risk of making your group too big to move quickly. It's easy to fall into the trap of trying to force adoption of one team or the other's way of doing things, or to collaborate constantly on everything. But we quickly learned that design-by-committee doesn't work and we can't force it. Group identity doesn't negate the need for autonomy. In fact, interdisciplinary teams fail without being able to maintain their identity and autonomy, and being empowered to make decisions that are right for their team and clients. Now we keep the connective tissue that bonds us as a group, but allow for "slicing and dicing" into smaller teams to serve any need and combat the problem of getting too big to stay nimble.
Negotiating roles and defending turf
When integrating teams, conflicts are inevitable, whether it's perceived competition for diminishing budgets, or vying for the final say on a course of action. With teams of very smart people in different areas there is bound to be some negotiating of roles, maybe even turf-defending. But through integration, we're all sharing the same turf. It takes extra effort to give the benefit of the doubt, assume good intent, and get on the same page. It's an exercise in humility to give everyone's expertise equal weight, and actively seek perspective instead of it being an accidental afterthought. You have to create a culture where everyone wins when one of us wins.
Merging processes creates complexity in the short-term
Merging processes that worked reasonably well before is a common challenge. Each team had its own comfortable way of doing things, so they might be resistant and slow to change. You may encounter conflicting expertise and opinions. It's important to understand each team's processes thoroughly before ripping them apart and sewing them back together — take the time to learn why things are the way they are.
Change fatigue
A constant barrage of non-stop change makes it hard for evolution to stick. It's too much for people to absorb and adopt. It causes them to burn out and lose interest because it feels like there's no light at the end of the tunnel. Companies that have a culture of ongoing testing, learning and optimization and where change is always expected for growth tend to fare well in the face of change, but everyone has their limits.
12 tips for integration success
Now that you are going into the process of integrating other teams informed on the risks and rewards, here are tactical tips to get it right.
1. Announce change quickly
Search team leaders should move quickly to announce the change and inform their teams. Make it clear what you're doing and why, make the case for the benefits, and be honest about the challenges to get buy-in. Get the teams involved in the mission as soon as possible. Set the expectation that we sink or swim together. The most successful people in the face of change are those who don't waste time obstructing the inevitable, but instead roll up their sleeves and look for ways to help.
2. Introduce and immerse immediately
Once announced, quickly take action to bring the teams together and activate. Get search and content practitioners in the room face-to-face as early and often as possible, and start a dialogue about a common mission and vision. Work together to brainstorm ideas on how to move forward. Our integration sessions included introductions and ice-breakers, overarching sessions about the department and teams, capability and case study sharing, and team-building exercises. Once you have established the new team or process, reintroduce the team to the organization to put faces with names, and educate others on what the new group is capable of and responsible for.
Get a sample agenda for an integration workshop here.
3. Implement change jointly and steadily
Announce and immerse quickly, but slow down to speed up when beginning to implement the changes. Don't try to boil the ocean — focus on one-percent changes, one change at a time at natural points of intersection. Give ownership of different initiatives to people from each side to make sure you're considering all the angles, which helps with buy-in across the group. Charge everyone with making it successful.
Also, try to make early changes iteratively and at natural points of friction at first, so change actually feels like a relief. For example, every SEO can relate to being left out of the content process, where keyword research is an afterthought (if it happens at all). One simple change is adding keywords and questions to a new content brief prior to creating content. This will make both writers' and SEOs' jobs easier. As a bonus, small wins can build momentum and endurance for more change.
4. No process is precious
Process is supposed to be a flexible framework, not a rigid set of rules that stifles innovation. Commit to establishing clear processes that incorporate key search and content stakeholders, and bring those voices to the table to collaborate in creating and refining workflows. Create a living wiki to document recurring processes, which reinforces the message of steady evolution. Update and reorganize them regularly — everyone on the team should have access and trust to refine them. Finally, check in periodically on what isn't working and discard what doesn't serve you.
5. Cross-train to build advocacy
Conduct cross-trainings both in immersion and continuously over time. The intent is not to be able to do each other's jobs, but rather to be able to speak about them, advocate for them and cross-sell them. We've done workshops, hands-on training, and even short-term job swaps like having SEOs write e-commerce product detail pages. It creates empathy and builds trust, and makes it easier to advocate for each other's work. It helps create mental checks, too, for search experts to ask, "Am I including the right people?" or content writers to ask, "Can someone else add value here?" Make it a habit for your group by course-correcting people when they forget, and validating and rewarding when they get it right.
6. Productize service offerings
As your search and content (or other integrated) team develops all-new joint services and processes, appoint small, cross-team committees to productize those offerings. They should clearly articulate the service, define the value, identify inputs and outputs, and ballpark costs and timing. These should be simple packages that can be "pulled off the shelf" when a relevant opportunity arises. For our team, these included things like search-driven content insights to support big burst campaigns, an end-to-end e-commerce discoverability process, and a meticulous approach to website rebuilds and redesigns.
7. Recommend and report together
Integrated search and content teams should be recommending and reporting together. It sounds obvious, but it's rarely done well. Too often, experts regurgitate data in a silo and then smash some slideware together. Instead, compile and discuss your data together to identify the story the information tells, and how clients and marketers can make decisions across channels to best optimize. Search and content practitioners should be working together to roadmap and prioritize where to focus for the biggest opportunities, rather than one channel dictating to the other or operating on independent tracks.
8. Monthly account strategy sessions
It's easy to retire to our individual corners and get stuck in the status quo, where search and content teams don't talk to each other. These account strategy sessions are bigger than a task list — they are a time to collaborate, share what's happening, and talk about the future. Discuss how the brand is performing in each channel, problems the search and content experts are solving, opportunities we see, big risks or threats, and potential joint efforts, tests, or case studies. This simple meet-up model can benefit any group you're trying to collaborate with. Establish recurring round tables between search and other departments or global regions.
Get a sample account strategy discussion guide here.
9. Build a networked team
As your teams grow in size, geography, and complexity, a "networked team" model might make sense. A networked team has central sources of truth and process (we document ours on Confluence in living wikis), but the operations and execution are decentralized. In this model you have common standards and best practices that all practitioners can draw from, but a networked team can shapeshift and adjust to deliver the work however necessary. It's a balance of centralized control and local team empowerment.
10. Create a culture of feedback
When merging search and content teams, coaching and direct, immediate feedback greatly speeds integration. Make transparency and accountability a part of your group's culture. This means providing feedback to each other and feedback to you. It means peer reviewing each other's search and content work. It means scrutinizing your shared processes and ways of working. It makes the discoverability work stronger and reduces the margin for error. Creating a culture of feedback depersonalizes the feedback and makes it about the quality of the work.
11. Market collaborative successes
Marketing success can be a major driver of integration across discoverability teams. You should always look for wins (or warnings) to create case studies that demonstrate how your team is most effective together. Find meaningful wins that cross teams, and make sure your team, clients, bosses, and colleagues hear these stories. It increases buy-in, understanding, and engagement with your newly integrated group.
12. Stay close to collaborate
Who you "sit with" matters — even in a world where a majority of us are now working from home. Connect your search and content experts as much as possible. Make it easy to strike up a conversation about things they're working on, and turn around their chairs (or turn on their video chat) and ask questions of each other. While rearranging the floorplan at the office isn't in the cards for everyone, or if people in different cities or companies are collaborating, look for every possible opportunity for human connection. That means video chat, traveling for in-person meetings, desk drive-bys, spending part of your day parked with colleagues in their part of the office, real-time instant messaging, or phone calls. Do whatever it takes to be present and engaged with people in other disciplines as much as possible.
Integration is the future of search and content
To quote my colleague, Britt Hankins, "As individual teams, we're experts. As an integrated practice, we're a powerhouse."
Creating whole, end-to-end services that have greater impact together than separately makes us more indispensable to clients who can't imagine going back to the disjointed world of silos. Combining and evolving our search and content capabilities into one discoverability group helps us stand out from the competition.
The cultural shift can be huge, but worth it. It's an iterative process with plenty of growing pains along the way. Even if it doesn't make sense to reorganize or merge teams, it does make sense to break down barriers between other disciplines. These steps can help integrate search with any other department. It could be as simple as creating a competency circle around a certain type of work or client that transcends your org chart.
As time goes on, new things are created, the group and its processes mature, and the lines between them start to blur. When your new culture is established, hire and promote for the traits to sustain it, like communication, collaboration, accountability, transparency, and empathy.
There will always be bumps along the way as you integrate search with other practices like content, technology, analytics, or user experience. It can be frustrating and time-consuming up front. People won't always agree and conflicts will happen.
But as a leader of discoverability in your organization, you can create a culture of openness, vulnerability, and feedback. You can create the expectation of iteration, evolution, and change. You can push through obstacles together and forge something entirely new.
Remember that competitive advantage comes from doing the work your competitors can't, don't, or won't. Because if it were easy, everyone would do it.
Sign up for The Moz Top 10, a semimonthly mailer updating you on the top ten hottest pieces of SEO news, tips, and rad links uncovered by the Moz team. Think of it as your exclusive digest of stuff you don't have time to hunt down but want to read!
Thank you for reading.
This may be of some interest.
Posted by rjonesx.
We've all been there. You're the SEO on point for a project, and you're also the one tasked with getting great content written well and quickly. And if you don't have an expert at your disposal, great content can seem out of reach.
It doesn't have to be. In today's Whiteboard Friday, Russ Jones arms you with the tools and processes to expand your content from prompt to paragraph to published piece.
Click on the whiteboard image above to open a high resolution version in a new tab!
Video Transcription
Hey, folks, great to be back here with you on Whiteboard Friday. Today we're going to be talking about content expansion. It's a term you probably haven't heard before because I just made it up. So hopefully, it will be useful in the future for you. But I think you'll get the gist of exactly what we're trying to accomplish here.
How do SEOs produce great content when they're not subject matter experts?
You see, search engine optimizers have this really bizarre responsibility. We are often asked by our clients to produce content about things we have no business writing about. As a search engine optimizer, we know exactly the kinds of things that make content good for Google, but that doesn't mean we have any domain knowledge about whatever it is our customer does.
Maybe your customer is an artist of some sort or your customer runs a restaurant. You might not know anything about it, but you still might have a deadline to hit in order to get good content that talks in depth about some sort of topic which really isn't in your wheelhouse. Today I'm going to talk about a couple of tricks that you can use in order to go from a prompt to a couple of paragraphs and then ultimately to a published page, to a good piece of content.
Caveat: If an expert can create the content, they should
Now I want to step back for a second and just make one thing clear. This is not the preferred way to produce content. If you can have an expert produce the content, by all means have the expert produce the content, and then you go to work optimizing that content to make it the best it possibly can be. That's the way it ought to be done whenever possible.
But we know that's not the case. The truth is that most small business owners don't have the time to write lengthy articles about their services and their offerings and what makes them special and the kinds of things that their customers might need. They have a business to run. There's nothing unethical about taking the time to actually try and write a good piece of content for that customer.
But if you're going to do it, you really should try and create something that's of value. Hopefully this is going to help you do exactly that. I call this content expansion because the whole purpose is to start from one small prompt and then to expand it a little and expand it a little and expand it even more until eventually you are at something that's very thorough and useful and valuable for the customers who are reading that content.
Each one of the individual steps is just sort of like taking a breath and blowing it into a balloon to make it a little bigger. Each step is manageable as we expand that content.
1. Start with a prompt
First, we have to start with some sort of topic or prompt. In this example, I've decided just bike safety off the top of my head. I'm here in Seattle and there are bikes everywhere.
It's completely different from North Carolina, where I'm from, where you've got to get in a car to go anywhere. But with the prompt bike safety, we now have to come up with what are we going to talk about with regard to bike safety. We pretty much know off the top of our heads that helmets matter and signaling and things of that sort.
Find the questions people are asking
But what are people actually asking? What's the information they want to know? Well, there are a couple of ways we can get at that, and that's by looking exactly for those questions that they're searching. One would be to just type in "bike safety" into Google and look for PAAs or People Also Ask. That's the SERP feature that you'll see about halfway down the page, which often has a couple of questions and you can click on it and there will be a little featured snippet or paragraph of text that will help you answer it.
Another would be to use a tool like Moz Keyword Explorer, where you could put in "bike safety" and then just select from one of the drop-downs "are questions" and it would then just show you all the questions people are asking about bike safety. Once you do that, you'll get back a handful of questions that people are asking about bike safety.
In this case, the three that came up from the PAA for just bike safety were:
Is riding a bike safe?
How can I improve safety?
Why is bike safety important?
What this does is start to get us into a position where now we're building out some sort of outline of the content that we're going to be building.
Build the outline for your content
We've just expanded from a title that said bike safety to now an outline that has a couple of questions that we want to answer. Well, here's the catch. Bike safety, sure, we've got some ideas off the top of our heads about what's important for bike safety. But the real thing that we're trying to get at here is authoritative or valuable content.
Well, Google is telling you what that is. When you press the button to show you what the answer is to the question, that's Google telling you this is the best answer we could find on the internet for that question. What I would recommend you do is you take the time to just copy the answer to that PAA, to that question. Why is bike safety important?
You click the button and it would show you the answer. Then you would write down the citation as well. But if you think about it, this is exactly the way you would write papers in college. If you were writing a paper in college about bike safety, you would go into the library, identify books on safety studies, etc. Then you would go through and then you would probably have note cards pulled out.
You would find a particular page that has an important paragraph. You would write a paraphrase down, and then you would write the citation down. This is the exact same thing. I'm not telling you to copy content. That's not what we're going to be doing in the end. But at the same time, it is the way that we take that next step of expanding the content. What we've done here is we've now gone from a topic to a couple of questions.
Now for each of those questions, we've kind of got an idea of what the target answer is. But, of course, the featured snippet isn't the whole answer. The featured snippet is just the most specific answer to the question, but not the thorough one. It doesn't cover all the bases. So what are some of the things we can do to expand this even further?
2. Extract & explain entities
This is where I really like to take advantage of NLP technologies, natural language programming technologies that are going to allow us to be able to expand that content in a way that adds value to the user and in particular explains to the user concepts that both you, as the writer in this particular case, and they, as the reader, might not know.
My favorite is a site called dandelion.eu. It's completely free for a certain amount of uses. But if you're going to be producing a lot of content, I would highly recommend you sign up for their API services. What you're going to do is extract and explain entities.
Imagine you've got this featured snippet here and it's talking about bike safety. It answers the question, "Why is bike safety important?" It says that bicyclists who wear their helmets are 50% less likely to suffer traumatic brain injuries in a wreck or something of that sort. That's the answer in the featured snippet that's been given to you.
Well, perhaps you don't know what a traumatic brain injury is, and perhaps your readers don't know what that is and why it's important to know that one thing protects you so much from the other.
Identify and expand upon terminology for your questions
That's where entity extraction can be really important. What dandelion.eu is going to do is it's going to identify that noun phrase. It's going to identify the phrase "traumatic brain injury," and then it's going to give you a description of exactly what that is. Now you can expand that paragraph that you originally pulled from the featured snippet and add into it a citation about exactly what traumatic brain injury is.
This will happen for all the questions. You'll find different terminology that your reader might not know and then be able to expand upon that terminology.
3. Create novel research
Now the one thing that I want to do here in this process is not just take advantage of content other people have written about, but try and do some novel research. As you know, Google Trends is probably my favorite place to do novel research, because if there is any topic in the world, somebody is searching about it and we can learn things about the way people search.
Use Google Trends
For example, in this Google Trends that I did, I can't remember the exact products that I was looking up, but they were specific bike safety products, like, for example, bike lights, bike mirrors, bike video cameras or bike cameras, etc. In fact, I'm almost positive that the red one had to do with bicycle cameras because they were becoming cheaper and more easily accessible to bicyclists. They've become more popular over time. Well, that's novel research.
Bring insights, graphs, and talking points from your novel research into your writing
When you're writing this article here about bike safety, you can include in it far more than just what other people have said. You can say of the variety of ways of improving your bike safety, the use of a bike camera has increased dramatically over time.
4. Pull it all together
All right. So now that you've got some of this novel research, including even graphs that you can put into the content, we've got to pull this all together. We started with the prompt, and then we moved into some topics or questions to answer. Then we've answered those questions, and then we've expanded them by giving clarity and definitions to terms that people might not understand and we've also added some novel research.
Rewrite for relevancy
So what's next? The next step is that we need to rewrite for relevancy. This is a really important part of the process. You see chances are, when you write about a topic that you are not familiar with, you will not use the correct language to describe what's going on. I think a good example might be if you're writing about golf, for example, and you don't know what it means to accidentally hit a golf ball that goes to the right or to the left.
Find relevant words and phrases with nTopic
Which one is a hook and a slice? Now, those of you who play golf I'm sure know right off the top of your head. But you wouldn't know to use that kind of terminology if you weren't actually a golfer. Well, if you use a tool like nTopic — it's at nTopic.org — and you write your content and place it in there and then give bike safety as the keyword you want to optimize for, it will tell you all of the relevant words and phrases you ought to be using in the content.
In doing so, you'll be able to expand your content even further, not just with further language and definitions that you know, but with the actual language that experts are using right now whenever they're talking about bike safety or whatever topic it is.
Examine (and improve) your writing quality with the Hemingway app
The next thing that I would say is that you really should pull things back and take a chance to look at the quality of the writing that you're producing.
This whole time we've been talking mostly about making sure the content is in-depth and thorough and covers a lot of issues and areas and uses the right language. But we haven't spent any time at all talking about is this actually written well. There's a fantastic free app out there called Hemingway app.
If you haven't heard of it, this is going to make your day. [Editor's note: It made mine!] Every writer in the world should be using a tool like this. You just drop your content in there, and it's going to give you all sorts of recommendations, from correcting grammar to using different words, shortening sentences, passive and active voice, making sure that you have the right verb tenses, etc. It's just incredibly useful for writing quality content.
Two important things to remember:
Now there are two things at the end that matter, and one is really, really important in my opinion and that is to cite.
1. Cite your sources — even if they're competitors!
You see, when you've done all of this work, you need to let the world know that this work, one, isn't only created by you but, two, is backed up by research and information provided by other professionals.
There is no shame whatsoever in citing even competitors who have produced good content that has helped you produce the content that you are now putting up. So cite. Put citations directly in. Look, Wikipedia ranks for everything, and every second sentence is cited and links off to another website. It's insane.
But Google doesn't really care about the citation in the sense that somebody else has written about this. What you're really interested in is showing the users that you did your homework.
2. Take pride in what you've accomplished!
Then finally, once you're all done, you can publish this great piece of content that is thorough and exceptional and uniquely valuable, written well in the language and words that it should use, cited properly, and be proud of the content that you've produced at the end of the day, even though you weren't an expert in the first place.
Hopefully, some of these techniques will help you out in the long run. I look forward to seeing you in the comments and maybe we'll have some questions that I can give you some other ideas. Thanks again.
Video transcription by Speechpad.com
Sign up for The Moz Top 10, a semimonthly mailer updating you on the top ten hottest pieces of SEO news, tips, and rad links uncovered by the Moz team. Think of it as your exclusive digest of stuff you don't have time to hunt down but want to read!
Thank you for reading.
This may be of some interest.
Posted by DanielRussell
For marketers, Reddit is more than a tool to while away your lunch break. It's a huge, thriving forum with subreddits devoted to almost any topic you can imagine — and exciting new content ideas lurk within threads, just waiting to be discovered. In this edition of Whiteboard Friday, Daniel Russell takes you through five simple steps to mine Reddit for content ideas bolstered by your target audience's interest.
Video Transcription
Howdy, Moz fans. Welcome to another edition of Whiteboard Friday. My name is Daniel Russell. I'm from an agency called Go Fish Digital. Today we're going to be talking about mining Reddit for content ideas.
Reddit, you've probably heard of it, but in case you haven't, it's one of the largest websites on the internet. It gets billions of views and clicks per year. People go there because it is a great source of content. It's really entertaining. But it also means that it's a great source of content for us as marketers. So today what we're going to be talking about is two main groups here.
We're going to first be talking about the features of Reddit, the different things that you can use on Reddit to find good content ideas. Then we're going to be talking about five steps that you can take and apply today to start finding ideas for your company, for your clients and start getting that successful content.
Features of Reddit
So first, Reddit as a breakdown here.
Subreddits
First, a big feature of Reddit is called subreddits. They're essentially smaller forums within Reddit, a smaller forum within a forum dedicated to a particular topic. So there might be a forum dedicated to movies and discussing movies. There's a forum dedicated to food and talking about different types of food, posting pictures of food, posting recipes.
There is a forum for just about everything under the sun. If you can think of it, it's probably got a forum on Reddit. This is really valuable to us as marketers because it means that people are taking their interests and then putting it out there for us to see. So if we are trying to do work for a sports company or if we're trying to do work for our company that's dentistry or something like that, there is a subreddit dedicated to that topic, and we can go and find people that are interested in that, that are probably within our target markets.
Upvoting and downvoting
There's upvoting and downvoting. Essentially what this is, is people post a piece of content to Reddit, and then other users decide if they like it or not. They upvote it or they downvote it. The stuff that is upvoted is usually the good stuff. People that are paying really close attention to Reddit are always upvoting and downvoting things. Then the things that get the most upvotes start rising to the top so that other people can see it.
It's super valuable to us again because this helps verify ideas for us. This helps us see what's working and what's not. Before we even put pen to paper, before we even start designing everything, we can see what has been the most upvoted. The most upvoted stuff leads to the next big feature, which is rankings. The stuff that gets voted the most ends up ranking on the top of Reddit and becomes more visible.
It becomes easier for us to find as marketers, and luckily we can take a look at those rankings and see if any of that matches the content we're trying to create.
Comments
There's the comments section. Essentially what this is, is for every post there's a section dedicated to that post for comments, where people can comment on the post. They can comment on comments. It's almost like a focus group.
It's like a focus group without actually being there in person. You can see what people like, what people don't like about the content, how they felt about it. Maybe they even have some content ideas of their own that they're sharing in there. It's an incredibly valuable place to be. We can take these different features and start digging in to find content ideas using these down here.
Reddit search & filters
Search bar
The search bar is a Reddit feature that works fairly well. It will probably yield mediocre results most of the time. But you can drill down a little further with that search bar using search parameters. These parameters are things like searching by author, searching by website.
Search parameters
There are a lot of different searches that you can use. There's a full list of them on Reddit. But this essentially allows you to take that mediocre search bar and make it a little bit more powerful. If you want to look for sports content, you can look specifically at content posted from ESPN.com and see what has been the most upvoted there.
Restrict results to subreddit
You can restrict your results to a particular subreddit. So if you're trying to look for content around chicken dishes, you're doing work for a restaurant and you're trying to find what's been the most upvoted content around chicken, you don't want people calling each other chickens. So what you can do is restrict your search to a subreddit so that you actually get chicken the food rather than posts talking about that guy is a chicken.
Filter results
You can filter results. This essentially means that you can take all the results that you get from your search and then you can recategorize it based off of how many upvotes it's gotten, how recently it was posted, how many comments it has.
Filter subreddits
Then you can also filter subreddits themselves. So you can take subreddits, all the content that's been posted there, and you can look at what's been the most upvoted content for that subreddit.
What has been the most controversial content from that subreddit? What's been the most upvoted? What's been the most downvoted? These features make it a really user-friendly place in terms of finding really entertaining stuff. That's why Reddit is often like a black hole of productivity. You can get lost down it and stay there for hours.
That works in our benefit as marketers. That means that we can go through, take these different features, apply them to our own marketing needs, and find those really good content ideas.
5 steps to finding content ideas on Reddit
So for some examples here. There's a set of key steps that you can use. I'm going to use some real-world examples, so some true-blue things that we've done for clients so that you can see how this actually works in real life.
1. Do a general search for your topic
The first step is to do a general search for your topic. So real-world example, we have a client that is in the transportation space. They work with shuttles, with limos, and with taxis. We wanted to create some content around limos. So the way we started in these key steps is we did a general search for limos.
Our search yielded some interesting things. We saw that a lot of people were posting pictures of stretch limos, of just wild limo interiors. But then we also saw a lot of people talking about presidential limos, the limos that the president rides in that have the bulletproof glass and everything. So we started noticing that, hey, there's some good content here about limos. It kind of helped frame our brainstorming and our content mining.
2. Find a subreddit that fits
The next step is to find a subreddit that fits that particular topic. Now there is a subreddit dedicated to limos. It's not the most active. There wasn't a ton of content there. So what we ended up doing was looking at more broad subreddits. We looked at like the cars subreddit.
There was a subreddit dedicated to guides and to breakdowns of different machines. So there were a lot of breakdowns, like cutaways of the presidential limos. So again, that was coming up. What we saw in the general search was coming up in our subreddit specific search. We were seeing presidential limos again.
3. Look at subreddit content from the past month
Step 3, look at that sub's particular content from the past month. The subreddit, for example, that we were looking at was one dedicated to automobiles, as I had mentioned earlier. We looked at the top content from that past month, and we saw there was this really cool GIF that essentially took the Chevy logo back from like the '30s and slowly morphed it over the years into the Chevy logo that we saw today.
We thought that was pretty cool. We started wondering if maybe we could apply that same kind of idea to our presidential limo finding that we were seeing earlier.
4. Identify trends, patterns, and sticky ideas
Number 4 was to identify trends, patterns, and sticky ideas. Sticky ideas, it just means if you come across something and it just kind of sticks in your head, like it just kind of stays there, likely that will happen for your audience as well.
So if you come across anything that you find really interesting, that keeps sticking in your head or keeps popping up on Reddit, it keeps getting lots of upvotes, identify that idea because it's going to be valuable. So for us, we started identifying ideas like morphing GIFs, the Chevy logo morphing over time. We started identifying ideas like presidential limos. People really like talking about it.
5. Polish, improve, and up-level the ideas you've found
That led us to use Step Number 5, which is to take those ideas that we were finding, polish them, improve them, one up it, take it to the next level, and then create some content around that and promote it. So what we did was we took those two ideas, we took presidential limos and the whole morphing GIF idea over time, and we combined them.
We found images of all of the presidential limos since like the '50s. Then we took each of those presidential limos and we created a morphing GIF out of them, so that you started with the old presidential limos, which really weren't really secure. They were convertibles. They were normal cars. Then that slowly morphed up to the massive tanks that we have today. It was a huge success.
It was just a GIF. But that idea had been validated because we were looking at what was the most upvoted, what was the most downvoted, what was ranked, what wasn't ranked, and we saw some ideas that we could take, one up, and polish. So we created this morphing presidential limo, and it did really well.
It got coverage in a lot of major news networks. ABC News picked it up. CBS talked about it. It even got posted to Reddit later and performed really well on Reddit. It was all because we were able to take these features, mine down, drill down, find those good content ideas, and then polish it and make it our own.
I'm really interested to hear if you've tried this before. Maybe you've seen some really good ideas that you'd like to try out on Reddit.
Do you have like a favorite search function that you use on Reddit? Do you like to filter by the past year? Do you like a particular subreddit? Let me know down in the comments. Good luck mining ideas. I know it will work for you. Have a great day.
Video transcription by Speechpad.com
Sign up for The Moz Top 10, a semimonthly mailer updating you on the top ten hottest pieces of SEO news, tips, and rad links uncovered by the Moz team. Think of it as your exclusive digest of stuff you don't have time to hunt down but want to read!
Thank you for reading.
This may be of some interest.
You can't have one without the other … No, I'm not musing about love and marriage. I'm talking about content…
The post 9 Essential Elements of Effective Content Marketing appeared first on Copyblogger.
Thank you for reading.
This may be of some interest.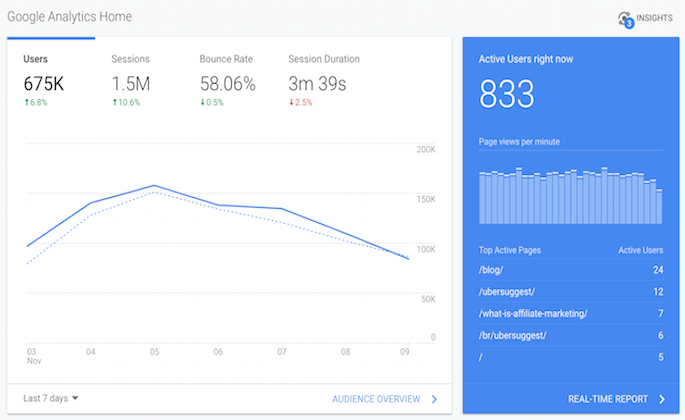 Writing a blog post is easy.
If you don't write often, you may feel otherwise, but just follow this
and you'll be good to go when it comes to writing. Or, you can just watch the
video below.
But still, you write a blog post and then what do you do?
Well, I'll tell you this… most people forget the "marketing" in content marketing. Most people write content but don't do a great job of promoting it.
Here's the thing: I figured out the perfect formula to promoting content.
Best of all, it's not complex. Heck, it doesn't even take 30 minutes. It's so easy that I broke it down into 6 steps.
And just to give you an idea before we dive into the formula, it's so effective here is the traffic to my latest blog post.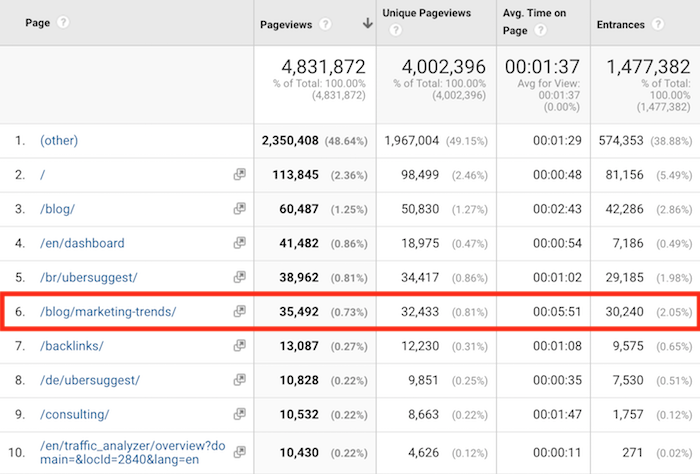 35,492 visits in a week isn't too shabby. The post didn't do exceptionally well and it didn't tank. It was just an average post.
Now you probably won't see the same results as me as I've
been doing this for a long time, but your results will be much better than what
you are currently getting. Hence, I used the number of 3,549 in the title as
you should be able to drive 1/10th of what I am generating.
So, let's dive right into the formula.
Step #1: Optimize your headline
8 out of 10 people will read your headline, but only 2 out of 10 people will click through on your headline to read the rest of your article.
No matter how well written your content is, promoting it won't
be effective if no one likes your headline.
Now I know what you are thinking… I've already published my
article, is it too late to change my headline?
Nope, you can always change your headline, just try not
to change the URL of the article once it is already published. And if you decide
to change the URL, use a
301 redirect.
There's a really simple way to come up with headlines that work. Heck, it doesn't even take more than a minute or two.
Just head over to Ubersuggest and type in the main keyword or phrase your article is about.
You'll see a report that looks something like this: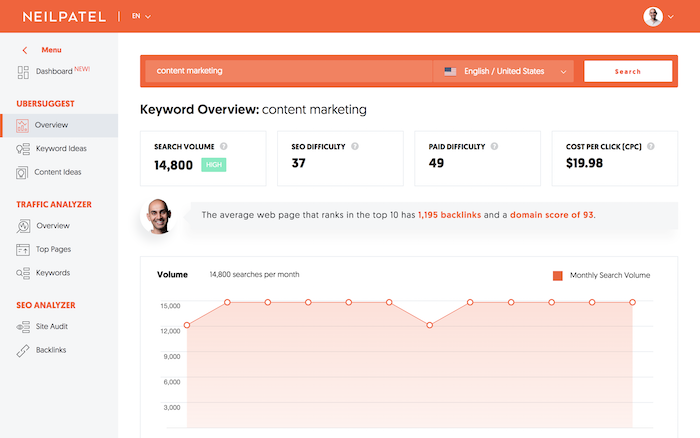 Now I want you to click on "Content Ideas" in the left-hand navigation.
You should now see a report that looks like this: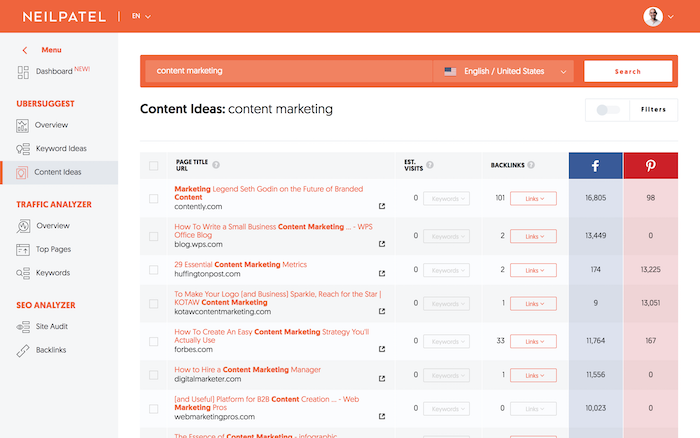 This report shows you all of the blog posts around the web
that contain your keyword or phrase within their title. And it breaks it down
by social shares, backlinks, and search traffic.
You can use this to see what is working in your space.
Ideally, you want to look for headlines that have thousands of social shares (or hundreds if you aren't in a popular industry), at least 10 backlinks, and more than 100 estimated visits. Just like the example below.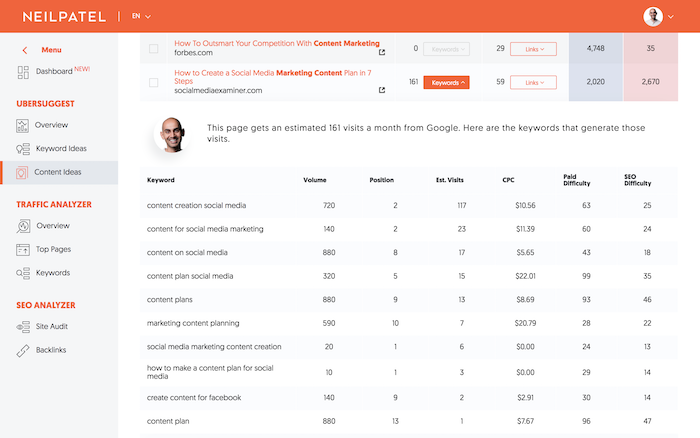 Making your headlines similar to ones that meet those 3 criteria
will increase your odds of getting more traffic.
Step #2: Add 3 internal links
The easiest way to get your new content more love is to
build links.
Yes, links are hard to build, but internal links are not…
plus they are still effective.
I rank for competitive terms like "digital marketing"…
A lot of it has to do with internal links. I link to my main
digital marketing page within my sidebar and within my content.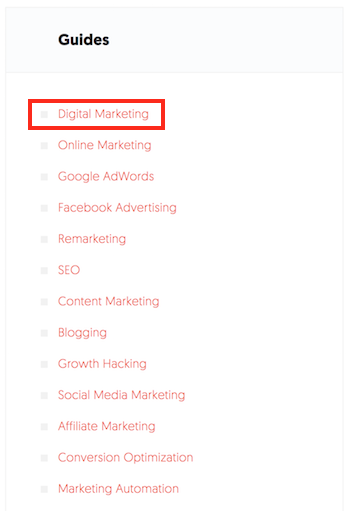 Every time you publish a new blog post, I want you to go into your older content that is relevant to your newly published blog post and add a link to it. Do this to 3 of your older blog posts.
This helps with indexing and it also helps your new
content rank higher on Google.
Step 3: Share your content on the social web carefully
The problem with social media marketing is that people think they can just share their content on sites like Facebook or LinkedIn and it will automatically do well.
Sadly, it won't because billions of URLs have been shared
already.
In other words, we just tend to ignore most of the links
people share.
But there is a simple way to stand out and get thousands of visitors from the social web, just like I get.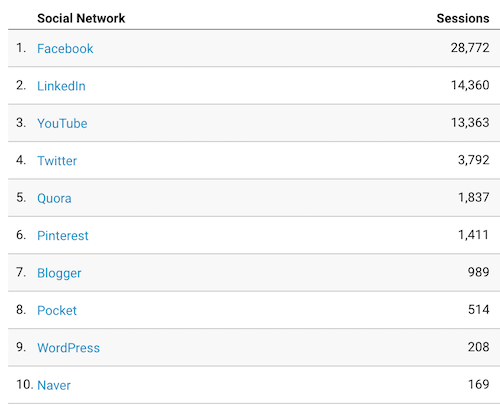 So, what's my secret?
Well, I will give you a hint. Just look at one of my most
recent posts on LinkedIn: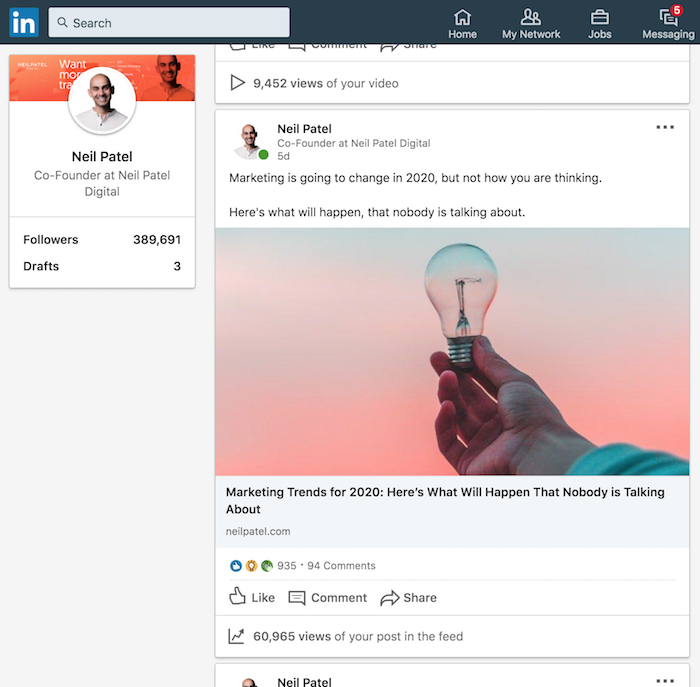 And here is one from Facebook: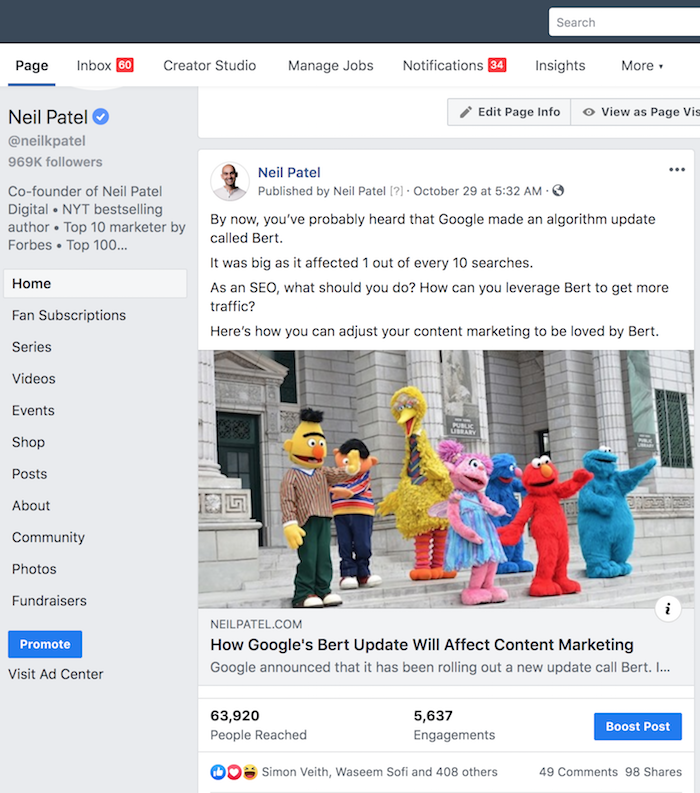 Do you notice a pattern?
I'm evoking curiosity. In other words, I am piquing your
interest and if you want to know the "solution" you have to click through to my
site.
With the LinkedIn post, I tell you that marketing is going
to change next year. I also make a point to say how it is going to change in a
way that nobody is talking about.
I do this because we all can assume marketing will change. But
by saying it is in a way nobody is talking about, it evokes curiosity. And if
you want to know how it will change you have no choice but to click through
over to my site to read the rest.
With my Facebook post, I also evoke curiosity. I talk about a Google algorithm update, but I hint that I have an answer to leveraging Google's latest algorithm update. And if you want to know what it is, you have to click through over to my site.
Whenever you post on the social web, evoke curiosity if you want people to head over to your site.
The easiest way to do this is that every time you share one of your articles on the social web, add a few sentences above the link that helps pique peoples' interest.
Step #4: Message everyone you link out to
It's common to link out to other sites within your blog
posts.
Heck, sometimes I even link out to my competition.
If you don't ever link out to other sites, you are making a
big mistake. It helps with authority and trust.
If you are using stats and data within your article, you
want to cite your sources. This brings credibility to you and it helps brand
yourself as an expert which can help with Google's medic
update.
Now, when you link out to a site, go and search their email
address. You can typically find their email address on their website.
Or if you can't find their email address, look for a contact
page on their site, you'll typically see a form that you can fill out.
Whether you find an email address or contact form, I want
you to message each and every single site you link out to with a message that
goes like this:
Hi [insert their first name],

I just wanted to say, I love your content. Especially your article on [insert the name of the article you linked out to].

I linked to it from my latest blog post [insert URL of your blog post]. It would make my day if you checked it out and even shared it on your favorite social network if you enjoyed it.

Cheers,

[insert your name]
When I send out these emails, I am getting 50 to 60% of the people to respond and share my content. But of course, my blog is popular, so for me, it isn't too hard. But it hasn't always been that way, and I've been leveraging this tactic for ages.
On the flip side, I also use this tactic on a few of my
blogs that are in other niches and don't use my name (no one knows I own them)
and I am seeing success rates around 20%.
Just make sure you don't use this tactic to ask for a link back.
Your success rate will be slim.
Step #5: Send an email blast
These last two tactics produce a large portion of my
results, and you shouldn't take them for granted, no matter how basic they may
seem.
If you already haven't, start collecting emails from your
site. You can use free tools like Hello Bar
to create popups or sliders.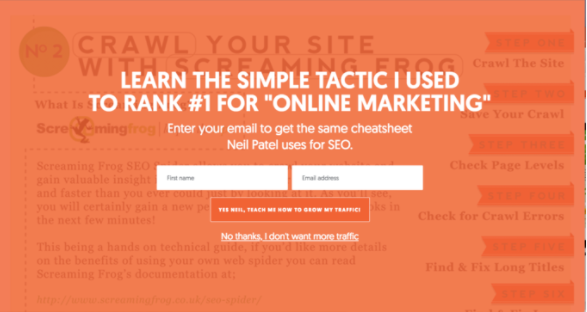 Hello Bar will plug into whatever email provider you are
currently using.
Once you are up and running, every time you release a new
blog post, send out an email blast.
Here's an example of one of my email blasts.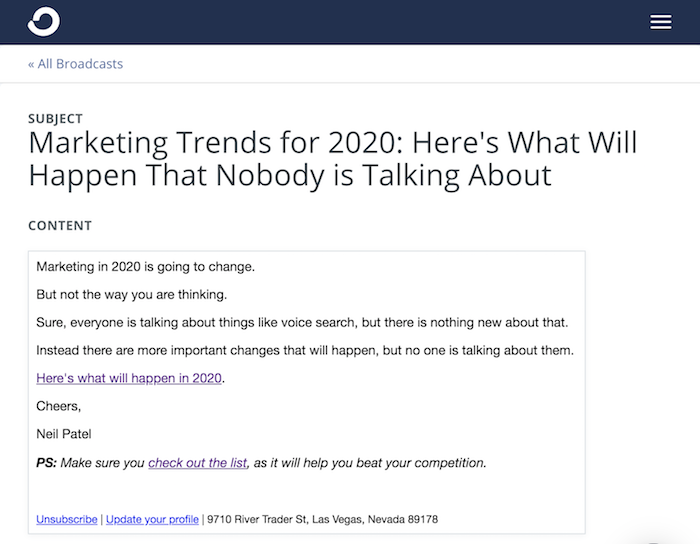 It's so effective it generated 13,544 clicks.

I've found that you can drive good traffic from emails as
long as you do the following:
Scrub your list – if someone doesn't open your emails over the last 30 or 60 days, remove them from your list. It helps keep your emails in people's inboxes.
Send text-based emails – if you look at the email I sent, I keep it simple. No images, nothing fancy, just text and a link back to my site. It's that simple.
Evoke curiosity – just like how I explained with the social media posts, your emails won't do well unless you evoke curiosity.
As you write more content you will get more traffic, which will cause your email list to grow. That will also cause you to get more traffic. 🙂
Step #6: Send a push notification
I don't know why so few sites are leverage push notifications. It's so effective I believe I will get more traffic from push notifications in 2020 than I will from email marketing.
To give you an idea, when I analyze my competitors in the
marketing arena, only 3 out of 19 use push notifications.
In other industries, the percentage is far worse, which means there is more opportunity for you.
Here's how push notifications work….
Someone comes to your site and through their browser, they get a message if they want to subscribe to your site.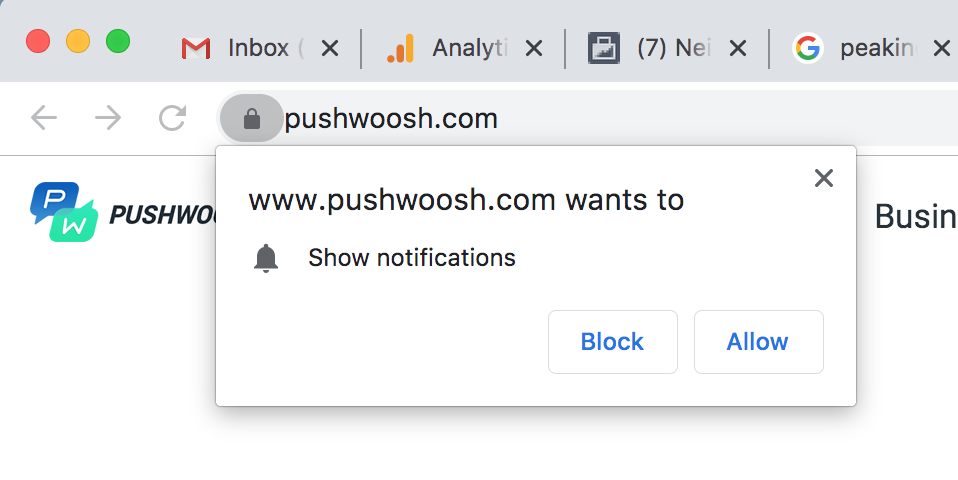 A portion of your visitors will click "allow". With NeilPatel.com, roughly 5.4% of visitors are currently clicking "allow".
You can send push notifications and get subscribers using a
free tool like Subscribers.com.
And then when you write a new blog post, you log into Subscribers.com and click on the "Create Notification" button. From there you will see a screen where you can enter the title and description of your latest post.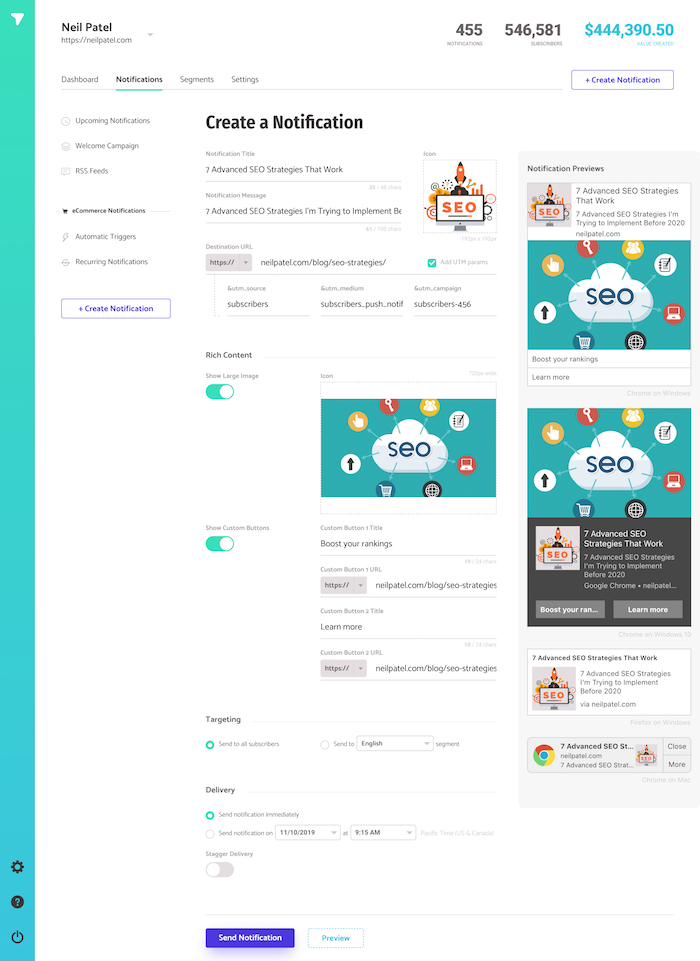 As you can see from the image above, you'll notice that I use an "icon" image, a "large" image, and I show "custom buttons."
Using those 3 elements is the key to getting the most
traffic from push notifications. Here are some of my stats from using
Subscribers.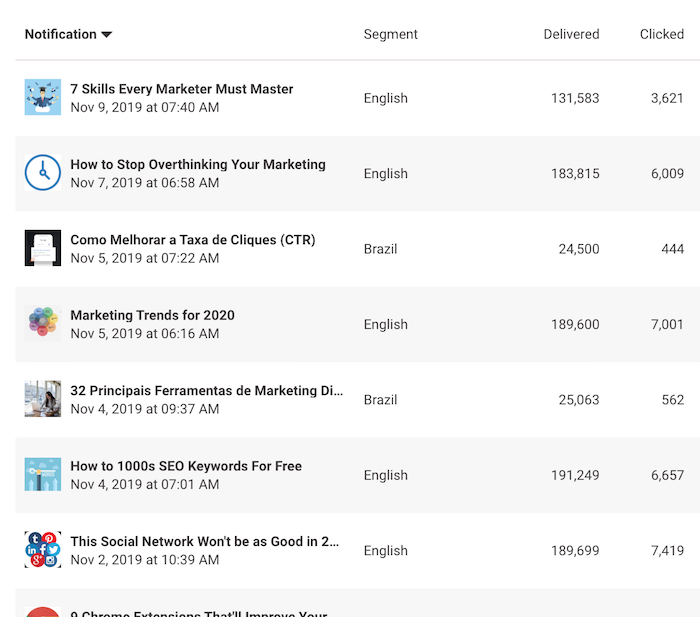 I'm getting roughly 6,000 visits from every push notification
I send. That's not too bad.
And if you are curious about what a push notification looks like, here's what people get when I send it out.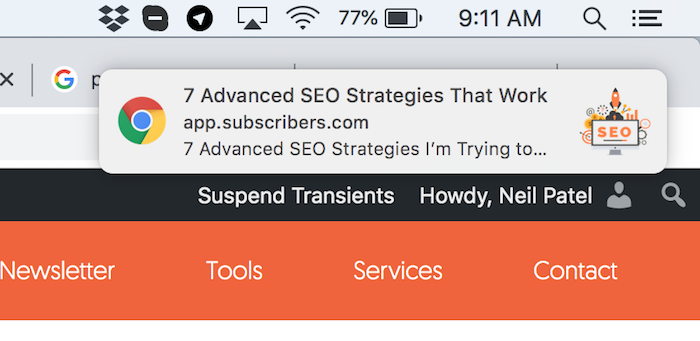 What's cool about push notification is no matter what
website someone is on, they will see a message similar to the one above, which
will bring people back to your site.
No dealing with spam filters or messages not going through. Plus, if someone isn't online when you send a push notification, the next time they use their web browser they will see your message.
Conclusion
Promoting your content doesn't have to be hard.
You don't need "advanced" tactics or anything that is out of
the box. The basics work well, and I have been using the above formula for
years… literally.
Now, I know there are other things you can do to promote your content, but let's be realistic: we are all strapped for time. And I've found the ones I've mentioned above to produce the biggest bang for the buck.
So, what other simple ways do you promote your content?
The post My 6-Step Content Marketing Formula That Drives 3,549 Visitors appeared first on Neil Patel.
Thank you for reading.
This may be of some interest.
So, what happens when someone clicks through to your website? Do you persuade them to stay and find out more…
The post 5 Content Optimization Mistakes You'll Wish You Fixed Sooner appeared first on Copyblogger.
Thank you for reading.
This may be of some interest.
Forrester's April Henderson started her Content Marketing World 2019 session with a classic cautionary tale:
Johann Rall was fighting for the British at the turning point of the Revolutionary War. The night before the Battle of Trenton, he was out celebrating at the home of a local Loyalist merchant. That merchant had seen General Washington amassing his forces and knew the attack was coming.

So what did the merchant do? He created relevant content! He wrote Rall a note and slipped it across the table. Rall nodded, put the note in his pocket… and continued his evening of revelry. The British were caught unawares, and the tide of the war began to turn. That lack of content engagement might be how America won the war.
In other words, when content doesn't connect with your audience, the results can be disastrous.
Capturing the Attention of a New Breed of B2B Consumer
Right now B2B content is missing the mark, and missing it by a wide margin. Based on Forrester's own research, 65% of B2B buyers say vendors give too much content. Over half say much of the material they get is useless. Seventy percent said the material is focused more on style than substance.
How can marketing professionals with mountains of research and tons of experience be getting it so wrong? According to April, it's a failure to adapt to changing buying habits:
April says the new B2B consumers "aren't buying your product; they buy into your approach to solving their problems." They don't want to hear about product features, awards your brand has won, or even how your product compares to a competitor.
They want to know that you hear their problems, you understand them, you sympathize, and you have solutions.
Using Data to Drive Empathetic Content
We usually think of data and emotion as two separate types of appeal (logos and pathos, for those who remember high school debate club). But according to April, you can actually make more effective emotional appeals by using data.
After all, you're showing the consumer you understand them. The best way to understand them is by ethically using the data you've got to inform your marketing. With the right data on board, you have a credible, authentic story to tell about how you can help your potential consumer.
To drive the point home, April shared a case study from a company called LogMeIn. This security solutions provider commissioned a survey to see how sophisticated businesses were with their security.
When it came time to present the findings, they didn't just create a white paper and lock it behind a gate. Instead, they used the report data to create a maturity model, and that model became the basis for a self-assessment calculator.
Consumers could take the assessment for their business and see how they measured up against competitors. Then they were offered the entirety of the original research, ungated, and presented with a contact form for customized recommendations. Those who filled out the form, says April, were already well into developing a relationship with the brand. They were practically sales qualified leads already.
LogMeIn built that affinity by helping customers learn about themselves and their competitors, providing a ton of value that was keyed to customers needs, not the brand's solutions.
Shouldn't B2B Content Be Logical, not Emotional?
Even with overwhelming evidence about the power of emotional appeal, it's easy to think of emotion as somehow less real, less effective for B2B buyers. April disagrees. "B2B decisions are really complex, but we don't have some separate brain we engage to make those decisions," she says. B2B buyers don't somehow switch off their emotions while they're at work.
Getting started with that emotional component is as easy as thinking about an average day in your ideal buyer's life. Think about the whole person, not just the buyer part. What do they really want? It might break down like this:
I want to get off work in time to pick up my daughter from school
So I want to process these invoices faster
So I need to automate this process with software
With these points in mind, instead of showing how your software is x times faster than the competitor, show the parent getting out of work on time and picking up their kid at school. That's a story that your buyer can relate to, whether they're an IT decision influencer or a C-suite decision maker.
Make Human Connections across Channels
So you're collecting data and creating empathetic content based on your findings. The next step is to humanize your buyer's journey and see it holistically. You need to meet your consumers where they are, not try to herd them into your preferred channel.
April cited Forrester research that says the average buyer's journey crosses at least twelve different channels. How can marketers meet the buyer on all those different media? Content atomization.
You don't have to create tons of new content for each channel, April says. Instead, start with cornerstone content, a large asset that can be broken down and repurposed in multiple formats. This type of modular content helps promote consistency across channels.
Another way to repurpose content is to add customizable or interactive elements. In another Forrester survey, 50% of B2B buyers said they wanted interactive, web-based assets rather than static PDFs. And 61% said they want to input information to generate a customized output.
Keep Your Messaging Consistent – For Sales, Too
There's one more challenge to making content more empathetic: In a single face-to-face meeting, a sales rep will either validate or totally negate your branding efforts. It only takes one off-brand conversation to wreck the relationship you've been nurturing.
As such, April says, our work doesn't stop at the sales hand-off. Sales leadership should be included as a stakeholder in the entire content program, from the planning stages onward. That way, marketing can create more relevant content, and sales can learn how to use it more effectively.
One key way content marketers can help sales is by helping develop data-based tools, like LogMeIn's self-assessment calculator. April identified four key attributes of a great sales enablement tool:
It facilitates clients sharing the scope and scale of their needs
It Includes relevant comparison data from peers
It provides personalized output to leave behind with the customer
It sets the expectation for a sales followup
To Get Your Content Seen, Show Your Audience You See Them First
Is your B2B content helping people solve problems, or is it just pointing them at your product? If it's the latter, you're missing the mark. April demonstrated how data can help you make an emotional connection with potential buyers. Show them you understand their problems – even the ones that go beyond your particular solution. Don't hesitate to show your solution in the broader context of people's lives, and don't shy away from an emotional appeal.
Need more Content Marketing World in your life? The conference is over, but we have plenty of takeaways still to come. Follow @leeodden, @NiteWrites,  @azeckman, and @toprank on Twitter for real-time insights.
The post April Henderson on Data-Driven, Empathetic B2B Content #CMWorld appeared first on Online Marketing Blog – TopRank®.
Thank you for reading.
This may be of some interest.
Year after year, hundreds of marketers report increased efforts and spending on their content marketing — or the intention to do so.
But great content is a waste if your audience doesn't know it exists.
Content distribution is an integral, if not the most important, part of your content strategy.
In recent years, there's been a rapid influx of content … met with dwindling demand. With almost 4.5 million blog posts published every day, there's only so much content we can consume. Marketing influencer Mark Schaefer argues that, because of this "content shock," content marketing may not be a sustainable strategy for every business.
While I won't agree or disagree with this theory, I will equip you with the tools you need to distribute the content you create. By the end of this guide, you'll be able to build a content distribution strategy that gets your content in front of — and consumed by — your audience.
Although the content distribution process happens after you create your content, it should be step one of your content marketing strategy. You should know where and how you're going to publish and promote your content before you put the proverbial pen to paper — otherwise, your time and resources could go to waste.
Where should I publish my content, you ask? Through the various content distribution channels we discuss next.
Content Distribution Channels
Content distribution channels are the channels through which you share and promote the content you create. There are three types of content distribution channels: owned, earned, and paid. The channels you use to distribute your content will vary based on your audience and resources.
Owned Content Distribution
Owned channels are the content properties your company owns. You can control when and how content is published on your owned channels. These include your website and blog, your social media profiles, your email newsletter, or a mobile publishing app.
Earned Content Distribution
Earned channels (also known as "shared" channels)are when third parties promote or share your content. These third parties could include customers, journalists, bloggers, and anyone who shares your content for free — hence the name "earned".
These channels include public relations, social shares and mentions, guest articles and roundups, and product reviews. They also include forums and communities like Reddit or Quora — while posting on these sites is free, the content is owned by these third parties and therefore falls under earned channels.
Paid Content Distribution
Paid channels refer to when your company pays to distribute your content on certain channels. This primarily includes pay-per-click (PPC), paid social advertisements, and paid influencer content.
The following diagram illustrates how these three content distribution channels overlap and how you can combine them to enhance their impact and reach.
If 70% of marketers lack a content strategy, how many do you think have a content distribution strategy? I'd bet not many.
Moreover, some marketers recommend that you spend 20% of your allotted content marketing time creating your content — and the other 80% promoting it. Sound like something you're doing? If not, this is where a content distribution strategy comes in handy.
A content distribution strategy is important for a few reasons:
It boosts your content impact past curation and creation. As I said above, great content is practically useless if nobody's reading it. A content distribution strategy gets your gorgeous content in front of the right eyes.
It aligns your team and the teams with which you collaborate to create and share the content. Depending on the size of your company, you may have several cooks in the content marketing kitchen. (I know we do at HubSpot.) A content distribution strategy aligns all these different parties and ensures you're all collaborating efficiently.
It sets goal benchmarks against which you can measure your distribution performance. Content distribution can be vague — a simple press of the "Publish" button, and you're done. A content distribution strategy helps you set benchmarks and hard goals to chase while publishing and promoting your work.
Here's how to build a content distribution strategy for yourself.
1. Research your target audience.
Content distribution is all about getting your content in front of your audience. You can't do this properly if you don't know where they are and what they like to read. Before you build your strategy any further, research your target audience so you know precisely who will be consuming your content.
Start by collecting demographic data from your website visitors, email subscribers, social media followers, and customers. Take a look at your audience's gender, age, income, location, education, and related categories. You can pull this information from Google Analytics or your social media analytics tools.
Next, collect feedback directly from your customers, email subscribers, and social media followers. Ask them about their pain points and needs as well as how they feel about your current content and distribution efforts.
Use these two data points to create your buyer persona. Your buyer persona(s) act as models of your ideal customers and content consumers and represent their pain points, information preferences, and motivations as you build out the rest of your content distribution strategy.
2. Audit your content.
You may already have some published content out there, such as blog posts, videos, social media content, and more. While your new content distribution strategy doesn't involve removing that content, you should perform an audit to understand if it's helping or hurting your distribution efforts. Auditing your current content will also remind you of which topics you've already written about and which ones you can expand on.
A thorough content audit is comprised of three main parts:
Logging your content. Logging your content can be done manually or with a tool. (We recommend the latter, especially if you've been publishing content on multiple properties and channels.) Tools like Screaming Frog can help you crawl and collect your content, listing each URL, title, and description in a spreadsheet. The free version crawls up to 500 URLs. If you opt for a manual content audit, follow the steps in our blog post here.
Assessing your content impact. If you crawl your content with SEMRush, the tool will also list content length, social shares, and backlinks. This information can help you assess the impact of each piece of content, alerting you to anything that needs to be updated, rewritten, or erased.
Identifying your content gaps. You can also identify gaps in your content using the Ahrefs Content Gap tool or by performing keyword research to discover new keywords or keyword phrases to add to your content, thus helping it rank higher and for more terms.
Check out this blog post for 30+ more content auditing tools.
3. Choose your content distribution channels.
Your content distribution channels are arguably more important than your content itself, hence why this step comes before content creation and after target audience research. Once you know your target audience, you'll have a much better idea of how to get your content in front of your followers and customers.
Depending on your analysis, you may post on forums and communities like Reddit or Quora — and pay to promote your content on those sites, too. Alternatively, you may choose to exclusively share content on social media channels, or perhaps you find that traditional PR is your best route.
Regardless of which content distribution channels you choose, ensure they align with your audience's preferences and behaviors.
Also, be sure to optimize your owned distribution channels — your blog, email newsletter, and social media profiles — as these are relatively inexpensive and in your control. Even if research shows that your audience prefers forums to social media or news sites to company blogs, never neglect your owned properties as these reflect on your brand and product.
As you work through this step, set aside time to optimize your blog-to-gain readership, brush up on how to send email newsletters (or start sending them), and learn about organic social media marketing.
4. Decide on your content types.
After you determine your distribution channels, consider what types of content you'd like (and have the resources) to create.
Many companies choose to publish all of their content on their blog and then repurpose and re-publish it. Blog posts are universally consumed, easy to repurpose and localize (i.e. translate into other languages), and simple to share — not to mention that almost 50% of buyers read a company's blog while making purchase decisions. For these reasons, we recommend building a business blog and then expanding your content types from to share on other channels.
Consider these content types — and how you'll repurpose and distribute them — as you create your blog posts:
E-books
Podcasts and interviews
Videos
Infographics
Case studies
White papers
Testimonials
Webinars
Checklists and listicles
Datasheets
5. Set your content distribution KPIs and goals.
Goals help us recognize where we're going and what success might look like when we get there. Your content distribution strategy should involve setting goals for your content key performance indicators (KPIs) and their subsequent metrics:
| | |
| --- | --- |
| key performance indicators | related metrics |
| Traffic/reach | Unique page views by channel and source |
| Engagement | Bounce rate, average time on page |
| Top content (and falling content) | Top page views, top exits |
| Impact | Click-throughs, conversions, backlinks |
| Sentiment | Comments, social shares |
These metrics may vary based on your distribution channel (i.e. you can't track comments on your email newsletter or top exists on your social media ads), so be sure to choose the metrics that correspond best to each channel. It might take a few months to establish a baseline for each channel, especially if you haven't used it before.
Set SMART goals for your content using these metrics. Here's an example:
Specific: I want to increase our blog's organic traffic by boosting backlinks from other reputable websites and blogs. This will increase our search engine ranking, thus bringing in more organic traffic.
Measurable: I'd like 30 new backlinks to our blog.
Attainable: We're already generating 10 new backlinks each month without an intentional strategy, so I believe 30 new backlinks this month with our strategy is feasible.
Relevant: This goal aligns with our broader organic content marketing strategy and could also boost our earned media as we get mentions from press outlets and third-party bloggers.
Time-bound: I'd like to receive these backlinks within the next month.
6. Build an editorial calendar (and include distribution).
Content marketing and distribution require lots of planning to be successful. This is where an editorial content calendar can come in handy. You can create one in Excel or Google Sheets, or even use Google Calendar. Tools like CoSchedule, Asana, and Trello are helpful, too.
Your editorial calendar, like your content distribution strategy, helps your team stay aligned and work towards common goals. It also gives your writers and editors a roadmap for what they'll be working on in the coming weeks and months.
Here's what your editorial calendar may look like (using this post as an example):
Your editorial calendar is the perfect place to include your content distribution plans and goals. Here's what that may look like on your editorial calendar:
See how the right-hand columns now include categories like "Publish Destinations" and "Repurposing Plans"? Your editorial calendar should serve as your hub for all content creation and distribution plans.
Manage and plan your social media content with our free Social Media Content Calendar Template.
7. Create your content.
After you research your audience, audit your content, decide on your distribution channels and content types, and build your editorial calendar … it's time to create your content. Content creation will vary based on your resources, team size, industry, and brand, so to get the most pointed, applicable advice, check out our Guide to Content Creation.
As you work on your new content, check out these tools:
We'll talk more about content distribution tools in the next section.
8. Distribute and market your content.
You've created your content … now it's time to put it out in the world. Following your editorial calendar and chosen distribution channels, publish and market your new content. As for any marketing channel, be sure you follow rules to optimize your posts on each channel.
For example, our team at HubSpot paid for ads on Reddit and found that it was helpful to organically engage with Redditors as well as pay for ad space. Alternatively, if you're posting on (or paying for) social media, be sure to follow the guidelines for the best times to post and share content — the same goes for sending emails.
9. Measure and analyze your results.
As always, be sure to keep an eye on your content distribution results. Remember those KPIs, metrics, and SMART goals you established in step five? Time to pull those out.;
After you've published your content, take a look at Google Analytics, your social media analytics dashboards, and your blog performance — depending on where and how you distributed the content. Make sure you set a routine time to measure and analyze (weekly, monthly, or quarterly) so that you can establish a baseline and know which numbers you can beat the following week or month.
Whew! So, that's what it takes to build a content distribution strategy. Be sure to iterate on this process; these guidelines may change as you expand your content efforts and scale your team. Now, let's talk about the tools you need to get it done.
Content distribution can be an arduous process, but thankfully there are many content distribution tools out there to help you get your work discovered and consumed.
Content Tools
These tools help you publish your content on additional networks and forums to reach broader audiences.
Medium
Medium is a content platform that individuals and businesses alike use to publish content. You can use Medium in addition to or in lieu of your traditional blog. (We recommend in addition to your blog as this will give your content the broadest reach.)
Medium is where thousands of readers consume content. It's a one-stop-shop platform for all kinds of content … kind of like Amazon is for products. For that reason, consider publishing to Medium to increase the number of people who see your content.
Price: Free and paid
LinkedIn Pulse
LinkedIn Pulse is similar to Medium except it lives on LinkedIn. While there isn't a homepage that aggregates all the published content, it's still a helpful tool for getting your written content in front of your followers (for free). You can publish on LinkedIn Pulse through your personal or company LinkedIn pages by simply clicking "Write an article".
Note: LinkedIn Pulse is also a mobile application that you can download to receive daily headlines and trending news.
Read more about publishing on LinkedIn Pulse here.
Price: Free
PR Tools
These tools help connect you with journalists and publications to help expand your earned distribution channels and gain backlinks.
PR Newswire
PR Newswire is a press release distribution network. The platform helps you target and contact journalists and outlets by specific industries, geographic areas, and topics. It offers packages for state and local, regional, and national press.
Price: Paid
HARO
HARO stands for Help a Reporter Out, which is an online platform that connects journalists and sources. In this case, you'd be the source.
When you sign up for HARO, you're sent daily emails with journalist queries. Respond to these queries to be potentially featured in an article. This is a reactive content distribution tool, but it's helpful for getting press mentions and backlinks.
Price: Free and paid
Social Tools
These tools help distribute your content on social media and amplify your posts.
HubSpot
HubSpot is an all-in-one marketing software, meaning its useful for email marketing, analytics, and social amplification. I've placed it in the "Social Tools" section because its Social Inbox is incredibly helpful for content distribution.
From your Social Inbox, you can monitor, schedule, and post content to your social networks. You can also access information from your email marketing campaigns so you have the big picture of your readers and customers.
Price: Free and paid
ClickToTweet
ClickToTweet is a tool that equips your readers to share soundbites of your content on Twitter with a single click. You create your content soundbites, and ClickToTweet provides a link. When readers click that link, the tool opens their Twitter with the content soundbite already ready to post.
It also links to your Twitter account and content — allowing your readers to distribute your content for you.
Price: Free
GaggleAMP
GaggleAMP is a social amplification tool that allows you to aggregate your employee's social networks and post company content directly to them. Employees have the option to review and improve content before it's posted or allow it to go through automatically. This is a great alternative to constantly bugging your staff to post on about your business.
You can also use this tool to link to social networks from partners, customers, brand advocates, and more.
Price: Free and paid
AddThis
AddThis is an on-page social sharing tool. It allows your readers to share your content without bouncing from your page (and potentially getting distracted). You can also integrate AddThis share buttons into your email newsletter and other assets.
Price: Free
Analysis Tools
These tools help you measure and analyze the impact of your social posts and other distribution efforts.
Mention
Mention is a social media monitoring tool that provides social media listening, publishing, crisis management, and more. You can use Mention to monitor any mentions of your brand name, content, or social networks and respond accordingly. This is a great tool for measuring the impact of and engagement around your content and see who is promoting it for you.
Price: Free and paid
SharedCount
SharedCount is a tool that helps you measure the engagement of your social media posts. Simply input a URL, and SharedCount will report on its likes, shares, comments, and other engagement measures. While it can't help you distribute your content, it can alert you to which pieces are performing well and which pieces may need to be updated or scrapped.
Price: Free and paid
Additional Tools
Outbrain
Outbrain is a paid amplification tool that aggregates your content at the bottom of other articles. You can set up content campaigns with an RSS feed or specific URL(s), and Outbrain will place them under related content, encouraging readers to click and read yours.
Outbrain works with an impressive network, including digital publications like NYT and Mashable.
Price: Pay-per-click
WiseStamp
WiseStamp is an email tool that allows you (and your employees) to share your latest content in your email signature. Your email signature is often a forgotten but important piece of digital real estate that practically everyone who opens your emails will see. WiseStamp helps you make the most of that space.
Price: Paid
Distribute Your Content to Grow Better
Amazing content is a waste if no one is consuming it. Content distribution is a critical piece of the content marketing puzzle. It's is also the key to boosting your brand awareness, collecting loyal followers, and encouraging your readers to click, act, and become customers.
Put these content distribution tips and tools to get your content in front of your audience.
Thank you for reading.