content
This may be of some interest.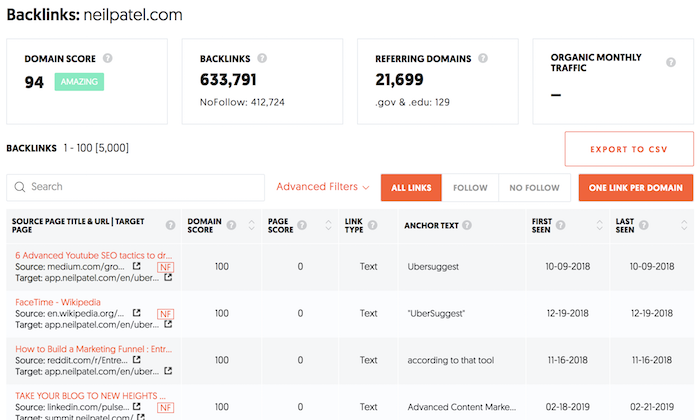 If I write a blog post on any topic, what do you think happens?
It typically gets indexed by Google the same day I publish the content and within a week it tends to rank high on Google.
Then again, I have a domain score of 94 and I have 633,791 backlinks. Just look at the image above. (If you are curious what your link count or domain score is, put in your URL here.)
But if you have a lot fewer backlinks and a much lower domain score, what do you think would happen?
Chances are your content won't get indexed fast and it won't rank as high as you want.
But there has to be a way to change this, right? Especially without building more backlinks because we all know that's time-consuming and hard.
To find the most ideal solution, I decided to run a little experiment.
Around five months ago, I sent out an email to a portion of my mailing list asking people if they wanted to partake in an SEO experiment.
As you could imagine, I had well over a thousand websites who were willing to participate. I had to narrow down the list because for this experiment to be effective, a website had to have a domain score of 30 or less and no more than 40 backlinks.
That way it's at least a challenge to figure out how to rank new content higher.
In addition to that, the site couldn't be a subdomain, such as domain.wordpress.com. It had to be a standalone site.
Once I removed all of the outliers, I was left with 983 people who agreed to participate in the experiment. Of those, 347 stopped replying or backed out of the experiment due to time commitments, which means I was left with 636.
How did the SEO experiment work?
For all of the sites, we had them write a piece of content. We didn't make it a requirement that the content had to be about any specific topic or that it had to be written a certain way… we just had them write one piece of content that was between 1,800 and 2,000 words in length.
We enforced the minimum and maximum length limit because we needed the post to be long enough to naturally include keywords, but if it was too long… such as 10,000 words, it would have a higher chance to rank on Google.
Each site had 30 days to write the piece of content and publish it on their site. Within 30 days of the content being published, we looked up the URL in our Ubersuggest database to see how many keywords the post ranks for in the top 100, top 50, and top 10 spots.
We also repeated this search 60 days after the article was published to see if there were any major differences.
The Ubersuggest database currently contains information on 1,459,103,429 keywords from around the world in all languages (a lot of keywords have low search volume like 10 searches per month). But for this experiment, we focused on English speaking sites.
We then split the sites up into 9 groups. Roughly 70 sites per group. Each group only leveraged 1 tactic to see if it helped with rankings.
Here's a breakdown of each group.
Control group – this group just published the article and didn't leverage any promotional or SEO tactics. Having a control group allows us to compare how specific tactics affect rankings.
Sitemap – all this group leveraged was a sitemap. They added the article to their sitemap, and we made sure the sitemap was submitted to Google Search Console.
Internal linking – this group added 3 internal links from older pieces of content to the newly written article.
URL Inspection – within Google Search Console you can request that they Crawl and index a URL. That feature is called URL Inspection.
Social shares – Facebook, Twitter, LinkedIn, Pinterest and Reddit were the social sites that this group submitted and promoted their content on.
Google Chrome lookup – for each site in this group, we had 40 people type in the URL directly into their address bar and look up the site. This could have been done on either mobile or desktop versions of Chrome. I added this group in there because I was curious to see if people visiting your site from Chrome browsers affects your rankings.
Meta tags – my team optimized the title tag and meta description for everyone in this group. Based on the article, we crafted the optimal meta tags to not only include keywords but also to entice clicks.
URL – with this group we only optimized their article URL to include keywords and we tried to keep the length around 50 characters as that is what they supposedly prefer.
Everything – this group combined all of the tactics above other than the control group as they didn't do anything.
Before I dive into the data, keep in mind that if someone was in one of the groups, we did our best to make sure that they weren't leveraging any other tactic. For example, for everyone who wasn't in the sitemap group, we had them remove their existing sitemaps for Google Search Console (other than the everything group).
Control group
So how many keywords does an average website with a domain score of 30 or less rank for in Google within a month and even two months?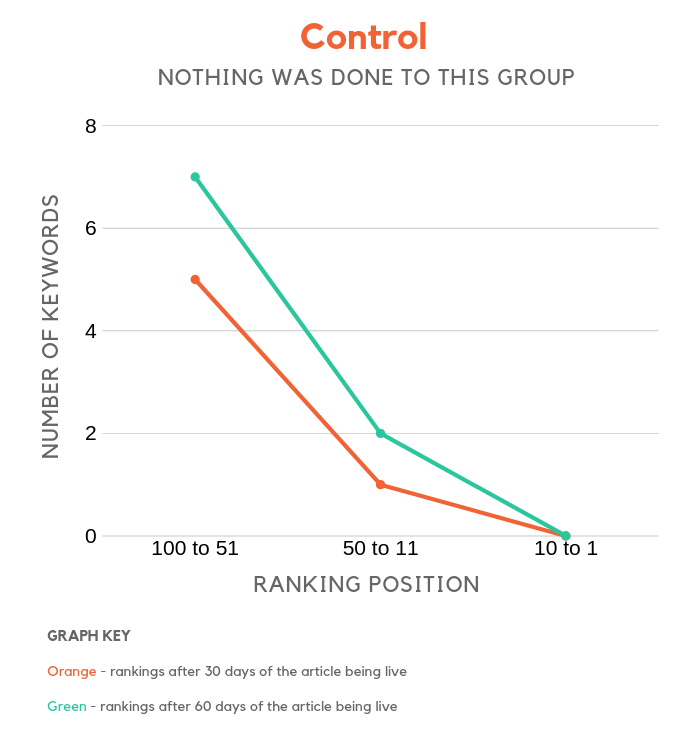 I was shocked at how many keywords a site could rank for when it barely has any links and a low domain score.
But what wasn't as shocking is how a web page's ranking can increase over time. The orange line shows the number of keywords that ranked within the first 30 days and the green line shows the number over the first 60 days.
Sitemap group
You know how people say you need an XML sitemap, well it is even more important if you have a low domain score. At least, that is what the data shows.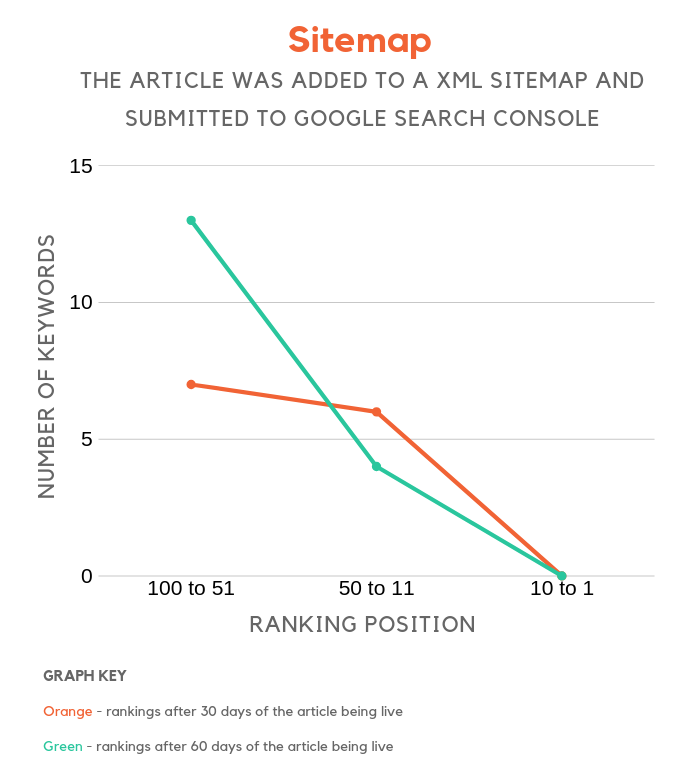 When your site has very few links and a low domain score, you'll find that Google may not crawl your site as often as you want. But by leveraging a sitemap, you can speed up the indexing process, which helps decrease the time it takes for your site to start ranking for keywords.
Internal linking group
Links, links, and more links… it's what every site needs to rank well. Ideally, those links would be from external sites, but that's hard to do. So, we tested how internal links impact rankings.
When you add internal links from your old content to your newer articles, it helps them get indexed faster and it helps push them up in the rankings.
Especially when these internal links come from relevant pages that have some decent rankings on Google.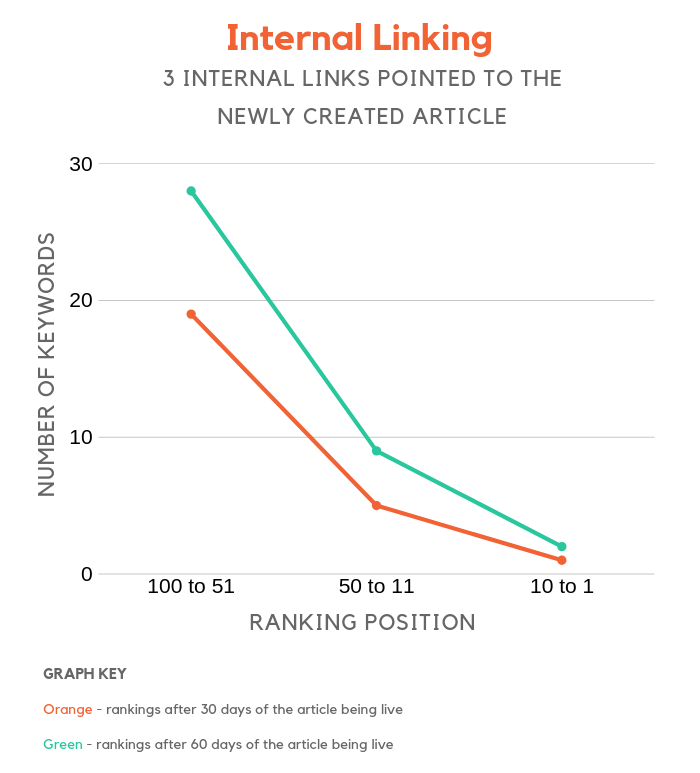 Articles that leveraged 3 internal links had more page 1 rankings than sites that just used an XML sitemap.
URL inspection group
If you aren't familiar with the URL inspection feature within Google Search Console, it's a quick way to getting your content index.
Just log into Search Console and type in your article URL in the search bar at the top. You'll see a screen that looks something like this: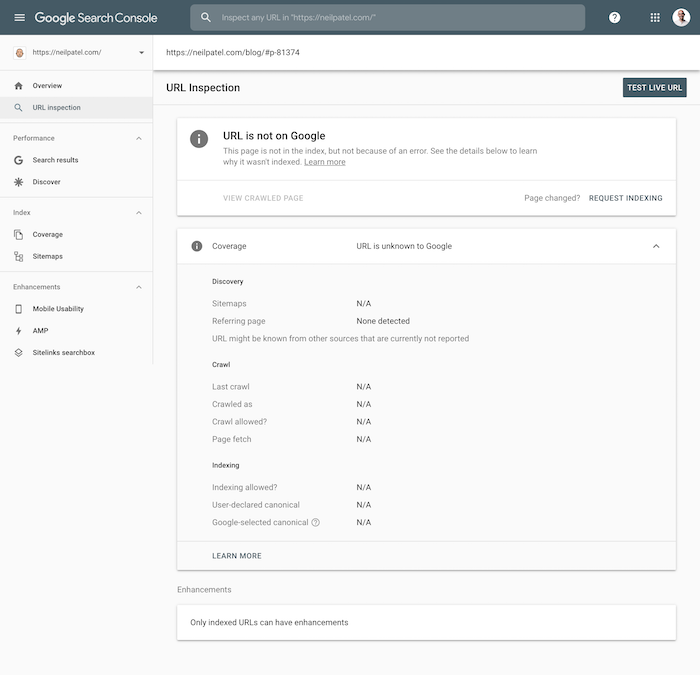 All you have to do is click the "request indexing" link.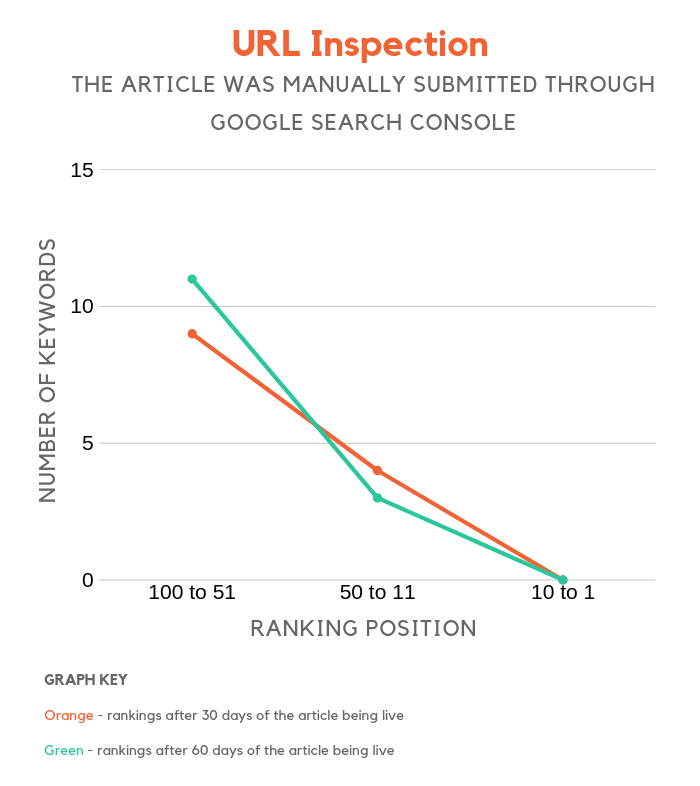 Leveraging this feature has a similar result to using the sitemap.
Social shares group
I've noticed a trend with my own website, in which if I create a piece of content that goes viral on the social web, my rankings for that new piece of content skyrocket to the top of Google… at least in the very short run.
And after a few weeks, I notice that my rankings drop.
Now, my site isn't a large enough sample size and there are many reasons why my site ranks really well quickly.
Nonetheless, it was interesting to see how much social shares impact rankings.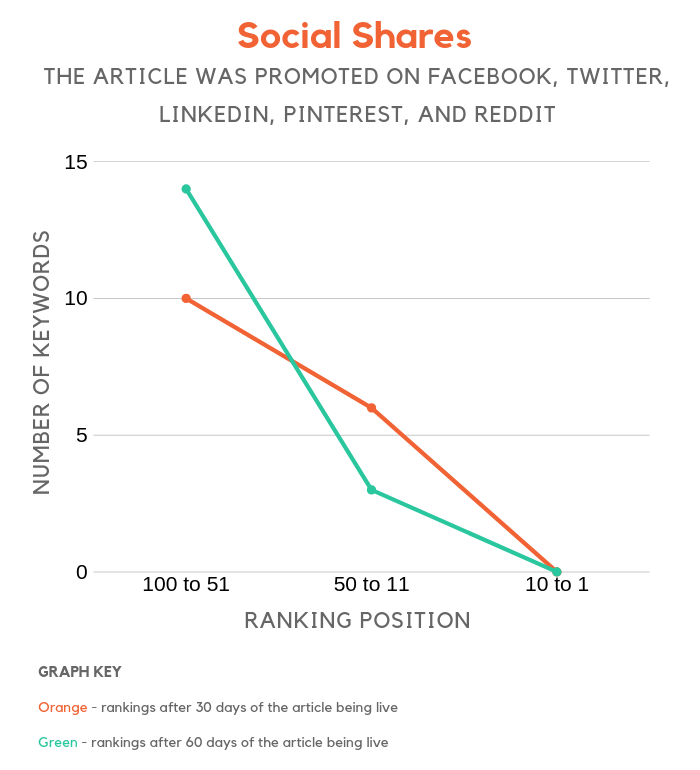 Getting social shares substantially performed better than the control group, but similar to my experience with NeilPatel.com, the rankings did slip a bit in month 2 instead of continually rising to the top.
Social shares may not have a direct impact on rankings, but the more people who see your content the higher the chance you build backlinks, increase your brand queries, and build brand loyalty.
Google Chrome lookup group
Do you know how people are saying that Google is using data from Google Analytics and Chrome to determine how high your site should rank?
Well, I wasn't able to prove that from this experiment.
I had 40 random people directly type in the URL of each new article into Google Chrome. I spread it out over a week, making sure they clicked around on the site and stayed for at least 2 minutes.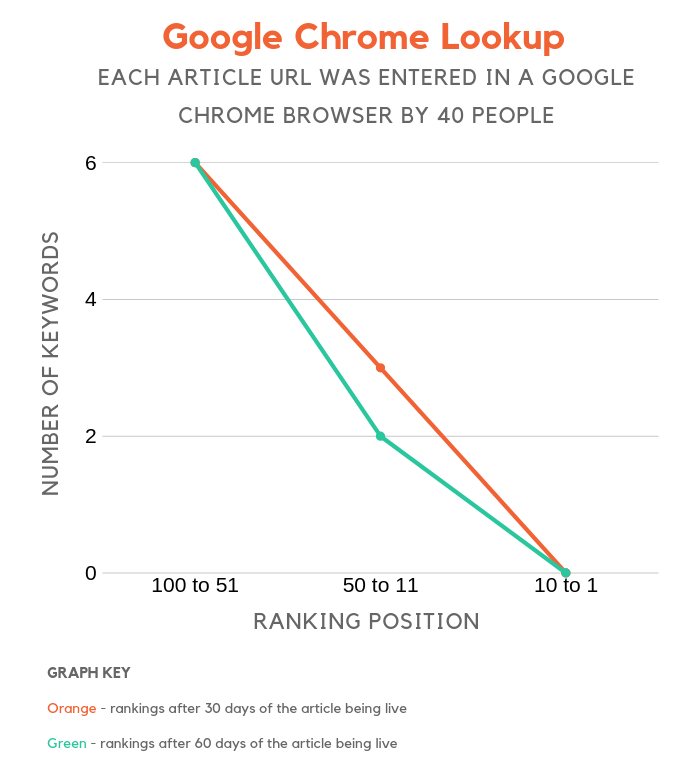 The ranking results were very similar to the control group.
Meta tags group
Now this group performed very similarly to the group that leveraged internal linking. And the month 2 results outperformed all other groups.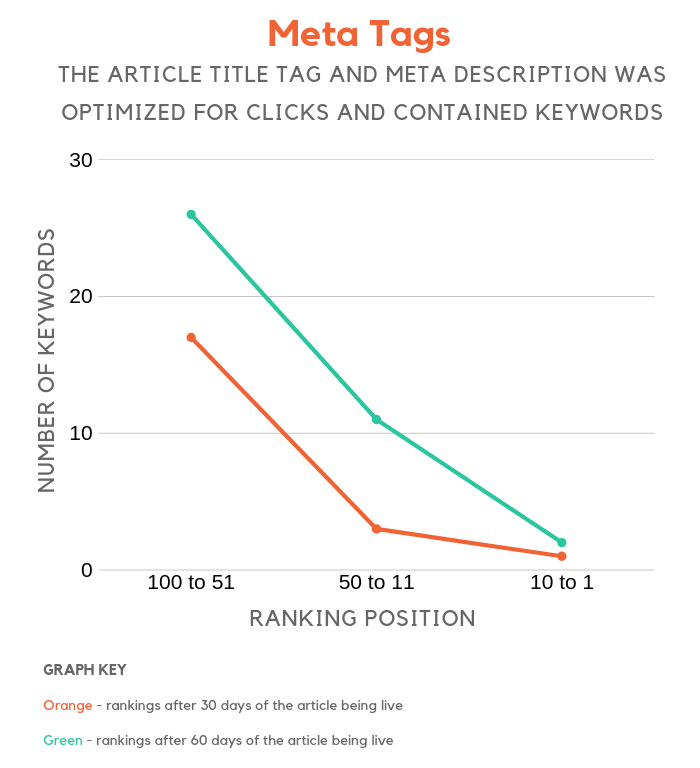 User metrics are a key part of Google's algorithm. If you can create a compelling title tag and meta description, you'll see a boost in your click-through rate and eventually, your rankings will climb.
If you want to boost your rankings through your meta tags, it's not just about adding in the right keywords, you'll also want to boost your click-through rate. Follow these steps to do just that.
URL group
The 8th group tested if URL length impacts how high a new piece of content ranks on Google.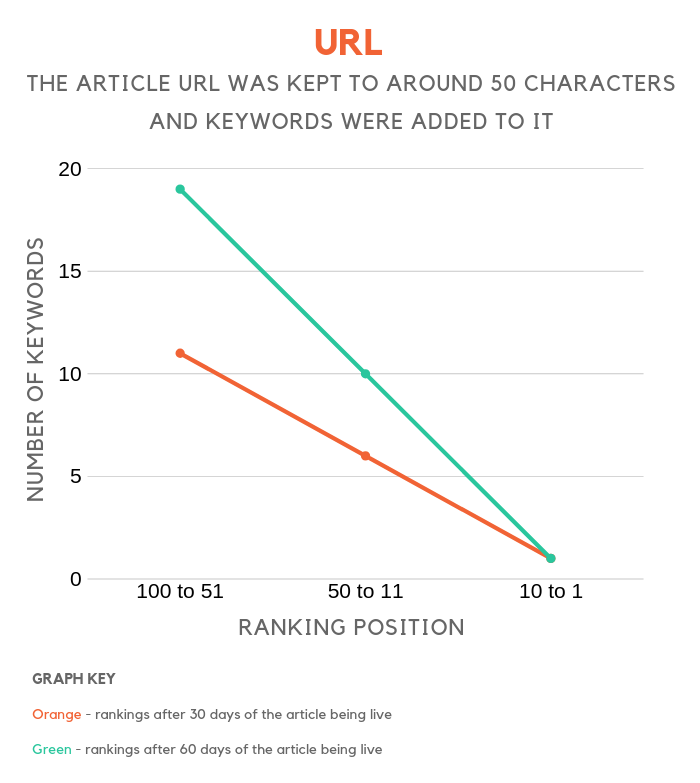 Based on the graph above, you can see that it does. It didn't have as much of an impact as internal linking or meta tags, but it did have an impact.
The key to creating SEO friendly URLs is to include a keyword or two and keep them short.
If your URL is too long and descriptive, such as:
neilpatel.com/blog/how-to-optimize-your-meta-tags-for-search-engines
The article will rank for very long tail phrases but will struggle to rank for more popular terms like "meta tags" compared to URLs like:
neilpatel.com/blog/meta-tags/
The beautiful part about the short URLs is that they rank well for head terms and long tail phrases.
Conclusion
The charts clearly show that little things like meta tags, URLs, internal linking, social shares, and even sitemaps help.
But the key to doing well, especially if you want your new content to rank well is to not just do one of those things, but instead do them all.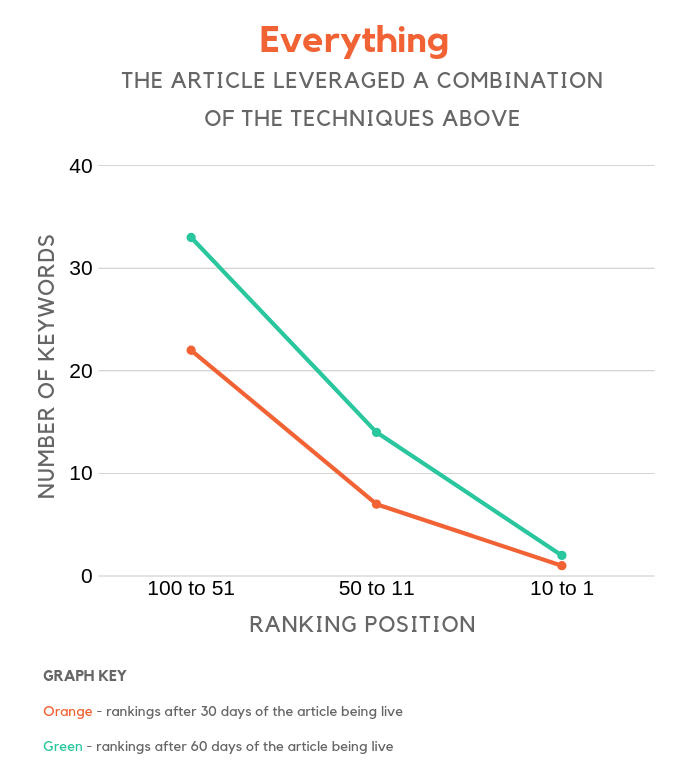 As you can see from the chart, doing everything gives you the best results. Now sure, some of the things are redundant like using an XML sitemap and using the URL inspection feature, but you get the point.
You'll also notice that when you leverage everything together your results aren't exponentially better… SEO is competitive and has turned into a game where every little thing adds up.
If you want to do well and have your new AND old content rank faster and higher, you need to do everything.
I know the tactics above aren't anything revolutionary or new, but it's interesting to look at the data and see how specific tactics affect rankings.
So, what do you think?
The post How to Rank New Content Faster appeared first on Neil Patel.
Thank you for reading.
This may be of some interest.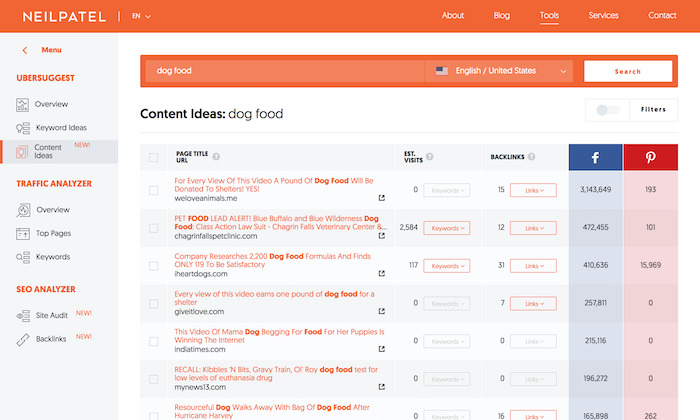 Why do you do keyword research?
It's to find more lucrative keywords to rank for on Google, right?
But once you find these keywords, you still have to figure out how to rank for them.
For that reason, I decided to update Ubersuggest because I wanted to show you what kind of content to create and even how to promote it.
That way you can start ranking for these newly found keywords.
Here's what's new…
Content ideas
The way you rank for a keyword is by creating content around it. I know content isn't king anymore and that's because there are over 1 billion blogs on the web. That means Google can be really picky about what they decide to rank.
So now, not only do you need to write amazing content, but you also have to promote it if you want to do well.
To help you with this I created a Content Ideas report in Ubersuggest. So whenever you do keyword research, you'll see an overview that looks like this: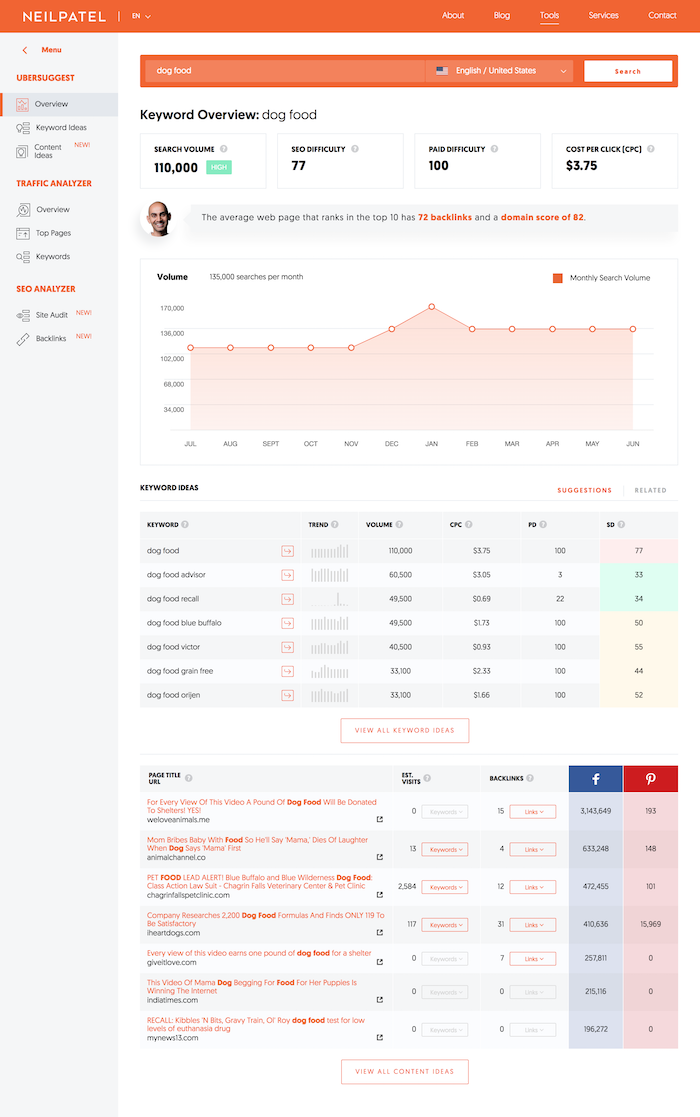 Just like before, you'll see a graph at the top with the search volume over time, some keyword recommendations and, at the very bottom, a list of blog posts that performed exceptionally well for that keyword.
When you click on "content ideas" in the navigational menu or you click on "view all content ideas," you'll then be taken to a page that looks something like this: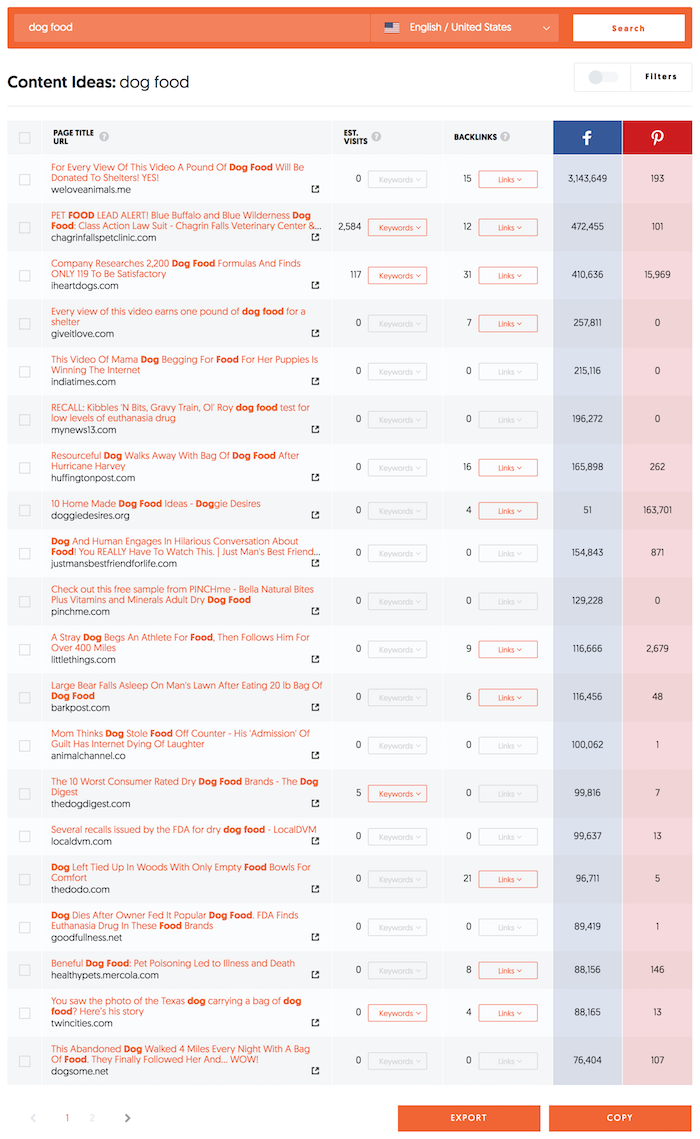 This page shows you all of the popular blog posts that have been written related to the keyword or phrase you searched.
The list is ordered by social shares, so the posts with the highest social shares are at the top. At the bottom, you can keep clicking to see more results. Even if your screen only shows 1 or 2 pages, just keep clicking next and you'll start to see results for pages 3, 4, 5, etc.
We only show you 20 results per page, but each key phrase will typically have hundreds, if not thousands, of results as our database has over 500,000,000 blog posts from around the world.
And because there are so many results, we've also created an easy to use filtering system so you can fine-tune your search by including certain keywords or excluding other ones and even putting minimum and maximum thresholds on social shares.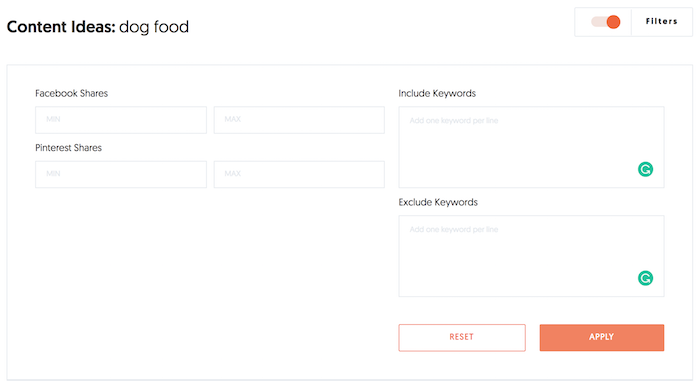 My favorite part about the content ideas report
I know you can do similar things with Buzzsumo and other tools, but this is why I created the Content Ideas report.
As I mentioned earlier, content isn't king. You not only have to write amazing content (that's why I sort the content by social shares as more shares typically mean people love it), but you also have to promote it.
You'll notice that there are two other columns in this report that make the tool unique… one is "Estimated Visits" and the other is "Backlinks".

Estimated visits will show you how many visits the blog post generated from Google each month. Just click on "Keywords" and it will even show you the keywords that drive those visits and the position the article ranks for each of those terms.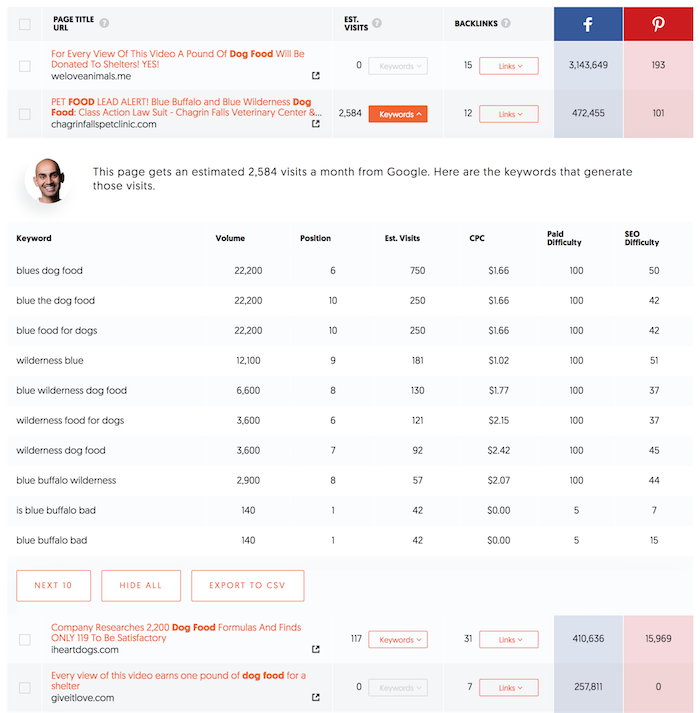 Backlinks, on the other hand, are all of the referring domains that point to each article. So if 12 unique domains link to that blog post, then you'll see the number "12" in that column. All you have to do is click on "links" and you'll see the full list of backlinks.
Not only do I provide a thorough list of backlinks, but I also show you the overall page score, domain score, anchor text, and even the type of link.
The reasons I made the Content Ideas report like this are:
By creating content similar to posts that have a lot of social shares, it increases the chances that the content you are writing is going to do well as people have already shown interest in that topic and even shared it on the social web.
By showing you the keywords a blog post ranks for, you'll know what keywords to focus on when writing the content. This way your post can rank as well.
By showing you who links to your competition, you can now hit up everyone who links to competing articles and ask them to link to your piece of content.
Less fluff and more data
In addition to the Content Ideas report, you'll now find that Ubersuggest provides you with more data and less fluff when you perform a keyword query.
For example, if you search for the term "dog food," it will tell you that the average result that ranks in the top 10 has 72 backlinks and a domain score of 82.

This way, if you want to rank for that term or any other term, you'll have a rough idea of what you need from an authority and backlink standpoint to achieve a spot on page one.
Conclusion
If you are going to create content or write a blog post, you should check out the Content Ideas report each time before you write.
The last thing you want to do is create content that people don't care about reading. And this report will give you good feedback so that way you aren't wasting your time creating content that doesn't generate social shares, backlinks, or rankings.
You'll also notice that some posts do extremely well from a social sharing standpoint but terrible from a backlink and a search traffic perspective.
Social shares will bring you more short-term traffic and search engines bring you less traffic upfront, but more consistent traffic over time.
This report will help you find a balance so that you can get both short-term traffic and consistent traffic over the long-haul.
So, head on over and try the new Content Ideas report.
What do you think about the content ideas report?
The post Ubersuggest 4.0: The Ultimate Content Marketing Tool appeared first on Neil Patel.
Thank you for reading.
This may be of some interest.
Posted by matt_gillespie
There's an oft-cited statistic in the world of technology professionals, from marketers to startup founders to data scientists: 90% of the world's data has been created in the last two years.
This instantly-Tweetable snippet was referenced in Forbes in 2018, mentioned by MediaPost in 2016, and covered on Science Daily in 2013. A casual observer could be forgiven for asking: How could that be true in three different years?
At Fractl, the data makes perfect sense to us: The global amount of digital information is growing exponentially over time.
This means that the "90 percent of all data…" statistic was true in 2013, 2016, and 2018, and it will continue to be true for the foreseeable future. As our culture continues to become more internet-integrated and mobile, we continue to produce massive amounts of data year over year while also becoming more comfortable with understanding large quantities of information.
This is hugely important to anyone who creates content on the web: Stats about how much data we create are great, but the stories buried in that data are what really matter. In the opening manifesto for FiveThirtyEight, one of the first sites on the web specifically devoted to data journalism, Editor-in-Chief Nate Silver wrote:
"Almost everything from our sporting events to our love lives now leaves behind a data trail."
This type of data has always been of interest to marketers doing consumer research, but the rise of data journalism shows us that there is both consumer demand and almost infinite potential for great storytelling rooted in numbers.
In this post, I'll highlight four key insights from data science and journalism and how content marketers can leverage them to create truly newsworthy content that stands out from the pack:
The numbers drive the narrative
Plotted points are more trustworthy than written words (especially by brands!)
Great data content is both beautiful and easy-to-interpret
Every company has a (data) story to tell
By the time you're done, you'll have gleaned a better understanding of how data visualization, from simple charts to complex interactive graphics, can help them tell a story and achieve wide visibility for their clients.
The numbers drive the narrative
Try Googling "infographics are dead," and your top hit will be a 2015 think piece asserting that the medium has been dead for years, followed by many responses that the medium isn't anywhere close to "dead." These more optimistic articles tend to focus on the key aspects of infographics that have transformed since their popularity initially grew:
Data visualization (and the public's appetite for it) is evolving, and
A bad data viz in an oversaturated market won't cut it with overloaded consumers.
For content marketers, the advent of infographics was a dream come true: Anyone with even basic skills in Excel and a good graphic designer could whip up some charts, beautify them, and use them to share stories. But Infographics 1.0 quickly fizzled because they failed to deliver anything interesting — they were just a different way to share the same boring stories.
Data journalists do something very different. Take the groundbreaking work from Reuters on the Rohingya Muslim refugee camps in southern Bangladesh, which was awarded the Global Editors Network Award for Best Data Visualization in 2018. This piece starts with a story—an enormous refugee crisis taking place far away from the West—and uses interactive maps, stacked bar charts, and simple statistics visualizations to contextualize and amplify a heartbreaking narrative.
The Reuters piece isn't only effective because of its innovative data viz techniques; rather, the piece begins with an extremely newsworthy human story and uses numbers to make sure it's told in the most emotionally resonant way possible. Content marketers, who are absolutely inundated with advice on how storytelling is essential to their work, need to see data journalism as a way to drive their narratives forward, rather than thinking of data visualization simply as a way to pique interest or enhance credibility.
Plotted points are more trustworthy than written words
This is especially true when it comes to brands.
In the era of #FakeNews, content marketers are struggling more than ever to make sure their content is seen as precise, newsworthy, and trustworthy. The job of a content marketer is to produce work for a brand that can go out and reasonably compete for visibility against nonprofits, think tanks, universities, and mainstream media outlets simultaneously. While some brands are quite trusted by Americans, content marketers may find themselves working with lesser-known clients seeking to build up both awareness and trust through great content.
One of the best ways to do both is to follow the lead of data journalists by letting visual data content convey your story for you.
"Numbers don't lie" vs. brand trustworthiness
In the buildup to the 2012 election, Nate Silver's previous iteration of FiveThirtyEight drew both massive traffic to the New York Times and criticism from traditional political pundits, who argued that no "computer" could possibly predict election outcomes better than traditional journalists who had worked in politics for decades (an argument fairly similar to the one faced by the protagonists in Moneyball). In the end, Silver's "computer" (actually a sophisticated model that FiveThirtyEight explains in great depth and open-sources) predicted every state correctly in 2012.
Silver and his team made the model broadly accessible to show off just how non-partisan it really was. It ingested a huge amount of historical election data, used probabilities and weights to figure out which knowledge was most important, and spit out a prediction as to what the most likely outcomes were. By showing how it all worked, Silver and FiveThirtyEight went a long way toward improving the public confidence in data—and, by extension, data journalism.
But the use of data to increase trustworthiness is nothing new. A less cynical take is simply that people are more likely to believe and endorse things when they're spelled out visually. We know, famously, that users only read about 20-28 percent of the content on the page, and it's also known that including images vastly increases likes and retweets on Twitter.
So, in the era of endless hot takes and the "everyone's-a-journalist-now" mentality, content marketers looking to establish brand authority, credibility, and trust can learn an enormous amount from the proven success of data journalists — just stick to the numbers.
Find the nexus of simple and beautiful
Our team at Fractl has a tricky task on our hands: We root our content in data journalism with the ultimate goal of creating great stories that achieve wide visibility. But different stakeholders on our team (not to mention our clients) often want to achieve those ends by slightly different means.
Our creatives—the ones working with data—may want to build something enormously complex that crams as much data as possible into the smallest space they can. Our media relations team—experts in knowing the nuances of the press and what will or won't appeal to journalists—may want something that communicates data simply and beautifully and can be summed up in one or two sentences, like the transcendent work of Mona Chalabi for the Guardian. A client, too, will often have specific expectations for how a piece should look and what should be included, and these factors need to be considered as well.
Striking the balance
With so many ways to present any given set of numbers, we at Fractl have found success by making data visualizations as complex as they need to be while always aiming for the nexus of simple and beautiful. In other words: Take raw numbers that will be interesting to people, think of a focused way to clearly visualize them, and then create designs that fit the overall sentiment of the piece.
On a campaign for Porch.com, we asked 1,000 Americans several questions about food, focusing on things that were light and humorous conversation starters. For example, "Is a hot dog a sandwich?" and "What do you put on a hot dog?" As a native Chicagoan who believes there is only one way to make a hot dog, this is exactly the type of debate that would make me take notice and share the content with friends on social media.
In response to those two questions, we got numbers that looked like this:
Using Tableau Public, an open-source data reporting solution that is one of the go-to tools for rapid building at Fractl, the tables above were transformed into rough cuts of a final visualization:
With the building blocks in place, we then gave extensive notes to our design team on how to make something that's just as simple but much, much more attractive. Given the fun nature of this campaign, a more lighthearted design made sense, and our graphics team delivered. The entire campaign is worth checking out for the project manager's innovative and expert ability to use simple numbers in a way that is beautiful, easy-to-approach, and instantly compelling.
All three of the visualizations above are reporting the exact same data, but only one of them is instantly shareable and keeps a narrative in mind: by creatively showing the food items themselves, our team turned the simple table of percentages in the first figure into a visualization that could be shared on social media or used by a journalist covering the story.
In other cases, such as if the topic is more serious, simple visualizations can be used to devastating effect. In work for a brand in the addiction and recovery space, we did an extensive analysis of open data hosted by the Centers for Disease Control and Prevention. The dramatic increase in drug overdose deaths in the United States is an emotional story fraught with powerful statistics. In creating a piece on the rise in mortality rate, we wanted to make sure we preserved the gravity of the topic and allowed the numbers to speak for themselves:
A key part of this visualization was adding one additional layer of complexity—age brackets—to tell a more contextualized and human story. Rather than simply presenting a single statistic, our team chose to highlight the fact that the increase in overdose deaths is something affecting Americans across the entire lifespan, and the effect of plotting six different lines on a single chart makes the visual point that addiction is getting worse for all Americans.
Every brand's data has a story to tell
Spotify has more than 200 million global users, nearly half of whom pay a monthly fee to use the service (the other half generate revenue by listening to intermittent ads). As an organization, Spotify has data on how a sizeable portion of the world listens to its music and the actual characteristics of that music.
Data like this is what makes Spotify such a valuable brand from a dollars and cents standpoint, but a team of data journalists at The New York Times also saw an incredible story about how American music taste has changed in the last 30 years buried in Spotify's data. The resulting piece, Why Songs of Summer Sound the Same, is a landmark work of data-driven, interactive journalism, and one that should set a content marketer's head spinning with ideas.
Of course, firms will always be protective of their data, whether it's Netflix famously not releasing its ratings, Apple deciding to stop its reporting of unit sales, or Stanford University halting its reporting of admissions data. Add to the equation a public that is increasingly wary of data privacy and susceptibility to major data breaches, and clients are often justifiably nervous to share data for the purpose of content production.
Deciding when to share
That said, a firm's data often is central to its story, and when properly anonymized and cleared of personal identifying information, or PII, the newsworthiness of a brand reporting insights from its own internal numbers can be massive.
For example, GoodRx, a platform that reports pricing data from more than 70,000 U.S. pharmacies, released a white paper and blog post that compared its internal data on prescription fills with US Census data on income and poverty. While census data is free, only GoodRx had the particular dataset on pharmacy fills—it's their own proprietary data set. Data like this is obviously key to their overall valuation, but the way in which it was reported here told a deeply interesting story about income and access to medication without giving away anything that could potentially cost the firm. The report was picked up by the New York Times, undoubtedly boosting GoodRx's ratings for organic search.
The Times' pieces on Spotify and GoodRx both highlight the fourth key insight on the effective use of data as content marketers: Every brand's data has a story to tell. These pieces could only have come from their exact sources because only they had access to the data, making the particular findings singular and unique to that specific brand and presenting a key competitive advantage in the content landscape. While working with internal data comes with its own potential pitfalls and challenges, seeking to collaborate with a client to select meaningful internal data and directing its subsequent use for content and narrative should be at the forefront of a content marketer's mind.
Blurring lines and breaking boundaries
A fascinating piece recently on Recode sought to slightly reframe the high-publicity challenges facing journalists, stating:
"The plight of journalists might not be that bad if you're willing to consider a broader view of 'journalism.'"
The piece detailed that while job postings for journalists are off more than 10 percent since 2004, jobs broadly related to "content" have nearly quadrupled over the same time period. Creatives will always flock to the options that allow them to make what they love, and with organic search largely viewed as a meritocracy of content, the opportunities for brands and content marketers to utilize the data journalism toolkit have never been greater.
What's more, much of the best data journalism out there typically only uses a handful of visualizations to get its point across. It was also reported recently that the median amount of data sources for pieces created by the New York Times and The Washington Post was two. It too is worth noting that more than 60 percent of data journalism stories in both the Times and Post during a recent time period (January-June, 2017) relied only on government data.
Ultimately, the ease of running large surveys via a platform like Prolific Research, Qualtrics, or Amazon Mechanical Turk, coupled with the ever-increasing number of free and open data sets provided by both the US Government or sites like Kaggle or data.world means that there is no shortage of numbers out there for content marketers to dig into and use to drive storytelling. The trick is in using the right blend of hard data and more ethereal emotional appeal to create a narrative that is truly compelling.
Wrapping up
As brands increasingly invest in content as a means to propel organic search and educate the public, content marketers should seriously consider putting these key elements of data journalism into practice. In a world of endless spin and the increasing importance of showing your work, it's best to remember the famous quote written by longtime Guardian editor C.P. Scott in 1921: "Comment is free, but facts are sacred."
What do you think? How do you and your team leverage data journalism in your content marketing efforts?
Sign up for The Moz Top 10, a semimonthly mailer updating you on the top ten hottest pieces of SEO news, tips, and rad links uncovered by the Moz team. Think of it as your exclusive digest of stuff you don't have time to hunt down but want to read!
Thank you for reading.
This may be of some interest.
If you create and share content, curation is part of your B2B marketing strategy. From seasoning a blog post with key third-party statistics to sharing an interesting article from an industry publication or influencer across your social channels, you're curating.
But content curation has a place beyond adding an insight or two to your content.
With large volumes of information available today and short attention spans, curation allows content marketers to create more convenient, valuable content experiences for their target audience, while growing thought leadership, bolstering their content calendar, and increasing production efficiency.
What types of curation exist? How are B2B brands doing curation? When does it make sense to do curation? Let's dive in.
Types of Content Curation and B2B Examples
The Curation Kitchen Staples: Microcontent
Statistics. Quotes. Tips. Social media commentary. Third-party videos. Gifs. Memes. Curated microcontent is what gives your content its flavor—whether its used as seasoning in a long-form blog post or modularly in short-form social content. This is foundational curation, and it plays a role in all other types. And as TopRank Marketing CEO Lee Odden once said:
"Snackable content can often be managed and repurposed like ingredients to create a main course. On their own, short-form content like quotes, tips, and statistics are useful for social network shares and as added credibility to blog posts, eBooks, and articles."
See what I did there? Microcontent is simplistic and easy to integrate, helping you provide more depth and insight on a topic, infuse credibility, and highlight industry experts.
When microcontent curation makes sense: Always—if the content is relevant to the topic you're discussing. Microcontent helps you provide proof points to bolster your narrative and build credibility with your audience.
The Curation Classics: Roundups, Listicles, and Resource Hubs
Collecting key bits of information and insights and organizing them into an easy to digest format is the quintessential content curation tactic. The premise is simple: You're gathering interesting tidbits from multiple sources on a specific topic and placing them in one central location.
The underlying theme for this curation tactic (and any content tactic for that matter) is relevance and value. It needs to be topically relevant to your audience and it can't be a lazy compilation; it needs to serve a purpose.
News roundups are perhaps the most popular of the curation classics. We've all seen them and likely have a few we go back to on a regular basis, so I won't spend too much time here. (Shameless plug to check out our weekly digital marketing news roundup.)
But here's an example of a roundup style piece from EHS and sustainability consulting firm *Antea Group that brings video content together to have a little fun and spark a connection with the audience.
The post showcases six workplace safety videos—all sourced and easily embedded from YouTube—with movie-critic-like commentary that make connections to the daily life and work of their target audience.
When it comes to resource hubs, HubSpot is an "ultimate list" destination on a variety of subjects, most notably digital marketing statistics. Here's a recent example featuring Instagram statistics.
For listicles, one of our recent BIGLIST editions featuring 50 of the top marketing blogs featuring martech brands is a solid example. Time was spent on researching and vetting, and the list provides a short and sweet description of each blog, as well as our favorite recent article to give readers a cue on what's worth checking out first.
Finally, events can be great opportunities for curation. *Introhive, an enterprise relationship management (ERM) platform, regularly curates social and team member insights to compile post-event infographics with top takeaways.
When classic curation makes sense: Classic curation is largely an awareness and engagement play. If you're looking to provide your audience with a helpful resource that hits quick on the points, and showcase your brand as a thoughtful expert in the space, this type of curation can make it easy for your audience to find insight and inspiration—and minimize the amount of time they need to spend on the hunt.
The Next Level of Curation: Thought Leadership Mashups
Curation isn't limited to assembling a robust, scannable list of information or resources, or seasoning original content with stats, quotes, or videos. Curation can fuel thought leadership.
Great examples of this kind of curation are trends-focused pieces. Taking a cue from the classic curation formats, this kind of content aims to identify one or more trend or pattern using curated bits of information, all tied together with your knowledge and expertise.
This could be small-scale or large-scale—meaning a single concept could provide the supporting content or tie-in, or it could be your take on a collection of related trends, facts, or insights. This piece from *SAP's Digitalist Magazine is a great example.
But this kind of curation doesn't just lend itself to discussing trends. Many of our own blog posts use a mashup curation method to educate and engage marketers, and define our perspectives and approach to marketing.
This can be seen in a recent post from Nick Nelson on how to write clear, concise content. Using our words intentionally is a core belief, and Nick was able to illustrate that with his deep knowledge and some relevant insights from third parties.
Also, when we say "curation," we don't just mean collecting insights from third-party sources. You can curate your own content—it's just most often called repurposing.
Salesforce has a great example here. This recent post touches on a key trend in the marketplace (lack of consumer trust), leverages microcontent from Salesforce's own research (the Trends in Consumer Trust research report), and then original content builds a narrative for a specific audience (retailers).
In addition, curating and repurposing influencer content is an especially big opportunity. More than likely, the insights that influencers share with you have implications and applications across other related topics.
When curation mashups make sense: If you want to build thought leadership on a subject, mashups should be in your content lineup. Mashups allow you to elevate an idea, perspective, challenge, or opportunity, while using existing content as a jumping off-point or as part of the foundation of your take.
Read: A Tasty, Strategic Addition to the Content Marketing Table: 'Repurposed Content Cobbler'
Content Curation for the Win
Regardless of your editorial plan, you're already doing some form of content curation. However, you can make curation a more deliberate and effective part of your overall B2B content marketing strategy.
Whether you create an ultimate list featuring statistics from multiple sources, provide high-level takeaways from an event or report, give your own content new life to build thought leadership, content curation can provide value and convenience for your audience and writing team.
Looking for content curation best practices, tools, and more examples? Check out our post on Content Curation 101.
*Disclosure: Antea Group, SAP, and Introhive are TopRank Marketing clients.
The post Content Curation Inspiration: Types, Examples, & Use Cases for B2B Marketers appeared first on Online Marketing Blog – TopRank®.
Thank you for reading.
This may be of some interest.
What's Most Annoying About Brand Content? Consumers Weigh In
Adobe's* 2019 Brand Content Survey asked 1,000 consumers what they found the most annoying in brand content. The results showed that wordy content or poorly written content takes the cake with 39% of the vote. It's also important to note that lack of personalization and too much personalization are both annoying pain points for consumers. Adobe
Video Is the Fastest Growing Type of Content on LinkedIn and Starts the Most Conversations
LinkedIn* posted a new infographic this week sharing the most surprising statistics about the platform. For example, the number of messages sent on the platform has increased 35% year over year. Plus, millions of LinkedIn members have already created video on the platform, making it the fastest growing type of content on the site. Their statistics also show that video starts the most conversations, making it a great engagement tool. LinkedIn
Nearly 75% of U.S. Internet Users Say the Cambridge Analytica Scandal Raised Privacy Concerns
Text messaging marketing company, SlickText, conducted a survey to evaluate how consumers view their privacy online after the Cambridge Analytica scandal. They found that almost three quarters of consumers were more concerned about how their information was used online after the scandal. In addition, only 32% of respondents said they're willing to trade their personal information for greater convenience. SlickText
Facebook Is Rolling Out a Redesigned Interface
At Facebook's F8 developer conference, CEO Mark Zuckerburg announced a design overhaul for all of their applications, including saying goodbye to their traditional blue color. The new look also rearranges the home page to focus on stories and groups—something digital marketers will want to adapt to. Facebook
Artificial Intelligence Is Being Used for Personalization at Scale
A new study from Arm Treasure Data* and Forbes Insights revealed that 25% of companies are using artificial intelligence (AI) to achieve personalization at scale—and they see AI as a critical component to their personalization efforts. The study also found that 40% of respondents are seeing an increase in sales and profits thanks to personalization. Forbes Insights and Arm Treasure Data
Engaging with Followers Is the Biggest Challenge for B2B Brands on Instagram
Social Media Today hosted a Q&A session over Twitter to discover top challenges and tips for B2B brands on Instagram. Respondents highlighted engagement as a top challenge and goal on the platform. Respondents also advised other B2B digital marketers to stay true to their brand and company culture as a top Instagram tip. Social Media Today
Creative Commons Launches New Search Engine
Finding relevant, copyright-free images for your digital marketing needs just got a whole lot easier. Creative Commons just launched CC Search, a new search engine for over 300 million Creative Commons images and 19 different collections. PetaPixel
More Than Half of Organizations Could Redirect Investments Towards Customer Experience Innovations
For more signs that experience is how brands compete today and in the future, a new article from CMO.com predicts over half of all organizations will reallocate budget for experience innovations and management. To navigate this new business landscape, CMO.com recommends a single, real-time customer profile and technology that makes it possible. CMO.com
The Benefit of Experiential Marketing
Almost 75% of people who take part in a brand's experiential marketing are more likely to purchase something from that brand. Compared to other marketing types like video, content, and audio, experiential marketing lead to greater satisfaction, engagement, and entertainment levels among participants. ClickZ
ON THE LIGHTER SIDE:
Every digital marketer's favorite cartoonist, Tom Fishburne, highlights the pitfalls of creative review. Marketoonist
Bringing down the bots—bot fraud losses will be down 11% this year compared to 2017. MediaPost
How seriously should digital marketers take artificial intelligence? Hint: the answer is serious. The Drum
TOPRANK MARKETING & CLIENTS IN THE NEWS:
THAT'S ALL, FOLKS
From Facebook's design overhaul to the creativity-draining review process, there were a lot of newsworthy topics to cover in digital marketing this week.
Thanks for joining us and we hope you'll come back again next week for more of the most relevant digital marketing industry news. In the meantime, you can follow us at @toprank on Twitter for daily news stories and updates. Also, don't miss the full video summary on our TopRank Marketing TV YouTube Channel.
*Disclosure: Arm Treasure Data, LinkedIn, and Adobe are TopRank Marketing clients
The post Digital Marketing News: Content Pet Peeves, Facebook's New Look, Personalization With AI & More appeared first on Online Marketing Blog – TopRank®.
Thank you for reading.
This may be of some interest.
Content creation—it's the linchpin of our B2B content marketing strategies. And 56% of B2B content marketers have upped their investment in content creation over the past year—more than any other spending area.
Without a steady cadence of fresh, quality content we can't proactively adapt to our audience's changing needs nor consistently reach, inform, engage, entertain, or inspire action within them. And for most content marketers, this effort is often grounded in creating net-new content. But freshness is the eye of the beholder; quality content creation doesn't have to be done from scratch.
Refreshing existing content is a massive opportunity, playing an integral role within your always-on content marketing strategy. It's not only more efficient to produce, but when done strategically, it can also boost results, improve user experience, and extend the life and relevance of the content you've worked so hard to produce.
As it's been sung, everything old can be new again. Below are all of the reasons why you need to identify refresh opportunities and how you should approach it.
3 Reasons to Refresh Existing Content
#1 – Content takes time to "mature in search"—and needs to be nurtured.
SEO is a foundational element of content marketing. You know your buyers are becoming increasingly self-directed in their search for answers, and you're creating SEO-informed content to satisfy their queries. But if you just focus on new content creation, you're leaving potential on the table.
We've all experienced those sweet, near-instant wins in search results after a new post goes live. But typically, it takes time and smart optimization to gain consistent organic traction. In its post analyzing top ranking factors, Moz's Jeff Baker discusses three different correlations between the age of a post and its keyword position. Based on their research, it took roughly 100 days or more for a new article to realize its full potential.
Image credit: Moz.com
While pages need time to mature, without the proper nurturing their relevance can degrade over time; this is the "fresh" factor. Essentially, strategically updating older posts can improve rankings as search algorithms prefer fresh over stale content. Data and insight should guide the type of updates you make, but updates could include optimization tweaks to capitalize on new related keyword rankings, expanding or refining content around certain themes, and link building.
Once again, Moz illustrates how freshness can fade in the eyes of search engines.
Image credit: Moz.com
[bctt tweet="Content takes time to mature in search, and it needs to be nurtured. @annieleuman #B2BContentMarketing #contentrefresh" username="toprank"]
#2 – Refreshing allows your content to grow WITH your audience.
Search is constantly evolving. Not only are search engines getting more sophisticated, but the way people are searching has changed as well:
Half of all smartphone users use voice technology. (

comScore

)

Mobile phones are expected to be used for 80% of all internet access in 2019, a 10% increase from 2017. (

Quartz

)

Mobile searches for queries with questions like "do I need", "should I", and "can I" have grown by at least 65% over the past two years. (

Google

)
As queries get more specific and question-based with natural language, making tweaks to your content to match those relevant queries and opportunities allows you to better match users needs. It paves the way for being the best answer, whenever, wherever, and however your audience is searching.
Read: Hey Alexa: How Do I Bake Voice Search Into My B2B Marketing Strategy?
#3 – Refreshing could give you leg-up on more than just your competitors.
Content marketing is no longer the new shiny object in the B2B realm. Content marketing is simply modern marketing. As content continues to proliferate you're likely competing for visibility and reach with your direct competitors within your industry, as well as indirect competitors such as third-party review sites, industry publications, independent bloggers, technology providers, and so on.
There are hundreds of billions of webpages in the Google Search Index, and while serving different audiences and thought leadership purposes, there's likely some overlap in keyword targeting. Let's take "B2B content marketing" as an example—industry publications such as Search Engine Journal, tools like BuzzSumo or HubSpot, platforms like LinkedIn*, and of course B2B marketing agencies like us, have all produced content on this topic.
So, when it comes to refreshing content, you have the opportunity to see how your content is stacking up to all the competition and make data-informed tweaks to differentiate and personalize for your core audience.
How to Get Started with Refreshing Content
Identify Refresh Opportunities With a Content Audit
You've published a lot of content. And more than likely you have several that are top-performers, bringing in tons of traffic. You also may have some good performers or rising stars in there, as well as pieces that simply haven't gained any meaningful traction.
Refreshes can help you bolster those top-performers and hopefully improve performance of other pieces.
To know where to focus your refreshing and optimization efforts, you need to know how your existing content is performing with an audit. By auditing your current content for current rankings, position changes, traffic trends, and more, you can see which posts have the greatest opportunity.
[bctt tweet="Content refreshes can help you bolster those top-performers and hopefully improve performance of other pieces. @annieleuman #B2BContentMarketing" username="toprank"]
Put Experience in the Driver Seat
Refreshing is about both your audience and the search engine. So, when you revisit posts to make optimizations, you need to ensure you keep both parties in mind. Focusing solely on your audience could mean missing out on a critical SEO opportunity. And the opposite could be said when zeroing-in on SEO.
To tick both boxes, carefully research your content's current user experience with metrics like time on page, click through rate, bounce rate, pages per session, or scroll depth. Analyzing these data points should give you an indication of which areas of the experience need the most attention and which sections of your content may need adjustments. This helps you avoid delivering an unsatisfactory user experience that results in drop-offs from both your audience and site crawlers.
Repurpose Where It Makes Sense
There's refreshing and repurposing. Refreshing is updating something that already exists. Repurposing is taking something that exists and using it to create something new. And there's a place for both in your content strategy.
When should you repurpose and when should you refresh?
A top-performing, broad post is a great repurposing opportunity. You've covered the topic with broad strokes. And through repurposing you can dig a little deeper into some of the specific themes or opportunities, using some of the existing content to support your narrative.
Conversely, in-depth content that is ranking for several long-tail keywords is another good repurposing opportunity. If you split the content into several pieces, with each one targeting a different long-tail variation, you could drastically improve those organic rankings and traffic — all by repurposing and restructuring the original piece.
In addition, repurposing can help you personalize content for specific verticals or audience segments. Through repurposing, you can take an existing article and tailor it for a different target audience with new data that's relevant for them, solutions to their biggest pain points, and more.
Read: A Tasty, Strategic Addition to the Content Marketing Table: 'Repurposed Content Cobbler'
Refresh for Success
Everything old can be new again. From SEO to growing your content to match your audience's needs, there are several benefits that come from refreshing content. Refresh for success by conducting a content audit, keeping both humans and search engines in mind, and repurposing when and where it makes sense.
How else can you maximize the value of your B2B content? Get an inside look into the future of B2B Content.
*Disclosure: LinkedIn is a TopRank Marketing client.
The post Everything Old Is New Again: Why & How to Refresh B2B Content appeared first on Online Marketing Blog – TopRank®.
Thank you for reading.
This may be of some interest.
Page one. Answer box. The top result. In the minds of marketers, these prime destinations have largely been associated with SEO success.
From the days of keyword-stuffing and algorithmic alignment to more nuanced modern approaches accounting for semantic voice commands, influencer integration, and search intent, edging competitors on that SERP has been a key source of aspiration. As it should be: heightened visibility on Google makes a big difference in terms of driving traffic.
But it's a little short-sighted to think only about that first, fleeting interaction — the search, the discovery, the click. What about the deeper impact? As customer experience becomes a central focus for brands everywhere, we should be more considerate of what happens after a user clicks through that search result, and how it affects your brand.
We talked recently about how best answer content helps fuel strong SEO results. But as part of our new "Trust Factors" series, which examines practical ways for marketers to strengthen trust with their audiences, we'll shift our perspective and break down the critical benefits of effective best answer content when it comes to building credibility and authority in your niche.
[bctt tweet="As #CX becomes a central focus for brands everywhere, we should be more considerate of what happens after a user clicks through that search result, and how it affects your brand. @NickNelsonMN #ContentMarketing #SearchMarketing" username="toprank"]
Beyond the Click: The Lasting Impact of Best Answer Content
Brian Dean of Backlinko is a masterful creator of best answer content. He preaches, and practices, a quality-over-quantity approach. At the recent Social Media Marketing World 2019 conference in San Diego, Andrew Pickering and Pete Gartland (the hilarious speaker duo @AndrewAndPete) shared the story of how Dean decided on a plan of publishing one blog post every 4-6 weeks, investing huge amounts of time into making sure each of those pieces was as robust, useful, and comprehensive as possible.
To get an idea of what this output looks like, you can check out his SEO in 2019 or Link-Building for SEO, either by clicking those links or simply typing the basic terms into Google; his posts will show up near the top.
Using this approach, Dean reported his blog was receiving more than 200,000 unique monthly visitors with just 51 total blog posts, which is a pretty amazing feat. Obviously, the premium SERP placements have helped him achieve those gaudy numbers. But it's the substance beyond the headlines and meta descriptions that really makes his content powerful.
Perusing one of his in-depth resources, you're going to learn a ton. The posts are extensive but navigable; technical but understandable; fun but serious. They include videos and images to illustrate concepts and break up the copy. Most importantly, they answer pretty much every ancillary question a searcher could ask about their respective topics — accurately and actionably.
And that's how Dean turned his SEO training company from a humble startup to a seven-figure business in five years. His credibility speaks for itself. People trust him and want to learn from him because of the content he creates — not because it ranks so well, but because of how it ranks so well.
How Best Answers Build Trust
He's a great example, but Dean is hardly the one out there building trust through best answer content. At TopRank Marketing, this methodology is fundamental to our integrated strategy mix, and we've seen plenty of awesome results with our clients. As two examples, there was this content and strategic PPC campaign for DivvyHQ, and this SEO-driven content program for Antea Group.
While both of those efforts drove excellent results in terms of traffic and reach, what's really heartening in both cases is the deeper business impacts.
"Lead quality has definitely improved," said DivvyHQ Co-Founder Brody Dorland. "The prospects coming through our website front door are much closer to our ideal customer than they have been in the past."

"We've been able to marry our field and digital marketing efforts together, resulting in numerous digital leads, real revenue opportunities to the tune of millions of dollars, and credibility with our clients, partners, and media as a go-to source for EHS&S information," said Antea Group USA Solutions Marketing Manager Margaret Uttke.
As any sales team can tell you, prospects who are both well qualified and predisposed to respect your brand are vastly more likely to convert and become happy customers. Here's how effective best answer content achieves these outcomes:
Demonstrable Authority
This more or less speaks for itself. When someone finds content on a topic they're looking for and it gives them everything they need, expertly articulated, it paints your company as a trusted source: These people know what they're talking about. They know how to present the info. They've done it well enough that Google's algorithm — which now heavily weighs dwell time and quality inbound links — has elevated it above most or all others.
Value First
Sometimes, content marketing can get away from its essential purpose: providing value. Pressured to show results — even if just vanity results — some practitioners blur the line between pull and push with strictly gated content or thinly veiled promotion.
Best answer content gets back to the basics. When done right, it's all about delivering value and earning trust before you ask for anything. Dean spends weeks researching and composing his hefty Power Pages, which are freely available to anyone who visits. He even makes them downloadable in PDF form if you can't consume all of that content in one sitting, and while the assets are technically gated, in that you must enter an email address to receive them, you aren't required to fill out a long contact form.
[bctt tweet="Best answer content gets back to the basics. When done right, it's all about delivering value and earning trust before you ask for anything. – @NickNelsonMN #ContentMarketing" username="toprank"]
Competitive Positioning
Yes, it's helpful to outrank competitors for key terms because you are more likely to bring in that search traffic. But there is also an important reputation element. When you outrank a direct competitor, the optics are compelling. And even if you're not at the top, simply ranking in the vicinity of a giant company or reputed publication enables you to soak up some of that "second-hand trust."  
It's a simple psychological phenomenon, as Neil Patel explains on his blog: "This is not just a convenience issue for users. It's a trust issue, too. When a result appears first, second, or third, users tend to trust it, believing that it is somehow more reliable, popular, or more legitimate than anything lower in the SERPs."
Given that Google is increasingly structuring these SERPs based on indicators of query fulfillment, that's a valid shorthand conclusion for searchers. And when your page delivers a definitive best answer to back up the ranking, you've made the right impression.
Organic and Inbound
It's getting harder to build trust through ads. That doesn't mean you should ditch the paid side by any means, but it does raise the stakes for organic content. As digitally native millennials grow to account for more and more of the buying population, we must be cognizant of their ingrained instincts. They are more likely to trust information they find themselves, as opposed to sponsored results or content that is (in truth or perception) pushed on them.
Gaining the Top Rank Is About More than Search Placement
Yes, it's great to rank at the top of a SERP, for a variety of reasons. But it's also vitally important to rank at the top of your audience's mind for strategic topics, through content that satisfies their curiosities and provides legitimate value.
As Google's algorithm continues to evolve and prioritize the most satisfying results rather than the most technically optimized results, you can trust that best answer content — which, when done right, covers both of those bases — is increasingly a no-brainer.
Want to learn more about TopRank Marketing's best answer framework in action? Check out our CEO Lee Odden's post on How A Best Answer Content Strategy Drives B2B Marketing Results.
The post Trust Factors: How Best Answer Content Fuels Brand Credibility appeared first on Online Marketing Blog – TopRank®.
Thank you for reading.
This may be of some interest.
Want to create better social video content? Looking for tips and tools to try? In this article, 10 video experts share the tactics and tools they use to create successful video content. #1: Simplify Live-Stream Production Flow With Elgato Stream Deck One of my favorite live-streaming tools is Elgato Stream Deck, a video switcher that's […]
The post How to Improve Your Social Video Content: 10 Tips From the Pros appeared first on Social Media Marketing | Social Media Examiner.
Thank you for reading.
This may be of some interest.
Content marketers are believers. We believe our content brings real value to our prospects, clients, and partners. We believe our content is essential for driving demand. And we believe that content marketing is essential for bolstering our company's bottom line.
However, we're also realistic; as it's often said: Seeing is believing. So, we need to be able to show proof of content marketing ROI to get our key stakeholders to believe, too.
And to do this, we need a source of truth that artfully and easily shows how we're performing against our benchmarks, goals, and key performance indicators (KPIs), as well as where we've identified opportunities to improve results. We need an actionable content marketing dashboard.
To put it simply, when set up right, an actionable dashboard allows us to answer two simple questions: 1) Is what we're doing working? 2) Why is it (or isn't) working?
How does this help you identify, show, and prove ROI across the organization? Let's dive in.
How Actionable Content Marketing Dashboards Can Inform, Inspire, & Show ROI
What are the benefits of an actionable content marketing dashboard? All the fun and exciting benefits that come from knowing how your content is performing at a granular level aside, there are a ton of benefits that come from a holistic content marketing dashboard—especially when it comes to getting stakeholder engagement and buy-in.
An actionable marketing dashboard isn't just a long, dry analytics report. It's visually engaging and easy to digest.
[bctt tweet="An actionable #marketing dashboard isn't just a long, dry analytics report. It's visually engaging and easy to digest. – @Tiffani_Allen" username="toprank"]
Highlight the Bottom Line for Leadership
The executives hold the purse-strings. And they want to ensure the budget you've been given is being put to good use.
With an actionable dashboard, you can avoid the awkward "What have you done for me lately?" conversation with your leadership team by easily showing them how your content marketing efforts tie back to overall business objectives.
With the right data and insight readily available in your dashboard, you can showcase performance from visit to sale, so when they ask: "Is this content getting us an ROI?" Your answer can be: "You bet. In fact, overall our content marketing efforts drove 200% ROI in 2018 and we're trending to exceed that benchmark in 2019 based on our goals."
Of course, as a general rule, you don't lose marketing funding for something that pays for itself and more.
Inspire Your Peers Inside & Outside the Marketing Department
When your marketing team members are able to see the fruits of their labor, they'll be more driven to continue what's working and looking for innovation opportunities to take it to the next level.
In addition, if you've been working with an internal subject matter expert such as your human resources director or sales manager to create content, showcasing how their contributions are making an impact will make them more open to ongoing collaboration—which can help all parties reach their goals.
As a little tip, consider making a leaderboard in your dashboard so contributors can easily track how the content they've contributed to is performing. Adding a little competition based on objectives is a fun way to level-up performance. (Betting on this performance is optional.)
[bctt tweet="When your #marketing team members are able to see the fruits of their labor, they'll be more driven to continue what's working and looking for innovation opportunities to take it to the next level. @Tiffani_Allen" username="toprank"]
Set New Hires Up for Scalable Marketing Success
Another key benefit is that actionable marketing dashboards can help you scale your content marketing efforts. For example, if you find yourself proving so much ROI that you need to expand your team to keep up with demand, you can easily transfer knowledge to your new hires about what kind of content works and doesn't work, and how they can know the difference.
This kind of results-focused training and new hire orientation helps keep your full team aligned around what really matters—creating and marketing quality content that exceeds your benchmarks and blows your goals out of the water.
Strengthen Relationships With Clients & Influential Collaborators
Whether you're working with industry influencers to co-create content or you regularly engage clients to provide testimonials and case studies, you have the opportunity to use your marketing dashboard to show them not only how valuable they are to your marketing efforts, but the mutual value being incurred.
For example, let's say a client helped create a testimonial or case study that saw a 300% increase in visibility over benchmark for that content type. Your message to them can be that together you've driven an incredible amount of brand awareness for both of your organizations.
Your Actionable Next Step? Create Your Content Marketing Dashboard
The performance of your content marketing means much more than traditional success metrics—it can mean visibility for your business, strength for your bottom line, and alignment for your internal teams.
If you're ready for more visibility and creating a stronger business case for your efforts, the first step is to create a dashboard of your own, tailored to your marketing and business objectives.
Again, when properly set up, an actionable dashboard should allow you to answer two simple questions: 1) Is what we're doing working? 2) Why is it (or isn't) working?
Wondering how to create this magical dashboard? Check out our guide to marketing dashboard essentials to get started on your path toward data-driven success.
The post Want to Prove Content Marketing ROI? You Need an Actionable Marketing Dashboard appeared first on Online Marketing Blog – TopRank®.
Thank you for reading.
If you don't want to write content yourself, and don't want to spend enormous amounts of money
hiring content writers, then don't despair. I have a very interesting surprise for you…
Finally Cracked: Launch Your Fully Fledged, 100% Unique Online Business with This Simple Yet Powerful Software…