This may be of some interest.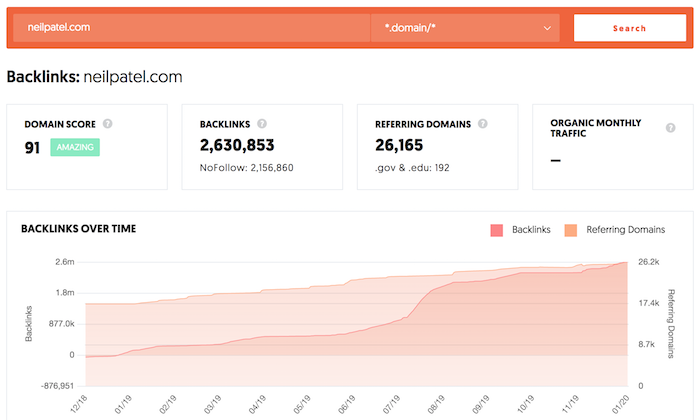 If you have ever left a comment on NeilPatel.com, you'll notice that there is no URL field.
Why?
Well, a few years ago, blog commenting exploded. I was literally getting thousands of spam comments a day from people just leaving a comment for the purpose of link building instead of providing value to the community.
Sure, there are spam plugins like Akismet, but it doesn't catch everything.
Now, most blog comments contain the nofollow attribute in which they tell Google not to follow the link or drive any "SEO value" to that URL.
But still, people still leave blog comments for the purpose of link building.
So, over the past 7 months, I've been running an interesting experiment to answer the age-old question…
Do backlinks from blog comments actually help rankings?
Experiment rules
First off, for this experiment, we used "domain score," which is similar to domain authority.
If you want to know your domain score, the backlinks report in Ubersuggest will tell you what it is.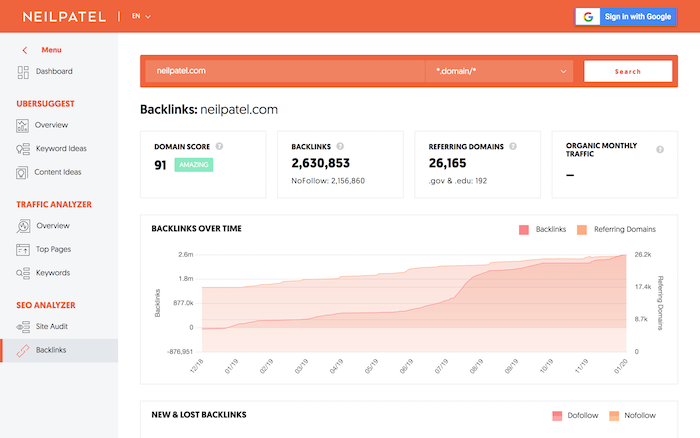 With this experiment, I sent out an email to a part of my list looking for participants and had 794 websites apply.
From there, I set the following criteria:
English-only sites – It's easier to rank on many of Google's international search engines even without building links. I removed non-English speaking sites as I didn't want to skew the results.
Low-authority sites – I removed any website with a domain score greater than 20 and any site with more than 20 backlinks. The reason being is when a site has a lot of authority, they tend to rank easily for new keywords, even if they don't build any new links.
No subdomains – I didn't want a WordPress.com site, a Blogspot site, or even a Tumblr site. Again, this would skew the results so I removed them.
After eliminating the sites that didn't meet the above criteria, I was left with 314 sites.
Of those 314 sites, many dropped off because they didn't complete the required work on their part (which was to write a blog post), so I was left with 183 sites at the end that participated.
How the experiment worked
Similar to my previous link building experiment and my on-page SEO experiment, I had these websites write a 1,800 to 2,000-word blog post on whatever subject that was relevant to their site.
The websites had 2 weeks to publish their content and then after 30 days, I looked up their URL in Ubersuggest to see how many keywords each URL ranked for in the top 100 spots, top 50, spots, and top 10 spots.
As I have mentioned in the past, Ubersuggest has a big database of keywords. We are currently tracking 1,459,103,429 keywords.
Now, most of these keywords are barely searched but a decent amount of them get hundreds, if not thousands, of searches per month. A much smaller percentage of keywords generate hundreds of thousands or even millions of searches per month.
In other words, the majority of the keywords people are searching for are long-tail phrases.
We then spent a month building links and then waited another 3 months to see what happened to each site's rankings.
But here's the thing: We didn't build the same type of links to all sites. Instead, we broke the 183 sites into 4 groups (roughly 46 sites per group).
Here were the groups:
Control – we didn't build any links to these sites, we just wanted to see what happened to their rankings over time with no focus on link building.
Nofollow high domain score blog comment links – with this group, we built 10 links through blog comments. The links pointed to the newly written post and they were from blogs that had a domain score of 50 or higher and they all contained a nofollow attribute.
Dofollow high domain score blog comment links – with this group, we built 5 links through blog comments. The links pointed to the new post and were dofollow from blogs with a domain score of 40 or higher. (I reduced the domain score criteria for this category and the link quantity as we struggled to find a large number of high authority blogs that pass link juice in the comment section.)
Dofollow low domain score blog comment links – with this group, we built 10 links through blog comments. Each link pointed back to the article and it was from a blog that contains a domain score of at least 20 but no higher than 39. (I was able to build more links here as there are many more low domain score blogs than high domain score ones.)
Keep in mind with the link building for groups 2, 3 and 4,
there was no specific anchor text agenda. Because the links were built through
blog comments, it was too hard to control the anchor text as we didn't want to
be spammy.
And each comment left on the blog contained at least 75
words as we wanted to ensure that each comment provided value and the core
purpose wasn't just link building.
Alright, so let's dive into the results.
Control group
Do you really need links to rank on Google? Well, the chart below says a lot…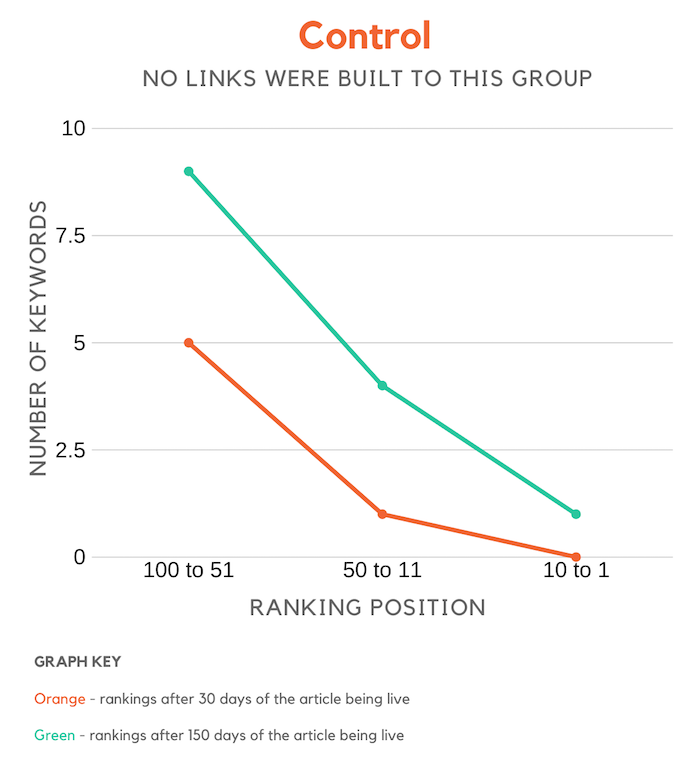 As you can see over time, you will naturally grow your search rankings even if you don't build any links.
Of course, if your content is amazing and you do on-page SEO, you'll rank higher, but still not growing your link count doesn't mean you will rank for anything out there… instead, you will still rank for long-tail terms that aren't too competitive.
Nofollow high domain score blog comment links
Now the results from this group were interesting…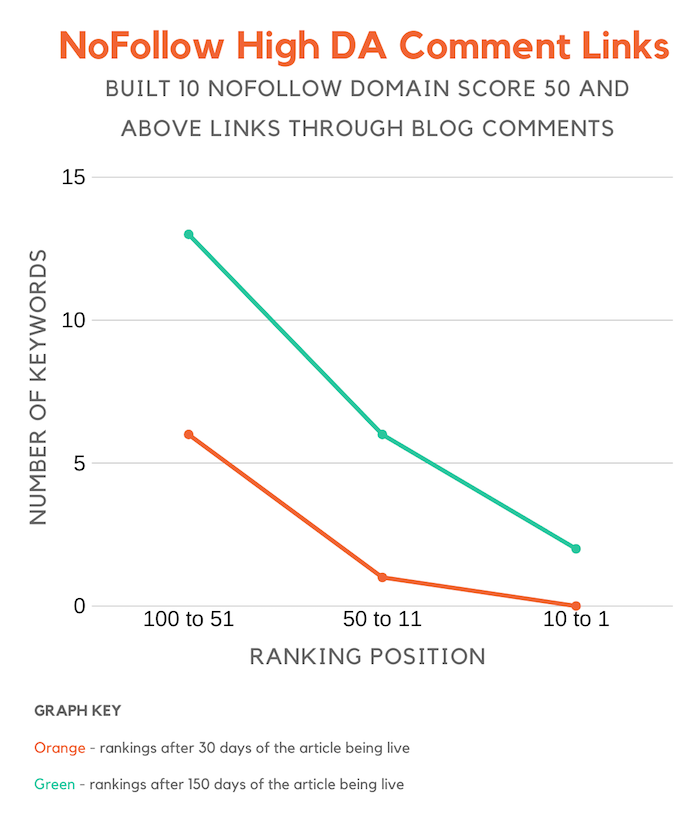 As you can see, the sites in this group had better results than the control group even though the links were nofollowed.
Keep in mind, though, that it could be many variables that caused this, such as the content quality may have been better.
Overall, the sites did perform better than the control group but not by a substantial amount.
Dofollow high domain score blog comment links
Google is sophisticated, they are able to know if a link is from user-generated content (such as blog comments), so I assumed even though the links where dofollow they still wouldn't have much (if any) impact.
But, shockingly, sites in this group had the largest gains.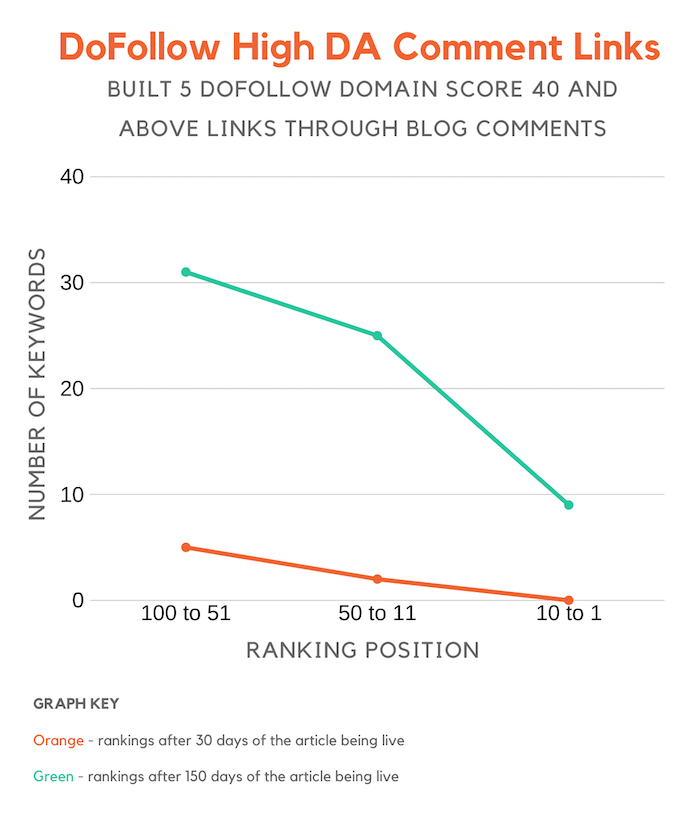 As you can see from the chart above, links from high authority sites, even if it is through user-generated content, help with rankings. They just have to be dofollow.
Dofollow low domain score blog comment links
With this last group, we were able to build more dofollow links because we focused on sites with lower authority.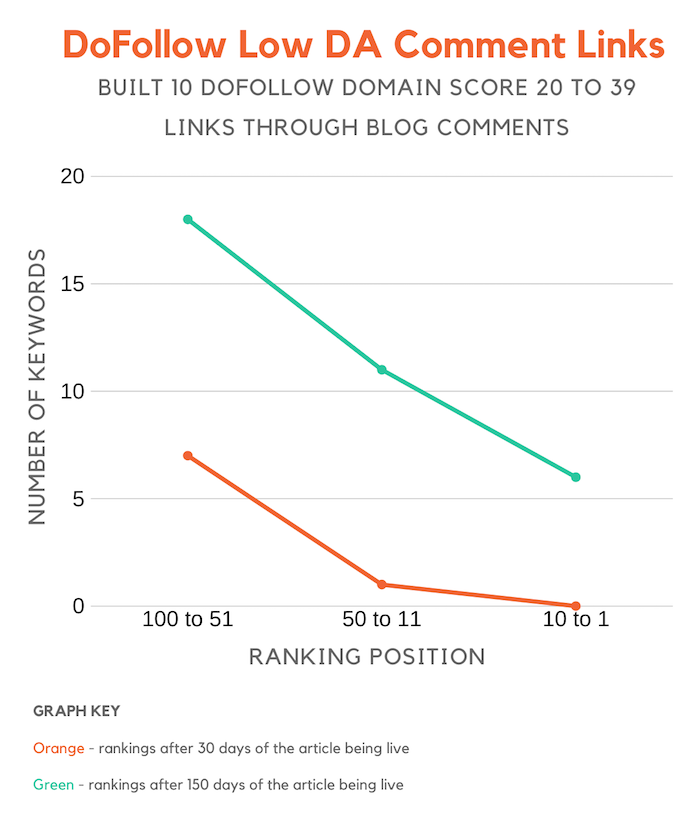 And as you can see from the chart above, it did help with rankings more than building nofollow links but it didn't help nearly as much as getting links from blogs with higher domain scores.
We built 10 links instead of 5, but the quantity didn't help
as much as having high domain score links. This group increased their rankings
by 337% versus 828% that group 3 experienced even though they had half the
links.
Again, we still saw gains, just not as large as the previous group.
Conclusion
Who would have thought that building links through blog
comments still helps?
Now, if you are going to use this tactic, you'll want to focus on blogs that have dofollow comments.
If you aren't sure how to find them, you can perform a Google search for the following:
"title="CommentLuv Enabled"" KEYPHRASE – this will showcase blogs that have CommentLuv enabled which means they pass link juice.
"dofollow blogs" – you find a lot of blog articles listing out blogs that have dofollow links. Some of them look like this but you will have to double-check each site as many are nofollow even though bloggers claim they are dofollow.
Followlist – this is a directory of blogs that have dofollow links.
When building links, focus on higher domain scores as it has a bigger impact on rankings.
In addition to that, you'll only want to leave a comment if you can provide value. Don't stress the anchor text, focus on the quality of your comment as you don't want to be a spammer.
Posting spammy links will just cause your comment to be
removed.
Lastly, don't just leave a valuable comment for the sake of generating a link. Make sure it is on relevant blogs as well. And if that means the blog doesn't have as high of a domain score that's fine because the data above shows that even low domain score links still help (just not as much).
So, have you thought about leaving more comments on other blogs? It's a great way to get your brand out there, generate referral traffic, and boost your rankings.
The post Do High DA Backlinks From Blog Comments Help Rankings? appeared first on Neil Patel.
Thank you for reading.
This may be of some interest.
The beds in Tokyo's Athletes Village will be made of recyclable cardboard, which is good for the environment. But what about athletes' backs?
If there's one thing an athlete needs before competing for a medal at the Olympic Games, it's a good night's rest. This year, competitors catching some shut-eye at the Athletes Village complex during the Tokyo 2020 Games will be participating in a first: cardboard beds.
Thank you for reading.
This may be of some interest.
Daydreaming is inherently flexible. You don't need to set aside time for it or plan how to execute it properly….
The post Why You Should Pour Yourself a Glass of Water and Write for 15 Minutes Today appeared first on Copyblogger.
Thank you for reading.
This may be of some interest.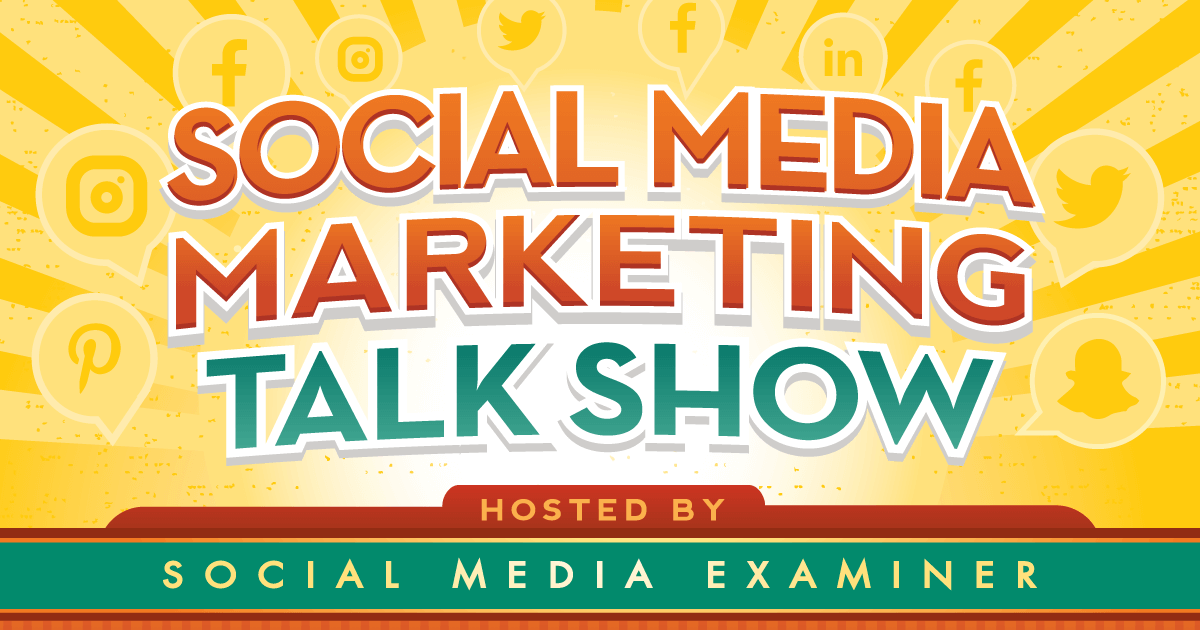 Welcome to this week's edition of the Social Media Marketing Talk Show, a news show for marketers who want to stay on the leading edge of social media. On this week's Social Media Marketing Talk Show, we explore the latest way Instagram is connecting brands with influencers on the platform and upcoming Instagram Stories features […]
The post Instagram Brand Collab Manager and Pinterest Trends Tool appeared first on Social Media Marketing | Social Media Examiner.
Thank you for reading.
This may be of some interest.
Throughout 2019 social media marketing has continued to be a source of opportunity, change, and contention in the marketing world. We've done our best to keep on top of many industry changes as they happen, while also offering helpful insight and research-based strategy.
We're quite fortunate to a great group of social media marketing professionals contributing to the TopRank Marketing blog, including our CEO Lee Odden, Joshua Nite, Caitlin Burgess, Anne Leuman, and Nick Nelson, among others.
To help our blog community grow its social media marketing knowledge, we're thrilled to offer this list of our 10 most popular social media posts of 2019.
Our Most Popular Social Media Marketing Posts in 2019:

The most popular social media marketing post of 2019 is by our CEO Lee Odden, with the latest version of our all-new BIGLIST, featuring over 50 social media marketing blogs to help marketers find great sources of marketing advice. From trends and strategies to tactics and analytics, the group of blogs curated in Lee's post explore social media and marketing, including at least a few blogs that are hopefully new to you. Are you following them all? Check out all of Lee's 2,600+ posts here, and follow him on Twitter.
LinkedIn* published a list of top B2B marketers, and in our second-most popular social media marketing post of the year I dug in and took a look at this group of leading industry professionals, including Ann Handley, Jay Baer, Jason Miller, and our own CEO Lee, among many more. The TopRank Marketing team was privileged to work with the LinkedIn team to identify, engage, and gather fresh insights from these bright marketing minds. Check out all of my posts here, and follow me on Twitter.

The third most popular social media marketing post of 2019 on our blog comes from Senior Content Strategist Nick Nelson, who shared how to use five under-the-radar LinkedIn marketing features, including:
• Robust & Simplified Audience Targeting
• Revamped Analytics
• Content Suggestions
• Site Re-Targeting
• Lead Gen Forms
Nick's excellent post highlights some of the most useful yet overlooked features for driving results on LinkedIn. Check out all of Nick's posts here, and follow him on Twitter.
Offering up over 80 social media marketing statistics relevant to B2B marketers and featuring insight from Sprout Social, Hootsuite, Pew Research Center, SME, and other, this post by me was our fourth most popular search marketing piece of the year.
[bctt tweet=""It's clear that B2B social media marketing is strong and growing stronger, and it's also apparent that direction and guidance in where to focus your B2B social efforts is needed now more than ever." @LaneREllis" username="toprank"]

Our fifth most popular social post of 2019 is a look I took at why Twitter lists are still a great tool for B2B marketers, exploring how they offer many engagement, nurturing, and trust-building benefits that smart B2B marketers can't afford to pass up.
[bctt tweet=""When it comes to Twitter lists your own creativity and ingenuity are the only boundaries." @LaneREllis" username="toprank"]
Our sixth most popular social media marketing post of 2019 was a look at the previous year's top articles about the subject, each offering helpful insight and research-based strategy.
Showing how five top B2B brands are maximizing their LinkedIn engagement by using showcase pages, expanded group communication and more, in our seventh post popular social media post of 2019 I took a close look at how B2B companies are connecting with audiences through LinkedIn.

Nick earned a second entry on our most popular social media marketing list with his look at where Facebook, Twitter, and LinkedIn stand when it comes to B2B video.
[bctt tweet=""Modern B2B marketers understand that the key to an effective digital content strategy is meeting customers where they're at, and giving them what they want." @NickNelsonMN" username="toprank"]
Our Senior Content Marketing Manager Caitlin Burgess earned the number nine spot on our top social media marketing posts of the year list, examining a selection of the biggest changes to arrive on the social scene during the year. Following scandal, criticism, and calls for increased privacy and relevancy, Caitlin looked at how social platforms are working harder to recapture their original allure as safe communities and conversation destinations. Check out all of Caitlin's posts here, and follow her on Twitter.
The final entry on our list of the top social media marketing posts of the years is one I wrote that details how five top B2B brands are making the most of Twitter to increase engagement. With examples implemented creatively by Adobe*, Deloitte, Dun & Bradstreet, GE, and Intel, this article looks at the wide variety of successful methods leading B2B brands are using for building a solid and sustainable Twitter brand strategy.
We can't thank Lee, Nick, and Caitlin enough for writing and sharing these top ten social media marketing posts of 2019 — congratulations to you all on making the list!
Thanks TopRank Marketing Writers & Readers
We published dozens of articles this year specifically about social media marketing, and plan to bring you even more in 2020, so keep posted for a fresh new year of the latest helpful research and insight.
Please let us know which social media marketing topics and ideas you'd like to see us focus on for 2020 — we'd love to hear your suggestions. Feel free to share your suggestions in the comments section below.
Many thanks to each of you who read our blog regularly, and to all of you who comment on and share our posts on the TopRank Marketing social media channels at Twitter, LinkedIn, Facebook, Instagram, and YouTube.
The post Our 10 Top Social Media Marketing Posts of 2019 appeared first on Online Marketing Blog – TopRank®.
Thank you for reading.
This may be of some interest.
You can't have one without the other … No, I'm not musing about love and marriage. I'm talking about content…
The post 9 Essential Elements of Effective Content Marketing appeared first on Copyblogger.
Thank you for reading.
This may be of some interest.
In between the holidays, it all seems to slow down. Most days, there is little traffic on the road (or on websites). Fewer products launched, fewer inbound emails, fewer things to check off a todo list.
And yet, if someone in 1820 had lived at the pace we live in December 2019, she would probably have dropped dead from exhaustion.
A store in New York that feels slow this time of year might be recording record traffic if it had the same turnout in Scottsdale or Tempe.
Two things are true: The world is faster and crazier than it has ever been before. And the world is as slow and predictable as it will ever be again.
Bustle and crises are local conditions.
PS The last week of the year is quiet, which leaves time for new plans, new learning and new opportunities. I hope you'll consider signing up for the ninth session of The Marketing Seminar (it begins in a few weeks, but if you visit today, you can sign up for updates). You can find my Udemy courses here as well.
Thank you for reading.
This may be of some interest.
You don't need to cut out food to feel better. Just focus on the ones that are right for you.
"Lose weight," "eat less junk food," and "stick to a diet" top plenty of New Year's resolution lists, but many experts say that these goals may set unrealistic expectations and set you up for failure before February even hits. Instead, doctors and registered dietician say that a more sustainable approach to managing weight, feeling good, and changing eating habits is to focus on identifying which foods nourish your body and give you the proper fuel you need to live a great life. So to jumpstart 2020, we rounded up some of the best products to help you eat well and feel your very best.
Thank you for reading.
This may be of some interest.
As a customer-facing representative — whether you work in sales, service, or support — you're probably used to working in a busy, noisy office space. Maybe you work on a loud sales floor surrounded by reps chatting on the phone with leads. Perhaps you work in an office space with customer service and support reps working to assist customers over the phone or video chat throughout the day.
Whatever the cause of your workspace being noisy, it's not always easy to block out the environment around you. That's why we've compiled the following list of tips and tricks HubSpotters use to stay productive and focused in a noisy, busy, and sometimes, distracting workspace.
Before diving into the examples from HubSpotters, let's take a look at some all-encompassing and actionable techniques to improve your productivity.
Now, let's hear from HubSpotters about how they use these specific tips and techniques.
1. Block time on your calendar or communicate your need for disruption-free time to your coworkers.
"One of my staples is creating a 'working signal'. Since I'm typically on calls and that signifies I'm unable to chat, I usually keep my headphones on to show that I'm still at work. When my headphones come off that means I'm available to speak with or help others. I'll also find a booth or another area where I know fewer people so I'm less tempted to converse and can focus on the task at hand." — John Vassar, Customer Onboarding Specialist, HubSpot HQ
"I find while working in a collaborative environment, people still approach you even if you have headphones on — so, I recommend informing your team in advance when you need time to focus. I set 30 to 60-minute blocks in my calendar that I try to religiously follow. During this time, I won't get up or go for a wander or banter with any of my colleagues." — Ricky Huang, Principal Account Executive, HubSpot Sydney
2. Invest in noise-canceling headphones.
"My headphones have a noise-cancelation feature that I can turn on when it's really loud. That's typically what a lot of us on the team do." —Ado Kawuba, Partner Specialist, HubSpot HQ
"I have noise-canceling headphones (Sony WF-1000XM3) that I wear when I don't need to be on a call, but have to work on a proposal or something else with a hard deadline." — Ricky Huang, Principal Account Executive, HubSpot Sydney
3. Listen to white noise or music (specifically, without lyrics).
"When I need to just put my head down and focus on doing some work, I usually play white noise which helps block everything else out." — Sotiria Qirjazi, Customer Onboarding Specialist, HubSpot Dublin
"I like my classical music — it keeps me focused and blocks out the noise. I stick with music without words so I don't get distracted singing in my head (typing lyrics into emails!)." — Zoya Khatuntseva, Senior Channel Account Manager at HubSpot, HubSpot HQ
4. Move around, find a quiet space elsewhere, or work remotely when possible.
"I know firsthand the toll that working on a noisy sales floor can have on reps, so I encourage my team take the time they need to move around the office, visit HubSpot's Meditation Room, work remotely (and work on a flex-schedule, if possible), or just take a break when they feel overwhelmed. This helps improve overall productivity — remember, sometimes you need to sit out an inning to play the whole game." — Dan Love, US Sales Manager, HubSpot HQ
"While working as a rep, I'd get up and take breaks between my calls. Leaving your desk can do wonders for resetting your focus, especially if you're given a few minutes to write case notes between calls. I'd write my notes quickly and use any extra time to leave my desk, walk around, get coffee, etc. This helped me reduce fatigue and stress whenever I felt it was a very busy or noisy day." — Clint Fontanella, Service Blog Writer and Editor (former Customer Support Rep), HubSpot HQ
"I like to grab my laptop and work from somewhere else in the office between my calls to get some time to focus." — Sebastian Ferreira, Customer Support Specialist, HubSpot Sydney
"I find that scheduling time to work remotely one day a week or a few times a month really increase productivity levels." — Serena Shah, Sales Partner Manager, HubSpot HQ
"I typically take my calls on the sales floor, but when I need time to focus, I'll move to a quiet area of the office to get work done." — Tim Ferraro, Principal BDR, HubSpot HQ
5. Make daily to-do lists and micro-goals, then cross them off items upon completion.
"I stay productive with HubSpot Tasks and I create micro-goals for myself throughout the day to help me stay focused and make things easier to digest. For example, a micro-goal may be, 'For the next hour, I'm going to either just make calls or strictly focus on my follow-up emails.'" — Cam Karosis, Small Business, HubSpot HQ
"Make a list of what you want to accomplish that day, so when you get distracted and forget what you were doing, you can reference the list. Additionally, crossing something off a list is very cathartic." — Serena Shah, Sales Partner Manager, HubSpot HQ
6. Experiment with tactics that are specific to your particular role in the office.
"When my customers can hear it's noisy in the background, I work harder to ensure they know I'm focused on their problem rather than what's going on around me. Sometimes, when they hear noise, I worry they'll be concerned that I'm not completely understanding or hearing their problem. To show I'm 100% focused on them, I try to be more conversational so they can tell I'm fully invested in our conversation and not what is going on in the background." — Katelyn Tierney, Customer Support Specialist, HubSpot HQ
Stay Focused and Productive
No matter what your current technique is for staying productive on a noisy floor, don't be afraid to chat with your fellow reps about their favorite tactics. Or, try using one of these tips from HubSpotters located across the globe. Who knows? You might just find your new favorite strategy.
Thank you for reading.
This may be of some interest.
The Women's March on Washington took place in January 2017 and boasted crowds numbering in the hundreds of thousands. Its size belies its beginnings though: The largest single-day protest in U.S. history started with a Facebook post created by a grandmother in Hawaii. 
To some, the march and its speedy rollout typified the unique for that social media affords us. With tools like Facebook and Twitter, disparate groups are able to mobilize faster than ever before. 
But others question how much social media can really do for activist efforts. Some argue that online activism — sometimes despairingly called slacktivism — might be ineffective or lazy, especially when compared to the efforts of activists in decades past. Critics argue that actions like sharing a hashtag or retweeting a post might make people feel like they've supported a cause when they've actually just made a minimal effort.  Read more…
More about Activism, Social Media, Digital Activism, Hashtag Campaign, and Metoo
Thank you for reading.