This may be of some interest.
As a social media consultant, I help entrepreneurs and businesses unlock the power of social media marketing.
With over eight years experience spanning across both B2B and B2C industries, I'm passionate about everything involving social media — especially Twitter.
Twitter is exceptionally exciting to me because it's a fantastic tool for building a brand and brand influence. It's easy to find and take part in conversations, stay on top of news (stories usually break on Twitter before anywhere else), find content, connect with people, and actually be social on social media.
Additionally, it's a fast-paced network, which allows you to continuously drive traffic and share information without the content fatigue you find on other social media networks.
Here, let's explore the nine strategies I've used to help myself, and my clients, build brand influence on the platform.
9 Effective Strategies to Build Brand Influence on Twitter
1. Optimize your profile.
The first thing you can do to start building brand influence on Twitter is to fill in your biography, choose a profile image, and create a header image for your profile.
Building influence begins with the basics of your profile because that's what your potential followers will look at (aside from your content) to decide if they want to follow you. Your profile will also help you come up in searches, so it's important to have it be optimized for your success.
Be sure to make your profile more searchable by using keywords in your biography and use the link in your bio to promote specific posts or landing pages.
Twitter gives you one link space and you can always sneak one more link into your bio, so use these to your advantage! When you have a new product, blog post, or landing page to promote, pop your link in your bio with a call-to-action. If you have folks clicking around your profile, this can be a great way to generate a little more traffic.
2. Tweet consistently.
Tweeting and showing up consistently is essential in building a following on Twitter. Ultimately, social media marketing is a commitment. Post consistently to stay in front of your audience's eyes and keep growth going.
Try starting at three tweets per day and go up from there. There are so many subjects you can tweet about, including quotes or industry statistics, quick tips related to your industry, or new blog posts you've published.
Here are a few additional ideas to get you started:
Ask questions
Run Twitter Polls (with the built-in Twitter Polls tool)
Tweet a series of blog posts as a list
Use GIFS
Try Live Videos
Use Twitter Moments to recap an event or compile a few tweets around tips or tools
Use Twitter Events in the analytics dashboard to know what events are coming up that may be relevant for your brand to tweet about
Remember that not all your tweets need to be original. Include shares from other sources and retweet others, as well. I love using the "Retweet with comment" feature to add my own ideas to a re-tweet.
Lastly, it's important to note — there are so many ways to tweet with 280 characters. You can create multi-link posts like lists or mini round-ups, have fun with emojis, and much more.
Twitter really lets you get creative with how you tweet.
3. Engage with others.
The most effective way to build a following on Twitter (and on every social network) is to engage with others.
There are many opportunities for engagement on Twitter — for instance, you might consider joining a Twitter chat, looking up and following event hashtags, or keeping an eye out for trending topics related to your brand.
Interact with other's tweets by liking, retweeting and responding to posts.
4. Pin posts to your profile.
Pinning posts to the top of your profile is an effective strategy for getting more eyes on your content.
You can create a newsletter sign-up, a tweet linking to your new blog post, or any piece of content that could be compelling to your Twitter followers. Pinned tweets remain at the top of your profile until you take them down. Try pinning tweets to your latest download, newsletter, or company website.
5. Participate in Twitter chats.
Participating in Twitter chats is an effective strategy that helps you engage with your target audience and build brand influence on Twitter.
There are Twitter chats for just about everything (and if there isn't one in your niche, why not try starting one?). Get to know your audience, and figure out which chats they might be hanging out in, then go ahead and participate in the chat.
Don't sell or push your links using the chat hashtag, however, since that can come across as insincere. Instead, actually take the time to be part of the conversation and focus on adding value.
6. Use Twitter lists.
Twitter lists are used for grouping Twitter users. They are a simple way to "curate your own timelines", cutting through general timeline chatter. Twitter lists can help you organize the people you follow, and are a great tool to build your Twitter following and social media relationships, as well.
You can create private or public Twitter lists based on whatever topic you want, add people or brands (even ones that you don't follow), and look at only the tweets from users you have added to your list. You also have the ability to subscribe to other users' lists, and others can subscribe to yours.
Besides helping you keep you up-to-date with tweets from your favorite accounts, there are many benefits for growing your following, building relationships, and creating more value for your followers.
Here are a few Twitter list methods to build your following:
Curate lists by topic: Create lists of employees, event attendees, etc. They will get a notification that they've been added to your list, which informs them of your brand while making them feel special. You can add someone to your list without actually following them, which is ideal if you're concerned with your following-to-follower ratio.
Never miss a tweet: Because Twitter lists only show you the tweets from the members you've added to it, it's easier to find content in your feed that you care about, making it easier to share high-quality and relevant content with your network.
Create resource lists: Have a favorite brand-related blog, or influencers you admire? Resource lists can help you provide your followers with more value, while also enabling you to capture the attention of influencers if you include them in your list.
Thank you lists: Yet another way to engage with customers — if someone mentions you, checks into your restaurant or event, or shares your content, you can add them to a list and let them know you appreciate them.
Each Twitter list has a unique link — which gives you some versatility when it comes to sharing the list with others. Again, lists are all about adding value.
7. Use visuals.
Visual content is important on Twitter. Be sure your images are sized correctly and create a signature look and feel for your account. This is great for engagement and attracting eyes to your posts in a cluttered feed.
Additionally, decide how you want your account to come across visually. This means choosing the right colors, specific filters, and giving photos a consistent look.
8. Use relevant hashtags.
Hashtags are such a major part of Twitter — in fact, they were even invented on this network.
Hashtags are used for searching, which means an opportunity to get in front of new eyes. When you choose hashtags for your next post, think about how people are searching for your content topic.
You'll also want to consider how saturated a hashtag might be — targeting is the name of the game. The Twitter rule of thumb is to use no more than two hashtags per tweet, so using them strategically for growth is essential.
9. Leverage videos and live videos.
Videos have such amazing reach on social media, and the same goes for Twitter. Link your YouTube videos and create shorter videos specifically for Twitter.
I also suggest sharing Twitter videos in the same way you'd share Instagram Stories — go behind the scenes, share different parts of your day, etc.
10. Analyze your account.
My last tip, and one I feel is incredibly critical to your success on Twitter, is staying on top of your Twitter analytics. Keep track of followers, engagement rates, retweets, and more with Twitter's very own analytics dashboards.
Keeping up with your analytics will help you build your audience by repeating what's working and getting rid of what isn't.
Twitter offers deep analytics via analytics.twitter.com. The Twitter analytics home page gives you a nice overall snapshot of your account, including your top tweets, mentions, tweet impressions, and profile visits in one-month increments.
The dashboard also lets you know if activity is up or down for a 28 day period. You can click on "view tweet activity" to dive further into analytics for individual tweets.
Make it a habit to check your analytics on a regular basis to see what days you garnered the most impressions and what you tweeted, so you can repeat the magic.
Ultimately, there is really no "hack" to building influence and growing your followers on Twitter.
Using a combination of the things we covered in this post, you will see growth and increased engagement on your Twitter account. My goal for 2020 is to leverage Twitter Videos more often — so I'll hopefully be seeing more of you by going live from my Twitter account, as well.
Thank you for reading.
Facebook is the most popular social network worldwide as of April 2019 with 2.32 billion monthly active users. Basing on that statistic, Facebook can become a powerful marketing tool because of its potential to reach people and more so because of the Facebook Pixel. Facebook Pixel is a way for Facebook to track how people engage with your website so that you can use that data to better target your ads by creating custom audiences. Even if it is just a piece of code, it provides massive earning opportunities for entrepreneurs and businesses. But not all businesses owners are aware about Facebook ads, in fact, 97% of local businesses with a website are not running ads on Facebook. But you can help them realize how effective it can be using the Pixel Scout.
What is the Pixel Scout?
Pixel Scout is a powerful system that automatically scans websites in Google and Yellow Pages and determines if they have the Facebook pixel. If the local business owners don't have the Facebook pixel it means they are not aware of how affordable and effective using Facebook ads are to reach more customers. This can also mean, that they are using the traditional way of targeting potential customers through radio and tv ads which are expensive and with no way to track results.
This is a great opportunity for you to help them be aware of the high potential of attracting new customers using Facebook. With Pixel Scout, you are not only having the biggest opportunity to earn online, you are also giving them the opportunity to widen their reach and increase their sales.
There are a lot of local business types that will surely want you to set up Facebook Ads especially after knowing how it works. Help a dentist have new patients, the local gym to have new members or a med spa to have more clients. Pixel Scout will help you help them with just 3 simple steps.
How Does Pixel Scout Work?
Pixel Scout works in just 3 simple steps:
Step 1: enter the keyword and the area of the businesses you want to target. You can also choose the maximum number of results to display per page. Pixel Scout then scans local businesses, in any niche and country, looking for a Facebook pixel and within just a few minutes, you will have a reliable list of your best prospects including their contact details. A green check means the business already has a Facebook pixel while an X means without pixel. The majority of the results shown will be businesses without pixel and these are your potential FB advertising clients.
Step 2: choose your potential client to automatically generate an interactive and personalized report. There are existing templates for your email content to contact the business owners. Your report is basically briefly educating them the importance of using the FB pixel.
Step 3: follow the step-by-step instructions to set up their Facebook pixel and run simple retargeting ads for them. You can charge your clients at least $500 per month and if you keep them happy with results, you can expect them to come back for more.
Check out this demo video
About the Creators:
Pixel Scout was created by Herc Magnus, Dino Gomez and Todd Spears. Spears and Magnus specialize in online marketing and software developing while Gomez is an SEO mastermind and a founder of a digital marketing agency.
Advantages:
It is the perfect software for local marketers, Facebook marketers, web designers, SEO experts and just about anybody, even a newbie or someone running a marketing empire.
It has made landing new clients and getting paid easier and faster.
This amazing system has Gmail, Outlook and SMTP integration so that you can send emails from inside Pixel Scout.
It features a Global Search Functionality, works in any country and the report can be viewed in any language.
It includes an entire course on Facebook Advertising with simple step by step training on how to become a Facebook retargeting ads expert overnight.
Pixel Scout has garnered so many positive reviews clearly showing how effective this revolutionary marketing tool really is.
It comes with amazing bonuses such as Facebook Advertising Mini Course, Highest Converting Email Templates and VIP Facebook Group.
It also includes an iron-clad 30 Days "No Questions Asked" Money Back Guarantee, making your investment risk-free.
Disadvantages:
This is a cloud-based software and while you don't need to download anything, you will always need a good internet connection to use this software.
The low introductory price is only available for a very limited time, so you have to hurry.
Recommendation:
Automate finding clients and earning money through Pixel Scout which makes everything easier and faster for you. The system is nothing short of amazing being able to scan 1000's of sites that need FB retargeting in just a matter of minutes which will show you your best potential clients.
While you are becoming successful landing clients and generating income, you are also helping local businesses achieve their own success by helping them land new customers with just a few simple steps.
This system does almost all the work for you and is created by expert and renowned software creators. It is credible as it is brilliantly created to let you have the success that you deserve.
This may be of some interest.
As marketers, we're making important decisions on behalf of our company and team every day. In addition to using our best judgment when it comes to making these decisions, it's ideal to also utilize data and metrics when we can.
Now, you're likely already tracking marketing metrics such as traffic, leads, and customers — these are all critical parts of the bigger picture of your marketing funnel and flywheel. But as critical as these metrics are, they're not enough to inform broader marketing decisions that impact your entire organization.
This is where marketing reporting comes into play. This guide will help you further explore the marketing reports you can run to properly analyze your data and make truly informed decisions.
Marketing reports vary depending on what data you're reviewing and the purpose of each report. They can assess where your traffic and leads are coming from, what content they interacted with, if and when they converted, and how long it took for them to become a customer.
Take our free, 20-minute HubSpot Academy course on marketing reporting to measure success and optimize your efforts.
To reiterate: Marketing reports inform decisions. You wouldn't run a marketing report to review data performance or check on an ongoing goal — for these purposes, you'd glance at your marketing dashboards.
Let's look at it this way. Compiling a marketing report for knowledge's sake is synonymous with scheduling a meeting to simply review a project. Who likes to attend a 30-minute meeting to simply review what could've been shared via email? Not me.
The same goes for marketing reporting. Reports should help you make a decision or come to an important conclusion — similar to how a meeting would help your team deliberate about a project or decide between project resources.
In short, marketing reporting is a highly valuable process if used and crafted properly. In the next section, we'll dive into how to build a marketing report.
How to Build a Marketing Report
As we said above, there are plenty of different marketing reports you can run; we'll be reviewing some examples in the next section. For this reason, this section won't focus on what specific data to put into your marketing report — that will depend on what type you decide to run. (Remember, if you're building a marketing dashboard, that process is a bit different.)
We're going to discuss how to build marketing reports that inform your decisions and benefit your audience (whether that's your team, CEO, or customers).
Most of your marketing reports will contain a few of the same elements:
Title. What is your marketing report analyzing? Whether you're running a report on campaign performance, quarterly blog performance, or monthly leads, be sure to title your report so the intent is clear. This is especially important if you're sharing your report with people outside of marketing.
Reporting period. Your marketing report should reflect a certain time period. This period can be a few days, months, or even years. Analyzing your data within a time period allows you to compare performance to past periods.
Summary. Your report summary should reflect the key points of your report, including your wins, losses, and goals for the next reporting period. It's basically the TL;DR of your report.
Next, let's dive into the report specifics. Valuable, insightful marketing reports recognize two distinct components: purpose and audience.
Choosing a Purpose for Your Marketing Report
A marketing report should help you make a decision. Choosing the intent of your marketing report (i.e. the data you're analyzing) is simple; however, it's how you're going to use this data to make a decision or draw a conclusion that's more difficult.
This is true for two reasons:
Marketing reporting is more often than not performed to simply review data, which is a waste of time.
Data points can be used to draw multiple conclusions or make multiple decisions, so you should know precisely how you're going to use the data before you draw it.
You should determine the goal of your marketing report before you pull any data. Once you make this impending decision, list all the data that might be relevant. From there, you'll have a much better idea of what reports to run and how to use said data.
Choosing an Audience for Your Marketing Report
Marketing reports are highly valuable because they can inform so many different decisions — decisions made by a wide variety of people across your organization. Whether you're delivering a marketing report to your team lead, department manager, or CEO, your marketing report must be tailored to whoever may be reading and using it.
Here are a few ways to do this:
Ask your audience what they need. If you know the decisions your audience needs to make, you'll know what data you need to pull and analyze. Knowing this will also help you avoid running reports your audience doesn't care about.
Speak in their language. Marketing involves a lot of acronyms and jargon. While your team members understand what you're saying, your executive team and co-workers outside Marketing may not be so fluent. Consider your audience when writing your marketing report and be sure to choose words and descriptions that they'll understand.
Don't mix audiences. If you're creating a marketing report for a mixed audience, it's best to create separate reports for separate audiences. For example, you wouldn't create the same report to give your CEO and Marketing co-workers; you'd likely break this into two reports with different data and verbiage. This will allow your audience to be able to focus on the data and analysis that's most relevant to them.
Marketing reporting can take up a lot of your time. Here are some best practices to help you work smarter, not harder.
1. Schedule your marketing reports.
Whether you create a recurring reminder on your calendar or set your reports to automatically run, schedule your marketing reports ahead of time. This will take the guesswork out of when to run your reports and when to send them to the relevant audiences.
Schedule daily, weekly, or monthly reports and send them directly to your team's inboxes with the HubSpot Marketing Hub Reporting add-on.
2. Collect feedback from your audience.
As you send out your marketing reports, ask for feedback from your audience. Whether you ask an open-ended question like, "How did this report help you?" or provide a short Google Form, gathering feedback from those using your reports can help you improve them in the future.
3. Create marketing report templates.
If your marketing report will be designed the same way each and every time you send it out, consider turning it into a template. This will save you time and energy building each template and provide a reliable, predictable report design for your audience to read.
Make your monthly reporting faster and easier with these free monthly marketing reporting templates.
4. Put your most valuable data first.
Long marketing reports are fine as long as all the data you include is valuable and helpful for whatever decision you or your team need to make. However, you should place the most impactful data first so that your audience can stop reading once they've made up their minds. Nobody wants to read an entire report to only utilize the final page.
5. Visualize your data as much as possible.
Did you know that humans process visual data 60,000x faster than written data? Illustrated data (e.g. graphs and charts) are also more believable, according to this study by Cornell University.
When possible, include visual data in your marketing reports. Not only does this help your reports pack a greater punch with your coworkers and executives, but it trims down the time and effort needed to digest your data. To do this, include charts from Excel or screenshots from your reporting tools (like HubSpot Marketing Hub). You can also use heat maps if you're reporting on website performance.
Marketing Reporting Examples
There are hundreds of reports that you can run to dig into your marketing efforts. At this point, however, you're likely asking, "Where should I start? What are those basic marketing reports I can run to get more comfortable with all the data I've been tracking?"
Well, we've pulled together these five marketing reporting examples for you to use to get started.
Note that you will need some type of marketing software (like HubSpot Marketing Hub) to do this. You should also make sure your software allows you to export the data from your software and manipulate it in Excel using pivot tables and other functions.
Learn how to create an Excel graph, make pivot tables, and use VLOOKUPS and IF functions with this free guide and video.
Since we use HubSpot for our reporting needs, I'll show you how to compile these reports using the Marketing Hub tool. (The data below is sample data only and does not represent actual HubSpot marketing data.)
1. Multi-Touch Revenue
As a marketer, you're a big part of your company's growth. But unless you can directly tie your impact to revenue, you'll be forever underappreciated and under-resourced. With multi-touch revenue attribution, you tie closed revenue to every marketing interaction — from the first-page view to the final nurturing email.
That way, marketers get the credit they deserve and marketing execs make smarter investments rooted in business value instead of vanity metrics. As a bonus, multi-touch revenue attribution can help you stay aligned with your sales team.
HubSpot customers can create multi-touch attribution reports quickly; HubSpot's attribution tool is built for real people, not data scientists. (It also connects every customer interaction to revenue, automatically.) Navigate to your dashboard, and click Add Report > Attribution Report. Select from the set of pre-baked best-practice templates, or create a custom report of your own.
Note: Enterprise HubSpot customers can do this in their software if they have their Salesforce integration set up with Account Sync turned on.
How to Analyze Revenue Reporting
To analyze revenue reporting, figure out what's working and double down on it. Look at the revenue results from different channels and see where you had the most success. Use this information to decide what marketing efforts to invest in moving forward. For example, if you notice that your Facebook campaigns drove a ton of revenue, run more Facebook campaigns!
Multi-touch attribution reports should be run monthly to understand the broader business impact of your marketing channels. While revenue is important, you should also dig into some of your other metrics for a more complete picture.
2. Channel-Specific Traffic
Understanding where your traffic is coming from will help you make strategic decisions as you invest in different marketing channels. If you see strong performance from one particular source, you may want to invest more resources in it. On the other hand, you may actually want to invest in some of the weaker channels to get them on pace with some of your other channels. Whatever you decide, source data will help you figure that out.
HubSpot customers can use the Traffic Analytics report (under Reports > Analytics tools in your navigation) to break down traffic by source.
Want to get an even deeper understanding of your traffic patterns? Break down your traffic by geography. (Example: Which sources bring in your most traffic, in Brazil?) You can also examine subsets of your website (like your blog vs. your product pages).
How to Analyze Channel-Specific Traffic
Take a look at what channels are performing well. Based on your goals, that could mean looking at the visitor data or focusing on the visit-to-lead and lead-to-customer conversion rates. Here are a couple of different ways to think about your data:
If you get a lot of traffic from a certain channel, but the channel is not necessarily helping your visitors move down the funnel, it may mean that you should invest more in other channels or optimize that underperforming channel for conversion.
Think about how you can invest resources in your strongest channels. Did you run a campaign that helped the channel perform well? Was there a piece of content you created that set it off? Consider how you can replicate your past success.
If you haven't worked on a particular channel, it could be a good time to test it out. Think about how you can incorporate multiple channels into the same campaign.
Pulling this data weekly will allow you to stay up-to-date on how the channels are performing. If a channel took a turn for the worse, you'll have enough time to remedy the situation before it gets out of control or you waste resources. Pulling the report daily may be a bit overboard since some channels take multiple days to be effective and pulling it monthly would prevent you from responding with agility — so, weekly data is ideal.
3. Blog Posts by Conversion
Blogs have become a marketer's best friend. There's a direct correlation between how often a company blogs and the number of leads they generate (not just the amount of traffic they drive). So, it's critical you monitor how well your blog is helping you grow that critical metric.
Reporting on your blog leads is a quick way to see how many leads you're generating on a daily, weekly, or monthly basis — and by what channel. This report is a great way to understand what channels are strongest for your blog, where you should spend more promotion time, and how well your content is performing over time.
If you're using HubSpot, creating a blog leads report is easy. Navigate to Add Report from any of your dashboards, and choose Top blog posts by contact conversion. This report shows the posts that were most often seen by contacts immediately before filling out a form on your website.
How to Analyze Blog Posts by Conversion
Look at how many leads you're generating from your blog over time. If you see spikes in leads, you know to dig into your content to see if certain topics are more successful at generating leads than others. The more you can run these reports to figure out what works and what doesn't work, the better off your marketing and blogging will be.
This type of data should be pulled on a monthly basis to ensure you're writing the most relevant content over time.
4. New Contacts by Persona
Every marketer needs to be well-versed in their buyer personas — but you need to do more than just understand them. It's important to track how many new contacts you're actually adding to your database based on each persona. This will help you determine how accurate your buyer personas are and how successful your marketing is in targeting and reaching them.
To report on this in HubSpot, plot your contacts by Create date, which will show the date on which you added a new contact to your database. Then, break down your report by persona.
How to Analyze New Contacts by Persona
Did you run a marketing campaign around a particular topic? Did you focus on promoting your content through specific channels? What did you do that led to an increase or decrease in persona acquisition? Digging into this report can help you allocate resources more wisely to grow different segments of your business.
Pulling this report on a monthly basis can give you insight into how your campaigns affect new contacts by persona — and might even shed light on an imbalance in resources dedicated to certain personas.
5. Lifecycle Stage Funnel
Another way to segment your contact database is to look at how they appear by lifecycle stage. This will give you a sense of how many leads, subscribers, customers, and opportunities you have in your database in a certain time period. This data will help you understand if you need to generate more leads or if you should be more focused on closing your current leads. It will also give you a general understanding of the quality of your contact database.
As a HubSpot customer, create a funnel report by clicking Add Report from any dashboard, then choosing the Funnels category. Pick which stages you'd like to include, select your visualization, and you're off and running.
How to Analyze a Lifecycle Stage funnel
This report will give you an overview of how your leads are progressing through the buying process. Use this report to see what areas of your funnel you need to address for greater efficiency.
For example, if your report shows that you're doing a great job of generating leads, but not converting any to MQLs, update and optimize your nurturing program. Pulling monthly funnel reports can help you stay on top of the efficiency of your marketing process
Marketing Reporting Helps You Grow Better
Marketing reporting is a vital part of your marketing efforts and the growth of your business. By understanding how efficient and effective your marketing is, you can better allocate time, resources, and money — and make well-informed decisions, to boot. Start with these marketing reporting examples and expand your reporting as you begin to utilize more data.
Editor's note: This post was originally published in April 2014 and has been updated for comprehensiveness.
Thank you for reading.
This may be of some interest.
Posted by Joel.Mesherghi
For some organizations, mobile apps can be an important means to capturing new leads and customers, so it can be alarming when you notice your app visits are declining.
However, while there is content on how to optimize your app, otherwise known as ASO (App Store Optimization), there is little information out there on the steps required to diagnose a drop in app visits.
Although there are overlaps with traditional search, there are unique factors that play a role in app store visibility.
The aim of this blog is to give you a solid foundation when trying to investigate a drop in app store visits and then we'll go through some quick fire opportunities to win that traffic back.
We'll go through the process of investigating why your app traffic declined, including:
Identifying potential external factors
Identifying the type of keywords that dropped in visits
Analyzing app user engagement metrics
And we'll go through some ways to help you win traffic back including:
Spying on your competitors
Optimizing your store listing
Investing in localisation
Investigating why your app traffic declined
Step 1. Identify potential external factors
Some industries/businesses will have certain periods of the year where traffic may drop due to external factors, such as seasonality.
Before you begin investigating a traffic drop further:
Talk to your point of contact and ask whether seasonality impacts their business, or whether there are general industry trends at play. For example, aggregator sites like SkyScanner may see a drop in app visits after the busy period at the start of the year.
Identify whether app installs actually dropped. If they didn't, then you probably don't need to worry about a drop in traffic too much and it could be Google's and Apple's algorithms better aligning the intent of search terms.
Step 2. Identify the type of keywords that dropped in visits
Like traditional search, identifying the type of keywords (branded and non-branded), as well as the individual keywords that saw the biggest drop in app store visits, will provide much needed context and help shape the direction of your investigation. For instance:
If branded terms saw the biggest drop-off in visits this could suggest:
There has been a decrease in the amount of advertising spend that builds brand/product awareness
Competitors are bidding on your branded terms
The app name/brand has changed and hasn't been able to mop up all previous branded traffic
If non-branded terms saw the biggest drop off in visits this could suggest:
You've made recent optimisation changes that have had a negative impact
User engagement signals, such as app crashes, or app reviews have changed for the worse
Your competition have better optimised their app and/or provide a better user experience (particularly relevant if an app receives a majority of its traffic from a small set of keywords)
Your app has been hit by an algorithm update
If both branded and non-branded terms saw the biggest drop off in visits this could suggest:
You've violated Google's policies on promoting your app.
There are external factors at play
To get data for your Android app
To get data for your Android app, sign into your Google Play Console account.
Google Play Console provides a wealth of data on the performance of your android app, with particularly useful insights on user engagement metrics that influence app store ranking (more on these later).
However, keyword specific data will be limited. Google Play Console will show you the individual keywords that delivered the most downloads for your app, but the majority of keyword visits will likely be unclassified: mid to long-tail keywords that generate downloads, but don't generate enough downloads to appear as isolated keywords. These keywords will be classified as "other".
Your chart might look like the below. Repeat the same process for branded terms.
To get data for your IOS app
To get data on the performance of your IOS app, Apple have App Store Connect. Like Google Play Console, you'll be able to get your hands on user engagement metrics that can influence the ranking of your app.
However, keyword data is even scarcer than Google Play Console. You'll only be able to see the total number of impressions your app's icon has received on the App Store. If you've seen a drop in visits for both your Android and IOS app, then you could use Google Play Console data as a proxy for keyword performance.
If you use an app rank tracking tool, such as TheTool, you can somewhat plug gaps in knowledge for the keywords that are potentially driving visits to your app.
Step 3. Analyze app user engagement metrics
User engagement metrics that underpin a good user experience have a strong influence on how your app ranks and both Apple and Google are open about this.
Google states that user engagement metrics like app crashes, ANR rates (application not responding) and poor reviews can limit exposure opportunities on Google Play.
While Apple isn't quite as forthcoming as Google when it comes to providing information on engagement metrics, they do state that app ratings and reviews can influence app store visibility.
Ultimately, Apple wants to ensure IOS apps provide a good user experience, so it's likely they use a range of additional user engagement metrics to rank an app in the App Store.
As part of your investigation, you should look into how the below user engagement metrics may have changed around the time period you saw a drop in visits to your app.
App rating
Number of ratings (newer/fresh ratings will be weighted more for Google)
Number of downloads
Installs vs uninstalls
App crashes and application not responding
You'll be able to get data for the above metrics in Google Play Console and App Store Connect, or you may have access to this data internally.
Even if your analysis doesn't reveal insights, metrics like app rating influences conversion and where your app ranks in the app pack SERP feature, so it's well worth investing time in developing a strategy to improve these metrics.
One simple tactic could be to ensure you respond to negative reviews and reviews with questions. In fact, users increase their rating by +0.7 stars on average after receiving a reply.
Apple offers a few tips on asking for ratings and reviews for IOS app.
Help win your app traffic back
Step 1. Spy on your competitors
Find out who's ranking
When trying to identify opportunities to improve app store visibility, I always like to compare the top 5 ranking competitor apps for some priority non-branded keywords.
All you need to do is search for these keywords in Google Play and the App Store and grab the publicly available ranking factors from each app listing. You should have something like the below.
| Brand | Title | Title Character length | Rating | Number of reviews | Number of installs | Description character length |
| --- | --- | --- | --- | --- | --- | --- |
| COMPETITOR 1 | [Competitor title] | 50 | 4.8 | 2,848 | 50,000+ | 3,953 |
| COMPETITOR 2 | [Competitor title] | 28 | 4.0 | 3,080 | 500,000+ | 2,441 |
| COMPETITOR 3 | [Competitor title] | 16 | 4.0 | 2566 | 100,000+ | 2,059 |
| YOUR BRAND | ​[Your brands title] | 37 | 4.3 | 2,367 | 100,000+ | 3,951 |
| COMPETITOR 4 | [Competitor title] | 7 | 4.1 | 1,140 | 100,000+ | 1,142 |
| COMPETITOR 5 | [Competitor title] | 24 | 4.5 | 567 | 50,000+ | 2,647 |
Above: anonymized table of a client's Google Play competitors
From this, you may get some indications as to why an app ranks above you. For instance, we see "Competitor 1" not only has the best app rating, but has the longest title and description. Perhaps they better optimized their title and description?
We can also see that competitors that rank above us generally have a larger number of total reviews and installs, which aligns with both Google's and Apple's statements about the importance of user engagement metrics.
With the above comparison information, you can dig a little deeper, which leads us on nicely to the next section.
Optimize your app text fields
Keywords you add to text fields can have a significant impact on app store discoverability.
As part of your analysis, you should look into how your keyword optimization differs from competitors and identify any opportunities.
For Google Play, adding keywords to the below text fields can influence rankings:
Keywords in the app title (50 characters)
Keywords in the app description (4,000 characters)
Keywords in short description (80 characters)
Keywords in URL
Keywords in your app name
When it comes to the App Store, adding keywords to the below text fields can influence rankings:
Keywords in the app title (30 characters)
Using the 100 character keywords field (a dedicated 100-character field to place keywords you want to rank for)
Keywords in your app name
To better understand how your optimisation tactics hold up, I recommended comparing your app text fields to competitors.
For example, if I want to know the frequency of mentioned keywords in their app descriptions on Google Play (keywords in the description field are a ranking factor) than I'd create a table like the one below.
| | | | | | | |
| --- | --- | --- | --- | --- | --- | --- |
| Keyword | COMPETITOR 1 | COMPETITOR 2 | COMPETITOR 3 | YOUR BRAND | COMPETITOR 4 | COMPETITOR 5 |
| job | 32 | 9 | 5 | 40 | 3 | 2 |
| job search | 12 | 4 | 10 | 9 | 10 | 8 |
| employment | 2 | 0 | 0 | 5 | 0 | 3 |
| job tracking | 2 | 0 | 0 | 4 | 0 | 0 |
| employment app | 7 | 2 | 0 | 4 | 2 | 1 |
| employment search | 4 | 1 | 1 | 5 | 0 | 0 |
| job tracker | 3 | 0 | 0 | 1 | 0 | 0 |
| recruiter | 2 | 0 | 0 | 1 | 0 | 0 |
Above: anonymized table of a client's Google Play competitors
From the above table, I can see that the number 1 ranking competitor (competitor 1) has more mentions of "job search" and "employment app" than I do.
Whilst there are many factors that decide the position at which an app ranks, I could deduce that I need to increase the frequency of said keywords in my Google Play app description to help improve ranking.
Be careful though: writing unnatural, keyword stuffed descriptions and titles will likely have an adverse effect.
Remember, as well as being optimized for machines, text fields like your app title and description are meant to be a compelling "advertisement" of your app for users..
I'd repeat this process for other text fields to uncover other keyword insights.
Step 2. Optimize your store listing
Your store listing in the home of your app on Google Play. It's where users can learn about your app, read reviews and more. And surprisingly, not all apps take full advantage of developing an immersive store listing experience.
Whilst Google doesn't seem to directly state that fully utilizing the majority of store listing features directly impacts your apps discoverability, it's fair to speculate that there may be some ranking consideration behind this.
At the very least, investing in your store listing could improve conversion and you can even run A/B tests to measure the impact of your changes.
You can improve the overall user experience and content found in the store listing by adding video trailers of your app, quality creative assets, your apps icon (you'll want to make your icon stand out amongst a sea of other app icons) and more.
You can read Google's best practice guide on creating a compelling Google Play store listing to learn more.
Step 3. Invest in localization
The saying goes "think global, act local" and this is certainly true of apps.
Previous studies have revealed that 72.4% of global consumers preferred to use their native language when shopping online and that 56.2% of consumers said that the ability to obtain information in their own language is more important than price.
It makes logical sense. The better you can personalize your product for your audience, the better your results will be, so go the extra mile and localize your Google Play and App Store listings.
Google has a handy checklist for localization on Google Play and Apple has a comprehensive resource on internationalizing your app on the App Store.
Wrap up
A drop in visits of any kind causes alarm and panic. Hopefully this blog gives you a good starting point if you ever need to investigate why an apps traffic has dropped as well as providing some quick fire opportunities to win it back.
If you're interested in further reading on ASO, I recommend reading App Radar's and TheTool's guides to ASO, as well as app search discoverability tips from Google and Apple themselves.
Sign up for The Moz Top 10, a semimonthly mailer updating you on the top ten hottest pieces of SEO news, tips, and rad links uncovered by the Moz team. Think of it as your exclusive digest of stuff you don't have time to hunt down but want to read!
Thank you for reading.
The modern world has everything the people envisioned decades ago. The advance industry and technology are filled with highly complex systems that are full of automation, which means minimized roles of human beings in operations.
You can always hear about new innovations to give solution to a problem or new technology to make everything easier and faster. Alongside the progress, is the rise of robots. Robots are machines that are controlled by a computer and can work automatically. Everything seemed automated now. There are types of robots and how they are used but you can surely identify some, there are machines used in aerospace, education, entertainment and various big industries.
Robots have helped the world in many ways. The more they become technologically advanced and autonomous, they learn how to do jobs faster and better compared to humans, although others treat robots as threats there are things humanity can't do without them like Military Services, Car Production, Space and Underwater Exploration and Investigating Hazardous Environments.
Those are just some benefits of having machines automated but some people still think robots exist to replace them in their jobs. It has been really common for companies to use robots in their operations, there are of course good and bad sides of it. There are tasks that humans can't do which robots can do with efficiency and effectivity and vice versa.
Review Video:
Maybe it's a good way to just think of them as assistants than can make people's lives better and jobs easier. Because when it comes to marketing, automation is a very powerful tool helping you to do so much in such a little time that you'll just feel grateful for Chatbot's existence. More and more big companies are starting to acknowledge the use of Chatbots to interact with costumers, seeing them as valuable in their operations. According to research company Gartner, by 2021 50% of companies will spend more on Bots than on mobile apps.
Are you a digital marketer? Are you just starting your online journey trying to earn? Do you have a website or a blog? And you are having a hard time to get some leads and sales? Because it's a common struggle, you are definitely not the only one. But worry no more, ConversioBot is here to help you.
What is ConversioBot?
ConversioBot is a brand new, Artificial Intelligence, cloud-based chatbot software that can increase conversions and generate sales of almost any website.
This software will help you build a list and generate more leads and sales faster and totally less expensive.
How Does ConversioBot Work?
It is a very easy, user friendly software and is even specifically designed for beginners. With just three steps you can turn your website into a sales generating machine:
Step 1: Just swipe one of the "Done-For-You" AI Chat Templates.
Step 2: Then click to generate a LINE of ChatBot Code.
Step 3: And finally COPY and PASTE the code into your website.
Everything is so simple to use; all you need to do is just point and click!
Recommendation:
Chatbots are already used by many companies as an effective marketing strategy, so why not include it in yours using ConversioBot. You will be increasing your conversions and generating sales on your website without spending a huge amount of money. If you want to make profit on your website, this valuable tool is for you.
This is probably what online marketers need right now, a comprehensive and easy system that can help you make profit. Don't wait any longer and start making profits now!
This may be of some interest.
Good grief, Josh, why can't you shut up about B2B podcasting? Does the world really need another think piece, blog post, or webinar about the potential? Don't people get it already?
I hear you, theoretical reader. And yet, I persevere. 
B2B podcasting today is where content marketing was a decade ago. It's emerging as a marketing discipline. People are starting to get sophisticated about deploying and measuring podcasts. We're seeing new tools to make it easier to launch, promote, and monetize. And despite the thousands of hours of audio out there already, there's no sign that the market is satiated. 
I believe that if you're not already thinking about podcasting for your B2B brand, you should be. But if my beautiful words can't convince you, let the data tell the story:
B2B Podcasting: 20 Stats that Make the Case
These statistics come from five different reports, all released in the last year. When you look at all five together, the picture is clear: We're nowhere near peak podcast, and brand content is the next frontier.
Podcast Listenership Just Keeps Growing
Podcasting is a growth medium. More people are listening now than ever before. But what's truly impressive is how many listeners are new to the medium. Even though podcasts have been around since the early 2000s, they have only reached a mass market audience in the past couple of years.
1: Nearly a quarter of all listeners started in the past 6 months. (2)
2: Globally, 36% of the sampled population has listened to a podcast in the last month. (1)
3: 51% of the U.S. population over 12 has listened to a podcast. (2)
4: 32% of the U.S. population over 12 has listened in the past month (90 million people). (2)
5: 22% of the U.S. population over 12 listen weekly (60 million). (2)
6: 62.6% of respondents said they listen to more podcasts now than they did a year ago. (3)
7: Only 3.1% said they listen less than they did a year ago. (3)
In summary: Podcasts continue to attract new listeners to their existing audience of 90 million people monthly. And, most promisingly, those who listen are far more likely to add new podcasts than cut down.
[bctt tweet="Podcasts continue to attract new listeners… And, most promisingly, those who listen are far more likely to add new podcasts than cut down. @NiteWrites #B2BPodcasting" username="toprank"]
Podcast Listeners Are Demographically Valuable
Okay, so millions of people are listening to podcasts. But are these people a worthwhile target audience for B2B marketers? 
The answer may vary depending on your most valuable audience, of course. But most B2B marketers are interested in targeting millennials. A recent survey found that at least 73% of millennials are involved in product or service decision making at work, with 33% reporting they're the sole decision maker at their company. 
Basically, if you're trying to influence B2B purchases, millennials matter. And podcast listeners are disproportionately affluent, social media savvy millennials:
8: 50% of listeners under 35 have listened to a podcast in the last month. (1)
9: 41% of podcast listeners make $75k a year or more, compared to 29% of the general population. (2)
10: Podcast listeners are more likely to be active on social media across channels and more likely to follow companies and brands. (4)
Read: How to Promote Your B2B Podcast
Podcast Fans are Devoted Listeners
According to Google's 2018 benchmarks, the average time on page for content from most industries is between two and three minutes.  Marketers can certainly make an impression in that amount of time. Even fifteen seconds is valuable to a savvy marketer with a good hook and strong CTA. But podcast listeners spend a great deal more time with audio content:
11: 76.8% listen to podcasts more than 7 hours a week. (3)
12: 61.2% spend more time listening to podcasts than watching TV. (3)
13: 52% of monthly listeners listen to the entirety of each episode. (2)
14: 70% of listeners say that, at least sometimes, they do nothing else while listening to podcasts. (2)
As that last statistic shows, podcast listeners aren't the distracted, multi-tasking folks we might have imagined they are. If the material is engaging, they're willing to devote their attention. Speaking of which…
[bctt tweet="Podcast listeners aren't the distracted, multi-tasking folks we might have imagined they are. If the material is engaging, they're willing to devote their attention. @NiteWrites #B2BPodcasting" username="toprank"]
Podcast Fans Want to Learn (In a Fun Way)
Back in the early days, podcasts were — in the best sense of the word — geeky. They were for highly techy types to share knowledge, teach and learn. While purely entertaining podcasts have seen plenty of success, at the root of it podcasts are an ideal medium for learning. 
People don't just listen to podcasts for fun. The overwhelming majority want to feel smarter at the end of every episode. 
Think of all the subject matter expertise in your company. Now multiply that by the influential guests (e.g. your customers, prospects, and industry experts and peers) you'll invite on to share their expertise.  It's easy to see how a brand podcast can bring educational value to an audience that's ready to learn.
15: 74% say they listen to podcasts to learn new things. (2)
16: 71% say they listen to be entertained. (2)
17: 59% say they enjoy podcasts because they make them feel smarter. (2)
The Business Podcast Market Is Ready for Lift-Off
There's still a massive untapped market for helpful, informative business podcasts — exactly the type that B2B brands could develop, produce and promote. In fact, we can see that the ad revenue model for podcasting is expanding to include branded content. Right now, branded content is still a small percentage of overall podcast advertising, but it's growing fast. 
18: There are avid fans of business podcasts in 13 million households. (4)
19: There are casual fans of business podcasts in 52 million households. (4)
20: Branded content has increased from 1.5% to 10.1% of podcast advertising since 2016. (5)
What's more, podcasts offer a range of content marketing benefits, which can inform and bolster your broader digital marketing strategy.
Don't Be (Pod) Cast Aside
The podcast boom continues unabated — and it's grown from a strictly amateur platform to a sophisticated content marketing medium. B2B marketers who are creating any kind of audio content should consider podcasting as a channel to earn attention, deeply engage an audience, and ultimately drive measurable business results.
Ready to produce your own podcast? Check out our webinar on the 4 P's of Podcasting.
Sources:
The post B2B Podcasting: 20 Stats that Make the Marketing Case appeared first on Online Marketing Blog – TopRank®.
Thank you for reading.
This may be of some interest.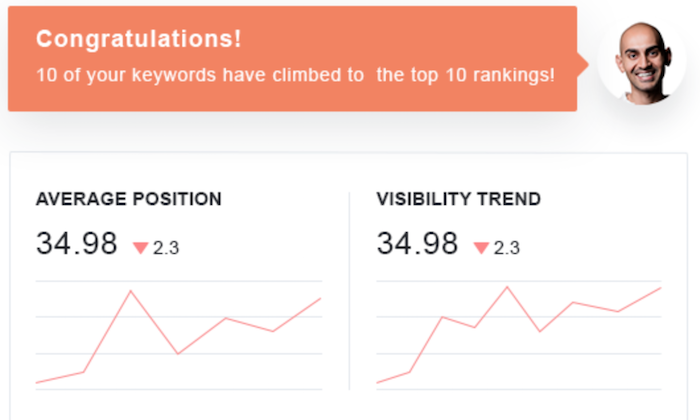 It's been more than a year since I launched the "new"
Ubersuggest.
And over the last 12 months, I have made a lot of progress.
Just as a quick recap: Ubersuggest went from a basic keyword research tool to now containing backlink data, rank tracking, content ideas, site audit reports, and many more features.
If you haven't played with Ubersuggest in the past few months, give it a try. Type in a URL or a keyword and click around.
The reason I am asking you to give it a try is that I need your help to determine what I should develop next so I can help you improve your traffic and rankings even more.
But before we get into that, let me first tell you what I am releasing in the next few months.
Upcoming features
So, let's break it down by section as I am making a lot of
small changes that should not only improve the data, but also the usability of
the product.
Funny enough, there will be changes to every section of the
tool.
Keyword research
Over the next month, the keyword overview is going to change in which I will start to tell you demographic data. You'll see what percentage of the searches are done by males or females as well as the average age range of a searcher.
You'll also see what portion of the clicks for any given keyword go to SEO results, ads, or result in no clicks.
I am also going to break searches down by mobile versus
desktop.
More accurate data
Another big change that is happening, and this one won't be
visual, is all of the data will become much more accurate.
From traffic estimations for a domain, to even keywords,
you'll start seeing a more accurate database.
For example, when I look at all of the keywords
neilpatel.com ranks for, a lot of them are junk keywords that don't drive much
traffic.
Sure, the report still provides value as a lot of the keywords are good and can provide good SEO insights, but with more accurate data it should make your job easier.
New backlinking data
Another feature that I am excited about is the new backlink charts.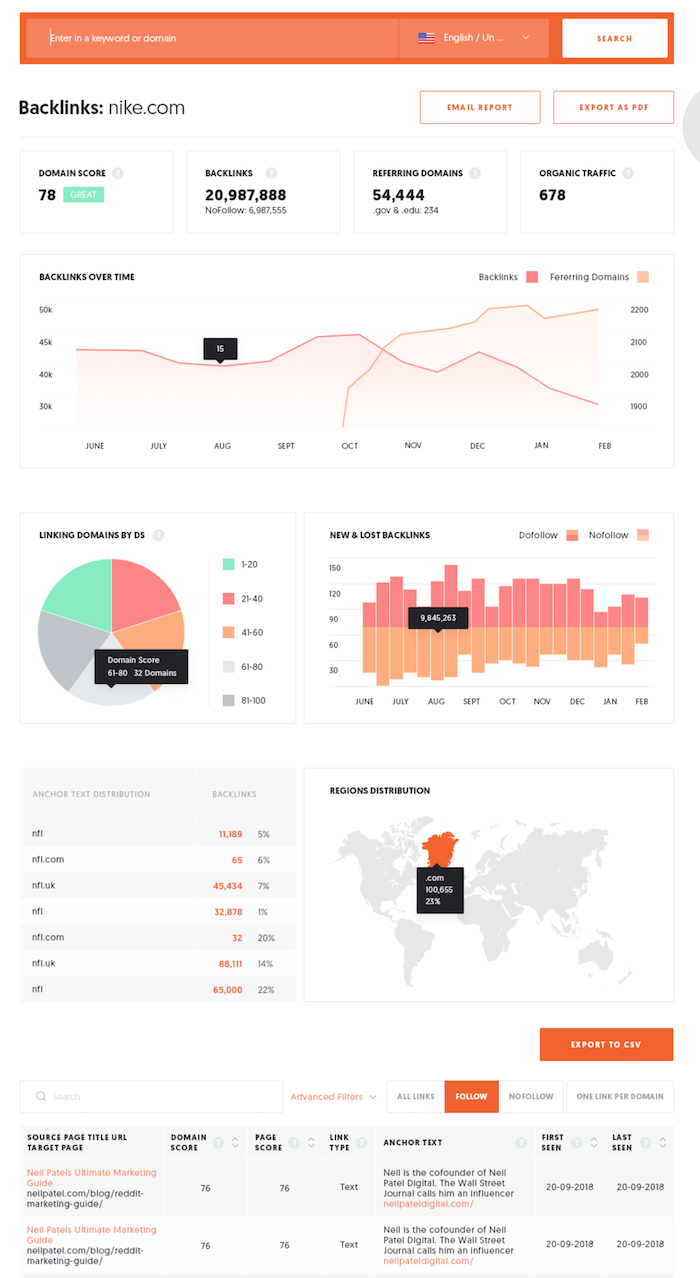 I'm adding historical link data over time as well as a
snapshot of daily new and lost links.
In addition to that, you'll start seeing more data on anchor text or link distribution.
Alerts
A huge problem with Ubersuggest is that you have to continually come back to get value. In the next month or so, you will start seeing email alerts that will tell you what's happening with your site and what you should fix.
The overall purpose is for you to not have to come to
Ubersuggest to figure out what you need to fix.
Usability fixes
The biggest problem with Ubersuggest is people don't know
what to do with the data or how to improve their rankings.
This will be fixed in the upcoming months.
From an education center and demos to tutorials and more, we are creating a guided path so you can see better gains in your search traffic.
Alright, so now that you know what I am working on, I now need your help to figure out what I should do next.
Where do you want me to take Ubersuggest?
I have a few options for you, but I am not sure what you
want me to do with the tool.
Sure, I know you want more free features and I will do that,
but what's going to provide you with the biggest gains?
Here are some options…
Automated SEO – would you like me to focus my efforts on automating your SEO? All you would have to do is add a javascript to your site like Google Analytics and it would automate 40 to 50% of your SEO tasks. It would even adjust your code for you automatically no matter what CMS you use. Again, it would ONLY automate 50% or so of your tasks, I can't automate all 100%… yet.
Ad management – do you want an easy to use ad management system? From Facebook and Google to even smaller sites like Quora, there are tons of ad opportunities. I could create an easy to use system that helps you find all of the ad opportunities and optimize/manage them for you in an automated way.
Free email marketing – I know there are tools like Mailchimp that are great, but what if I made it so you can send an unlimited amount of emails to an unlimited number of contacts for free?
Chrome extension – what if I took extensions out there from tools like Moz, Ahrefs, Keywords Everywhere, and SEMrush and combined the best features and made it free?
Or do you have any better ideas? I am open to anything.
Conclusion
I can take Ubersuggest in many different directions. There isn't really a right or wrong approach and, wherever I take it, I will make sure that the product is still really easy to use.
The question is, what do you want me to focus on first?
That's all that matters in the grand scheme of things because I am building this for you.
So, if you can, leave a comment below letting me know where you want me to take Ubersuggest. It can be one of the options above, or if you have a better idea, I am open to that as well.
The post I Need Your Help With Ubersuggest appeared first on Neil Patel.
Thank you for reading.
Who does not like passive income, when passive income is tantamount to freedom! According to BusinessDictionary, Passive Income means the earnings from rent, limited partnership, or other sources of income in which the earner does not take an active part. That's what greatly differentiates passive income from active income because the latter requires the constant input of time to generate revenues whereas the former does not. Passive Income, for all intents and purposes, is income that is automatic to a large degree.
For most people who are working the 9 to 5 job, they are very eager to have a passive income that can someday free them from the rat race. Passive Income, after all is freedom. Freedom to use your own time according to your own terms, freedom to be with your love ones, freedom to still earn while not regularly putting effort and time on it.
The world's population have been into finding more ways to earn, trading their time and skills for money, simply because when they stop working, they stop earning and nowadays, having more alternative ways to earn is so much better. Not only can it prepare you for sudden financial crisis, it can also bring you closer to your financial goals, whatever that may be.
Although passive income is easy to understand, it is not very easy to achieve. It takes time and effort to create it. Successful online marketers have already achieved passive income, most have configured how to sell digital products on autopilot.
Now, there is an online system called CB Passive Income Version 5.0 launched in 2018 that will let you clone everything including the creator's funnel. This is an automated system that will make you earn passive income.
What is CB Passive Income Version 5.0?
CB Passive Income Version 5.0 is an online system that allows you to clone Patric Chan's entire business system so that it can generate affiliate commissions for you on autopilot. With Chan's program, you don't need to write your own content, create products to sell, send emails, provide customer service, research for affiliate programs to promote and you don't even need to learn what affiliate marketing is. You only need to accomplish ONE TASK and that is to send Chan's valuable software for free.
There were versions of CB Passive Income in the previous years, this version is of course, the best and most updated version there is using the hottest marketing strategy for recent years which is funneling, and using this program, you can clone Chan's proven and effective funnel.
With CB Passive Income Version 5.0, the business model lets you promote valuable internet marketing products and you collect commission when the customer buys.
Review Video:

How Does CB Passive Income Version 5.0 Work?
This turnkey system that is proven effective to generate income has three easy steps:
Fill in your details inside the CB Passive Income Dashboard to have your clone page that is created within a few seconds only.
Send traffic to your clone page to build your subscribers, the system will continually monetize every subscriber you have so that you earn affiliate commissions. This page will offer the visitors a free gift by providing their email address.
When they buy something, you earn commission and you can collect it from ClickBank.
The software will generate you a unique link where your visitors can get Chan's software or course for free, they will get this after subscribing or giving their email address, which can let CB Passive Income system to promote products to them with your affiliate link attached. Once they purchase, you earn commissions.
About the Creator:
Patric Chan is a world-class internet marketer and CLickBank Super Affiliate. He has been featured in newspapers and business magazines. His rags to riches story has inspired a lot of people to explore internet income potential. He has also authored several best-selling books. He did not accomplish his success overnight, he was like you and thousands of people before who are struggling to make money online.
It took effort, time and a lot of hard work to come to where he is now. Therefore, he knows what works and what does not. He is sharing the very system that has made him successful.
Recommendation:
Everybody wants a passive income. Everybody wants to feel secure about having a fallback in case the stable company they are working for suddenly collapses. And it is always great to have a simple system that can make you earn as a beginner.
It's safe to try it and you will get your money back if you feel dissatisfied with the program. The CB Passive Income Version 5.0 may be the program that will make you have the freedom that you want and the capacity to live the life you have always dreamed of.
Check it out through this link here!
This may be of some interest.
While webinars might sound old school, most B2B marketers still say that they are the most effective form of content marketing for their companies.
While a jam-packed webinar is a beautiful thing, you know what's better than filling your funnel with webinar leads? Converting those leads into customers.
The key to turning webinar leads into sales is giving your prospects a clear path forward. Too often, we focus on creating great webinar content and hosting an engaging webinar, which are both important, but we don't spend enough time on the next step.
According to research from InsideSales.com, 73% of marketing and sales leaders say webinars are one of the best ways to generate high-quality leads. With this in mind, you don't want to let these valuable leads languish in post-webinar purgatory. Here are nine simple ways to convert more webinar leads into sales.
How to Host Webinars That Convert
1. Pick a topic that's relevant to your industry.
Is there a problem point, trend, or other topic that people in your industry are particularly buzzing about or reaching out to you for guidance on? If so, this could be a great topic that drives in webinar signups, attendees, and possibly conversions.
If your business offers solutions or services related to the topic or pain point discussed in the webinar, that's even better. This will give you a platform where you can inform the audience about the topic, demonstrate your expertise in it, and then promote the product or service that corresponds in it. People who feel that your brand is knowledgeable about a certain pain point might trust that you've created a great solution that can help them/
2. Consider letting a thought leader or credible customer host.
By having a thought leader host, you can also demonstrate knowledge, expertise, and credibility in your industry. If people follow the thought leader, promoting the webinar and noting that this person is a host might also drive sign ups and attendees.
If you have a customer with a large amount of credibility in your industry who can talk about strategies they've used related to a certain topic while possibly intertwining mentions of your product in the webinar, this is a definite bonus. This way, listeners are getting the knowledge and advice that they're craving, but they're also getting a trustworthy endorsement of your product directly from someone who's used it.
3. Make the webinar interactive.
As you and your host plan the webinar, come up with ways to make it interactive for the customer. Interactivity adds to the experience and can also be valuable to the listener.
For example, if your webinar system allows listeners to submit comments, consider including points in your webinar where you ask the listeners to reply with their strategies. Then read and discuss the best ones. You could also allow time at the end where webinar listeners could ask questions and the host could answer two or three of the best ones.
If your webinar system doesn't allow questions, you could include this as a piece of the promotion. For example, if you post a link to the webinar signup page on your social channels, ask those interested to comment on your promotional post with a question for the host. Then similarly ask the best ones and give a shout out to the person who asked the question.
Another way you can get more interactive is by polling the audience, if that feature is available on your webinar system. This, again, makes the experience more interactive and entertaining for your audiences. But, additionally, they can view and learn from the results of other peers watching the webinar.
All in all, an interactive experience will create value and potentially please the prospect into signing up for more webinars or even investing in your product.
9 Easy Ways to Convert Webinar Leads into Sales
1. Poll your audience to see who's ready to buy.
At GoToWebinar, we always use multiple polls during our webinars. They grab attendees' attention and prompt them to take part in the action. Poll responses provide handy insights you can use to segment your audience by need, interest level, industry, and more, too.
Polling your attendees during the webinar will also help you find out if they're interested in learning more about your company or talking to a sales representative. Bear in mind, this technique is not suited for top-of-the-funnel webinars that are unrelated to your product. You don't want to hit attendees with a "buy now" message when they are still in the discovery phase.
Additionally, polling your attendees during the webinar — rather than polling them in a post-webinar email — will yield a much higher response rate. If attendees respond in the affirmative, pass them to your sales team for follow-up.
If you get a lot of positive poll responses, take time at the end of your webinar to demo your product or show your attendees how they can purchase it. Those who aren't interested can hop off and those who are interested will appreciate the extra info.
2. Send a post-webinar survey.
Sending attendees a quick survey right after the webinar is a great way to see if your content resonated with them, capture additional attendee insights, and gauge attendee interest in your product.
If you didn't ask them these questions during the webinar, ask them who's ready to take the next step in a post-webinar survey. You can also use survey responses to segment your webinar attendees and tailor your follow up marketing messages.
3. Involve your sales team in the webinar.
Collaboration between marketing and sales sounds like a no-brainer, but it's easy to overlook. To involve the sales team in your webinars, make sure they know what webinars are on the calendar and what topic they'll cover. This will help the sales team prepare more thorough follow-up communication with webinar leads and keep your marketing efforts aligned with your company's sales goals.
At GoToWebinar, we recommend going a step further and having sales reps join the webinar. They can even help run the webinar, fielding and answering attendee questions.
By taking part in the webinar, sales reps will get familiar with the topic. They'll also notice that most attendees are engaged, which will make them all the more motivated to follow-up. This sets the groundwork to seamlessly pass the top webinar leads from marketing to sales.
4. Follow up within 24 hours.
While it's still fresh in their minds, send out your first email follow-up to webinar attendees and no-shows within 24 hours of the webinar. Your audience expects to receive the webinar recording and presentation slides, regardless if they showed up or not.
Prospects also love when companies include a link to a follow-up blog post that summarizes the webinar content and answers some of the top attendee questions. Sure, it takes extra planning and a quick turnaround to do this, but you're fostering a relationship with these prospects — this type of targeted content is key to converting your audience down the line.
5. Identify hot, warm, and cold leads.
You don't have to use all three lead categories, but at the very least, divide your leads into hot leads that are ready for sales and ones that need to be nurtured.
We've already discussed two ways to identify hot leads — using a poll or survey — but you also have access to a lot of other data that can help you pinpoint where leads are in their buyer's journey.
Look at data like:
Registration responses: go beyond only asking for name and email on your webinar registration form. Ask more probing questions that will help segment and personalize your marketing.
Attendee interest rating: if you're using a solution like GoToWebinar or Zoom Video Webinar, you will have webinar reports that display your attendees' engagement level over the course of the webinar.
Previous marketing engagement: this includes web behavior, content downloads, and prior webinar activity.
6. Send personalized follow-ups to hot leads.
Passing on your sales-ready webinar leads with specific instructions for how to follow up will increase the odds your sales team will close these prospects. You could also go a step further and provide your sales reps with a customizable email template. The easier you make their job, the more likely they'll hit it out of the park.
This follow-up messaging should relate to the webinar content, provide value, and offer help. It's also effective to personalize these messages as much as possible based on what you know about each prospect.
7. Nurture warm and cold leads.
Even if some of your webinar leads aren't ready to buy today, you don't want to waste the opportunity of closing them when they do become ready to buy. Putting warm and cold webinar leads into your existing nurture tracks based on your usual segmentation will boost the chances that they'll contact your company when they're thinking about purchasing your solution.
Alternatively, you can create a webinar-specific nurturing track for these leads, if you have the resources. As you develop your nurturing content, think about what stage of the buying cycle the various segments of your attendees are in and identify other key content assets you can offer in your nurturing stream that build on your webinar content.
The length of the nurturing stream will depend on your sales cycle, but four to six weeks is a good place to start.
8. Retarget your webinar leads.
Creating retargeting campaigns for your webinar leads will keep your brand top of mind. Again, you can segment these audiences based off their responses, interest level, and previous marketing engagement, but the point is to keep your leads warm and move them through each stage of the journey.
Remember, retargeting ads should complement your other marketing tactics. You don't want to email webinar leads with a discount offer and retarget them with an awareness ad at the same time.
9. Always empower leads to take action.
It's always better to make it easy for your prospects to take the next step in their buyer's journey. Even if your leads aren't quite ready to become customers, give them the ability to keep learning with additional resources and ways to engage. Whether it's during the webinar or in your follow-up emails, including a clear call to action and highlighting its benefit will entice your audience to take the next step with your business.
Webinar leads are some of your best leads.
A recent GoToWebinar study on content engagement revealed that people are willing to spend more time with a webinar than any other type of content. These are some of your most engaged leads, so make sure you have a plan to convert them. If you're not ready for all these tactics, just start with a couple and you could see your webinar conversions gradually take off.
Editor's Note: This blog post was originally published in November 2017 but was updated in November 2019 for comprehensiveness.
Thank you for reading.
This may be of some interest.
Même en essayant de contenter toutes les parties concernées, il est impossible d'éviter toutes les situations difficiles. Un conflit est la conséquence directe d'une différence de point de vue, ce qui risque indéniablement d'arriver lorsque deux entreprises travaillent ensemble. Un conflit peut également émerger face à un manque de communication, à des processus inhabituels, à des changements rapides ou à des attentes différentes.
Dans une agence, la gestion des conflits est essentielle. En effet, 16 % des agences rencontrent des problèmes de fidélisation des clients dus à un manque de stratégies de gestion des conflits adaptées. Au cours d'une relation, et en particulier au début, les agences et leurs clients doivent faire face à des désaccords, car les équipes apprennent à se connaître et les partenariats n'ont pas encore fait leurs preuves. De plus, les clients souhaitent évidemment obtenir les meilleurs résultats au prix le plus bas, alors que la structure de tarif horaire des agences encourage l'approche inverse.
Selon le rapport 2018 sur la croissance des agences marketing, même parmi les agences disposant d'effectifs suffisants, seules 50 % sont structurées de manière à favoriser l'évolution professionnelle des salariés. Or, une agence qui souhaite fidéliser des équipes performantes se doit d'offrir des perspectives de carrière intéressantes pour ne pas réduire sa productivité quotidienne et perdre contact avec ses clients. Pour éviter ce problème, il est possible de mettre en place un processus d'intégration efficace afin d'identifier les intentions et les attentes de toutes les parties, sans pour autant contourner tous les points de désaccord possibles.
Néanmoins, un conflit n'a pas qu'un côté négatif. Une bonne gestion des conflits peut consolider les relations et les rendre plus saines, tout en améliorant la collaboration et la productivité des parties prenantes. De plus, la clé pour obtenir des recommandations est d'engager des conversations ouvertes et bienveillantes, créant ainsi un environnement agréable dans lequel toutes les parties prendront plaisir à travailler ensemble.
Une bonne gestion des conflits permettra d'identifier plus rapidement le problème et de trouver la meilleure solution, évitant ainsi de briser des relations importantes tout en permettant de mettre fin à celles qui pourraient nuire à la réputation de l'agence. Il s'agit aussi d'une occasion précieuse pour les deux parties de définir et d'évoquer ce qui leur importe véritablement.
Les différents types de gestion des conflits
Il est nécessaire de comprendre les cinq façons de gérer les conflits présentées ci-dessous pour définir l'approche à adopter face à une conversation ou à une réunion difficile, ou pour appréhender la position et l'approche de l'autre partie.
5 approches de la gestion des conflits
1 – Concurrence
Avec cette approche, l'agence ne tient pas compte des désirs de l'autre partie et se concentre uniquement sur son objectif. Cette approche ne doit être utilisée que s'il n'existe qu'un faible espoir de sauver la relation ou si l'agence souhaite une une conclusion immédiate de la situation.
2 – Collaboration
Avec cette approche, l'agence fait preuve à la fois d'affirmation et de coopération, à la recherche d'une solution qui puisse satisfaire les deux parties.
3 – Compromis
Avec cette approche, l'agence sait déjà qu'aucune partie ne sera pleinement satisfaite de la résolution du problème. L'objectif principal est de trouver une solution qui satisfasse au mieux les deux parties. Chaque partie a besoin de faire des concessions. Ce type de résolution de conflits est plus complexe et exige des deux parties qu'elles expriment leurs doutes et qu'elles fassent confiance à l'autre.
4 – Contournement
Cette approche des conflits est bien trop fréquente. L'agence se contente d'éviter le problème, en espérant ne pas avoir à s'en occuper. Parfois, la technique fonctionne et le problème finit par se résoudre de lui-même. Cependant, dans la plupart des cas, il ne s'agit pas d'une solution à long terme, car le problème réapparaît de manière amplifiée.
5 – Conciliation
Avec cette approche, l'agence cherche à trouver une solution et se concentre tellement sur les besoins de l'autre partie ou sur la résolution du problème qu'elle finit par aller à l'encontre de ses propres objectifs.
Il est important d'évaluer le pouvoir dont l'agence dispose dans cette situation par rapport à l'autre partie.
Techniques efficaces de gestion et de résolution des conflits avec les clients
Savoir gérer et résoudre les conflits fera de l'agence un lieu de travail idéal. En effet, disposer de stratégies pour réduire les conflits avec l'agence entraînera une plus grande satisfaction parmi les clients et les salariés.
Face à des priorités, des motivations et des méthodes de travail différentes, il est naturel qu'un conflit se déclenche. En déterminant à l'avance le type de clients avec qui l'agence travaille, il est possible de déterminer comment interagir de façon productive avec eux. C'est là la première étape. Il suffit ensuite d'envisager le conflit comme une façon d'améliorer la communication et le résultat final. Avec cet état d'esprit, il est nécessaire d'examiner les stratégies de gestion et de résolution des conflits ci-dessous.
Stratégies de gestion et de résolution des conflits avec les clients
1 – Déterminer si le problème mérite d'être mentionné
Il n'est pas conseillé par là d'éviter le problème, mais il faut savoir que certaines questions ne méritent pas d'être mentionnées. L'énergie et le temps nécessaires pour les aborder et les résoudre sont disproportionnés par rapport à leur impact négatif sur l'équipe.
Nombreuses sont les personnes qui craignent les conflits et qui tentent de les éviter à tout prix. En soulevant un problème, il est possible de développer un sentiment d'inconfort et de défense chez l'autre personne. Il existe alors deux possibilités : le problème trouve une solution ou des ressentiments se créent.
2 – Utiliser un langage corporel adapté
La façon dont une personne se tient, ses expressions faciales et le ton employé fournissent de nombreuses informations à l'interlocuteur, qui devine alors l'approche adoptée concernant la résolution du problème.
Selon des recherches, seuls 7 % du message seraient transmis par les mots, contre 38 % par les éléments vocaux et 55 % par des indices non verbaux comme les expressions faciales et la posture.
Si le langage corporel de la personne est positif et montre une certaine ouverture, l'employé aura envie de refléter sa posture et sa position. De manière générale, il est conseillé d'éviter de croiser les bras car cette posture tend à exprimer un sentiment d'agressivité. S'asseoir près de l'autre personne montre également une volonté de collaborer et de communiquer.
3 – Prendre en compte les faits plutôt que les opinions personnelles
Il est inutile de se laisser aveugler par son opinion de l'interlocuteur en cas de frustration, il vaut mieux se concentrer sur le problème. Il convient dans ce cas de commencer la conversation en décrivant les faits et de faire preuve d'objectivité.
4 – Permettre à tous de s'exprimer
Les clients qui quittent leur agence se plaignent souvent d'un manque d'écoute. Peut-être ont-ils exprimé un besoin ou souligné un problème que l'équipe a minimisé ou qui n'a jamais été porté à l'attention de la personne concernée.
Si l'agence a déjà identifié un problème et tente de résoudre le conflit, elle doit s'assurer que le client puisse exprimer pleinement ses sentiments et ses pensées. Il peut être utile de poser des questions ouvertes, sans porter de jugement. Il suffit à certains clients de savoir que leurs préoccupations ont été exprimées et qu'elles ont été entendues.
5 – Être attentif au langage
Certains mots peuvent mettre immédiatement les clients sur la défensive ou les inciter à s'interroger sur les raisons qui poussent l'agence à aborder un problème. Lors d'un désaccord avec un client, il vaut éviter l'utilisation de « mais ». Par exemple : « Vous souhaitez que le projet soit terminé d'ici vendredi et notre équipe a déjà une autre échéance. Nous allons trouver un moyen de résoudre cette situation. »
En formulant ainsi la phrase, le client prend conscience de la difficulté rencontrée par l'agence et de la décision à prendre. Même si cela ne résout pas immédiatement le problème, cela peut inciter le client à tenir compte du point de vue de l'agence au cours des conversations.
6 – Recentrer le client sur l'impact
Parfois, les clients peuvent être influencés par certaines erreurs et ils en perdent de vue l'objectif final. Évidemment, manquer une échéance ou ne pas demander certaines informations essentielles sont de véritables erreurs, mais elles n'auront que peu d'impact sur l'objectif final du client.
Il est parfois nécessaire de recentrer le client sur les éléments véritablement importants. Le plus important est de lui présenter des excuses et de lui prouver à nouveau l'expertise de l'agence et son engagement à atteindre son objectif.
7 – Envisager le problème avec empathie
Se concentrer uniquement sur l'impact négatif d'un problème sur l'équipe n'est pas idéal pour aborder la résolution d'un conflit. Il faut plutôt réfléchir aux raisons pour lesquelles le client est contrarié ou déçu, en pensant aux implications pour son équipe ou son travail.
Pour créer de l'empathie au sein de l'agence et chez le client, il peut être utile d'encourager toutes les parties à envisager une situation avec une perspective différente. Cette méthode peut amener un nouvel état d'esprit et rendre les personnes plus disposées à régler un problème.
Satisfaits ou mécontents, vos clients exprimeront souvent leur avis sur vos produits ou services, téléchargez ce guide gratuit pour découvrir les meilleures pratiques pour leur répondre.
Thank you for reading.