Uncategorized
This may be of some interest.
There's a tragedy unfolding all around us, unevenly distributed. It's about health and it's also about the economy. We are called upon to not panic, to try to focus, to figure out how to make it all work. And many of us are overwhelmed. From health care workers who are burning the candle at both ends to parents with too many demands on their time, it's been crazy.
And if you're a freelancer, it can be challenging because the steady gigs or the easy gigs might be on hold.
If you're fortunate enough to have time on your hands, what to do with the downtime?
If you're looking for a gig or if you're hoping for a new client…
It's easy to get stuck waiting. The alternative is not to wait.
More time spent fretting isn't going to help.
The alternative is to dig in and build your portfolio.
A portfolio that includes three things:
ONE: What are you good at? You can dramatically increase your skillset (including your attitude about the work you do) in just a few days of focused effort.
TWO: What have you done? You can actually do work, real work, volunteer work, spec work, digital work and you can do it right now.
THREE: How have you expressed 1 and 2? When we look at your portfolio, what do we see?
You are not your resume. Your prospects are based on the work you've done and the way you do it.
When you do a good job on your skills, your work history and your expression, you're more likely to get better clients.
Getting better clients is super simple and really difficult. The current environment makes it even harder, which means we need to be prepared for a longer, more difficult process ahead.
The benefit of better clients is pretty clear: They challenge you to do better work, they talk about you and your work, they pay on time, they want you to do work you're proud of and they're motivated to do more than most people expect.
The difficult part is becoming the sort of freelancer that better clients seek out.
Because while it's true that better clients make you a better freelancer, the work is too important to simply wait for them to show up. Particularly during difficult and uncertain times. Maybe this is an opportunity to reset expectations and recommit to the practice.
If you're seeking better clients, I hope you'll check out The Freelancer's Workshop. It launches today. You can save some money by clicking the purple circle, which is at maximum value today.
We considered canceling this scheduled session of our online workshop, but for many, this is a good moment to take a breath, settle in and level up. These are perilous times, and it's easy to get pessimistic and stuck. Let's learn together instead.
Here's to health and peace of mind as we all slog forward together.
[At 11 am ET today, I'll be taking your questions on working from home, freelancing and resilience. We'll be on Facebook, Instagram and LinkedIn, tech permitting–LinkedIn gets posted later.]
Thank you for reading.
This may be of some interest.
Read more…
"player":"description":"We can overcome this!","image":"https://mondrian.mashable.com/uploads%252Fvideo_uploaders%252Fdistribution_thumb%252Fimage%252F94568%252Fda650d29-d5c3-443e-b561-b76b728d1586.png%252F930x520.png?signature=vWnhbazgBvbabettcY79M1HUEVc=&source=https%3A%2F%2Fblueprint-api-production.s3.amazonaws.com","mediaid":"3bokeD7Pn7″,"preload":false,"title":"Facebook, Google, and more join forces to fight misinformation about coronavirus","sources":["file":"https://vdist.aws.mashable.com/cms/2020/3/0562bc5e-9e7d-3c2d/hls.m3u8″,"file":"https://vdist.aws.mashable.com/cms/2020/3/0562bc5e-9e7d-3c2d/dash.mpd","file":"https://vdist.aws.mashable.com/cms/2020/3/0562bc5e-9e7d-3c2d/mp4/1080.mp4″,"file":"https://vdist.aws.mashable.com/cms/2020/3/0562bc5e-9e7d-3c2d/mp4/720.mp4″,"file":"https://vdist.aws.mashable.com/cms/2020/3/0562bc5e-9e7d-3c2d/mp4/480.mp4″],"player_id":"hrrl7x1B","options":"disableAds":false,"disableSharing":false,"nextupAction":"autoplay","embedUrl":"https://mashable.com/videos/blueprint:3bokeD7Pn7/embed/?player=offsite","standaloneUrl":null,"post":"url":"https://mashable.com/article/google-facebook-twitter-coronavirus-fake-news/","date":"2020-03-17T08:28:27.019Z","bp_id":112098,"wp_id":null,"advertising":"params":"keywords":"facebook,twitter,google,mashable-video,culture,coronavirus","sec0″:null,"sec1″:"","prc":"","analytics":"labels":"facebook,twitter,google,mashable-video,culture,coronavirus","videoSeriesName":null
More about Facebook, Social Media, Reactions, Coronavirus, and Tech
Thank you for reading.
This may be of some interest.
What's in a review?
With the right client testimonials and customer reviews, B2B brands can increase trust and loyalty in uncertain times while strengthening existing connections and fostering new ones. Your brand may even be sitting on a goldmine of evergreen trust-building user-generated content.
Let's take a look at 20+ tips to invigorate and expand your B2B marketing toolkit with a smart customer review and testimonial strategy.
Making The Statistical Case For Testimonials & Reviews
With some surveys showing that  90 percent of adult Internet users rely on reviews before making purchases, and others placing the figure even higher at nearly 99 percent, it's important for B2B brands to make sure they feature the reviews and testimonials their customers have taken the time to write and share online.
Despite their unique power to build brand trust, just 43 percent of B2B businesses use reviews in their marketing toolkit.
Conversion rates can skyrocket by as much as 270 percent when online reviews are smartly incorporated, however, as shown in the Website Builder Expert data below.
Some 30 percent of businesses said that customer reviews had a major impact on their overall success, and just over 26 percent said reviews also had a major impact on profitability, as shown in the following chart from a recent ZenBusiness survey.
The same survey revealed that 52.2 percent of older businesses monitor online reviews weekly and 18.5 percent do so daily, while 47 percent of newer firms monitor weekly, and 39.3 percent monitor daily, suggesting that more established brands have settled into a weekly cadence, while younger firms tend to keep a more frequent watch over reviews.
Businesses tend to monitor a multitude of online review platforms for reviews, with 67.6 percent using Google, 55.1 percent Facebook, and 46.3 percent Yelp, followed by others as shown below.
Only 11.9 percent of businesses said that they respond to every review left for them, while 60 percent said that they interact with either some or most reviews they receive, the same survey noted.
Younger B2B buyers are increasingly looking for reviews and testimonials to be delivered to them in methods that differ from those of older buyers, creating an opportunity for some brands looking to connect with younger audiences.
"Sixty-one percent of Millennial buyer decisions are influenced by user reviews that they trust," Brian Fanzo recently noted in "Meet The Millennials: How Marketers Can Effectively Connect With The New B2B Buyer," urging smart B2B marketers to not rely solely on traditional websites, and to instead "bring the testimonials — the trusted user reviews — to the buyer."
Brian was one of the 13 B2B social media marketing leaders offering trends and predictions in our "13 Top B2B Social Media Marketing Trends & Predictions for 2020."
His sentiments are largely echoed in report data recently examined by Social Media Today.
[bctt tweet=""In 2020 social media marketing will shift from vanity metrics to transparent and authentic channels to focus on real-time customer engagement." @iSocialFanz" username="toprank"]
You May Already Have a Goldmine of Testimonials
Many established B2B brands may already have a fantastic cache of glowing testimonials from clients, however because some firms don't have any established practice for gathering, collecting, and most importantly utilizing them in marketing efforts, they remain mostly hidden.
Gathering existing reviews and testimonials can be a great way to get new insight into your most loyal customers, unearth any points of customer dissatisfaction, and to build new mechanisms for improving communication with your customers.
"Your offerings should be so attractive to your loyalists that they have no reason to look elsewhere for additional products or services," Rob Markey wrote in an insightful Harvard Business Review look at how to "Make It Easier for Happy Customers to Buy More."
Client and customer kudos today comes from more channels than ever, which can make it challenging to gather and compile into a dedicated testimonials file. A list of only a few of the digital channels to search for possible existing testimonials includes:
Email Correspondence
Online Collaboration Tool Chat History
Private Social Media Posts
Public Social Media Posts
Mobile Device Text Message History
Voicemail Transcripts
Whether it's each quarter, weekly, or every day, taking the time to mine testimonials from each of the channels your firm user is a great way to unearth potentially powerful customer and client testimonials.
Tactfully encouraging clients to consider leaving a review or testimonial is a nuanced process best customized on a per-client basis, however there are also some universal methods to help guide a good strategy, such as those outlined in "14 Proven Ways to Encourage Customers to Write Reviews."
Social media and search engine firms have also done their part to try boosting the visibility of customer reviews, such as Google adding highlighted business reviews in Google Posts.
[bctt tweet=""Whether it's each quarter, weekly, or every day, taking the time to mine testimonials from each of the channels your firm user is a great way to unearth potentially powerful customer and client testimonials." — Lane R. Ellis @lanerellis" username="toprank"]
Testimonials & Reviews Increase Trust & Loyalty
Trust is paramount as B2B marketers seek to attract, engage, and convert new clients, and testimonials and reviews from satisfied existing customers are among the most powerful forms of messaging when it comes to earning the business of potential new clients.
It's no secret that for many years study after study has shown that testimonials and reviews hold the power to build trust, and ultimately help persuade people to engage your company's services.
Some 90 percent of B2B buyers said that they are more likely to complete a purchase after seeing a positive review.
[bctt tweet=""High rates of loyalty are a huge asset in business. They provide a necessary foundation for profitable growth." — Rob Markey @rgmarkey" username="toprank"]
The earned power of trust becomes even more apparent when paired with survey data showing that globally 54 percent of consumers would still buy from a brand even after a negative product experience if they felt that a firm hadn't broken trust.
When trust has been lost, however, some 82 percent said that they would not purchase again from the brand, highlighting the importance of building brand trust — something reviews and testimonials excel at.
Testimonials & Reviews Strengthen Existing Connections & Foster New Ones
Testimonials and reviews showcase the ability of your business to provide best-answer solutions so well that people take the time to personally write appreciative messages sharing their gratitude.
Testimonials and reviews also take good business partnerships and strengthen them, and help bring B2B relationships to new levels of commitment and trust.
62 percent of consumers leave positive reviews in order to help others in making buying decisions, while 52 percent say they leave negative reviews to warn others, as shown below.
The connections forged through testimonials and reviews makes the relationship between your business and your clients stronger, and also serve as an important and visible example for potential new clients who are looking for information about your company.
More firms are also making it easy for customers to leave video feedback, such as a method Airbnb has implemented that mimics the ease of use users have come to expect for sharing videos on YouTube or Instagram.
The video review format has led some customers to share lengthier and more precise feedback, which in turn allows businesses greater insight into their customers.
"Videos can be richly emotional — offering the real voice and face of the customer. That emotion, transmitted directly to front-line employees and leaders, often generates the sort of empathy that inspires and motivates thoughtful action," Rob Markey has noted.
By making video reviews a simple and optional part of customer feedback surveys, brands can have the best of both traditional text-based input and — for those who choose — the advantages of video reviews.
"If they say yes, then we've incorporated a video widget into the survey where they can just turn the camera on on their phone or computer and leave a response," Airbnb customer insights manager Raj Sivasubramanian has said.
"The customers that chose that option really embraced it. And we actually had a lot of customers tell us in the video, 'This is really cool. I love the fact that I can do this,'" Sivasubramanian added.
B2B firms can also utilize more formal video testimonials into their feedback efforts, as Business 2 Community explored in a helpful how-to guide, "How to Shoot the Perfect Video Testimonial."
[bctt tweet=""Testimonials and reviews take good business partnerships and strengthen them, and help bring B2B relationships to new levels of commitment and trust." — Lane R. Ellis @lanerellis" username="toprank"]
The Challenge of Combating Inauthentic Reviews
While no firm wants poor reviews, they are nonetheless important in their own way to consumers. 62 percent of U.S. consumers found that negative reviews were just as important as positive ones when it came time to make purchasing decisions.
Customers have grown to be suspicious of businesses that have conspicuously uniform five-star reviews, however, and more now say that they look to utilize multiple sources of reviews when researching a firm.
Despite this, 65 percent of U.S. adult consumers believe the reviews they read are generally accurate, however.
Recent survey data has also shown that 55 percent of consumers see the biggest red flag with reviews that use the same wording, while 35 percent view an overwhelming number of positive reviews to be indicative of inauthentic reviews, as shown below.
Testimonials & Reviews Are Evergreen
Most testimonials focus on the things that a client or customer loved about working with your team, and these are also largely the type of praise that isn't particularly directed at a specific time, which makes testimonials excellent sources of evergreen content that can often remain relevant and convincing for years.
HubSpot has compiled an extensive list of good examples of testimonial pages that can serve as inspiration, in Lindsay Kolowich's "14 Testimonial Page Examples You'll Want to Copy," showing how to implement quotes, video, audio, case study, customer interview and other types of testimonials.
To help you along your path to building more powerful testimonials and reviews into your current strategy, or to begin implementing your first such plan, here are several additional recent resources that have been published:
Reinvigorate Your B2B Marketing Testimonial Strategy
We hope this introductory look at the power of client testimonials and customer reviews to help B2B brands boost trust and loyalty and strengthen connections has been helpful, and that the tips and statistics we've shared will help make your marketing testimonial strategy more robust and successful.
The post 5 Stars: 20+ Tips to Invigorate Your B2B Marketing Using Testimonials & Reviews appeared first on Online Marketing Blog – TopRank®.
Thank you for reading.
This may be of some interest.
State governments have offered confusing guidance on what qualifies as "essential" or "nonessential" businesses, leaving it up to individual companies to designate themselves.
Living in times of coronavirus means getting comfy with pandemic lingo. Phrases like "social distancing," "self-quarantine," and "flatten the curve" are cropping up everywhere, and if you don't get smart to them, you're going to get left in the dust.
Thank you for reading.
This may be of some interest.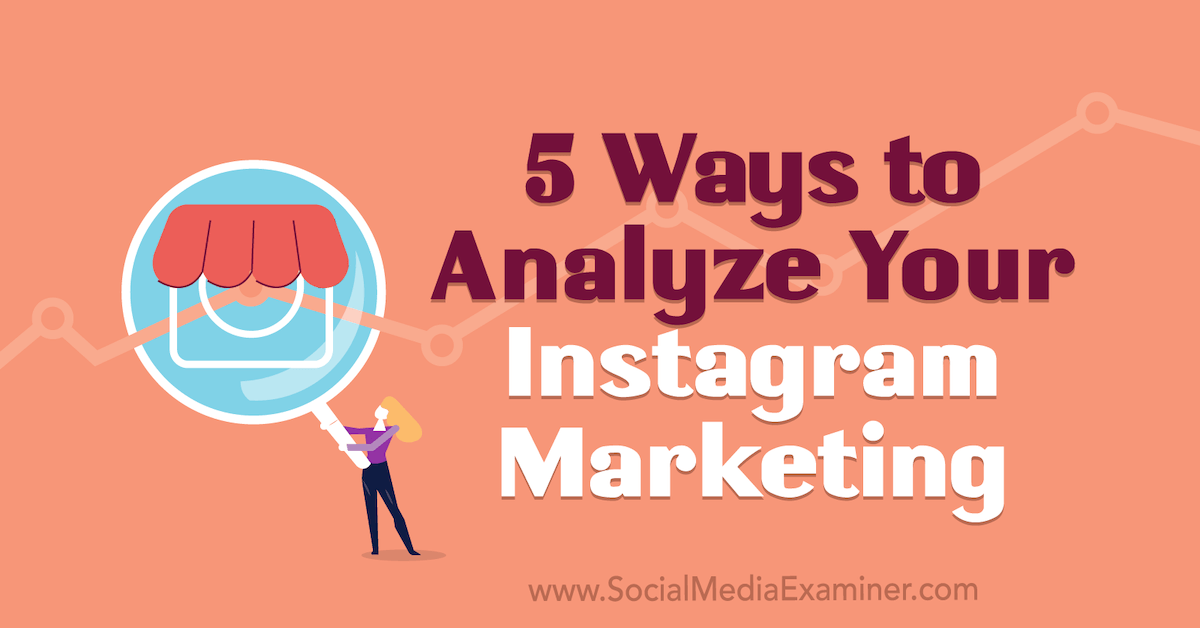 Do you know how well your Instagram marketing is really performing? Your Instagram business profile provides you access to valuable metrics that can help you understand what's working. In this article, you'll discover five ways to analyze the performance of your Instagram business profile. Why Instagram Business Profile Insights Matter Instagram is a powerful tool […]
The post 5 Ways to Analyze Your Instagram Marketing appeared first on Social Media Marketing | Social Media Examiner.
Thank you for reading.
This may be of some interest.
Say you're in the market for a new pair of headphones or a new guitar tuner. Where would you start your search? Google, right?
Not so fast. Amazon came away with nearly 40% of the US ecommerce market in 2018. Google still remains the top search tool for B2B purchases and services and informational queries that lead to purchases, but Amazon is the dominant front runner in ecommerce.
Need help getting started with inbound ads on Amazon, Google, LinkedIn, or Facebook? Book a free meeting with The Center for Inbound Advertising here.
So what does this mean for you?
When you're thinking about your online advertising strategy, you want to meet your consumers where they are. And if you're an ecommerce company, that place is — more likely than not — Amazon.
That's where Amazon advertising comes in. Amazon has several advertising programs to choose from, but the best one to get started with is Amazon Sponsored Products.
Amazon Sponsored Products
Sponsored Products on Amazon are pay-per-click (PPC) ads that appear in strategic locations on Amazon, giving your products more visibility and purchase opportunity. You select the products you want to boost, set your bid and daily budget, and write an ad to entice shoppers to click.
The Sponsored Product ads are really just image ads — similar to display ads in Google Ads — but the cool thing is that they appear in search results on Amazon right next to the searched products. So, when I search for "acoustic guitars" in Amazon I get this:
The only visible difference between the sponsored and the non-sponsored results is the gray "Sponsored" tag that appears above the product title. You'll also see that sponsored products can appear above the rest of the results.
Does Amazon Advertising Work?
According to Ad Badger, the average cost per click (CPC) for Amazon PPC is $0.97. This is on par, if not less, than similar advertising on Google and other platforms, which means that there is opportunity for success using Amazon ads.
The real question is "Will Amazon advertising work for me?" Even more specifically, you should be asking "Will I make more revenue than what I spend on the ads?"
The success you have on the platform will depend on a number of factors, including:
Strategy
Imagine that you have the perfect product and the perfect ad. Then, imagine that you spend too much of your marketing budget on irrelevant keywords. On the other hand, you could also bid on keywords that are too broad and competitive when cheaper and better suited keywords are out there.
It's your responsibility as you advertise on Amazon to continually optimize your ads for performance. Use "negative keywords" to exclude irrelevant traffic (and minimize wasted spend). Try out different keyword strategies, and be sure to create well-structured campaigns and ad groups within your ad account. Lastly, don't be afraid to experiment and find out what works best for you.
Budget
PPC is a great model because you only pay for each person who clicks your ad. The higher your budget, the more potential clicks you'll receive. When you're evaluating your goals for Amazon ads, you'll want to ensure that your budget matches your expectations. Here's how you can do that:
Log in to Amazon Seller Central
Find the Unit Session Percentage column (This is your conversion rate per item)
This number signifies the average percentage of visitors who actually converted. That means that, with some quick math, you can estimate how many purchases to expect from the amount of clicks you expect. This will help you reverse-engineer how many clicks it will take to turn into sales and, in turn, how much budget you should allocate to achieve that goal.
Ad and Product Page Copy
In-person sales have the benefit of a sales or customer service representative who can position the product/solution, remove roadblocks to buy, and answer questions. If you're selling on Amazon, however, you don't get to provide those personalized touch points. That job rests with your copy.
Your ad copy must do its best to convince shoppers that the product meets their needs and compel them to click on the ad. This improves the ad's performance.
Also keep in mind the old marketing adage "A confused mind says 'no.'" That means that the copy on your product page must also remove roadblocks and answer any anticipated questions a shopper might have. If prospects are confused or unsure, they will not click your ad, your conversion rate will suffer, and you will not achieve the ROI you want from your ads.
Visuals
Online shoppers aren't able to hold your product in their hands before making a purchase. Even if you have the most awesome item to ever hit online shelves, you won't move much of your inventory if your photos are unattractive or unclear — no matter how much you put into advertising. This is why product photography is so important when it comes to Amazon advertising and conversion.
In addition to following Amazon's compliance requirements, images on ads and on product pages should showcase features, action shots, and different angles… all in a visually appealing way that grabs the prospect's attention and entices them to buy.
Positioning
Just because someone clicks on your ad doesn't mean that they'll buy — shoppers aren't necessarily loyal. Buyers shop around; if your positioning in the marketplace doesn't match the quality of your product or provide competitive pricing, you might actually lose out on sales.
Imagine this scenario:
A shopper is searching for a product and discovers your ad. They click on the ad and view your product page. On the same page is a "Sponsored products related to this item" section where they see the exact same product… only 25% less expensive. With all other things being equal, they are likely to bounce off your page and purchase the less expensive item.
Imagine another scenario:
Your product averages 3.7 out of 5 stars based on customer ratings. Another seller offers a similar product, only theirs averages around 4.7 out of 5. With all other things being equal, the shopper will go with the safe bet and purchase the product with the higher rating.
There are a number of positioning factors that will affect your sales, including the sales you drive from your Amazon sponsored product ads. The best thing you can do is provide stellar customer service and keep an eye on the competition to ensure that your brand positioning is helping you rather than hurting you.
Will I See Better Results on Amazon vs. Google Ads?
A major difference between Google Ads and Amazon Sponsored Products is where people are in the purchasing process when they search on each platform.
People searching on Amazon are more likely to be at the end of the buyer's journey (i.e. closer to a purchasing decision). On Amazon, they know what product they want, and they are just looking for the right deal and provider.
On the other hand, Google has more of a mixed bag of search queries, encompassing all stages of the buyer's journey. This means your ad strategy can be much more flexible, targeting earlier stages of the buyer's journey. That being said, not everyone searching in earlier stages of the buyer's journey will be ready to make a purchase in the near future (if at all).
Many product-based companies have no need to target those individuals, making Amazon just fine (and perhaps ideal) for their advertising strategy where the goal is to put a product in front of interested shoppers.
Getting Started With Amazon Ads
Now that you know the variables that can make your ad successful, you can get started with your Sponsored Products campaign. Here are the steps:
Sign up for Seller Central and follow the steps to create your account.
Create your Sponsored Products campaign.
Choose the products you want to promote with your ads.
Decide which keywords you want to target.
Determine your budget.
Create your first ad.
Unlike other Amazon ad types, Sponsored Products are launched immediately upon completion. For more information about account and campaign setup, visit the Amazon Advertising page.
Here are a few additional tips for getting started with Amazon Ads:
1. Win the Amazon Buy Box
The Buy Box is the box on an Amazon product detail page where customers can begin the purchasing process by adding items to their shopping carts.
Since many sellers may end up selling the same item, not all sellers are eligible to win the Buy Box. Amazon only awards it to sellers who meet their minimum requirements, are selling at a competitive price, and have excellent seller metrics.
According to BigCommerce, 82% of Amazon sales go through the Buy Box, so it's essential to earn it from Amazon. This can be done by performing in a few key areas, including shipping time and price.
2. Implement a Cohesive Structure in Your Ad Account
Within your Ad Account, you'll be able to build campaigns. Understanding the basic organizational structure within your Ad Account will help you optimize for performance. Here are the definitions for each component of Amazon's tiered structure:
Account – Your account is the place you'll go to access any of your campaigns and seller tools. Think of it as the biggest bucket.
Campaign – It's a great idea to build a campaign for each product category you're targeting.
Ad Group – Each ad group will contain the ad that you've built and the corresponding keywords you're targeting with that ad. The best practice is to be as specific with each ad group as possible to improve the performance of the associated ads.
3. Learn the Strategy Behind Keywords and Bidding
Just like Google Ads, Amazon Sponsored Products uses keywords to trigger your ads. Automatic targeting — allowing Amazon to choose your keywords for you — is often the right choice for new advertisers. If this does not appeal to you, or once you've accumulated some data from a running campaign, you can choose manual targeting where you pick your own keywords.
There are three types of keyword matching:
Broad Match – The prospect's query matches your target keyword, including misspellings, synonyms, variations, and different word order. This is the most flexible and non-restrictive.
Phrase Match – The prospect's query must precisely match the target keyword, or the prospect's query must contain the target keyword.
Exact Match – This is the most restrictive type. The prospect's query must match exactly to the target query. Your ad will not show with "similar" matches, only "exact" matches.
Understanding the pros and cons of each will help you determine what keywords and keyword matching to choose in order to boost your ad's performance.
4. Utilize Reporting in Amazon Ads
Success doesn't happen in a vacuum. In order to make the best choices for your campaign, you need to use a data-driven approach and monitor your results.
Amazon provides advertisers with data about searches for particular keywords. Similar to Google Ads, you have to be an advertiser to get access to this informative data. The data includes which search terms are performing the best, enabling you to add new keywords and refine the performance of your campaigns.
For each keyword, the search terms report will include data on:
Campaign
Ad group
Impressions
Clicks
Click thru rate
Cost per click
Conversions/number of orders placed
SKU for the sale
And more
If you have a product to sell, now is the time to consider using Amazon Sponsored Products ads. You'll enjoy a reasonable cost per click and have a chance to promote new products at the top of an Amazon search.
Thank you for reading.
This may be of some interest.
Braden Becker's journey to becoming an SEO specialist at HubSpot is a slightly unconventional one. In college, he studied Writing & Rhetoric, which helped him land his first job as a copy editor at a B2B trade publication. As he progressed through his career, Braden pivoted to content marketing, where he worked as an editor at a SaaS company and then as a content manager at the world's largest environmental services firm.
You might think someone like Braden would continue to climb the creative career ladder in content marketing. But today he actually spends more time in Ahrefs than he does in Google Docs. As the historical optimization lead on HubSpot's Blog Team, Braden's main responsibility is to identify blog posts that are falling in organic traffic and optimize them for search engines to rank higher on Google. He's even sharpened his SEO chops enough to co-create the SEO strategy for all of HubSpot's blogs.
Traits of an SEO Expert
As a writer and editor for most of his career, SEO had always been in the periphery of Braden's work — as it was a subject he had a solid grasp on but not necessarily a lot of expertise in.
Today, though, SEO is his central focus.
Braden, along with other SEO specialists at HubSpot, Aja Frost and Victor Pan, offered their advice about what it takes to become an SEO expert and the paths they took to get there.
Some SEO specialists don't start out with the intention to dedicate their careers to SEO. Some start completely by accident. Let's go over how HubSpot experts started theirs, and what you can do to start yours.
1. Develop your skills.
"Getting a job in SEO ideally requires two things: content creation skill and analytical skill. Most SEO professionals today have one of those and develop the other," Becker says.
SEO experts are skilled writers with creative instincts. It's helpful for those in the SEO profession to have a strong writing background because it takes creativity to optimize content in a way both Google and audiences will comprehend. In fact, Becker has noted that his writing background helped him get his start in the SEO industry.
"My background in writing and editing helped me get my foot in the door, but a willingness to focus on the structure, mechanics, and intent behind my writing is what I think secured my role as an SEO specialist for HubSpot."
Braden's story of pivoting from a creative career in content marketing to an analytical one isn't as rare as you might think. Before Aja Frost became a senior SEO strategist at HubSpot, she was the editor of HubSpot's Sales Blog.
"I taught myself how to do keyword research and competitive analysis as the Editor for HubSpot's Sales Blog," Aja says. "The Sales Blog's traffic had been flat for a year and a half — I noticed that the only posts that consistently generated views for us were getting all of those views from search. So I began looking for sales-related keywords we could rank for that would help boost organic traffic."
So, how do you start developing your skills to be SEO-ready? Here's what Aja had to say about her strategy for keeping her SEO skills sharp.
"To refine my SEO expertise, I constantly read. I'm really interested in technical SEO, so I look for blog posts, white papers, and research about site architecture and navigation, website speed, and everything that goes into that, including structured data," she says. "SEO by the Sea, Sistrix, and Blind Five Year Old are all great technical SEO resources, along with (unsurprisingly) the Google Webmaster Blog. I'm a member of a few SEO subreddits (/seo and /bigseo are the most active). And I follow a ton of SEOs on Twitter — they drop random factoids or insights all the time."
Like Braden mentioned, a lot of SEOs start with one skill and start developing others. So, whether you've got an analytical mind and want to start a blog to practice writing, or you're a seasoned writer looking to train your technical mind, having a balance in both will help you in your SEO career.
2. Research the field.
In addition to initial research about SEO, it's essential to keep up-to-date on the latest industry changes, so you aren't using outdated optimization techniques Google doesn't understand.
For example, when Aja noticed the Sales Blog traffic was flat, starting SEO research helped her uncover why: she wasn't delivering content audiences searched for.
Aja doing research about SEO led her to discovering ways to improve the blog's performance.
SEO is always changing, so it's crucial to keep updating your knowledge on the topic.
To build his fundamental knowledge of SEO, Victor Pan, the head of technical SEO at HubSpot, cites reading as one of the best habits he's gotten into.
"I used to be a voracious reader on all publicly available information on SEO. I had an RSS feed of search-related blogs and news websites I would go through for a whole hour every day," he says. "Mere exposure to ideas makes unknown problems in SEO easier to tackle when you have other people's experiences or frameworks to build from."
For Victor, reading was one of the best ways to develop his SEO fundamentals. Alternatively, Aja took courses to broaden her knowledge. How will you use your time to research SEO?
3. Regularly test your SEO knowledge.
Putting theory into practice gives you the practical knowledge and experience needed to level up as an SEO. In this way, SEO is kind of like playing a sport. You can read all about hitting a baseball or throwing a football, but if you never practice, you'll never reach your full potential.
To stay ahead of the curve in any industry, reading the latest news and research is hugely beneficial. But as an SEO, when everything is constantly changing, reading isn't enough. To gain the practical experience that'll truly take your SEO skills to the next level, you need to constantly test industry assumptions and your new ideas.
"I test a lot of things to refine my SEO expertise. Should your brand be in your title tags? Is internal anchor text worthwhile to still do in 2020 to move rankings? What happens when you purchase fake social "signals" — do you see an increase in organic traffic?" says Pan.
"Failed experiments taught me just as much as successful ones, and it made me a much more confident SEO whenever I would make any improvements to content. Just because, in one instance, making a change resulted in an improvement, doesn't mean that change in another place will also result in an improvement— which is why we have to test and grasp causation over just correlation."
4. Take a course and get certified.
Earning a certification ensures that you have the proper knowledge in a certain area to successfully practice on your own. It also gives you credibility when you network on professional sites such as LinkedIn. When doing initial SEO research, Aja found courses she could take in order to get a certification for SEO, which opened up more doors.
"This led me to experiment with SEMrush, AnswerThePublic, Google Analytics, Google Search Console, and of course, HubSpot's own SEO tools. I read a ton of blog posts and eventually got my Google Analytics certification."
If you decide to take a course, discover which one will provide you with the skills you need to advance in your SEO career. For instance, if you find that a certain course doesn't go in-depth about subjects you need help in, it's probably not the course for you.
To get a head start on courses you can take, here is a list of three, two of which are part of a certification track for content marketing and inbound marketing.
5. Find a method/tool that works for you.
Similar to finding resources that work for you and your skill set, it's imperative to find an SEO routine or tool that will become your foundation. For keyword research, SEOs like to reference their personal arsenal of tools.
For example, in addition to HubSpot's SEO tools, some of HubSpot's SEO experts also use tools, such as SEMrush, for additional research.
You don't have to use every single tool that exists to conduct your SEO tasks, you just have to make sure the tools are helping you accomplish your goals and giving you accurate practice with the subject.
If you don't know where or how to start searching for tools, here's eight you can check out. Remember, you don't have to commit to eight, just to the one(s) that'll get your job done. Use what will keep your research well-rounded, accurate, and easy to comprehend.
6. Grow your network.
Becoming an expert in SEO also means growing your network of fellow SEO professionals. There's SEO groups on LinkedIn you can join, subreddits Aja mentioned, like SEO, and conferences you can attend. Broadening your circle of SEO experts grows your knowledge and credibility in the field.
If you become enough of an expert, you can also speak at conferences in the industry. For example, Braden and Victor led a session at INBOUND — their presentation, "How to Grow (Your Organic Traffic) Better" introduces SEO changes, how to adapt to them, and how to use some basic SEO methods to optimize content.
To get started building your network, look at the resources you have available. If you have a LinkedIn account, you can start making those industry connections. You can also watch YouTube videos for quick SEO tips and engage with other learners in the comments to pick up tips from peers.
Based on Braden's, Aja's, and Victor's stories, becoming an SEO expert doesn't mean you have to start and finish your career as an SEO. Pivoting from one role to an SEO role and developing your expertise from then on is entirely possible — you just need to be willing to learn and adapt.
Thank you for reading.
This may be of some interest.
Sitting at home with my laptop and a cup of hot cocoa, I feel the call of the heist.
As streamers the world over continue social distancing, things are getting, well, a little boring. Sure, I'm indulging in plenty of teen dramas, stand-up specials, and comedies. But something inside of me (and I imagine others) longs for the tension of a stealth maneuver, the thrill of the open road, and the excitement of that final stand-off where you just don't know who will win. 
Enter the magical world of heist cinema. Strap in, suit up, and try to remember which briefcase was which — because, ranked from least to most narratively complex, here are 12 crime movies to help you feel like you're up to [gestures wildly] something while social distancing.  Read more…
More about Netflix, Hulu, Streaming Services, Heist Movies, and Coronavirus
Thank you for reading.
This may be of some interest.
Read more…
"player":"description":"We can overcome this!","image":"https://mondrian.mashable.com/uploads%252Fvideo_uploaders%252Fdistribution_thumb%252Fimage%252F94568%252Fda650d29-d5c3-443e-b561-b76b728d1586.png%252F930x520.png?signature=vWnhbazgBvbabettcY79M1HUEVc=&source=https%3A%2F%2Fblueprint-api-production.s3.amazonaws.com","mediaid":"3bokeD7Pn7″,"preload":false,"title":"Facebook, Google, and more join forces to fight misinformation about coronavirus","sources":["file":"https://vdist.aws.mashable.com/cms/2020/3/0562bc5e-9e7d-3c2d/hls.m3u8″,"file":"https://vdist.aws.mashable.com/cms/2020/3/0562bc5e-9e7d-3c2d/dash.mpd","file":"https://vdist.aws.mashable.com/cms/2020/3/0562bc5e-9e7d-3c2d/mp4/1080.mp4″,"file":"https://vdist.aws.mashable.com/cms/2020/3/0562bc5e-9e7d-3c2d/mp4/720.mp4″,"file":"https://vdist.aws.mashable.com/cms/2020/3/0562bc5e-9e7d-3c2d/mp4/480.mp4″],"player_id":"hrrl7x1B","options":"disableAds":false,"disableSharing":false,"nextupAction":"autoplay","embedUrl":"https://mashable.com/videos/blueprint:3bokeD7Pn7/embed/?player=offsite","standaloneUrl":null,"post":"url":"https://mashable.com/article/google-facebook-twitter-coronavirus-fake-news/","date":"2020-03-17T08:28:27.019Z","bp_id":112098,"wp_id":null,"advertising":"params":"keywords":"facebook,twitter,google,mashable-video,culture,coronavirus","sec0″:null,"sec1″:"","prc":"","analytics":"labels":"facebook,twitter,google,mashable-video,culture,coronavirus","videoSeriesName":null
More about Twitter, Social Media, Coronavirus, Covid 19, and Tech
Thank you for reading.
This may be of some interest.
Quarantine is a time for creativity (supposedly). Just ask everyone who can't stop pointing out that Shakespeare wrote King Lear while in quarantine.
Well step aside, Will, because writer and critic Andrea Long Chu has given us a coronavirus anthem: Car Alarm Improv. Putting her (genuinely) formidable piano skills to use, Chu turned an annoying car alarm that wouldn't stop going off into glorious music.
"Car alarm kept going off so i improvised," Chu wrote in the video caption on Twitter. 
And sure enough, the resulting piano riff is appropriately anxious, pressing, and yearning to be heard, a reflection of how we all feel as we stay home because of the coronavirus outbreak. It makes you want to know the story behind said annoying car alarm: Is its owner stuck at home too? Has its owner abandoned their apartment to go spend quarantine somewhere else, leaving the poor car alarm to scream into the day uselessly? Because same, car alarm. Same. Read more…
More about Twitter, Viral Videos, Coronavirus, Culture, and Web Culture
Thank you for reading.