admin
This may be of some interest.
Large swaths of the internet were today years old when they learned the nodding GIF guy is actually Robert Redford.
The classic reaction GIF, which is generally used to convey approval, is sourced from the 1972 film Jeremiah Johnson, in which Redford plays the titular role. Turns out, though, a nonzero number of people thought the guy in the GIF was comedian Zach Galifianakis, who did not play the titular role in Jeremiah Johnson. (He was 3 years old when the movie was released.) 
We know this thanks to a post from Splinter called "Did You Know the Nodding Meme Guy Is Robert Freakin' Redford???" Judging by the response, a few people did not, and the people who did are ready to makes jokes and brag about it.  Read more…
More about Twitter, Memes, Gifs, Social Media, and Culture
Thank you for reading.
This may be of some interest.
Posted by Kirsten_Barkved
Show of hands if the following scenario has ever happened to you:
You make it to a conference. You sit through three to four days of amazing content, network like a boss, fill up on coffee and donuts, and cover page after page of notes — your wrist is dangerously close to being diagnosed with carpal tunnel. The energy in the room is contagious and everyone leaves the conference with the promise of new strategies, connections, and ideas that have the possibility to transform the way you think about business.
At least, that's the dream. The reality? Once the conference is over, you're back to the grind, no longer surrounded by that vibrant "we can do anything" energy that had you so inspired and hyped just days before. The buzz is now a dull hum. Your notebook is full of scribbles that you can no longer decipher, and you have a daunting to-do list to catch up on while you nurse a sugar hangover from eating three-days worth of donuts.
You've lost the fire. The conference motivation is gone. You, my friend, have the post-conference scaries.
With MozCon fast approaching, the excitement is building. But so is the anxiety: you know there's going to be a ton of insightful talks and takeaways to write home about — how do you keep all that goodness going after MozCon?
We've all been there! And we want to make sure you're set up for success. So myself and our Subject Matter Experts whipped up an extensive and effective guide to ensure you can put all the goodness you've absorbed at MozCon to work straight away. Read on to see what Britney Muller, Rob Bucci, Cyrus Shepard, Dr. Pete, and Miriam Ellis have to offer!
Get your tickets before they're gone!
Before you head to MozCon, though, make sure you do these things first
We know this isn't your first rodeo. But on the off chance that it is, or if you need a reminder before you set foot in MozCon, make like the Boy Scouts of America: Be prepared.
Because I'm a keener (remind me to tell you about the time I waited for 24 hours to be first in line for The Fellowship of the Ring movie) with a tendency to overprepare (remind me also to tell you about my first day of school where I packed all my favorite Nancy Drews, my best pencil crayons, a raincoat, and a pair of extra socks), I spend quite a chunk of time ensuring I have everything I need before an event.
You don't need to be as prepared as my eight-year-old self, but here's a brief checklist of things to do before you pack your bags and set sail for MozCon:
Study the agenda — You've likely already glanced at who's speaking. Take another skim to get an idea of who is speaking and what topics will fulfill an educational gap. Even if a topic isn't related to your area of work, it's still worthwhile to listen — who knows what you'll uncover.
Set goals for what you'd like to learn — Whatever your game plan looks like, flesh it out to flesh out. Show up ready to learn.
Prepare your note-taking tools — There is no such thing as too many pens, not at a conference like MozCon. You'll be taking a ton of notes, so prepare your note-taking tools, whatever they may be — charge your laptop or tablets, pack a spare notebook and some well-inked pens, or practice your telepathy if you plan on sending takeaways to your team via your mind.
Subscribe to the Moz blog — We have oodles of content for you to sink your teeth into and there's something for everyone, from basic SEO to local search to the nitty-gritty technical. Plus, we'll be doing conference recaps after each day, so even if you couldn't make it this year, you'll get all the juicy details straight to your inbox when you subscribe.
Make connections — There is ample opportunity at MozCon to network and meet new people but it never hurts to get a lay of the digital land before you step foot in Seattle. Follow the hashtag #mozcon on Twitter to stay up to date with MozCon goers and ask important questions of our speakers, like this:
#mozcon The single most important question that probably needs to be answered before anything else: did you or did you not get the cat? #mozcon #CatCon pic.twitter.com/CGBszFXsI8

— STAT Search Analytics (@getSTAT) July 9, 2018
You can also join the Facebook group to find out when people are arriving and pop in on conversations to get your name and face out there. If you know of people you want to reconnect that will be attending, now is a good idea to reach out and reconnect. Set up a time to chat over a coffee or maybe make plans to sit together at our Birds of Feather table.
At the conference
It's Day One of MozCon and you've successfully found the coffee. Now what?
Attend every session…
And we mean every. Single. Session.
The great thing about MozCon is that it's a single track session, so you don't have to pick one talk over another. That also means, though, that the temptation can be high for skipping one or two.
"It may be tempting to sleep in on a morning session, but so much magic happens when you aren't there. You never know what nuggets of insight you'll miss." — Cyrus Shepard
"I often find I have some of my best ideas at conferences, even if they're not related to anything the speaker is talking about. Capture those ideas, too, and add them to your action plan." — Dr. Pete
…But don't be afraid to mingle in-between sessions
"Take breaks if you feel like it and spend some time meeting people out in the lobby. New MozCon friends can help hold each other accountable after the conference. I've met some of my closest industry friends in the lobby of conferences during a session — hi, Cyrus!" — Britney Muller
Remember what you learn
There's a lot of information to digest and chances are that your hurried note-taking isn't going to make a ton of sense once the MozCon high is over. To make deciphering your notes easier once you're back at the office, add three key takeaways or any follow up you want to do on the topic after each session.
You can also create a page dedicated to takeaways that you think are worthy. While I'm definitely taking notes during each session, I reserve a separate page for any ideas, theories, or strategies that I think are valuable to explore.
Make sure you're keeping your goals in mind, too. If you had planned on learning new things at MozCon, keep your ears open for any topics that piqued your interest.
"Write down at least one topic that grabbed your interest but that you felt could be studied further and commit to doing that study at your business and publishing your findings. Don't forget to ping the original presenter when you do, letting them know their talk inspired your further investigation." — Miriam Ellis
"At the end of each conference day, I also like to schedule emails to myself (a few weeks out) as reminders to attempt the things I learned about that day." — Britney Muller

Keep tabs on live tweeters
MozCon has some pretty prolific live tweeters that know just how to distill all the right takeaways into 280 characters (which, IMO, is quite a feat). Some of our past MozCon live-tweeters have included:
You can also keep up with the conference goers by following the conference hashtag, #mozcon.
"Also, follow Cyrus Shepard on Twitter and do everything he says!" — Britney Muller
Take note of any free templates, tools, or spreadsheets
Much like parents who want nothing but the best from you (and also to sometimes show off your life successes on the family fridge), the speakers want you to excel in life after MozCon. Which is why you're bound to find a plethora of downloadable templates and spreadsheets during their talk. Take note of any that you'd like to try back at the office. Make sure to also follow the speakers on Twitter for any updates or insider tips on how to make the most of their new resources.
Thanks #mozcon! Here is the Google Tag Manager recipe we released today to help you measure if people are actually reading your content. Enjoy! //t.co/9Iy8VQA51l

— Dana DiTomaso (@danaditomaso) July 11, 2018
Download the talks
I'm sure you already know, but on the off chance you didn't know, you'll be able to download all the speaker's slide decks once their talks are over. So if there was something you missed, wanted to share with the team at home base, or needed clarification on, you can do so with one click of a button once they're available.
After the conference
Write about it
I know the last thing you want to do right after three days of learning and writing is to go and do more writing. But Future You will be so happy that Past You did this one thing.
The second you're done MozCon-ing, write everything down. Get it all out of your brain and onto paper. Because otherwise, you'll forget why you underlined a word or phrase three times or the cool new project ideas you had while chatting at dinner. You won't mean to, obviously. It's just one of those unfortunate facts of life. Kind of like drifting off to sleep with a really great idea for a band name — you'll tuck it away in a pocket of your brain, certain you won't forget about it in the morning. But you will. And the world will never know of They Might Be Little Pigeons.
So, write everything down the second you can.
"I'm one of those people who takes notes like, "Cheese fritters + SEO = YES!" and am very excited about it and have no idea what it meant a week later. So: Re-copy your notes or write a summary, ASAP, while it's still fresh in your mind— even if it's on the flight home." — Dr. Pete
Schedule thinking time
The first week back at the office, block out some time in your calendar to percolate over what you learned at MozCon. I can't stress this one enough: When we get back into the real world, we dive right into our list of to-dos, at home and at work. And the longer we delay the thinking and brainstorming process, the bigger the chance we'll lose motivation or get bogged down by more projects.
Carve out some thinking time for yourself in your calendar the second you're back at your desk to ask yourself some questions:
What really stood out for me?
What do I want to apply right away?
What is going to be effective short term vs. long term?
I like to ideate to-do lists from these questions — maybe that's a follow-up email with the speaker or a task to read further resources from their talk. Or maybe it's to set up a meeting with my team to try out a new strategy. The point is: if I take this time now to marinate, the better chance I have of helping out future me — and future me really appreciates that.
"It's so easy to go from hundreds of ideas to doing nothing concrete, and as soon as you return to your desk, you're going to be buried in emails and requests. Commit to something actionable before you open up your inbox." — Dr. Pete
Review your action items
Now that you've done your big thinking, it's time to turn those takeaways and actions items into, well, action.
Think back to the goals you outlined before you set foot inside MozCon — did you meet any of them? How well did the topics address your questions? And how will you apply your action items? When I'm looking over my notes for any new ideas we can execute on, I like to make a table with two columns: 1) Things that we don't do but could and 2) Things we're currently doing but could be doing better.
Got a lot of action items and feel a tad overwhelmed? Just remember: If you apply just one action item a week, even if it's small, that's still fifty small changes you've made in one year. And they can all add up to one big change.
You'll want to prioritize them like so:
Strategic initiatives to implement right away
Processes you can improve
Areas for future learning
"A week after the conference, review your "action items" — either by yourself or with your team. Prepare a presentation for the top things you learned and share with any team members that didn't attend." — Cyrus Shepard
"Pin yourself down to three specific to-dos for the month after the conference." — Dr. Pete
Stay inspired
Remember that anything in life worth having (relationships, bangs, product launches, puzzles) requires more than just an idea — it takes time and work. Rather than let all that enthusiasm you had at MozCon fade away, keep the momentum going by reading and learning new things. A good place to start is by subscribing to daily industry reads that can fuel your inspiration. Here is just a sampling to get you started:
"Having a go-to list of daily industry reads is a really good way to keep the sense of inspiration up." — Rob Bucci
Use your connections

What good was all that networking if you don't put it to use — especially if, like me, you're a Level-12 Introvert?
Make sure all those hard-earned connections don't go to waste. Chances are, if you saw them at MozCon, you'll be seeing them at the same tracks and conferences, so it'd be good to set some sort of foundation
All it takes is a LinkedIn message or an email. And they'll appreciate you following up — bonus points if you make it personal. I've made several follow up emails after conferences and almost all blossomed into successful working relationships thanks in large part to emails that began as though we were continuing the conversation we had at MozCon. It doesn't have to be the same as "Hi, how's your dog, is she still afraid of traffic cones?," but a nice "Hi, how is life after MozCon — are you settling back into the 9-5, yet?" goes a long way.
"It's great to collect business cards, but it's better to form life-long relationships. If you haven't connected with those you met at MozCon, now is the time to do so. At a minimum, email everyone you enjoyed meeting with and let them know that you can be a resource for them." — Cyrus Shepard
Takeaways
MozCon only comes once a year — like International Pancake Day or 7-11's Free Slurpee Day — so make sure you're prepared so you can keep that MozCon fire burning all year round.
Sign up for The Moz Top 10, a semimonthly mailer updating you on the top ten hottest pieces of SEO news, tips, and rad links uncovered by the Moz team. Think of it as your exclusive digest of stuff you don't have time to hunt down but want to read!
Thank you for reading.
This may be of some interest.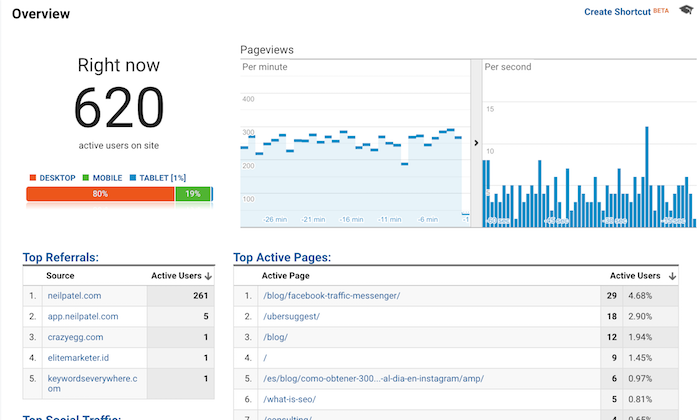 When you log into Google Analytics, what do you look at?
Chances are you see something like the image above that shows you how many people are currently on your blog.
Well, that was easy to guess because that's the report Google Analytics gives you once you log in. 😉
But which reports do you look at on a regular basis?
I bet you look at two main reports…
The "Audience Overview" report and the "Acquisition Overview" report.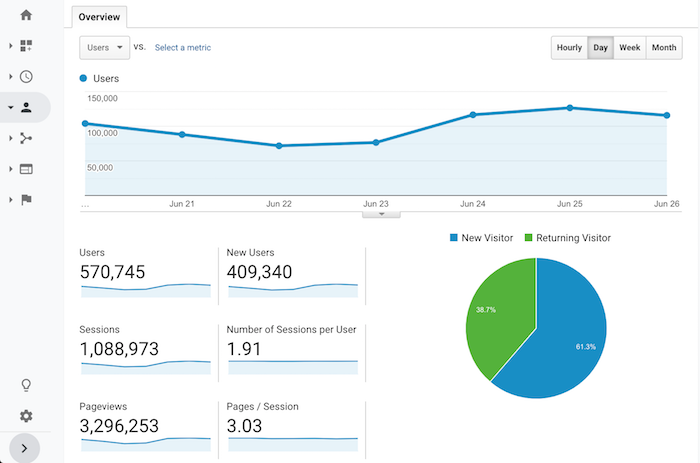 Sure, every once in a while, you may dive into your top pages or the specific organic keywords that drive your traffic. But even if you do that, what are you actually doing with the data?
Nothing, right?
Don't beat yourself up over it because most content marketers just look at reports and numbers and do little to nothing with the data.
If you want to figure out how to grow your blog and, more importantly, your revenue from your blog, there are 7 reports that you need to start looking at on a regular basis.
Here they are and here is how you use them…
Report #1: Cohort Analysis
What do you think is easier to accomplish… get new visitors to your blog or getting your visitors to come back?
It's easier to get people to come back to your blog, yet everyone focuses on new visitors.
I bet less than 99% of your blog readers turn into customers or revenue, so why not focus on getting those people back and eventually converting them?
Before we get into how to get people back to your blog, let's look at how many people are returning to your blog.
Within the Google Analytics navigation, click on "Audience" and then "Cohort Analysis".
Once you land on that report, you'll see a graph that looks similar to this: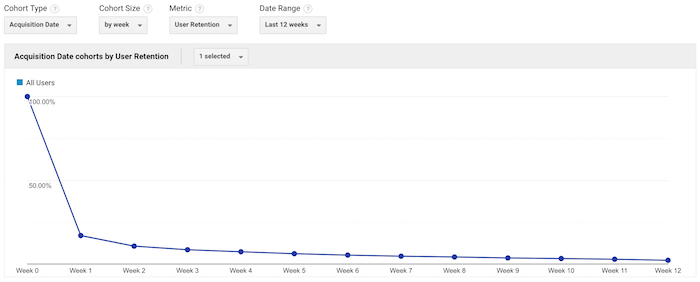 Under the "Cohort Size" drop-down menu, select "by week". Under "Date Range", select "Last 12 weeks".
Once the data loads, you'll see a table that looks something like this: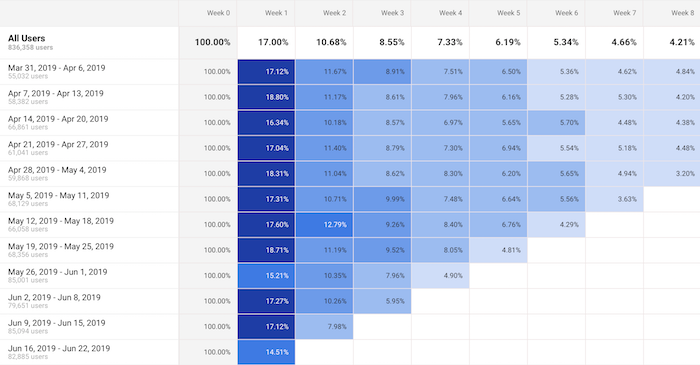 What this table shows is the percentage of your visitors that come back each week.
On the very left it will always show 100%. Then in the columns to the right, you'll see week 1, week 2, week 3, etc.
This shows the percentage of people who come back to your blog each and every week after their first visit.
For example, if this week you had 100 people visit your blog and in the week 1 column, it shows 17%. That means of the initial 100 people, 17 came back. Under week 2 if you see 8%, that means of the initial 100 people, 8 people came back in week 2.
Naturally, this number will keep getting smaller, but the goal is to get people back as often as possible. That increases trust, social shares, potential people linking to you, and it even increases the odds that the visitor will convert into a customer.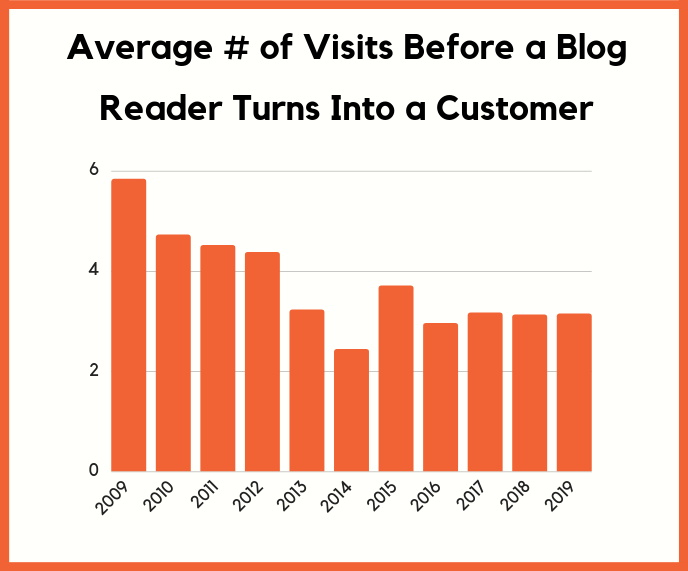 The average blog reader needs to come back 3.15 times before they turn into a customer. That means that you need to retain readers.
Just think of it this way: If you get thousands of new people to your blog each and every single day but none of them ever come back, what do you think is going to happen to your sales?
Chances are, not much.
You need to look at your Cohort Report and continually try to improve the numbers and get people coming back.
So the real question is, how do you get people to come back?
There are 2 simple ways you can do this:
Start collecting emails – through free tools like Hello Bar, you can turn your blog readers into email subscribers. Then as you publish more content, you can send an email blast and get people back to your blog.
Push notifications – by using tools like Subscribers, people can subscribe to your blog through their browser. Then every time you release a new blog post, you can send out a push and people will come back to your blog.
These 2 strategies are simple and they work. Just look at how many people I continually get back to my blog through emails and push notifications.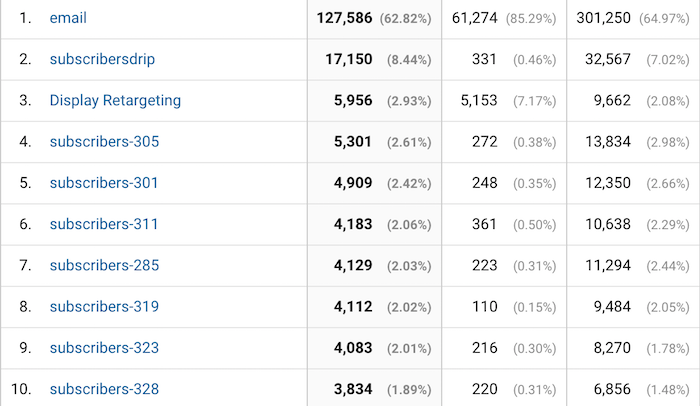 Report #2: Benchmarking
Ever wonder how you are doing compared to your competition?
Sure, you can use tools like Ubersuggest, type in your competitors URL, and see all of the search terms they are generating traffic from.
But what if you want more? Such as knowing what percentage of traffic your competitors are getting from each channel. What's your bounce rate, average session duration, or even pageviews per channel?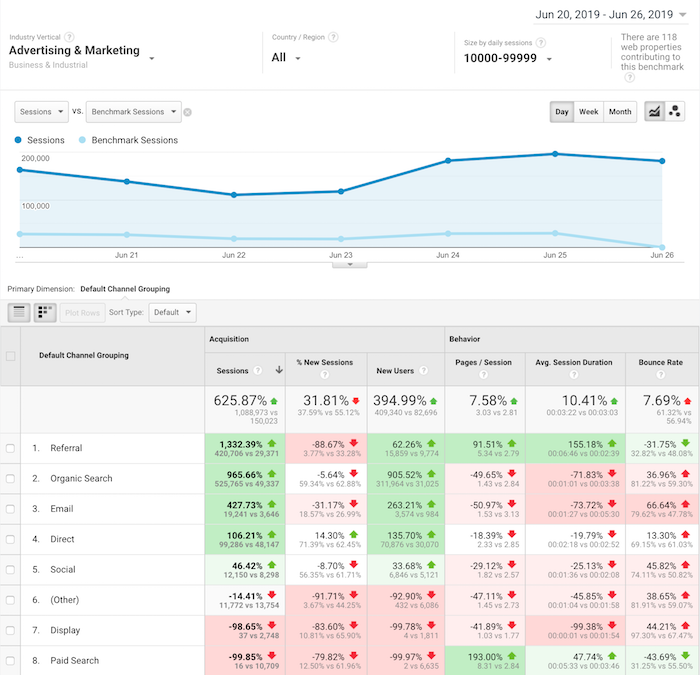 Within Google Analytics navigation, click on "Audiences" then "Benchmarking" then "Channels".
Once you do that, you'll see a report that looks like the one above.
Although you won't have specific data on a competing URL, Google Analytics will show you how you stack up to everyone else within your industry.
I love this report because it shows you where to focus your time.
If all of your competitors get way more social traffic or email traffic, it means that's probably the lowest hanging fruit for you to go after.
On the flipside, if you have 10 times more search traffic than your competition, you'll want to focus your efforts on where you are losing as that is what'll probably drive your biggest gains.
The other reason you'll want to look at the Benchmarking Report is that marketers tend to focus their efforts on channels that drive the most financial gain.
So, if all of your competition is generating the majority of their traffic from a specific channel, you can bet that channel is probably responsible for a good portion of their revenue, which means you should focus on it too.
Report #3: Location, location, location
Have you noticed that my blog is available in a handful of languages?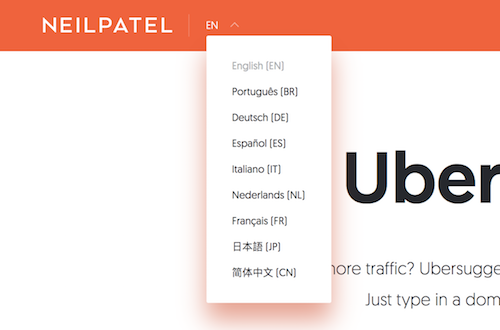 Well, there is a reason for that.
I continually look at the location report. To get to it, click on "Audience" then "Geo" and then "Location".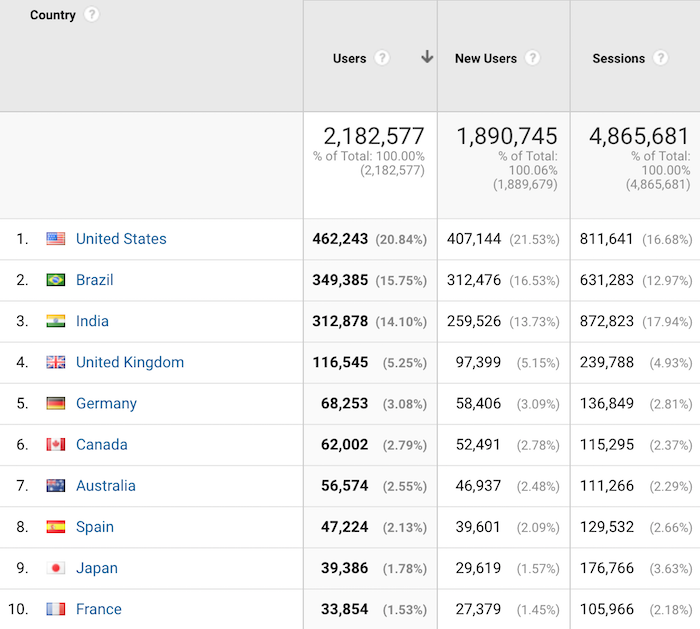 This report will tell you where the biggest growth opportunities are for your blog.
Now with your blog, you'll naturally see the most popular countries being the ones where their primary language is the one you use on your blog.
For example, if you write in English, then countries like the United Kingdom and the United States will be some of your top countries.
What I want you to do with this report is look at the countries that are growing in popularity but the majority of their population speak a different language than what you are blogging on.
For me, Brazil was one of those countries. Eventually, I translated my content into Portuguese and now Brazil is the second most popular region where I get traffic from.
This strategy has helped me get from 1 million visitors a month to over 4 million. If you want step-by-step instructions on how to expand your blog content internationally, follow this guide.
Report #4: Assisted conversions
Have you heard marketers talk about how blog readers don't convert into customers?
It's actually the opposite.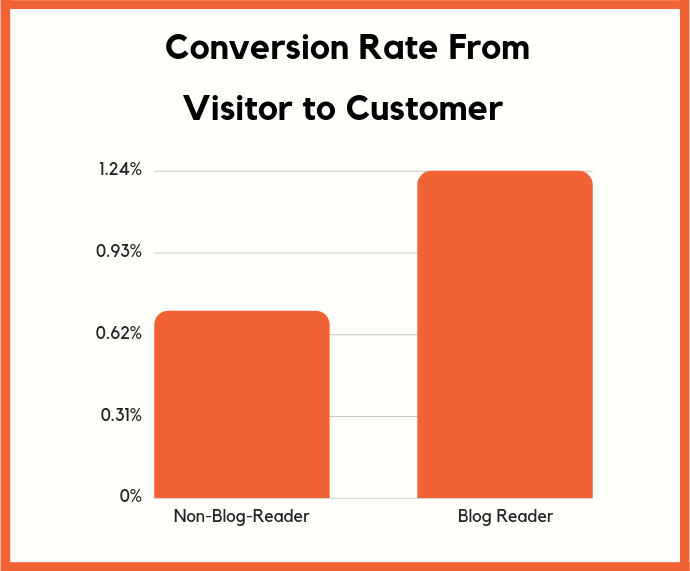 Those visitors may not directly convert into a customer, but over time they will.
But hey, if you have a boss or you are spending your own money on content marketing, you're not going to trust some stats and charts that you can read around the web. Especially if they only talk about long-term returns when you are spending money today.
You want hard facts. In other words, if you can't experience it yourself, you won't believe it.
That's why I love the Assisted Conversions Report in Google Analytics.
In the navigation bar click on "Conversions" then "Multi-Channel Funnels" and then "Assisted Conversions".
It'll load up a report that looks like this: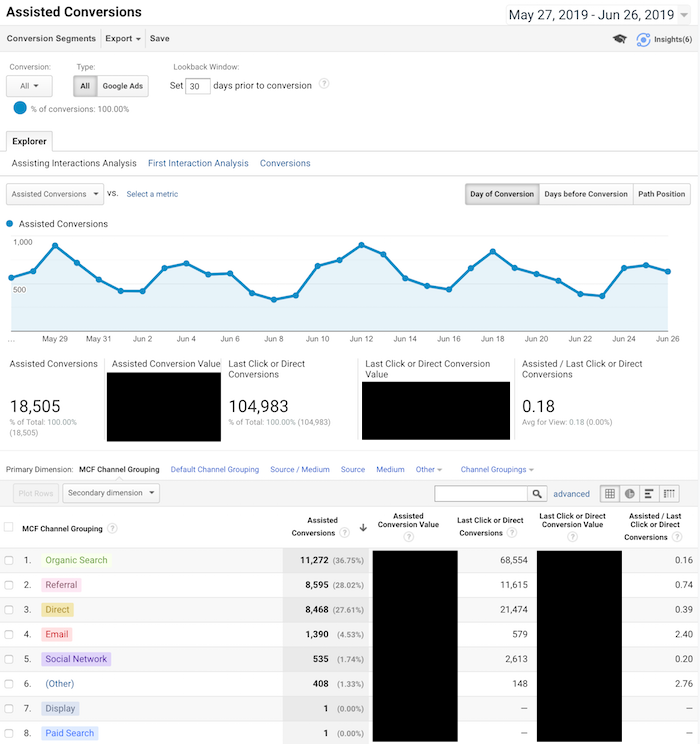 This report shows you all of the channels that help drive conversions. They weren't the final channel in which someone came from but they did visit your blog from one of these channels.
In other words, if they didn't visit or even find your blog from one of these sources, they may not have converted at all.
Now when your boss asks you if content marketing is worth it, you can show the Assisted Conversions Report to show how much revenue your blog helps drive.
The other beautiful part about this report is that it tells you where to focus your marketing efforts. You want to focus your efforts on all channels that drive conversions, both first and last touch.
Report #5: Users flow
What's the number one action you want your blog readers to take?
I learned this concept from Facebook. One of the ways they grew so fast is they figured out the most important action that they want people to take and then they focused most of their efforts on that.
For you, it could be someone buying a product.
For me, it's collecting a lead and that starts with a URL.
But I found that people interact with my blog differently based on the country they are coming from.
In other words, if I show the same page to a United States visitor and from someone in India or even the United Kingdom, they interact differently.
How did I figure that out?
I ran some heatmap tests, but, beyond that, I used the Users Flow Report in Google Analytics.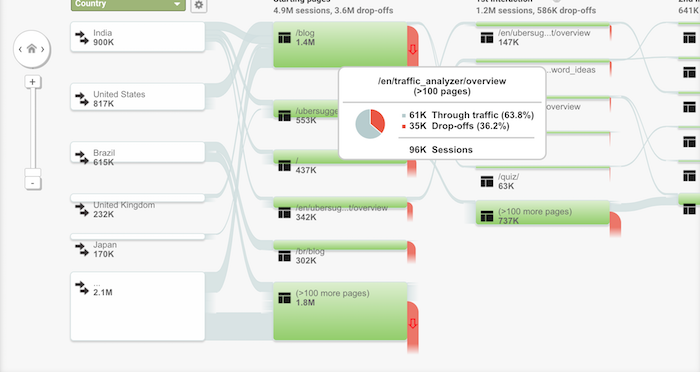 In your navigation click on "Audience" and then "Users Flow".
Within the report, it will break down how people from each country interact with your blog and the flow they take.
I then used it to adjust certain pages on my blog. For example, here is the homepage that people in the United States see:
And here is the homepage that people from the United Kingdom see: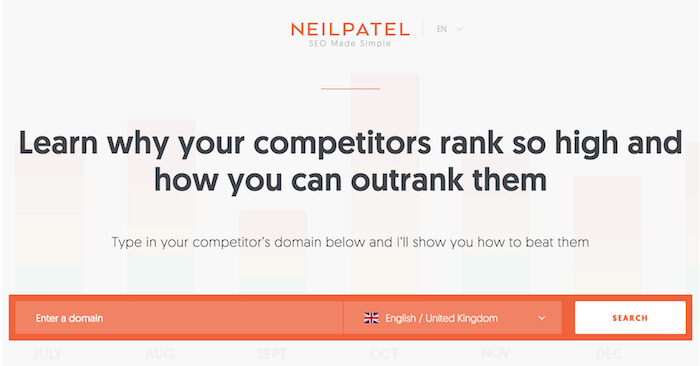 The United Kingdom homepage is much shorter and doesn't contain as much content and that's helped me improve my conversions there.
And of course, in the United States, my audience prefers something else, hence the homepages are different.
The Users Flow Report is a great way to see how you should adjust your site based on each geographical region.
Report #6: Device overlap
Blog content can be read anywhere and on any device. From desktop devices to tablets to even mobile phones.
The way you know you have a loyal audience isn't just by seeing how many of your readers continually come back, but how often are they reading your blog from multiple devices.
For example, you ideally want people to read your blog from their iPhone and laptop.
The more ways you can get people to consume your content, the stronger brand loyalty you'll build, which will increase conversion.
Within the navigation, click on "Audience" then "Cross Device" and then "Device Overlap".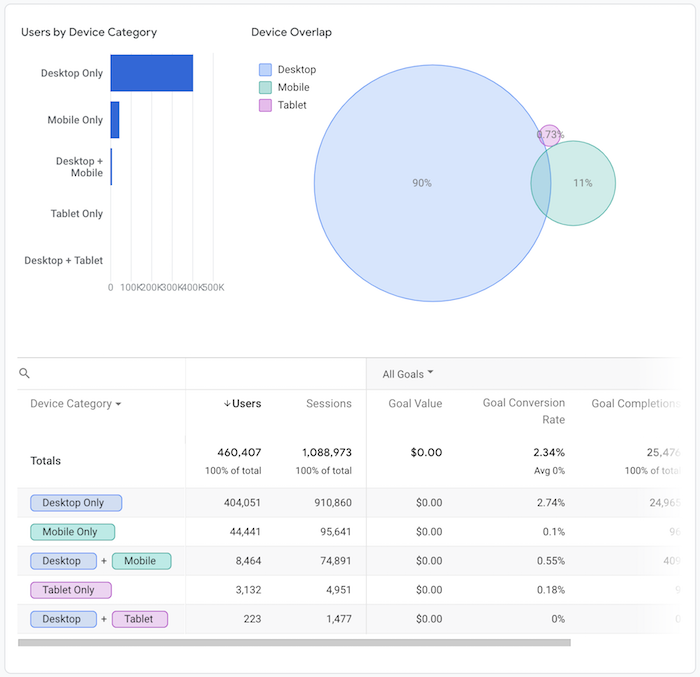 I'm in the B2B sector so my mobile traffic isn't as high as most industries but it is climbing over time.
And what I've been doing is continually improving my mobile load times as well as my mobile experience to improve my adoption rates.
I'm also working on a mobile app.
By doing all of these things, people can consume content from NeilPatel.com anywhere, which builds stickiness, brand loyalty, and then causes more assisted conversions.
A good rule of thumb is if you can get the overlap to be over 6%, you'll have a very sticky audience that is much easier to convert.
That's at least what I can see with all of the Google Analytics accounts I have access to.
Report #7: User Explorer
To really understand what makes your blog readers tick, you need to get inside their mind and figure out what their goals are and how you can help them achieve each of those goals.
A great way to do this is through the User Explorer Report.
Click on "Audience" and then "User Explorer". You'll see a screen that looks like this: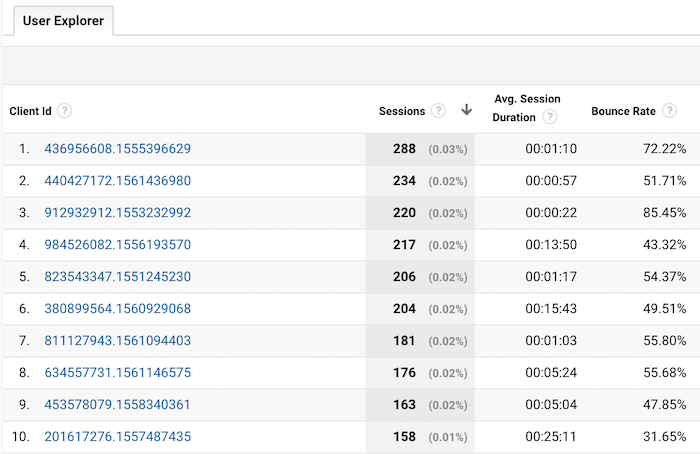 This shows you every user who visits your site and what they did. You can click on a client id to drill down and see what actions each user performed on your blog.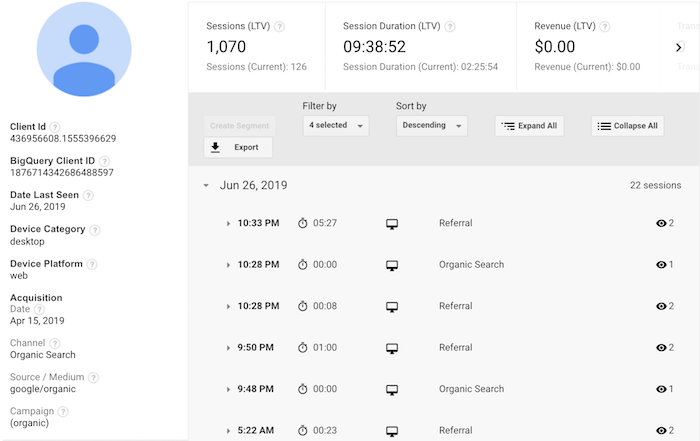 From there, you can click on a time to see exactly what they did each time they visited: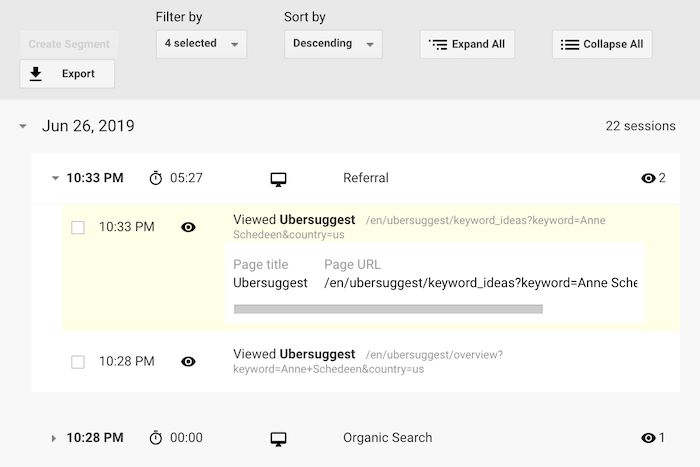 What I like to do with this report is to see how the most popular users engage with my blog. What are they reading? What pages are they spending the majority of their time on? What makes them continually come back? How did they first learn about my blog?
By comparing the most popular blog readers with the least popular, I am typically able to find patterns. For example, my most loyal blog readers typically find my site through organic traffic and then subscribe to my email list.
Then they keep coming back, but the key is to get them to opt into my email list.
That's why I am so aggressive with my email captures. I know some people don't like it, but I've found it to work well.
So I focus a lot of my efforts on building up my organic traffic over referral traffic and then collecting emails.
Look at the patterns that get your most popular users to keep coming back and then adjust your blog flow so that you can create that pattern more often.
Conclusion
Yes, you should look at your visitor count. But staring at that number doesn't do much.
The 7 reports I describe above, on the other hand, will help you boost your brand loyalty, your repeat visits, and your revenue.
I know it can be overwhelming, so that's why I tried to keep it to just 7 reports. And if you can continually improve your numbers in each of those reports, your blog will continually grow and eventually thrive.
So what Google Analytics reports do you look at on a regular basis?
The post 7 Google Analytics Reports That Show How Your Blog is Really Performing appeared first on Neil Patel.
Thank you for reading.
This may be of some interest.
Brightly, a beloved worker-owned cleaning cooperative in New York City, is relaunching as a franchise to help swiftly establish more coops across the country.
For domestic workers like home cleaners, having a job often does not guarantee bringing in enough wages to get by. According to the Bureau of Labor Statistics, home cleaners earn just around $11 per hour. Their schedules are often unpredictable, and they're not offered benefits. And if they find jobs through a gig-economy platform like Handy, they likely have to give around 20% of what they're paid—sometimes even more—back to the platform.
Thank you for reading.
This may be of some interest.
Cats are natural predators. They can't help but hunt and stalk. This one just happens to be exceedingly bad at it.
The 8-week-old kitten in question belongs to Twitter user @_TakivaBreanna. Her baby cat has developed a habit of hiding just behind a wall whenever she knows her human is approaching and then leaping out at just the right moment to surprise her much larger prey.
That's the apparent intent, anyway. The execution… could be better. See for yourself.
My 8 week old kitten started doing this thing to where she will know i'm about to come in the room and she will hide by the bathroom door and jump out to scare me when i'm walking up. 🤣 just thought I'd share this cuteness 🥰 pic.twitter.com/SOz1ckGGpr

— BAE 💕 (@_TakivaBreanna) June 30, 2019 Read more…
More about Cat, Kitten, Culture, and Web Culture
Thank you for reading.
This may be of some interest.
The simple but hard to follow rule is this: Only borrow money to buy things that go up in value.
In the old days, that meant a house and a college education, because you'd probably earn enough from either to pay back the debt, with interest. Today, housing is unpredictable and many forms of student debt are crushing (and the yield on the most expensive forms of education isn't as high as it might be).
You can justify borrowing money to buy a car if the car enables you to make enough money to pay the debt back… But medallion cab owners in New York have recently learned that there are few sure things.
The deal with credit card debt, though is simply terrible. The credit card companies pay 2% on their interest-bearing accounts, but charge around NINE times that on the debt that some people carry–that's a huge gap. It's a lousy deal you should avoid if you possibly can, regardless of how unfair the economy is.
Lately, there's been a lot of handwringing about the long-term impact of a daily treat like a cup of coffee. The Times got this completely wrong yesterday, pushing people deeper into a trap that they should run away from. And the Washington Post points out that the number of people getting a loan for their wedding is skyrocketing. This is a problem. Here's a simple way to see why:
You can make a copy of the spreadsheet I built (hit MAKE A COPY or download) and then play with the numbers yourself.
The sad news is that the best you can do within an industrial system that makes it harder and harder to catch up through effort is to begin by avoiding debt. It turns out that paying interest on interest is a long-term trap.
The real win is to borrow money to embrace high-yield education, and then borrow money if you need it to build an asset, a business that creates value for you and the people you serve.
The system is not fair, and it's rigged against those that get compounded.
Don't get compounded if you can avoid it.
Thank you for reading.
Traffic is something that every marketer wants more of. Whether you have a corporate site or a wordpress blog, a landing page or a funnel, you want more traffic and you want it as cheap as possible.
How about getting it for free?
Yes that is what a new product called Traffic Zion claims to get you – 100% Free Traffic.
What is TrafficZion?
This is a groundbreaking software, battle-tested for over a year, so that virtually anyone can start getting consistent free traffic on complete autopilot to their affiliate offers, products, services etc. I'm not a fan of supporting any kind of "push button" system, but I'm telling you right now…this is as close as you'll ever get!
Who is TrafficZion for?
TrafficZion is very simple to use, so from that point of view, it is newbie-friendly. However, it assumes you've already started an online business of some sort (or at least know which type of online business you want to get into, and you have a plan). From that point of view, it is aimed at slightly above newbie-level and beyond. Basically, anyone who needs traffic coming in to their products, services or affiliate offers, but find paid traffic extremely expensive, can benefit from TrafficZion:
Affiliate marketers
Online product owners
Email marketers
Offline businesses
Social media marketers
Local marketers
SEE THIS DEMO VIDEO and see the software in action…
3 Things I Love About TrafficZion:
I like that the guys behind this software have really done their homework, and have tested this software like crazy before releasing it, with beta tester experiencing results almost immediately after turning on the software. Some of these beta tester have been using this software for over one year, so the creators are really making sure that this isn't some 'fly by night' software that works today, but is defunct just a few short weeks later.
The software dashboard is one of the easiest, newbie-friendly ones I've ever seen. I'm not the most technical person, and some dashboards have left me feeling like I'm operating a space shuttle! TrafficZion is fantastic because it's so simple – just search for your niche by using your tags and keywords, press start, and watch traffic start hitting your sites, products and offers.
The traffic is completely free from an untapped reputable source, which makes it ideal for new affiliate marketers and online marketers who have little or no budget.
What will I get inside TrafficZion?
You get the full, intuitive TrafficZion software platform, which includes:
One click install onto any WordPress site
Choose tags and keywords to target your perfect niche (this is important as many free traffic sources are untargeted and therefore useless). This function allows you to only get traffic from people who would be interested in your specific offers and products
Autopilot function which eliminates user management. This is a comprehensive system that can auto-generates a steady stream of traffic, without your involvement, after initial set up.
Any drawbacks to TrafficZion?
The main drawback is that this is not newbie friendly. It is, however, beginner friendly. Let me explain! A newbie is someone who is looking into making money online, maybe has an idea of which business model to follow, but needs a 'start from scratch' course showing them what to do. TrafficZion does not do this. It assumes that you're either already in business, or are about to start an online business, and you need what all online businesses need – targeted traffic. However, TrafficZion is beginner friendly in that, even if you're not normally a fan of software because you find them complicated, you'll be able to install and set up TrafficZion with no issues
Do I get any bonuses with TrafficZion?
Yes, you get 3 bonuses:
Bonus Library – get hundreds of products to download and offer as bonuses in your promotions – perfect for affiliate marketers
Link Supercharger Software – a powerful solution to generate more traffic, brand your domains & maximize your commissions
WordPress SEO – everything you need to start getting massive traffic to your WordPress website
Final thoughts on TrafficZion:
It doesn't matter what offers or services you're promoting… if you aren't seeing the results you want, chances are, you're not getting enough targeted traffic to your offers. And lack of targeted traffic is the number one reason why businesses fail. Right now, at least 9 out 10 marketers are struggling to get traffic these days. But now, with TrafficZion, there is plenty of room for all of us to generate autopilot, super-targeted traffic back to our websites, blogs and offers… which translates into profits!
==>> DOWNLOAD TRAFFICZION NOW & GET STARTED
This may be of some interest.
Posted by TheMozTeam
Changing SERP features and near-daily Google updates mean that single keyword strategies are no longer viable. Brands have a lot to keep tabs on if they want to stay visible and keep that coveted top spot on the SERP.
That's why we asked Laura Hampton, Head of Marketing at Impression, to share some of the ways her award-winning team leverages STAT to surface all kinds of insights to make informed decisions.
Snag her expert tips on how to uncover additional value in your keyword data — including how Impression's web team uses STAT's API to improve client reporting, how to spot quick wins with dynamic tags, and what new projects they have up their sleeves. Take it away, Laura!
Spotting quick wins
We all remember the traditional CTR chart. It suggests that websites ranking in position one on the SERPs can expect roughly 30 percent of the clicks available, with position two getting around 12 percent, position three seeing six percent, and so on (disclaimer: these may not be the actual numbers but, let's face it, this formula is way outdated at this point anyway).
Today, the SERP landscape has changed, so we know that the chances of any of the above-suggested numbers being correct are minimal — especially when you consider the influence of elements like featured snippets on click-through rates.
But the practical reality remains that if you can improve your ranking position, it's highly likely you'll get at least some uplift in traffic for that term. This is where STAT's dynamic tags can really help. Dynamic tags are a special kind of tag that automatically populates keywords based on changeable filter criteria.
We like to set up dynamic tags based on ranking position. We use this to flag keywords which are sitting just outside of the top three, top five, or top 10 positions. Layer into this some form of traffic benchmark, and you can easily uncover keywords with decent traffic potential that just need an extra bit of work to tip them into a better position.
Chasing position zero with featured snippets and PAAs
There's been a lot of chat in our industry about the growing prevalence of SERP features like featured snippets and "People also ask" (PAA) boxes. In fact, STAT has been instrumental in leading much of the research into the influence of these two SERP features on brand visibility and CTRs.
If your strategy includes a hunt for the coveted position zero, you're in luck. We like to use STAT's dynamic tagging feature to monitor the keywords that result in featured snippets. This way, we can track keywords where our client owns the snippet and where they don't. We can also highlight new opportunities to create optimized content and attempt to capture the spot from their competitors.
This also really helps guide our overall content strategy, since STAT is able to provide quick feedback on the type of content (and, therefore, the assumed intent) that will perform best amongst a keyword set.
Making use of data views
Data views are one of the most fundamental elements of STAT. They are tools that allow you to organize your data in ways that are meaningful to you. Holding multiple keyword segments (tags) and producing aggregate metrics, they make it possible for us to dissect keyword information and then implement strategically driven decisions.
For us at Impression, data views are essential. They reflect the tactical aspirations of the client. While you could create a single templated dashboard for all your clients with the same data views, our strategists will often set up data views that mirror the way each client and account work.
Even if we're not yet actively working on a keyword set, we usually create data views to enable us to quickly spot opportunities and report back on the strategic progression.
Here are just some of the data views we've grouped our keyword segments into:
The conversion funnel
Segmenting keywords into the stages of the conversion funnel is a fairly common strategy for search marketers — it makes it possible to focus in on and prioritize higher intent queries and then extrapolate out.
Many of our data views are set up to monitor keywords tagged as "conversion," "education," and "awareness."
Client goals
Because we believe successful search marketing is only possible when it integrates with wider business goals, we like to spend time getting to know our clients' audiences, as well as their specific niches and characteristics.
This way, we can split our keywords into those which reflect the segments that our clients wish to target. For example, in some cases, this is based on sectors, such as our telecommunications client who targets audiences in finance, marketing, IT, and general business. In others, it's based on locations, in which case we'll leverage STAT's location capabilities to track the visibility of our clients to different locales.
Services and/or categories
For those clients who sell online — whether it's products or services — data views are a great way to track their visibility within each service area or product category.
Our own dashboard (for Impression) uses this approach to split out our service-based keywords, so our data view is marked "Services" and the tags we track within are "SEO," "PPC," "web," and so on. For one of our fashion clients, the data view relates to product categories, where the tracked tags include "footwear," "accessories," and "dresses."
At-a-glance health monitoring
A relatively new feature in STAT allows us to see the performance of tags compared to one another: the Tags tab.
Because we use data views and tags a lot, this has been a neat addition for us. The ability to quickly view those tags and how the keywords within are progressing is immensely valuable.
Let's use an example from above. For Impression's own keyword set, one data view contains tags that represent different service offerings. When we click on that data view and choose "Tags" in the tabbed options, we can see how well each service area is performing in terms of its visibility online.
This means we can get very quick strategic insights that say our ranking positions for SEO are consistently pretty awesome, while those around CRO (which we are arguably less well known for), tend to fluctuate more. We can also make a quick comparison between them thanks to the layout of the tab.
Identifying keyword cannibalization risk through duplicate landing pages
While we certainly don't subscribe to any notion of a content cannibalization penalty per se, we do believe that having multiple landing pages for one keyword or keyword set is problematic.
That's where STAT can help. We simply filter the keywords table to show a given landing page and we're able to track instances where it's ranking for multiple keywords.
By exporting that information, we can then compare the best and worst ranking URLs. We can also highlight where the ranking URL for a single keyword has changed, signaling internal conflict and, therefore, an opportunity to streamline and improve.
Monitoring the competitive landscape
No search strategy is complete without an understanding of the wider search landscape. Specifically, this means keeping track of your and/or your client's rankings when compared to others ranking around them.
We like to use STAT's Competitive Landscape tab to view this information for a specific data view, or across the whole account. In particular, the Share of Voice: Current Leaders board tells us very quickly who we're up against for a keyword set.
This leads to insights such as the competitiveness of the keyword set, which makes it easier to set client expectations. It also surfaces relevance of the keywords tracked, where, if the share of voice is going to brands that aren't your own, it may indicate the keywords you're targeting are not that relevant to your own audience.
You can also take a look at the Share of Voice: Top 10 Trending to see where competitors are increasing or decreasing their visibility. This can be indicative of changes on the SERPs for that industry, or in the industry as a whole.
Creating a custom connector for GDS
Reporting is a fundamental part of agency life. Our clients appreciate formalized insights into campaign progression (on top of regular communications throughout the month, of course) and one of our main challenges in growing our agency lies in identifying the best way to display reports.
We'll be honest here: There was a point where we had started to invest in building our own platform, with all sorts of aspirations of bespoke builds and highly branded experiences that could tie into a plethora of other UX considerations for our clients.
But at the same time, we're also big believers that there's no point in trying to reinvent the wheel if an appropriate solution already exists. So, we decided to use Google Data Studio (GDS) as it was released in Beta and moved onto the platform in 2017.
Of course, ranking data — while we'd all like to reserve it for internal insight to drive bigger goals — is always of interest to clients. At the time, the STAT API was publicly available, but there was no way to pull data into GDS.
That's why we decided to put some of our own time into creating a GDS connector for STAT. Through this connector, we're able to pull in live data to our GDS reports, which can be easily shared with our clients. It was a relatively straightforward process and, because GDS caches the data for a short amount of time, it doesn't hammer the STAT API for every request.
Though our clients do have access to STAT (made possible through their granular user permissions), the GDS integration is a simpler way for them to see top-level stats at a glance.
We're in the process of building pipelines through BigQuery to feed into this and facilitate date specific tracking in GDS too — keep an eye out for more info and get access to the STAT GDS connector here.
Want more?
Ready to learn how to get cracking and tracking some more? Reach out to our rad team and request a demo to get your very own tailored walkthrough of STAT.
If you're attending MozCon this year, you can see the ins and outs of STAT in person — grab your ticket before they're all gone!
Sign up for The Moz Top 10, a semimonthly mailer updating you on the top ten hottest pieces of SEO news, tips, and rad links uncovered by the Moz team. Think of it as your exclusive digest of stuff you don't have time to hunt down but want to read!
Thank you for reading.
This may be of some interest.
Gritty is so many things, but above all, he's a big hairy piece of joy.
On Tuesday, Gritty, the legendary Philadelphia Flyers mascot, surprised 7-year-old fan Caiden O'Rourke at Shriners Hospital for Children in Philadelphia. Gritty was there to deliver a custom Gritty-themed prosthetic leg to Caiden, who was born with a rare orthopedic condition that requires him to use two prosthetic legs.
Caiden, whose birthday is in a week, seemed thrilled to receive it. Look at his face.
More about Viral Videos, Social Media, Gritty, Culture, and Web Culture
Thank you for reading.
This may be of some interest.
Beauty retailers stores are likely to take a hit from this new Amazon service, which will offer fast delivery through Amazon Prime and promises competitive prices.
Today, Amazon launched a new section on its website devoted to beauty professionals, offering stylists, barbers, hairdressers, and estheticians a new alternative to their local beauty supply store. In a blog post, Amazon announced that it would sell products from brands like OPI Professional and Wella Color Charm, which you might find at your local hair or nail salon. Customers will have to submit their credentials to Amazon before they will be able to gain access to the store.
Thank you for reading.