Monthly Archives:
This may be of some interest.
If there was a year in need of inspiration, 2020 was it. Luckily, we're continuing our long tradition of highlighting inspirational marketers who are also influential.
Over the past 10 years we've honored hundreds of women in marketing doing great work, creating and sharing content, and making a difference in the industry including last year's 50 Women CMOs Who Rock in Marketing.
In this, the 11th year of publishing the TopRank Blog List of Women Who Rock in Marketing, we've taking a more B2B approach. The vast majority of honorees in the 2020 edition of our list work for B2B brands or have a B2B marketing function within a B2C or B2B/B2C brand.
To find this impressive group of marketers, we leveraged our existing network developed over the past 10 years as well as the influencer marketing software platform Traackr to help identify those individuals who either identify as B2B marketers, create content about B2B marketing and engage with an audience on B2B marketing topics. As always, the baseline social data points include topical relevance, resonance with the network and reach.
While there are many more women in B2B marketing leadership positions as proven by the research on CMOs we did last year, being able to engage communities via social networks and publishing content is what makes those on this list stand apart.
Executive social engagement is becoming a much bigger priority for B2B brands as companies invest more in building the influence of internal subject matter experts, key opinion leaders and senior management. This is especially true with positions like the CMO where many customers expect to engage via social media.

Ann Handley
Chief Content Officer
MarketingProfs
@marketingprofs
Ann Lewnes
Chief Marketing Officer & Executive Vice President, Corporate Strategy & Development
Adobe
@alewnes
Alicia Tillman
Global Chief Marketing Officer
SAP
@aliciatillman
Michelle Killebrew
Products & Technology Marketing Leader
PwC
@shellkillebrew
Stephanie Stahl
General Manager Content Marketing Institute, UBM
@EditorStahl

Tyrona Heath
Director, Market Engagement, The B2B Institute
LinkedIn
@tyrona
Charlene Li
Founder & Senior Fellow
Altimeter, a Prophet Company
@charleneli
Sarah Kennedy Ellis
Vice President, Global Growth & Demand, Google Cloud
Google
@saykay
Heidi Melin
Chief Marketing Officer
Workfront
@heidimelin
Dorie Clark
Executive Education Faculty, Fuqua School of Business
Duke University
@dorieclark

Amanda Brinkman
Chief Brand and Communications Officer
Deluxe
@amandakbrinkman
Sandy Carter
Vice President
Amazon Web Services
@sandy_carter
Jennifer Anaya
Senior Vice President Global Marketing
Ingram Micro
@JenniferiD8
Heidi Bullock
Chief Marketing Officer
Tealium
@HeidiBullock
Meghan Keaney Anderson
Vice President of Marketing
HubSpot
@meghkeaney

Tifenn Dano Kwan
Chief Marketing Officer
Dropbox
@danokwan
Sarita Rao
Senior Vice President, Portfolio Integration & Partner Solutions
AT&T
@saritasayso
Jennifer Leggio
Chief Marketing Officer
Claroty
@mediaphyter
Shannon Sullivan Duffy
Executive Vice President, Marketing
Salesforce
@sullytoduffy
Lara Hood Balazs
Chief Marketing Officer and General Manager, Strategic Partner Group
Intuit
@LaraHBalazs

Olga Andrienko
Head of Global Marketing
SEMrush
@Olgandrienko
Anna Griffin
Chief Marketing Officer
Smartsheet
@AnnaGriffinNow
Leslie Berland
Chief Marketing Officer & Head of People
Twitter
@leslieberland
Amy Fuller
Chief Marketing and Communications Officer
Accenture
@AmyFuller

Gail Moody-Byrd
Chief Marketing Officer
Noodle.ai
@gailmoody
Carolyn Everson
Vice President, Global Business Group
Facebook
@ceverson
Jennifer Heyman
Vice President, Digital & Social Media
Wells Fargo
@jheyman
Danah Boyd
Partner Researcher
Microsoft
@zephoria
Karen Walker
Senior Vice President & CMO
Intel Corporation
@karmwalker

Kathy Button Bell
Senior Vice President & CMO
Emerson
@Emerson_KathyBB
Arianna Huffington
Founder & CEO
Thrive Global
@ariannahuff
Joanna Lord
Chief Marketing Officer
Skyscanner
@JoannaLord
Penny Baldwin
Senior Vice President & CMO
Qualcomm
@pennyrbaldwin
Kristin Lemkau
Chief Marketing Officer
JPMorgan Chase
@klemkau

Priya Ramesh
VP, Global Corporate Communications
Informatica
@priaramesh
Linda Boff
Chief Marketing Officer
GE
@lindaboff
Paige O'Neill
Chief Marketing Officer
Sitecore
@paige_oneill
Maggie Chan Jones
CEO
Tenshey
@maggiecj
Maria Winans
Chief Marketing Officer, Americas Marketing
IBM
@MariaWinans

Jacqui Murphy
Chief Marketing Officer
Auvik
@jacquimurphy
Alison Herzog
Sr. Director, Brand and Digital/Head of Global Brand and Digital Marketing
Visa
@alisonjherzog
Konstanze Alex, PhD
Global Digital Storytelling
Cisco Systems
@Konstanze
Amanda Jobbins
Chief Marketing Officer
Infor
@amandajobbins
Courtney Colwell
Director of Global Content
American Express
@courtneycolwell

Lucy Moran
SVP, Demand Gen, Brand & Digital Marketing
Dun & Bradstreet
@lucymoran
Kirsten Allegri Williams
Chief Marketing Officer
Episerver
@kirstenallegriw
Kim Salem-Jackson
Founding Member Chief
@Ksalem09
Lisa Horner
VP Marketing
AppFolio
@LisaHorner
Carla Zakhem-Hassan
Chief Marketing Officer
Citi
@chassan

Monica Norton
Head of B2B Content Marketing
Yelp
@monicalnorton
Congratulations to all the women on this list for making great contributions to the field of marketing in 2020!
If you're a senior level marketing executive and wondering how to make the most of your time on social networks so you can surface on lists like this, check out this article: How Social Should the CMO Be? 3 Guidelines for Success.
To see the last 10 years of Women Who Rock in Marketing lists, visit the posts below:
The post 50 Influential Women in B2B Marketing Who Rocked in 2020 appeared first on B2B Marketing Blog – TopRank®.
Thank you for reading.
Nowadays, people have so many options for diet plans to lose weight and ideally to live a healthy lifestyle. But others are not fully aware of their choice and some just got swayed by the promise of quick results. Do you even know what is the right and safe diet plan for you? This can be it!
What is Mediterranean Diet?
The Mediterranean Diet is a 30-day detailed diet plan that can help you lose weight and change your life for the better. This diet plan is making you take control of your health and your body with delicious meals every single day.
Out of all the trending diets out there, this diet will provide you with a clear plan in order to succeed. It is tough to start a diet and tougher to stay on course that is why Mediterranean Diet has got you covered with an easy to follow plan which means you will know exactly what to eat and when. It was carefully planned to be as detailed as possible that there is no space for guesswork.
Not only is it proven to work by thousands of men and women whose lives were changed by incorporating Mediterranean Diet in their lifestyle but it is backed by Science too, verified to give you the maximum results in the minimum amount of time without giving up the delicious foods you love and enjoy.
This amazing diet plan will help you lose at least 2-3 pounds of unwanted weight every week and will increase your energy levels like never before. By providing your body the right and real nutrition it needs, it regulates itself and functions properly making you shed off excess fats in your body and will keep you feeling energized and healthy.
Who Created The Mediterranean Diet?
Created by Kimberly Clark, a renowned nutritionist and health advisor. She was just like the many others who were struggling with weight gain and found out about this reliable Mediterranean way which made her healthy and allowed her to change her life.
How Does The Mediterranean Diet Work?
The Mediterranean Diet is largely based on the eating ways of those countries bordering the Mediterranean Sea, including Italy, Greece, Spain and Israel and how even when they eat heartily they still get leaner, fitter and healthier.
All you need to do is follow the carefully made diet plan for the next 30 days and you will be able to experience trying and preparing new dishes with fat burning and tasteful recipes provided for you. You will also learn about the 4 foods that you should avoid because they are responsible for over 80% of all obesity. It is a diet based on the nutrients, customized according to your needs.
It comes with 8 bonuses to help you succeed in your Mediterranean Diet journey, namely:
The Beginner's Guide to The Mediterranean Diet – everything that you need to know about this new lifestyle is explained here, the basic rules, the helpful tips on easing your way into a new diet that can turn your body into a fat burning machine.
The Incredible Mediterranean Diet Cookbook – no need to surf the internet for recipes, you will have a 92 page cookbook with easy to prepare and cook delicious recipes and low calorie desserts.
The Official Mediterranean Diet Calendar – this is your nutrition journal where you keep records of your food and water intake as well as your activity levels.
The Beach Body Program – get that toned body of your dreams with research-backed workouts which you can do in less than 30 minutes a day.
The Detox Guide – a 14-day detox to fight inflammation in your body, a result of long time unhealthy eating.
The Winner's Morning Routine Guide – start your day with the routines of the healthy and successful people in the world and make a habit out of it.
Bulletproof Guide – strengthen your body so that you can steer away from sickness.
Facebook Accountability Group – there is a members only Facebook Page where you can meet like-minded individuals who can help you in your 30-day journey.
Everything in this program will help you transform your life for the better.
Advantages:
– Easy to follow guide.
– It is a natural and realistic way to lose weight.
– Provides delicious recipes with ingredients you can easily find in your local supermarket.
– You can still enjoy the foods that you want.
– Motivates you to be physically active.
– Emphasizes social interaction with family and friends as a vital Mediterranean way as it can improve your mood and mental health.
– It comes with a 60 Days Money Back Guarantee, no questions asked!
Disadvantages:
– It is a digital diet program which you can only purchase at the official website.
– Results may vary from person to person.
– It takes patience and commitment to attain desired results.
Recommendation:
This is your chance to make that needed change. Choose to have the body that you want and a new lifestyle that can make you healthy and happy. Choose the way that can help you live a healthier and longer life!
This may be of some interest.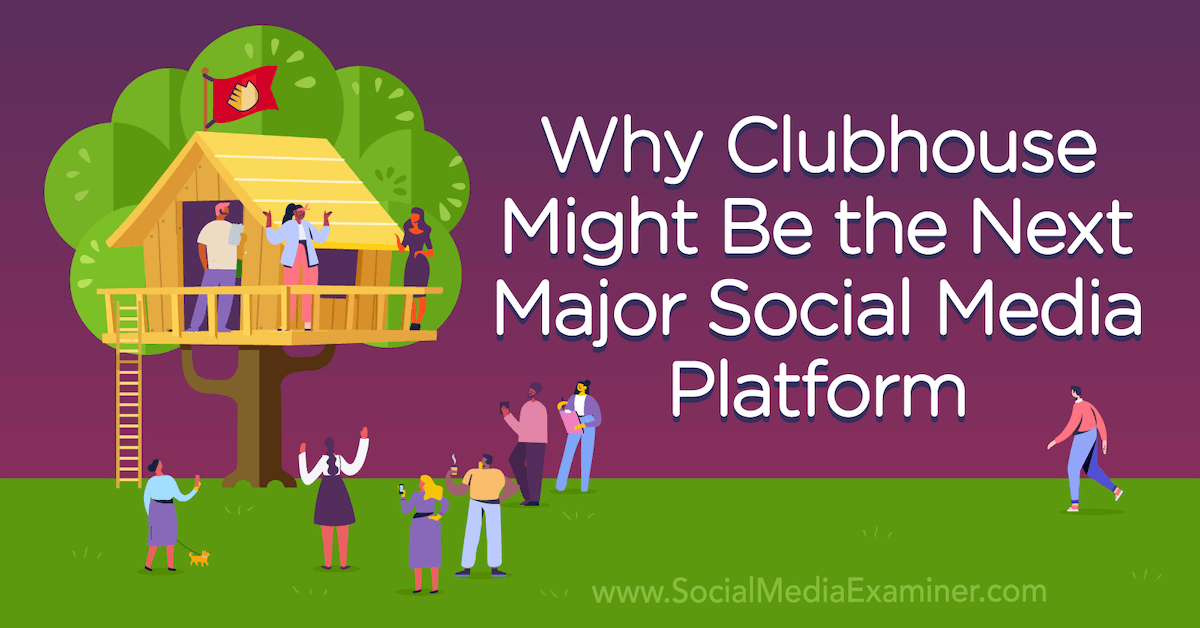 Have you heard people talking about Clubhouse App? Wondering why people are obsessed with this social platform and what it could mean for you? In this article, I'll explain what Clubhouse is and why it might become a breakout social platform. I'll also share my experience and why I believe Clubhouse has staying power. My […]
The post Why Clubhouse App Might Be the Next Major Social Media Platform appeared first on Social Media Examiner | Social Media Marketing.
Thank you for reading.
Are you currently struggling in life? Like everyday someone is wishing you bad luck that you seem to experience work problems, relationship disagreements, unpaid bills and money shortage, one after another. If you are in the verge of giving up, this may change your mind and may transform your life.
What is Manifestation Wizard?
Manifestation Wizard is a program consisting of audio recordings of very specific sound waves that can help you manifest your dreams. If you feel like your life is falling apart because of deteriorating health, excessive weight gain, drowning debt and other unpleasant experiences you have had, there is help!
You can rise again from your despair and live a new life with boundless opportunities and abundant wealth. But first, you have to reprogram your mind and be cleansed from all the negativity within you. Negative thoughts will result to negativity just like positive thoughts can result to positivity. If you keep harboring negativity you will be trapped in a low vibration resulting to all the things you want to avoid in your life. But when you open yourself and your mind to a high vibration, you will feel determined, energized and welcoming, ready to realize and accept abundance in your life.
This program will help you achieve that, to bring back your confidence in yourself and utilize your own capabilities to achieve all the things you want in life almost effortlessly. When your mind reaches that high vibration state, everything just falls into place. It is like the universe is working for you and not against you in your journey. Having the right mindset can change your life extraordinarily but it is not something so easy to accomplish but with Manifestation Wizard, you will be able to radiate positive energy and repel negative energy for an abundant life that you want to live.
Who Created Manifestation Wizard?
This powerful program was created by Aaron Surtees, a spiritual leader and a hypnotherapist who have helped thousands of people reached high vibrations where everything they ever wanted are realized.
His aim to help more people achieved their true potential and live the life of abundance resulted to this audio program which thousands of dollars were spent to achieve the right frequency needed to reprogram the mind.
How Does Manifestation Wizard Work?
The program uses hypnosis, which has been proven a powerful method to reprogram the mind. the audio in this program only uses very specific range of sound waves which can penetrate the human psyche. It was carefully created and recorded to achieve the right frequency.
The powerful audio track is composed of four sacred tracks:
Chakra – helps you generate positive energy.
Divinity – helps you have the connection to universal energy and envision your highest self.
Ethereal – helps you radiate positive energy therefore attracting more positivity.
Warrior – helps you divert negative energy.
Karma – this is a bonus track and can help you eliminate negative thoughts in your conscious and subconscious mind.
This audio along with the hypnotist's healing and powerful words will instantly make you feel better, confident and energized which will radiate and bring more positive changes in your life.
For as short as 10 minutes per day, you can help yourself feel better and repel the negative thoughts that are making you doubt yourself and stopping you from achieving more. You can listen to the audio anytime and anywhere.
Advantages:
– Very convenient. You can use it anytime and anywhere.
– The audio tracks are accessible when your download is complete.
– Helps you become confident and eliminate self-doubt.
– Guides you to reach your true potential.
– Helps you achieve your dreams and aspirations in life.
– Makes you attract abundant wealth.
– Already helped thousands of people.
– Created by an expert who has years of experience in being a hypnotherapist.
– You do not need complicated device to access the program, your phone and headphones are enough.
– Promotes positive energy and deflects negative energy.
– Improved mental health due to elimination of negative thought patterns.
– It is backed with 100% 60 days money back guarantee.
Disadvantages:
– It is only available for purchase in their official website.
– It needs internet connection to access and download.
– Results can vary and needs patience and willingness to achieve desired results.
Recommendation:
You can turn your life around! You can dedicate a few minutes of your day to bring positive change in your life and avoid negative experiences that can only bring you down. You are fully capable of achieving your dreams and living the life you want, a life of abundance, good health, rewarding career, nurturing relationships and more. Whatever you desire in life, be confident and achieve them.
Manifestation Wizard not only brings out the best in you it also brings out the best that you can have in life. Equip yourself with the right tool to continually moving forward in life achieving your dreams.
This may be of some interest.
Shuffle allows users to edit audio clips from podcasts, add visual elements, and share on social as a way to make your episodes stand out.
Podcast fans have long bemoaned the issue of discoverability on major platforms—and for good reason.
Thank you for reading.
This may be of some interest.
Disclosure: This content is reader-supported, which means if you click on some of our links that we may earn a commission.
Website monitoring helps you identify your site's performance problems in real-time. Most of these services capture webpage availability, average web page load time, and web page functionality, among other performance indicators.
Did you know a 2017 Google study showed that just one second of delay in page loading can reduce your page views by 11% and bring down the conversion rate by 7%?
Additionally, 53% of visitors are likely to leave the page if it takes more than three seconds to load. Consider also that the Google algorithm ranks websites by load speed, among other metrics. We haven't even gotten to the impact an unavailable webpage has on your business.
In this day and age, website monitoring is all but mandatory if you wish to remain competitive.
We have picked out the seven best website monitoring services to get your site up and running and staying healthy.
The Top 7 Options For Website Monitoring
How To Choose The Best Website Monitoring Service For You
Even a seasoned webmaster would have a problem picking out the best website monitoring services without help. There are currently more than 150 services available, so choosing the best one takes a keen eye for detail.
The secret to making the all-important decisions lies in the services' features. Features will instantly tell you whether the service is good, mediocre, or terrible. Here are the most important things to consider when comparing website monitoring services.
Uptime Monitoring
The most basic function of a website monitoring service is to tell you whether your website is working properly. If your website is down, you can't make sales, and you could quickly lose customers to the competition. The service should check the website at regular intervals and report back the status.
The most common checks include HTTP(S), DNS, SSL, and domain expiry checks, ensuring that essential infrastructure is performing as it should. Additional protocols to consider may include SIP, TCP, FTP, PING, and UDP.
Some services run these checks from different servers worldwide to ensure that your global audience can access your site. Additionally, monitoring schedules may vary from once every four hours to once every minute or less.
Ideally, you want uptime of 99.9%, so this monitoring is crucial for keeping your hosting service accountable.
Average Web Page Load Time
Once you know that your webpage is working and available, you need to find out how it performs. Full-page load monitoring primarily checks how long your web pages take to load. Some services also report back the cause of any problem found.
A good website monitoring service should keep records of the average loading time of each page. Some let you set a maximum load time and alert you when pages take too long to load according to your criteria.
You may also want a monitoring tool that specifically targets content. This feature ensures that page outputs, words, or phrases critical to your conversion funnel are loading correctly.
Load Testing
Your website may be performing optimally until it is overloaded. Special events like Black Friday sales or the holiday season come to mind. Load testing or web stress testing puts a load on the website to see how it works under pressure. For example, the tool may apply a load of 3000 users for 20 minutes to see if your site remains stable.
Reports & Analytics
Regular reports and analytics help you to keep a record of your website's performance over time. It helps if the information makes sense, so your DevOps, executives, or other people who have access to the data know what to do with it.
Consider also public reporting. Website visitors can get simple reports displayed on the web page or a dedicated status page. This option can drastically reduce unnecessary calls to customer support.
The Different Types of Website Monitoring Services
There are two main types of website monitoring. These are Synthetic Monitoring and Real User Monitoring (RUM). Many services offer both types, so this is an option well worth looking into. Let's look more into what synthetic and real user monitoring are and what they mean for you.
Synthetic Monitoring
Website monitoring services rely heavily on synthetic monitoring. Also known as "active monitoring," this process simulates real users. The test first determines frontend performance variables such as browser, device, geography, and/or networks. Agents then simulate real users and collect data. This process identifies issues before the end-user ever encounters them.
Synthetic tests capture all the fundamentals of a monitoring system. The tests check and provide feedback about uptime on critical service and API endpoints.
Additionally, synthetic monitoring checks interactive aspects of your website, including links and buttons, to ensure that everything works as it should. This is crucial if you want to preempt problems with broken links or mislabeled features before your users encounter them.
Synthetic monitoring can also help determine the source of the issue (such as internet service providers or third-party), the problem's extent, and possible solutions.
Real User Monitoring
Real user monitoring (RUM) gathers information from real website users. Also called "passive monitoring," the system collects data from users. As such, RUM can capture complex combinations of data, including geographic location, performance measurements, type of web browser, type of device, and the operating system of users.
The site owner places JavaScript tags to the site's page headers to implement RUM. From here, the script collects data from users across various performance metrics and reports back to the RUM interface.
Real user monitoring helps optimize the customer experience while reporting on issues in real-time. Site owners can also track the performance of new deployments and track site experience across geographies, devices, and web browsers.
#1 – UptimeRobot – Best Free Website Monitoring Service
UptimeRobot offers a free plan if you aren't yet ready to spend money on a monitoring service. This option is excellent for a blog or if you are just starting in e-commerce. The service has more than 800,000 clients, including GoDaddy, Expedia, and IBM.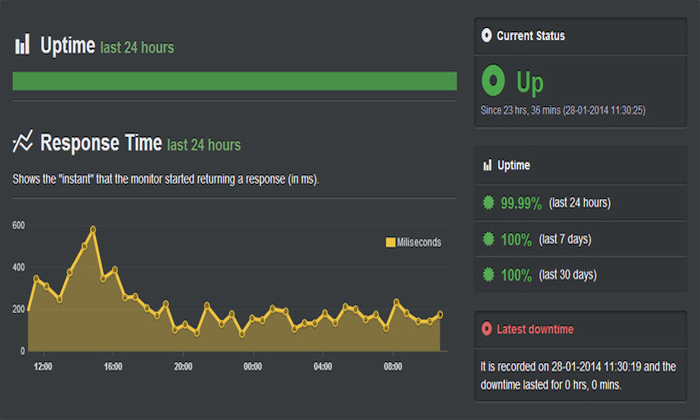 You get all the necessary monitoring features with the free plan, including HTTP(S) monitoring, ping monitoring, port monitoring, and response time monitoring. You also get 50 monitors with five-minute checks.
Additionally, the free plan offers two months of log retention and one status page.
You can upgrade to the Pro plan for $15 per month to get more advanced features in addition to the ones you get with the free plan. Some of the additional functions include:
Voice calls and SMS alerts
24-month log retention
One-minute checks
Cron job monitoring
Keyword monitoring
Maintenance windows
SSL certificate expiry monitoring
Advanced notification settings
Unlimited status pages
There is also an Enterprise plan for custom check intervals and several monitors.
UptimeRobot offers reliable website monitoring tools and will easily scale with your business as it grows. The service has monitoring locations in the USA, UK, Australia, Brazil, Germany, Canada, and Japan.
#2 – Pingdom – Best Website Monitoring Service For Small And Medium Businesses
Pingdom by SolarWinds is a powerful website monitoring service for small to medium-sized businesses. The service is also suitable for startups, digital marketers, and even DevOps.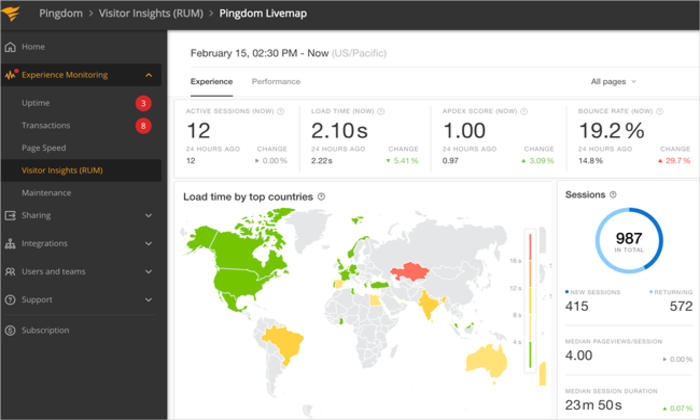 The service gives you a choice of synthetic or real user monitoring to provide you with a comprehensive view of what's going on with your website. You can also combine the capabilities of both monitoring options with their Enterprise plan.
Pingdom's synthetic monitoring checks for uptime from over 100 locations, provides page speed analysis, and monitors important transactions, including shopping cart, checkout, user login, new user registration, and search, among others.
RUM monitoring with Pingdom gives you detailed insights into how real users experience your website across different browsers, devices, and geographic locations.
The service also monitors your mobile site every 60 seconds (same for desktop) and performs the same checks on your mobile sites to help you deliver a standard experience across devices.
Pingdom also has a powerful HTTP-based, RESTful API for people who like to customize and automate synthetic monitoring interactions. Developers can also write their own applications or scripts depending on their specific needs.
Pingdom integrates with plenty of third-party services, including Webhooks, Slack, and VictorOps, to further optimize reporting, incident management, alerts, and dashboard.
Additional features include:
Sharable reports
Color-coded chart bars
Web analytics tool
Bounce rate checker
SSL certificate monitoring and alerting
Cloud performance monitoring
Joomla monitoring
Server uptime monitoring
Website uptime history
You can try out Pingdom's 14-day free trial for access to all the features. Paid plans start at $10 per month, which is very affordable for smaller businesses.
#3 – AppDynamics – Best Software Monitoring Service For WebApps
Web applications have complex and diverse interactive elements that are not always easy to monitor. While some website monitoring services watch apps, you really need a service that caters primarily to this market.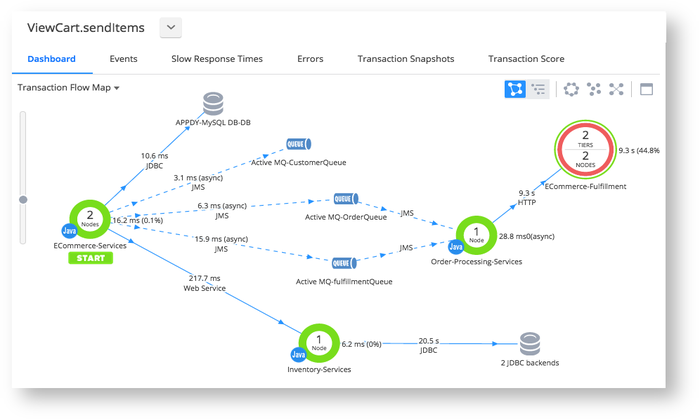 AppDynamics is an application performance management solution. It supports everyday application environments, including Java, Node.js, C/C++ (Beta), and PHP. Additionally, AppDynamics covers more complex platforms and solutions, including WebMethods, TIBCO, JMS, and queuing technologies.
The service does real-time transaction monitoring across crucial metrics, including response time, slow rate, error rate, load, and stalls. It also eliminates blind spots in your applications by automatically mapping the relationships between the various tiers and services.
AppDynamics automatically detects anomalies and provides rapid root-cause diagnostics. The tool also captures important debug data to speed up the software debugging process. They also offer an in-depth diagnosis, allowing you to identify the problem down to the offending line of code.
Additional features include:
End-user monitoring
Application performance monitoring
Infrastructure monitoring
Network monitoring
Business performance monitoring
AppDynamics has three pricing plans, and you have to contact the provider to get the actual price. The Pro plan also supports complex multi-cloud topologies mapping and visualizing, creating alerting policies and health rules, and key performance metrics.
The Advanced and Peak plans offer additional capabilities depending on what you need. This service is ideal for industries like retail, media and entertainment, healthcare, and insurance. You can check out the free trial or schedule a demo before you decide if it's for you.
#4 – Site24x7 – Best Website Monitoring Service For Multiple Websites And Apps
Monitoring a single website is hard enough, but Site24x7 makes it easy to keep an eye on up to 500 websites at once. This service is all-inclusive and will monitor the website, cloud, server, application, and network.
Site24x7 has a single log that collects, consolidates, analyzes, and stores data where you can easily view and troubleshoot problems. They use synthetic and real user monitoring in each package, so you always get the best of both worlds.
The Starter plan costs $9 per month and monitors up to 10 websites and servers from more than 110 monitoring locations globally. All plans support HTTP(S), DNS, SSL/TSL, FTP, REST APIs, URLs, SMTP server, SOAP web service, and more.
You can also manually select the monitoring location from multiple addresses across North America, South America, Europe, Australia, New Zealand, Asia, the Middle East, and Africa.
Site24x7 supports Ruby, Java, PHP, .NET, Node.js, and mobile platforms for apps. The tool also monitors Windows, Linux, Docker, VMware, FreeBSD, GCP, and Azure for servers.
Additional features include:
Mobile access
Root cause analysis
Hosted status pages
SLA management
Alerts and reports
Support for managed service providers
Site 24×7 plans and pricing is as follows:
Starter: $9 per month
Pro: $35 per month
Classic: $89 per month
Enterprise: $225 per month
If you're looking for an adaptable and flexible service for multiple websites and applications, Site24x7 is a great option.
#5 – Monitis – Best Website Monitoring Service For Custom Monitoring Plans
If you believe that you should only pay for what you use, Monitis is the website monitoring service for you. Some of Monitis's clients include SIEMENS and the University of Cambridge.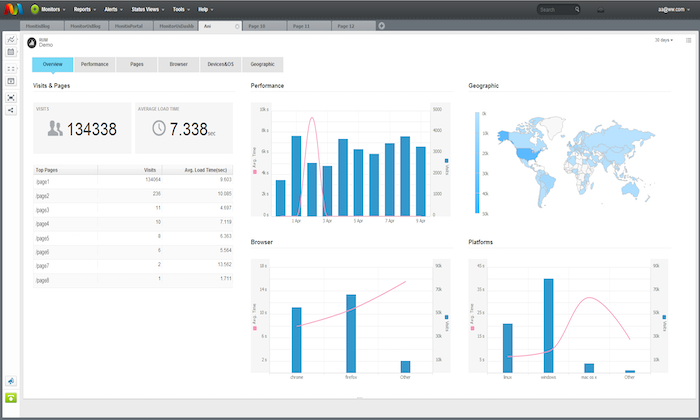 With Monitis, you choose only the features you want, and then the service will create a customized price and plan to suit your needs. This is the perfect arrangement for users who know exactly what they want from a website monitoring service, down to the specific features.
The service checks your website every 60 seconds from more than 30 server locations in North and South America, Europe, Middle East, Asia and the Pacific, and Africa.
This is also an all-inclusive monitoring tool. You can monitor websites, servers, networks, and applications. For website monitoring, Monitis checks uptime, full page load, and transactions. The service supports Windows and Linux for server monitoring and will check CPU, network, memory, and bandwidth, among other aspects.
Monitis also has a powerful API to customize your experience further. You also get SDKs for all popular languages, including Python, Java, Ruby, PHP, Perl, and C #.
Additional features include:
Real user monitoring
Graph view
Device monitoring
Asset tracking
Backup
Patching
Comprehensive reporting
Webpage content check
Instant alerts
Screen capturing
Diagnostic
Funnel visualization
Montis has a good selection of alerts integrations, including Slack, VictorOps, OpsGenie, Jira, and PagerDuty, among others.
You can try out the 15-day trial before making a final decision.
#6 – LogicMonitor – Best Website Monitoring Tool For Service Providers
If you are a service provider, your website monitoring requirements will naturally be different from those of your clients. LogicMonitor has products that explicitly cater to this market, so you won't have to rely on the same cookie-cutter tools as the shops you serve.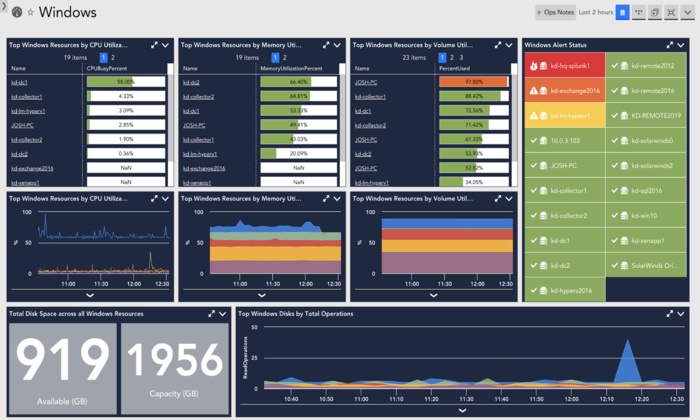 This is another all-inclusive monitoring tool that monitors your websites, networks, servers, cloud, and IT infrastructure. LogicMonitor allows you to view your entire hybrid infrastructure from one place. You can observe several infrastructure metrics, including cloud and container resources, networks and networking gear, websites, SaaS services, IoT devices, and more.
LogicMonitor also has all the website monitoring features you would need, including ping checks, web checks, rapid deployment, and customizable alert thresholds.
Additional features include:
2000+ integrations
Intelligent alerting
Topology mapping
Forecasting
Encrypted data
Visualizations
AIOps early warning system
SaaS deployment
Log analysis
Remote monitoring
LogicMonitor also offers remote and on-site training for seamless implementation. They do not post their prices online, but you can tour the platform and call for a customized quote from their website.
#7 – Uptrends – Best Website Monitoring Service For Internal Server Monitoring
Sometimes the problem is on your side of the firewall. For site owners who don't want to take any chances, Uptrends has robust internal monitoring systems.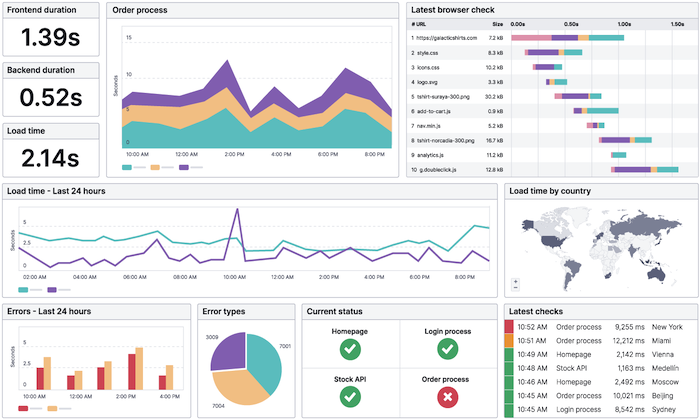 The service checks your internal servers and network devices to make sure that everything is up to par. Setting up is as easy as executing an installation file on the servers. The agent works seamlessly with your firewall, and there is no need to create special rules.
The tool supports popular protocols and devices, including Windows, HTTP, Ping, SNMP, and Connect.
Uptrends also allows you to customize your dashboard for internal server monitoring to give you control over how data is presented. Once you create your custom dashboard, you can save it as your homepage.
Web monitoring with Uptrends is equally robust. The service has more than 220 monitoring locations worldwide that check uptime, performance, and multi-step transactions. Uptrends uses synthetic monitoring and offers interactive charts, public status pages, bandwidth throttling, and error snapshots.
This service is all-encompassing and includes additional essential capabilities like:
Web application monitoring
API monitoring
Multi-browser monitoring
External server monitoring
If you are not yet ready to purchase, Uptrends has a free plan. Here, you get access to plenty of free tools, including free website monitoring, global uptime, website speed test, DSN report, traceroute, uptime and SLA calculator, and ping test. However, you can only choose one feature at a time to try out rather than a single free package with all the tools.
Paid plans include:
Starter: $12.02 per month
Premium: $34.52 per month
Professional: $168.27 per month
Business: $28.79 per month
Enterprise: $52.08 per month
You can also try a free trial for the business plan for 30 days here.
Summary
If the only advantage you get from a website monitoring service is enhanced customer retention, then your efforts will have been worth it. These services offer an array of additional benefits, including optimized website performance, strengthened security, data retention, and much more.
The best advice for choosing a website monitoring service is to figure out precisely what you want the tool to do. From here, you can compare the services' features with your needs to narrow down the best options. Also, try to go for industry-specific services such as the ones we have outlined in this review. You can never go too wrong with these strategies.
The post Best Website Monitoring Services appeared first on Neil Patel.
Thank you for reading.
Are you having difficulty eliminating stubborn and unhealthy fats in your body? Have you tried enough that you are close to giving up the body that you have always wanted? How about trying a proven fat flushing formula that you can do for only a few seconds everyday? Read on to find out!
What is Fat Flusher Diet?
Fat Flusher Diet is a revolutionary breakthrough that helps you eliminate stubborn fat especially belly fat that puts you at risk to serious health conditions. It features a potent supplement that not only flushes your fat away but makes your body heal from the inside, eliminating high blood pressure, body pains and more and can make you feel youthful and energetic.
Commonly known as the African Fat Flushing Supplement because its special ingredient is an extract from an exotic grape-like fruit from an African plant mixed with other ingredients that make up a powerful and safe fat loss booster.
Oftentimes, you get confused by not having the results that you wanted when you have tried everything from going to the gym, cutting calorie intake to spending money on books about losing weight and devices that promise quick weight loss results. But what you do not realize is that it is not your fault that you are not losing weight. There is a silent killer in your body that makes you add layers and layers of fat no matter how hard you exercise. This hormonal imbalance affects your metabolism and it targets the hormones responsible for weight loss which creates disunity in your body.
This natural and safe supplement will neutralize the hormonal imbalance's harmful effects on your body so that your body will get back into harmony.
Who Created the Fat Flusher Diet?
The Fat Flusher Diet supplement was formulated by Sharon Johnson and her research team. This was made possible because of Sharon's first hand experience with the main ingredient of the supplement which was responsible for her rapid weight loss.
Sharon was just like many women who are struggling with losing weight, causing her low-self esteem as well as relationship and health problems. And if not for a freak accident which she survived in Zambezi River, a river in Africa, she wouldn't discover this breakthrough solution which an African shaman showed her. After the accident which almost drowned her to death, she felt more depressed and tired with a break up brewing and body pains she got from the water rafting.
The shaman took care of her and gave her a special concoction that made her heal fast, made the pain go away and made her lose some pounds. With that knowledge, she met a doctor who knows where to get the exact African plant extract that flushed her fat away and changed her life and hundreds more.
How Does Fat Flusher Diet Work?
The Fat Flusher Diet system heavily relies on the African Fat Flusher supplement that you can easily incorporate in your daily routine. You only need to take the supplement daily which you can surely accomplish in just a few seconds without eating less or exercising more.
It is like giving your body what it needs so that it can function properly. It does not only target fat flushing but it promotes a flatter belly, taking inches from your waist, removes toxin build up, takes away body pains and helps you avoid more serious health risks like hypertension and heart diseases.
By taking the supplement regularly and having a sensible eating plan which definitely does not include starving and depriving yourself you are helping your body to heal from the inside so that it reaches a balance that gives you more stamina, increases your libido, slows signs of aging and generally makes you feel better from the inside out.
Plus, it will teach you what you need to do about the secret killers in your body like avoiding processed foods and cooking oils. You can easily know if you have an imbalance by answering a few simple questions about yourself and your way of living.
You only need to choose the best deal for you and you will be taken to a safe checkout page and wait for your powerful fat flushing package in three to five days and immediately start your weight loss journey and see results!
Advantages:
– The supplement is potent, safe and natural.
– There are no known side-effects.
– It will not only flush your fats away, it can also increase your energy levels and libido.
– It targets belly fat, taking inches from your waist and improves body shape.
– It does not include strenuous exercises and extreme diet plans.
– Helps you have a good sleep.
– It lowers blood pressure and blood sugar levels.
– It is a good pain-reliever.
– It helps you curb cravings and regulates appetite.
– It includes a bonus about Foods that Cause Fat and Foods that Burn Fat to help you choose your food wisely.
– Your investment is backed with a 60-Day Money Back Guarantee.
Disadvantages:
– It can only be purchased online.
– Results vary.
– You need commitment to take it regularly.
Recommendation:
If you want a healthy and safe solution to your weight loss problem, this all-natural supplement is for you especially if you are 40 years old and above which health generally declines and some body functions are disrupted with accumulated toxins and everyday exposure to stress.
Flush that stubborn fat away and bring back the confidence and energy you once have. Feel great again inside and out!
This may be of some interest.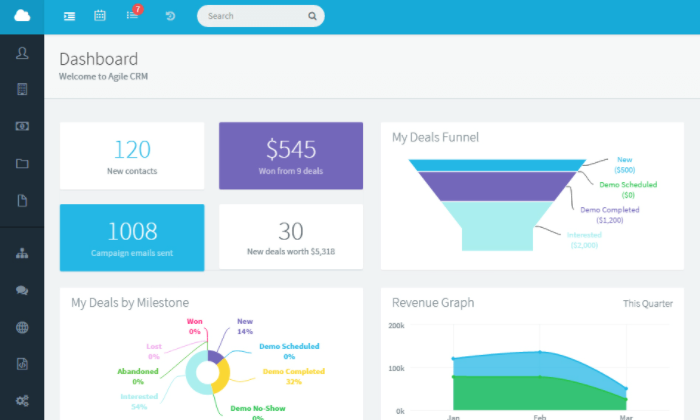 Disclosure: This content is reader-supported, which means if you click on some of our links that we may earn a commission.
Interested in customer relationship management (CRM) software that's free forever? You've got options.
This is not a typo. Free means no cost. Forever means no time limit.
I hope you're sitting down, because there's more shocking news. These zero-dollar-per-month platforms are packed with great features.
I've picked out the top five free CRM software products on the market. They're all a little different. Chances are, one of these options is going to work much better for you than the others.
There's no cost, but your time is valuable. Let's run through the important considerations that go into picking the right free CRM software on the first try.
The Top 5 Options For Free CRM Software
How to Choose the Best Free CRM Software for You
Trying to manage customer relationships with traditional spreadsheets and databases is a pain, to put it nicely. Speaking frankly, it's a barrier to growth.
You can only go long without a dedicated tool that centralizes and organizes all of your contacts.
And CRMs do so much more than that. They tie into virtually all of your other customer-related services and provide a home for contact information and data. Whenever someone makes a purchase, clicks on a link, or opens an email, it's all captured and reported in a CRM.
They can get pretty powerful, in terms of marketing automation and customer experience. Of course, when we're talking free CRM software, they're not giving away the full spread of features.
Here's what you want to consider as you look through your options.
The Limits of Free
Offering a software for free is not a form of charity. It's a calculated bet. They are hoping that companies using the complimentary service will grow to the point where they need a paid plan.
So there are limitations, for sure. If your team or scope stays small, though, free CRM software can be a decent solution for a good little while.
For each review, I've bolded the limits that are likely to have the biggest impact. These may include:
Maximum number of users
Maximum number of contacts
Maximum number of company records
It's important to forecast when and how these limits will affect your ability to use the product.
Contact Management and Tracking
With free CRM software, you want to be aware of your contact limit, but also the tools each product provides for contact management and tracking.
This is really the core responsibility of CRM software, what helps you manage each customer relationship.
All the products on my list will help you move from spreadsheets into a much more intuitive interface. At a glance, you'll be able to see an entire record of the relationship.
Some are going to come with sales-focused tracking features, like funnels and lead scoring, whereas others have helpdesk and ticketing features that work for customer service.
Think of the individual or team who is going to use the free CRM. Are the contact management and tracking features suited to their tasks?
Local Fit
How will the free CRM software fit within your current business processes?
It takes some thought to build around a tool that only several users can access, yet most freemium solutions are capped at 2-3 users.
Do you have the right collaboration software to enable CRM users to share the resource effectively?
That question fits right into my thoughts about integrations, so to speak.
Every vendor brags about the out-of-the-box capabilities of their product. The truth tends to be more complicated, as in they work perfectly… but only if you use Microsoft Outlook, for example. Or maybe there's a plugin for Shopify but not WooCommerce.
I could go on, but I won't. My point is that CRMs deliver more value when they integrate with the tools you are already using.
Score bonus points for products that have official integrations—the less time you have to spend getting things synced, the better.
Long-term Outlook
The time invested in a CRM isn't free, even if the platform doesn't "cost" anything. Ideally, companies find a product they really like using and one that helps them grow.
At some point, the capacity and feature set of any free CRM is going to hit its limit. Upgrading a plan takes a matter of minutes, whereas migrating from one CRM to another can be a bear.
If you outgrow your free CRM software, is the next pricing tier still within budget? And does it come with more features that are really going to have an impact?
The Different Types of Free CRM Software
When I reviewed the best CRM software, I broke the category down into operational, analytical, and collaborative products.
Breaking down what makes the best free CRM software is a little different.
They all come with a taste of the operational, analytical, and collaborative aspects of paid CRMs but, generally speaking, free plans focus on one of three areas:
Sales
Marketing
Customer service
Many of the products on this list will work for all three at the premium tiers, but trim their free offering to one of these categories.
Free Sales CRM Software
These platforms focus contact management on nurturing leads and converting prospects. They provide tools that help reps keep track of all the relationships they build.
Free sales CRM software will often include:
Appointment scheduling
Funnels
Pipelines
Reports
Some of the better free products also include:
Live chat
Invoicing
VoIP calling
Limited sales automation
Free Marketing CRM Software
With these products, teams get access to features that help them help them run successful campaigns that generate and qualify leads. They can grow their reach while individualizing the content they provide.
Free marketing CRM software will often include:
Forms
Landing pages
Email templates
Email tracking
Some of the better free products also offer:
Website activity tracking
Conversational bots
List segmentation
Limited marketing automation
Free Customer Service CRM Software
In this category, platforms are heavily weighted towards helping agents manage existing relationships. They provide a bird's eye view of the entire process, from contact to resolution.
Free customer service CRM software often includes:
Ticketing
Labels
Reports
Email templates
Some of the better free products also have:
VoIP calling
Live chat
Canned snippets
Basic workflow automation
Now that we've been through the different types of free CRM software, I'll review the top five, starting with the one that breaks the mold by doing it all.
#1 – HubSpot — Best Free Marketing CRM
Key plan limits:
Unlimited users
1 million contacts and company records
HubSpot CRM has to be the most generous free CRM software out there. Unlimited users and a million contacts. What?
On top of the free CRM software, HubSpot provides free forever versions of their sales, marketing, and customer service tools.
These are all relatively deep platforms, offering live chat, ad management, ticketing, and more, plus access to a best-in-class interface for managing contacts.
I'm calling it the top pick for marketing because that's where HubSpot really outshines the field, but it's solid all around.
The reporting dashboards in Hubspot are really well developed. With a lot of free CRMs, you don't even get dashboards. Instead you are stuck pulling reports about individual parts of your overall outreach strategy.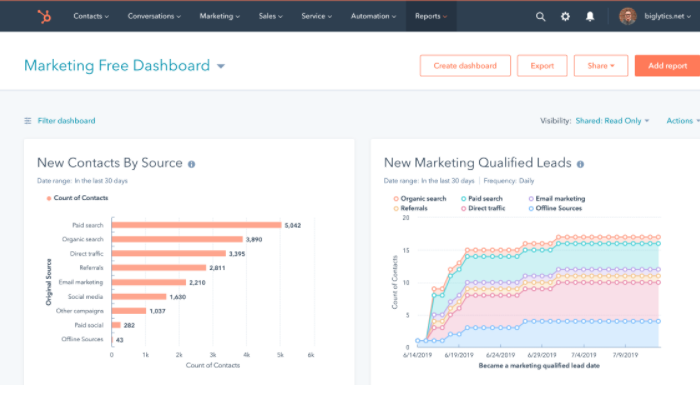 HubSpot ties into all your marketing efforts—email, forms, landing pages, ads, chat, Facebook Messenger—and delivers clear information about what channels and strategies are driving performance.
HubSpot integrates with G Suite, Gmail, and many versions of Outlook. There's also a drag-and-drop editor to create great email campaigns.
You can automate follow-up emails whenever someone fills out a form or responds to a pop-up, building out your list with zero effort.
Is that it? No. There are so many more marketing tools, including:
Website activity tracking
Conversational bots
Deal pipelines
Task and activity manager
Appointment scheduling
List segmentation
Email tracking
VoIP direct from CRM
Bear in mind that this list of features doesn't include anything that comes with the free sales, marketing, or customer service toolkits. There's also a rich App Marketplace full of ready-to-go solutions built for common business use.
HubSpot isn't crazy, they just practice what they preach. As pioneers of inbound marketing, they really believe in helping people discover their business by providing great content.
In this case, they are providing a free CRM that will work across an organization. HubSpot continues to grow, so they are doing something right.
The last bit of good news? When companies move up to a paid HubSpot plan, they only have to pay for users who use the paid plan features. Any user who only needs to use HubSpot CRM will remain free forever.
#2 – Really Simple Systems — Best Free Sales CRM
Key plan limits:
2 users
Unlimited contacts
100 company records
Really Simple Systems offers a robust free sales CRM with unlimited contacts. As you might expect from their name, this is not a difficult platform to master.
I like it for sales because of the breadth of features. You can track sales opportunities in a pipeline, funnel, or both. Add lots of detail by logging changes to opportunities and forecast sales based on probability.
You can do quite a bit of customization with the free CRM from Really Simple Systems. Create your own fields that capture important criteria and build the tables you need. This data can then be displayed in custom reports and dashboards.
Pull in all the information from across Really Simple CRM and quickly see which leads and opportunities need the most attention.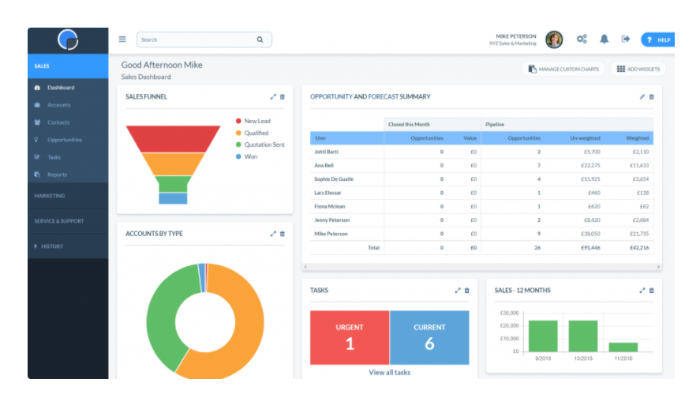 Sales reps will be able to call their smartphone contacts directly from the CRM platform, which is optimized for all devices.
Really Simple Systems lets you track the metrics you need and provides a really generous amount of CRM functionality that's super helpful for sales teams. Some of the highlights include:
Pipeline management
Sales funnel
Customer timelines
Opportunity history
Listing & sales forecasts
API access
Integrate with Google Contacts and Outlook
The two-seat limit is really the only lightweight aspect to Really Simple Systems' free plan. In fact, the only sales CRM features that aren't included are geolocation, email integration, and sales group permission levels.
Between all the sales tools and the ability to customize, Really Simple Systems is a great free CRM choice for freelancers, consultants, and SMBs that don't have a ton of sales reps. Because there's no contact limit, one or two people can get a lot accomplished.
#3 – Agile CRM — Best Free Customer Service CRM
Key plan limits:
10 users
1,000 contacts and company records
Agile CRM provides one of the few free forever options that can accommodate an entire team. 
It will definitely work for sales and marketing because it comes with the core CRM tools in those areas, but the depth of their customer service features really stands apart.
There's a full helpdesk ticketing system. Customer support can assign labels to organize and prioritize tickets. They can also put customers in different groups depending on their needs, which means that tickets are automatically forwarded to the most appropriate agent.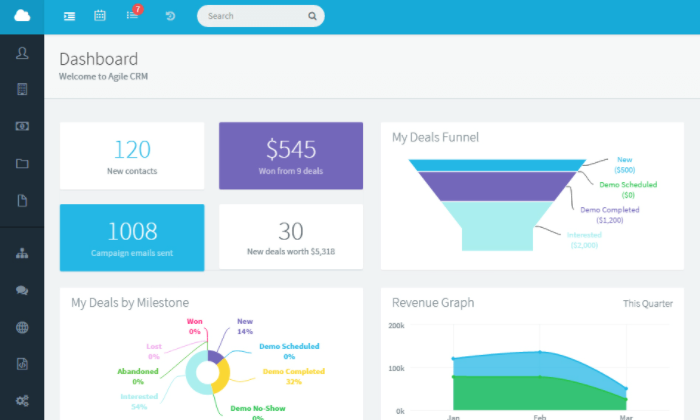 I really like the performance reporting features that help everyone can stay on track and manage queues together. They can quickly view tickets based on a range of status indicators, like date received, priority, service-level agreement, and more.
Another time saving feature are the canned responses. Teams can draft pre-formatted replies to common questions.
Thus, agents can deliver accurate information in less time, which cuts down on ticket backlogs and reduces stress during peak service hours.
Really, the only customer service feature that doesn't come with the free version of Agile CRM is Knowledge Base, which helps you create and share customer support documentation.
I'm focusing on the customer service aspect of Agile CRM, but I'd be remiss not to mention the really great sales and marketing features, like:
Unlimited deals
Lead scoring
Appointment scheduling
Email tracking
Email campaigns
Website activity tracking
Landing page builder
Bear in mind that in terms of automation, the free version is limited to a single campaign workflow with five nodes and one trigger.
I wish they let you do more, because the workflow builder is such a breeze. Automating basic processes in customer service is a huge time-saver, which makes being able to do more with the paid plans really attractive.
In the end, though, a ceiling of 10 users with the free plan makes fielding a helpdesk with Agile CRM a real possibility.
For what it's worth, I had a question about Agile CRM's free plan and reached out on their website chat. I got a polite answer from a human in under a minute and felt extra sure about recommending them as a customer service CRM solution.
#4 – Flowlu — Best For SMB Finance
Key plan limits:
2 users
20 contacts
Unlimited opportunities
Flowlu makes really great enterprise-ready CRM solutions that help massive companies keep a close eye on revenue. 
Its free CRM software is ready to help SMBs do the same thing.
Flowlu's free version comes with a surprising number of the platform's best features. Even though users are limited to 20 contacts, they can create an unlimited amount of opportunities, which is the entire series of client communications leading to a potential deal.
From there, opportunities can be closed by invoicing the client, creating a project from the opportunity, or being marked as a loss.
The maximum of 20 contacts is an important limit to be aware of, but Flowlu's free CRM can help a small finance team get a lot done. For each contact, users can create as many projects and invoices as they need, which is great for repeat clients and vendors.
This allows managers to quickly project expenses, comparing them to the project budget and cost limits. Expenses can be assigned to bank accounts and or organizations stored in your CRM. The free version is limited to one organization and two bank accounts.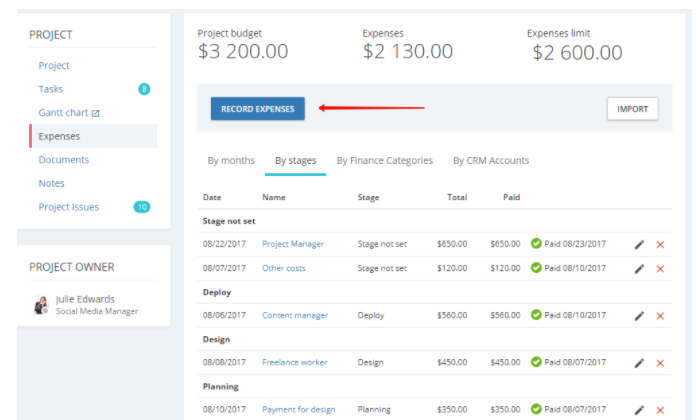 If you are looking for a finance-forward CRM that won't cost you a thing, Flowlu is definitely the option to check out.
Some of the other relevant features available are:
Payment tracking
Expense tracking
Customizable finance categories
Finance dashboard
Lead & contact management
Records management
One thing to note is that you can bump up to the Team version of Flowlu, which gives you room for eight users and unlimited contacts for $29/month total. This is less than $4/user, which is an insanely competitive price for a CRM that can save you thousands.
Flowlu's free CRM software is great for getting on the right financial footing and a value buy if you grow into the premium product.
#5 – Apptivo — Best For Basic Business Management
Key plan limits:
3 users
Unlimited contacts
Apptivo makes really affordable CRM software and offers a free forever Starter plan that can help out with a lot of administrative tasks. It centralizes all of your customer information and lets you create and manage all of your invoices, estimates, and proposals.
This saves time and minimizes the simple billing errors that I don't want to spend time solving.
The interface is clean and accessible. Apptivo includes the core contact and project management features, and you can import/export an unlimited amount of data.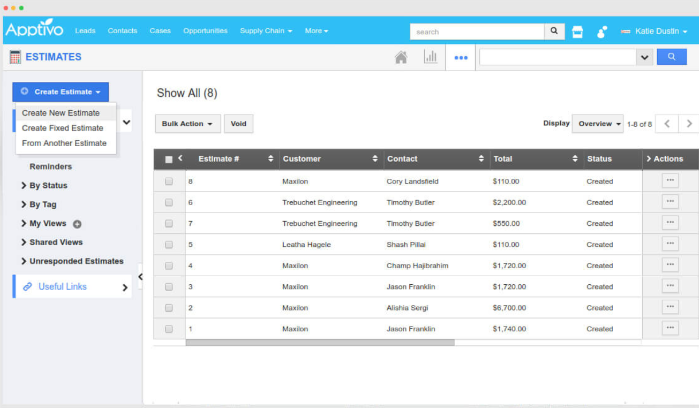 With three users included on the Starter plan, there's a lot that companies can get done in terms of consolidating and streamlining basic business processes.
Managing work orders and field services, for example, is centralized within a clean dashboard. Users can submit one-click approvals to clients or managers, edit the dispatch calendar, and automatically alert workers that the plan has changed.
The sales features are somewhat light compared to the other free CRM software on this list, and none of their great Apptivo marketing capabilities are included. That said, you still get:
Invoicing
Estimates and proposals
Procurement and purchase orders
Field services and work orders
Helpdesk
Product catalog
Of course, there are business management features I wish were included that only come with paid plans, like contract management, automated workflows, a built-in eSignature tool, and all the useful direct integrations.
All of that comes with Premium, the next tier up from Starter, which is only $10/user per month. It's also got nearly the full range of sales, marketing, and analytics tools as well, making it a much more complete solution.
All in good time.
Right now, if you are looking for no-cost CRM software to manage the paperwork involved with customer relationships, Apptivo will get it done.
Summary
Realistically, what's being offered for free by these companies is a CRM solution that covers the basics and showcases their strong suits.
Thinking about it from their perspective, the vendor is trying to hook potential long-term clients. They are giving away a taste of what they're really good at.
HubSpot CRM is the jack-of-all trades, offering the most complete set of tools for free. In terms of their marketing capabilities, HubSpot CRM is second to none.
If you are looking for a free CRM that's built for sales, Really Simple Systems is going to set reps up with everything they need.
On the customer service side, Agile CRM offers the most robust solution. You get all the helpdesk, ticketing, and tracking features necessary to support agents. Their sales and marketing tools are fairly rich, as well, though HubSpot is the deepest all-around free CRM.
Looking at a CRM for managing finances, Flowlu includes a unique feature set designed to help teams track costs and revenue. You can find these tools with other paid CRMs, but Flowlu makes them available for free.
In terms of a CRM to help manage basic business processes, Apptivo is really handy. Their free CRM software is a great way to start organizing and automating the everyday work of managing customer relationships.
Now I love a free trial as much as the next guy, because who doesn't want to test drive a product before making a commitment?
But can you really know if a CRM works for you after 14 days?
A truly free CRM gives you the time you really need to get comfortable with a product. When you are ready to invest in a more substantial product, you know what you're looking for.
The post Best Free CRM Software appeared first on Neil Patel.
Thank you for reading.
This may be of some interest.
SAVE $10.05: As of Dec. 22, you can score a physical copy of the new Super Mario 3D All-Stars collection on sale for just $49.94 at Walmart and Amazon. (It usually retails for $59.99, so you'll be saving about 17%.)
---
Yes, 2020 brought us two great new video game consoles and tons of exciting new titles to play (and meme). But when all's said and done, we think we'll remember it as the year of remakes and remasters.
Unveiled in September as a limited release to celebrate Super Mario's 35th anniversary, the Super Mario 3D All-Stars bundle was one such highlight, taking three pre-2010 games from the franchise (each iconic in their own right) to the Nintendo Switch platform for the first time ever. Read more…
More about Nintendo, Super Mario, Nintendo Switch, Mashable Shopping, and Entertainment
Thank you for reading.
This may be of some interest.
The founder of TaskRabbit explains why it's so important to consider the people who power these services as primary customers—not as afterthoughts.
When Airbnb went public on the NASDAQ, its founders eschewed the traditional bell ringing and asked the company's hosts around the world to ring their doorbells instead. The move was a poignant acknowledgement that roughly four million hosts worldwide helped the company reach a milestone that few startups achieve. It also served as a reminder that, while all businesses are reliant on people for growth, some companies owe the very foundations of their business models to the humans involved.
Thank you for reading.