Welcome back.
I came across a bunch of videos that I will be placing on here that will teach you how to do things, make you thing, and hopefully provide some useful information. Enjoy them for free for the time being as I am planning to make these a subscription deal. UPDATE: I am moving all the videos to a SINGLE platform and from there you will be able to see them all as a subscriber there. This will start happening within a few months after I have that all paid off. Much simpler for you and me.
More new things are coming. I am not as fast as I used to be and do have other websites so it takes time – like in days – to update even one site in a lot of cases.
The forum is still here at //marketinginfohere.com/bboard/ so if you have signed up you did not waste your time.
Bonus – buy from here and get a handpicked bonus package. It is way too hard to list what you will get for each deal since you beed things that complement each product. Just email us at charles_osborne@hotmail.com with your purchase info and collect.
I have no way of knowing who buys what since I am just an affiliate for most deals here so you need to let me know when you buy.
Other packages coming.
This may be of some interest.
Scientists developing a tool to help mask manufacturers make sure their cloth masks actually work found some masks work better than others, and one kind works particularly badly.
If you buy a cloth mask online—whether from Amazon or Etsy or a large manufacturer such as Adidas—you'll see a warning reminding you that what you're buying isn't medical grade. And while the evidence continues to mount that cloth face masks work, it's also true that every mask isn't equally effective, and many companies now making masks are doing it for the first time. In the absence of regulation for cloth masks, as shortages of more proven N95 masks continue, how can consumers or the manufacturers making masks know how much protection they offer?
Thank you for reading.
This may be of some interest.
The problem: how can we get people what they want and need?
It turns out that the simple short-term answer is the market.
The marketplace makes it possible to buy a nail clipper made of hardened steel for just four dollars, but only when you're ready. The marketplace offers some people a solid brass set of the cups and balls magic trick and other people a hand-blown glass vase.
The marketplace is hyper-alert and never tires of finding overlooked corners of desire.
But the marketplace is not wise.
It's blind, short-term and fairly stupid. Because it has no overarching goal. The market is nothing but billions of selfish people, trading this for that, without regard for what's next.
Left alone, capitalism will devolve into corruption, bribery and predatory pricing leading to monopoly. Left alone, capitalism will pollute rivers, damage our health and create ever greater divides.
Capitalism gets us an opioid epidemic, the dark patterns of social media and doom scrolling.
Because the market isn't wise. It has no sense of time or proportion.
The only way for the simple answer to solve our complicated problems is for it to have guardrails, boundaries that enable it to function for the long haul.
That's something we need leadership to get done. And it's more likely to get done if we acknowledge that we need to do it.
Thank you for reading.
This may be of some interest.
This post is a part of Made @ HubSpot, an internal thought leadership series through which we extract lessons from experiments conducted by our very own HubSpotters.
Prospect expectations for businesses have never been higher — in fact, according to Google, 61% of people now expect brands to deliver personalized experiences.
At the same time, the amount of people who want to reach a business through messaging continues to rise. Which means keeping up on chat can be tough, even for well-trained teams.
At HubSpot, we felt the brunt of that pain in early 2018. We have a specific sales team that handles chatting with people on our website. At the time, we'd been using live chat across most of HubSpot.com to engage with prospects in a way that felt natural.
Unfortunately, sales leadership began noticing we were losing out on valuable, high-intent prospects who were attempting to reach us via live chat. We simply didn't have a guaranteed way of ensuring their needs were addressed by a member of our team — which meant we were losing out on potential sales, big time.
When my marketing team at HubSpot connected with the sales team to discuss the issue, we recognized live chat alone no longer suited our needs. To appropriately communicate with each prospect and create that highly personalized experience our website visitors crave, we needed to scale our sales team's productivity with a chatbot.
Here, we'll explore why we decided to build a chatbot, how we designed the experience, and why it might be an outstanding solution for your own business in 2019 — and beyond.
Why Live Chat Didn't Work For Us
When the live chat sales team reached out to us, we knew we needed to make the team more efficient.
Live chat in-and-of-itself wasn't a problem — but, unfortunately, we weren't tailoring the conversations to the visitor and their problems. We knew sifting through each and every visitor's inquiry was the right thing to do, since it helped solve for the customer and answer any prospect's questions.
But, since they all fell under the same bucket, it became increasingly difficult for the sales team to keep up. And for the majority of people who didn't leave us with a way to get back in touch, they were gone forever.
At one point, over a third of the people who chatted with us
never heard anything back.
Additionally, hundreds of the chats we received each month were from users who simply needed product support. This ate part of our sales team's valuable bandwidth, making it harder for them to get in touch with site visitors who actually needed to speak with a sales rep.
Ultimately, this poor experience added unnecessary friction for our site visitors and sales reps.
Why We Decided to Build a Chatbot
After some internal discussion, we set out to build a chatbot that would engage with visitors, triage them, and get them to the right place, sooner. This would be a win-win for both visitors to our site, and the sales team.
To figure out what this chatbot should do, we first looked at live chat transcripts. They're an invaluable resource when doing conversational marketing, since you can hear in the prospect's own words what they want to do. There are technical ways to classify chats (like natural language processing), but a qualitative approach is fine to start.
We then bucketed intents from live chat into three buckets — sales, support, and a catch-all "other". To start the chatbot, we prompted people to select the topic that best matched their intent.
After speaking with our support team, we learned that getting technical help with a product while on the website can be tricky. There are rich and thorough resources better-suited for getting these kinds of answers. So, rather than keeping someone in the chatbot, we used what we know about them in the CRM to point them in the right direction. The chatbot would look at their contact record, and then serve up a contextual web page depending on the products they were using.
Even though our prospects couldn't connect with a human right away, we set them up for better long-term success.
Next, we recognized a large percentage of the people who interacted with live chat did, in fact, want to talk to our sales team. But that didn't mean trying to connect them to a human right away was efficient for either group.
We interviewed and observed the sales team to understand their experience with chat. Right away, we noticed each sales rep needed to know three key facts about the user to tailor the conversation to their business — name, email, and website.
The sales team said in an ideal world, they wanted this context before chatting with a prospect — an issue we knew a chatbot could solve. We programmed the chatbot to collect this information in a natural, contextual way.
Additionally, we knew a prospect would become frustrated if they needed to repeat themselves — in fact, NewVoiceMedia found it to be the most frustrating aspect of customer experience. To combat this issue, we again checked the CRM, and if you'd ever filled out a HubSpot form, we'd skip the questions altogether.
Collecting this information up-front enabled the sales team to spend more time selling, and less time chasing down email addresses.
Our Results
At the beginning of this project, our main goal was to deflect support-related chats away from our sales team. But, even as someone who has been building chatbots for almost four years, I'll admit — what we saw was shocking.
When compared to live chat, 75% more people engaged with the chatbot.
Additionally, over 55% of people gave real answers to the basic qualifying questions and reached a human. While the drop-off there may seem steep, sifting out low-intent people proved incredibly helpful for the sales team.
Ultimately, our chatbot's success came in a few ways — first, the chatbot anticipated the next step of the conversation and used quick replies to drive a visitor forward. Opening up a chat and clicking a contextual button has less friction than typing in a text field — now, people didn't need to come up with the first message themselves.
It makes sense that multiple choice options drive more engagement. Think of it this way — when you meet someone new, often the hardest part of the conversation is the beginning, when you're trying to think of something to say. But once the conversation starts rolling, things become smoother.
The same is true for our prospects when they engage with a chatbot versus live chat.
Additionally, 9% of people who chatted with the bot needed support help — we were able to deflect those visitors away from humans in a helpful way, serving up the best place to get answers to their questions quickly.
It's important to note when designing conversations, the hardest and most overlooked aspect is to write like a human. As consumers, we rarely process in our heads that we want to "talk to sales". Instead, we only know we want to talk about "products I'm not yet using". Writing with the "jobs to be done" in mind is a great philosophy for conversational design.
Takeaways for Your Business
At the end of the experiment, I've found a few takeaways that can help you and your business succeed, as well.
First, chatbots are a great opportunity to meet your visitors where they are. If you want to get started with a chatbot, look at chat transcripts, or interview your sales team to understand the types of questions people typically ask. Bucket those questions into a few critical categories.
Also, it's critical you and your team think through and anticipate the best way to help those various buckets of people. The more you can personalize — perhaps through your CRM — the better.
Ultimately, using a chatbot to get people the help they need is a huge win for both your prospects and your business. In our case, site visitors now had the best resources for their support issues, and our sales team was able to capture more qualified leads.
The best part? Both sides did this in a frictionless, efficient way.
Editor's note: This post was originally written in February 2019 and has been updated for comprehensiveness.
Thank you for reading.
This may be of some interest.

I was supposed to go to an Alanis Morissette concert this July. When the pandemic hit hard in March, I wasn't ready to cancel my ticket yet. Surely, surely we would have it sorted in time for an outdoor concert four months from now. I held out hope. Then, in June, she rescheduled for July, 2021. And now I'm wondering if that will be enough time.
Isn't it ironic? 
Don't you think?
All of which to say: This pandemic has been around for longer than we thought it would, and is looking to linger far longer than we would like. What seemed like a brief, surreal interlude to be gotten through has now become a reality to live with, at least for the time being.
As B2B marketers, we need to reassess how we are adapting our marketing to our buyers' current situation. We're no longer scrambling to cobble together short-term fixes — we need to be out of reaction mode and into strategic planning mode.
Our marketing agency has been helping clients revise their marketing plans for months now, from messaging and audience to tactics and measurement. Here are a few rules we've picked up that other marketers should follow:
6 New Rules for B2B Marketing in the COVID-19 Era
Rule #1: Always Be Relevant
Okay, this is less a NEW rule than a timely reminder. I'm sure most marketers who read our blog (as smart, skilled and beautiful as you are) don't need to hear it. But just in case: You should never come to an audience without something of value.
Corollary: "Something of value" can not equal "Knowledge of how our product/solution can improve your life."
People are distracted and stressed. They're dealing with a new crisis every day. They're spending way more time with their children than is psychologically healthy. And they have more content than ever before to occupy their free time. If you're asking for their attention, you must reward it. Be entertaining, be useful, be both if you can. [bctt tweet="'Be entertaining, be useful, be both if you can' in your #B2B content marketing, says @nitewrites." username="toprank"]
After you deliver, then you can ask for a next step. But make sure your content is intrinsically valuable.
Rule #2: Encourage Interaction
The pandemic lifestyle is, to put it lightly, isolating. Who would have thought you could miss hearing co-workers rock in their chairs, play music a little too loud, or bump into you in the hallway? Most of us are craving social interaction.
If you're used to broadcasting with your content, it's time to consider how you can start conversations. How can you interact with your audience on a human level? How can you encourage them to interact with each other, too? Think how much your audience would value a lively, thought-provoking conversation with their colleagues and peers.
You can encourage interaction with content in a few easy ways:
Host a LinkedIn Live chat

Run a Twitter chat

Sponsor a topic-themed chat in a video conferencing app

Run an

interactive webinar
In general, look for ways you can call out a subset of your audience and get them talking, both to each other and to your brand representatives. We can all use a little more social interaction right now.
Rule #3: Keep Messaging Empathetic
I don't know about you, but I cringe every time I see an ad about something "going viral." We are 6 months into a viral pandemic and marketers are still running ads about going viral! How can this be? 
This is just one example of how completely innocuous messaging pre-COVID can seem tone-deaf now. Does your content have an anecdote about a dinner party with 15 people? Does your header image feature a crowd of people? Are you talking about "going into the office" or "thinking about this on your commute?" If so, you're alienating your audience.
Not every piece of content has to be about the pandemic, or being nostalgic for the world that once was. But there needs to be a baseline of empathy: Working from home, social distancing, and mask-wearing are all facts of everyday life.
Rule #4: Experiment with Formats
In the time before the pandemic, we all spent hours looking at screens every day. It's just there were different screens, in different environments. It was easier to differentiate between the office and home, work and play. Now, our surroundings are homogenous throughout the day — and the content we consume feels same-y, too.
Think about content fatigue as you plan your calendar. Is your audience looking for another wall of text? Do they want to look at another grid of talking heads? 
Our agency is finding more success right now with multimedia, interactive content. Our B2B Influencer Marketing report is an example. The content includes case studies, influencer participation, and original research, presented in an animated, dynamic way.
Essentially, keep in mind that idea of efficiently delivering value. Can your blog post be a quick video or audio interview instead? And can that video be five minutes long instead of 10?  [bctt tweet="Can your blog post be a quick video or audio interview instead? And can that video be five minutes long instead of 10? says @nitewrites." username="toprank"]
Rule #5: Collaborate on Content
For me, one of the stranger elements of pandemic life is learning how similar I am to everyone else. I had an urge to do puzzles in March — all the stores were sold out. I wanted to make bread in April — the stores ran out of flour. In May, everyone bought bikes. 
Right now, every B2B business is missing their trade shows and in-person demos. So most of them are doubling down on content. The best way to differentiate your content is to bring your audience voices they can't hear anywhere else.
Co-create content with influencers. Feature subject matter experts in your organization. Tap your current and prospective customers to get their take. The more voices you can bring to your content, the more it will stand out to your audience.
Rule #6: Re-Align Measurement with Current Goals
Per rule #1, people are less interested in promotional content right now. Businesses may have put their purchasing plans on hold, or at least tightened budgets. Marketing's chief goal right now is likely to be establishing brand credibility, creating thought leadership content, and building relationships for the future.
As your goals change, your measurement must change as well. You can't measure an awareness campaign in SQLs, or relationship-building in number of demo requests received. That doesn't mean giving up on measurement or accountability — it just means making the metrics match your goals. For example, you could measure:
Brand share of voice

Email/Blog subscribers

Social media audience/interactions

Content consumption metrics (time on page, scroll depth, links clicked)

Content resonance (backlinks and social shares)
How New Are These Rules?
So here's the $100,000 (adjusted for inflation) question: At what point should you stop producing relevant, interactive, empathetic, dynamic and collaborative content? When can you heave a sigh of relief, stop listening to your audience, and start broadcasting promotional messages?
When you put it that way, it's obvious: These rules are best practices for content no matter what's going on in the world. The pandemic didn't create the need for these rules; it just amplified how crucial they are. Back in January, we might have had the luxury of ignoring one or more of them. Now we have the joyous necessity of being forced to do better.
And that's the good news: Making your marketing better for the pandemic will make you a better marketer now and for whatever comes next.
Need help creating content? We're here for you.
The post 6 New Rules for B2B Marketing in the COVID-19 Era appeared first on Online Marketing Blog – TopRank®.
Thank you for reading.
This may be of some interest.
Recently we published the 2020 State of B2B Influencer Marketing report after surveying hundreds of B2B marketers about their experiences, best practices, tools, budgets and plans for the future.
In an environment where B2B marketing is decidedly digital and marketers are hard pressed to squeeze more productivity out of fewer resources, credible information about marketing best practices, operations and trends for the future are in high demand. Judging by the response we've had to The State of B2B Influencer Marketing Report so far, we're definitely meeting a need.
There is both optimism and an unrealized opportunity with influencer marketing for B2B companies. For evidence, check out these stats from the report:
78% of B2B marketers believe prospects rely on advice from influencers
74% believe that Influencer Marketing improves customer and prospect experiences
63% agree that marketing would have better results if it included an Influencer Marketing program
60% of marketers who use always on Influencer Marketing programs are very successful vs. 5% who do periodic campaigns
And yet:
Only 19% of B2B marketers are running ongoing influencer marketing programs
Only half include a plan for influencer activation in their influencer marketing strategy
Only 35% of marketers use software to identify potential influencers
60% say they don't have the knowledge to execute or have the right skills in house to implement ongoing Influencer Marketing programs
Influencer Marketing is a significant opportunity for B2B Marketers to connect with trusted and credible experts that have the attention of audiences that are probably overwhelmed with information and ignoring most of the ads that do get to them. At the same time B2B brands that build relationships to co-create content with these industry voices can integrate influence with thought leadership to build the authority and influence of brand employees.
It is very satisfying to have spent the past 8 years focusing on such a niche aspect of B2B marketing to see it now start to grow in acceptance, adoption and maturity amongst some of the top B2B brands in the world.  Where there were previously no positions outside of PR with "influencer" in the title, now it is much more common to find marketers with titles like, Head of Global Influencer Marketing, VP Influencer Marketing and Communications, or B2B Influencer Engagement Strategist.
Many B2B marketing professionals with these titles have earned hard won insights into what makes influencer marketing truly work for B2B, especially during a time when brand marketers are highly motivated to focus on strategies and tactics that will help them survive and thrive during the pandemic.
To help you connect with the collective wisdom of the B2B influencer marketing crowd, here are 20 B2B Influencer Marketing Professionals to follow (in no particular order):

Ursula Ringham @ursularingham
Head of Global Influencer Marketing at SAP

Rani Mani @ranimani0707
Head of Social Influencer Enablement at Adobe

Jen Holtvluwer @JenHoltvluwer
CMO at Spirion

Garnor Morantes /in/garnormorantes/
Group Marketing Manager at LinkedIn

Martin Hanna @martyhanna
VP, Analyst and Influencer Relations at Schneider Electric

Amisha Gandhi @AmishaGandhi
VP Influencer Marketing and Communications at SAP Ariba

Chris Purcell @chrispman01
Manager, Influencer Marketing at Hewlett Packard Enterprise

Janine Wegner @JanineWegner
Global Thought Leadership Program & Activation Manager at Dell

Marshall Kirkpatrick @marshallk
VP, Influencer Relations, Analyst Relations, and Competitive Intelligence at Sprinklr

Angela Lipscomb @AngelaLipscomb
Influencer Relations Manager at SAS

Srijana Angdembey @srijanaa
Director Social Media Marketing at Oracle

Ann Boyd @annb
VP Corporate Communications at Cherwell Software

Tom Treanor @RtMixMktg
Global Head of Marketing at Arm Treasure Data

Sarah Groves @sstoesser
Director, Communications, AT&T Business Marketing at AT&T Business

Alyssa Samuelson @alyssamuelson
Commercial Influencer Relations at Microsoft

Lucinda Henry @lucindarhenry1
B2B Influencer Engagement Strategist at Intel

Barbara French @bfr3nch
Sr Director, Content and Influencer Marketing at Juniper Networks

Paul Dobson @svengelsk
Sr. Director, Social and Influencer Marketing at Citrix

Meg Crawford @Postgrad
Sr. Influencer/Social Media Marketing Manager at Splunk

Brandi Boatner @ThinkBluePR
Social and Influencer Communications Lead Global Markets at IBM
Of course there are many B2B influencer marketing practitioners from the consulting and agency world that could be on a list like this, including some of my team at TopRank Marketing. Maybe we'll publish such a list in the future, but for now this resource is focused on people working at B2B brands.
If you know of other B2B brand influencer marketing practitioners, who would you add to this list?
To tap into the collective wisdom of these and more B2B influencer marketing experts, be sure to check out the full report here.
*SAP, LinkedIn, SAP Ariba, Dell, Cherwell and Treasure Data are TopRank Marketing clients. 
The post 20 B2B Influencer Marketing Pros to Follow from Top Brands appeared first on Online Marketing Blog – TopRank®.
Thank you for reading.
This may be of some interest.
The quick comeback. The clever repartee. The ability to, in the moment, say precisely what needs to be said.
As the world gets faster, more of us feel the regret of the staircase. The perfect remark, often cutting, comes to us just a little too late.
Don't worry about it.
Because as the world keeps getting faster, there's actually a shortage of thoughtful, timeless ideas that are worth sharing an hour or a week later.
Thank you for reading.
This may be of some interest.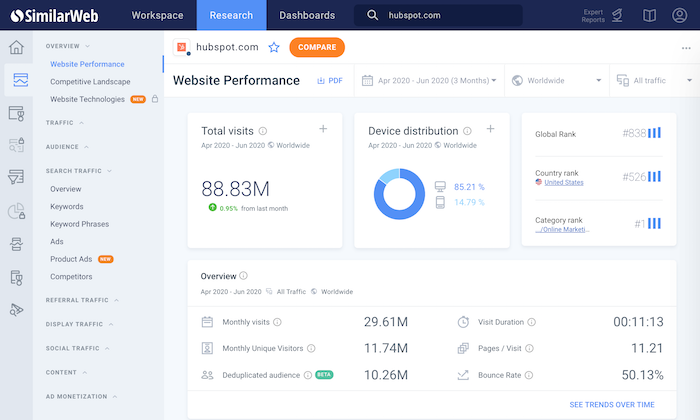 When I first started out in marketing, I thought traffic was everything.
I wanted to be as big as companies like HubSpot. Just look at the image above and you'll see how many visitors they are getting.
They generate 29.61 million visitors a month from 11.74 million people. And those visitors produce roughly 10 billion dollars of market cap.
Now, let's look at NeilPatel.com. Can you guess how many visitors I'm getting each month?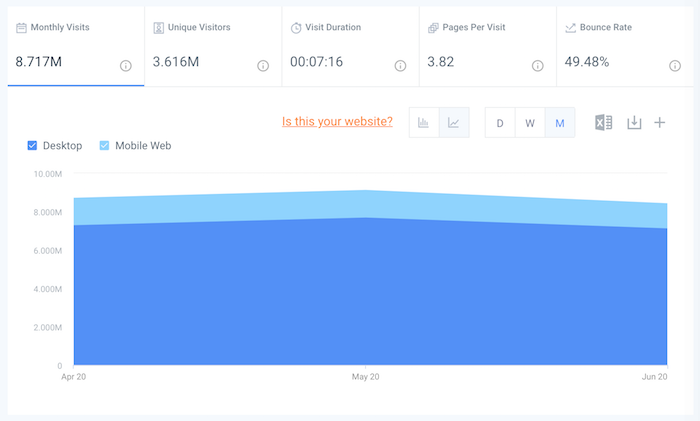 I'm generating roughly 8.717 million visitors a month from 3.616 million people.
When you look at it from a unique visitor perspective, HubSpot is getting 3.24 times more unique visitors than me.
So, in theory, I should be worth roughly 3 times less than them, right? Well, technically I'm not even worth 1/10th of them. Not even close.
Why is that? It's because I didn't go after the right target audience, while HubSpot did.
And today, I want you to avoid making this massive mistake that I made. Because marketing is tough, so why would you start off by going after the wrong people?
It will just cause you to waste years and tons of money like it did with me.
Defining your target audience is the first and most essential step towards success for any company or business, especially if you are just getting started.
So before we dive into things, let me first break down what you are about to learn in this article:
What is a Target Audience?
The Difference Between Target Audience and Persona
The Importance of Selecting Your Target Audience Correctly
How to Define your Target Audience: 6 Questions to Help You
Creating Customized Content for Your Audience
Let's get started!
What is a target audience?
A target audience is a share of consumers that companies or businesses direct their marketing actions to drive awareness of their products or services.
I know that is a tongue twister, so let me simplify it a bit more…
The intention here is to target a market with whom you will communicate with. A group of people with the same level of education, goals, interests, problems, etc. that will need the product or service you are selling.
Basically, you want to target people who will buy your stuff.
If you target people who don't want to buy your stuff, you might get more traffic to your site… but it won't do much for you. And you'll be pulling out your hair trying to figure out why none of your visitors are buying from you.
Now before we dive into the details on finding your target audience, let's first go over "personas" because many people confuse them with a target audience and if you do, you'll just end up wasting time.
The difference between a target audience and a persona
You already know the definition, so I won't bore you with that again.
The most commonly used data to define the target audience of a company are:
Age
Gender
Education background
Purchasing power
Social class
Location
Consumption habits
Examples of a target audience: Women, 20-30 years old, living in Los Angeles, with a bachelor's degree, monthly income of $4,000 – $6,000, and passionate about fashion and decor.
If you start a company without knowing your exact target audience, you could end up like me instead of HubSpot… we wouldn't want that now. 😉
And here is another example. Let's say you have a business that sells educational toys. So your target audience might be children, mothers, education specialists, or teachers.
Or you have a motorcycle business. Your audience will definitely not be people younger than 18, right?
There is no point in trying to reach everyone in order to increase your chances of sales and profit. It will actually cost you more and decrease your profit margins in the long run.
Now let's go over "personas"…
Persona
In marketing, personas are profiles of buyers that would be your ideal customers.
Personas are fictional characters with characteristics of your real customers. They're developed based on target audience research and may help you direct your marketing actions better.
A persona is a person that may be interested in what you have to offer since they're very connected to your brand and you must make an effort to make them a client and retain them.
A persona involves much deeper and more detailed research than the target audience since it includes:
Personal characteristics
Purchasing power
Lifestyle
Interests
Engagement in social networks
Professional information
Persona example: Mariana, 22, blogger. Lives in Miami, Florida. Has a journalism degree. Has a blog and posts makeup tutorials and tips about fashion and decor. She always follows fashion events in the area and participates in meetings with other people in the fashion niche. As a digital influencer, she cares a lot about what people see on her social network profiles. Likes to practice indoor activities and go to the gym in her free time.
If I had to define the main difference between persona and target audience, I'd say that the target audience considers the whole, in a more general way, while the persona has a more specific form.
And if you want help creating personas for business, check out this article about creating the perfect persona. But for now, let's focus on finding your right target audience.
The importance of choosing your target audience correctly
The big mistake I made was that I didn't figure out my target audience when I first started. I just created content and started marketing to anyone who wanted traffic.
But that is a bit too vague because not everyone who wants more traffic is a good fit for my ad agency.
They could just want to be famous on Instagram or YouTube, which is a lot of people, but that doesn't help me generate more income.
Funny enough, there are more people who are interested in getting Instagram followers than people who want to learn about SEO.
But once you know your target audience, it's easier to find and perform keyword research. For example, I know that I shouldn't waste too much time writing articles about Instagram or Twitch even though the search volume is high.
It will just cause me to get irrelevant traffic and waste my time/money.
And that's the key… especially when it comes to things like SEO or paid ads. The moment you know your target audience, you can perform keyword research correctly and find opportunities that don't just drive traffic, but more importantly, drive revenue.
Now let's figure out your target audience.
How to define your target audience: 6 questions to help you
Figuring out your target audience isn't rocket science. It just comes down to a few simple questions.
6 actually, to be exact.
Go through each of the questions below and you'll know the exact audience you are targeting.
1. Who are they?
When thinking about who might be your target audience, you must consider who are the people who identify with your brand.
One way to find out is to monitor who follows, likes, shares, and comments on your posts on social sites like Facebook, LinkedIn, YouTube, and Instagram.
If someone is willing to engage with you, then chances are they are your target.
But in many cases, your ideal audience may not always be on the social web. They might be inactive on social media but buy from your company frequently or sign up for your services.
Even those who bought from you only once must be considered a part of your target audience, as someone who bought once might buy again.
There is no point in making a great effort to sell if you don't make a similar effort to keep the customers you have already gained.
Customers like to feel special, and that is why the post-sales process is so important. Your relationship with the customer must remain even after the purchase is completed.
2. What are their greatest difficulties, problems, or desires?
What is cool, interesting, and good for you might not be for the customer.
You can't think only of yourself when it's time to define the difficulties, problems, and desires of your target audience. You must put yourself in their shoes.
Don't make offers based on what you think. Make them according to research grounded in data, previous experiences, and analysis of your potential customers' behavior.
Understand the greatest difficulties your audience faces to try to help solve them.
3. Where do they find the information they need daily?
Everyone needs information.
Every day you are surrounded by tons of information on the channels that you follow, but when you need it the most, where do you go to find that information?
Identify the communication channels most appropriate to your target audience and try to talk to them using a specific language from their universe.
For example, I know my target audience will either read marketing blogs or spend a lot of time on social sites like YouTube and LinkedIn consuming information.
4. What is the benefit of your product?
Everyone wants solutions for their problems and to make their lives easier. This is a collective desire and it's no different for your target audience.
Think a little about your product and the problem of your target audience. What benefits does your product or service offer? What can it do to solve those problems? What is the main value offer?
With so much competition, you must try to find your competitive advantage in your niche and always try to improve your product, offering something extra that others do not.
5. What draws their attention negatively?
Being optimistic helps a lot, but thinking about the negatives can also help, especially when we talk about target audiences.
Better than considering what your audience wants, you can consider what it definitely doesn't want, what it considers negative, and what it avoids.
With this powerful information in hand, you may have more chances to captivate your potential customers.
Avoiding what they consider negative is the first step to gain their approval. After that, you only need to apply other strategies to do efficient marketing.
6. Who do they trust?
Trust is everything to your target audience. No one purchases a product or service from a company they don't know or trust.
This is why reviews on Amazon are read and so important for sellers. They know it builds trust… it's also helped Amazon become a trillion-dollar company.
Even though this is the last question to define target audiences, it is one of the most important ones.
This is why the reputation of your company is so important. Taking care of the relationship with your customers is essential as they will spread information about your brand on the internet and to their friends and family.
If you get good reviews, have positive comments, and garner a great reputation, this will be the base for potential customers to feel motivated to buy from you.
Creating customized content for your audience
Now that you know your audience, let's get to the fun stuff. Let's create content for them.
Everyone creates content, right? Just look at Google if you don't believe me.
You just have to put a keyword on Google and you will see thousands if not millions of results for each keyword.
When you research "best earbuds" on Google, this is what you see: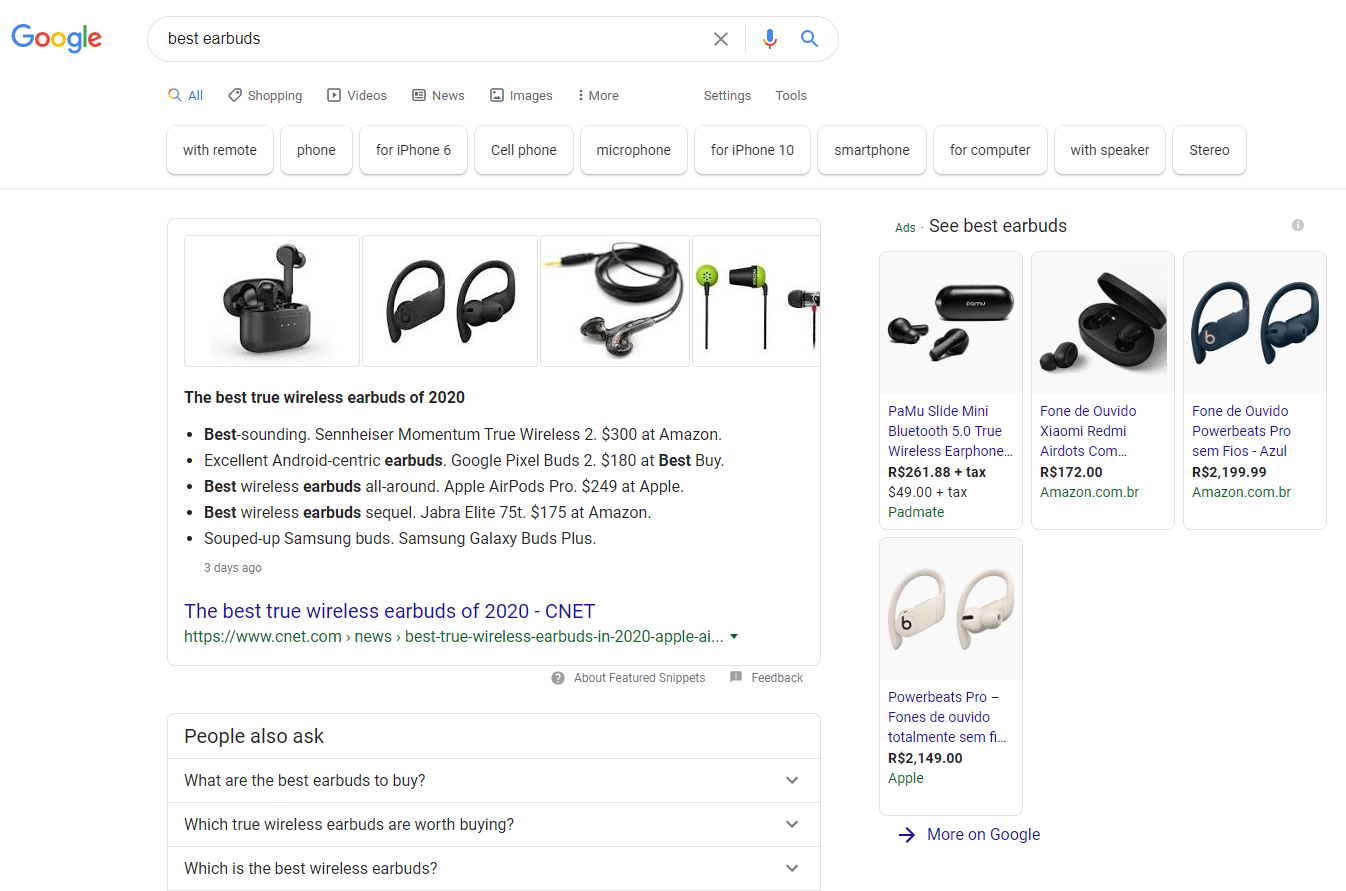 First, there are options of products from Google Shopping, with ads and prices for different earphones for various audiences, needs, and tastes.
Next, there is a list of sites and blogs with information about different types of earphones and comparisons: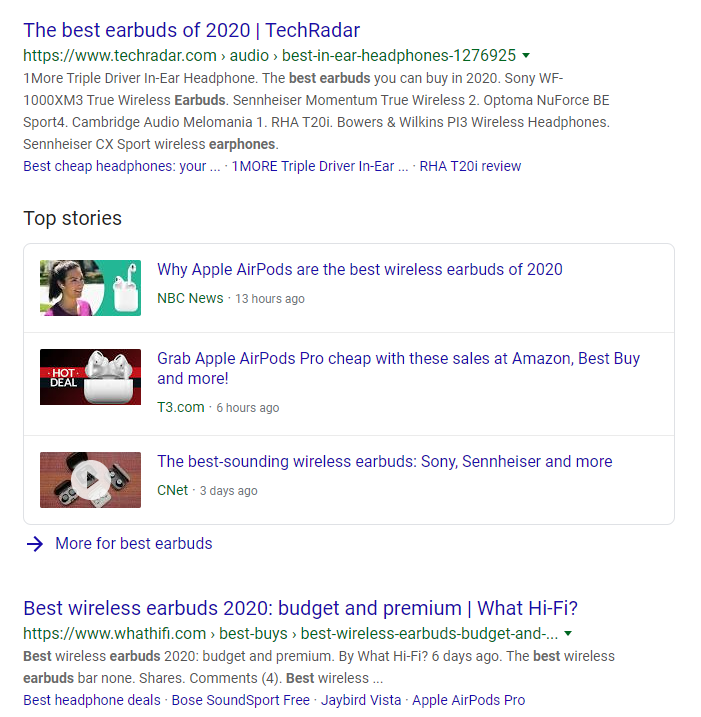 There is no shortage of content about this subject or any other that you can search for. Anyone can create and publish text with no barriers.
The question is how you can make this content more personalized and attractive for your consumer.
Everyone produces content. Millions of publications are posted every day.
The secret though is to create content that targets your ideal customer and no one else. Generic content may produce more traffic, but it will also produce fewer sales.
To find what your target audience is searching for, you can use Ubersuggest. Just type in a keyword related to your audience.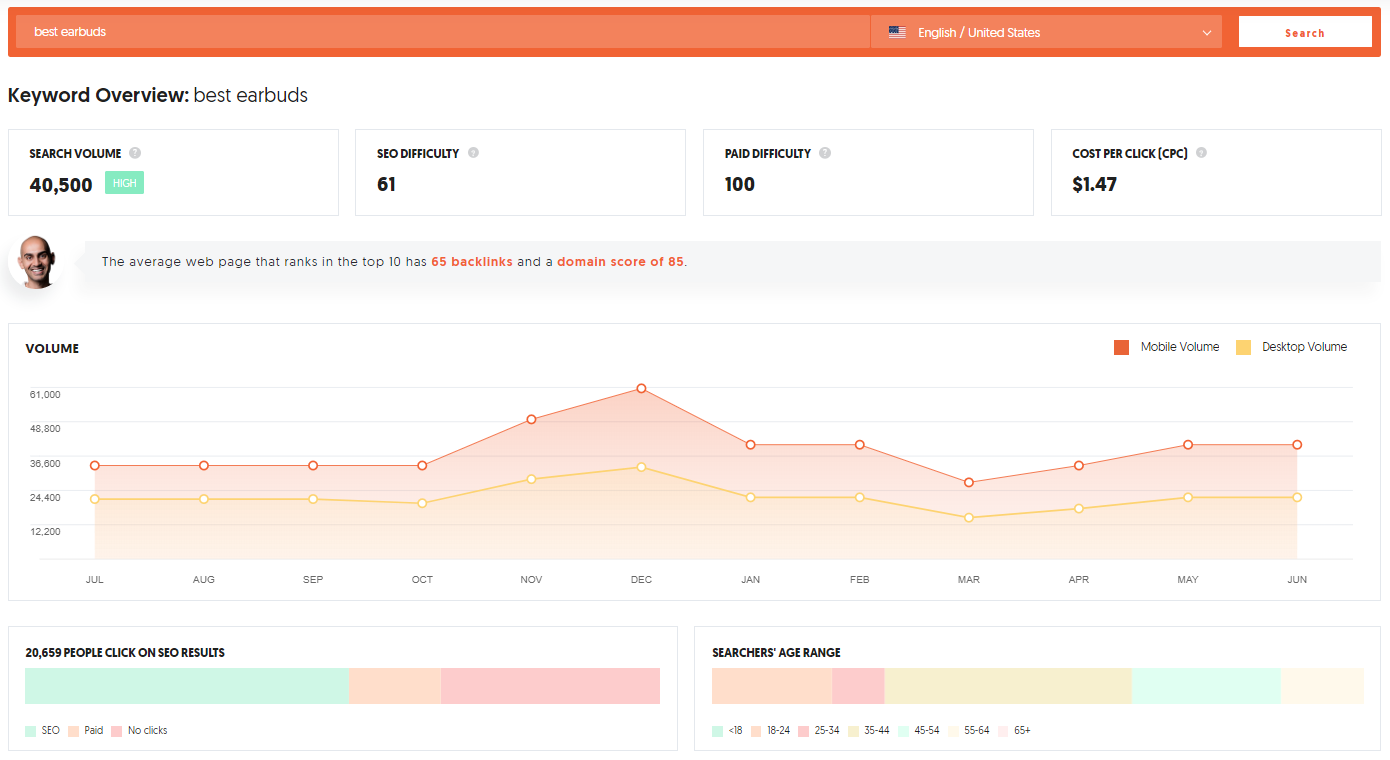 From there, on the left-hand navigation, click on "keyword ideas." You'll then be taken to a report that looks like the one below.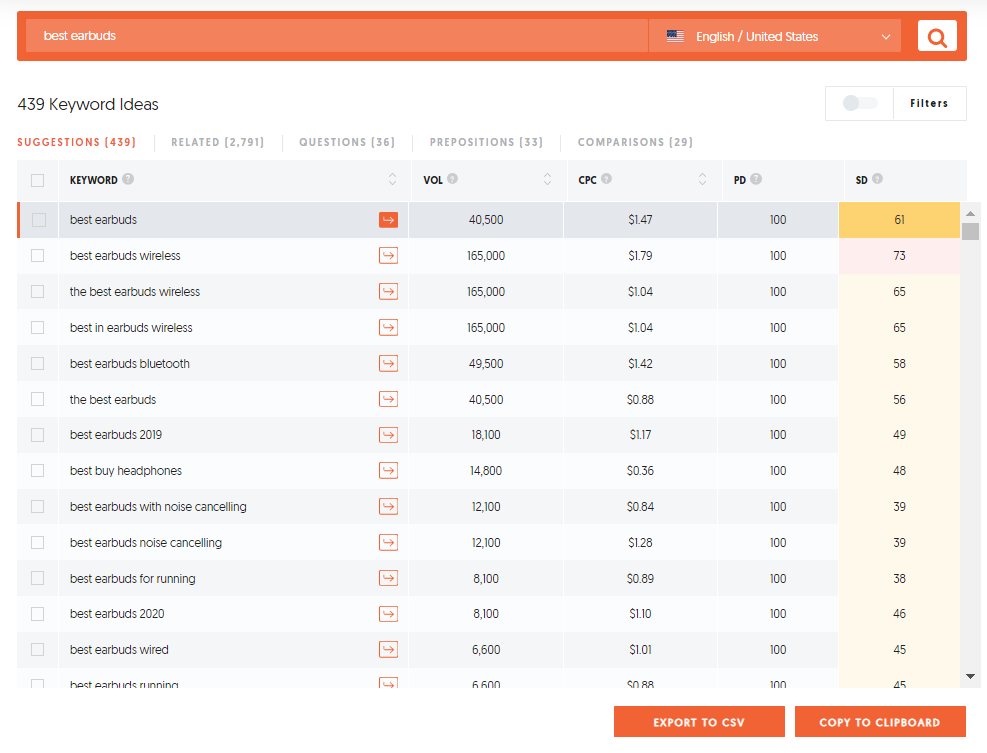 You now have topics to choose from. Not all of them will be a good fit but some will.
I recommend that you go after the long-tail terms, such as "best earbuds for running" (assuming your target audience is active). The more generic terms like "best earbuds" will drive traffic and a few sales, but it won't convert as well as more specific terms.
The same goes if you are doing keyword research for the service industry or even the B2B space.
Types of content to create
Once you have a list of keywords you want to target, you might be confused as to what type of content you should be creating.
You'll want to create content based on your funnel. In essence, you want to cover each step of the funnel.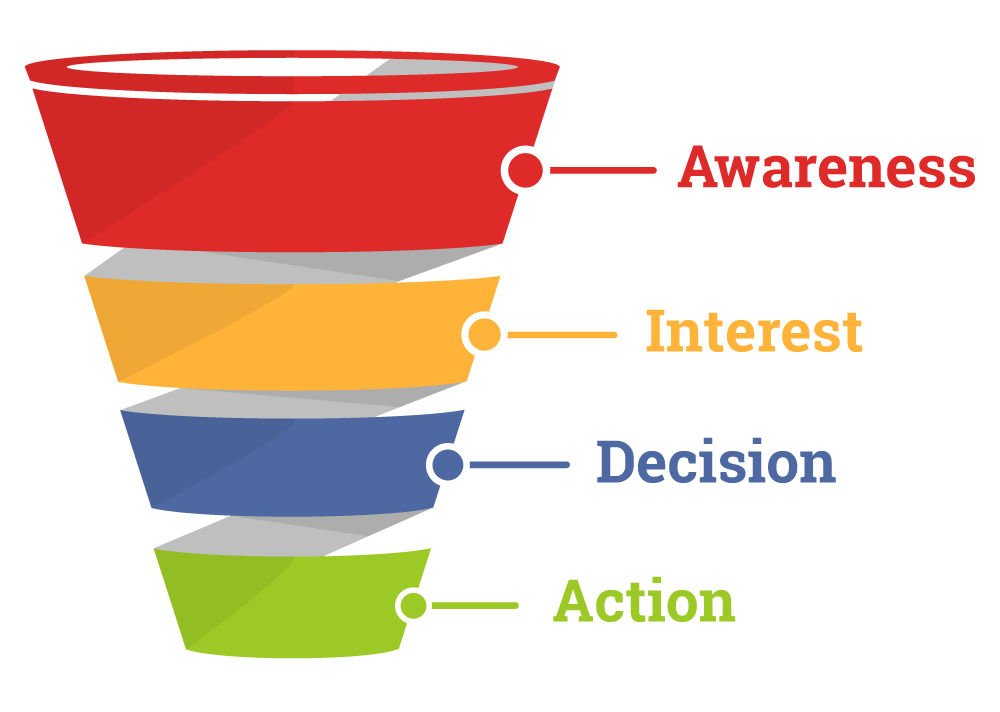 The top of the funnel involves content created for visitors and leads, that is, people that might access your site, blog, or social networks by chance.
When thinking about the top of the funnel, the idea is to create materials with more general subjects, with clear and easily accessible language.
It could be educational content, including clarifications or curiosities about your product or service or something somehow related to your industry.
The middle of the funnel is when the conversions happen. In other words, in this stage, the person who has a problem and the intention to solve it considers the purchase of your product or service.
It's the middle of the road, but it is not the sale itself, because it's still only about ideas. It's in the middle of the funnel that you get closer to your target audience and generate more identification.
Next: bottom of the funnel content. This content focuses more on your product or service.
Here you can introduce details about functions, benefits, and other direct information about your product or service.
It is far more likely to convert here as this particular audience has practically decided to buy already and you are only going to give them a final push.
Conclusion
I'm hoping this article saves you from making the big mistake I made.
But knowing your target audience isn't enough, though. It doesn't guarantee success. You still need to create and market your content. That's why I covered keyword research in this article as well.
Once you create content, you may also want to check out these guides as they will help you attract the right people to your site:
So have you figured out your target audience yet?
The post How to Find Your Target Audience appeared first on Neil Patel.
Thank you for reading.
This may be of some interest.
Posted by brian.ho
Data visualization platforms have become a vital tool to help illustrate the success of a body of work. Painting a clear picture of your SEO efforts is as important as ever, whether you're reporting out to clients or to internal stakeholders at your own company. More and more SEOs are turning to data visualization tools to do so — pulling in data from across multiple SEO tools, blending that data in unique ways, and helping to pull back the curtain on the mystery of SEO.
Platforms like Tableau and Google Data Studio are becoming more commonplace in the SEO community as we seek better ways to communicate with our teams. We've heard from a number of folks in the Moz community that having a central dashboard to present data has streamlined their own reporting processes. It's also made information more digestible for colleagues and clients, as they can see everything they need in one place.
Thanks to the helpful feedback of many, many STAT customers, we've been hard at work building six Google Data Studio Community Connectors to help pull STAT data into Data Studio. Fortified by beta testing and your thoughtful input, we're excited to launch the six connectors today: Historical Keyword Rankings (site and tag level), Share of Voice (site and tag level), and Ranking Distributions (site and tag level).
If you're already using STAT, dive into our documentation in the Knowledge Base to get all the nitty-gritty details on the connectors. If you're not yet a STAT customer, why not chat with a friendly Mozzer to learn more?
Want to hear a bit more about the connectors and how to implement them? Let's go!
Historical Keyword Rankings
Tracking daily keyword positions over time is a central part of STAT and the long-term success of your site. The Historical Keyword Rankings connectors send historical highest rank data to Data Studio for every keyword you're currently tracking in a site or a tag.
You can start out with a simple table: perhaps if you have a group of keywords in a dynamic tag, you might want to create a table of your top keywords ranking on page one, or your top keywords ranking in positions 1-3.
Turn that table into a line graph to understand average rank for the whole site or tag and spot trends:
Find the Site Level Historical Keyword Rankings connector here and the Tag Level Historical Keyword Rankings connector here.
Share of Voice
In STAT, share of voice measures the visibility of a group of keywords on Google. This keyword set can be keywords that are grouped together into a tag, a data view, or a site. Share of voice is calculated by assigning each ranking a click-through rate (CTR) and then multiplying that by the keyword's search volume.
It's important to remember that share of voice is based on the concept that higher ranks and higher search volume give you more share of voice.
The default chart type will display a doughnut chart for current share of voice, and a line graph will show share of voice over time:
Find the Site Level Share of Voice connector here and the Tag Level Share of Voice connector here.
Ranking Distribution
Ranking Distribution, available in the Daily Snapshot and Ranking Trends views in the STAT app, shows how your keyword rankings are distributed across the top 119 Google results.
View your top ranking positions as a bar chart to easily eyeball how your rankings are distributed, where shifts are taking place, and where there is clear opportunity for improvement.
Find the Site Level Ranking Distributions connector here and the Tag Level Ranking Distributions connector here.
Getting started with the connectors
Whether you're a Google Data Studio pro or a bit newer to the tool, setting up the connectors shouldn't be too arduous. Get started by visiting the page for the connector of your choice. Authorize the connector by clicking the Authorize button. (Tip: Each connector must be authorized separately.)
Once you authorize the connector, you'll see a parameters table like this one:
Complete the fields using the proper information tied to your STAT account:
STAT Subdomain: Fill in this field with the subdomain of your STAT login URL. This field ensures that the GDS connector directs its request to the correct STAT subdomain.
STAT API Key: Find your API key in STAT by visiting Options > Account Management > Account Settings > API Key.
STAT Site/Tag ID: Retrieve IDs through the API. Visit our documentation to ensure you use the proper API calls.
Allow "STAT Site/Tag ID" to be modified in reports: Tick this box to be able to edit the site or tag ID from within the report, without reconfiguring the connector.
Include Keyword Tags: Tick this box to add a column to your report populated with the tags the keyword is a member of (only applicable to site and tag historical keyword rankings connectors).
Allow "Include Keyword Tags?" to be modified in reports: Tick this box to be able to turn the inclusion of the Keyword Tags column on or off from within the report, without reconfiguring the connector (only applicable to site and tag historical keyword rankings connectors).
Once you've filled in the table, click Connect in the top right.
Confirm which columns you'd like to include in the report. Review the columns, and click Create Report.
Once you've created a report, the exciting part begins! Whether you're pulling in your STAT data for a fresh report, adding it into a report with other pieces of data, or using Data Studio's data blending feature to create compelling views of your search presence — there are so many ways to slice and dice.
Ready to put the connectors into production? We can't wait to hear how your Google Data Studio reports are strengthened by adding in your STAT data. Let us know how it goes in the comments.
Not yet a STAT user but curious how it might fit into your SEO toolkit? Take a tour of the product from your friendly neighborhood Mozzer:
---
To help us serve you better, please consider taking the 2020 Moz Blog Reader Survey, which asks about who you are, what challenges you face, and what you'd like to see more of on the Moz Blog.
Sign up for The Moz Top 10, a semimonthly mailer updating you on the top ten hottest pieces of SEO news, tips, and rad links uncovered by the Moz team. Think of it as your exclusive digest of stuff you don't have time to hunt down but want to read!
Thank you for reading.
This may be of some interest.
So, you've read dozens — if not hundreds — of SEO articles online. You've digested countless tips and tricks for improving your website's SEO. You've even (over)paid that self-proclaimed "expert" to help you develop an SEO strategy that aligns with your business goals.
But after all of the reading and learning and strategizing, it dawns on you: You haven't actually done anything yet. Perhaps you're intimidated. Maybe you're crunched for time.
Regardless, when it comes to on-page SEO, there's no excuse for dragging your feet. On-page SEO has the power to bring countless new visitors — and customers — right to your website.
On-page SEO is also completely up to you: You get to establish what the topic and/or goal of each page will be. You get to decide on the target audience for that page. And you get to choose the target keywords and phrases you want to focus on.
All you have to do is get started, and we built this guide to help you.
Google's algorithm ranks your website on three main factors: on-page SEO, off-page SEO, and technical SEO:
Note: This SEO "trilogy" isn't always divided into three clean sections; some of these SEO elements will overlap. You'll see how and why throughout this piece.
Why is on-page SEO important?
On-page SEO is important because it tells Google all about your website and how you provide value to visitors and customers. It helps your site be optimized for both human eyes and search engine bots.
Merely creating and publishing your website isn't enough — you must optimize it for Google and other search engines in order to rank and attract new traffic.
On-page SEO is called "on-page" because the tweaks and changes you make to optimize your website can be seen by visitors on your page (whereas off-page and technical SEO elements aren't always visible).
Every part of on-page SEO is completely up to you; that's why it's critical that you do it correctly. Now, let's discuss the elements of on-page SEO.
All on-page SEO elements fall into three main categories:
You'll see these elements divided into sections below.

Content Elements
Content elements refer to the elements within your site copy and content. In this section, we'll focus mostly on crafting high-quality page content that benefits your visitors and tells Google that your website provides value.
High-Quality Page Content
Page content is the heart of on-page SEO. It tells both search engines and readers what your website and business are all about.
The first step to creating high-quality content is choosing relevant keywords and topics. Conduct keyword research by searching Google for terms and seeing what surfaces for competitors and other websites. You can also use tools like Ahrefs, AnswerthePublic, and UberSuggest.
Also, read our Beginner's Guide on How to Do Keyword Research for SEO.
Next, consider how your page content falls into the buyer's journey and visitors' search intent. These will impact how you will use your keywords and what types of content you will create:
Stage in the Buyer's Journey
Suggested Content/Website Pages
Awareness

Blog posts, videos
homepage

Consideration

Buyer's guides, case studies
about page

Decision

Product demos, comparison tools
product or pricing pages, contact page
Now, it's time to write your page content or clean it up if you're currently auditing your on-page SEO.
Here are a few best practices for writing high-quality page content (we'll touch on some of these in more detail below, in our Checklist):
Incorporate short and long-tail keywords naturally.
Add engaging and relevant visual content.
Write for your specific buyer persona(s).
Actively solve your audience's problem.
Develop content people will share and want to link to.
Optimize for conversions with CTAs to offers and product pages.
Page content is your opportunity to communicate value to Google and your site visitors; it's the heart of the on-page SEO process. All other on-page SEO elements stem from high-quality page content, so invest ample resources to develop and optimize it.
HTML Elements
HTML elements refer to the elements in your source code.
Note: To see the source code for any page in your browser, click View > Developer > View Source in the top menu.
Page Titles
Your website page titles (also known as title tags) are one of the most important SEO elements.
Titles tell both visitors and search engines what they can find on the corresponding pages.
To ensure your site pages rank for the proper intent, be sure to include the focus keyword for each page in the title. Incorporate your keyword as naturally as possible.
Here are some best practices for when developing a page title:
Keep it under 70 characters (per Google's update) … any longer and your title will be cut off in search results. Mobile search results show up to 78 characters.
Don't stuff the title with keywords. Not only does keyword-stuffing present a spammy and tacky reading experience, but modern search engines are smarter than ever — they've been designed to specifically monitor for (and penalize!) content that's unnaturally stuffed with keywords.
Make it relevant to the page.
Don't use all caps.
Include your brand in the title, i.e. "The Ultimate Guide to On-Page SEO in 2019 — HubSpot Blog".
Check out our free data-driven guide to writing effective page titles.
Headers
Headers, also known as body tags, refer to the HTML element <h1>, <h2>, <h3>, and so on.
These tags help organize your content for readers and help search engines distinguish what part of your content is most important and relevant, depending on search intent.
Incorporate important keywords in your
headers, but choose different ones than what's in your page title. Put your most important keywords in your <h1> and <h2> headers.


Meta Descriptions
Meta descriptions are the short page descriptions that appear under the title in search results. Although it's not an official ranking factor for search engines, it can influence whether or not your page is clicked on — therefore, it's just as important when doing on-page SEO.
Meta descriptions can also be copied over to social media when your content is shared (by using structured markup, which we talk about below), so it can encourage click-throughs from there, too.
Here's what makes for a good meta description:
Keep it under 160 characters, although Google has been known to allow longer meta descriptions — up to 220 characters. (

Note

: Mobile devices cut off meta descriptions at 120 characters.)
Include your entire keyword or keyword phrase.
Use a complete, compelling sentence (or two).
Avoid alphanumeric characters like —, &, or +.
Image Alt-text
Image alt-text is like SEO for your images. It tells Google and other search engines what your images are about … which is important because Google now delivers almost as many image-based results as they do text-based results.
That means consumers may be discovering your site through your images. In order for them to do this, though, you have to add alt-text to your images.
Here's what to keep in mind when adding image alt-text:
Make it descriptive and specific.
Make it contextually relevant to the broader page content.
Keep it shorter than 125 characters.
Use keywords sparingly, and don't keyword stuff.
Structured Markup
Structured markup, or structured data, is the process of "marking up" your website source code to make it easier for Google to find and understand different elements of your content.
Structured markup is the key behind those featured snippets, knowledge panels, and other content features you see when you search for something on Google. It's also how your specific page information shows up so neatly when someone shares your content on social media.
Note: Structured data is considered technical SEO, but I'm including it here because optimizing it creates a better on-page experience for visitors.

Site Architecture Elements
Site architecture elements refer to the elements that make up your website and site pages. How you structure your website can help Google and other search engines easily crawl the pages and page content.
Page URLs
Your page URLs should be simple to digest for both readers and search engines. They are also important when keeping your site hierarchy consistent as you create subpages, blog posts, and other types of internal pages.
For example, in the above URL, "blog" is the sub-domain, "hubspot.com" is the domain, "sales" is the directory for the HubSpot Sales Blog, and "startups" indicates the specific path to that blog post.
Here are a few tips on how to write SEO-friendly URLs:
Remove the extra, unnecessary words.
Use only one or two keywords.
Use HTTPS if possible, as Google now uses that as a positive ranking factor.
Internal Linking
Internal linking is the process of hyperlinking to other helpful pages on your website. (See how the words "internal linking" are linked to another HubSpot blog post in the sentence above? That's an example.)
Internal linking is important for on-page SEO because internal links send readers to other pages on your website, keeping them around longer and thus telling Google your site is valuable and helpful.
Also, the longer visitors are on your website, the more time Google has to crawl and index your site pages. This ultimately helps Google absorb more information about your website and potentially rank it higher on the search engine results pages.
Download our free guide to Internal Linking for SEO.
Mobile Responsiveness
Google started favoring sites that are optimized for faster mobile speeds — even for desktop searches.
Mobile responsiveness matters.
It's critical to choose a website hosting service, site design and theme, and content layout that's readable and navigable on mobile devices. If you're not sure about your own site's mobile readiness, use Google's Mobile-Friendly Test tool.
Site Speed
Whether being viewed on a mobile device or desktop, your site must be able to load quickly. When it comes to on-page SEO, page speed counts big-time.
Google cares about user experience first and foremost. If your site loads slowly or haphazardly, it's likely your visitors aren't going to stick around — and Google knows that. Moreover, site speed can impact conversions and ROI.
Check your website's speed anytime using Google's PageSpeed Insights tool. If your website is movin' slow, check out 5 Easy Ways to Help Reduce Your Website's Page Loading Speed.
Note: Mobile responsiveness and site speed are considered technical SEO, but I'm including them here because optimizing them creates a better on-page experience for visitors.
Now that you understand the different on-page SEO elements, let's talk through the steps of auditing and improving your on-page SEO.
If you've been in search of a solution for organizing and tracking the various on-page SEO elements, you're in luck. The HubSpot marketing team released an updated version of our On-Page SEO Template, an Excel document that allows you to coordinate pages and keywords — and track changes — all in one place.
In this section, we'll be using this template as a guide as we walk you through a checklist for your on-page SEO management, step by step. Download the template now and follow along.
Note: The fictional website "http://www.quantify.ly" will be used as an example throughout this post. It's simply meant to help you imagine how your own website will fit into the template.

1. Crawl your website.
Get an overview of all of your website pages that search engines have indexed. For HubSpot customers, our Page Performance tool (under Reports) will allow you to do this. If you're not using HubSpot, you can try using a free tool like Xenu's link crawler.
After crawling your site and exporting the results into an Excel (or .csv) file, there will be three key columns of data that you should focus on:
The web address (a.k.a. URL)
The page title
The page meta description
Copy and paste these three columns into your template.

The URL should be pasted into column B, the page title into column C, and the description into column E.
2. Conduct an SEO audit and define your site architecture.
Now that you have a basic index of your site in the template, you'll want to organize and prioritize your web pages. Start by defining where within your site architecture your existing pages currently sit.
Do this in column A. Note whether a page is your homepage (ideally you'll only have one of those), a page in your primary (or secondary) navigation menu, an internal page, and so on.
3. Update URLs, page titles, and meta descriptions.
Review your current URLs, page titles, and meta descriptions to see if they need updating.
(This is the beauty of using a template to organize your SEO: You get a broad overview of the type of content you have on your website.)
Notice how column D and column F automatically calculate the length of each element. The recommended length for page titles is anything under 60 characters. (And, actually, a quick and easy optimization project is to update all page titles that are longer than 60 characters.)
The recommended length for page meta descriptions is 155-160 characters. This is the perfect length to ensure none of the description is cut off by the ellipses. Make sure you're not too repetitive with keywords in this space. Writing a good meta description isn't tough, but it deserves just as much consideration as the page content itself.
(Note: For some sites, you may also have to update the URLs, but that's not always the case and thus was not included as part of this optimization template.)
4. Make sure your keyword is in your URL.

As we mentioned above, add your keyword to your URL. For example, image you own a hot yoga studio called ADYoga. You have a web page that includes videos of your classes. The keyword for this page is "hot yoga online classes" — so, you'd want to include that keyword in your URL. The URL for this web page may look like this: www.ADyoga.com/hot-yoga-online-classes.
5. Include your keyword throughout your web page.
In addition to your URL, you'll want to add your keyword throughout your web page(s). This includes your title and headers. Sprinkle your keyword throughout your content as well where it fits naturally.
6. Track keywords and topics for each page.
Think of your target keyword as the designated topic for a particular page. If you're using the HubSpot template, In column O, define just one topic per page.
By doing this, you'll be able to go more in-depth and provide more detailed information about that topic. This also means that you are only optimizing for one keyword per page, meaning you have a greater chance to rank for that keyword.
There are, of course, a few exceptions to this rule. Your homepage is a classic example. The goal of your homepage is to explain what your entire website is about, and thus you'll need a few keywords to do that. Another exception is overview pages like services and product pages, which outline what all of your products and services may be.
7. Don't keyword stuff.
We just covered many examples in which keywords are both helpful and necessary for SEO purposes. However, one mistake many first-timers make when improving their on-page SEO is "keyword stuff".
Keyword stuffing can be detrimental to your website and web page's SEO and it can feel spammy to readers/ visitors.
8. Establish value propositions for each page.
A very important next step, which is often overlooked, is establishing a value proposition for each page of your website. Each page should have a goal aside from just ranking for a particular term.
If you're using the template, you'll do this in column G.
9. Define your target audience.
Define your target audience — do you have a single buyer persona or multiple personas? Keep this persona in mind as you optimize your site's pages. (Remember, you are optimizing for humans, too — not just search engine robots.)
In column H of our template, you'll have the opportunity to define your page's target audience.
10. Plan new page titles.
Now that you've documented your existing page titles and have established value propositions and target audiences for each of your pages, write new page titles (if necessary) to reflect your findings.
You can do this in column K of the template — and double check each title length in column L.
People usually follow the formula of "Keyword Phrase | Context." The goal of the page title is to lay out the purpose of the page without being redundant. You should also keep the additional recommendations we made above related to titles.
11. Add new meta descriptions.
As we covered above, meta descriptions should be a short, declarative sentence that incorporates the same keyword as your page's title.
It should not reflect the content verbatim as it appears on the page. Get as close as you can to the 150-character limit to maximize space and tell visitors as much as possible about your page.
If you need to create new meta descriptions, do so in column M of the template.
12. Review and edit page content as needed.
Good copy needs to be thorough, clear, and provide solutions … so, be compelling! Write for your target audience and about how you can help them. Compelling content is also error-free, so double check your spelling and grammar.
Aim to have at least 500 words per page, and format content to make it easier to read and digest with the use of headers and subheaders.
Columns P through R can be used to keep track of changes that you've made to your content or to note where changes need to be implemented.
13. Incorporate visual content.

Content can be more than just text, so consider what kind of visual content you can incorporate into each page (if it adds value and serves a purpose, of course). Columns S and T allow you to note which visual elements need to be added. When adding an image to a page, be sure to include a descriptive file name and image alt-text.
14. Optimize your visual content.
We talked earlier about image alt text. You'll want to optimize your visual content this way — and be sure to include your keyword in your image alt text. It'll help with the page's SEO as well as offer the potential to rank in image search (e.g. on a search engine image results page or image carousel).
15. Add internal links.

As stated earlier, incorporating links throughout your pages is a must, but it's often something that's easily overlooked.
Make sure that your anchor text includes more than just your keywords. The goal isn't to stuff in as many keywords as possible, but to make it easy for people to navigate your site.
Use columns U through W to plan for these elements if you don't already have them, or to document how you'll improve them.
16. Include external links.
It may seem counterintuitive to include external links throughout your page considering we just covered multiple reasons why internal linking is so important for on-page SEO. However, external links are also important.
By externally linking, to credible and trustworthy sites, Google will know your page is also credible and trustworthy. Not only does Google want to know your site is well-referenced, but your visitors do, too.
17. Optimize for conversions.

If you're also not optimizing your site to increase the number of leads, subscribers, and/or customers you're attracting … you're doing it wrong.
Remember that each page of your website presents a conversion opportunity. That means every page of your website should include at least one call-to-action (CTA), though many pages may have multiple CTAs.
Columns X through AF allow you to plan for conversions.
Be sure that your site has a mix of CTAs for different stages of the flywheel.
(Note: The On-Page SEO Template refers to the stages of the buying funnel — top of the funnel, middle of the funnel, and bottom of the funnel. If you are a HubSpot customer, you can even use Smart Content to display these specific CTAs only to people in a specific part of the funnel.)
Also, as you add, edit, or update CTAs, be sure to note conversion rate changes in columns Z, AC, and AF.
Put Your On-Page SEO to Work
Once you finalize your SEO plans, implement these changes on your website or pass them along to someone to implement for you. This will take time to complete, so aim to work on 5 to 10 pages per week.
Remember: SEO is not a one-and-done deal. It's something you should continually improve upon. You should treat this On-Page SEO Template as a living, breathing document that will help guide your SEO strategy for months (or years) to come.
Editor's Note: This post was originally published in October 2012 and has been updated for freshness, accuracy, and comprehensiveness.
Thank you for reading.
This may be of some interest.
For many businesses, the key to making sales is to first generate leads.
Leads are valuable because they're the people who have indicated organic interest in your content and your business by giving you their information in some way, whether it's by filling out a form to download an ebook, completing an online survey, or something else.
But leads don't grow on trees. Some marketers have trouble generating enough leads to feed their sales team. Others generate plenty of leads, but they're not good leads, and your sales team is having trouble closing them into customers. Others just have no idea where their leads are coming from.
These are all common problems marketers have with lead generation. In this post, we'll go over many of these problems and talk about how to fix them. We'll also highlight a few tips directly from HubSpot acquisition experts.
11 Lead Generation Mistakes Marketers Should Avoid
1. You're buying leads, not generating them organically.
If you're having trouble generating leads, it can be tempting to buy email lists so you can feed your sales organization with something — anything. But buying or renting contacts out of desperation will cause you more long-term (and short-term) harm than good.
There are a lot of reasons buying email lists is never a good idea. Not only will sending emails to purchased lists harm your email deliverability and IP reputation, but there's a good chance the people on your purchased list have never heard of your company — making them far more likely to mark you as spam. They'll also think you're super annoying. And you're not annoying, are you?
Bottom line here is that quality email addresses simply aren't for sale. The whole point of generating leads is to eventually nurture those leads into customers. In order for your leads to become customers, the leads you generate need to actually want to hear from you.
How to Fix It
Your leads need to opt in, plain and simple. This means your contacts chose to give you their information in exchange for something valuable, like a content offer, webinar, event, and so on. Focus on creating offers that are valuable in some way for your target audience, and then package that value and put it behind a lead capture form.
Growing a healthy, opt-in email list takes time, but it's worth its weight in gold down the line. And once you have people to email, be sure you're creating remarkable email content that makes people want to actually open your emails and stay subscribed.
2. You don't offer lead-gen content for people in different stages of the buyer's journey.
Not everyone who visits your website is going to be in the same stage of their buyer's journey. Think about the folks who are landing on your website for the very first time. Do you think they're ready to see a demo of your product? Or do you think they'd be more likely to want to download a helpful piece of content, like a step-by-step guide?
Some of your site visitors might be ready to buy, but most won't — and you need to give them the opportunities to learn more about your business and what you're selling before asking them take any sort of purchase action.
Creating valuable content to teach and nurture your leads down the funnel is time-consuming, which is why so often you'll browse a business' website and see nothing but "Buy Now!" and "Click Here for a Free Demo!" all over the place.
How to Fix It
There is no one-size-fits-all CTA for everyone who visits your website. To maximize clickthrough rates, you'll want to cater to visitors who are at all different stages of the buyer's journey using CTAs.
So, yes — you'll need to spend time creating a variety of offers you can put behind landing page forms that cater to people at different stages. Folks who are just starting to get to know you might be interested in offers like checklists, contests, and templates. Visitors who are a little further down the funnel might be interested in email courses, kits, and whitepapers. Folks even further down might be ready for a demo.
Make sure you're creating content that cover the whole funnel, and that you're offering this content on your website so there's something for everyone. (Need ideas for lead gen content? Here are 23 ideas for you.)
If you want to take personalization a step further, use smart CTAs. Smart CTAs are CTAs that change depending on the person viewing the page — his or her interests, location, pages viewed already, items or services bought before, and so on. Unsurprisingly, personalized CTAS actually convert 42% more visitors than basic calls-to-action. They make for a better user experience for your user, and higher conversion rates for you: a win-win! You can learn more about smart CTAs here.
3. You aren't using your blog to generate leads.
HubSpot's blog is responsible for a significant percentage of our marketing team's incoming leads.
In fact, at one point, we found that 76% of our monthly blog views come from "old" posts (in other words, posts published prior to that month). We always joke that if the entire blogging team went on vacation for a month, we'd still hit a good portion of our leads goal.
"At HubSpot, we have an entire team dedicated to continuously optimizing our blog conversion strategy," says Carly Stec, HubSpot's Team Manager of content acquisition. "This group works in lockstep with our SEO team and writers to provide insight into the topics that are converting well to ensure a well-rounded editorial mix."
"This level of alignment allows us to provide blog readers with helpful next steps based on their intent," Stec adds.
Despite blogging's many lead generation benefits, we find that marketers aren't fully taking advantage of this tactic as a lead generation powerhouse. Either folks aren't blogging at all, or they're not putting lead capture forms or CTAs on their blog — sometimes because they don't have any valuable content offers to put behind a form.
But, still one of the biggest benefits of business blogging is converting the traffic it brings you into leads. Just like every blog post you write is another indexed page, each post is a new opportunity to generate new leads. Here's what that looks like in numbers: If each one of your blog posts gets about 100 views per month, and your visitor-to-lead conversion rate on the blog is about 2%, then you'd get two leads from a single blog post each month. If you write 30 blog posts per month, you'd get 60 leads in a month — two from each blog post.
Keep blogging consistently like that for a year, and thanks to each blog post's compounding value over time, each post you write will drive value for you in the form of traffic and leads. By the end of 12 months, you'll end up getting 4,680 opt-in contacts per month, not just 720 opt-in contacts (60 leads*12 months).
How to Fix It
Generating leads from your blog posts is simple: Just add a lead-generating call-to-action to every blog post. Most of the time, these CTAs will lead to landing pages offering free content like ebooks, whitepapers, checklists, webinars, free trials, and so on. Promote your content offers by blogging about subject matters related to them, and then put CTAs that lead to the asset's landing page on every one of those blog posts.
What that CTA looks like on your blog posts is up to you. On HubSpot's blog, we use three main types of CTAs on our blog: end-of-post banner CTAs on every single post, and slide-in CTAs and anchor text CTAs on select posts. Read this post to learn when it's appropriate to use end-of-post banner CTAs, anchor text CTAs, or both.
As for slide-in CTAs, we've found these to perform better than end-of-post CTAs — which makes sense because visitors see them sooner since they slide in at about 25%-50% of the way down the post. Learn how to add slide-in CTAs to your blog posts here.
4. You aren't using the best lead generation tools.
You know that people are coming to your website, but do you know who they are? How about what they're doing once they get there, or what they're doing before and after taking certain actions? If you're unable to answer these questions, then you're going to have a hard time connecting with the people who are visiting your site or learning what's resonating with them and what's not.
But these are questions you can and should answer — but you need the right tools to do it. There are some great tools out there that can help you learn about your website visitors and convert them into leads.
How to Fix It
The trick is finding the best combination of tools that'll give you the most insight and the best bang for your buck. There are a few different tools and templates out there that'll help you create different lead gen assets you can put on your site.
At the simplest level, these 50+ free, customizable CTA Templates will help you create clickable buttons you can put on your blog, your landing pages, and elsewhere on your site. Use them to create CTAs that lead to a landing page form.
Speaking of forms, a form embedding tool will come in handy when it comes to actually collecting information from your site visitors and converting them into leads. If you're a HubSpot customer, you can create and embed forms using HubSpot. Non-HubSpot customers can use a tool like Contact Form 7, JetPack, or Google Forms, and then use Leadin's free Collected Forms tool to automatically capture these form submissions on your website.
Finally, a lead capture and contact insights tool like Lead Flows by HubSpot (which is free) will help you capture leads using pop-ups, dropdown banners, or slide-ins. It'll also scrape any pre-existing forms you have on your website and add those contacts to your existing contact database.
Here's an example of a slide-in CTA created with Lead Flows, HubSpot's free conversion tool:
5. You have a "right vs. wrong" testing mindset.
Knowing that you should test your website and constantly work on improving it is one thing. What most marketers have trouble with is seeing testing and experimenting not as a way to prove your ideas, but as a way to find something better.
I like the way Andrew Anderson put it in his post on ConversionXL: "The real challenge is in getting yourself and your organization ready to accept one really simple truth: Being wrong is far more valuable than being right."
Often, this will manifest itself in someone having an idea for how to improve a part of their website. Perhaps they think removing distractions from a landing page will increase conversion rates on that page, for instance. What happens here is that most marketers will limit what they test in a way that skews the data to help them reach that conclusion, often without meaning it. After all, it feels bad — and might look bad — to have an idea or make an assumption and have it proven totally wrong.
How to Fix It
"The first and most vital step to dealing with this is to focus all discussions on the comparing of actions and not on validating opinions," writes Anderson. "It isn't about if Tactic A or B works, it is how well does Tactic A or B or C or D and so on compare to each other."
In other words, treat every idea that's brought to the table the same, whether or not you think it'll "win." This makes the testing program less personal and encourages a more holistic approach. Remember: by nature, a program that tests your website is meant to prove yourself and others wrong, and that's a good thing.
You and your teammates need to check your egos and adopt this mindset to avoid finger-pointing. Instead of rewarding people for being right, which reinforces that toxic mindset, focus on the system and the outcomes more holistically.
6. You aren't optimizing your top pages for lead generation.
Not all webpages should be treated the same. In fact, if you look at traffic numbers to specific pages on your website, you'll probably find that the vast majority of your traffic is coming in to a few, very specific pages — maybe your homepage; your "Contact Us" page; maybe one or two popular blog posts. With so many people landing on those pages, why would you treat them like any other ol' page on your website?
Because so many people are landing on those pages, it's very important that you create opportunities for people to convert on those pages, lest you leave potentially massive lead numbers on the table.
How to Fix It
First, figure out which of your webpages are the four or five most popular for traffic. (HubSpot customers: You can do this in HubSpot by going to Reports > Page Performance, then filter the report by Views.)
Then, optimize those pages for leads. This means making sure you create calls-to-action (CTAs) that stand out from the page, and then place them where people naturally look on your website. Our natural eye path starts in the upper left-hand corner of a website and moves on from there, according to an eyetracking study.
Another way to increase the conversion rate on a page that already gets a lot of traffic? Create special offers specifically for your most popular pages, and gate them behind landing page forms. I know, I know, creating a brand new offer can time-consuming — but it could be much more effective for lead generation than optimizing button color, language, images, and so on. For example, the folks at Eastern International College created a quiz for students on which college major they should choose, which they linked to on their popular Careers page.
At the end of the quiz, they promised to send the quiz results in exchange for people's name, phone number, and email address as a lead capture tactic.
Read this blog post for more tips on how to generate leads from your most popular webpages.
7. You're ONLY optimizing your top pages for lead-generation.
Yes. When you have a page that earns high traffic, it might also win over a lot more leads. However, AJ Beltis, a HubSpot marketing manager who specializes in content creation and lead acquisition, says you might be missing solid opportunities by only optimizing high-traffic-getters.
"It's tempting for content marketers to immediately go to the most-viewed blog posts and try to convert their viewers into leads. High traffic means high potential, so it makes sense to look at these posts first," Beltis says.
"However, those most-viewed posts are often on topics that cast a wide net and might not tie directly back to your product or service," Beltis explains. "Instead, try focusing on blog posts or topic clusters that may not have the most views, but have a clear path for conversion.
"After all, what's better – a 5% conversion rate for a blog post with 50,000 views, or a 1% conversion rate on a blog post with 100,000 views," Beltis concludes.
How to Fix It
Finding posts with conversion opportunities that don't pull in major traffic can take a bit of research.
Using HubSpot, or other data-tracking tools, consider creating and analyzing a conversion rate optimization report that highlights each post's conversion rate, number of new contacts, and lead goal. This will allow you to see how each post is performing and help you zone on posts that are pulling in a solid number of contacts. It will also allow you to see how traffic impacts a conversion rate.
For example, if you see a low conversion rate on a post but a high number of contacts, this could mean the post has many leads due in part to its traffic. On the other hand, if you see a post with a lower contact number but a higher conversion rate, this could be a lower traffic post with a higher chance of pulling in leads.
Aside from using the reporting tools you have at hand to learn from your own data, you could also ask yourself a few topic-related questions like:
What are our audience's interested in learning more about?: Sometimes, trends that impact people in your industry might be highly discussed on social media, but haven't yet gained enough search volume to pull in high traffic. Are there trend-related blog posts and content offers you can create or update that can tie well together, provide value to your audience, and get them to convert?
Do we have any tactical posts that relate strongly to our product or current offers?: For example, if you sell a task-management software, a post on how to multitask, how to organize your office, or how to create a project schedule might not be shareable on social media or pull in huge traffic, but it still could align well with an offer related to your product — such as a free trial.
8. You're not using social media strategically for lead generation.
Although social media is most effective for top-of-the-funnel marketing metrics like traffic and brand awareness, it can still be helpful as a source for lead generation — and a low-cost one, at that.
If you're finding that social media isn't generating very many leads for you, there's a chance you're not doing it strategically enough. At least that's what Jeremy White, a serial entrepreneur and conversion consultant, wrote in a post on CrazyEgg's blog.
"It's not that you can't get leads on social media; it's that we're not taking what's there," he wrote. In other words, you might be doing it wrong. If your social strategy is to post your new ebooks to all your social media channels and that's about it, then don't expect to bring in a whole lot of leads from those posts. The spray-and-pray technique isn't enough.
How to Fix It
One way to generate more leads from social media is to sprinkle blog posts and offers that have historically generated higher-than-average leads numbers for you in with the new posts and offers your team is creating.
At HubSpot, we've found that one of the best ways to generate leads is simply to link directly to landing pages for blog posts and offers that have historically performed well for lead generation. (Learn how to do your own blog lead generation analysis here.)
We've also found that linking directly to an offer's landing page can be more effective — as long as your post copy sets the expectation that you are, in fact, sending people to a landing page. In the Facebook post below, we set that expectation by putting "Free Template" in brackets in front of the offer title.
You'll also want to make sure you're using some of the features on each social network that are specifically designed to help you generate leads.
On Twitter, your lead gen tweets should contain a value proposition, a short URL linking to the landing page with a form, and an image to ensure the post stands out. (Here are some social media image templates you can use to create those images.)
Your design skills nonexistent? You're gonna want these templates: https://t.co/7fxTWZw3BC pic.twitter.com/CKvgfyuZpY

— HubSpot (@HubSpot)
October 24, 2016
Twitter also offers lead generation cards that can help you generate qualified leads at a lower cost than most of the other major ad platforms. Twitter cards let you embed rich media that don't count toward your tweet character limit that allow your fans and followers to do things like download an app, visit a landing page, give over their email, or use a coupon — all without leaving Twitter. (HubSpot customers: You can connect your Twitter lead gen cards to HubSpot by following these instructions.)
On Facebook: There are a number of great ways to generate leads from Facebook, the best of which I've rounded up in this blog post. For example, one way to easily generate leads is by simply using the call-to-action feature available for Pages. The feature lets you put a simple call-to-action button at the top of your Facebook Page, and it can help drive more traffic from your Facebook Page to lead generation forms like landing pages and contact sheets.
Here's an example from Tough Mudder's Page, and you can learn how to insert your own Facebook CTA button here.
On LinkedIn, B2B businesses can take advantage of the perception that LinkedIn is the most sophisticated of social platforms, and a place where B2B relationships are most likely to be built. Like on Facebook, you can publish your lead-generating content directly to your business' Facebook Page alongside actionable copy and a compelling image.
9. Your forms are too long or too short.
How long should your lead capture forms be? Striking a balance between asking too much and too little on your forms is a common problem marketers gripe with.
If your form's too short, more people might be willing to fill it out, which is great for leads numbers — but the quality of those leads might not be very high. If your form's too long, though, fewer people might be willing to fill it out, meaning you'll get fewer leads out of it. On the bright side, the people who do submit their information could end up being higher quality leads.
So what gives? What's the "magic number" of questions to ask on your forms?
How to Fix It
There's no hard-and-fast rule for how many fields to put on your forms. Your "sweet spot" will depend entirely on your goals: Do you need more leads, or do you need better leads? Essentially, the length of your form will lead to a tradeoff between quantity and quality of the leads you generate. In general, shorter forms usually result in more overall leads, while longer forms will result in fewer, but higher quality leads.
"Think of every field in your checkout as a hurdle your prospect has to leap over," writes Copyhackers' Joanna Wiebe. "Then ask yourself if it's worth the possibility of losing a sale — or thousands of sales — because you want to fill a database."
You can't possibly know how many form fields you can pull off without conducting conversion research and running your own tests. Even then, you have to compare the ROI of additional information with the ROI of increased conversions. How much does having a phone number really help the sales team? Is it enough to warrant a potential decrease in conversions?
It's important that you don't make this decision without involving your sales team. They have a better idea of what information will actually help them close deals. How much does asking for a phone number actually help your sales team — and is it enough to potentially lose leads over? Speaking of talking with your sales team …
10. Your definition of a qualified lead isn't well communicated with your sales department.
You know the definition of a lead in the general sense of the term: It's a person who has indicated interest in your company's product or service by giving you their information in some way, like by filling out a form to download an ebook or completing an online survey.
A marketing qualified lead, or MQL, is a lead that's been deemed more likely to become a customer compared to other leads, based on lead intelligence. MQLs have metaphorically raised their hands and identified themselves as more deeply engaged, sales-ready contacts than your usual leads, but who have not yet become full-fledged opportunities. In other words, from a marketing perspective, your sales team should be talking with them.
But sales teams tend to have their own system for qualifying leads. Sales qualified leads are leads your sales team has accepted as worthy of a direct sales follow-up. Agreeing on that quality threshold is where things tend to get muddy. Both the quantity and quality of leads needed and the sales process are mutually agreed upon by both Marketing and Sales.
How to Fix It
That's exactly where the conversation begins. To align Marketing and Sales on what constitutes a qualified lead from both sides, you'll have to learn to speak each other's language. Similar to your marketing qualified leads, Sales has its own definition of "qualified": sales qualified leads are leads they've accepted as worthy of a direct sales follow-up.
Both teams need to align on their definitions of a marketing qualified and sales qualified lead. And there's no one-size-fits-all definition for one, either — an MQL at one company may be completely different than an MQL at another company. You should do your own internal analysis of your leads and customers to create your business' definition of an MQL. Read this post to learn how to get started defining an MQL for your business and communicating that definition with Sales.
Avoid Losing Great Leads
There are plenty more lead generation mistakes we could add to this list, but these are some of the most important ones we see marketers make every day. For our readers out there who want to get more and better quality leads, we hope this post will help you prioritize where to focus your time and resources.
Now that you've had time to read up and reflect on some of the most common lead-generation mistakes, we'd love to hear from you. Vote in this completely anonymous poll to tell us which mistake you or your company have commonly made, or check the results to see how others voted.
If you want to learn more about creating an effective conversion rate optimization strategy, check out these beginner's guides on conversion rate optimization and lead generation.
Editor's Note: This blog post was originally published in October 2016, but was updated in July 2020 for comprehensiveness and freshness.
Thank you for reading.